Best Probiotics For Dogs Reviewed & Rated for Quality
In a Hurry? Editors choice: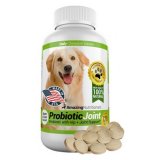 Test Winner: Amazing Nutritionals

To
ensure good digestion
you need a healthy balance of good bacteria in both your small and large intestines and probiotics are an excellent way to introduce good bacteria while inhibiting the activity of bad or harmful bacteria in the intestinal tract. Giving your pet a dose of probiotics can treat diarrhea, constipation and inflammation as well as boost your dog's immune system.
There are several strains of good bacteria that can be used in supplements including enterococcus faecium, bifidobacterium animalis and lactobacillus rhamnosus strain that has well-known and vast benefits to your pet. These can be used on their own or combined to increase the impact of probiotic efficiency. The best probiotics for dogs are considered in the following top 10 review.
Standout Picks
Criteria Used for Evaluation
Advanced Features
MSM is a naturally occurring chemical in livings things that relieves pain and is added to a number of products for conditions such as arthritis and inflammation. This chemical is sometimes combined with glucosamine which not only helps to relieve pain in the joints but also keeps them lubricated and builds up the cartilage and tendons making it a great addition to your pet's probiotic.
CFU represents a bacteria's ability to multiply and colonize. The higher the CFU count the more effective the probiotic since the good bacteria introduced into your system will multiply at a staggering rate, balancing the ratio of good to bad bacteria. This is essential for gastrointestinal health as well as immunity and overall physical health. Basic probiotics have a minimum of 1 billion CFU however, higher grade products can go as high as 5 billion which makes them highly effective.
Due to the boost in immune system efficiency oral conditions such as bad breath and dental health can be greatly improved. This helps your gums to fight the bad bacteria and boost recovery from things such as inflammation and infection. Physical attributes such as the skin can also be improved by the introduction of probiotics which means your pet can take on a brighter more lustrous coat.
Ease of Use
It can be a challenge for some pet owners to get their dogs to take pills as it can be an uncomfortable experience for them especially if not administered properly. Probiotics come in many different sizes and compositions that gives pet owners options that may be able to work best for them. Some brands for example use small bit size treats to give dogs their dosage. For, example some probiotics come in bit size treats that feature meat flavors such as chicken, port and duck. This makes it easy for your pet to digest supplements without the trouble of them spitting up or vomiting.
Other brands go the route of inconspicuousness where probiotics come in a powder form that is tasteless. This allows you to put the supplement in to things such as food without your dog even knowing what you have done. Since they cannot taste the product in their meal you can ensure they receive the nutrition they need without any confrontation as opposed to what happens when you may have had to give them pills in the past. Using this form of dispersal is also faster acting as it can be immediately absorbed instead of broken down as in the case of pills and chews. When digestion is needed to break down a supplement, it can sometimes pass through the intestines before it is fully absorbed giving only small amounts of benefits in comparison to what may be advertised.
Effectiveness
Ganeden BC30 is a naturally occurring bacteria that boosts your digestive system as well as immunity and what makes it so effective is its ability to survive. This probiotic acts as a transportation system and has a 95% as well as a high level of performance when it comes to spore formation. It does not need to be refrigerated and has a three-year shelf life which means the potency remains high even after it is received for use.
Size plays an important role when it comes to the volume of bacteria in your body which means balancing the good vs bad bacteria in your pet depends greatly on the dosage. This has urged some brands to cater specifically to the size of your dog when it comes to dosage to ensure product efficiency. Dosage is always higher for a heavier dog that it would be for a small dog or pup.
Many brands have adopted the practice of producing multipurpose formulas that tackle a variety of concerns when it comes to digestion and immunity. For example, a three in one formula not only provide probiotics but also include a blend of prebiotics and digestive enzymes to ensure your pet gets the most benefit out of their product. Prebiotics prepare the way for the good bacteria that will be digested, so they work more effectively and digestive enzymes help your dog to get the most nutrition out of their meals.
Features
Pumpkin can be added to these types of products to help with condition such as constipation and diarrhea. It also has fiber and beta-carotene which aid with digestion and vitamin A production. This ingredient is sometimes combined with papaya which also offers vitamin supplementation such as vitamin K, E, A and C. It also offers folate and potassium which improves growth, energy and immune system levels.
Brands also facilitate third party testing on their supplements for confirmation on product safety, potency and performance. This helps to reassure consumers that the product they are receiving is the quality described when advertised and that it will work as highlighted. They may also allow their product to be reviewed by veterinarians who have the professional prowess to confirm product efficiency.
Many probiotics are manufactured without the use of heat as this practice preserves the product quality and also ensures that the active ingredients remain viable, so they can have maximum impact when ingested. These supplements are generally approved by the FDA which is a body authorized to ensure product safety, potency and effectiveness. Most brands are also GMP compliant which means that product quality is consistent and there are no risks or hazards to your pet. All these measures work together to reassure pet owners of the safety of their pets and confirmation that the products work as advertised.
Use
Many probiotics on the market are multifunctional and provide more than just the basic needs for your pet. On a basic level the products listed in this review are able to alleviate digestive conditions that include but are not limited to diarrhea, gas, flatulence, constipation, bloating, cramps, bad breath, yeast infections and scratching. They also help with infections and may also assist in the absorption of antioxidants.
These products can also be used to strengthen your pet's immunity as well as give them a boost in energy. The introduction of digestive enzymes helps them to extract the maximum amount of nutrients from the foods they eat which also leads to an improvement in overall health and well-being. This can help your pet to recover quickly from infections and antibiotic use both of which can cause an internal imbalance in their good vs bad bacteria levels.
A boost in immunity can also have implications when it comes to dental health as a good immune system can protect your companion from gum disease and aid them in recovering from inflammation or infections of the gum which is usually caused from a build up and overpopulation of bad bacteria in the mouth.
10 Best Probiotics for Dogs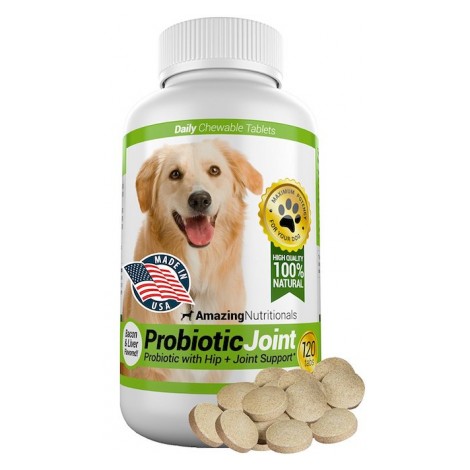 The Amazing Nutritionals probiotic for dogs are small bite-sized tablets that are easy to chew and features flavors such as bacon and beef liver. This treats not only help your pet digest their food but it also treats digestive conditions such as constipation and diarrhea. It offers pain relief for your dog and contains ingredients such as glucosamine, MSM and Chondroitin. They will also receive a boost in their immunity and mobility.
Ease of Use
This product has a bacon liver flavor and comes in small bite size chewable tablets that your pet will love. These little tasty tablets can be given like treats making it easy for your dog to get their daily dose of probiotics.
Advanced Features
This product contains MSM which is a naturally occurring chemical in humans that is reproduced to treat arthritis. When combined with glucosamine it has a powerful effect on joints and joint pain.
Cost and Value
The Amazing Naturals probioti30-day dogs have a 30 day money back guarantee and do not require refrigeration. It's made in the USA, certified organic and tested by third party labs for purity and potency.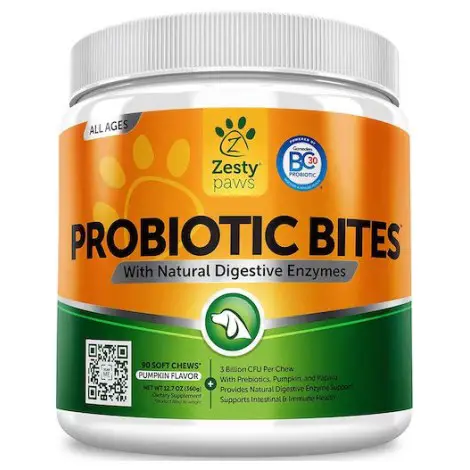 Zesty Paws has up to 3 billion CFU and contains products such as Ganeden BC30. This probiotic effectively supports the digestion, immunity and protein utilization of your pet. It can also alleviate digestive conditions such as gas, bloating and constipation. Featured ingredients include Ganeden BC30 which is a non-gmo probiotic that is clinically proven to be effective.
Effectiveness
This product is formulated with Ganeden BC30 which acts as a transportation system for the bacteria found in probiotics. Since this naturally occurring substance is strong enough to survive most conditions, it ensures product efficiency.
Features
This product contains pumpkin which is a great ingredient that helps dogs with conditions such as constipation and diarrhea. It also has fiber and beta-carotene which has beneficial uses in the body.
Cost and Value
The Zesty Paws probiotic for dogs contains baneden bc 30 which has a high survival rate and makes the product more effective when it comes to navigating through the body and spore formation.

3

. Finest for Pets TummyWorks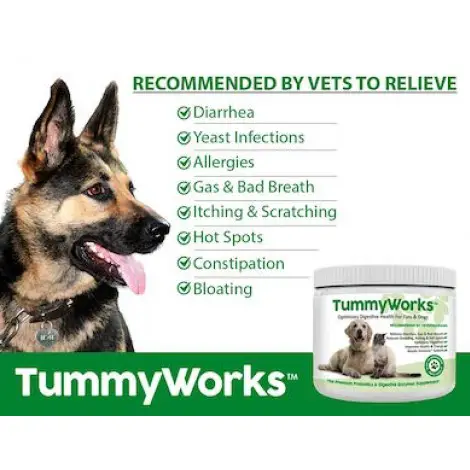 The Finest For Pets probiotic for dogs is a powder that relieves diarrhea, gas and scratching in your pet as well as optimizes digestive health.
This relieves itching, scratching and digestive issues such as diarrhea. It also fights allergies and yeast infections while improving your pet's appetite and energy levels. Each container has 160 doses and can accommodate dogs up to 49 lbs. Every scoop contains probiotics as well as digestive enzymes.
Features
This product is recommended by a number of experienced veterinarians and the company ensures that third-party lab testing is done so consumers receive a product that performs as advertised.
Use
This product can be used to alleviate itching and scratching as well as digestive issues such as diarrhea, gas and bad breath. It can also be used to fight allergies and yeast infections.
Cost and Value
The Finest For Pets probiotic for dogs has a blend of digestive enzymes as well as prebiotics which prepare your pup for the good bacteria and help them to break down their food better which results in increased nutrient consumption.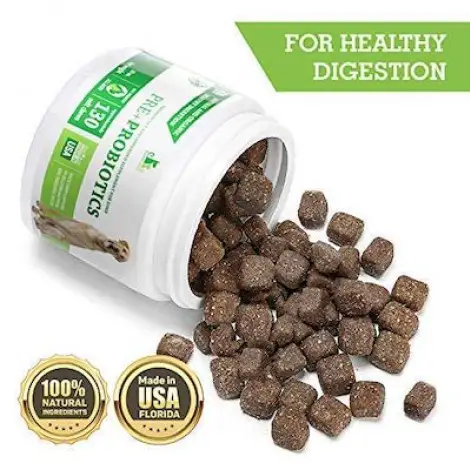 The CareMe probiotic for dogs is a natural, organic option for pets containing no fillers, soy or gluten. This is made in the USA from all natural, organic ingredients that are designed to improve the digestive health of your dog no matter its age, weight or breed. It not only keeps your pet's gastrointestinal tract operating at optimal levels but this product also helps with nutrient absorption.
Advanced features
Dosage for this product is specifically tailored to the weight of your pet and accommodates dogs that weigh up to 90 pounds. This allows your companion to receive a dosage that has full impact for maximum benefits.
Effectiveness
Dosage of this product is based on size and highlighted on the packaging to ensure your pet receives maximum benefit from each dose. Bacteria live all over our bodies and size dictates bacteria volume, therefore, the dosage is adjusted based on size for product efficiency.
Cost and Value
The CareMe probiotic for dogs is FDA approved and has a money back guarantee on all purchases. This is done to ensure that consumers get the highest quality products that perform as expected.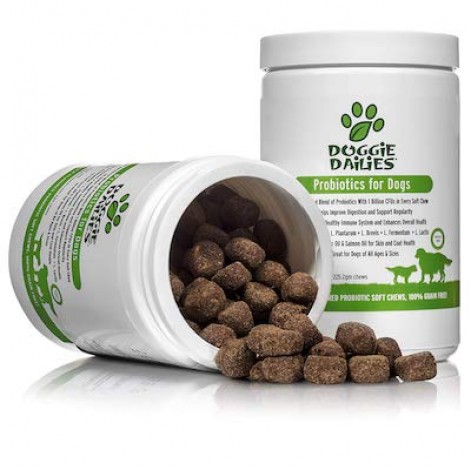 The Doggie Dailies helps to balance the good bacteria in your dog's digestive tract which not only boosts their immune system but promotes mental and physical health. This probiotic is duck flavored with a unique formula that is designed to relieve diarrhea as well as support your pet's immune system and overall health. There are five strains of probiotics in this product as well as digestive enzymes and nutrients that cater to dogs of all ages and sizes.
Use
This product strengthens and stabilizes the immune system of your dog in addition to relieving digestive issues such as diarrhea, cramping and bloating. It also prevents yeast infections and helps your pet recover successfully from antibiotics.
Advanced Features
In addition to addressing digestive concerns, this product also helps with dental health and improves the appearance of your pet's skin and or coat. Each batch of this daily probiotic is tested by an independent lab for purity and potency.
Cost and Value
The Doggie Dailies probiotic for dogs has five strains of probiotics which help to combat bad bacteria in the body as well as a prebiotic which prepares the body for bacteria consumption. It also includes cod liver and salmon oil.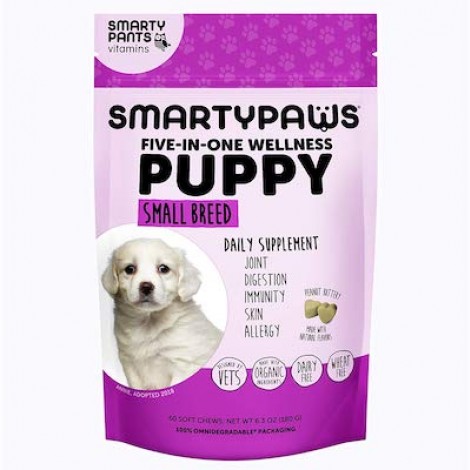 The SmartyPants Vitamins dog supplement acts as both a superfood and a vitamin for small breeds of dogs up to 25 lbs. This is a multi-functioning formula that promotes cartilage development and joint health while supporting the digestive system, maintaining skin moisture and supporting your pet's immune system. Each package is uniquely designed for the size of your dog to ensure maximum formula impact.
Effectiveness
This product contains bacteriaBacillus such as bacillus coagulans which have a survival rate of up to 95% ensuring once administered it is able to deliver the results intended which include improved digestion and bowel health.
Ease of Use
This product is packaged and labeled according to the size of your pet and color coded. These packages cater to pups under 25 pounds all the way up to 55 which ensures your companion gets a dosage that is effective for their individual needs.
Cost and Value
The SmartyPaws Vitamins dog supplement is made with whole grain, organic ingredients and do not contain materials such as wheat and dairy. The contents of this product is tested and approved by third party labs.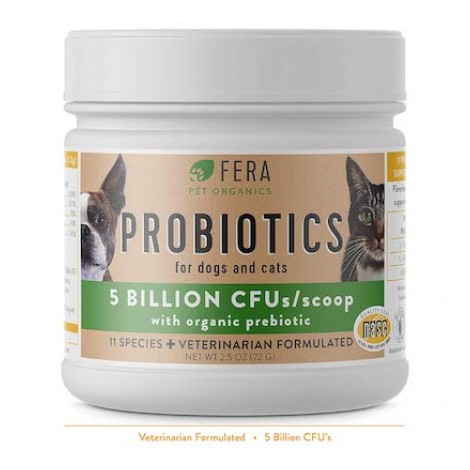 The Fera Pet probiotic for dogs is specially formulated with eleven hand selected species of probiotic that can be mixed into your pet's food eliminating problematic pill taking. This probiotic is 100% vegan and does not contain materials such as grain, soy, corn or dairy. It comes in powdered form which allows it to be easily mixed into your pet's food which avoids the complications of getting them to take tablets. This formula improves gastrointestinal function as well as immunity.
Use
This product improves gastrointestinal function by alleviating conditions such as diarrhea, bad breath and constipation. It also boosts immunity and helps to reduce inflammation.
Ease of Use
This product comes in a powdered form that is flavorless which enables pet owners to mix it into food and similar substances eliminating the need for complicated pill taking regimens with your dog.
Cost and Value
The Fera Pet probiotic for dogs includes quite a few strains of bacteria that are experts at inhibiting the activity of bad bacteria by transforming sugars into acids that lower the PH of the gastrointestinal tract rendering the bad bacteria inactive.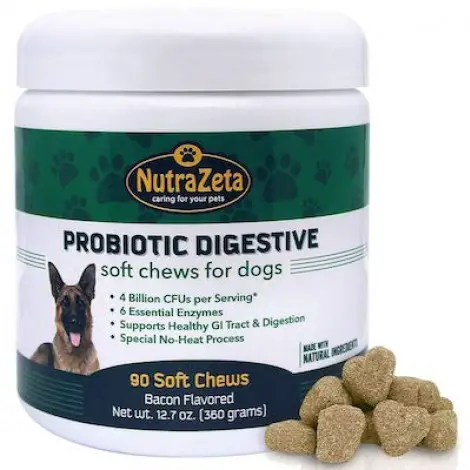 The NutraZeta probiotic for dogs relieves upset stomach, diarrhea, and other digestive related conditions. It also includes a blend of digestive enzymes for improved nutritional benefits. This has 4 billion CFU per two chew dose with 5 strains of probiotic bacteria including lactobacillus planarum, lactococcus lactis and lactobacillus fermentum. It also contains 6 digestive enzymes to supplement your dog's diet and help them to get as much nutrition as possible from the food they eat every day.
Advanced Features
There is 4 billion CFU per two chew dose of this product which allows the good bacteria contained in the probiotic to multiply and an increased rate. The faster these bacteria multiply the faster the effects of the product.
Features
No heat was used during the manufacturing process of this product which has the effect of preserving the product quality as well as the effectiveness of active ingredients. It is also FDA-approved and compliant with GMP standards.
Cost and Value
The NutraZeta probiotic for dogs is made in the USA and has third-party testers who screen the contents to ensure that what consumers receive is both safe and effective. A 6 enzyme blend is used to improve your pet's ability to break down and extract nutrients from food eaten on a daily basis.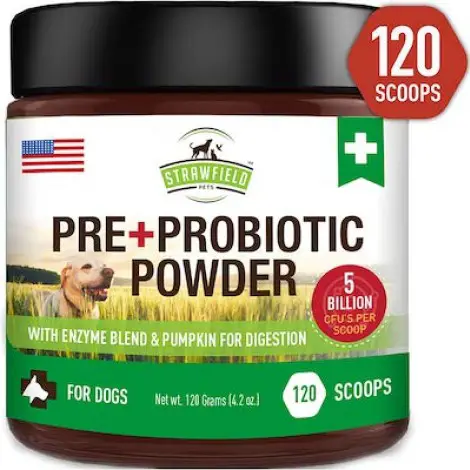 The Strawfield Pets probiotics for dogs has 5 strains of probiotics and is ideal for allergies, gas and itchy skin. This product is safe for any size dog at any age and does not need to be refrigerated. This helps to improve digestion, immunity and the overall health of your pet. There are 8 ounces of powder per jar that can last for up to 120 scoops with doses efficient for dogs of any size and weight. This 5 strain bacterial formula has over 5 billion CFU per scoop with enzymes that have been blended to improve product performance.
Ease of Use
This product does not require refrigeration or any other special care which makes it easy for pet owners to store the product without being overly concerned about loss of potency.
Features
This product contains pumpkin which is a great ingredient that helps dogs with conditions such as constipation and diarrhea. It also has fiber and beta-carotene which has beneficial uses in the body.
Cost and Value
The Strawfield Pets probiotics for dogs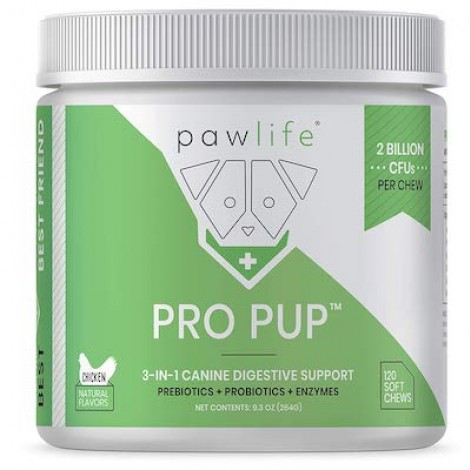 The PawLife probiotics for dogs is an excellent option for gas, skin irritation and vomiting. This chicken-flavored bite-size treat is easy to chew and swallow for stress-free administration. This has a 3 in 1 formula that also includes prebiotics and digestive enzymes. There are 2 billion CFU per chew with a yummy chicken flavor that will keep your pet coming back for more. This product fights conditions such as bad breath, gas and yeast infections.
Effectiveness
This 3 in 1 formula targets more than just the bacteria in your pet's gut it also includes a blend of digestive enzymes and prebiotics which allows them to get the most amount of nutrients out of the food they eat.
Use
This product effectively combats a long list of digestive conditions including bad breath, yeast infections, gas and diarrhea all of which can cause a considerable amount of discomfort to your pet.
Cost and Value
The PawLife probiotics for dogs promotes long term vitality and overall health for dogs of any age, breed and size. This brand offers consumers a 100% money back guarantee.

Subscribe to our Newsletter