Best Canned Dog Food Reviewed & Rated for Quality
In a
Hurry? Editors choice: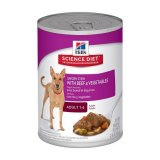 Test Winner: Hill's Science Diet

It's a bit difficult to have a rational conversation with dog people about dogs. For many dog lovers, the dog is a family member, and that means clothes, boots, or Halloween costumes for their best friend. It's also important to make sure our pet babies live as long as possible,
without any health issues
. To ensure this happens, it is important to make sure the food you are giving your dog is healthy and is of decent quality.
So when it comes to food, sometimes it's the owners that are pickier than the dog. But don't worry even the most devoted dog owner will find the best food for their family pet in our list.
Standout Picks
Criteria Used for Evaluation
Bottom Line
Why would you want to buy canned dog food in the first place? There are certainly pros and cons to both wet and dry dog food.
The most obvious difference between the two is that wet food is wet. It will provide more moisture to your dog. This becomes really important if your dog isn't prone to drinking much and may get dehydrated. It is also important if you live in a hot dry climate or if your dog is sick and avoiding all liquid. Another pro to canned dog food is that it is easier to eat. Older dogs, dogs with teeth issues, or dogs with small mouths are better able to consume wet food than dry food. Another perk of wet food is that it is has a greater smell. It tends to be more enticing to all types of dogs simply because the smell is stronger. There is also the fact that wet dog food often has less artificial ingredients and preservatives as it is packaged airtight and is less likely to become rancid.
There are some areas where dry food excels, however. Dry food is cheaper across the board than wet food making it the more economical option. It is easier to store and has a longer shelf life. It is less messy and you don't have to worry about cleaning it up every day because it's fine to sit out for hours or days even (though not routinely recommended). There is the final perk that some dry foods are designed to help with dental health. Their shape helps to clean the dog's teeth as they are eaten.
Very often pet owners will choose a combination of two rather than simply going one way or the other. Wet is great to use as a treat or to moisten up the dry food. Dry food works great to use as a treat for training. Ultimately, both are great options and don't feel like you have to choose one or the other and never alter.
Product Purity
How Picky are You About Ingredients?
The first thing that you need to ask yourself when you are deciding on what canned dog food to buy is how picky are you about ingredients? Many people just buy the first dog food or flavor that looks good and are none the wiser about anything fancier. They very often have happy and healthy dogs all the way through. The fact of the matter is that in order to be considered a complete "food" producers of dog food have to meet certain nutritional standards so anything that is being commercially sold as food, does, in fact, meet those standards and should, in theory, keep your pet healthy.
Others tend to want to make sure their dogs are getting better ingredients than your standard grocery store dog food. Maybe they went to the pet store and some of the predominantly displayed foods made a much bigger deal about their ingredients and it got them doing some research. Yes, history and biology show that dogs used to eat a certain way and we've maybe strayed from that at this point in time. The same can be said about the way humans eat.
Perhaps your dog just doesn't do well on a certain type of food. This is very commonly the case and likely the #1 reason people change foods. You want your pet to be happy and healthy and you want to not have to be cleaning up messes from either end of your pet as little as possible. Food is usually a good source of any digestion issues your dog may have. If this is the case, you will have to be more particular about your dog's food. It is very likely that you'll have to try several different foods before you find one that sticks and that is best for your dog. It should be noted that every single dog food out there will have reviews saying that their dog had a bad reaction to it. None are exempt from this. Every dog is different and reacts differently to foods. Find the one that works best for your dog, and by extension, you.
Value
A big exclusionary criterion when we're talking about canned dog food is how much you are willing to spend. Prices here range the gamut from very affordable to fairly expensive. You can get quality food for relatively inexpensive, but obviously the most expensive is going to have the highest quality and safety standards.
If you don't want to spend too much, some of the cheaper options on this list are the Purina Chophouse, by a long shot, followed by the Hill's Science Diet. Both are quality foods that you will see a big difference in your dog with. However; they may contain some ingredients that you are less sure of and have some artificial ingredients or preservatives.
The higher up in price you get, the higher quality you get. Taste of the Wild, Merrick, and Blue all made very high-quality foods. All of them are more premium ingredients with fewer fillers and nothing artificial.
Ingredients really start to change the higher up in price you go. Weruva and Wellness complete are some of the best foods you can buy ingredient-wise, but you really have to be committed to giving your dog the absolute best food because your wallet will really take a hit here. However; you really can't be the quality found at this price.
Ultimately, you can get good foods at a decent price. If you find your dog has sensitivities or issues with digestion, you may be well served to spend a little more as those price points offer less irritating ingredients.
10 Best Canned Dog Foods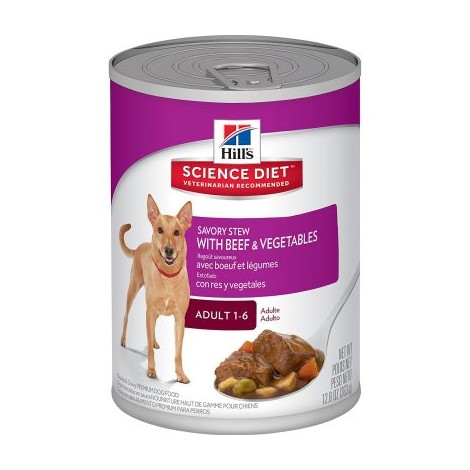 One of the best and most recommended dog foods across the board is Hill's Science Diet. It is backed by nutritional and scientific studies that ensure they are feeding our dogs the best food out there. Their canned dog food falls under this hood of course and will keep your furry best friend happy and healthy for a long time.
Real Food
There is nothing but real food to be found inside a can of Hill's Wet Dog Food. What you will find: real meat, brown rice, and delectable vegetables that provide a gentle fiber to help with digestions. What you won't find: fillers and meat by-products.
Variety of Stages and Sizes
This canned dog food comes in types that are specifically made for your dog. Do you have an older dog? They have food specially made for them. How about a small dog? They also make a food specifically for small dogs. This allows you to get the best nutrition for the size and age of your dog no matter what that is.
Cost and Value
You do have to pay premium prices for premium foods, but all things considered, this canned dog food is a great value for the cost. It actually falls lower range of those listed here but is more expensive than most grocery store varieties you can find. The quality is absolutely worth the cost though.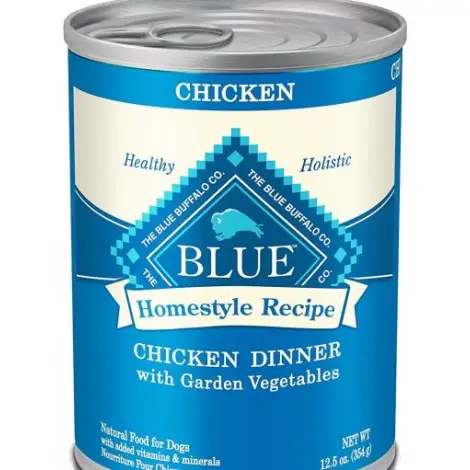 Blue Buffalo is known for making quality pet food. Their canned dog food is no exception. It is made of high-quality meats and only has good ingredients in it. In fact, you can actually see the different veggies they use in it - they're not pureed or blended into mush but are actual chunks of veggies. You won't find any of the bad stuff in here - no meat by-products, artificial flavors or colors, no corn, wheat, or soy.
Hearty Whole Grains
If you are going to have grains in your dog food, they better be good ones. Hearty whole grains provide an excellent source of energy for your favorite pup and will help to keep him happy and healthy. The grains that supply the complex carbohydrates you will find in here are whole grains such as brown rice and barley.
Garden Vegetables
Often times you are left guessing with what is in your canned dog food. Not the case with this Blue Buffalo homestyle variety. You will actually be able to see and pick out things like peas or carrots. You can rest easy knowing that your dog is getting the essential vitamins, minerals, and amino acids they need because you can see that they are getting them without even having to read a label!
Cost and Value
Blue Buffalo is a premium food. As such, it is more expensive than many on this list, though not the most expensive. You can tell they put a lot of effort into making this canned food though because it almost looks like a can of food you would make for yourself. You can see the ingredients they used, the smell isn't terrible, and your dog will love it. You will too because you will have no doubts that your money was well spent.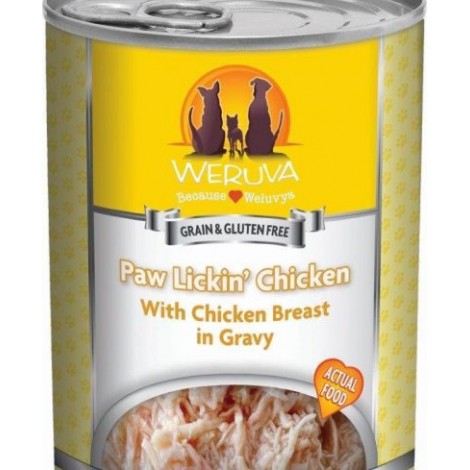 Weruva is one of the most particular pet food brands out there. This canned dog food is completely free of GMO, gluten, grain, and really anything except cage free and wild caught meat. This will give your dog just about as close to a diet as he would get out of nature. It is made from simple and wholesome, real ingredients that you can see right in the food.
Made with the Carnivore in mind
This canned food, no matter the flavor, is made with your carnivorous dog in mind. The meats are all ethically sourced. All chicken meat is boneless, skinless, white breast meat. The beef is grass fed Australian Beef. Any fish products are wild caught and hand flaked.
All things you want, Nothing you don't
You will find only good things that you want to be feeding your dog in here and nothing you don't. They are basically all protein and moisture with minimal carbohydrates. You won't find any gluten, or grain, or GMO, or fillers or by-products. You can feel good about what you are feeding your dog.
Cost and Value
This canned dog food wins the prize for the most expensive on our list - by a decent margin. However, considering all the things listed above, it only makes sense. The foods are largely only high-quality meat, which would still cost more if you went out and bought yourself. If you want to feed your dogs the absolute best when it comes to high protein low carb, this is your choice.

4

. Taste of the Wild Grain Free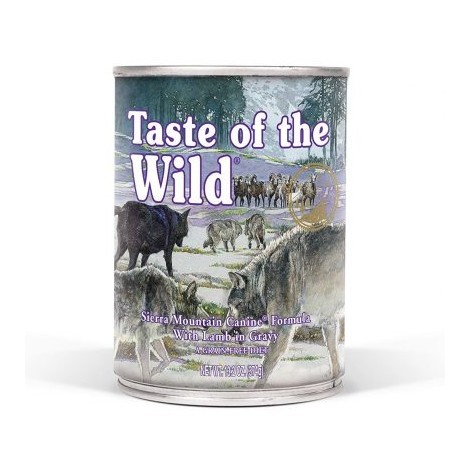 Taste of the Wild is a family run business that specializes in producing high-quality pet food right in the United States. They use scientifically advanced food safety protocols that really ensure you're only feeding your dog food that you would be willing to eat. This canned dog food falls under that umbrella and really is among the best you can buy for your furry friend.
Optimal Amino Acid Profile
When you buy a flavor of this canned dog food, the first ingredient you will find is the meat that it is advertised as. Because whole meat is the first ingredient, it ensures an optimal amino acid profile that will help your dog to build and maintain strong, lean muscles.
Highly Digestible
You will find a variety of natural fibers in this food. There are things like blueberries, sweet potatoes, and raspberries as well as prebiotics to help digestion function smoothly. There is no grain, corn, wheat fillers, or artificial colors, flavors, or preservatives to clog up the system.
Cost and Value
You tend to get what you pay for and this food is no exception to that rule. It is relatively pricey, but taking all things into consideration it is worth the extra expense. It comes from a family run business that has high safety standards and only uses quality ingredients. There are no fillers so the food will be rich and filling. All of those things lead to more expense, but the added cost is absolutely worth it here.

5

. Hill's Science Diet Adult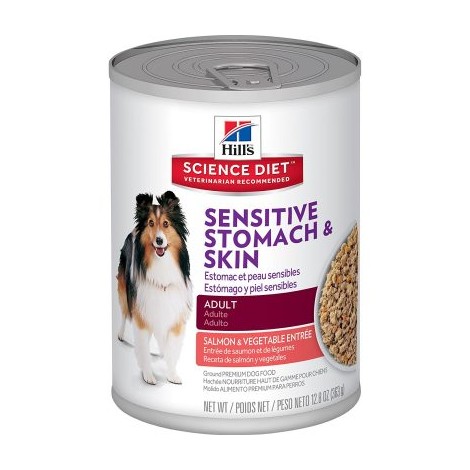 A couple of common maladies among dogs are sensitive stomachs and skin. Did you know that having the right food can help to ease your dog's pain, and indirectly, yours as well? This nutritionally complete meal from Hill's Science Diet does just that by using high quality, natural ingredients that really assist with digestive health.
Easy to Digest
Only ingredients that are easy to digest can be found in this canned dog food. One of these being fiber from high-quality vegetables. There is also a healthy dose of vitamins C and E to make sure your dog's immune system is firing on all cylinders.
Nourishes Skin and Coat

In addition to digestive support, this canned dog food also nourishes your dog's skin and coat by including ingredients like vitamin E and Omega-6 fatty acids. This ensures smooth, non-itchy skin, and a nice, glossy coat.
Cost and Value
As this is a premium dog food that is really meant to help your dog towards better health, it does cost more than bargain varieties. It isn't the most expensive food on the list but falls middle of the pack. However; the benefits your dog will feel once on this food will easily outweigh the cost.

6

. BLUE Wilderness High Protein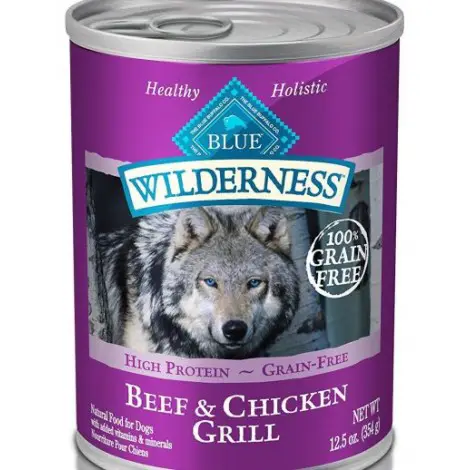 It is hard to find a "best pet foods" list that doesn't include Blue Buffalo somewhere on it. Indeed, this is the second entry on ours. This particular canned dog food boasts that it is high protein and grain free. It does indeed live up to that claim with a 10% protein content and no grains to be found on the ingredient list.
Sensible Alternative
One of the best diets you could feed your dog is a raw diet. However; that gets messy and is expensive to maintain. This canned dog food is a great alternative because it mimics the moisture and protein content of a raw diet without adding in any grains like you see in other varieties. This offers a complete and balanced diet without the mess or hassle of a raw food diet.
Flavor Varieties
There are a large number of different grain-free flavors available. This allows you to give your dog a large variety of foods and know that they are all solid quality. They even have regional varieties so you can treat your dog to a Bayou Blend with Alligator and Catfish, a Denali Blend with Wild Salmon, or a more traditional Beef and Chicken Grill.
Cost and Value
This canned dog food is closer to the top of our list price wise. It is fairly expensive, but if you are comparing this to the raw food diet it aims to replace or fill in for, then you are getting a great deal. It is far more affordable than raw food. It raises the bar on canned food expectations while still giving your dog the nutrients it would get otherwise at a very reasonable price, all things considered.

7

. Natural Balance Ultra Premium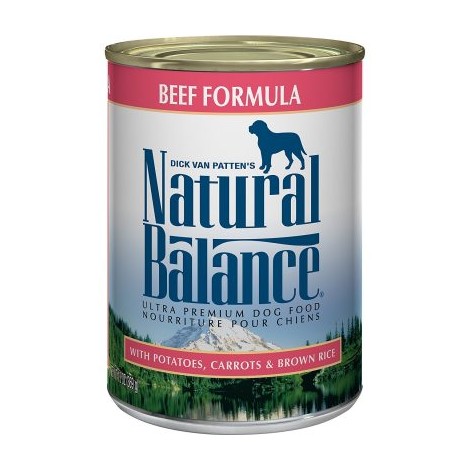 Usually, if a canned dog food is labeled as premium, it is a quality product. That is absolutely the case here. Natural Balance only uses the best ingredients and runs every single batch of food through a rigorous safety test - and makes it so that the results are available to you should you want to look at them. Their foods are wholesome and delicious and contain no artificial flavors or colorings.
High-Quality Energy Sources
There are only high-quality energy sources found in this canned dog food. They include, depending on the flavor, wholesome oat bran, brown rice, or potatoes. All of these are highly digestible carbohydrates. This will ensure your dog has the energy they want and need to go about their daily life.
Overall Health Maintenance
There are a variety of ingredients included to ensure optimum health for your dog. There are premium proteins to ensure muscle health. You can also find Omega 3 and 6 fatty acids that support healthy skin and a shiny coat.
Cost and Value
This food is very reasonably priced. It falls mid to high on our list price wise and lives up to that cost. You will see a noticeable difference in your dog's energy, movement, and coat. Those are all things worth paying for.

8

. Wellness Complete Health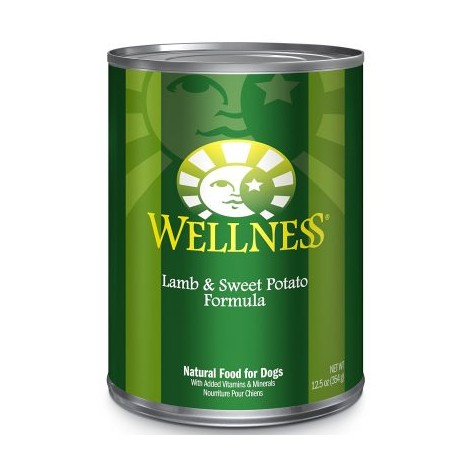 Wellness Complete does indeed produce complete wellness with their canned dog food products. It is balanced and nutrition and supports skin and coat, digestive health, eyes, teeth and gums, energy and immunity. All of that in addition to tasting delicious.
All Natural
You will only find all natural, whole ingredients in this canned dog food. All ingredients are also premium quality. You will find delicious meats, wholesome grains, and a blend of fresh fruits and vegetables. All of the ingredients act together to provide complete and balanced nutrition for your furry friend. You will not find anything artificial, meat by-products, or filler.
Health You Can See
When you feed this to your dog, you will be able to see the difference, guaranteed. A good, premium dog food like this one helps to ensure that your pup will have higher energy levels, smoother skin and a more luxurious coat, and less digestive and teeth issues.
Cost and Value
This is one of the most expensive foods on our list. The fancier your ingredient list gets, the higher the price gets, unfortunately. This is true for humans as well as their pets. What you get here is quality food that your dog will thrive on and enjoy the taste of. If you aren't trying to save your money then definitely splurge here and you'll be happy that you did.

9

. Merrick Classic Grain-Free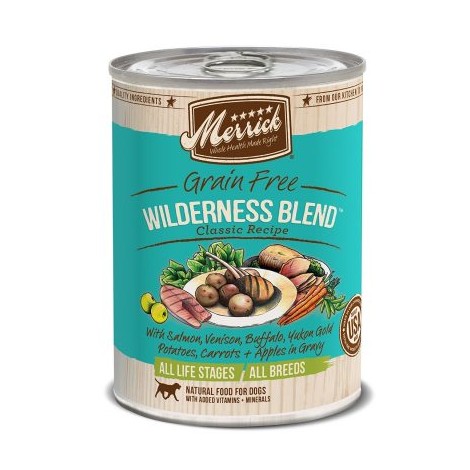 Merrick makes an awesome canned dog food. It is great for serving as a standalone meal, mixing with kibble, or simply serving as a treat. It is full of quality protein and the added moisture your dog may need. It is made and produced in the USA and contains no artificial colors, flavors or preservatives.
Whole Meat #1 Ingredient
You can be confident in your canned dog food when the first ingredient on the label is a whole meat. This is the case for all of the flavors Merrick makes, though the meat will vary based on the flavor. A lot of canned foods have broth as the first ingredient, which makes sense because a lot of broth is needed to get the moisture you associate with wet food.
Grain Free
You can rest easy here knowing that there are very little fillers in this canned dog food. One thing that helps your confidence there is that it is grain free. This goes a long way to help ensure your dog is getting the protein it needs without a lot of the fluff that it doesn't.
Cost and Value
This food is expensive, but really it should be. You simply cannot get the ingredients required in the quantities needed for less, whether you are talking about making a profit or not. The value on this food is great and it is worth spending more money on. You and your dog's digestive system will thank you time and again.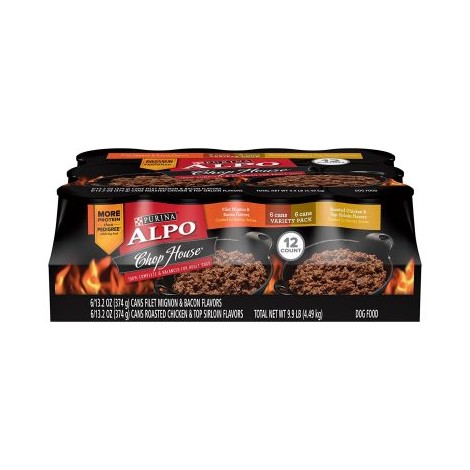 This canned dog food will certainly what your dog's appetite. With flavors like filet mignon, bacon, roasted chicken, and top sirloin you can't go wrong. This is made with real, quality chicken and beef. It has savory chunks in a tender gravy that will lure your dog in and have them clean out the bowl in no time.
Bold Flavors
Purina Alpo Chop House canned dog food contains bold flavors that your dog will crave. Have you ever watched them when you are eating a big steak or some bacon? You can just tell that your dog wants to be part of that and now they can - with a food that is safe for them and won't irritate their digestive systems the way human food would. This is the best of both worlds.
Essential Vitamins and Minerals
It's great and all when a canned dog food looks and smells delicious and your dog wants to gobble it up. But, what makes it even better is knowing that the food they love so much is fortified with 23 essential vitamins and minerals. This is a great way to ensure they are getting the nutrients they need to live their best life.
Cost and Value
This canned dog food comes to you at a very reasonable price. It is not a premium brand, so the price is a lot lower than others on our list. It does have quality ingredients and the nutrients that your pet needs though, so it gets the job done without the price of some of the other brands. Another perk is that your dog is sure to love it.

Subscribe to our Newsletter