Best Pottery Wheels Reviewed & Rated for Quality
In a Hurry? Editors choice: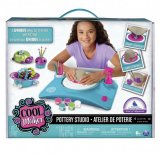 Test Winner: Cool Maker

Whether you are a beginner or a professional potter, a pottery wheel is a fundamental part of the job. If you are planning on buying one you need a checklist of the reasons why you need one then search for one that meets your needs. Pottery wheels are essential investments, so you will need to dedicate your time before paying for one that is high quality and durable while striking a balance between current and long-term needs since it is a long-term purchase. In the buying guide below, we have a collection of ten best pottery wheels that will make pottery pieces that
you will cherish for years to come
.
Standout Picks
Criteria Used for Evaluation
Motion Control
Pottery wheels are classified into two categories. These are electric and manual wheels. Electric wheels are pretty easy to operate and require little human intervention. Manual wheels are typically heavier than electric ones and may prove difficult to move around. An electric wheel may last up to 10 years if properly maintained while the manual wheel is more durable and may last for a lifetime. So what drives the wheels? The engine or the motor is the power behind these tools. The horsepower of the motor determines the weight of clay that the wheel can support. If it has a small motor, it is likely to overheat while the heavy motored one will remain cool for a longer period. The efficiency of the engine depends on its horsepower so the more the strength, the better.
Accessories
When you buy your pottery kit, you will find a wide range of accessories and every item in there is essential since they ensure you get started on a positive note as you kick-start your pottery projects. A removable bat pin is crucial since it enables you to trim the clay ware before removing it from the wheel head. These pins have different diameter sizes which run from the centre of the wheel head, and every bat pin must be compatible with the wheel head. The size of the wheel head determines the base size of the pottery and the larger the pot, the larger the size of the wheel head.
The Splash plan will assist you in the management of the mess while throwing, and they collect the splashed clay which would have otherwise fallen onto the floor. At the end of your project, you will just empty these pans and save yourself from the hustle of sweeping the floor to clear the mess. Your pottery activity will also appear quite neat and organized. The foot pedal is an essential item and is the operating gear lever for the motor. As the name suggests it is solely operated using your feet, and you can apply physical energy. Instead of buying a pottery wheel that consists of the wheel head, frame, and power source, look for one that is more advanced and has a work table and a splash pan.
Value
Pottery wheels are by no means cheap products, they are pricey considering their long time use, however, they are essential in enhancing your pottery skills and transforming your creativity into beautiful artefacts. A point to note is that it is a valuable investment and will enable you make flower pots, and any other ceramic ware at home. It allows you to design and decorate your ware to your preferred shapes and shades. It is an investment for the entire family and an opportunity to nurture kids as they make their creative designs conveniently at home. Therefore it is essential to buy a wheel that will you guarantee longer service and which is worthy of your spending. A high-quality wheel will last longer, and you will spend less on replacement and repairs. It will also save you the cost of buying ceramic and pottery products and allows you to customize your projects to your preference and quality. Pottery is an art and will bring enthusiasm to your children, and they will be trained on how to make different clay items at home. Pick a wheel that will satisfy you in terms of quality, needs, and price.
Ease of Use
If your child has some interest in pottery, it is vital as a parent to encourage them by buying an all-inclusive pottery studio that will enhance their learning as they get started on making pieces of beautiful pottery items. Similarly, if you are a beginner, you need a complete set to start putting your creative ideas into projects. However, the pottery journey may not be a smooth one if the equipment you buy is challenging to operate. You need to pick a tool that has clear instructions on use and maintenance and that which will quickly adapt to your skill level. Most pottery studios kits come with an instructional manual, for a parent, you can guide your child as they learn poetry and with time, they will get accustomed and play around with different designs, and this will be a big boost to their creativity.
When it comes to general use, no machine can last long without regular maintenance. The wheel will require cleaning and greasing or oiling to prevent the metal parts from rusting. The bat pins should be easy to remove and place them back in their position. Pick a machine which is easy to operate and one you can remove the clay ware from the wheel head effortlessly.
Portability
Pottery can be interesting for children and can be a hobby or a favourite pastime activity. There are unique wheels for children, and in such circumstances, it would be wise to look for a lightweight one that can be moved from one location to the other with ease. Electric wheels are lighter than the manual ones and are therefore ideal for children. You may also consider portability in line with the type of work you want to engage. If you are looking forward to a demonstration in trade fairs or pottery festivals, then the electric one will come in handy due to its portability. A lot of physical energy is applied about a manual wheel, and too much pressure is exerted on your knees which can even result in long term problems to your joints.
10 Best Pottery Wheels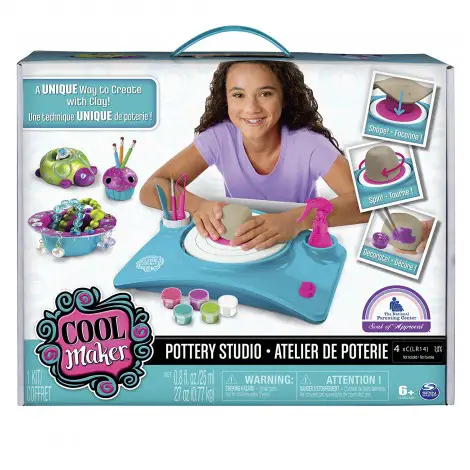 If your household is comprised of young craft lovers and you are looking for a tool to help you with your clay work, with this wheel you can sculpt quite easily, paint and customize your clay creations. The package includes tools to help you make six projects including a jewelry holder and a pencil holder. It is suitable for kids above the age of six and requires you to buy four batteries. There are some additional items such as the project kits and clay refills that may be purchased separately.
Endless fun
The studio is a perfect starting point for your child to learn something exciting which may start as a hobby and end up as a lifetime activity. You will fall in love with the kit, and the presentation is elegant. Some of the tools to get your kids started include; spray bottle, tool holder, clay weighing 2 pounds, a paintbrush, sculpting tools, coring tools, sleeves, metallic paint, and instruction guide. You can tailor-make your clay by use of sculpting tools and ten bright silver paints.
Easy to follow directions
It is a perfect introduction for a child willing to learn pottery because the instructions are easy to follow. The kit is complete with every tool you need. It also has some pieces of clay to get your child started, it surely is going to be creative, and your child will want to paint more. When you buy this kit for the first time, you may need to supervise your child, however, kids learn fast, and within no time, they will enjoy practicing on their own.
Cost and value
This is incredibly cheap, and your child will be able to complete all the projects. It is a practical tool to have endless fun and enjoy pottery. It is a perfect gift for your child and will keep them occupied during their pastime. It is a worthwhile investment worth the price.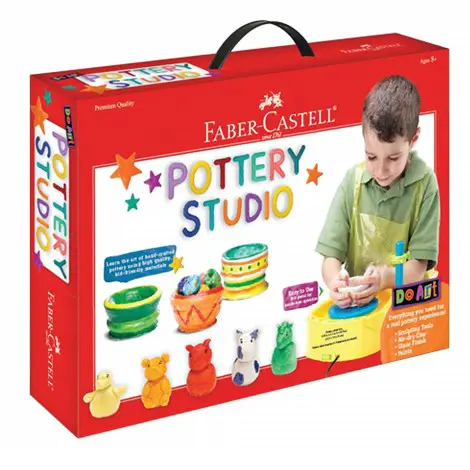 Faber-Castell is what your child need to create beautiful vases, cups and other vessels by using their potter wheels. The package includes three pounds of clay, one trimming cord, six sculpting tools, one sponge, a white base paint, six acrylic paints, six transparent glaze paints, two paint brushes, an apron and a large table cover. However, you need to buy 4 C batteries separately.
Inspires creativity
The Faster- Castell is more than a pottery studio; it is a crafting device that will educate and motivate your child, which makes it a perfect choice for beginners. If your child is showing some interest in the world of pottery, it is what they need to get started.
Easy to use
One unique thing about this pottery studio is the fact that your child will use the foot pedal to operate the wheel; this ensures his hands are free for other functions such as creating and shaping. It also conserves battery power thus making it an efficient tool. It has a grooved surface that holds the clay firmly while keeping it at the centre. It is also extremely easy to use and the kit comes with an easy to follow instructions that will teach your child about the history of pottery and the different techniques.
Cost and vale
The Faster-Castell is ideal for children above eight years and is a perfect gift idea to any child who has some interest in modeling and crafting. It is high quality and absolutely safe to use since the synthetic clay has fewer bacteria and other organisms as compared to organic clay. It is non-toxic and certified as a safe product and may cost you more than other pottery studios. However, it is worth every penny.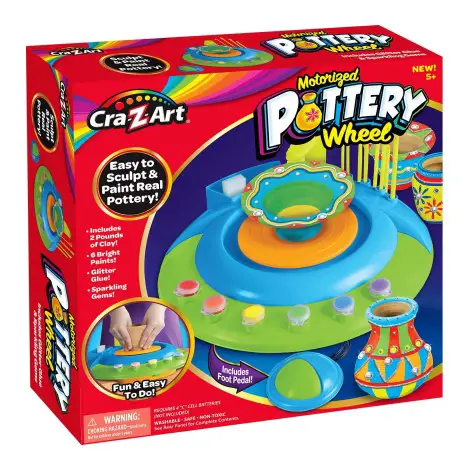 Cra-Z-Art is a battery powered wheel suitable for kids who want to explore their imagination and creativity. It is also ideal for you and is a perfect solution to let your creativity flow and create real pottery. It has a pedal driven system that allows you to use your hands to create stunning pottery pieces. You only need to use natural clay, mold it with water to achieve your preferred consistency. Once done, place it on your spin master and allow your hands to create fine-looking artifacts.
Perfect kit for beginners
If you are just starting and looking for a pottery studio to make great pottery, the Cra-Z-Art is an ideal choice. It has easy to follow instructions that people of all ages can follow to get started. If you want to have fun for the whole family, you will enjoy playing with it, and the paints are ideal for cool projects.
A Complete set
The Cra-Z-Art is a full set of all the tools you need to get you started in your pottery projects. The tools therein allow for decorations using paints and the shaping tools. There are four modelling tools, a sponge, paints, a paint brush, foot pedal and two pounds of natural clay.
Cost and value
This pottery studio is an incredibly cheap product that will get you started in your pottery projects. If you are a beginner or a parent whose child wants to kick-start their pottery projects, then you are on the right track as this is the perfect wheel that will get the job done without hurting your budget.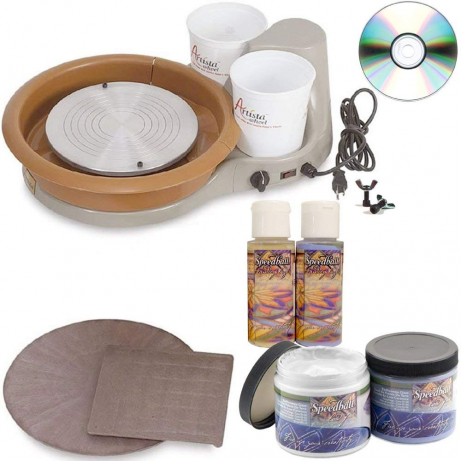 If you are looking for a rotator for making beautiful pieces of ceramic objects, the Speedball is a small compact and lightweight tool ideal for newbies and experienced potters. The package includes all the tools you need to ensure a smooth flow of your pottery work. It comes with two buckets where you can hold water clay or another tool. It also includes two plastic bats, a splash pan for mess protection and several pottery glazes.
Easy to use
The Speedball has a unique design that is either sit down or stand up use, making it convenient to use since you can work while standing or sitting depending on your preferred table level. This wheel has a hand control knob that controls the motor's speed. However, you can buy a food pedal separately though this optional. Folding legs are also optional and are generally useful when you want to fix it to the wheel and want to change from table top to stand alone tool. If you want to work on your projects outdoors, no need to worry about the weather since, it has a secure cover that is water resistant. It is also incredibly easy to clean, therefore, if you are a busy potter, you don't have to worry about spending too much time cleaning.
Sturdy construction
The Speedball brings you a remarkable combination of strength and portability. The package contains a kick wheel made from aluminum, two-part splash pan, and an impact body, made of plastic and sturdy steel construction that can hold up to 25 lbs of clay.
Cost and value
The Speedball is made from high-quality industrial material that makes it a sturdy stool that will swirl while you create impressive pieces of artifacts. It is a versatile tool and can work with different types of clay, allowing you to customize on your project. The sturdy construction ensures the tool is stable and will last for many years to come. If you are keen on investing in a potter's wheel without worrying about repairs, then, this is the best choice. It is a good purchase and 100% money back guarantee.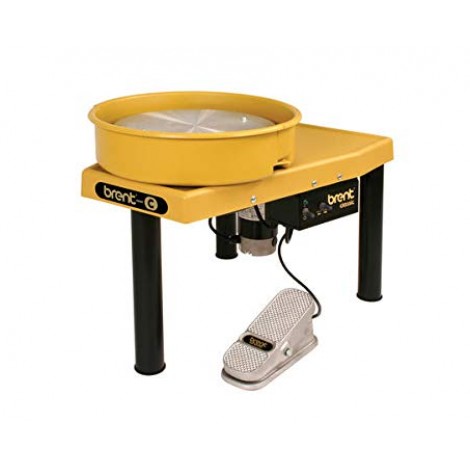 If you are an experienced potter and looking for a durable kick wheel for your project, the Brent is our ideal pick. It is quite flexible, and you can use it for a variety of pottery projects. The package comes with removable bat pins, one plastic bat, adjustable legs, foot pedal, poly belt for moving it and a splash pan which you can easily remove for cleaning.
Sturdy construction
The Brent C It is made from solid steel construction that is sturdy and durable. It has adjustable legs to allow you use it either as a standalone or place on a tabletop and is designed to support up to 225 lbs of clay. It features a twelve-inch diameter trundle with a 75lb center capacity and has a metal casing that protects it harsh weather without damaging the parts. The accessories are made from high-quality material, in particular, the plastic bat which is exceptionally durable.
Efficiency
If you are looking for a real workhorse, I would recommend the Brent C since it has an industrial type motor with a spinning speed of up to 240 RPM. This power tool is reliable and will get the job done since the motor is controlled by a foot pedal which can last for five years when used continuously for 20 hours per week. If you would like some DIY, then you can get more creative and adjust the speed of the wheel to your preference.
Cost and value
The Brent C Wheel is by no means a cheap product. It will cost you an arm and a leg to have it in your pottery workshop. However, if you are a professional craftsman, then this is a sure bet. It will get the job done and is an excellent value for money.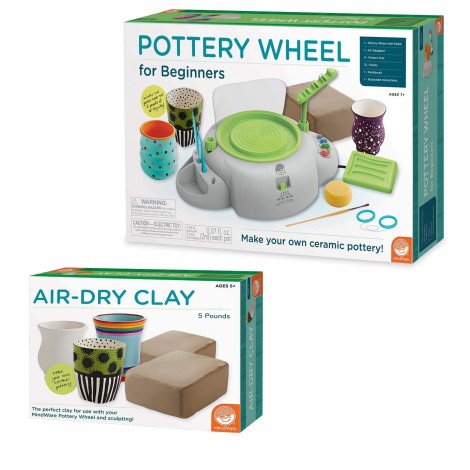 The MindWare is an incredible way to nurture kids' curiosity and interest in pottery and beneficial to young artists with a desire to make stunning ceramics. It is the perfect kit for beginners and includes an extra five pounds of clay to get you started.
Durability
MindWare presents to you a high-quality potter's wheel made from sturdy and durable material for children and beginners. The clay is dried with no traces of air thus absolutely safe for young children, and consequently, you won't worry about them getting hurt. Also, it has excellent features that are durable and made to last. The safety stop regulates the motor depending on the pressure applied; thus your child will learn new skills without the risk of the motor overheating.
Wide variety of accessories
MindWare will help you showcase your pottery prowess and to do this you need a large amount of clay to make stunning pieces of ceramics. This kit has all the clay and other accessories to get you started. Inside you will find twelve paints of different colors to help your child design different creations. It also includes two pounds of clay, an AC adaptor, twelve paints, five tools, paintbrush, and an instruction manual. There is also an extra five pounds of clay.
Cost and value
When it comes to price, the MindWare falls somewhere between the Brent C and Faber-Castell pottery studio. It is, therefore, an ideal choice for beginners or for children who have an interest in pottery and creativity. With this kick wheel, you are assured of quality and reliability, and it is a good buy worth the price.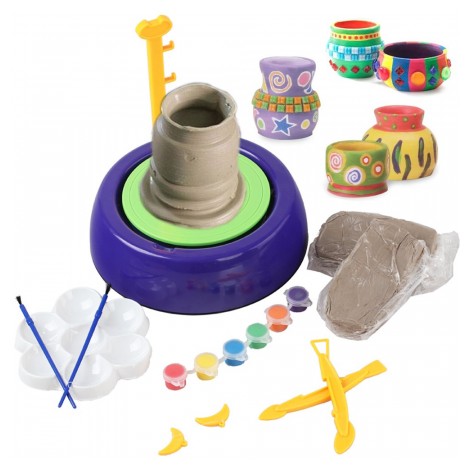 Buying a potter's wheel is a significant step in encouraging your child as he transforms his ideas into beautiful pieces of clay products. The Wetech will teach your child various pottery skills and help improve his coordination as he puts his ideas into beautiful pieces of ceramics. It is a perfect gift idea for your child and he will love it as he embarks on making creative clay products by his hands.
Allows for customization
The Wetech is a versatile tool that helps your child to keep practicing with the clay while trying out different styles, and thus he can customize and make unique products, and this helps in improving his skills and coordination.
A Complete set
The Wetech kit includes everything your kid needs to get started for their pottery project. From the clay to the wheel, it has a wide range of accessories that will make pottery a learning and fun activity. Other items in the package include; one pottery clay studio, 800lb clay, one cutting cord, two sculpting tools and six colors of paint.
Cost and value
This kit has clear and easy to follow instructions, so your child will learn new skills pretty fast. It is also reasonably priced as compared to most packages in the market. It is high quality and excellent value for money.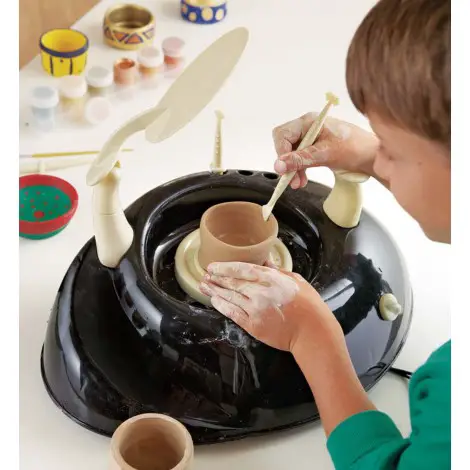 The HearthSong was made with the potter in mind. It is ideal for kids and beginners and comes with a foot pedal that allows you to start and stop the wheel and customize your creativity. It is a sturdy tool and uses electricity or battery power to operate. The package includes two pounds of dry clay, two knives, one cutting cord, one sponge, one paintbrush, six paints, and paint pots and a set of instructions.
Easy to use
Your child will find this wheel extremely easy to use since the package comes with a clear set of instructions. You only need enough clay to complete different projects and to let your child's imagination take shape.
Sturdy and durable
The HearthSong is made from high-quality material that is both sturdy and durable. It will last for many years without the need for repairs or replacements. The accessories too are durable, and the six metallic paints make a great auxiliary to your kid's creations.
Cost and value
For the price, we would rate this kit at five stars; this is because it is unbelievably reasonably priced yet outperforms other pricey wheels. It is a great beginner's kit that will get the job done and a 100% money back guarantee.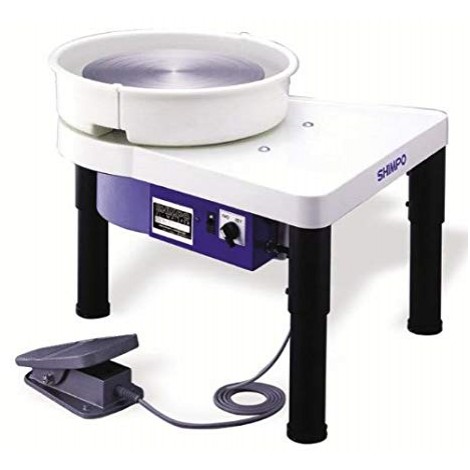 If you are a professional potter, we would highly recommend this wheel. It has an elegant design that appeals to the eye and is made from the state of art technology. It has everything you need for your pottery project and comes with a DC motor that runs smoothly with much power, yet silent and allows you to work in a peaceful quiet environment.
Gets the job done
This potter's wheel is a real workhorse and is what you need in your workshop. It has a powerful engine that requires less maintenance and has an electric controller that allows you to regulate the speed while customizing on your projects. You can use it at the same level of speed without operating the panel and can reverse the wheel direction and adapt to all your requirements. The internal engine has a speaker that protects it from the clay weight.
Durability
Everything in the VL Whisper package is made from high-quality material that guarantees durability and efficiency. It weighs 135 pounds, a little bit heavier; however, if you prefer doing your projects outdoors, the parts are water resistant to withstand the adverse effects of the weather.
Cost and value
When it comes to price, you will need to dig deeper into your wallet, however, it is cheaper than the Brent C. For a professional potter who has been in the industry for long, price may not be a big deal since what matters most is a product that will give you value for your money. This kick wheel will definitely do that.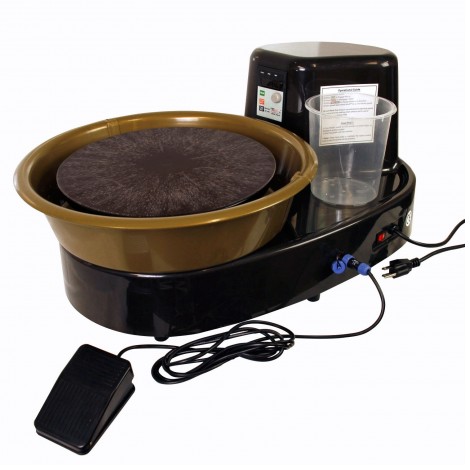 US Art Supply has gained a reputation in the provision of durable and reliable potter's products. This wheel is made from high-quality material and is a must-have in your potter's workshop. It has a wide range of accessories including a plastic bat and a clay cup.
Versatile
This wheel is every potter's desire, and with it, you will be able to complete several projects. It is ideal for both beginners and experienced porters and will adapt to your skill level.
Advanced features
The US Art Supply wheel is made from the state of the art technology. You can use the foot pedal or the control knob to spin the wheel and the LCD that shows the speed reading. You can easily adjust the pin for left or right-hand use.
Cost and value
The US Art Supply is reasonably cheap as compared to other potter's wheels. However, it is ideal for beginners who are set to start pottery projects and are not sure of the best pick. It is a great wheel worth the price.

Subscribe to our Newsletter