Best Fabric Markers Reviewed and Rated for Quality
In a Hurry? Editors choice: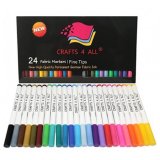 Test Winner: Crafts 4 ALL

One of the main ways that we express ourselves is through the clothes that we wear. And while most of us desire to be part of a community, there's still something in us that wants to stand out as an individual. But let's all just face it--stand out fashion is hard to afford. That's why we're so pleased to feature this Ten Best List for Fabric Markers. With these products, you can change a plain
tote bag
into something totally, uniquely you. Or, you can take a regular pair of sneakers and turn them into an eye-catching, one-of-a-kind pair. But why stop there? You can use the markers on our list to create personalized gifts for newborns, newlyweds, or newly retired folks, and you can also razzle dazzle party gear for bachelorette parties and graduations. Seriously, with these products and your imagination, the possibilities are endless.
Standout Picks
Criteria Used for Evaluation
Color
Of course, we considered colors...that's the whole point, right? And the more colors, the better. We looked through hundreds of reviews to get the skinny on how the colors held up, whether they matched their caps, and whether, for example, the 4 blue colors in a set were noticeably different. We favor brands that rank highly in all of these categories. And we especially like brands that offer different packages where you can get different numbers of markers and where you can order specific replacement colors for your favorites that wear out the fastest.
Accuracy
In terms of accuracy, we consider whether or no a pen will bleed. Of course, some bleeding may happen especially on particular fabrics, but we worked to include those brands that feature the least amount of bleeding possible. This not only applies to when you are creating your pieces but when you are washing them as well. Remember, always be careful not to get a piece of your work wet before it has time to dry because this will cause it to bleed no matter what the quality of the marker.
Application
When considering application, we looked at what variety of fabrics each marker could be used on, whether each product could be used on dark fabrics as well as light, and how smoothly each marker glided across fabric. We work to point out which fabrics work best with each product and how well each product displays itself against darker fabrics. Above all, we sought products that glide smoothly without snagging and bunching the fabric so that your designs remain uninterrupted and so that you are able to execute your vision clearly.
Durability
In regard to durability, we looked for products that, once correctly dried and set, could hold up to years of washing and exposure to the elements and light. Again, we cannot stress enough that your pieces must be properly dried before washing them, but we are delighted that we were able to find so many products that can stand up to heavy wear an tear for years to come. We also considered how durable the physical markers were. The more durable the marker, the better for us, for you, and for your whole family.
Value
We work to provide you the best value products possible. That's why we love this list so much. The products we feature are super affordable and get the job done. They are also available in different sized sets so you can be sure to get just the right set for you. And above all, many of the products on our list are backed by satisfaction guarantees. We remind you to take the best care of your markers by using them only on fabric and putting the lids on firmly and storing them in a dry, cool place to get the longest use out of your markers.
10 Best Fabric Markers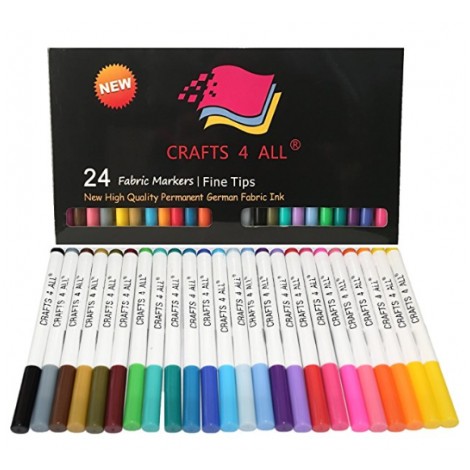 The Crafts 4 ALL are the first to make our list with their brilliant array of 24 colors spanning from hyper warm, to soothing cool, to deep earth tones. These markers are made using the finest of German fabric dyes and they are sure to last.
24 Fine Tipped Markers
The Crafts 4 ALL may be professional grade, but they can be enjoyed by anyone. That's right! They are non-toxic and therefore safe for use by children, and actually meet ASTM standards. The tips of the markers are writer-fine and allow for extreme precision while crafting as well as far less mess than other thicker tipped markers and fabric paint. Crafts 4 ALL has also managed to create a pen that doesn't bleed like so many others on the market so you can rest assured that the fine lines you create with these beauties won't widen and blur.
Professional Grade Pigment for Long Lasting Color
The Crafts 4 ALL are intended for all types of fabrics, which means you can personalize sneakers, purses, pillowcases, placemats, canvas, clothing, and items meant for baby. So whether you're looking for crisp calligraphy or sharpening graffiti, these pens have you covered. And because the pigment is of such high quality, your designs and personalizations are guaranteed to last for longer and not fade in the wash. These babies are waterproof, washer-proof, and lightproof so you can enjoy your designs for years to come.
Cost and Value
The Crafts 4 ALL ring up at the low end of our price range and we love them because they feature such vibrant, long-lasting colors that can be applied to myriad surfaces without fading over time. Plus, we love that they offer a 100% satisfaction guarantee.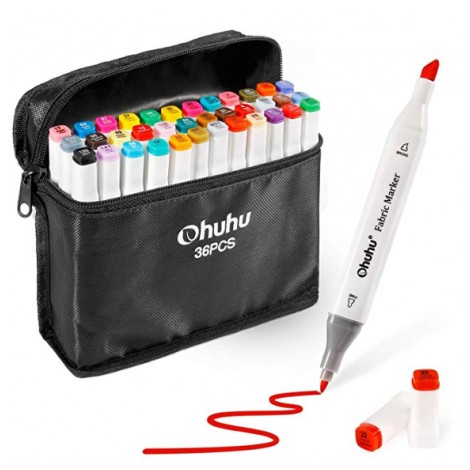 We are smitten with Ohuhu Fabric Markers. Their deeply pigmented colors have staying power that you can count on and are rich enough for even the darkest fabrics. This set comes with a whopping 36 colors and what you are able to do with them will blow you away.
Great for the Whole Family
These are safe to use for the whole family because they are non-toxic and meet EN 71-3's strict safety requirements. With their dual-tip design, they are also ideal for the family to use together as the thick tip allows for kids to work with their gross motor skills and the thin tip allows for more fine motor skills and precise detailing that older children and adults will enjoy. And of course, we love that these markers come with indicators on each end explaining which tip is which.
Promises to Never Fade-Out
These are good to be used almost anywhere. Want to add some spunk to a plain old lampshade in your home? Ohuhu has you covered. Just realized that 2 other people in your class have the same shoes as you? Ohuhu can give you your originality back. Simply let the pigment dry for at least 24 hours, and then you have a just-for-you design that is guaranteed to stick around through water and light storms without fading away.
Cost and Value
The Ohuhu ring up towards the top of our price range but it really is hard to beat their color staying power or the vibrancy of their colors. Plus, with dual-tip options, you're really getting twice the marker for the price of one.

3

. Creative Joy Dual-Tipped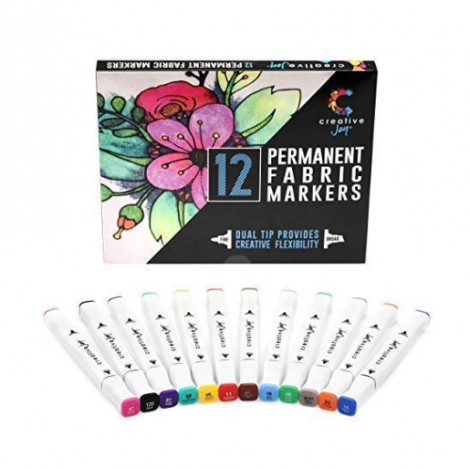 Creative Joy Dual-Tipped are a crafter's dream. Pick these up in a set of 12 colors or 18 colors, and be dazzled by their long-lasting vibrancy.
Meet EN and ASTM Standards
These are great for novice users and experienced users alike and they use only the safest materials when making their products to ensure that they are non-toxic and totally harmless to anyone using them--especially children who can get carried away and often end up marking themselves. We love that these pens are dual-tipped at that they are labeled! While some dual-tipped markers leave you guessing about which end you are about to uncap, these pens clearly show which end is which, saving you time and guessing-energy. Plus, these pens are designed to be easier to use than paints and they won't bleed terribly on your fabrics or onto you.
Heat It and Forget It
The Creative Joy Dual-Tipped are meant to last a lifetime. Whether you are decorating handkerchiefs for a wedding or designing a special bib for a newborn, you want your memories to last. So after you complete your masterpiece, use an iron, a hair drying, or your household tumble dry setting to set your art for the ages. Doing this first ensures that you can wash your work without having it fade away. It will also protect your work from fading with the light.
Cost and Value
The Creative Joy Dual-Tipped are some of the pricier markers on our list but you get what you pay for! These guys are super safe, super easy to use, and super long-lasting. Plus, they come with a 100% satisfaction guarantee to you, the customer.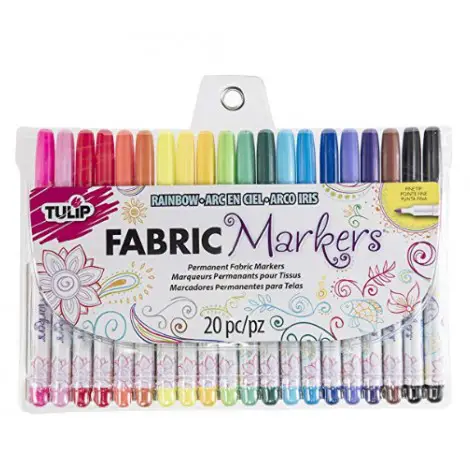 These are designed like Sharpies and meant to last. You can choose between a set of 20 colors or a set of 30 colors--all dazzlingly bright and without breaking the bank.
Designed Like a Sharpie
These are designed with Sharpies in mind but are non-toxic and meant specifically for fabrics. The Tulips are bullet-tipped which means that they are fine, but not super-fine (like a Sharpie). That means they are built for precision and resistant to bleeds. Because these bad boys are non-toxic, they are great not only for experienced artists but also for children who can't always be bothered with drawing on the page.
Won't Snag on Fabric
This product was created to glide across fabric. While some pens on the market tug at fabrics causing bumps and disrupting smooth lines, the Tulips will seamlessly move across all types of fabrics without snagging and creating a mess. Plus, no need to heat set your designs when using these pens. Simply wait for your designs to dry and then they are good to be put through a standard, at-home washer and drying. The gentler the settings, the longer your drawings will last.
Cost and Value
The Tulip Permanent Nontoxic Fabric Markers ring up towards the low end of our price range and we love that their colors are so vibrant, that they can be used without snagging fabric, and that they are totally safe.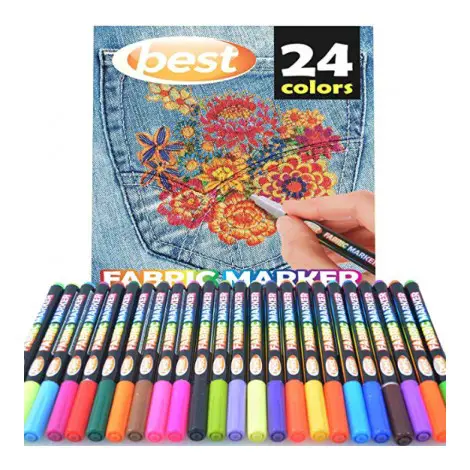 The Best Fabric Markers may not be the best on our list, but they are high up there. These pens come in 24 vivid colors that include all of your standard shades as well as some neon beauties, and boy are they serious enough to even show brightly on denim.
Bullet-Tip for Total Control
These come with a bullet styled tip that gives you, the artist, total control over the width of your lines. Use the tippy tip of the tip for ultra-thin lines, or angle the pen to the side to create a thicker line for shading and calligraphy. But no matter which part of the tip you choose, rest assured that your lines will stay where you put them without bleeding. These pens are also non-toxic which means that they can be used safely by adults and children alike.
Glides Over Fabrics
This product is designed to run smoothly over any type of fabric whether it's cotton, denim, canvas, or polyester. No more worrying about snagging your patterns or lines and ruining your vision. And you can also forget about having to heat set your art before washing. These pens feature quick-dry fabric paint, so as soon as your art is dry, it is 100% machine washable. Remember, as with any fabric, the more gently you treat it, the longer it will remain vibrant.
Cost and Value
The Best Fabric Markers are the most inexpensive option on our list and we love them because they are easy to use and manipulate so that you can fully articulate your vision on fabric.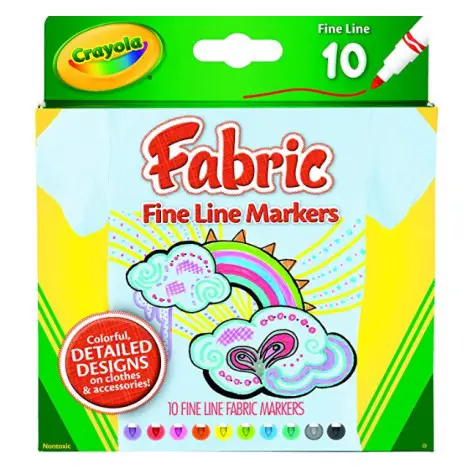 The Crayola Fine Line are designed specifically with kids in mind. Not only are they safe, but they are easy to use. This set comes with 10 amazing colors.
Fine Tipped Details
This product will allow you to draw with detail and imagination. Using the point, you can get super fine lines, or you can use the sides of the pen tip to get thicker lines and to add dimension. These pens are super lightweight and easy to use by children. And because they are made by Crayola, you know that they have been tested and approved by kids, and also that they are 100% non-toxic and safe for use. But don't worry. Even if you're not a kid anymore, you can still have a blast doodling away with these pens.
Works on Light and Dark Fabrics
These go on smoothly and allow for seamlessly detailed designs. Because they were made with kids in mind, they are durable and can hold up to heavy use (even if the caps don't always make it all the way back on). What's more, these pens work just as well on dark fabrics as they do on light fabrics, meaning that you can create jaw-dropping images on any number of fabric surfaces while enjoying a nice pop of color. To ensure a long life for your creations, heat set them in the dryer for about 30 minutes or simply use an iron and these drawings will be good to go in the wash.
Cost and Value
These are some of the most inexpensive on our list and we absolutely love them because they are super easy to use. They glide and apply bleed-free, popping colors so that even the littlest kids can create masterpieces. And because these were designed specifically for children, they can handle a little more wear and tear than your average craft pen with easy-to-bend tips.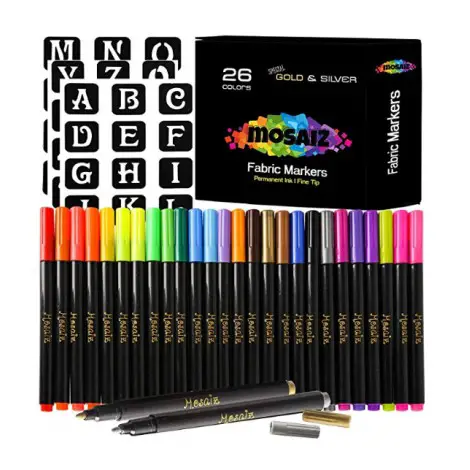 The Mosiaz comes with some amazing bonuses that you won't find with other sets on our list. This set of 26 colors also features metallic gold and silver pens to add some extra sparkle to your next art project. Plus, an additional stencil set will set your imagination ablaze.
Comes with Set of 36 Reusable Stencils
The Mosiaz Pen Set is totally non-toxic and odorless and allows you to transition seamlessly from slim to thick lines using the bullet style tip. Whether you're a novice or professional, you will be able to make these pens dance across the page for you and bring your imagination to life. The pens are designed to deliver crisp color without fading. But if you're stumped on how to get started, never fear! This set includes 36 adhesive, reusable stencils to help guide your creative process. Stencil designs include delightfully fonted upper case alphabet letters and the numbers 0-9.
Chlorine and Fade Resistant
The Mosiaz Pen Set is designed to stand the test of time. The pigments in these pens are fade resistant, chlorine resistant, and bleed resistant to ensure that your creations can last for years, even if thrown in the washer. Chlorine resistant properties ensure that colors won't bleed together or onto other items of clothing they may come in contact with.
Cost and Value
This option rings up towards the bottom of our price range and we love its value because it comes with some added bonuses that other markers at the same price point do not (metallic gold and silver, plus the stencil set).

8

. Crafts 4 ALL Bright Dual Tip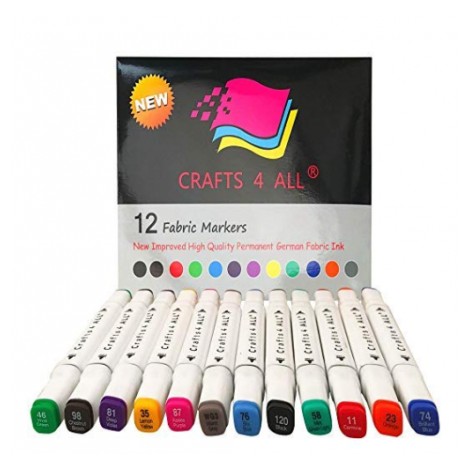 Crafts 4 ALL Bright Dual Tip gives us googly heart eyes. You can choose to get these high-quality, German pigmented pens in a 12, 20, or 36 pack set, each coming with a handy carrying case to keep your pens organized.
Dual Tipped for Versatility in Design
These are a dream in ink. They feature two tips (one on each end). One tip is finer and meant for outlining and precision lines, while the other tip is thick and great for graffiti and artistic calligraphy as well as for filling in larger spaces without wearing out your hand and wrist. And no matter which side of the pen you're using, rest assured that your marks will stay where you put them. Even when using the larger tip that releases more pigment, your designs won't bleed and spread. What's even greater is that these markers are non-toxic as certified by the ASTM which means they are great for adults and children alike.
Fade-Resistant on All Sides
They can be used on all types of fabrics from sneakers, to canvas, to socks. By heat-locking your designs first using a drying or hair dryer, you can be sure that your designs will hold up against water, washing machines, and light.
Cost and Value
The Crafts 4 ALL Bright Dual TIP Fabric Paint Markers ring up towards the top of our price range but we love their value because they offer such versatility in application and in tip size. And Crafts 4 ALL is so sure that you'll love their product that they offer a 100% money back guarantee if you aren't totally satisfied.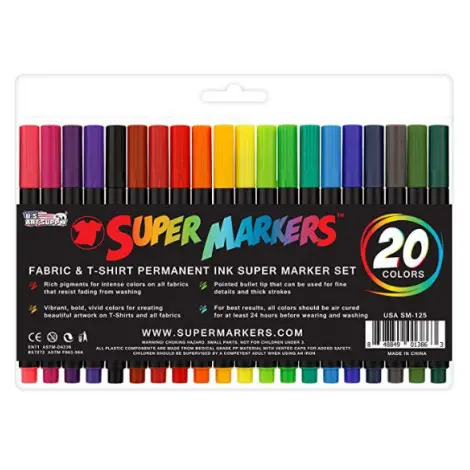 The US Art Supply come in a set of 20 vivid colors that will have you swooning. These guys are bright and long-lasting and deliver versatile lines that will meet all of your artistic needs.
Easy to Manipulate Bullet Tip
The US Art Supply come with a super versatile bullet style tip that allows for small and exact detailing while also letting you make larger strokes and fill in larger spaces. The tip is user-friendly and intuitive, and you'll be making exquisite works of fabric art in no time. These are a great option for children, but US Art Supply reminds you that children need to be supervised by a competent adult when using the iron to set designs.
Great for T-Shirts and Other Fabrics
The US Art Supply were designed specifically for high-performance on t-shirts but will also work on other fabrics as well. Cotton does best with these markers. You may choose to just allow your designs to air-set for 24-hours but for best results, heat-set your art with an iron, hairdryer, or house dryer to ensure that your creations have more longevity.
Cost and Value
The US Art Supply ring up towards to bottom of our price range and we like their value because they get the job done without breaking the bank. We also like how easy they are to use and that they come with a 100% money back guarantee if you aren't satisfied.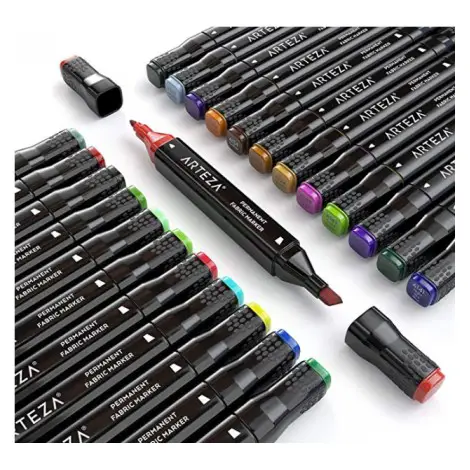 The Arteza come in a set of 24 dazzling colors that produce juicy tones and provide variety in your crafting drawer.
Specially Designed Chisel Tip
The Arteza are the most deluxe set on our list. Not only do they feature a dual-tip, but the larger tip is specially designed and chiseled to allow for even more precision. Users gush about how lush the tips are and how much pigment they expell with minimal effort. And they also rave about how little these pens bleed as well. Rich color without bleeding is a winning combination.
Also Work Excellently on Rocks
The Arteza work beautifully on fabric. They glide with a breeze and apply deep, even color without snagging the fabric. It is worth noting that these pens work best on lighter colors and don't show themselves as well on darker ones. But why stop at fabrics? Users have enjoyed these pens when creating rock gardens and even when decorating branches for holiday displays.
Cost and Value
The Arteza ring up at the top of our price range but they boast super deep, super smooth color that is unmatched by other pens on our list. Plus, they come with a money back guarantee if you aren't satisfied with your purchase.

Subscribe to our Newsletter