Best Pool Cue Cases Reviewed & Rated for Quality
In a Hurry? Editors choice: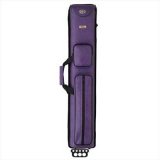 Test Winner: Elite Nexus Original

Pool is a historic
game
that's played on a global scale. To compete with friends or at a professional level, you need to keep your pool cue protected. This is made possible when you invest in a
pool cue
case. This accessory not only offers your pool cue adequate protection, but it makes it a breeze to transport from pool hall to pool hall. Today, there are so many choices to consider. No matter what type of pool you plan on engaging in or how skilled or inexperienced you are, this list offers something for everyone. Get all your questions answered and find the best carrier for your favorite cue here!
Standout Picks
Criteria Used for Evaluation
Materials
When it comes to choosing a pool cue case, it's paramount that it has the right covering material. After all, this material will determine how much protection your pool cues have when being transported from location to location. Some materials are better than others when it comes to providing adequate protection.
The hard plastic is one of the most durable covering materials you can choose for the exterior. This is particularly true if the plastic is thick and resistant to cracking and bending. Pool cues that are stored in a hard plastic case won't easily damage, even if the case is accidentally dropped. A hard plastic covering material also enables manufacturers to give these cases a structurally sound shape, such as oval and rectangular.
Rubber is another covering material that you should look for in a pool cue case. It's usually lined around the corners and sides so that if the case gets dropped, the rubber helps absorb the impact. Pool cue cases inside thus won't receive this impact and be susceptible to breaking. Rubber covering on the exterior also serves a gripping purpose, which helps you secure the pool cue case against your body during transportation.
Leather may not sound like a very durable material, but it can be so long as the leather is thick. Much like the rubber covering material, thick leather can help absorb impacts that these cases will face over the years.
Capacity
Pool cue cases today range a lot in terms of their carrying capacity. This is one of the most important features to assess because it varies from case to case. The carrying capacity that you need depends entirely on how many pool cues you plan on having.
If you're a beginner, the carrying capacity of your case may not need to be that large. A case that supports one pool cue may be all that you need. As a beginner, you're just trying to learn the basics of this game. You thus just need one stick so that all of your shots are consistent. Choosing a 1×1 case will suffice for your playing needs in this instance, and since these cases are not as large, they won't cost nearly as much.
Conversely, if you play a lot of pool, you probably rely on different pool cues. Some cues may be reserved for competition, while other cues may be strictly for trick shots. If you fall into this category of playing, you'll need a case that has a large carrying capacity and can support more than one cue. Cases that you should look for include 2×2, 3×3, 2×4, 3×4, and 4×8. You'll have plenty of compartments for your butts and shafts, and you can keep them all in one place for easy access.
Protection
The lining of a pool cue case plays an important role: it keeps your pool cue from moving around and prevents it from getting severely damaged. Today, there are many great lining options you should consider for pool cue cases.
Soft foam insert is what a lot of pool cue cases feature today, and for good reason. It compresses once pool cues are placed inside – which prevents them from moving around. With this added stability, you don't have to worry as much about your cues jostling around and hitting against each other when you're mobile. Foam inserts also help you protect pool cues from impacts – whether the case is banged against objects or is accidentally dropped.
Plastic molds are a little more specific as far as what pool cues they can hold. They have particular dimensions, which means you need to ensure the molds are designed to secure your pool cue type. Once you do get the proper fit, these molds are one of the best options for keeping your cues stationary. Plastic molds are also extremely durable and they enable you to snap your pool stick parts in. Once you hear an audible clicking sound, you'll know that your pool equipment is ready for transportation.
Soft felt is an interior lining option that is widely used by a lot of pool cue case manufacturers. It's one of the more inexpensive options, and it should only be considered if you're focused more on style – as opposed to functional protection. Today, soft felt comes in many different color varieties. Even though soft felt doesn't provide ample cushion like other lining options, it does provide traction. You can thus keep pool equipment in place and organized, even when you pick up the case and move it around.
Features
One of the primary reasons you're investing your hard-earned money in a pool cue case is to make transporting your pool cues easy. There are many ways you can transport these cases, but two of the most common components are straps and handles.
When looking for the right carrying strap, it's important that it has an adjustable design.
So, no matter what body type you have, you can adjust the strap until you find the perfect position on your shoulders. Adjustable straps also ensure the case is tightly secured on your body. Then if you move real fast or accidentally stumble, the pool cue case will remain around your shoulders. You thus don't have to worry about expensive damage occurring.
In terms of the handle, there are many factors to pay attention to. For example, the material of the carrying handle is important to assess. Rubber, in particular, is a great material for helping you retain grip. It's also usually weatherproof, so if your pool cue case is left outside in the elements, the rubber will hold up.
It's also important that the handle has a textured grip. This design enables your hands to fit better on the handle, which is key if you plan on carrying the case around for hours. Lastly, pay attention to the handle's size. It should be big enough to where your entire hand can fit inside comfortably. For this attribute, you may need to try out the pool cue case in person to ensure your hand fits inside correctly.
Value
While pool cue cases are not required to play pool, they are certainly recommended. After all, they are intended to keep your cues protected during transportation. Investing in the right pool cue case can save yourself from dealing with expensive repairs later down the road. Additionally, you'll want a pool cue case if you've invested a lot of money into a pool stick. Once your stick is secured properly in one of these cases, you can worry less about severe damage occurring.
BEST POOL CUE CASES REVIEWED & RATED FOR QUALITY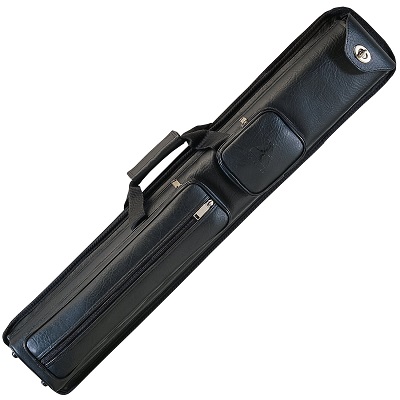 The Pro Series Premium pool cue case is renowned for its ample space and multiple storage compartments. Featuring brown leather that's easy to maintain, this case blends style and practical function perfectly. The moisture-wicking fabric has even been lined on the interior – which provides adequate protection for your pool cue. It can hold a total of 4 cue butts and 8 cue shafts.
Over-sized Accessory Pockets
You never have to worry about being without pool accessories when you use the Pro Series Premium case. Each accessory pocket has ample space – helping you keep all of your pool items in one place. Traveling for pool games has never been easier.
Spacious
For the experienced pool players that have multiple pool sticks, the Pro Series Premium case is ideal. It can store multiple cues at one time, saving you from needing a pool cue preference. All of your sticks will be safely anchored inside.
Cost and Value
For its size and various accessory pockets, the Pro Series Premium is priced fairly. Its soft design makes it comfortable to travel with, while the brown leather looks nice for any pool occasion. Best of all, this case lets you carry multiple cues at a time so you'll be ready for any event.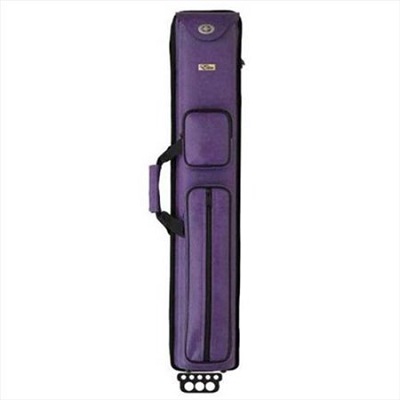 If you have multiple butts and shafts to store, the Elite Nexus Original is the go-to pool cue case. Featuring an oval shape, it comes with a carrying strap and handles to accommodate you wherever your pool adventures take you. Durable plastic is featured on the exterior, while the interior has rubber molding. Pool shafts can be inserted in either direction – making it a diverse pool cue case to own.
Durable Exterior Shell
No matter what pool stick you have, you can rest assured it has adequate protection when protected by the Elite Nexus Original's hard exterior shell. It's designed to resist heavy impacts, thus preventing your cue from scratching or chipping.
Secure Handle
The Elite Nexus Original has a handle prominently featured on one side – which helps you maintain a firm grasp of the case. It has even been covered in rubber, a material that helps your hands remain comfortable while carrying the case.
Cost and Value
For extra durability and style, you'll have to pay a premium price for the Elite Nexus Original. These extra costs are well worth having a durable pool cue case, however. Two compartments help you organize butts and shafts, while the oval shape gives the case a nice aesthetic.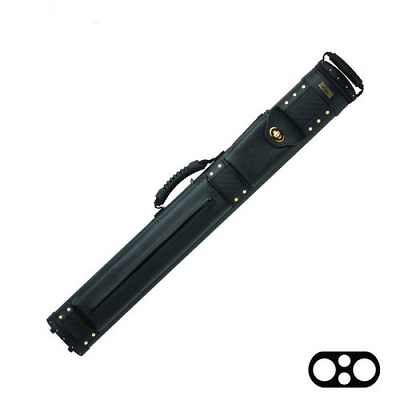 The Elite 2x2 enables you to transport 2 butts and 4 shafts in a convenient and effective way. Two external pockets help you keep pool essentials in one place, while the lid at the top has a quick-release latch for easy loading and unloading. A shoulder strap provides adequate support while you're mobile, and the carrying handle to the side gives you maximum control.
Innovative Top Lid
Since the lid at the top has a quick-release hatch, you can quickly send butts and shafts through without any hassle. This design is ideal if you're in a hurry to your pool destinations.
Well-Built Design
From the way the external pockets are attached to the poured rubber casing, the Elite 2x2 is a well-built pool cue case that you can always rely on. Every component of this case has a purpose.
Cost and Value
The Elite 2x2 ranks up there as far as price, but these extra costs give you a functional pool case that has a premium aesthetic. It's designed for any pool player looking to house multiple shafts and butts with ease.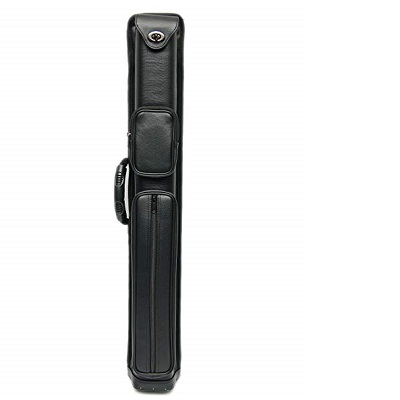 For those formal pool gatherings, you can show off your cue in style with the 2x2 Pro 2B4S. It is comprised of a durable, elegant leatherette material that stands out from all angles. Thanks to its durable construction, you can rest assured this case will last through whatever you put it through. It even has a rubber handle that provides you with maximum grip.
Striking Aesthetics
You'll be ready for any pool occasion thanks to the distinct visuals given off by the 2x2 Pro 2B4S. The leatherette material showcases class and it's thick enough to safeguard your pool cue from many external threats.
Ample Cushion
You'll have peace of mind when transporting your stick in this case because of its extra padding, on the interior and exterior. The cushion helps protect your cue in the event of falls or bangs against hard surfaces.
Cost and Value
Since the 2x2 Pro 2B4S does feature high-end leather, you'll pay more for this case. If you do, you can rest assured your stick will be protected and presented in a sophisticated way. You'll also have plenty of room to work with.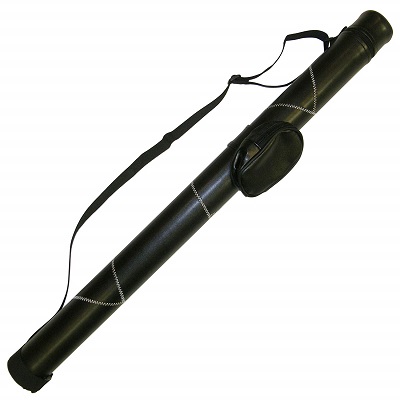 Billiard is a brand that is synonymous with pool, and you can partake in this long-standing tradition with the Iszy Billiard 1x1 pool cue. Featuring a hard shell, this pool cue case is extremely durable and provides ample protection once pool cues are secured inside. A vinyl wrapping gives the case extra style and comfort as well. Thanks to an adjustable shoulder strap, pool players can comfortably wrap this case around their shoulders and go on their way quickly.
Storage Pocket
A novel feature of the Iszy Billiard 1x1 case is its storage pocket. It's featured prominently on the side and gives you extra room for all of your pool essentials. These can include extra tips, pool chalk, and much more. The pocket even has a zipper to ensure every item is secure, even when you're on the go.
Compact Design
Transporting this hard pool cue case isn't problematic in the slightest as it has a compact design. Measuring 31 ¼ inches in length, you can easily maneuver this case wherever your pool adventures take you. The compact design also makes storing this case extremely easy.
Cost and Value
One of the most important highlights of the Iszy Billiard 1x1 case is its affordability. It enables players to protect their pool sticks in a cost-effective way, yet they still get to benefit from a quality brand that people know and trust.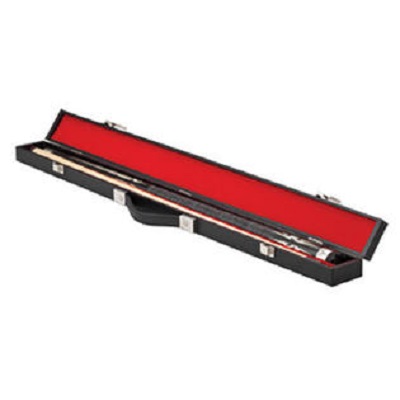 There's no better way to transport your pool stick than in the Casemaster Deluxe pool cue case. It features a box shape that has been elegantly wrapped in hard-textured leatherette. The premium experience continues to the interior with fully-lined cushions. They provide pool sticks with maximum protection. A top handle makes transporting the case extremely easy and ensures a firm grip.
Convenient Handle
When you're on the go, you can effortlessly carry the Casemaster Deluxe thanks to a handle conveniently featured at the top. It provides users with a firm grip and is fully wrapped in a sophisticated leather.
Stylish
The Casemaster Deluxe is renowned for its supreme style. The unique combination of leather on the exterior meshed with red fabric liner creates an appealing aesthetic. The case also features a sleek design.
Cost and Value
Featuring a low price, the Casemaster Deluxe doesn't put financial barriers on pool players looking to carry their pool stick in style. For its value and durability, this box-shaped case has no equal. It excels in function, aesthetics, and quality.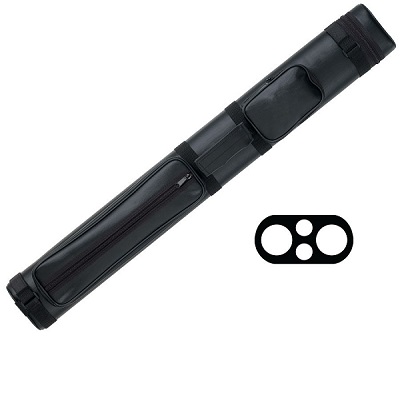 A moderately sized pool cue case is the Action Vinyl, which can hold two butts and two shafts at a time. It comes loaded with everything, including a carrying handle, shoulder strap, and multiple pockets that zip up. It even includes felt lining for a unique visual that never gets old and feels great when touching your skin.
Vinyl Covering
A highlight feature for the Action Vinyl pool stick case is the vinyl covering that is elegantly wrapped around the entire body. It comes in various colors and has a soft touch – which is important if you'll be carrying this case around for a while.
Simple Design
Where the Action Vinyl beats out a lot of other pool stick cases is with its simple design. It has just the right number of pockets, holds the right number of butts and shafts, and showcases a timeless style.
Cost and Value
Even though the Action Vinyl is one of the more expensive pool cue cases on the market, you get what you pay for. The materials are high-quality and placing butts and shafts inside can be completed with little effort. All in all, this case is a well-rounded choice that will serve its purpose perfectly.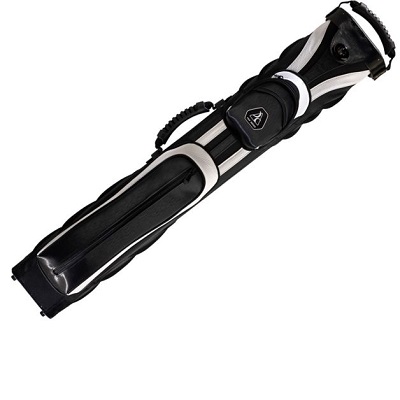 The 3x5 Sports Series provides the right amount of security you've been looking for. Its heavy-duty design shields pool cues from scratches and chips, while the vinyl material is perfect for showing off the unique design. You don't have to worry about the case slipping off at any point thanks to its non-slip shoulder pad, which is easy to wrap around your body. The case is also uniquely designed to resist wear and tear.
Longevity
Even if you put the 3x5 Sports Series case through a lot, it will retain its structure and striking aesthetics. You can thus worry less about replacement costs, even after years of use.
Large Storage Options
Since a large storage compartment has been equipped on the side, the 3x5 Sports Series case gives you plenty of room for items like gloves, chalk, tips, and hand towels. The zipper ensures a tight seal.
Cost and Value
Sports Series is a brand that's affordable and one you can trust. This sleek case can get you through it all and still hold up thanks to its durable design. The vinyl-wrapped material gives the cue a premium aesthetic that you'll never get tired of looking at.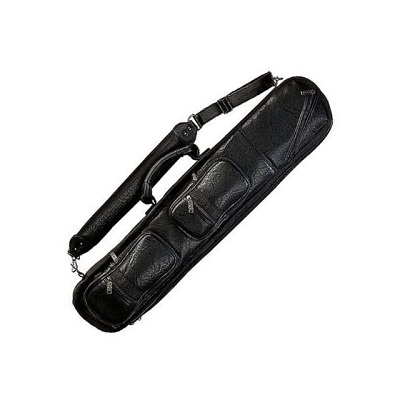 One of the most diverse and well-made pool cue holders on the market today is the Lucasi LC-3. Featuring an adjustable shoulder strap and large pockets, this case is diverse and fully capable of protecting 3 butts and 6 shafts. Dividers inside help you keep your pool gear protected and organized. Hard vinyl material is both practical and stylish.
Interior Dividing System
Not many pool cue cases have dividers on the inside like the Lucasi LC-3. They help you keep shafts from moving around. This dividing mechanism is built from durable plastic that will resist wear and tear.
Convenient Storage Option
You will be ready for any pool adventure since the Lucasi LC-3 comes with a storage pocket that's placed conveniently near the top. It can hold multiple items, such as chalk, tips, and other accessories.
Cost and Value
The Lucasi LC-3 is a pool cue case on the lower end of the price spectrum. It's perfect for players looking for a good mix of stylish materials and supportive interior components.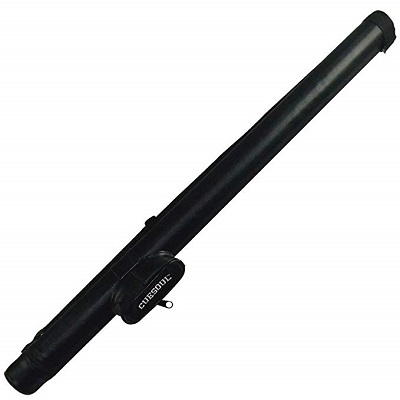 If you're looking for a compact pool stick case that is also stylish, you can do no wrong with the CueSoul 1x1. Featuring high-end leather, this case presents a sophisticated look that helps you make statements at any pool venue. An adjustable strap ensures a comfortable, secure fit. A small pocket in the middle enables you to store items like pool tips and chalk.
Stylish
It's hard for other cases to match the aesthetics presented by the CueSoul 1x1. Premium leather not only makes statements but ensures a long-lasting design that saves you from costly replacements. It's a true stylistic gem.
Extra Storage
Having extra storage is important for pool players, and the CueSoul 1x1 has it in spades. The zipper pocket gives you plenty of room for your daily pool essentials, and it's perfectly placed to not detract from this case's overall flow and design.
Cost and Value
The CueSoul 1x1 is moderately priced and is the perfect pool stick holder for players of all experience levels. From its striking visuals to its extra features, it's a pool cue case that never fails to deliver on protection and sophistication.

Subscribe to our Newsletter