Best Bow Cases Reviewed & Rated for Quality and Value
last updated:
Mar 05, 2021
You care about your gear, you care about hunting. The fact is that nobody cares about your bow and your gear more than you do, and that is as it should be. And so you get a nice case for your bow just so you can be sure that it doesn't get damaged when you have to stow it in the trunk or the back of your truck. But at some point or another, you are going to have to turn over your bow to someone who doesn't care about your bow at all. And that is why we're here with our list of some of the best bow cases ever collected in one place. And while we can't guarantee that anyone else is going to care about your bow as much as you do, we can guarantee these will keep your bow safe.
In a Hurry? The test winner after 15 hrs of research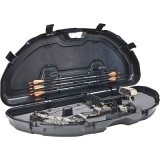 Plano Protector 1110-00
Why is it better?
Makes the most out of the space available for a compact
Limited lifetime warranty included
Comes with great protection from the exterior world
Comes with unique, extra storage
In a
Hurry? Editors choice: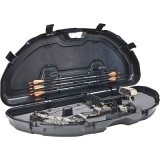 Test Winner: Plano Protector 1110-00

16
Researched Sources
13500
Reviews Considered
15
Hours Researching
15
Products Evaluated
Materials
Size
Capacity
Durability
Compatibility
By Default
BEST BOW CASES REVIEWED & RATED FOR QUALITY AND VALUE
1

. Plano Protector 1110-00
Makes the most out of the space available for a compact
Limited lifetime warranty included
Comes with great protection from the exterior world
Comes with unique, extra storage
The top-dog on the list is a compact hard case from Plano. It's rich with features and has a no-nonsense styling that puts you in charge of the organization.
Great Interior Protection
Inside the hardshell case is high-density foam to protect your equipment from bumps and bruises. Everything will stay in place no matter how wild the ride is to the destination.
Extra Storage
Under the lid, you will find ample space to store some extra bow accessories. A great place to keep an arm guard or even your release.
Cost and Value
As one of the lowest priced on the list, the cost to value ratio is off the charts. This was an easy #1 pick for anyone that needs a jack of all trades option at a fair price.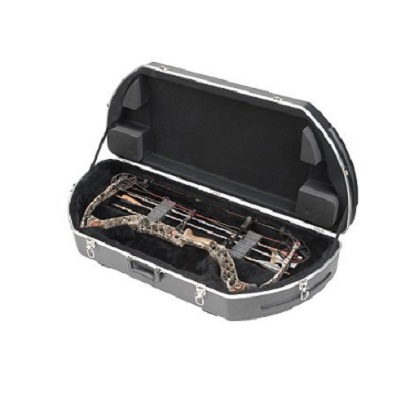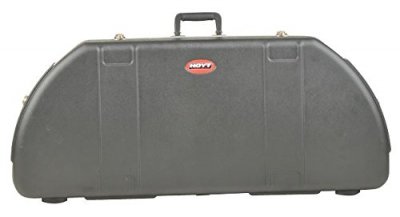 Great structural support for bows
Long five-year warranty
Comes with a high-quality ABS shell
Made from some of the best materials in the industry
Another hard case to make the list comes from SKB Corp., with a sleek and professional look to topple the other competitors. Made for high-end bows, users that spend a lot of money on accessories should consider this a must-have option.
Best Looking Hard Case
The ABS shell looks like a business suitcase, providing just as much protection as it does flair. And the inside of the case looks incredible, just like the outside.
Sturdy Locks
The locks are designed to be sure the lid remains closed. The fact that they are also metal gives this one a slight edge over some of the others on the list.
Cost and Value
This is the most expensive on the list, but the high price is justified by the materials. There are more than enough reasons to buy this case if you have a collection of expensive bows.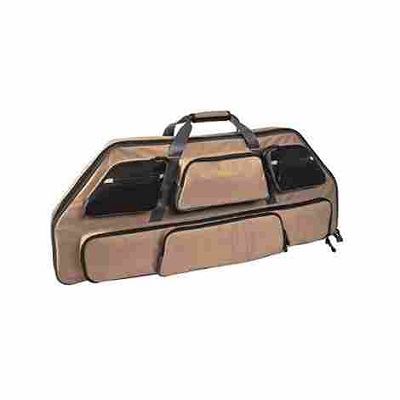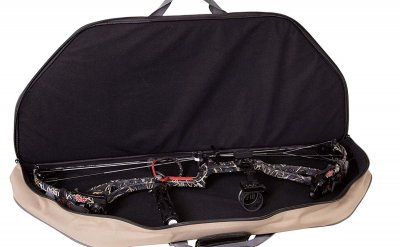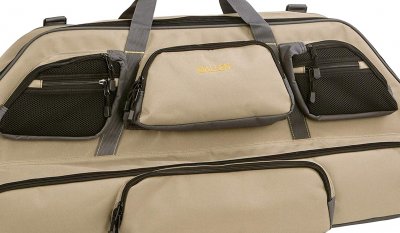 Plenty of room to store all of your accessories
Zipper naturally flows in either direction
Comes with plenty of one of a kind features
Comes with a great padded shoulder strap for comfort
Weight distribution is off when it sits upright
Once again Allen Company is making their move on the list, this time with a more robust model. There are some really one of a kind features in this model that should really be cloned by other companies.
Great Universal Fit
If your bow isn't over 35 inches axle to axle, then it should fit just fine. Compatibility is very high with this so that users don't have to keep switching out their equipment.
Soft Exterior
Here is the first option we have come to that is not as bulky or heavy. That is due to the soft exterior of the case. A great option for those who are limited on space or looking for a lighter option.
Cost and Value
Like most of the other products on the list, the price is average. This puts it in line to be one of the better buys when you think of the overall cost to value.
The best of its kind on the list
Case length is only 37 inches
Can hold up to 18 arrows
Great for individuals with takedown recurve bows
Can only hold takedown recurve bows
Vista has created an entire range of products for customers serious about their bow training. The Traveler Takedown case is an example of the hardcore dedication the company has to excellence.
Built For Specific Bows
Users of takedown recurve bows can consider this the best choice on the list. It handles this bow with ease along with all the necessary arrows.
Arrows
Most cases have room for arrows but only four or five. This means that you will have to carry a second case or bag around when you want more arrows. Not the scenario here, they left you room for eighteen arrows.
Cost and Value
Even with the intricacies of this case, the price is average. Saying that this is a steal at the current price is an understatement.
5

. Lakewood Takedown Recurve
Travel Ready
Top Loading
Holds two bows
Holds 12 arrows
This top-loading case not only keeps your bow safe but also makes it easy to load up the case. No need to lay out the entire case just slide your bow in this case and it's good to go. This bow also holds a dozen arrows. Also, this case is incredibly sturdy and will stand up to a lot of punishment. It travels easily and locks for travel.
Travel Ready
This case is built for airline travel not only in its looks, but it's also really just a very nondescript rectangular case and so doesn't look like a weapon case. It also locks tightly and it's airline approved. It's also made of soft material so it won't scratch or dent during rough flights.
Top Loading Case
We like the way your bow will slide easily into this case and then fit snugly and safely after you close it up and lock it. It's large enough to hold two bows and twelve arrows and hold them tightly. We also like the way the case zips up around the top with two zippers and locks easily.
Cost and Value
This is an expensive case but nowhere near some of the others on our list but we think you're getting a lot here for the money. It doesn't have a hard case but it's plenty tough enough to keep two bows safe. It also has room for a dozen arrows and it travels well and won't dent or scratch thanks to the soft covering.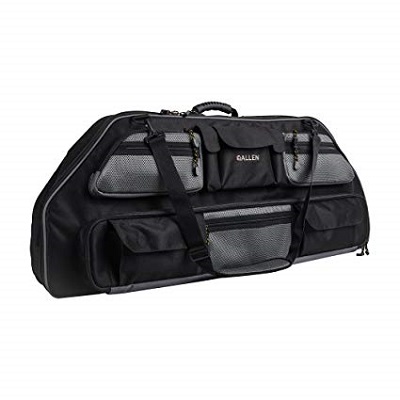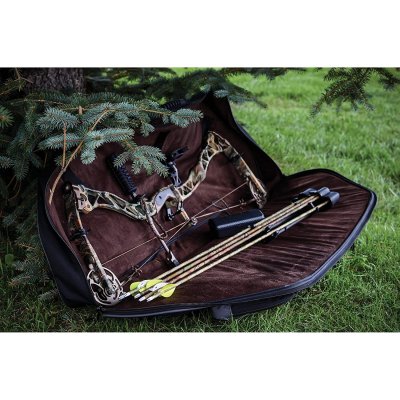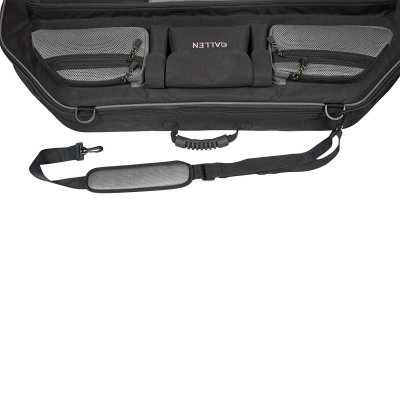 Extremely large bag
Soft interior lining to protect components
This product comes with over 10 different pockets
Comes with a unique removable shoulder strap
Awkward placement of interior Velcro straps
Around this part is when the list starts to really take shape, with some serious contenders for the top spot. Allen Company's Fit X is a really solid purchase for bow users, covering a lot of needs in one single package.
Plenty Of Pockets To Use
An amazing ten accessory pockets are built into this bag, so no item of importance has to be left behind. That includes all of your low priority gear which would have otherwise been loaded into another bag.
Two Ways to Carry
Another great soft exterior selection, this one offers more than one way to carry while in transport. Need to have two hands free? No problem, simply clip the shoulder strap in place. The sewn-in hand handles give your shoulder a break.
Cost and Value
Hovering at an average price, getting this bag for such a steal will make a lot of people happy. The extra room pays for itself after the first time you use it.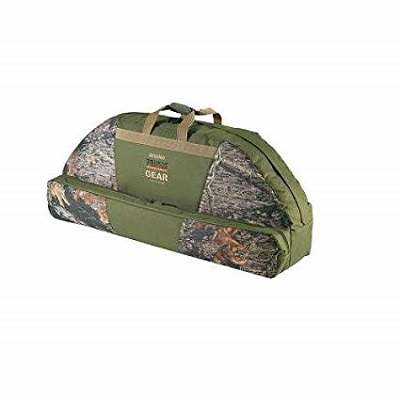 Weather-resistant coating
Great Mossy Oak design
Comes with a significantly large front pocket
Made from some of the best materials in the industry
World-famous Primos Hunting Calls does it again with their take on a modern-day tough bow case. Decades of quality service has helped them craft a great product that delivers the goods when needed.
Lots Of Space
Customers won't run out of space even if they tend to carry a lot of extras. The bag is built to hold a lot and balanced so that it isn't a pain to carry.
Durable
Made from thick polyester, this case is built to withstand some wear and tear. Another great attribute to the durability are the zippers. They are designed to easily slide back and forth without binding up.
Cost and Value
The price goes up a little but still settles for a low to average range, which is great news for all buyers. With the tough materials of the bag, it may very well outlast your bow's lifespan.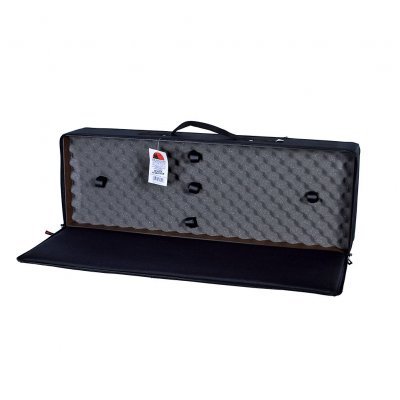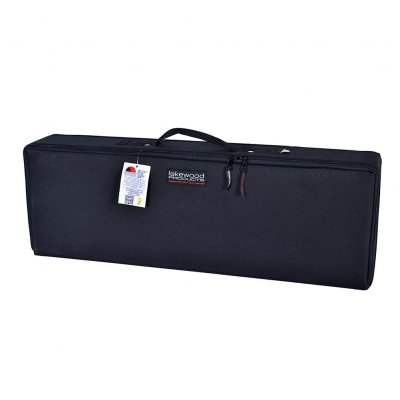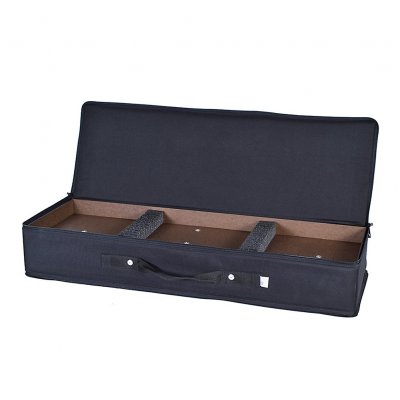 Holds Two Bows
Holds 24 Hours
Built Strong
Non-Scratch Exterior
This is another Lakewood product and we just like them so much we wanted to put another on our list. This Lakewood product holds two bows and up to 24 arrows. It loads easily and though it's a soft-sided case it will stand up to quite a beating.
Side Loading Two Bows
Unzip the case, flip it open and you've got plenty of room for two bows, it's really as easy as that. Plus room for 24 hours. And we like that it all comes in a non-descript package that doesn't scream WEAPONS! Plus the contoured foam will keep your bows nice and safe.
Two-Sided for Easy Access
There are two sides to this container, the first is going to hold two bows easily and safely and the second opens easily to hold 24 arrows. This makes for easy traveling and easy access and with this case, you'll be out in the woods in no time.
Cost and Value
This case comes at a great price. One of the lowest on our list and considering there is room for two bows and 24 hours we think it's definitely worth the price.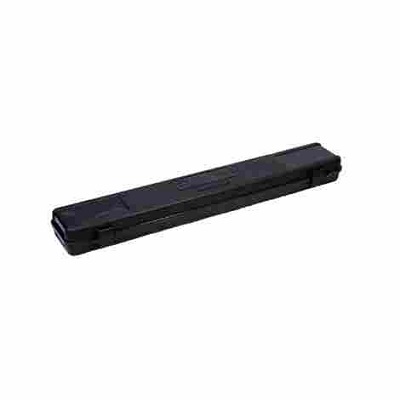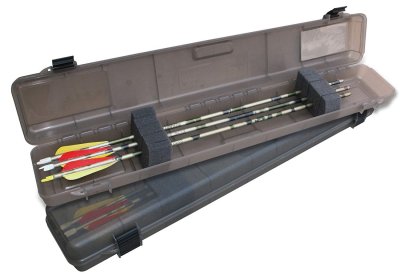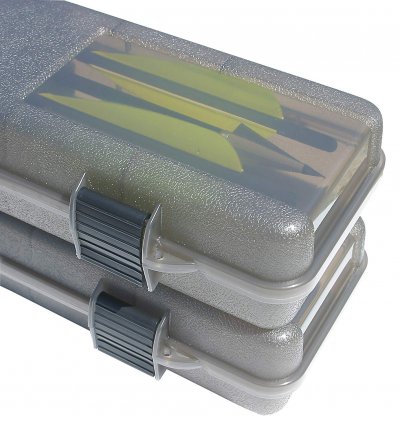 The stackable triple hinge design
Dual padlock
Holds up to 16 arrows
Comes with notched foam padding
Certain arrow types will cut down on the max allowed in a case
Not only should your bow be protected, but the arrows that you fire need the same protection. When there is a lot of ammo, using a separate case for it helps out a ton.
Simple And Effective
There is nothing fancy about this case, and it is simply a rugged carry along with storage for arrows. A lot can be held at once so that you have the most arrows when it's time to shoot.
Foam Padding
The foam padding on the inside has notches in place. These notches help to make sure that both the bow and the arrows will remain in place.
Cost and Value
There are no surprises here, and the price is low and manageable. Customers should purchase this to get the best of both worlds.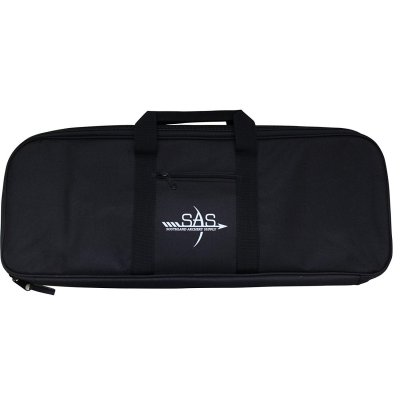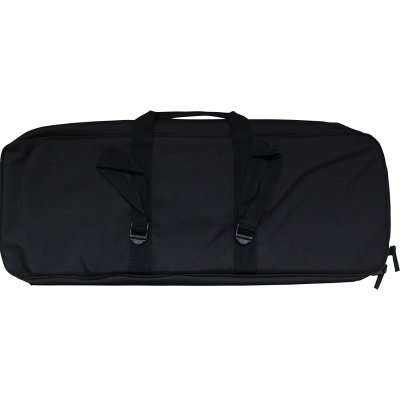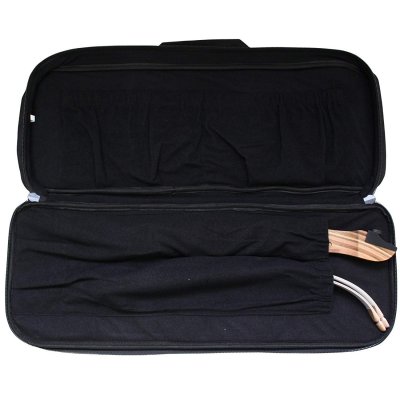 Contoured Foam
Scratch Proof Outer
Zippered Pockets
Room for an Arrow Holder
Arrow Holder not included
A nice simple nylon outer case that will keep your bows safe whether they're in the trunk or in the belly of a plane. It built tough on the outside and soft on the inside so your bow will stay safe and scratch-free no matter how it's tossed around in the belly of an airplane or the bed of your truck.
Easy Access
This folds open and is filled with contoured foam that's going to create a soft safe bed for your bow. It also has side pockets and room for an arrow holder that can be purchased separately. It's also light and travels easily.
Tough Outside Soft Inside
The outer shell is made of tough scratch-resistant nylon and the inner is full of soft contoured foam that's going to keep your bow safe.
Outer Pockets
Nice addition and one we don't see often, there are zippers on the outside of this bag and enough room to put a few extras that won't fit inside the case or that might scratch your bow.
Cost and Value
This is the cheapest we've seen yet and while it doesn't come with an included arrow holder we do think it can hold up to a beating and will keep your bow safe.
Criteria Used for Evaluation

Materials
There was no favoritism for hard or soft made cases on the list, as we opted instead to focus on their individual pros and cons. Getting into a head to head with the two wouldn't make sense, as it is a very tricky subject for many people. Hard case users love the extra protection and how they don't have to worry about the abuse their case takes. This is great for airline travel or storage for long periods of time where outside elements might be an issue. Soft case users love the extra space, and of course, the lower cost compared to a hard case.
Soft case users will usually have multiple cases, giving preference to a specific bow set for competitions, hobbies, hunting, and other tasks. In some situations, they can purchase 3 of their favorite soft cases for the price of one case. The downside with this comes with protection, which is going to be less than a hard case. In this situation, we gave great preference to soft cases that were the toughest in their category. Although they won't reach the level of a hard case, they still manage to provide enough protection to where you don't regret the purchase. It's a compromise that is worth making if you want a little more flexibility with your accessories.

Size
Bow kits are universal for left or right-handed bows, with the deciding factor being the size supported. Unusual sizes that aren't commonly used might need special cases, but this is rare. We looked at regular-sized competition bows and even factored in how well they would hold up when pushed to the limit with extras.
That means looking at how easily they can be modified and if the manufacturer offers customized versions of the originals. Although a good bulk of buyers won't even look this deep into the product, it serves as a very important feature for users that want to maximize the longevity of their product long after the warranty has expired. And for big name brands that offer superior customization, the styling options compared with the add-ons are second to none. Bow kits have a lot of options beyond their original sets, and it's something that shouldn't be ignored by the customers.

Capacity
Space is important for users that need to carry a lot of ammo, so a good model will make the most of the room it provides. We took those off of the list that wasted a lot of interior space since that could have gone to much better uses. Wasted space equals wasted money, and the last thing you want to do is leave money on the table when there is a better option. A large part of the appeal with those on this list also comes from how they meet the guidelines of most airlines.
Traveling with your equipment can get tricky with all of the tight security measures being enforced by the major airlines. The big help with having one capable of getting through a checkpoint is that you won't have to get your equipment confiscated. Besides the potential loss of hundreds of dollars, there is also the frustration of delays in getting it checked out. So even if it seems minor, there is a really good reason why the bow cases on this list meet those restrictive guidelines.

Durability
Durability is something else we looked at, and this is something that was focused directly on with soft cases. Back in the day when soft cases first came out, they would have the same type of fabric as everyday camping equipment like a tent. This has obviously been improved over the years, and without sacrificing the flexibility of the case. This was a tough thing to grade since hard cases have to be judged on not just their present durability, but long-term usefulness. There are plenty of tough soft cases that fall apart after months of abuse, while the good soft cases will continue to hold up. Just take a look at our list for comparison and you'll see a major difference between other lists.
This list manages to group soft cases with their hard counterparts and not separate them too much from one another. This proves that soft cases have a place in the industry and are still in high demand worldwide. As long as the warranty is still in place, it doesn't matter what case you end up with. The difference is the options from this list will go far past the warranty period when abused.

Compatibility
Having the highest compatibility with accessories made a difference in how the list was ordered. This includes arrow add-ons, bow modifications, and quivers. The more space that was available, the better. And that space had to be in a place that made sense with the setup. Some of the cases that were left off had extra space available, but in an area that put those accessories at risk. There were also cases that had bad padding on the inside that limited certain bows and arrows by length, which turned out to be a bad design decision by the manufacturer.
Incompatibility was avoided a lot on the list, leaving some well-known choices completely off of the top ten even though they met criteria in several other spots. In really bad scenarios the compatibility issues leaked over to modification problems for users that wanted to modify their equipment. This led to buyers having to completely gut and redo the inside in order to meet specs for their current equipment. It was an extra step that shouldn't take place and is the prime reason why this list is so restrictive.
Expert Interviews & Opinions
Most Important Criteria
(According to our experts opinion)
Experts Opinion
Editors Opinion
Users Opinion
By Default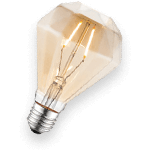 What Kind Of Case Do I Need?
Will the case only be used to transport your bow from your home to the range and back? Will you be traveling with it? Are you likely to take it on a wild adventure or are you more laid back? Is it only for storage and organization? These are things to consider so that you can figure out whether you are okay with a more basic style case or if you need something heavy-duty. Fewer features will save you money. For a wild ride, you might consider a case that is scratch-proof and weather resistant. If it is simply for storage at home, consider a child-proof and pet-proof case.
Maintenance and Cleaning Tips!
The main reason you want to clean the bag is to clear it of any loose debris that could damage your bow, arrows or associated materials. As long as nothing is running loose in the bag, you don't have to go too crazy washing it. Just use soap and warm water for the normal cleanings and everything will be fine.
Protect the Case When Flying
If you are going to be flying a lot, the best way to guarantee that it withstands the rough handling by baggage handlers is to shop specifically for a bag that is airline grade. These cases are stronger than the ones that are not certified airline grade. In most airports, you would find a facility where you can pay to have your luggage wrapped; take advantage of it.
Other Factors to Consider

Ease of Use
Cleaning the interior of a soft or hard case is a must, although nothing too complex is required. We looked at the inside of the cases on the list and determined that the ones that were easy to dust out would place higher on the list. There are some cases that are great, but the small nooks and crannies are a pain to clean. These narrow spaces are prone to collecting dirt, pebbles and other harmful elements that could damage your equipment if it's not taken care of in a proper manner. So even if you're rocking the best hard case on the list, the inside of the case could be more harmful to your bow than the outside elements. So if this has been an issue with previous models for you, then look at the items that placed higher on the list- they will be the ones that are easier to cleanout.

Style
There are two main groups out there. First, there are those which encompass compound bows, takedown recurves bows, selfbow recurves and longbows. In other words, they are designed to store the most popular types and brands of bows. The specific elements in each case are made to keep your bow safe while you are storing and transporting your bow and equipment.
Manufacturers offer these cases in a hard, soft or hybrid shell. When it comes to choosing the right one for you, it all depends on the circumstances you will be in. Are you a traveler? Are your very cautious about keeping your gear safe or are you a little more relaxed? Is your equipment super expensive? These are all things to consider. However, when it comes down to it, the choice is all about perspective and lifestyle.
The second group of cases is crossbow cases. These differ from the typical style because they are much larger. They are designed for crossbows, recurves, compounds and reverse limb crossbows. Further defined, a crossbow case resembles the shape of a crossbow, which makes it easy to define. Like most, these also come in hard, soft or hybrid shells that are designed for different needs. Most crossbow cases also feature room for mounted scopes so that you do not have to sight-in your crossbow with every use.
Frequently Asked Questions
q:

Hard Case Or Soft Case?

a:

A hard case will provide more protection, while a soft case will usually provide more room. The tradeoff is going to be up to you and how much you want to bring on a specific trip.
q:

What Are The Benefits/Cons Of A Hard Case?

a:

Hard cases have better interiors for holding things in place if there is a lot of movement. But they are also a pain for carrying for long periods of time compared to soft versions, which have great padding and weight balance.
q:

What Are The Things To Look For?

a:

This will come down to the type you purchase, whether it be hard or soft. In a soft case you want at least average protection, yet you also want the benefits of a soft case like more pockets/room. For a hard case, you want maximum protection and a comfortable way to carry it. This can be with handles, a strap or even wheels. Both options have their pros and cons, so find out which one is best for you and then look for features that enhance the strength of that particular type.
q:

Will Youth Bows Fit?

a:

A youth bow is just a smaller version of an adult bow, so it won't have any extra edges or length that will prevent it from fitting into a case. Always check the dimensions and the manufacturer's specifications so you can check the allowed sizes within the case. This will be a big help if you're not sure about the size of your youth bow and whether it will fit. It's hard to make a mistake in the sizing if you have the correct information about the product at the ready.
q:

Does xx Bow Fit In xx Case?

a:

Once again, knowing the size is everything. Where it gets complicated is if you have any modifications added to your bow. You always have to account for any extra inches when using modifications or add-ons. A simple mod could keep your bow from being stored, even if it only adds a couple of inches here and there. Know the size of your case and the ins and outs of your bow before you set out to use them both. And if you're in a situation where you've purchased a case that can't handle these modifications, work around it if possible. Some mods can simply be removed and stored in the case with the bow and other accessories.
q:

How Important Is Arrow Storage?

a:

Arrows can break, bend, and sometimes you just plain lose them when shooting. Being short on arrows is a real problem when you're far away from any place that sells the kind you need. That is why the importance of arrow storage shouldn't be underestimated. The more arrows it carries the better value it is to you as a customer. And it doesn't just end with arrows since whatever accessories you have will be better off in the same case rather than a separate one. This is where hard cases are at a disadvantage since they will naturally have less storage than a soft case.
q:

Are Any Bows Or Arrows Included In A Case?

a:

This is asked a lot, and the answer is no, at least for this list. There is a special bit of information regarding cases that include bows or arrows, and it ends with customers staying away from them. You're not going to get even average quality with a setup like that, and if you plan on bonding with your equipment then this is the worst way to go about it. Purchase the bow first, then the compatible ammo, then the case all in that order. This is definitely not something that will work out well as an all in one package.
q:

How Protected Is The Equipment In The Case?

a:

In a hard case, it is like putting a shell around the most important parts of your bow and arrows. You can throw this in the back of a pickup truck with nothing to hold it down and climb over rocks, all without worrying about damaging the equipment on the inside of the case. The same applies if you are flying and have to check this in with the rest of the baggage. Now when it comes to soft ones, things are a lot different. The protection offered by soft cases is significantly less, and mishandling it a bit too much can cause some damage. Now that doesn't mean that soft bags are flimsy and made out of paper, they just happen to offer less protection than the hard cases on the market.
q:

How Is Mixed Color Defined?

a:

This can be a confusing bit of information when looking at the styling. Mixed color is defined as camo, or camouflage being a big or small part of the color scheme. This is an important bit of information for bow users that hunt since they will favor the mixed color over plain colors like black or bright colors like red. Now, where it gets even more confusing is that sometimes manufacturers don't follow this styling convention and may define a case as mixed, yet it has no camo in it at all. If you're a hunter it is always best to see a picture of the product when it says mixed color, that way you know exactly what you're getting.
q:

Are Quivers Supported When Storing Your Bow?

a:

This is model dependent, and universally it involves taking your arrows out of the quiver when placing them in the case. Always take the arrows out and put them in their appropriate spaces, and chances are your quiver will fit just fine. Where things get complicated is when you have to make adjustments to make it fit. This isn't as hard as it sounds, and this is where soft cases have a slight advantage. Ideally, you would have a quiver that has a case of its own that attaches to your bow case. This is common use and one that should be considered if you want compatibility with all of your products.
q:

What Should Left Hand Users Buy?

a:

Over the years the bow industry has softened to the needs of the left-handed user. There are even left-handed exclusive accessories, something that a long time ago wasn't even on the market. When it comes to cases, things are a lot more universal. Whether you have a left, right or universal hand bow, they will fit into all models just fine. There are no differences other than the way you put them in the case, and there are no specific left-handed models in the industry since they are not needed. Even when you fill in the extras like arrows, quivers and other items, they are all universally accepted.
q:

What Is The Difference Between Modded Cases And Custom Cases?

a:

Modified cases are their own thing and are usually done by professionals or by ambitious users themselves. A modified version can have enhancements such as extra space, a harder exterior and even special holders on the inside of the case. The build starts with purchasing a case that fits your needs the most and then modifying it with everything you feel would make it better. An important thing to point out is that doing this will void your warranty, so there is a risk/reward factor involved.

Custom cases are different in that they can be ordered from the manufacturers of the original cases but with a lot fewer modification options. Custom cases can feature something as little as your name written on it and can be as hardcore as a manufacturer offering an updated version with extra arrow slots. Customizing through the manufacturer doesn't void your warranty, but comes with a lot fewer benefits than modifications on your own.
q:

Are Replacement Pieces Easy To Buy?

a:

We've all been in a situation where our equipment is mishandled by a third party and potentially damaged. Calling in your warranty is the only thing you can look forward to in this case, but what happens when you're out of warranty? Or what happens when you don't want to wait to get it fixed? Unlike the equipment they house, bow cases tend not to have parts readily available to repair a case if it breaks. This includes the interior elements and the exterior elements, although that doesn't apply to removable straps. The key here is that if your bag breaks, then calling in the warranty is usually going to be the only step possible.
q:

What is the difference between a bow case and a crossbow case?

a:

The main difference between the two is that a crossbow case is larger. It also features the shape of a crossbow, so it is pretty distinguishable.
q:

Are bow cases and crossbow cases the same thing?

a:

No, they are not. However, they do have some similar qualities. For example, manufacturers offer both kinds in a hard shell, soft shell, and hybrid shell. Both have the purpose to protect, store and hide away your bow and accessories.
Subscribe to our Newsletter