Best Pole Saws Reviewed & Rated for Quality
In a Hurry? Editors choice: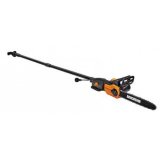 Test Winner: Worx Electric

Pruning tall trees can be dangerous, tricky and frustrating without the proper tools and know how. You may have a gorgeous old oak tree that towers over your yard, likely hundreds of years old. that you will need to deal with. Unhealthy tree limbs are not always easy to spot. As a homeowner, it is your responsibility to monitor the trees on your property and make note of any potential hazards. For big jobs or potentially hazardous ones, it is always best to call a professional arborist right away. For smaller,
more manageable tree trimming
, a pole saw might be the perfect solution.
Standout Picks
Criteria Used for Evaluation
Ease of Use
A pole saw is a basic instrument that should not be difficult to operate. Even advanced models with intricate features should be easy to assemble and control. This includes general maintenance and upkeep. A pole saw that requires constant repairs such as chain tightening or the application of lubricant is inconvenient and therefore not user friendly. A pole saw should be fun to use. They're small, handy devices that make tree trimming enjoyable, taking away the arduous task of fumbling with hedge pruners.
Durability
A tool that is used to trim, saw, prune and chop tree branches needs to be tough, not delicate. Yardwork requires heavy-duty tools that are well-built and reliable. Cheaply built tools are dangerous and require constant replacement. A well-built pole saw should last for years, offering the kind of performance you expect. Check out the manufacturer's warranty prior to buying. Most well-known name brands stand behind their products.
Motion Control
As with any sharp blade, having complete motion control over a pole saw is of the utmost importance. This can be tricky when using a telescoping pole at a high distance and a gas-powered or electric blade. Well-made pole saws are designed so that you have total control over the blade at all times, with the precision of a surgeon. Obviously, if a pole saw is difficult to control, you've got an extremely dangerous tool on your hands and can wind up getting seriously injured.
Stability
Stability relates to motion control. Some pole saws are heavier than others and have telescoping bodies. Holding the blade steadily can be challenging. As such, it is of the utmost importance that the pole offers superior stability, allowing you to maintain total control over the tool at all times. Otherwise, you could wind up with a severely lopsided tree, or worse.
Weight
It is unsafe to attempt to use a pole saw that you will be unable to lift above your head for an extended period of time. Many pole saws are lightweight and are easy to manage, even for individuals with limited physical capabilities. For this reason, it is recommended that you visit a hardware store and physically feel several pole saws to get a better understanding of what weight is most appropriate for you. Additionally, consult with a member of the staff who can better guide you. Bear in mind that the majority of pole saws are made with fiberglass which is lightweight but strong, so it's manageable enough for you to support without straining your back and shoulders.
10 Best Pole Saws Reviewed
1

. Greenworks 20" Cordless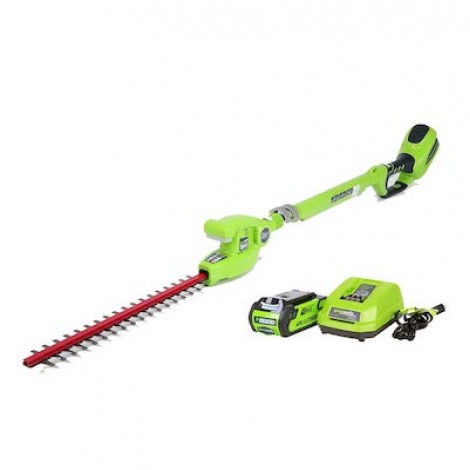 The Greenworks is an absolute must-have for a homeowner with a sizeable garden. Say goodbye to wayward branches, unwanted vines and creeping ivy. Whether it's trimming trees, pruning shrubbery, or keeping your edging looking immaculate, Greenworks has you covered. It's a lightweight, easy to use tool that can actually make doing yard work a lot of fun. Whether you're a professional landscaper or you're just learning how to keep the backyard looking great, Greenworks is a fantastic place to start.
Versatile
The Greenworks reaches an incredible length of 6.5' when fully extended. The head of the trimmer pivots in three directions, allowing uniform trimming to be a breeze. The head of the trimmer pivots and rotates, letting you reach even the most difficult to reach branches. The pole saw is incredibly lightweight, putting very little stress or strain on your back and shoulders. From pruning bushes to trimming trees and cleaning up your walkway, Greenworks does it all.
Long Lasting Use
The Greenworks is powered by a 40V battery and the charger is included with your purchase. You will be amazed at how much you can accomplish on just one charge. Depending on whether you select the pivoting head model or the rotating head, you will enjoy 30-60 minutes of use between rapid charges. This equals up to ½ an acre or 350 yards of battery runtime.
Cost and Value
The Greenworks is sold at a relatively high price, but it is truly the top of the line. It also includes a battery charger, which can certainly be an expensive add-on. Greenworks makes it easy to complete tough yard work chores in no time without straining your back or shoulders. Forget about lugging a ladder into your backyard and attempting to saw off a wayward branch the old fashioned way. This particular pole saw can get your pesky yard work done in virtually no time at all.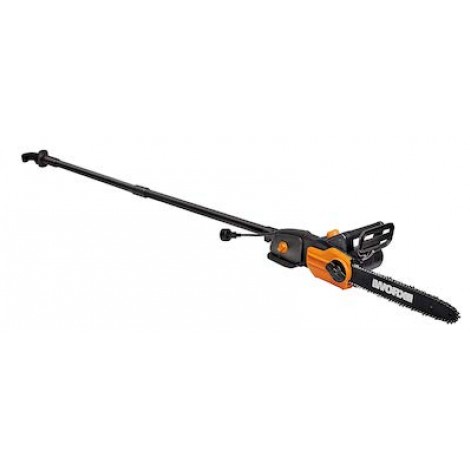 This product from Worx is a corded electric tool, which has pros and cons. Of course, a cordless tool can be quite convenient when doing extensive yard work. On the other hand, it can be a hassle to constantly worry about the amount of battery power left. With a long enough extension cord, the Worx makes yard work a breeze.
Small Size, Lots of Power
This product itself is diminutive in size and weight, in fact, deceptively so. However, it is strong and powerful, and handles a heavy, demanding workload without putting undue stress or strain on the user (particularly in the back and shoulders). It is recommended that you start off with smaller branches to get a feel for how the tool works, and then move on to larger ones. In no time at all, you will be trimming large branches with ease.
Easy to Set Up
The is easy to assemble out of the box. You will have to buy oil, which is not included with purchase, but other than that, the saw is ready to go. The instructions are easy to follow; largely self-explanatory. It is, of course, important to familiarize yourself with the various safety features prior to use. All in all, the pole saw makes jobs that would otherwise be quite difficult easy. Instead of spending the money to hire a professional landscaper, investing in a pole saw pays off.
Cost and Value
The Worx pole saw is moderately priced and overall, an excellent product. It is not the sort of product that seems like a good idea when purchased and winds up sitting in the corner of your garage collecting dust. Rather, multiple customers have described it as fun and enjoyable to use. You will undoubtedly get a lot of use out of the pole saw, and your backyard will look fantastic and professionally landscaped.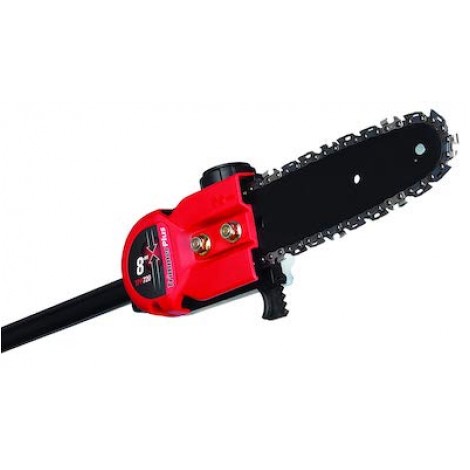 The trimmer is quite versatile. It can be used like a chainsaw, a trimmer, a pruner, and more. The two pole components can be attached to reach heights of an astounding 12 feet. The battery life is impressive, and the cord-free use of the trimmer makes it even more convenient and easy to use.
Self-Oiling Chain
The TrimmerPlus includes an automatic oiler, which keeps the chain properly lubricated at all times. This feature keeps the trimmer running smoothly and safely, while reducing the mess of applying oil to the chain. An automated oiler is a fantastic innovation that makes yard work that much easier and more enjoyable.
Light but Mighty
The trimmer is relatively lightweight; weighing in at approximately 10 lbs. The lightweight, however, belies the strength, power, and durability of the trimmer. The trimmer is as powerful as a chainsaw, designed to trim away heavy branches in a pinch. This is particularly useful after a storm. If you wake up and find heavy tree branches have fallen on your driveway or even on your vehicle, don't panic. The trimmer charges rapidly and easily removes branches and other impediments from your paths in a safe, controlled manner. Best of all? The trimmer is cordless, making it even more convenient.
Cost and Value
The pole saw is moderately priced and an absolutely fantastic value. While the trimmer can certainly help you with regular yardwork, it can also help you get things back under control after a violent storm, with branches and tree limbs strewn everywhere. Light enough for virtually anyone to use, it's an absolute must-have for anyone with a yard.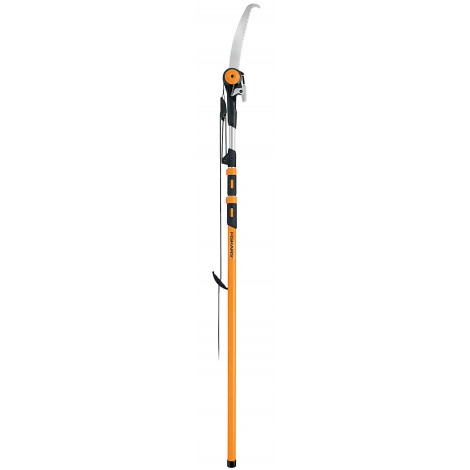 The Fiskars pole saw is known for its impressive reach. Even when extended to its maximum length, the pole stays straight and does not bow. The pole, constructed of fiberglass, is strong yet lightweight, making it a pleasure to use. The pole extends from seven to 16 feet, making it ideal for a wide range of tasks. From pruning to trimming to slicing, the pole saw is versatile enough to take care of your various landscaping needs.
Chain Drive Design
Cutting high branches? You can feel completely confident with this pole saw. Safely extending up to 16' in height, the chain drive design delivers three times the power of other pole saws, with exceptional stability.
Secure Double Locking Mechanism
A secure double locking mechanism ensures that the pole, when fully extended, stays securely in place. That way, when you are trimming tree limbs at high distances, there is no risk of the pole collapsing or breaking, nor will the loose limb accidentally fall anywhere near you. Through careful design and impeccable engineering, these hazards are sure to be avoided.
Cost and Value
The Fiskars pole saw is an affordably priced option which gets high marks across the board. Strong, sturdy and versatile, it is a smart buy. Whether you're shopping for yourself or the landscaper who has it all, this pole saw is an affordable, well-built, easy to use and highly effective tool that makes trimming trees enjoyable.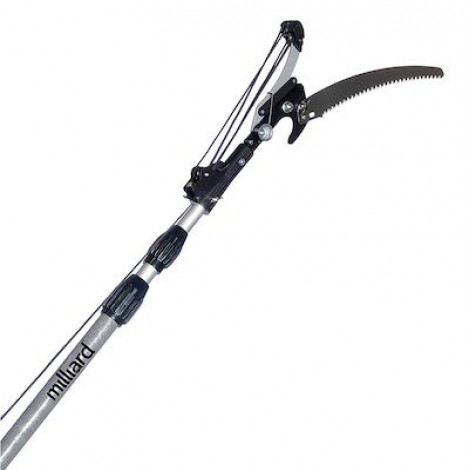 The Milliard does include an extendable pole, but where it really excels is pruning bushes and shrubbery. It makes trimming branches quick, easy and even fun. Extending the pole is quick and easy, maintenance is simple, and it is an incredibly strong tool. The Milliard is a pleasure to use, and it is truly a cut above the rest.
Extension
The pole saw extends to an impressive 16 feet in length. If you happen to have a tree with a wayward branch that's starting to infringe upon your neighbor's property, fear not. The extendable pole saw and the sharpened blade will take care of the offending branch in an instant before it even becomes an issue. No need for a ladder or a chainsaw; all you need is the Milliard.
Ergonomic
The Milliard is known for being extremely comfortable to use. The grips feel nice in the palm of your hand and do not cause calluses. As a matter of fact, you will find that you do not need to even wear gardening gloves while using the pole saw. Ergonomic and comfortable, no stress or strain is put on your wrists, making the pole saw even more enjoyable to use as you prune away your beautiful backyard. Kiss those pesky calluses goodbye.
Cost and Value
This pole saw is affordable and well worth the price. It's a delight to use in all categories, from effectiveness to versatility to comfort. Whether you are a gardener, arborist, or simply like to keep your backyard in impeccable shape, the Milliard is a true game changer.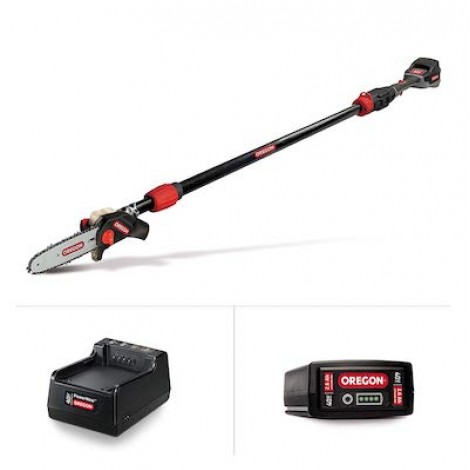 The Oregon Cordless Pole Saw Kit is perhaps the most user-friendly pole saw reviewed here. It is quiet, efficient, easy to use, and requires very little work on behalf of the user. Rather, Oregon does the hard work for you. Simple to use and effective, it's sturdy, reliable, well-built and extremely impressive. Cordless, no warm-ups, no oil needed, no extra work. This baby is good to go.
Multiple Attachments
This is one versatile pole saw, to say the least. In addition to branch trimming and pruning, Oregon comes with a hedge trimmer, edger and string trimmer, thus eliminating the need to purchase additional power tools at the hardware store. Oregon is the Swiss Army Knife of pole saws; it can do virtually anything with ease.
Rigid Fiberglass
The pole is constructed with rigid fiberglass, giving you the best of both worlds. Fiberglass is lightweight and easy to carry. However, the reinforced rigidity makes the fiberglass stronger and less delicate than other brands. Despite being constructed of fiberglass, it is strong, durable and can withstand heavy pressure.
Cost and Value
The Oregon is one of the more expensive models reviewed here. That said, with excellent customer reviews, exceptional marks across the board in terms of performance and a fantastic manufacturer's guarantee, it is well worth it. The Oregon is versatile enough to take the place of several other power tools and works just as well, giving you a yard that you are proud of and will enjoy showing off.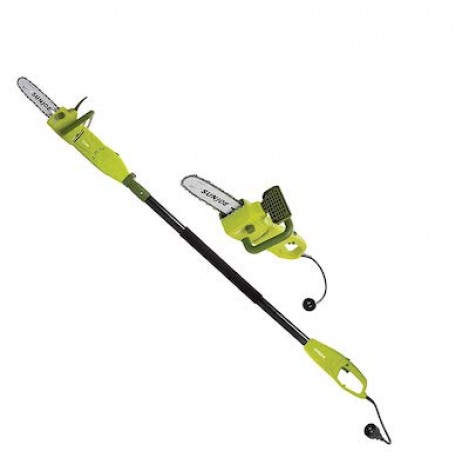 The Sun Joe is two tools in one; a pole saw and a chainsaw. The telescoping pole extends to an impressive 15' and the blade cuts branches up to 7" thick. Easy to use, lightweight, powerful, dependable and affordable, it is a must-have. It can handle stubborn tree limbs, hard to reach branches and even makes steady, secure cuts at odd angles. It makes jobs that might otherwise be awkward if not impossible for traditional chainsaws/pole saws look easy.
Reliable
The Sun Joe prides itself on its reputation. It is carefully constructed using strong, durable materials. Of course, safety is of the utmost importance for the engineers at Sun Joe. When dealing with blades and heavy machinery, there is no room for mistakes and no margin for error. The company prides itself on a trusted reputation. Their products work and they work well, eliminating danger from the equation.
Full Two-Year Warranty
If you should have any problems with your pole saw and wish to return, exchange it or have it repaired, Sun Joe has a two-year, comprehensive warranty, no questions asked. With this assurance, you can feel confident in your purchase, knowing that the manufacturer has truly got your back.
Cost and Value
If you purchase the Sun Joe, your money is being well spent. It is a fairly priced item with a great reputation. Backed by a two-year warranty, you can feel good about what you are buying. With the dual purpose, you are truly getting way more than what you paid for. A working chainsaw that trims trees and fits your budget? Yes, please.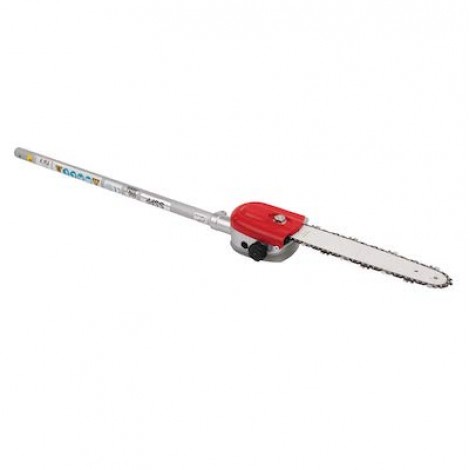 The VersAttach, as the name would suggest, serves a versatile, wide array of purposes. It's convenient to use, easy to store, and fits compactly in any working space. A multitude of attachments work with the VersAttach, allowing it to be your go-to lawn maintenance tool. A blower, cultivator, edger, hedge trimmer and trimmer in one - when it comes to versatility, this pole saw is second to none.
Versatility
In addition to acting as a pole saw and a chainsaw, the VersAttach works wonders in your backyard. Need a leaf blower? An edger? How about a hedge trimmer? The VersAttach's versatility is unprecedented. Forget making multiple trips to the hardware store. Everything you need is at your fingertips.
Endurance
While no power tool lasts forever, the VersAttach is known for providing years of steady service. If properly cared for, maintained regularly, kept clean and lubricated, it will last for years to come. Gone are the days of replacing power tools year after year. Finally, a high-quality power tool that lasts and does not disappoint.
Cost and Value
The VersAttach is fairly priced and offers a lot of bang for your buck. Considering the versatility of the pole saw, it will save you from purchasing additional power tools. Backed by a warranty and solid reputation, it's a transaction you can feel good about. Best of all, you will undoubtedly enjoy using it, and will absolutely get your money's worth.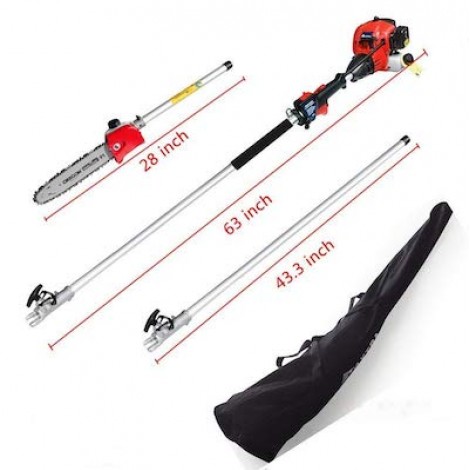 This cordless gas pole saw gets high marks for ease of use. Adjustable and powerful, it is well-suited for major or minor yard work. The telescoping pole not only reaches great heights, it also works well for people of all heights. No need for step ladders. No stretching, no straining. A simple, extendable pole saw that is easy to use.
Ultimate Functionality
The Maxtra is one of the most versatile pole saws reviewed here. Trimming, logging, chopping and more. It offers maximum control and is easy to safely reposition. The blade itself is lightweight enough to easily swing or saw without too much force, but is still powerful and durable enough to pack a powerful blow.
Gas Powered, Efficient
The saw is gas powered and offers the ultimate in power. The ignition is simple, with a patented Flywheel Magneto CDi system. The saw is efficient and the engine is one-stroke. The saw is surprisingly quiet when in operation and is easy to turn off with a side switch.
Cost and Value
The Maxtra presents an excellent value. With its incredible versatility, top of the line reviews, efficient performance and overall ease of use, it will undoubtedly become one of your favorite landscaping tools. This pole saw will be a powerful ally when it comes to keeping your yard looking beautiful.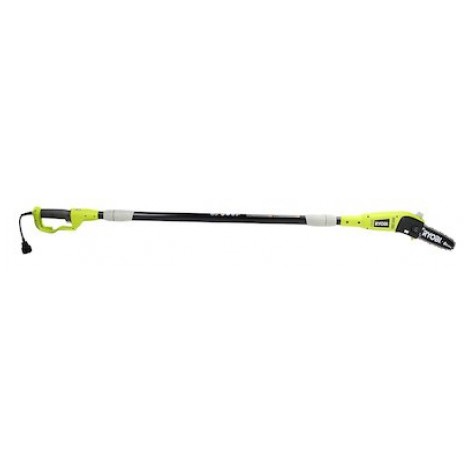 The Ryobi 9 Foot Pole Saw is a rather mediocre product from an excellent company. Considering Ryobi's fantastic reputation as one of the finest manufacturers of power tools, it is surprising that its pole saw has failed to meet the majority of customers' reputations. Of course, the saw is certainly not terrible and this is not an attempt to disparage the company; it's simply very basic, minimalistic and a little disappointing.
Automatic Oiler
The Ryobi's automatic oiler is a nice feature which keeps the chain lubricated at all times. This added convenience prevents the user from having to stop to add more oil to keep the chain from overheating due to the buildup of friction.
6 Amp Motor
The six amp motor is decent, making it moderately powerful. The saw should be able to handle the majority of backyard jobs as long as it's periodic maintenance and not major overhauls. For serious projects, a larger, heavier and more powerful pole saw would be more appropriate.
Cost and Value
Unfortunately, the Ryobi is somewhat overpriced for a rather lackluster tool. This is surprising considering Ryobi's excellent reputation and other top-of-the-line tools. Ryobi's pole saw is certainly the exception and not the rule, as it is still an exceptional manufacturer of power tools (particularly drills). Does the product warrant the pricetag? In this author's opinion, there are better, more effective, more powerful and easier to use pole saws available for less.

Subscribe to our Newsletter