Best Grass Shears Reviewed & Rated for Quality
In a Hurry? Editors choice: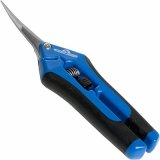 Test Winner: Hydrofarm HGPP400C

Are you having trouble making sure your lawn is trimmed up and looking tidy? Grass shears can solve that problem, it doesn't matter if the job is small or is as large as life. No one wants to have that perfect yard marred by the size of the grass at posts of any kind, and with ticks becoming an ever-increasing concern with children and pets, one wants to make sure they have nowhere left to hide. So, here we have compiled for you the top ten grass shears choices out there for those seeking to end their turmoil!
Standout Picks
Criteria Used for Evaluation
Safety Hazards
When getting any product that cuts or holds sharp edges to it, safety must always come first. When looking for grass shears we looked closely at the safety of use. The reason this holds so much importance to us is that we want you to not just have ease of use, but be able to do so with a certain peace of mind that, with proper use, you will remain safe. Who doesn't want to be sure that when they purchase their tools they don't have to be worried about hurting themselves or others while working?
While a few of the products may appear to have safety concerns, truth is that the companies are easy to work with to assure that these concerns are seen to. With safety, this is a very important key to performance. When you know the company is there and willing to make sure everything works as it was intended and not going to cause you or anyone else harm, you know that the problems are resolvable with a simple word of contact. Whenever you choose a product like this, always be sure that the company is on the side of their buyers, because if they aren't, you can't be sure they have their product in mind when crafting them either.
Ease of Use
Believe it or not, how easy something is to use can greatly affect the previous topic of safety. If a product is easy to handle, lightweight, well balanced and made of quality materials, you will find that it is often one of the safest pieces of equipment to own. So when we look at how easy a tool is to use like shears it is like giving a double scrutinizing look on its safety. All of these tools were designed with ease of use, and a few stand out further than the rest, which placed them high on our list. After all, safety always comes first!
Our number one product was, in fact, so easy to use that it received an award worth noting- The Arthritis Foundation Ease of Use Commendation. Like we were, you are likely impressed but would like to know more about what exactly this means. The Ease of Use accommodation states that a product is so easy to use, that those who have arthritis or other joint/muscle issues are still able to handle the tool without causing themselves unneeded pain. So, when going to pick your tool for the job, check what it is meant to be used on, and if it meets the criteria the company set for your job, rest assured we checked just how easy it was.
Weight
Again, like with the first two pieces of criteria we used, we wanted to make sure that when doing your yard, you didn't strain under the weight. While many of these shears have short handles, they are lightweight, easy to use and can get the job done right without stress if used in correct proportions of time. Since these are lightweight options they won't add to much weight to your muscles, which offers less strain, and for those who have back issues.
There were a few with a longer reach or at least the options to add a longer reach to your shears which can also help keep strain off your back. When picking your shears, keep in mind your body's ability to handle the strain and pick according to both your job an what you can safely physically handle.
Value
As always, one of our biggest considerations is if what you spend your money on will give you the best quality. Though some prices may appear daunting, if you have great, long lasting, quality items you'll quickly find that the cost is worth every penny and more. We place a lot of value on our readers, and as such we want to offer you products worthy of consideration. What that means is making sure what you get is worth more than you paid for it. This is what Cost an value mean: that whatever you are purchasing lasts, offers use for what it is intended, is safe and that no matter what you will be satisfied. Usually, the more expensive, the better the materials used. In this instance, this can mean the grass shears should stay sharper longer.
BEST GRASS SHEARS REVIEWED & RATED FOR QUALITY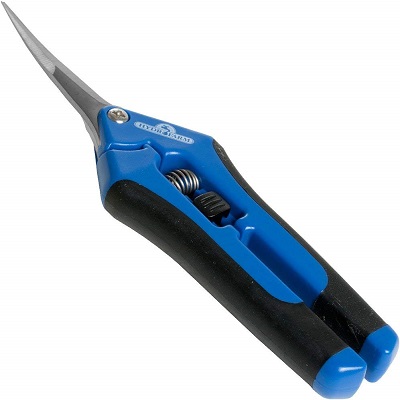 Looking for a snip that's lightweight? Maybe something with ergonomic handles? How something made with surgical stainless steel? Then the Hydrofarm HGPP400C Precision Curved Blade Pruner is the route to go!
Surgical steel!
The blades of the Hydrofarm HGPP400C Precision Curved Blade Pruner are made of a high-grade stainless steel that is corrosion resistant, making the blades much harder to break down or need to be sharpened. What does this mean? It means your blades will last longer and give you more use than other shears that don't quite meet the standards.
Comfortable grips!
Sporting ergonomically shaped grips, the HGPP400C Precision Curved Blade Pruner makes it easy to work for longer periods of time without truly hurting yourself. Working without worry of getting blisters is always a good thing, after all if your shears hurt your hands, you won't be able to use them as easily and they fall short on the quality of you should expect.
Cost and value
From surgical steel to ultra-lightweight construction, these pruners are a good buy. The Hydrofarm HGPP400C Precision Curved Blade Pruner has a lot to offer for any person. How can anyone argue what these pruners can offer? We certainly aren't. With longer lasting, more durable blades and an ease of use that many cannot lay claim to, they definitely meet the high quality standards you should look for in your blades.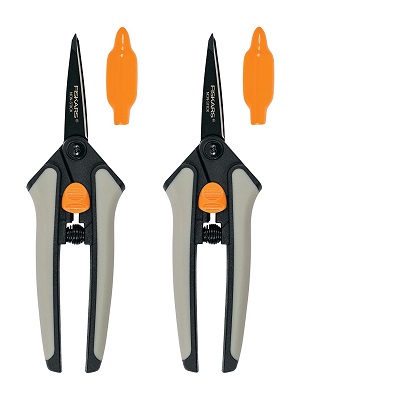 Do you need an easy to use shear? Maybe something that has been awarded with the Arthritis Foundation Ease-of-Use Commendation? This is the product for you. Fiskars, a known trusted brand, provides quality at a great price.
Trusted Brand!
Fiskars is a name that is synonymous with quality. With proper care, a Fiskars product can last years, even decades. Quite possibly, Fiskars produces the best products in the world.
Awarded!
The Softouch Micro-tip Pruning Snip, and thus Fiskars, was awarded with the Arthritis Foundation Ease-of-Use Commendation. This is awarded to products that makes tasks easier for those who suffer from arthritis or other physical limitations.
Cost and Value
When looking for pruning snips, comparing cost to quality is important. Blades dulling or breaking are a common problem. Fiskars have been a quality name at an affordable price for over 300 years. This means they can be trusted to bring you a great product at a price that is affordable in comparison to what it can do for you.



Need to trim your hedges? You might want to check out Tabor Tools' B640 Hedge Shears. Sporting aluminum handles with shock absorbing bumpers, non-slip grips, and much more makes the B640 Hedge Shears worthy.
Get some variety!
The Tabor Tolls B640 Hedge Shears come in two different versions, telescopic handles, and non-telescopic ones. A type for any sort of hedge you may have, how can anyone argue an idea like that? If what you have doesn't require a long reach, why should you have to pay for or deal with an awkward length? Tabor doesn't think you should, and so they made the right type of sheers no matter what the task.
Adjust the tension!
These shears have a pivot bolt that allows you to adjust the tension of the carbon steel blades with just a simple twist. Having adjustable tension can make a job much easier, no matter the size. After all, you need that low tension with thicker plants, but if what you are working on is a flower bed, you don't want to have a lack of tension which will cause more strain on your hands.
Cost and value
When comparing the cost of the B640 and the value of adding such an item to your gardening tools, there's little doubt that it's worth adding. It's a simple thing to see that Tabor Tools has made a great set of shears. Keeping your health and task in mind, Tabor Tools definitely gives you a great value for your dollar.



Gardena 8885-U 3-Inch Cordless Lithium-Ion Grass Shears is the older brother, essentially, of the 8893-U. With almost all of the functions and abilities of the 8893-U, the 8885-U does have some differences.
A Warranty
Gardena gives you, the customer, a 2-year warranty on their product, the 8885-U 3-Inch Cordless Lithium-Ion Grass Shears. It's always a good thing to have a warranty when dealing with electric devices of all kinds. After all, problems don't tend to show themselves right away, but usually only after a few uses. A two-year warranty means you have the time to use and discover issues, so long as they are being handled within their specs, to have parts or the machine replaced without any further cost to you.
Easy to use!
With the squeeze of a button, you can get to work on your yard. It's that easy, but that's not all! Not only is the Gardena 8885-U 3-Inch Cordless Lithium Ion Grass Shears easy to use, but also easy to maintain. After all what is ease of use, if you can't maintain your equipment with the same ease?
Cost and value
With the 2 year warranty and how easy it is to use and maintain, these two things alone make it fairly worth the price. Since you don't have to pay out of pocket if the shear proves faulty under proper use, you don't have to pay for replacements. Add in all the extra things that the 8893-U has 'inherited', and the Gardena 8885-U 3-Inch Cordless Lithium-Ion Grass Shears are a great value at a great price.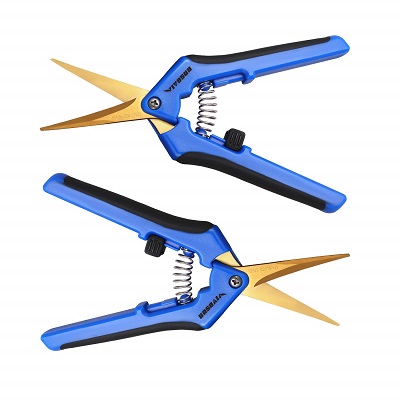 Lightweight and durable, sporting a safety lock, the VIVOSUN Gardening Hand Pruner is a nice pruner when it comes to smaller plants. It's hard to argue against a sharp and durable pair of shears that are corrosion-resistant.
Curved blades!
The curved blades of the VIVOSUN Gardening Hand Pruner allows you to more easily access various tough spots. This makes your job easier without adding any problems of trying to guess where you're cutting. With some tasks a curved blade is a necessity to avoid over cutting and severing more off than you wanted.
Easy to clean!
After finishing your yard work, the clean up of these pruners is easy as can be. Soak the blades in olive oil for a few minutes and then wipe them off with a paper towel. Much easier than scraping them clean with another blade or using alcohol to clean these nice little pruners with! The ease of cleaning your shears is just as important, after all, as the ease of what you need to use them on.
Cost and value
What can be said about the value of such a product? With the curved blades, safety lock, as well as the simple method that can be used to clean the blades, these shears are worth the money, easily! Putting durability and ease into your hands, the price tag on these shears becomes less important than the value of what they offer.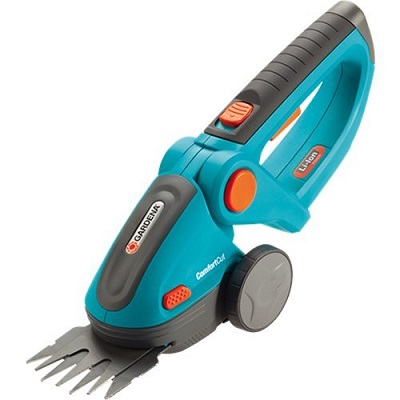 Here is something for those seeking an electric shear for those who want or need a somewhat easier approach to their trimming. Lightweight and long lasting, this electric shear is ready to do what needs to be done.
Great battery life!
The Gardena 8893-U 3-Inch Cordless Lithium Ion Grass Shears sports a good lithium battery that holds its charge for up to 90 minutes. Great for big or small jobs, Gardena has got you perfectly covered.
Light weight!
Weighing less than 2 pounds, the Gardena 8893-U 3-Inch Cordless Lithium Ion Grass Shears have made it easier to carry and use their electric shears no matter how far you have to work. Where most electronic yard working machines are heavy and often times clunky, compact shear offers ease of use and less strain on your muscles.
Cost and value
With so much ability, life and other extras that can be used, the Gardena 8893-U 3-Inch Cordless Lithium Ion Grass Shears can do much to keep your yard looking well kept and easy on the eyes. With it's long lasting charge and light weight, compact shape, these shears find their greatest triumph in the value of quick work on your yard. No matter how you look at them, they are definitely worth every penny and more.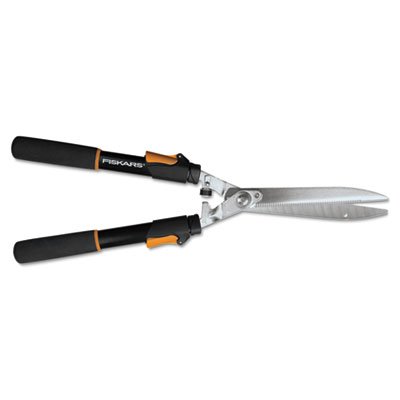 Bringing you the award-winning and trusted Fiskars company again with their extendable handle grass shear and hedge trimmer. If you want an all-around product for multiple jobs this is the right shear for you.
Great Brand
Fiskars is trusted by professionals and with good reason. Their shears have proven to be reliable and safe as well as able to perform multiple tasks with just one tool. This goes hand in hand with their quality 'ease of use' in almost all of what they make. Tools that you can trust and a company you know are great to have with any purchase.
Well-balanced
When you have a lot of yard work to do you want something that will be easy on your muscles and joints, and for that you need a balanced Shear. Fiskars Power-Lever extendable Handle Shears offer exactly what you need to get your yard finished and not stress your arms with an imbalanced tool. This adds to your safety when using this tool as well since you don't have to worry about losing grip or dropping your tool.
Cost and Value
To truly asses a tool and it's value you have to look at the overall quality and the price. With Fiskars, you get a brand you can trust, a tool that handles well under many tasks and is still well in the affordable range of pricing even when compared with the rest of the top quality products on our list.

8

. Corona Classic CUT 675OD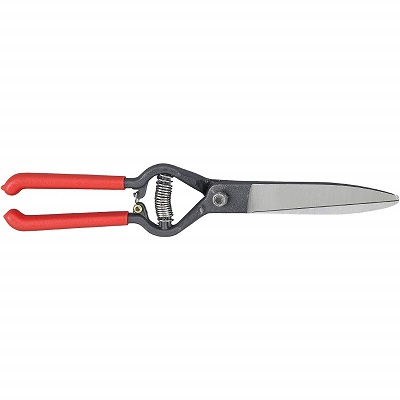 Looking for a pair of shears that is better suited for a larger hand? Look no further, Corona Classic CUT 675OD Grass Shears has you in mind. With their 4 1/2" professional cutting hand pruners, larger hands will have no problems, whatsoever!
Gentle on the skin!
The 4 1/2" Professional Corona Classic CUT Grass Shears has ergonomically designed, non-slip handles that can boast about their comfort and strength. Furthermore, their light weight will help keep your hands strong and able through whatever task you may have to do.
Durability!
The Corona 4 1/2" Classic CUT Grass Shears are made from forged alloy steel that has been heat treated for better strength and durability. This also means they will stay sharper longer including the ability to be re-sharpened. No need to buy a new set! No one wants to see their shears dull after only a few uses, so considering this feature makes the Corona 675OD even better.
Cost and value.
Being extra durable and offering many extras at no added price, Corona has ensured that the cost of their Classic CUT 675OD Grass Shears is worth every little penny. Who can argue an idea like that? We certainly don't. With all these shears offer, including their lifetime warranty, there is a lot to be said about the value of these blades.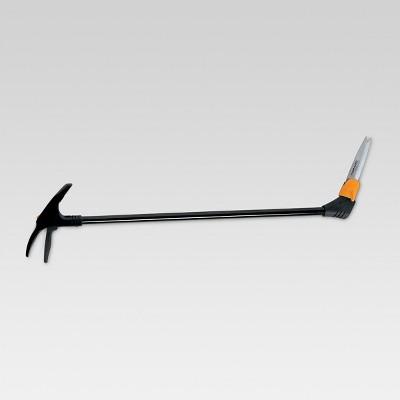 Do you have a bad back? Do you have trouble getting down to the ground to use other shears? Fiskars' 36" Long-handle Swivel Grass Shears are a great choice. Sporting a swivel head that is capable of a full 360 degree turn, this lovely device has all you need.
Long handle!
Sporting a 36" long handle, these shears will allow anyone the ability to remain standing comfortably while still getting the work done that needs it. When no other company offers such a handle normally, Fiskars has got you covered! After all they want to keep you, the buyer, in mind.
Easy on the muscles!
Most shears end up being like a grip exerciser, making a person work their hand muscles ragged. Not so with Fiskars 36" Long-handle Swivel Grass Shears, which boasts an easy-to-squeeze handle. This especially important for anyone working on their yard who have a bad back. A longer reach of the shears means you can do your work without spending most of it straining your back and leg muscles.
Cost and value
Fiskars has, yet again, made another wonderful product. Whether you suffer from a bad back or problems with your knees, the 36" Long-handle Swivel Grass Shears are perfect, allowing you to remain standing and still get your work done. Also, with the 360% swivel head, you know you can reach more easily, those places that other shears just can't. This gives a great value to this set of shears that many others cannot offer. Why put a price tag on your comfort and ease when working on your yard, if you don't have to?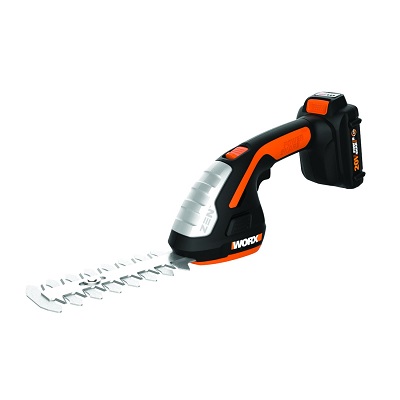 Another great electric shear that can be used on multiple projects. WORX offers a definite lightweight electric shear, with no problems like having the battery self-discharge or have a memory effect.
Conversion!
WORX has a wonderful product in the WG800.1. It has the ability to easily switch from a grass shear to a hedge trimmer simply by changing the head. On top of that, the hedge trimmer attachment comes stock with the WORX WG800.1 3.6-Volt Lithium-Ion Cordless Grass Shear / Hedge Trimmer.
CHARGE!
The WORX WG800.1's battery is good. With a life that can last up to 1 hour of continuous use, what's not to like? With quick and sure work, one could get through whatever their job is in less time than that.
Cost and value
When you look at value in a product you always find it when you see you can get more than one use, and the Worx WG800.1.3.6 Cordless Grass/Hedge Shear. Compared to others, this gives the Worx added value for your dollars. Added onto the already great offer, you get the value of ease from this shear as well.

Subscribe to our Newsletter