Best Self-Propelled Mowers Reviewed & Rated for Quality
In a Hurry? Editors choice: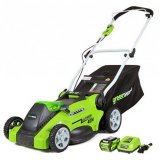 Test Winner: Greenworks 16-Inch

Our
gardens
, lawns or
backyards
provide a beautiful addition to our homes and can help our properties look more appealing. On several occasions, homeowners have underestimated the value of proper lawn care. If you have a lawn on the front side of your house, then it is your duty to ensure that it is well taken care of to enhance the aesthetic appeal of your home as well as the rest of your neighborhood. However, achieving beautiful scenery and a classic-look is not easy without the help of a reliable and highly efficient lawn mower from the world's best manufacturers of lawn mowers. Many homeowners do not have a clue when it comes to choosing a great lawnmower to cut grass, mulch and even bag the grass clippings in their yard.
Lawnmowers differ in their ability to perform mowing tasks. This write-up provides an honest review of the best self-propelled mowers. These mowers have been reviewed based on their engine type and power, noise level, self-propelling ability, ease of maneuverability, wheel drive, a source of
power
, and battery capacity and efficiency. In addition, these mowers are very affordable and you can obtain one from your trusted e-commerce platform without breaking the bank. They are also easy-maintenance, although some are easier to maintain than others. Some are
gas
powered while others run on charged
batteries
that last about an hour or less to allow you to complete mowing with less stress. Below are the best lawnmowers reviewed for quality.
Standout Picks
Criteria Used for Evaluation
Power Source
Gas or Electric
This is perhaps one of the most important factors to consider when looking for the next mower for your lawn or garden. These are the factors that drive or propel the mower forward and allow you to cut down the tall grass and bag items in your garden. Gas-powered mowers have longer runtime than corded or battery-powered mowers. In addition, they are generally more powerful than electric mowers. If you are looking for powerful mowers with better drive and performance, you are better off working with a gas mower. This unit will continue working for hours without you having to worry about battery runtime. All you have to do is have enough gas in the tank and you are ready to mow all day long or until you are done.
On the downside, gas mowers can be a little bit messy. To begin with, they generally require more maintenance to help them continue performing more effectively. Gas powered mower kits can also be noisy, perhaps because of the need to burn down more gas to power the propeller and cut grass evenly and more effectively. If you are going to invest in a gas mower, be ready for some noise as you work on trimming the grass in your garden. Gas-powered mowers also require yearly maintenance, including changing the oil and cleaning or replacing the air filter. Hearing protection should always be worn when operating a gasoline powered mower.
Weight
Weight and Maintenance
Electric mowers are also easier to clean than their gas-powered counterparts. You may find some with an included hose attachment to help you wash and clean underneath the mower. Gas-powered mowers can be heavy to use and may not be suitable for small-bodied individuals, as their hands will get tired fast and the mowing experience may be unpleasant. Having sore hands is not new to gas mower users. Gas mowers can also prove difficult to maneuver. You will have to regularly service your mower kit if you want to keep it operating smoothly.
Features
Corded or Cordless
Electric mowers can either be corded or cordless. If you are operating a corded model, your movement is likely to be limited by how long that cord is. If you want to have unlimited movement and mow even some of the hard to reach areas and hidden places, maybe you should consider investing in a cordless mower. However, you have to remember that cordless mowers run on battery and your lawn time is largely dependent on the efficiency of the batteries. Fortunately, cordless mowers often come with two batteries to be used interchangeably. That means you can charge one while using the other. Moreover, these batteries often take about 30 minutes to charge and can last an hour during use.
In contrast, while corded mowers tend to limit your movement in the garden, they do not run out of power. They will continue running until you have completed cutting down the grass in your yard. While you will never stop because you have run out of gas, corded mowers can somewhat be a nuisance to use when mowing.
If you are on a budget, there are numerous corded electric mowers you can find on the market and are effective and easy to use. They can easily tackle long, damp grass without any problems. Corded mowers are a popular choice among homeowners because of the fact that they are highly affordable and can be acquired for a few hundred dollars. Those with lawn combs as well as insert front wheels are capable of mowing up to your lawn edge. On the other hand, cordless mowers are a bit more expensive than their corded counterparts perhaps because of their ease of use and the great convenience they offer. If you are considering a cordless mower just make sure that you go for one with enough battery life so that you will not be inconvenienced by dead batteries before you finish mowing your medium-sized lawn.
By comparison, corded electric mowers are the most affordable while cordless battery-powered mowers are currently the most costly. Both are great for any family lawn because of their ability to tackle patches of overgrown grass. In addition, both work to collect the most grass clippings from the ground so you do not have to constantly worry about mowing too frequently. Regardless, not many people can afford cordless electric mowers despite the challenges they face while handling corded mowers, which get tangled up from time to time and may require an extension cable to extend its reach.
Choosing Most Important Features
Indeed, lawn mowers come in various shapes and sizes. They have various features and capabilities. It is crucial that you understand each feature as well as how it will add value to your mower and enhance your mowing experience. Whatever you choose, just make sure that the metal blades are capable of cutting grass cleanly and evenly. If you are looking for a grass collector then you should check out a mower with bagging capabilities because not all of them can cut and collect grass at the same time.
Similarly, a big bag reduces the number of trips you have to make to the compost pit to empty the bag and return to mowing. Moreover, most of the mowers with bagging capabilities have included an indicator to show you when the bag is full or needs emptying. However, note that not all of these indicators will work correctly and you have to rely on your own judgment or intuition to know when to empty the bag or grass collector.
Ease of Use
ush or Self-Propelled
Another important aspect of a lawn mower is whether it is pushed or self-propelled. Self-propelled mowers are further sub-divided into two categories: two-wheel and all-wheel drive. A two-wheel drive could mean that only the rear wheels power the mower and enable it to move across the garden. On the other hand, all-wheel drive means all of the mower's wheels are powered to enable movement. Just as with motor vehicles, 4×4 drive mowers are generally more powerful in movement and can help to go up quickly and mow inclined ground more easily. The downside is that these mower kits are generally heavier than push lawn mowers. In addition, they can be very difficult to maneuver. Push mowers are ideal for flat surfaces or grounds because pushing them uphill may not be an easy task. Regardless, self-propelled mowers tend to get tasks accomplished faster and with minimum effort. For that reason, they tend to cost more than push mowers.
Effectiveness
Cut Type
When shopping for a lawn mower, it is very important to understand how they work. Different mowers have different features and capabilities to enable them to accomplish the task they were designed to do. However, the general function of a lawnmower is to cut grass and make the lawn look for habitable. Walk-behind mowers also work to accomplish this task. However, they have different ways of dealing with grass clippings once they are cut. One way of dealing with cut grass is by side discharge, which ideally involves distributing the cut grass back onto your trimmed lawn. The other way involves cutting the grass clippings into smaller or finer pieces before distributing them onto the yard to break down further and release important nutrients into the soil – a process referred to as mulching. The last way involves bagging, which, as the name suggests, involves collecting the grass clippings lying on the ground into a bag attached to the mower for later disposal with yard waste.
Once you understand the cut type of a mower, it becomes relatively easier to make buy decisions depending on your lawn care needs and budget. If you want to cut and clean up at the same time, you can find a mower with 3-in-1 capabilities to enable you to perform all the three tasks. Such a mower will provide you with options regarding what to do with the clippings you obtain from your mowing session.
Lastly, some people consider mower cutting height as well when looking to buy their next mower kit. Cutting height simply refers to the distance from the ground that the kit will be able to cut the grass. In this regard, a mower with a wide but adjustable cutting range is particularly important where you have different lawns of different grass qualities and would like to cut the grass at different heights depending on the time of year or any other factor. Choose one depending on your cutting needs, but a mower with a height adjuster is a great asset because you can easily change the effective cutting height to match your mowing needs.
Top 10 Picks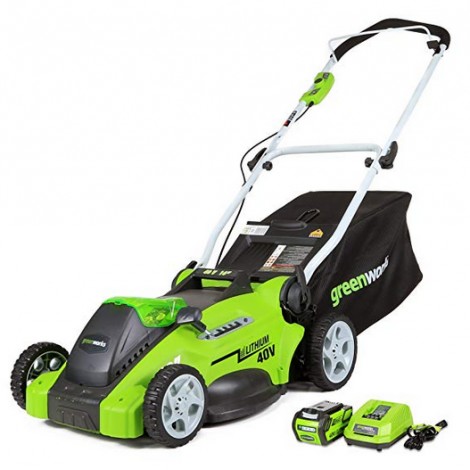 Greenworks 16-inch cordless mower is a uniquely designed mower kit that relies on a 40-volt battery of 4.0Ah to perform its functions. Unlike gas-powered tools that are noisy, produce a lot of fumes, and pose a challenge when it comes to maintenance, this lithium-ion battery powered mower kit works silently, produces no gas fumes, and is very easy to maintain.
Less Noise
Gas-powered machines are generally noisy. However, this cordless mower relies on the battery for power. It works quietly to mow your garden. It essentially operates smoothly until you are done mowing your lawn.
Enhanced Maneuverability
This Greenworks model is generally lightweight and offers enhanced maneuverability around the garden or lawn to get the job done exactly how you want it. Move across virtually any terrain to cut the grass own and achieve a clean cut.
Cost and Value
Unlike gas-powered engines that are generally noisy, this mower is quiet and reliable. In addition, you can also easily maneuver terrains to cut grass evenly. It is also quite affordable.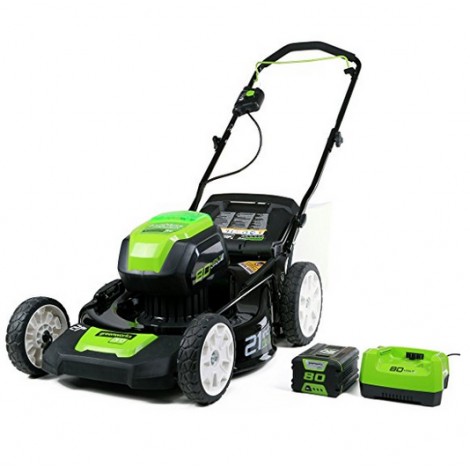 This 21-inch cordless mower is professional and commercial grade when it comes to cutting grass. The cordless lawn mower delivers a power output of 80 volts through its two 2.0 Ah each battery. You will never have to pause or stop cutting in the middle of a lawn mowing session because the battery has run out, as the mower kit's lithium-ion battery has a run time of up to 60 minutes.
Long-Lasting Battery
The Greenworks PRO model boasts an 80V 4Ah battery of up to 60 minutes runtime. The battery will last long enough to ensure you are not interrupted while working.
Load Sensing Technology
This Greenworks's piece of innovation features Smart load-sensing technology to help cut grass at the desired height. Versatile 3-in-1 discharge properties enable rear and side discharge, as well as mulching.
Cost and Value
While the mower kit may not be self-propelling, it is extremely lightweight to help you maneuver the terrains to clean your yard. It also features long-lasting battery for extended mowing, all at an affordable price.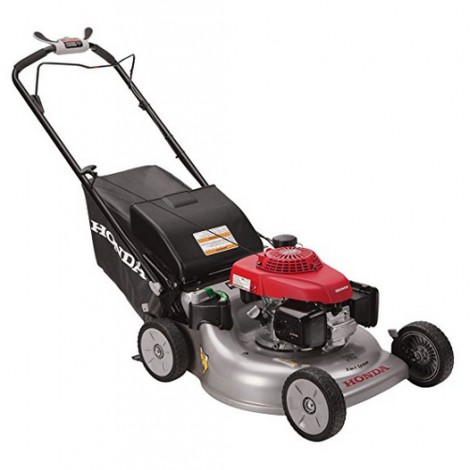 The Honda HRR216K9VKA is a dependable 3-in-1 variable speed state-of-the-art mower that features a unique auto choke characteristic. This Smart Drive has a variable speed that moves from 0 to 4 miles per hour when fully propelled. It has micro cut twin blade to allow you to achieve an ultra-fine cut. It is suitable for bagging and mulching and is very easy to start.
Easy to Start Engine
This self-propelled man ower features as an easy-to-start GCV160 engine with Smart Drive. The variable speed can move from 0 to 4 mph when mowing. This is a highly dependable engine.

Micro-cut Twin Blades
One of Honda HRR216K9VKA's most powerful features is the ability to achieve an ultra-fine cut, which is enabled by the micro cut twin blades. It is suitable for bagging and mulching.
Cost and Value
The Honda HRR216K9VKA is very easy to start and use. The variable speed can be used between 0 to 4 mph to achieve the desired result. It is also pocket-friendly.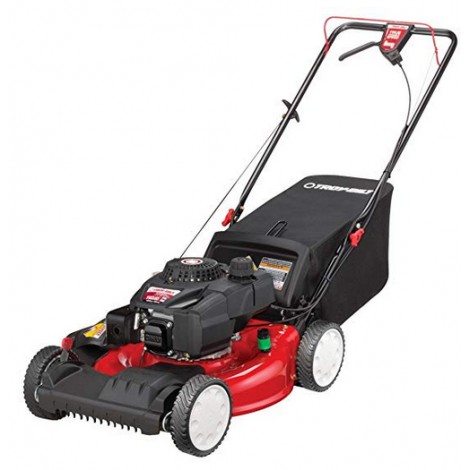 The Troy-Bilt TB220 is a powerful 159cc OHV engine-powered high-wheel self-propelled mower that will deliver great results always, whether working on small or medium size backyards. It provides you as the mower with three options to achieve the desired cut for bagging and mulching, as well as the freedom to use side discharge that comes with a standard 1.9-bushel grass catcher.
Reliable Engine
The Troy-Bilt TB220 engine is highly reliable. It is powered by a 159cc engine that is largely front wheel drive. The OHV engine is highly reliable when it comes to mowing and mulching.
3-in-1 Mulching Capabilities
The mower offers three options for your desired cut result. You can either select bagging, mulching or just decide to use side discharge with a grass catcher.
Cost and Value
The powerful engine with backup powering options gives it a great value since it ensures work is not stalled and maximum output achieved. Also, the fact that you can choose to customize performance in either mulching, cutting or bagging is a plus.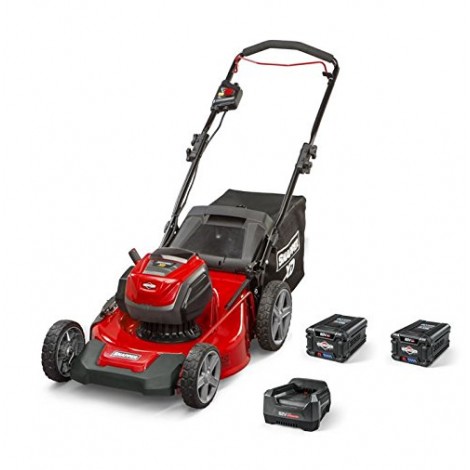 The Snapper XD SXDWM82K is a cordless walk mower that is powered by an 82V rapid charge battery. The 21-inch walk mower kit relies on a powerful battery by Briggs & Stratton to help power its operation. This battery-powered tool is both durable and reliable and will deliver on the promise of performance. The walk-behind mower is also quiet when mowing.
Powerful 82V Lithium-ion Battery
The Briggs & Stratton battery powering this mower kit offers up to 45 minutes runtime. When fully charged, the mower can offer reliable performance for close to an hour.
Cordless Walk Mower Kit
With the Snapper XD SXDWM82K, you do not have to worry about stepping on the cord because it does not have one. You can comfortably walk behind the mower kit as you perform your mowing tasks until you are done.
Cost and Value
The mower kit is smart and reliable. The load sensing technology is highly efficient, as power adjusts depending on the demands placed on the cutting blades. In addition, it is quite affordable.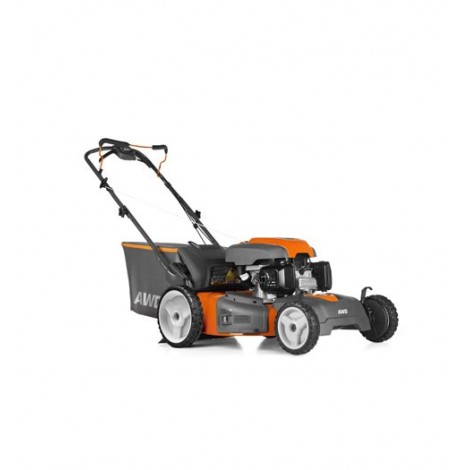 Husqvarna 961450021 is a 1900cc engine-powered all-wheel drive mower. This 22-inch 3-in-1 mower unit is ideally a 4x4. Husqvarna 961450021 is known for its ergonomic features that help to accomplish mowing tasks easily. It is not only durable but highly efficient as well. If you want impressive first-class results, you should consider a product from the Husqvarna Company.
All Wheel Drive
Unlike most other mowers that are two-wheel front or back drive, Husqvarna 961450021 is a 4X4 mower unit that provides all the drive power required to accomplish difficult mowing tasks, especially when going uphill.
Auto Walk Self-Propelled Kit
The auto-walk feature of this mower allows you to dictate the pace at which you want to walk and mow your garden or lawn. You can set it to allow you to walk slower or faster depending on your preference.
Cost and Value
Husqvarna 961450021 allows you to experience all wheel 4x4 drive hi-wheel exclusive to Husqvarna items. You will be able to enjoy the enhanced maneuverability in any terrain at an affordable price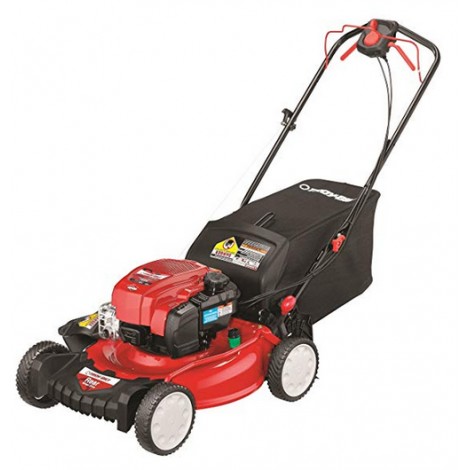 Troy-Bilt TB330 provides another easy way to accomplish your lawn care goals easily this season. This self-propelled toolkit is rear wheel drive and powered by a powerful 163cc Briggs & Stratton OHV 725ex engine. The ReadyStart technology makes it easy to start and use. The model features a TriAction cutting system to cut in a single pass. It is engineered to achieve an even cut at once.
Easy-Starting OHV Engine
The model features a 163cc engine that is very easy to start. It relies on Briggs & Stratton technology to power its rear wheels to drive the cutting.
TriAction Cutting System
This particular model features a TriAction cutting system, which the Honda engineering team has designed to deliver an impressive, even cut without the need to redo.
Cost and Value
The TriAction system delivers a remarkable clean cut in just a single pass. The machine is also very easy to start to initiate bagging or mulching for a clean backyard.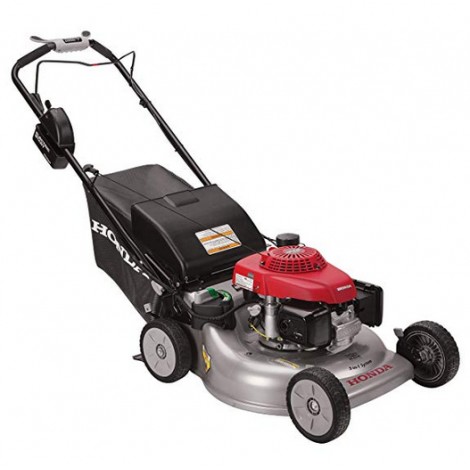 Honda HRR216VLA is another one of Honda's great innovation pieces that help to clear the tall grass in the yard. This 21-inch self-propelled mower kit features electric start to help turn on the engine fast. This 3-in-1 lawnmower allows you to do mulching and bagging depending on the mowing task lying ahead of you. Moreover, its full factory warranty is included in the package.
Electric Start
The mower kit features a reliable electric kit to help start the engine and get the propeller up and running. You will appreciate how easy it is to start this machine.
3-in-1 Mulching Capabilities
The mower kit offers three options for your desired cut result. You can either choose to perform bagging, mulching or just use side discharge with a grass catcher.
Cost and Value
The Honda HRR216VLA 21" 3-in-1 is a modern innovation by the Honda company and features an electric start to help you begin your lawn care activity as soon as you are ready.

9

. Remington RM130 Trail Blazer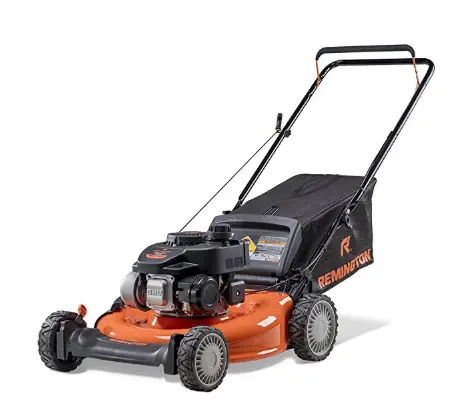 The Remington RM130 Trail Blazer 140cc push lawn mower has a 21-Inch cut, steel deck. The 140cc gasoline engine is equipped with an auto-choke.
Innovative Auto-choke
Clean up your lawn in no time with the Remington RM130 Trail Blazer 140cc 21-Inch 3-in-1 Gas Push Lawn Mower. This gas-powered lawn mower features a durable 140cc OHV (overhead valve) comes equipped with an auto-choke for easy starting. The lawn mower can be set up with 3 options for the the grass clipping; side discharge, mulching, or bagging to be disposed of off the lawn.
The mower deck can be set to one of six different height adjustments so you can precisely control the height of you lawn to your liking and the best height for the health of your grass.
Fatigue reducing handle design
The adjustable handle comes equipment with a padded, vibration absorbing handling to reduce hand fatigue. The handles have several height adjustments to allow it to be adjusted to the proper height for the best comfort of the operator to reduce back fatigue.
The wheels are moderately sized at 7" front and 8" rear. They have a nice tread design for optimum traction on uneven terrain.
Cost and Value
This machine is nicely priced and comes with mulching, bagging, and side discharged options. The multi-position handle is also a nice feature for operator comfort.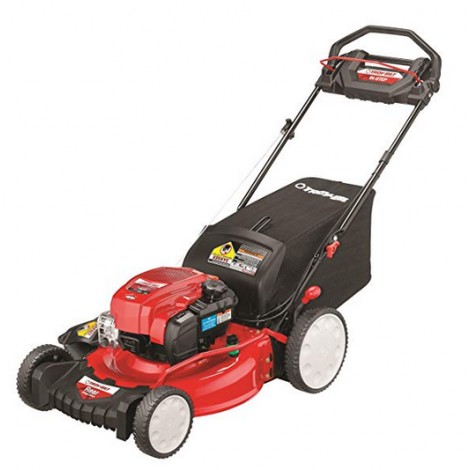 The Troy-Bilt TB370 allows you to take good care of your yard. This reliable equipment features a 163cc Briggs & Stratton engine. The In Step also features variable speed-drive system. Apparently, In Step is meant to adjust to the speed through a natural feel. This delivers precision speed control and consequently more action even when moving over rough terrain.
Reliable Engine
The mower boasts of a 163cc engine, powered by Briggs & Stratton innovation works. It relies on ReadyStart technology to allow you to initiate an easy start without the need for priming.
Adjustable Handle
The mower comes with an adjustable handle to suit the height needs of the person operating the tool. This delivers easy and comfortable machine operation when mowing.
Cost and Value
With a reliable engine technology, courtesy of Briggs & Stratton, the machine can start easily with no need for priming. In addition, the handle is quite comfortable. Despite all the powerful features, the mower is still quite affordable.

Subscribe to our Newsletter