Best Log Splitters Reviewed & Rated for Quality
In a Hurry? Editors choice: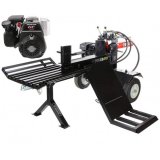 Test Winner: RuggedMade 22 Ton

If you ever need pre-chopped wood, there are still a few companies out there that can deliver it to your doorstep, but many of them will take some time to do it and most of them are quite expensive. If you're stuck purchasing pre-split logs, all your winter bonfires this season are going to end up costing a pretty penny! Log splitters might seem like an unnecessary product, but you'd be surprised just how handy they come in the long run. Even more so, log splitters are potentially life-changing for someone who lives with limited mobility and a lack of central heating. Tools like these are certainly niche, but there is absolutely a market. We've done our best to highlight the needs that these log splitters address, and to figure out the best of the best of the products that are out there.
Standout Picks
Criteria Used for Evaluation
Product Purity
Log splitters might be used only for a few months, but they really are a lifetime investment.
Some people might say, "why are we worried about longevity? It only gets used for a few months out of the year." Those people are right on one account; log splitters are typically only used for fall and winter months, as those are the times when people are in the most need of firewood. However, they're wrong to not consider longevity as an essential part of picking a product. We don't buy shoes based on the fact that they'll only get worn for three months out of the year. In fact, if we're investing a few hundred bucks into a pair of sneakers, we want to rest assured that they'll last quite a while. In a way it's the same for log splitters.
Log splitters might be used only for a few months, but they really are a lifetime investment. Especially for the aging woodsman, a good log splitter will make it easy and safe to make kindling and firewood for ages to come. It can be rough on the body to utilize a dull or on-its-last-legs log splitter. The longevity of the log splitter can be the difference between one season of success, and a lifetime of ease and support. This is why we took longevity into consideration, and scoured the reviews closely for reports of long-wearing satisfaction.
Materials
Log splitters might not seem like a wide and varied product, but trust us when we say that they absolutely are.
We've said it before and we'll say it again; when purchasing a tool, quality should be at the forefront of our minds. Not only should we be looking for material quality and build quality of the tool, but there's also the matter of finding a company that cares about the quality it's putting out. Personal integrity and the quality thereof is just as important as material quality in the world of tool manufacturing. Warranty, customer service, durability, and manufacturing are all aspects we took into consideration when making this list.
Build quality can mean a variety of things, as we discussed in the last paragraph. The specific aspects we looked at for this list, though, is a slightly more specific list. Ease of use was one of the biggest aspects we considered when choosing which log splitters to put on the list. We also looked through the reviews to find the splitters which showed high levels of durability. Warranties and good customer service were, as always, other qualities we took into consideration when figuring out which log splitters to include.
Log splitters might not seem like a wide and varied product, but trust us when we say that they absolutely are. Not only do we find that log splitters allow for the opportunity to split logs more easily, they also set up the opportunity to make life generally a little easier for some. These are the products we appreciate, which is why we chose the log splitters we did. After all, why bothering purchasing something that won't make it through the winter?
Value
We never let a cheap price cloud our judgement of a product, though we are always on the lookout for the best deal.
It wouldn't be a buying guide without talking about the price of the products, would it? Taking price into consideration isn't always a matter of finding the cheapest product and slapping it into a number one spot. Price is about much more than that. Price, as a rule, means the cost of the object. What the seller is asking for the goods. This means that it's a variable standard, and can result in people getting stiffed, cheaped, or generally buying a lesser quality product under the guise of it being top-notch.
We never let a cheap price cloud our judgement of a product, though we are always on the lookout for the best deal. We include prices that fit into everyone's different budget ranges. From top of the line to cheap and cheerful, we're sure that you'll be able to find a price to fit your budget on this list. We're also always sure to include an assessment regarding the cost and the quality. Does this price match the perceived value of the product? That's what we look for when assessing the price; never how cheap a product is.
10 Best Log Splitters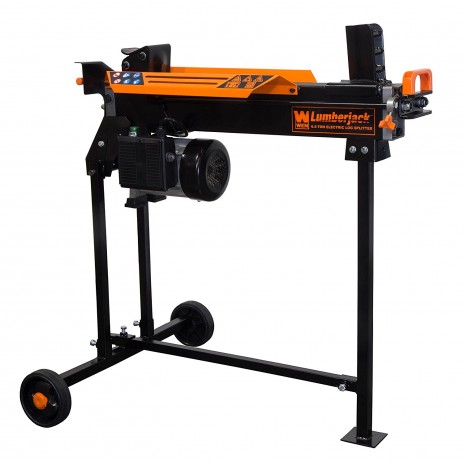 The first log splitter we put onto our list is the quintessential log splitter. WEN has released this mechanical log splitter as the easy-on-the-back option to traditional axes and mallets. Not only does this product feature and high quality, durable design, but it also shows us exactly what economy of movement and effective construction can do to improve our lives. This log splitter is what bonfire dreams are made of.
Electric Power
Forget about gas and hand cranks. Electricity is by far the superior power method. Power tools were invented to help us build houses; why not invest in a power log splitter to help us build bonfires? The electric power means the only thing you need is an extension cord to run the power from a plug into your log splitter. Forget about elbow grease; an electric power log splitter is tireless, and likely won't fail in the 11th hour.
Wheelies
Actually, we wouldn't recommend trying to pull a wheelie on this product. It does have wheels, however, making it possible to easily transport between the storage shed and the log splitting pile. The features on this log splitter are surprisingly simple; not only are we looking at a basic set up of load, go, guide, for the log splitting itself, but we're also seeing wheels and a handle. Those are all the main features, making it a straightforward, no-muss-no-fuss log splitter.
Cost and Value
One of the more expensive options on our list, but worth every penny, this log splitter will be a saving grace for years to come. Its longevity is huge, and the power of it is such that we never worry about whether or not it's going to work. You're guaranteed a split every time. The stand, which is included in the price, makes it easy for average sized folks to stand up and split longs, limiting the stress that's put on the lower back. Overall, we feel that this is exactly what one would want in a log splitter. Excellent quality, and an all-inclusive cost. While it might be high for some, we know it'll be worth it.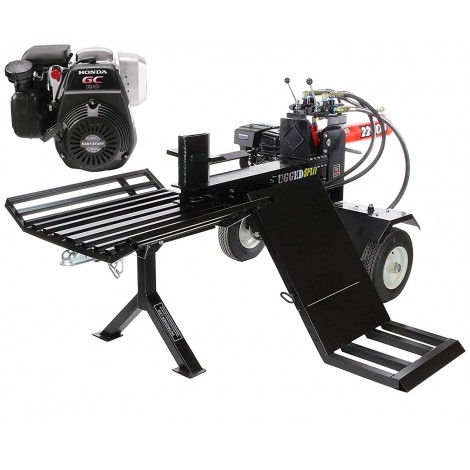 When we talk about big ticket items, this is the new standard that's going to jump to our minds. Not only are we looking at a product which has a huge about of pressure from these hydraulics, but the investment is basically like buying your first car. Although, this is a much more well-made piece of machinery, we're sure. A sturdy construction, safety features, and a lift and catch mechanism as well all set this log splitter apart as one of the most impressive we've seen.
Ready-Stack
It sounds like a weird kind of convenience food, but the ready stack life is much more important than that. This log splitter's title mentions that it features a lift and catch quality. At first we thought that wouldn't be so important. But now we're convinced that every log splitter should come with this kind of feature. The ready stack set up means that the machine catches and lifts the split logs onto whatever you wish to put them on: a truck, a porch, or even just another flat stack of logs. It keeps your wood off the wet, snowy ground, and means that you don't have to do any bending at all to get this wood split.
Safe Blade Work
Axes can be very stressful for those that aren't accustomed to swinging heavy, sharp things into hunks of wood. To be honest, axes are just pretty stressful in general. Moving blades are always a hazard. Thankfully this log splitter has gone ahead and removed the moving part of the equation. The blade on this log splitter stays in one place. You allow the machine to push the logs towards it. This ensures you're getting a safe, controlled split every time.
Cost and Value
We mentioned how this machine was comparable to that of a budget for someone's first car. We weren't exaggerating. Not only does this machine seem to have fair amount of cost associated with it, it also has a whole lot of benefits, though. Perhaps you're wanting to start your own log splitting business, or you live in a place where fire and wood stoves are your main source of heat. Whatever the situation, this heavy duty log splitter can manage the load. While it's certainly not for a casual splitter, you'll know right away if this is the tool for you.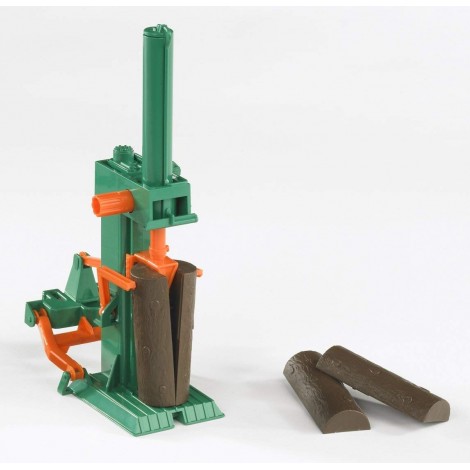 Want to get the whole family in on the fun? This log splitter is actually more of a log splitting toy. An incredibly realistic take on an actual log splitter, we know that any budding woodsman would love to have their very own log splitter. That being said, don't try and use any real logs with it. Unlike the steel construction of most other log splitters, this plastic piece is likely not going to hold up to even the softest wood in the pile.
Comes With Logs
If only our actual log splitters came with logs, right? When you buy a full steel log splitter, you're likely not going to be getting any wood with it. You need to purchase that on your own, or chop it down from out of your local forest. This log splitter actually comes with logs, though! That means that you don't need to stress about whether or not you're getting anything to split, or where to gather appropriate plastic logs. You've got more than enough already there in the package.
Totally realistic
Well, maybe not totally realistic. After all, the force needed to split those velcro-and-plastic logs is less than you need to split a real-life, fully wooden log. That single adaptation being set aside, we're pretty much in awe of the rest of the construction. This toy log splitter itself seems to have the same amount of moving parts as a real one. It even hooks up to the brand's Profi series tractors, which means your mini me can have all the totally accurate mini toys as well.
Cost and Value
By far the cheapest option on our list, this is a perfect addition to any kid's playroom. The cabin will feel even warmer with your little one "helping" by splitting logs. Plus, you can rest assured that they're safe. No blades and not enough force to smoosh fingers means this toy is perfectly safe. The plastic might not last forever, but it'll last long enough for them to graduate to using a real wood splitter. Consider this just a practice run.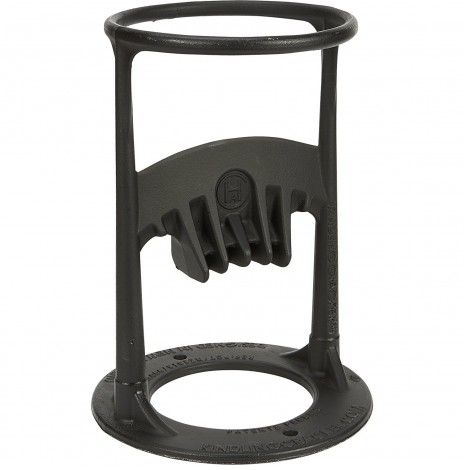 This next option is one of our first analog choices for log splitting products. When we say "analog", we don't mean that it's going to emit that annoying tick-tock that comes with regular school room clocks. All we mean is that this is a hand tool, rather than one that's run with electricity. Analog is back in fashion, though, isn't it? While it might not be the back saver we initially thought about when looking at log splitters, it does ultimately save time and stress.
Maintenance Free
Call us lazy, but one thing that we hate when it comes to products is having a whole lot of upkeep. In the same way that fancy hairstyles aren't our jam, fancy splitters that require a ton of oiling and sharpening aren't for us either. That's why we chose this product. Maintenance free, sharpening the metal is one of those "only if you want to" things, rather than a recommended product care instruction. Now we can get a perfect kindling split with no worries about whether or not the product will last. After all, it's cast iron, baby!
Less Force
Kindling, for those that don't know, are the little bits of wood you start the fire with. With the aid of newspaper or leaves (or other even contracts and secret documents) kindling are the first pieces of wood to really catch and burn. Due to the fact that you go through quite a lot when you're starting a fire, you need to create a lot of kindling. This product requires less force than a regular axe, making it possible for you make more kindling in less time, using less force. This means more kindling for the winter weather, and less elbow grease spent for you!
Cost and Value
The longevity of this product is second to none. Cast iron is some of the strongest, most durable, heaviest material in the world (or at least in the tool-creating world). The choice to make this kindling splitter out of cast iron was a smart one. Not only is it able to be used forever, but it's also going to be able to withstand the force necessary for splitting the product. For these reasons, we feel that the value is worth the cost. However, it doesn't come with a hammer or mallet. You'll either need to purchase one, or use one that you already have lying around.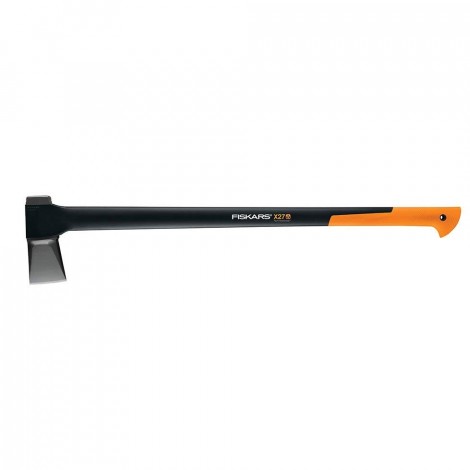 Everyone loves a good, old-fashioned axe. Some more novice woodsmen might consider all axes to be created equal. However, that's just not true. Just like how kitchen knives are better suited to some jobs than others, axes have similar distinctions. This Fiskars axe was created with splitting wood in mind. It's going to give you a clean split each time, and will help you achieve a whole lot of firewood beside your bonfire or fireplace.
Varying Sizes
Splitting logs can easily go flying, depending on how well the chop happens. This is why it's important to get an axe that's the proper size for your chopping needs. The benefit of this splitting axe comes in its versatility. While it's not a telescoping handle, the company is careful to have a variety of lengths and sizes available for purchase. The same kind of axe, but built to fit your height? Perfection!
Lightweight
It's hard to tell from the product photos, but this axe is actually one of the more lightweight options out there. Just because we're tall doesn't always mean that we have the strength to swing a huge, heavy axe time and time again. The lighter weight an axe is, the longer we can work for. That's why the less-than-six-pounds weight of this axe makes it the perfect product for those looking to increase their work time and put less strain on their back and shoulders.
Cost and Value
It's nice when products that have variations all feature roughly the same price point. However, that's not the case with this product. Each length is listed as being a different price, making it difficult to say whether they're all worth their cost. We're going to go ahead and say yes. Despite the fluctuations in price, these axes are durable. The lifetime warranty is a good investment as well, which is alone worth even the higher axe costs.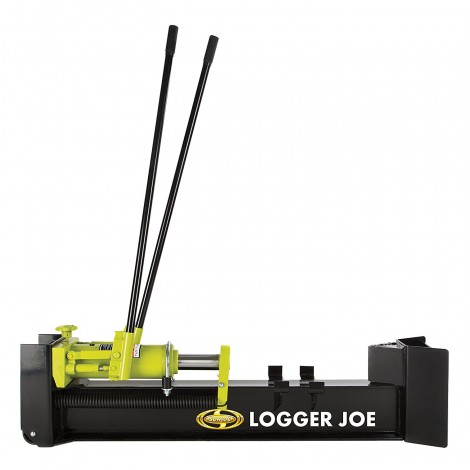 This hydraulic log splitter (also named the "Logger Joe", for those wanting to anthropomorphize their tools) is another variation on the electric log splitter theme. This time, it's not even electric, though! Sun Joe has created a log splitter that's a unique combination between electric and analog. This splitter has a hydraulic mechanism, making it the perfect partner for light to medium amounts of log splitting.
Hand powered
We know what you're thinking: "If we wanted a hand powered splitter, we could just buy an axe!" Don't speak too soon, friend, because there are benefits to this splitter that don't come from the usage of an axe. This hand powered log splitter works by placing the log in the machine, cranking the levers to move the log forward, and utilizes the pressure of the log to split it against a sharp point. No cords, no oil, and no mess!
Log Cradle
Smaller split-offs of logs can gather around the base of the machine, making it harder to determine which are the keepers and which are just bits of bark. Sure, you've saved time in the chopping department by using the log splitter, but picking up fallen logs and sorting through cut offs can be just as damaging to a back as other forms of bending and movement. This log splitter is one of the ones that features a log cradle. This cradle caressess the log, even as it splits into pieces. This ensures that you're going to be able to keep all your firewood focused and controlled, and won't have you sifting through split offs for hours.
Cost and Value
This is probably the most highly valued log splitter we've come across so far, but it's stuck sitting at our number five spot simply because of the price. It's a little higher than most of our budgets would allow, but we feel that it's one that's worth the investment. No electricity usage means it's perfect for the cabin or beach house, while the mechanism itself isn't going to be enough to tire you out, even after an hour or three of splitting logs. This is a great log splitter; if you have the budget for it, we definitely would recommend it.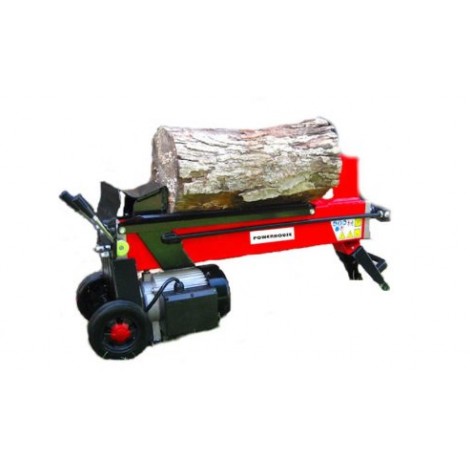 We've looked at a few options that might not necessarily be budget splitters, but are certainly cheaper than the electric options. While analog is a great choice for those that are used to using axes and hammers, there's always room to improve a process. That's where the Powerhouse comes it. This electric hydraulic log splitter is pure force, and will ensure the perfect split every time.
Two Hands, Two Levers
One of the biggest worries many people have is the safety aspect. Electronic log splitters are meant to split whatever gets put in the log section. Whether it's wood or fingers isn't able to be detected by the machine. That's why safety is of the utmost importance, and why Powerhouse decided to include a failsafe in their build. Many log splitters only require the push of a button to make them work. This one, however, requires both hands to be on both levers all the time. Keeping your fingers safe is just one of the many benefits Powerhouse has included in their design.
Super Powers Included
One thing that we have to consider carefully when looking at an electric log splitter is just how much more power you're getting. Many practiced axe-users will boast about their rate of logs split per hour. Some will even go so far as to claim that electronic log splitters don't improve the speed of splitting that much; they're just easier on the back and arms. This is the log splitter to change all of that. Not only does this log splitter help save your muscles from too much stress, it also has the power and speed to go through many, many logs. The description boasts a hundred logs in under an hour. We'd like to see even the seasoned vets try to beat that one.
Cost and Value
At twice the price of our number one machines, this is a little out of most people's budgets. However, for the serious outdoorsy folks, it's not a bad investment. The durability of this product is second to none. Many reviews say that it splits tough, knotty wood like butter, leading us to believe that it's probably powered by magic rather than electricity. Overall the quality is excellent, but the price is still a little high. This is definitely a product that will need to get used regularly in order to be worth the cost.

8

. PowRkraft Pow'R'kraft (PK65556)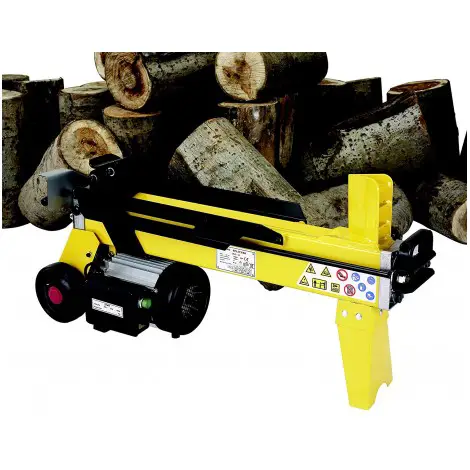 This log splitter looks remarkably like some of the other options on our list, but at a price that's roughly the same as the one we just looked at. Not only is this log splitter ready to split through dozens and dozens of logs, it comes fully assembled. It says that it's a 4-ton log splitter, but that just means that it's tough enough and strong enough to handle whatever you want to throw at it. (Though please don't actually throw things at log splitters while they're on.)
The Override
Big red buttons aren't just for super spy emergency getaway cars anymore. This log splitter comes with a big button-- we're not sure if it's red or not, though. Whatever the color, the button is important in the safety realm. This log splitter runs electronically, which means it needs to be plugged into a regular home circuit. This means it needs a little more care in terms of the safety measures, though. Not only does it have a reset button, but it's also got a built in GFI that will stop the machine from being overloaded. And if worse comes to worst? Slap your hand on that big, red, reset button.
Steel Construction
We've mentioned this in passing before but wanted to go into a little more detail. When you're using a high power product to split wood and chop things up, it only makes sense that you want that product to withstand the power. You also want to rest assured that the machine, whatever it is, is going to last a long time; that's kind of a given when purchasing a bigger ticket item. By building this log splitter out of steel, it's going to last for seasons and seasons of splitting. While it does make it heavier to lift/roll, that durability is going to give you a longevity you'll love to see.
Cost and Value
This is sitting at about the same point as the log splitter we just looked at. What we'll call the average part of our range, this log splitter isn't unreasonably priced. Plus, you can split slightly bigger logs in this than in the prior options. The machine itself does require some electricity, but all in all this is a quality product you won't be disappointed with. While there aren't a ton of reviews, the high star rating is enough to convince us that this value is certainly worth the cost.

9

. Powerhorse 3-Pt. 22 Tons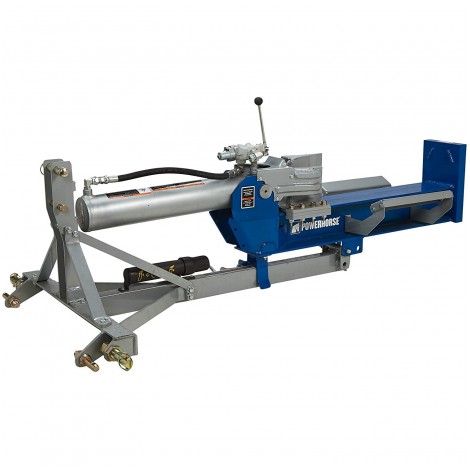 A Powerhorse is the right definition for this log splitter! It's no surprise this company came up with such a strong and well deserving log splitter. This is the first log splitter we've seen that can handle both horizontal and vertical splits. Plus, the 22 ton force means it's all set to tackle even the hardest, knottiest wood.
Pivot
It's no longer just a basketball move. Pivoting is an important feature of this log splitter's design. Not only does the pivot work smoothly and swiftly, it makes it simple to lock in and use almost immediately after twisting. This machine is a true powerhouse, as the brand name suggests, and it's seen clearly in the fact that the pivot is so sturdy. This pivot allows you to switch the machine from splitting horizontally to splitting vertically, allowing you to split logs no matter what your spatial limitations are.
Everything Is Reinforced
And we mean everything. Not only are the hydraulic hoses reinforced, but the seals they use are durable and leakproof. The steel itself is even crafted with multiple layers and different angles, making it nearly impossible to jam or break. The reinforcements might feel a little excessive when reading through the list, but they're certainly all necessary when it comes to getting the most wear (with the least amount of tear) out of your log splitter.
Cost and Value
This is a log splitter that's again sitting at the higher end of our budget scale, but it's not anything that we can't overcome with a little bit of smart money saving. For those that are looking to invest in a high quality product that won't break down after a few years, we fully recommend this Powerhouse product. The log splitter works with a huge amount of force, but still retains its smoothness and versatility. In fact, this is potentially the most versatile splitter we've seen; horizontal and vertical capabilities? Now that's a value that's well worth the cost.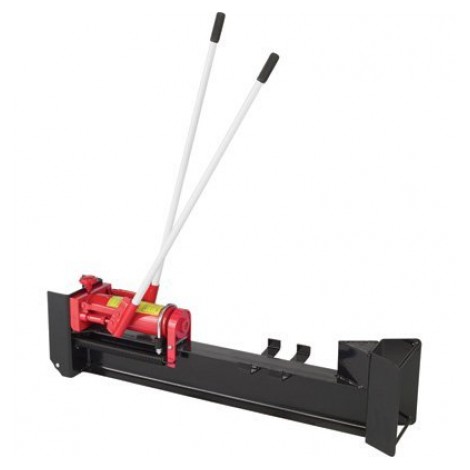 Last but certainly not least, this log splitter just had to earn a spot on our list. A similar design to one of our other options, this hydraulic log splitter is a perfect addition to any electricity-free cabin lifestyle. Small enough to pack away or hide under a tarp, but big enough to handle wood-stove-sized logs, this log splitter is the budget friendly, manual answer to classic big ticket log splitters.
Wedge height
A running theme with some of these log splitters is the fact that they don't actually require moving or swinging any sort of blades. Luckily for us, these log splitters are primarily focused on using force and pressure to split the log. However, the smaller the point of force, the trickier it is to actually get a good split. This is why the wedge height is important. This log splitter has 4 inches of wedge height, allowing it to reach the centre of even the highest logs. This makes for a solid split every time, with zero sharp things flying through the air.
Easily Portable
While many of our log splitters so far have featured wheels and handles (supposedly for easy storage) sometimes moving those log splitters is easier said than done. We love a good steel construction, but steel is heavy. Heavy steel can be difficult to carry and move, making it harder for us to want to pull it out and use it. This product is truly easily portable. Not only does it feature wheels, like many of these other splitters, but the compact design makes it better for the average person to move and carry.
Cost and Value
A true budget option, but a budget option people are happy with. This log splitter is the epitome of cabin living. It's a hand-powered hydraulic method of log splitting, also making this a good option for those that might not have hook ups to electricity. It's smaller, which means it's good for tinier spaces, and even features handles with a solid grip at the top. While one or two of the reviews said it's not the sturdiest, it's an excellent choice for anyone who just wants to test out the benefits of a log splitter.

Subscribe to our Newsletter