Best Mountain Bikes Reviewed & Rated for Quality
In a
Hurry? Editors choice: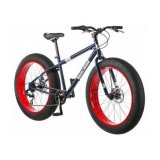 Test Winner: Mongoose Dolomite

Bicycles have always been the first rite of passage for kids. Suddenly, with two wheels the world opens up. Excitement would hit as we would find a bright new colorful bike under the Christmas tree or on a birthday, ready to be
ridden around the neighborhood
. Now as adults, biking has become so much more versatile, whether you desire to meet a group at the trailhead for an adventure over a dirt trail hidden among the trees, perhaps a new
physical training program
, or losing yourself in the peace of a ride on a trail. It's important to select a bike that fits you and your needs. Here's our list of the best.
Standout Picks
Criteria Used for Evaluation
Style
While we categorize them as mountain bikes, there are still a variety of mountain bikes, such as all-terrain, fat bikes, all-mountain, cross-country, and others.  To select a bike based on style, this may be dependent on where you want to ride, and possibly even where you live.  Living in a flatter area may not provide as many opportunities for racing down mountains, jumping over fallen trees, while those living in the mountains may not have the opportunity to hit the straight stretches and let it fly.
Materials
Bikes are made from a variety of material, as we saw in the reviews, from aluminum to steel to carbon fiber or even the size and weight of the tires and wheels.  The material chosen will influence how the bike rides, such as it might seem heavier and may not be the best selection for the person planning to competitively race, while someone else might just want to plan some trail riding and may not need such a lite bike.
Size
Size can make a tremendous impact when choosing the right bicycle, and it can go both ways.
A larger person may not feel comfortable on one of the shorter, smaller bikes, and it could even cause more damage to the bike due to the excess weight.  A smaller person riding a larger bike could also be a cause for disaster since the bike could be bigger than what they can handle should they get into a dangerous situation.  They might come to a sharp corner and are not able to manage a larger bike should they begin to lose control, resulting in an injury.
Another part of the size equation is how big/bulky the bike can be.  One of the bikes we listed was a stowaway bike, so it can be easily folded and put out of the way.  Sometimes bikes can become too bulky and/or heavy making them nearly impossible to mount on the bike rack.
Bottom Line
Just as when we were kids, we want a bike we can be proud of. The one that looks "cool." So there has to be a level of design appeal. Maybe a few tweaks to the frame that make it stand out from the rest, or a color combination making the bike pop from amongst those it is surrounded by.  While you may be riding for recreation, it's still nice to have the bike that causes a head swivel and a more thorough glance at passersby.
Value
A really good mountain bike is going to cost a lot of money. But with bikes sometimes it's all about getting what you pay for. But there are decent bikes that'll get you quickly and safely from point A to point B. Our list is going to have all kinds of bikes from top end trail bikes to the bikes that are way more affordable but hit our high-quality mark.
Best Mountain Bikes Reviewed and Rated for Quality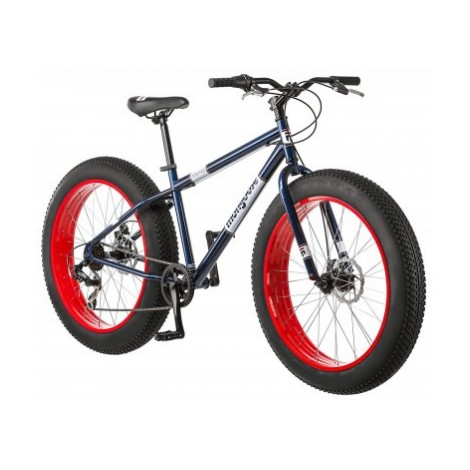 The Mongoose is one of the most well-known brands in the biking world, so it's no surprise it is one of the top 10. This steel-framed mountain bike stands out with its supersized all terrain knobby tires, measuring 26" diameter and 4" wide, as well as creating a comfortable ride whether for a long cross-country trail or just an everyday ride and is available in blue or red.
Materials and Features
This steel-framed mountain bike features a rear derailleur with 7 speeds. The twist shifters will make those hills easier to climb and transitions smoother as you easily change gears, and the front and rear disc brakes provide all-condition braking ability, even more, important when traveling off the beaten path. Complete with a headset that is threadless and completely adjustable, you can keep the weight down because the rims are lightweight and strong. This bike also has the beach cruiser pedals and many other extras to recommend it.
Style
This bike is versatile and ready to ride, wherever you need to go, you can ride year-round on the Dolomite Fat Tire Bike. Many customers also shared they received positive comments from others while riding this bike. This bike is good for adults, creating a comfortable ride, especially with the larger tires. It may seem heavy to some as you travel up hills, especially when comparing to other bikes, but it definitely meets the need to provide a comfortable ride.
Cost and Value
This bike is a great bike, especially for those who are new to the mountain biking world, at a cost comparable to other bikes available. It provides you with options to ride wherever and whenever and has upgrade potential.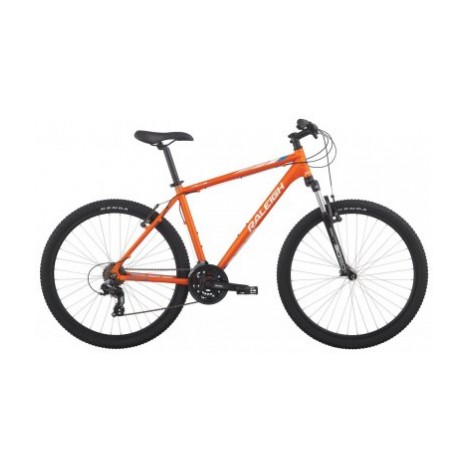 The Raleigh Talus also makes it into the top 10 list providing fun riding experiences on the pavement and light dirt trails. The lightweight aluminum frame is designed to provide a riding position comfortably and reducing strain on the neck and lower back. Travel across varied terrain, including up and down the hills, will still feel smooth and enjoyable on this bike.
Sturdy Frame and Features
The frame of this bike is made of lightweight aluminum and includes its 27.5" and wide 2" tires and 21 speeds.
Size
This 19-inch bike allows for adjustments to easily fit a person anywhere from 5' to 6'4", and it's upright geometry provides a comfortable riding position to put the rider in a comfortable position.
Cost and Value
This is a quality bike, allowing for enjoyable rides for many miles to come.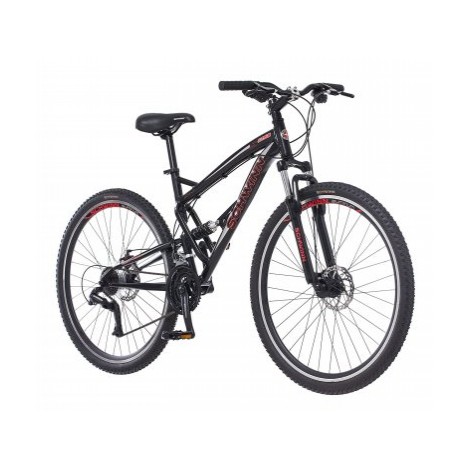 Schwinn, another popular name in the biking world, so it's no surprise it has one of the top 10 mountain bikes in our list. Grab this bike to ride with friends on some of the more serious mountain biking trails. The performance features available on the S29 will help give you the boost you need on a little more difficult terrain.
Material and Features
This bike boasts an aluminum suspension frame and wheels that will allow you to glaze right over any sticks or rocks on your daily rides. The rear derailleur and speed trigger shifting will provide ultimate shifting for quick gear changes as you climb mountains or race down the hills you love to race, and the front and rear disc brakes will provide you with the ease needed in stopping and cornering even in dusty conditions.
Also worth reading bike speedometer
Style
This bike is designed for the mountain biking enthusiast. It's design and features provide the rider to move into the next level of biking, closer to the professional biker experience. This bike fits well for riders 5'8" and above and is generally recommended for ages 14 years and older. The quick release seat post provides easy seat height adjustment.
Cost and Value
This bike is also a great value for the cost, especially meeting the needs of those who want to hit a few more of the aggressive mountain bike trails.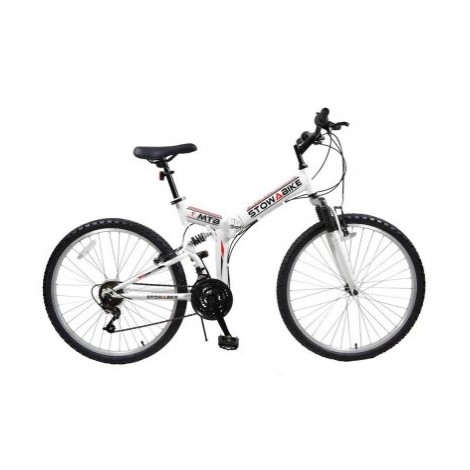 The Stowabike MTB V2 is another great option when looking for a mountain bike. What is special about the bike? It "stows," meaning you can basically fold it in half and store it with little space taken.
Material and Features
This red bike features the 26" steel stowable folding frame, 18-speeds and steel v-brakes. While this bike may be able to store in a small area, it has the ability to take you to the wide-open areas. It's steel frame and 18 speeds will allow you to travel on the open trails on this durable quality bike.
High Quality
What really sets this bike apart is the foldable frame. Just because space at home or in your car is limited, doesn't mean your outside activities have to be. This mountain bike provides you to explore cross-country, and no matter how much room you have to store your bike
Cost and Value
The bike still provides a quality mountain bike that is very comparable to its competitors, and is built to last but offered at a lower cost than most of its competitors.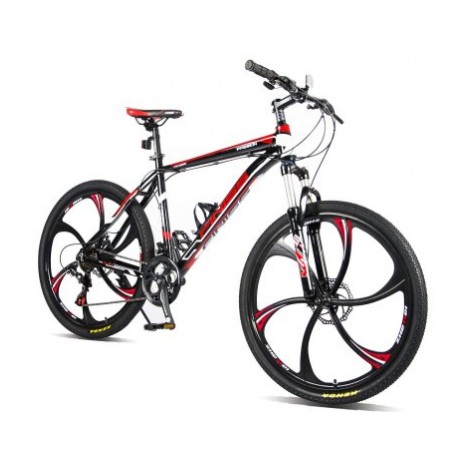 For smooth riding and easy transport, the Merax Finiss is another great option, especially with the color options of black/red, gray/green or black and the fun design of the bike with its special wheels. This bike is made of an aluminum frame and magnesium alloy wheels designed to create a smooth ride and allow the rider to increase control using the Shimano system.
Material and Features
Features such as the heat-treated aluminum 6061 frame, lightweight magnesium alloy wheels, and advanced aluminum mechanical lock-out suspension fork help smooth the ride and increase the control. And you will feel in full control with the Shimano 21-speed derailleurs and shifters, providing reliability, and front and rear mechanical disc brakes for safe stopping power.
Style
Not only is this bike built to create a smooth ride, but it also has an adjustable saddle for distance, allowing you to move the seat in order to have a comfortable long ride.
Cost and Value
This bike not only has a fun look to it coming in white/blue red/black or green/gray, but it also provides a great mountain biking experience for about the price as other brands available.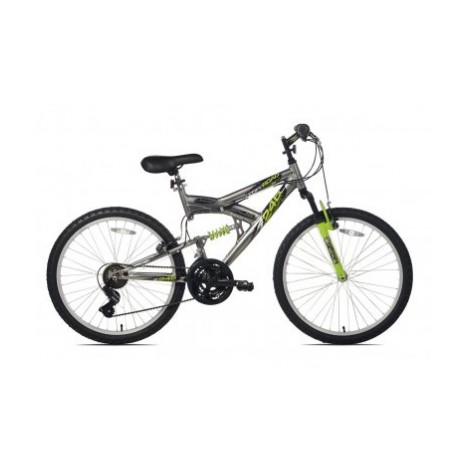 Another fun option for your mountain bike selection is the Northwoods Aluminum Full Suspension Mountain bike, with its fun design and colors of grey/orange or grey/green, and sizes available of the 24 or 16 inches.
Material and Features
This bike comes with a full suspension aluminum frame is available as a 24 or 26-inch with 50 mm Steel Crown Fork, 24" allow rims and 21-speed twist shifters.
Fun to Ride
There is nothing quite as fun as heading down a mountain at top speed on this bike. Perfect for everyone in the family, this is one you don't want to miss.
Cost and Value
This bike provides you with the full suspension options at a slightly lower cost than the competition.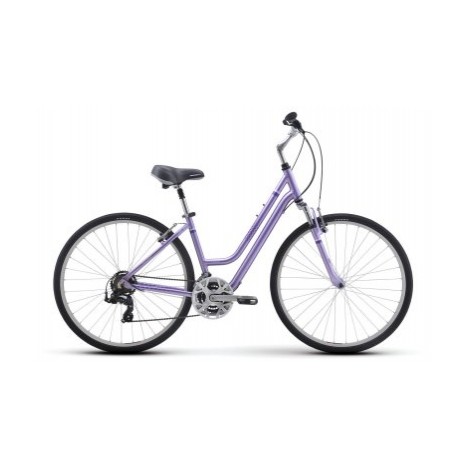 The Diamondback, another popular name among bicycle enthusiast, and this bike is a great option for those wanting a smaller bike since this is available in a 15" or 17", and has an adjustable stem to customize the height and angle of the steel handlebars for the perfect fit.
Materials and Features
The 6061-T6 aluminum frame with Sport Hybrid Geometry is designed to help you pedal. It also features a step-through frame that lets you get on and off of your bike with ease. Complete with An HL Zoom suspension fork and a Shock suspension seat post you are assured a smooth ride and it also smoothes out the bumps on the road. You will be able to fly over whatever trails, mountains, or just simple roads that you travel, feeling the wind in your hair as you go. The wide range of gears ensures that the tight corners you come to are easily taken as well.
Slow Down Quickly
The bike also features Tekto linear brakes, which make it safe for you to slow down and doesn't require much maintaining or adjustment.
Cost and Value
The Vital 2 is reasonably priced in comparison with its competitors, and very low-maintenance. It's generally ready to roll when you are.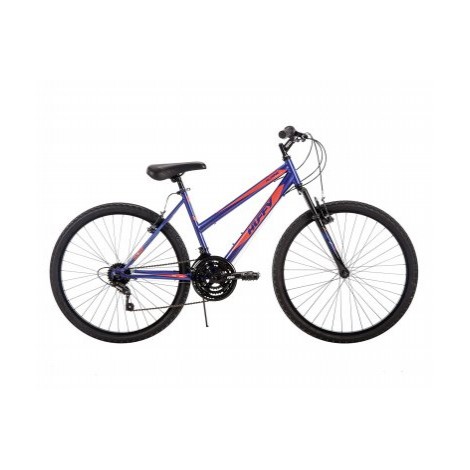 The top 10 on our list also includes the Huffy Alpine bicycle. This 24- or 26-inch is available in fun colors of gloss process blue (with pink accents) or gloss grape bike (with crimson red graphic accents).
Material and Features
Its hi-ten steel frame with comfortable hand grips is made for the mountain-sized fun. It uses an 18-speed gear allowing for quick thumb shifting skills while navigating trails woods and even neighborhood roads, and also has a front and rear linear pull brakes to provide stopping action on which you can rely.
Absorbs Shock Well
The Kolo 1200 suspension is designed specifically to absorb shock and the padded ATB-type saddle. This bike is ideal for all around riding and continues to support Huffy's motto: we make fun.
Cost and Value
The Huffy bike is one of the lower cost mountain bikes, providing an enjoyable riding experience within budget needs.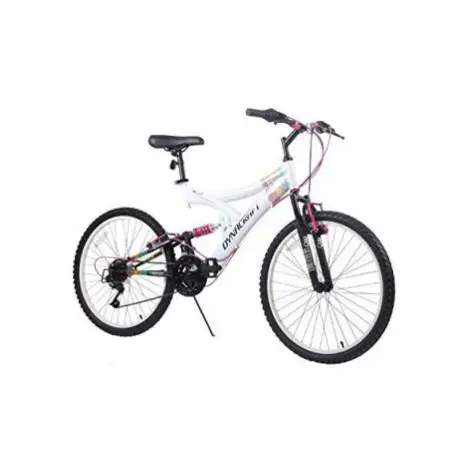 Another uniquely built bike on our list is Dynacraft's women's 24" 21-speed Rip Curl Bike. This bike provides a full suspension mountain bike frame with the linear pull brakes to give the rider solid control and ease of stopping.
Features
This bike is a 21-speed index derailleur that comes complete with shifters that are Shimano grip that will help you fly across the trail cornering with ease, slowing down using front and rear v-brakes. The padded mountain bike saddle provides a comfortable ride and a seat post that is easy to release.
21 Speeds
The speed of this gorgeous ride will have you zipping through the mountains, or anywhere else you choose to ride fast. Just remember that helmet and be safe, above all else.
Cost and Value
This mountain bike is one of the lowest priced options on our list, providing users with a great bike with a lower investment to meet their budget needs.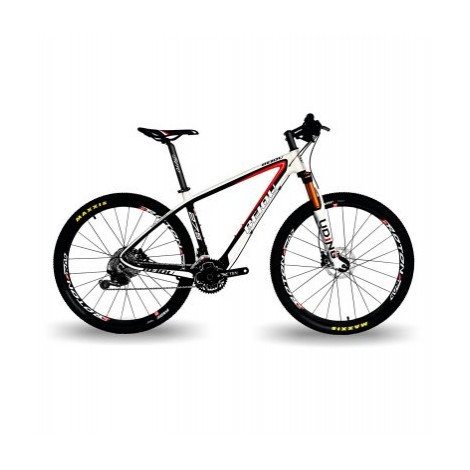 Another great mountain bike option is the Beiou Carbon Fiber Mountain Bike, setting it a step above the rest of the competition and being known more as for cycling enthusiasts and professional entry-level riders. It's lightweight frame and Shimano system will give the experienced rider an enjoyable adventure. It is available in black, red, white and white/red and a choice between the 17-inch or 19-inch frame.
Material and Features
This bike is made of Toray T800 carbon fiber for the frame, handlebar and seat post, making it into an ultralight, weighing less than 25 pounds, and includes the Shimano M610 Deore System. Features also include the 3*10 speed control system, the hidden disc brake, air fork suspension, and the Hardtail MTB.
Gorgeous Color and Design
This beautiful matte black, white and red bike is great for the everyday rider, but even more so for the cycling enthusiast and professionals.
Cost and Value
If you are an enthusiast (or plan to) or are starting to become professional, this bike might be the one for you as it has stepped up to be more than just the beginner bike being made out of carbon fiber and boasting of its lightweight frame and many system enhancements, setting the bar higher than the beginner bikes. The price matches the quality, providing a bike that will serve the beginning of many miles traveled, and perhaps competitions to be won.

Subscribe to our Newsletter