Best Leica Binoculars Reviewed & Rated for Quality
In a Hurry? Editors choice: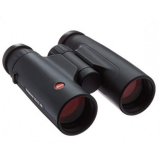 Test Winner: Trinovid 10x42 HD

Leica has been producing
binoculars for hunters
, outdoor enthusiasts, and sports goers for over 100 years. And to be honest, there's not a company out there that does it better than they do--they're the best.
The precision in manufacturing and quality control, plus the use of the finest materials out there join together to make some truly remarkable products. Because Leica works closely with their customers to understand their unique needs, they're always ahead of the competition and forever delivering products that simply go beyond.
Sure, you'll find compact and standard products on this list, but you'll also find Noctivid, Geovid, and rangefinding products that will amaze you. The Leicas on this list work in low light and in poor weather conditions to bring you crisp imaging when you need it most. And with high-contrast capabilities, you will find the world opening up before your eyes.
Standout Picks
Criteria Used for Evaluation
Visibility
Visibility is the whole name of this game, so this was obviously one of the most important factors we considered when selecting the products on this list.
We feature products that range from 8x to 12x magnification, though most of them are 8x or 10x. The products here range from having objective lenses that are 20mm in diameter all the way to 50mm, and most are 20mm, 25mm, or 42mm. And there are products with eye-relief ranging from 12-20mm.
In terms of how far these products can see, we feature a range that can focus in as close as 5 feet or as far as 1,000 meters away. The products that have a better range (i.e. can focus both closely and at a distance) score highly in this category.
Lighting is a major consideration as well. Some of the products on our list have over 90% transmission. They range in twilight factors from 12.5 to 20.5. Along with special coatings, these features help to allow you to see clearly even in bad weather or at night.
Features
Some of our favorite features on these products are as follows.
Internal focus means the eyepieces won't move when the focus is changed.
HDC coating protects lenses from dirt and debris as well as scratches. This means that your lenses will remain clear even in unideal conditions. Highlux-System (HLS) and AquaDura Coating ensure that you can see crisply no matter what the weather outside. And p40 phase correction helps to eliminate aberration.
Some wild bonus features that we love include the elite programming of the ballistics and rangefinder as well as the night vision features of the Noctivids.
Adjustability
We love products with tons of customization and adjustable options.
Interpupillary distance adjustments are available on these products between 32 and 83. The range is different for each product so make sure you check the specs.
Most of the products on this list also include adjustable eyecups as well as removable eyepieces for users with eyeglasses. And because no 2 eyes are exactly the same, many of the products feature diopter adjustment which allows you to adjust the focus for each eye separately and then save those settings so that you can focus in tandem without worrying about each individual eye setting.
Durability
Most of the products are made from aluminum or magnesium. These bodies are lightweight and hard and are designed to reduce the potential of corrosion. They are also encased in armored rubber which helps with ergonomics as well as serves to protect against shocks from dropping or banging the product.
Many of our featured items are also weatherproof and can sustain tough elements in the wild. And because these are premium products, they come with warranties. Make sure you register your product and keep receipts. These warranties are not transferrable.
Value
These are premium quality products. They use the best materials and the most advanced technologies and they are constantly looking for ways to improve their designs. On top of that, they're also durable and weatherproofed to stand up to whatever life throws at it.
Truly, many of these products do things that their competitors simply cannot do. That takes their value up a notch and puts their price tag into perspective.
We will say that we read a number of reviews that complained about long wait periods for repairs. While most of these reviewers were eventually satisfied with their repair or replacement, the wait was often long.
Ten Best Leica Binoculars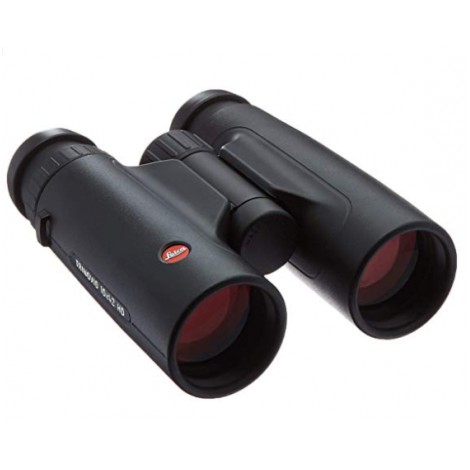 The Trinovid 42 HDs are an updated classic that have been reimagined to make them even more user-friendly and super crisp. With a new system for carrying and storage, as well as advancements in HD tech, the color neutrality and sharp imagery in such a small package delivers major wow factor. This series comes in 8x and 10x magnification, but 10x is our favorite.
90% Light Transmission
The Trinovid 10 x 42 HD features 10x magnification. The diameter of the front lens is 42mm and the pupil exit is 4.2mm, while eye relief is 15.5mm. With a twilight factor of 20.5 and light transmission of 90%, these guys deliver killer images even in the lowest of lights or poor weather conditions.
When observing from 1,000 meters away, your view field will be 113 meters. When observing from 1,000 yards away, your view field will be 355 feet. But you'll also be able to enjoy close up functionality at 5.3 feet away.
New Carrying and Storage System
This product has been upgraded to include a new carrying and storage system that makes use and transport a breeze. The carrying system looks like a vest and secures around your middle and neck. Not only is it comfortable and convenient, but it helps to keep your product free from dirt and debris to keep your field of view clear.
The Trinovid HDs feature some amazing customizable options. The interpupillary distance is adjustable between 58 and 76mm. There are also settings to accommodate those who wear eyeglasses. These removable eyepieces are included and feature 4-click stops.
The focusing knob is located in the middle of the product and controls the internal focus. These Trinovids are super durable and their armored rubber makes them practically indestructible. With their new ergonomic design, they feel snug and secure in the hand. And they are waterproof to a depth of 3 feet.
Cost and Value
The Trinovid HDs ring up at the low middle of our price range and we absolutely love them for their compact and lightweight design that is pretty much indestructible with a range of vision you can beat at this size.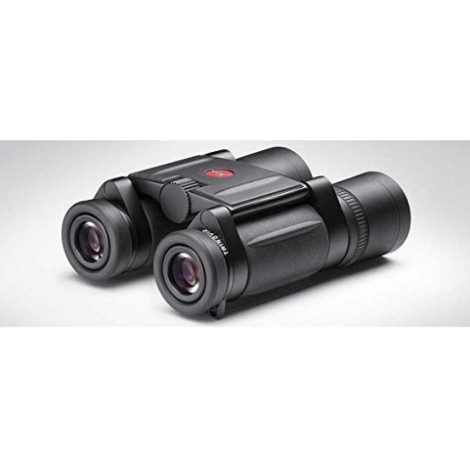 The Trinovid BCAs are incredibly compact without skimping on visual depth and quality. They are great for hunting, camping, and sporting events and are small enough to travel with you anywhere. And for the price, they deliver quality that's hard to beat.
16.5 Foot Close-Range Focus
The Trinovid BCAs feature many of the same amazing design elements as the Trinovid HDs, but they are even more compact and affordable. They have 10x magnification power, with a 25mm front lens and 2.5mm pupil exit. These boast a nice eye-relief distance of 14.6mm.
These are best intended for brighter light situations with a twilight factor of 15.8 and won't pick as much up as the Trinovid HDs in lower light. That being said, they are treated with HDC (High Durability Coating) which fights against abrasions and helps to transmit images with elevated light and color clarity. They also have an amazing close focus range of 16.5 feet.
Super Compact
This product is super compact weighing less than a pound and measuring 6x6 inches. It comes with a carrying case and neck strap so you can take it with you anywhere you go. Plus, it's small enough to be allowed into most sporting events.
It features eyecups that are extendable by twisting and pulling them into the desired position. It also comes with removable eyepieces for users who wear glasses. The interpupillary distance is adjustable between 32 and 83mm. This product features internal focus controls. It is splash proof.
Cost and Value
The Trinovid BCA is one of the most inexpensive options on our list and we love its value because it is super compact without sacrificing viewing and color quality and while still offering personal viewing options based on the user's needs.

3

. Ultravid BR 8x20 Compact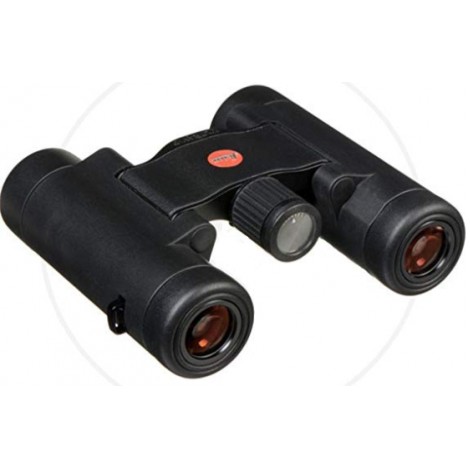 The Ultravid BR is another compact option on the more affordable end of the Leica spectrum. They are the best all-around compact binocular on the market and regularly outrank their competitors. So if you are looking for the most optimal travel buddy, look no further.
1,000 Yards View FIeld 341 Feet
Let's talk specs. The Ultravid BR features 8x magnification. It has a 20mm front lens and a 2.5mm pupil exit. The eye-relief distance ranges 15mm.
Because these are compact lenses, they aren't quite able to rival the viewing field of larger lenses, but they try. At 1,000 yards away, the available viewing field is 341 feet. That's some small but powerful imaging. Plus, enjoy a 6-foot close-range focus as well.
These are designed to gather light to make dimmer images seem brighter. With a twilight factor of 12.7, they are ideal for use in greater light situations, but HDC and AquaDura coating help to bring in crisp colors and focus.
More Rugged than Any Other
The Ultravid BR is perhaps more rugged and compact than any other option on the market. Weighing less than half a pound, you'll hardly notice it's there. Plus, its hard casing and the ability to remain watertight at 16.5 feet of water ensure that these bad boys will function when you need them.
We love the diopter focus option on this product. You can adjust each eye separately and then save your settings to enjoy easy focusing in the future. And with adjustable eyecups and removable attachments for those who wear glasses, you'll be able to achieve a super comfortable fit that is just right for you.
Cost and Value
The Ultravid BR rings up on the lower end of our scale and we love its value because it is the best product in its category and delivers killer crisp images and major personalization features that make use a breeze.

4

. Ultravid BR 10x25 Compact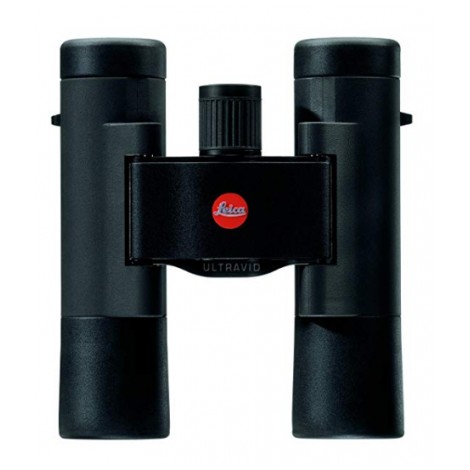 The Ultravid BR 10x25 Compact is similar to the 8x20 but it packs even more power and visibility into a teeny tiny package. If the Ultravid BR 8x20s were appealing, but you are looking for a little bit more crisp clarity then this is the product for you.
Suppresses Stray Light
So how do the specs compare? The Ultravid BR 10x25 features 10x magnification instead of 8x. It has a 25mm lens (as opposed to a 20mm) in the front and a 2.5mm pupil exit. The eye-relief distance is the same at 15mm. At 1,000 yards away, the available viewing field is a bit smaller at 273 feet.
The Ultravid BR 10x25 is also designed to take in more light to make brighter images with less light available. With a twilight factor of 15.8, these let a lot more light in that the 12.7 BR 8x20. With these, you won't experience color fringing or edge to edge aberration. It suppresses stray-light which helps to crisp up images as well.
Folds In On Itself
The Ultravid BR 10x25 have an incredibly compact design. It features a top hinge which lets the barrels fold in towards each other (eventually touching) underneath the bridge. They fit nicely in the provided carrying case which is padded and features a belt loop.
The interpupillary distance can be adjusted from 34mm to 74mm. It features adjustable eye cups and removable eyepieces for users who wear glasses. It boasts a diopter which allows you to make custom settings for each eye with the click of a button. Focus with an internal knob.
This product is made from aluminum and coated in rubber. The design ensures a lightweight body that is comfortable to hold and durable as well--it's practically like a suit of armor. And it weighs only half a pound. It's also waterproof up to 16.5 feet.
Cost and Value
The Ultravid BR 10x25 rings up at the lower end of our price range as well because it is a durable compact option that can stand up to almost any climate or atmosphere. And despite being small, it still packs in powerful visibility.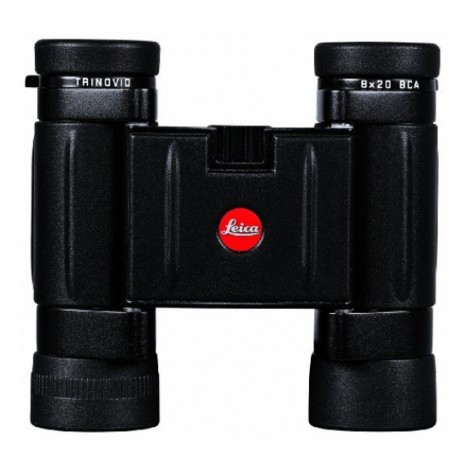 The Trinovid BCA 8x20 is the most compact, accessible, and inexpensive item on this list. While the image quality isn't as robust as the Trinovid BCs, it still delivers high-quality viewing and bonus features at almost half the cost.
Can Focus Under 10 Feet
The Trinovid BCA 8x20 has a magnification of 8x. The diameter of the front lens is 20mm and the pupil exit diameter is 2.5mm. It has an eye-relief of 14mm.
Though this is not the best performing product in low light, it does have a 12.b5 twilight factor and has been treated with multiple coats of HDC to help with high-contrast and color-fidelity. This product is also free from chromatic abberation.
And this guy functions well at an array of distances. It can even give full focus at under 10 feet away.
Diopter Compensation
The Trinovid BCA folds in on two sets of hinges to make it extremely compact. Plus, it only weighs about ½ a pound. It is durable and is advertised as being splash-proof. It comes with its own case.
It features incredible adjustability features in regards to viewing. The interpupillary range can be adjusted between 32mm and 83mm. Plus, this product features diopter compensation so that you can focus, set, and save settings for each eye separately.
And if that weren't enough, this product comes with eye cups that function by twisting and pulling. And if you wear glasses, this Trinovid comes with removable eyepieces to accommodate your viewing.
Cost and Value
The Trinovid BCA 8x20 is the most inexpensive and accessible product on our list. We love it because it packs in tons of features that other more expensive items present at about half of the cost.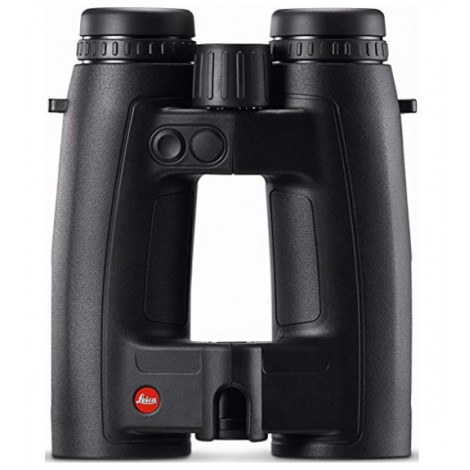 The Geovid Rangefinders are the most expensive on our list and, by virtue of that, they do more than any other product on our list, and perhaps more than any other product on the market. These are not intended for your casual avian lovers or for getting a front-row experience from the nosebleeds. At this price point and with these capabilities, this is meant for the serious hunter or outdoorsman indeed.
Widest Viewing Field From a Rangefinder
The Geovid Rangefinders have a 10x magnification capability. The diameter of the objective front lens is 42mm and the pupil exit is 4.2mm. This product features the widest viewing field of any rangefinders available at 342 feet from 1,000 feet away. The maximum range is 2,000 yards.
This product features a pergo porro prism and the glass is made of HD fluoride. With each lens coated multiple times in hydrophobic, anti-reflective, HDC, and P40 phase correcting, the imaging from this device is nothing short of insane.
It features an incredible 20mm eye-relief and has a twilight factor of 20.5--more than any other on our list. You will get lens covers for both sets of lenses to keep them safe. Plus, you can adjust the eyecups at 5 different clicks and you will also enjoy the customization of the diopter.
Computer Embedded in Product
While many prefer roof prisms because they allow for a more compact design, Leica has engineered a way to integrate a pergo porro prism in a unique new design that doesn't result in a ton of bulk. The shape is ergonomic and fits nicely in your hands and against the face. And it only weighs a touch over 2 pounds.
But let's talk about the really impressive stuff that this product packs in. With a virtual mini-computer inside you have tons of choices at your fingertips. It even comes with a micro-sd slot so that you can further personalize the settings from your computer.
The rangefinder function has several data options available for you. You can ask to see line-of-sight distance as well as the same horizontal distance. But you can also see the atmospheric pressure and temperature. In ideal conditions, this product has a 90% successful rating.
And as if that weren't enough, this product allows you to fully customize your ballistics curves. By using the calculator on Leica's web page, you can enter the information on your gun down to the bullets to calculate holdover distance precisely. There's simply not another product out there that does this.
To top it all off, this product is fog-proof and totally waterproof.
Cost and Value
While this product is the most expensive on our list, it can do more than any other product on our list as well as any other product on the market. And what it says it can do--it can actually do. That being said, this is truly an investment and is best suited for the serious hunter.
7

. Ultravid 12x50 HD Plus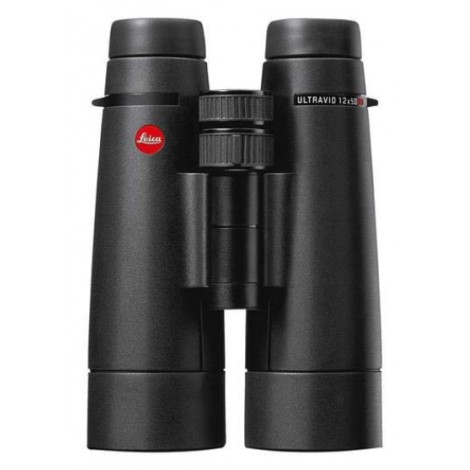 The Ultravid HD Plus is another seriously premium product to make our list. But again, you are getting what you pay for. With more magnification power and super weather-proofed capabilities, this is a top-notch product that covers all of its bases.
Highlux-System
The Ultravid HD Plus features 12x the magnification--that's more than any other on our list. The objective front lens measures 50mm which is also the largest on our list.
This product features a roof prism as well as a highlux-system and p40 phase correcting coating to provide an image that is more crisp and clear than you can actually imagine. AquaDura coating which helps to keep lenses clear and free of scratches ensures that you get to enjoy these clear images in any kind of weather.
Fog and Waterproof
The Ultravid HD Plus is built to last. It is fog and waterproof and will deliver crisp images without blurs from the weather. It weighs just over 2 pounds and comes with its own compact carrying case.
It features adjustable eye cups and automatic compensation from the diopter. This means that you get to enjoy precise settings for each eye separately.
Cost and Value
The Ultravid HD Plus rings up towards the top of our price range but it has more technology built into it than other products on our list. With more magnification and a greater objective lens, this product just does things that others cannot.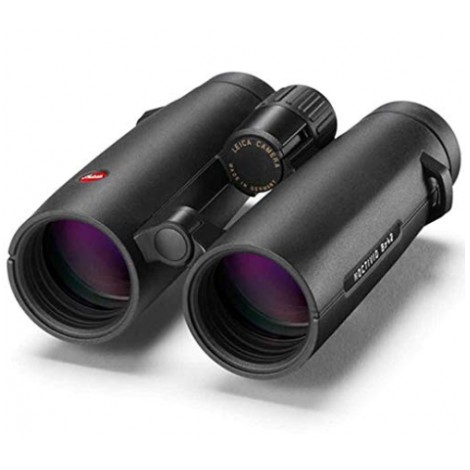 The 8x42 Noctivids are another premium product on this list ringing up at a premium price. But the lenses and eyepiece design in this product goes above and beyond to deliver lighter, crisper images no matter the light or the weather.
12 Lenses In All
The Noctivids feature 8x magnification. Their objective lens diameter is 42mm. The eyepiece is a newly featured design that allows for a longer eye-relief (19mm), as well as a wider view field and better focus up close.
It has 12 lenses made of SCHOTT HT glass with newly engineered geometry to give crisper and more exact images than ever before. Contrast is improved and stray light is reduced with the new baffle system that is incorporated.
All of the lenses on the outside are coated in HDC and AquaDura to keep lenses free of scratches and debris, and to allow them to function in an array of weather conditions. And to be sure, these are the best option on our list for dusk or nighttime viewing.
Made from Class 8 Magnesium
Made from class 8 magnesium, the body of this product is both super durable, corrosion resistant, and lightweight. In fact, it weighs in at less than 2 pounds.
The body is wrapped in rubber armor which helps with the ergonomic grip and also works to defend the sensitive components of the product if it should be dropped or experience any kind of hard impact. Plus, each product is treated with nitrogen-purged sealing to make it fog and waterproof at up to 16 feet deep.
Cost and Value
The Noctivids are another among the most expensive on our list, but they incorporate all of Leica's advanced features to bring truly spectacular images no matter the weather or light. If you can afford it, these are definitely worth the money.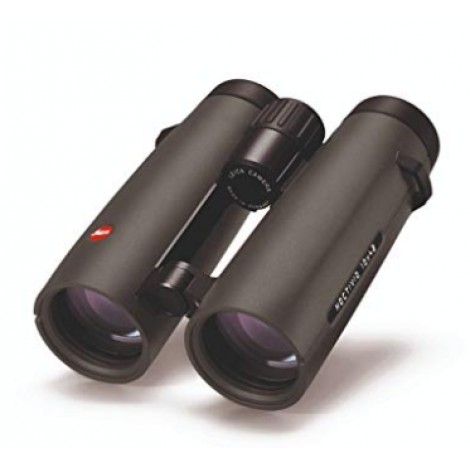 The 10x42 Noctivids are similar to the 8x42 Noctivids above, but with greater magnification. They feature the same premium technology and are an excellent companion, especially for the later-in-the-day outdoorsman (not an old one, one who goes out at night!).
Amazing Short-Range Focus at 1.9 Meters
The 10x42 Noctivids feature 10x magnification. The objective lens diameter is the same as the 8x42 at 42mm. The eye-relief is also measured at 19mm and the field of vision at 100m is 112m, but it has a great short range focus as well (at 1.9 meters).
This product has the same lens features and treatments as its younger brother above. These work together to ensure your images are conveyed without the globe effect. And they also eliminate stray light, provide color-neutrality, and reduce reflections.
Plus, this product performs incredibly well in low-light and nighttime situations revealing images that you wouldn't be able to see with your naked eye and cutting through the shadows.
Armor Protects and Grips
These are the most compact products with an open bridge. They weigh in at just about 2 pounds and fit compactly into their carrying case. This body is also made from lightweight magnesium that is durable and resistant to corrosion.
The body of this product is coated in rubber armor which helps with impact rebound and works to ensure that it doesn't slip out of your hands when wet because this baby is waterproof (up to 16.5 feet) and fog proof as well.
Cost and Value
The 10x42 Noctivids ring up at the top of our price range but they incorporate many of Leica's most advanced technologies and work better in the dark than any other product out there.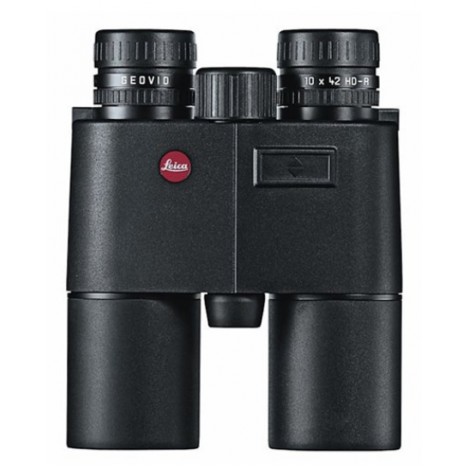 The Geovid-R closes out our list as a mid-price product that still delivers top-notch optics. With tons of viewing capabilities, this is a long range option that is great for hunters.
1-Push Distance Display
The Geovid-R has 10x magnification. The objective lens is 42mm in diameter and the pupil exit is 2.5mm in diameter. It captures distances up to 1,200 yards away. At 1,000 yards, the field of view is 331 feet.
With on press of a button, the Geovid will reveal the distance in yards of an object with the rangefinder. It will also show the same distance horizontally for objects between 10 meters and 550 meters away. This feature requires battery power and accepts CR2 batteries.
This is a great option in low-light situations.
Comes with Tripod Attachment
This Geovid comes with a tripod attachment to aid in the battle against fatigue. The tripod is sold separately.
This product is made from aluminum alloy making it lightweight but durable. It features Leica's trademark rubber armor to make it easier to hold without dropping and to protect against drop impacts when they occur. It is waterproof and fog proof for performance in rough conditions.
Cost and Value
This product rings up in the middle of our price range and we like its value because it is a rangefinder that functions well in low-light situations without breaking the bank.

Subscribe to our Newsletter