Best Kids Walkie Talkies Reviewed & Rated for Quality
last updated:
Mar 12, 2019
Do you know how kids love it when they can play around with adult stuff? You've probably found yours on the grand stage that is the shower singing her lungs out through a comb. Or probably your young lad busy driving your stationary car in the exact same style and position you do. They make great toys that look very close to their adult counterparts with a dash of magic by making them more attractive. Walkie-talkies have been the most notable examples. Not only are they great toys for children but they are also communication devices between you and your child and are perfect for virtual supervision.
If you're thinking of getting one, it's going to be a little harder than walking into a store and picking one up. So we went out and did the research for you so you don't have to. Here's what we came up with!
In a Hurry? The test winner after 11 hrs of research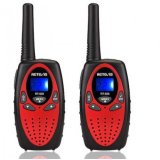 Retevis RT628
Why is it better?
The signal range is very long
Great sound quality
Durable and solid. Can survive the dropping
Has a substantial battery life
In a
Hurry? Editors choice: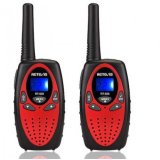 Test Winner: Retevis RT628

12
Researched Sources
16k
Reviews Considered
11
Hours Researching
12
Products Evaluated
Durability
Features
Battery Life
Ease of Use
Accessories
By Default
10 Best Kids Walkie Talkies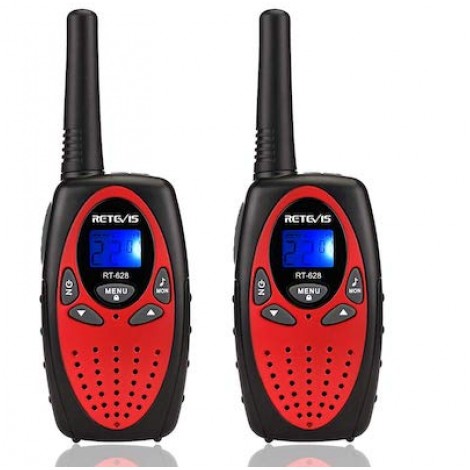 The signal range is very long
Great sound quality
Durable and solid. Can survive the dropping
Has a substantial battery life
You have to get the batteries separately
The display can be a little difficult for the child to read
Starting out our list of some of the best walkie-talkies to get for your kids is the Retevis RT628. This pair of walkie-talkies is the perfect pick for kids who don't like flashy colors and are looking for something a little more advanced than a mere play toy.
The devices are very lightweight and with a total of five buttons, it is easy to use for children as young as five years. It also offers a great range to keep the games fun and it's two-way functionality allows the kids to talk to each other as they plan their next step of action.
Range
The Retevis RT628 has incredible range. It gets you about 2-3 kilometers and if you're in direct line of sight, the range can go up to 5 kilometers. It might not be the longest range. But, it's definitely commendable and goes a long way in making playtime fun and interactive.
Easy to Use
A few minutes of tinkering around with the device and your little one should have it working in no time. Even though the manual is a little sketchy, it doesn't take much effort to get the device figured out even without much help from you the little geniuses will have it laid out in no time.
Cost and Value
This walkie-talkie doesn't have an awful lot of features but, it gets the job done. The price is quite considerate and would work perfectly for any parent that is looking for a solid play toy that will handle the rough play that comes with children without costing a fortune. Even though the price is budget-friendly, you still get a functional and good quality walkie-talkie for your child.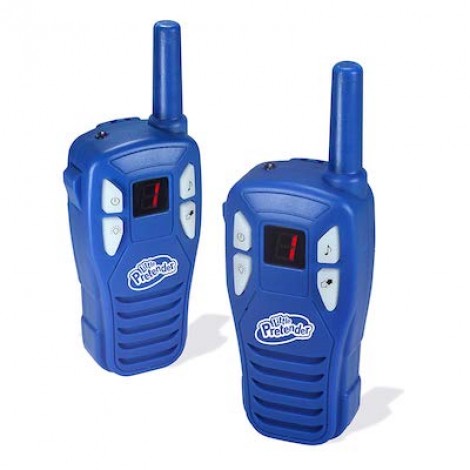 Simple and functional design
Features clear voice technology
Durable yet affordable
Designed to fit in the hand of the child
The batteries run out often
It doesn't come with the batteries
The Little Pretender Walkie-Talkie is a hive of features and functionality. It is incredibly easy to use and perhaps the best option to get if this is going to be the first walkie-talkie you get for your child. The device has a unique design that is going to fit right into your child's tiny hands and make it easy for them to use.
Other than the feel, the little gadget has a flurry of other features including a bright LCD screen and even comes with a belt clip for some hands-free action. This little weapon will turn your little angels into real-life agents.
Built-in Flashlight
For those unexpected occasions when the mission has to be carried out at night or under the cover of the bed-sheets, a flashlight comes in handy. Instead of having a separate flashlight, you can simply switch on the one the walkie-talkie and carry on with the conversation. It gives the gadget an extra exciting feature that your child will love.
LCD Display
The presence of an LCD screen not only add a wow-factor that will keep the kids intrigued about the walkie-talkie but also provides improved usability even when there's limited visibility. The addition of the screen and the built-in flashlight extends playtime for your little ones.
Cost and Value
The Little Pretender Walkie-talkie is a little more than just a walkie-talkie. It has a few more functions that make it more fun and interesting. The price is a little higher than that of the Retevis. However, that covers the few extra features your child gets out of the device. Nonetheless, it would still be considered a budget-friendly option.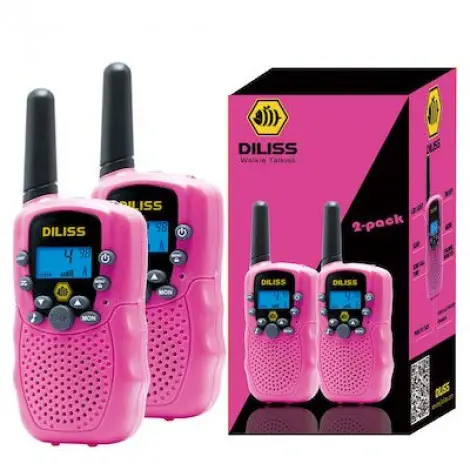 Ergonomic child-friendly design
Built-in flashlight
Perfect for group play with 22 channels
Good quality sound
The batteries trip when the walkie-talkie is dropped
There's a little bit of hiss as the range extends
Other than being a great looker, the Dilis Walkie-Talkie is built for kids that are looking for something a little more advanced to have fun with. It has a wide range of features that will make playtime a memorable occasion and is tuned for long-range communication. It has a 3-mile range and 22 channels for group conversations.
Despite being a little advanced, the gadget has easy to use and well-labeled buttons that make it surprisingly easy for kids to operate it. It is a great gift for your kids especially if they love group plays.
Design
It's important to have a design that will not only sweep your kids off their feet but, one that will also keep them interested. It has an ergonomic design that will comfortably fit in your child's hands. It is particularly important if your child will be playing for long hours at a time. The push to talk button is strategically placed so operation is easy.
Perfect for Group Play
When it comes to playing time, more is always merrier. With up to 22 channels, this walkie talkie makes it possible for your child to have conversations with you and his friends. The long range also makes it possible for them to get on with the play even at the comfort of their homes. It is a great way to build creativity and talking skills among children.
Cost and Value
You get a wide range of features from this walkie talkie for a considerable and impressive price. If you're looking for an option that will offer you the best value for money, this will be a great option for you. It also helps that the price is in the budget-friendly field.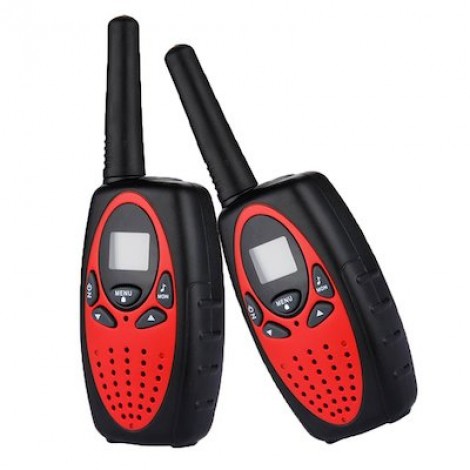 Good design and build quality
Perfect for multiple users
Has high-quality and adjustable volume
Has a generous range of up 2 miles
Power and channel button are the same which makes toggling and switching off the device a little difficult
The sturdiness of the body is not as steady as some of the options we have already reviewed
When you want to be part of the fun, buying some bright colored walkie-talkie might not be the best idea. This is more so the case when you intend to use the walkie-talkies for other applications. If you're in a dilemma having to choose something that will work for you and your kids, the Floureon Walkie Talkie will help you find common ground.
It is decently sized and weighted so it's perfect for both you and your kids. It has plenty of features that will make playtime a buzz and it will also be helpful in more serious applications. The unique design and finish will appeal to both you and your children so you can all enjoy the benefits the walkie-talkie has to offer.
High-Quality Sound
For a walkie-talkie that is capable of more than just a play toy, the sound quality should be impeccable. This particular one guarantee high-quality sound performance and the volume is adjustable to make sure you can clearly communicate and hear what the person on the other end is saying.
Battery Status Indicator
The walkie talkies are also fitted with an LCD backlit display. Other than the usual vital information you can access from such a feature, the screen also has a battery status indicator. No more going AWOL on your team. It also allows you to better plan your conversations whether you're playing with your kids or staying in touch in a mall or hiking trail.
Cost and Value
The Floureon walkie-talkies are surprisingly affordable. They provide you with a mixture of quality, functionality, and affordability. They are the most affordable option we have so far on the least and they achieve this fete without skimping on the quality of build the features they have to offer.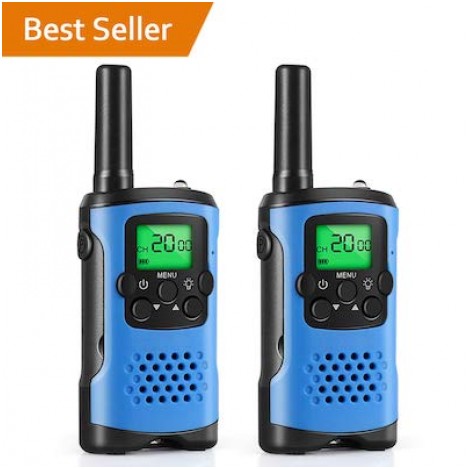 Built-in flashlight and vox features
Affordable and reasonable pricing
Low battery indicator
Ergonomic design with a comfortable and firm grip and also comes with a belt clip
It doesn't come with the batteries
Drains the batteries relatively fast
This one of kind walkie talkie is designed to keep your child entertained for hours. It will definitely add flair to your child's outdoor adventures and has a plethora of features that will bring their wildest dreams true.
Other than the design, there are also plenty of features to be excited about. These include the 22 channels with 3 of them dedicated to long-distance communication. It doesn't matter how old your child is, this little gadget will definitely capture their interest both inside and outside the house.
Dedicated Channels
Children love the great outdoors. Even though walkie talkies are fun, they can limit their range. To help with this, this particular one has three channels for outdoor and long-range communications. Your children can now play freely without hitches and scratches in their communication lines.
VOX Function
It never hurts to have a few features that bring an authentic experience to play time. The VOX feature is one of them. It is an innovative feature that allows your child to use gadget hands-free. By simply speaking, the feature activates the walkie-talkie so your child can continue to use their hands even as they communicate with the friends during playtime.
Cost and Value
With so many features and a good quality build, you must be worried about the price of the gadget. You don't have to! The price is reasonable and carefully thought out. It is a perfect reflection of the quality of the gadget and the features it has to offer. Even by first glance, you can easily tell you're getting a great deal.
Dedicated Channels
Children love the great outdoors. Even though walkie talkies are fun, they can limit their range. To help with this, this particular one has three channels and long-range communications. Your children can now play freely without hitches and scratches in their communication lines.
VOX Function
It never hurts to have a few features that bring an authentic experience to play time. The VOX feature is one of them. It is an innovative feature that allows your child to use gadget hands-free. By simply speaking, the feature activates the walkie-talkie so your child can continue to use their hands even as they communicate with the friends during playtime.
Cost and Value
With so many features and a good quality build, you must be worried about the price of the gadget. You don't have to! The price is reasonable and carefully thought out. It is a perfect reflection of the quality of the gadget and the features it has to offer. Even by first glance, you can easily tell you're getting a great deal.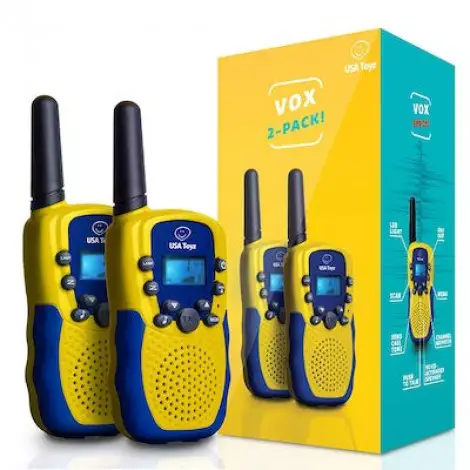 Built-in earphone jack for use in noisy and public places
Good quality and sturdy build
Small and lightweight design
Good talking range
You might notice a loud screeching noise when the two talkies are close to each other
Batteries run out pretty fast
Want to make things a little more interesting? With this walkie talkies, you can. It has a unique features that expands the environments which it can be used in. It also makes the kids using the set of talkies look cooler. We all know how kids love that. It has an earphone jack so you can use the talkie in public places with ease.
In addition to the unique features, the talkies are light to hold with a unique design to make them easier for kids to hold. The range of the devices is decent and they are perfect for 5-year olds with enough features to keep them engaged for a couple of hours.
Built-in Earphones
When it comes to your kids, you can never do too much. They are always looking forward to something new and interesting. Having a walkie-talkie with earphones will make them the coolest kids on the block. Do you know what that makes you? Parent of the year!
Range
The walkie-talkies are good for about 1 or 2 miles. If you have a direct line of sight, the range might be slightly longer. Considering they are designed primarily for kids. It should be enough for the little ones to have plenty of fun and explore the great outdoors.
Cost and Value
For these walkie-talkies you might have to stretch your budget a little. They are a little out of the budget-friendly range but, the extra bucks you have to fork out are definitely worth it. You will get a great set of features and good build quality that can easily outlast the rough play that comes with children.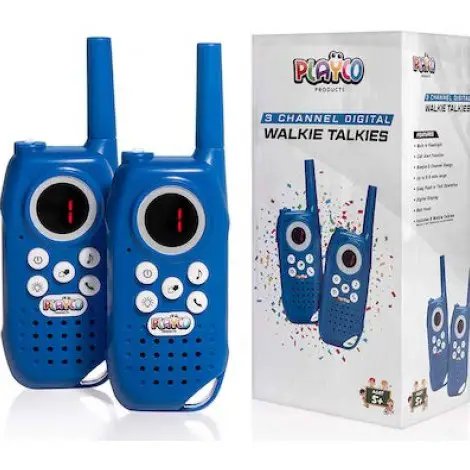 Safety tested for kids
Has a one year warranty
Has a call alert function
Built-in flashlight
Has only 3 channels
Does not come with the batteries
When buying toys for your kids, any parent will tell you that the features and design are just bells and whistles. The most important thing is the safety of the child when they are using their new shiny gadget. You always want to buy from a company that goes the extra mile in testing ad getting the right certification for their products.
These walkie-talkies from Playco fit the bill perfectly. Not only are they carefully designed and built, they are vigorously tested certified to make sure the toys meet the safety requirements. Now you don't have to worry about the well-being of your kids as they chat away on their new toys.
Belt Clip
A belt clip might not be at the top of your priorities when choosing a walkie-talkie for your children. But, it surely comes in handy when the child has to stay in touch and run around at same time. It also reduces the chances of the walkie-talkie being left behind or misplaced while in action.
Range
The talkie is good for about 2 miles. It might not be much but it could be longer if there is a direct line of sight. Even though 2 miles might be on the shorter side, it is still handy and will give your kids plenty of room to play and explore while staying in contact with you and with each other.
Cost and Value
While most of the options we have reviewed so far are worth every penny you spend, this one will cost you more with a tad features less. You get less channels and the range is average at best. However, there's plenty that has gone into safety and build quality of the product which you can't simply ignore.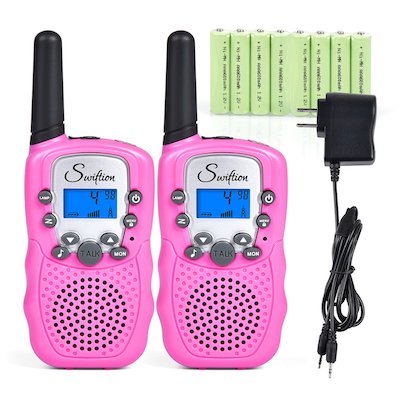 Comes with rechargeable batteries with up to 4 hours of playtime
The batteries are included in the package
Commendable range of up to 9000 feet
VOX function for hands free use
You need to charge the batteries more frequently which can affect playtime
Some customers have complained of the batteries not working as expected
If the thought of having to replace your batteries ever so often makes you cringe, this pair of walkies might be what you're looking for. They have plenty of features and functionality to offer and promise a great experience for your kids and lower battery budget for you.
The devices are well built to withstand the demand of playtime and with enough features including a built-in lamp that will ensure your kids have everything they need even when they are playing in the dark.
Rechargeable Batteries
Batteries are always a concern. They always tend to run out faster than you can buy them. By having rechargeable options, you can drastically cut down on the batteries budget and get more hours out of a single charge and longer playtime for your children.
VOX Function
Say you're hiking and your child can't free one of their hands to press the PTT button. What do you do? Simple, activate the VOX function. It ensures you can activate the device without pressing the PTT button.
Cost and Value
The Swiftion walkie talkies are very affordable, to say the least. Not only is the price reasonable, but, you also get a pair of rechargeable batteries so you don't have to go back to the store after to get new batteries.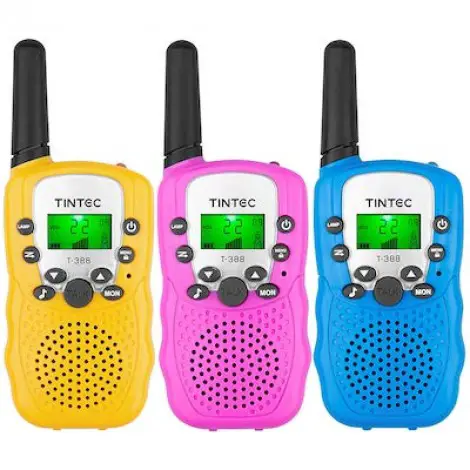 Up to 22 channels with up to 2 miles range
Ergonomic and appealing design
Simple push to talk operation
Durable and hardy case
Batteries run out very fast
Doesn't come with any accessories
The Tintec walkies are both functional and kid-friendly. They have a compact and modern design with simple operation that is perfect for kids. In addition to the impressive features the talkies have to offer, the pair is very sturdy and will easily survive up to 1.2M drops.
With up to 22 channels your child never has to play alone again. You can join in the fun and they can also involve their friends. The talkies have a range of about 2 miles so they can also bring the fun to the great outdoors. The frequency tones are high quality and have a strong anti-interference performance so your kids can always enjoy the top quality performance from the devices.
Durability
Most walkie-talkies talk big on how strong the exterior is. Even though they feel and look sturdy, sometimes the rough play and clumsiness that comes with kids are a little bit too much for them to handle. The Tintec walkies have gone a little further for the sake of durability. These gadgets are built to withstand falls of up to 1.2M which is quite impressive.
Design
When it comes to kids, the design has to be impressive. The design team from Tintec seems to have done their homework on this walkies and they came up with a unique, easy to use and appealing design that is child-friendly particularly to kids aged three and up. The exterior is camouflage with a compact body and an ergonomic design that will fit in the child's hand.
Cost and Value
You have to be prepared to pay a pretty buck to get the Tintec walkies. But, the price isn't exorbitant. It's actually quite reasonable. You get a great walkie talkie with plenty of features and is very durable. Because of the strength of its cover, you're assured you won't be shopping for a replacement anytime soon.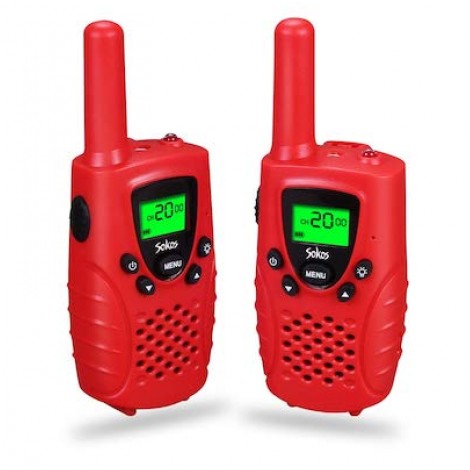 Simple and elegant design
Auto squelch function for crisp clear sound
Well labelled buttons with a backlit LCD for ease of use
Child friendly and compact design
It doesn't come with the batteries
There are no accessories for hands free use
With the Sokos walkie talkies, you can open a world of opportunities for your little ones. The pair of gadgets is impressive with a range of up to 3 miles and 22 channels so they can connect with as many of their friends and family as possible. The talkie is simple and easy to use with buttons that are cleared labeled and a backlit LCD screen for additional ease of operation.
The design is stand out and ergonomic. It is just the right size for your children and fits in the kid's hand perfectly. For extra grip, it has grooves on the sides and a hardy case that can withstand the abuse that comes with child's play.
Auto Squelch Function
Sometimes, kids will work themselves into a crowd of noise especially in public spaces. With this one of a kind function, they can still communicate with each other easily in crisp sound. The background noises are eliminated to make sure those using the devices can hear each other.
Push To Talk
The PTT function is very simple and makes the walkie an ideal option even for kids as young as 3 years. All the child has to do is push the button and talk into the talkie and they will be heard on the other end. They don't even need the manual to figure these little beauties out.
Cost and Value
The Sokos walkie talkies don't have as many features as some of the other options we have reviewed. They have perfected the art of simplicity and functionality to provide the kids with an excellent but simplified experience. With that said, it would have been nice if the price was slightly lower to reflect the reduced features of the device.
Criteria Used for Evaluation

Durability
When it comes to kids, having strong toys is a must. Play time gets rough and in most cases, the talkie has to deal with clumsy drops, being sat on and being stepped on. It might be a little difficult to assess the durability considering the outer cover is plastic.
The best approach is to consider going for options that are made from high quality plastic. It might be a good idea to also consider the length of warranty. It should give you an idea of the quality of the build of the talkie.

Features
Unlike most toys, this has the duty to remain functional. The features you should consider depend on the application of the walkie talkies. Some of the features you should pay extra attention to include the range, frequency, battery life, built-in lamp and backlit LCD.
If you want a talkie that your child can use to communicate with his friends in the neighborhood, the range should be longer. It's important to understand the purpose of the walkies first before you start on your list of must-haves.

Battery Life
Most walkie talkies are powered by AAA batteries. Your walkie is only good as long as the batteries are functional. If not, then the line of communication is terminated. That's why battery life is important.
It's particularly important if you want to use the talkies for camping or hiking. The battery life should be long enough to last the entirety of the trip. Alternatively, you can have backups just in case your current set runs out just to be safe.

Ease of Use
You shouldn't forget that the walkies will be used by children. They don't have the patience to read the manual or try to troubleshoot the new toy. It needs to be easy enough for them to get it working on a few tries.
The buttons should be well labelled and spaced out for easy operation. It is an added advantage if the walkie talkie comes with a hands free feature like VOX function just in case the child has her hands full and they can't get to the button. A backlit LCD also provides important information making it easier to use.

Accessories
It never hurts to have a few goodies added to your initial purchase. Some walkie talkies come with a few additions that make them easier to use, cooler and more functional. There's quite a few options you can pick from but it's important to focus on what counts.
The most common is the belt clip. It allows for hands free use and also save the walkie talkie from a lot of pain from falls and being left lying around. Others come with earphones and casing for the walkie talkie. The choice on what works best for your child is yours.
Expert Interviews & Opinions
Most Important Criteria
(According to our experts opinion)
Experts Opinion
Editors Opinion
Users Opinion
By Default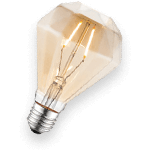 Safety
When it comes to the safety and wellbeing of their children, each parent is a warrior. Even when buying a walkie talkie, always prioritize brands that have gone through rigorous safety testing and have the certification to prove it. Such brands might cost you more but, there's never a price tag for a happy and safe child.
Design VS Functionality
When dealing with equipment for your kids, you're going to find yourself in this predicament a whole lot of times. In most cases, your child will be attracted to the design while you will be stuck on the functionality. In the case of walkie talkies, you need to decide what is more important. If it's something to simply take up their time, then design wins. If they need to make meaningful communication, then functionality takes the day.
Other Factors to Consider

Compatibility
It is not always that you will need compatible walkie talkies. But, if you already have a pair and want to buy another pair, you want to go for an option that can work with the current pair that you have.
Compatibility allows your children to play and communicate with their friends who might have different makes and models. It's important if the goal is to help your child stay in touch with friends.

Weight
Children don't like being weighed down. If the walkie talkie is too heavy, they will most likely stop paying attention to it as soon as it makes them tired. It's important to find options that are lightweight but functional.
You should also remember that your child might be using the device for a couple of hours at a go. The last thing you want is to have a hefty device on their hands all through.

Size
The new play toy should not be challenging for the child to carry. The design of the gadget should be carefully thought out so they can easily fit into the child's hands without any struggle.
If the walkie is too big, it can be a problem for the child to use and carry around. They need something that is easily portable and they can handle with ease even when they are playing. The size is also an essential part of how easy it uses the device. They should be able to reach all the buttons on the device using one hand.

Style
Aesthetic appeal is important when it comes to kids. You have to carefully choose the right pick that will not only be functional but will also get your child interested. Fortunately, in the children section, there's no shortage of variety.
When considering the different options remember to make age and gender appropriate choices. Younger kids might prefer bolder colors while the older children might like something that is more subtle and with more functions.

Water Resistance
You will not always want to have a walkie talkie that is water resistance. However, if you want to be taking it on your camping or hiking trips, the additional safety that comes with water resistance is highly welcome.
In most cases, the weather usually happens to have a mind of its own. Having a water resistant device will ensure that a little water doesn't interfere with your communication.
Frequently Asked Questions
q:

Can I buy a walkie talkie for my toddler?

a:

Yes and No. Yes because they are simple to use and you can use them to monitor your child. No because toddlers can't speak properly so most of what they say is unintelligible so it beats the idea of communicating through the walkie talkie.
q:

What should be the distance between the two walkie talkies?

a:

The distance is different depending on the rating on the walkie talkie you buy. If this is a concern, you should carefully check the range on each of the options before you make a purchase.
q:

Do I have to get the same make and model as my son's friends?

a:

No, you don't have to. However, you need to make sure whatever option you get is compatible. All they have to do after that is accept the request and they're connected.
q:

Do these walkie talkies use the same technology as those that the police use?

a:

Not exactly but they are quite close.
q:

How many people can you speak to on the same Walkie?

a:

That depends on the number of channels the walkie has. If it has 3 then your child can speak to three different people.
Subscribe to our Newsletter