Best Yard Games Reviewed & Rated for Quality
In a Hurry? Editors choice: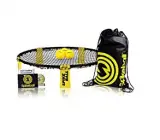 Test Winner: Spikeball 3

Yard games add in a fun, challenging, active element to any party or gathering. They are typically good for people of all ages and varying skill levels. The rules aren't super strict which allows for a little bit of variability and allows you to create your own fun. There really isn't a much better way to get outside and get moving than by playing a game. Let's go over some of the best available options.
Standout Picks
Criteria Used for Evaluation
Use
There is a wide range of age groups with which yard games can appeal to. Some are great for all ages and the rules are flexible enough that there shouldn't be too much issue if you are playing with 4-year-olds or 34-year-olds. However; you can certainly tailor your choice to fit the age that will most frequently be playing the game you purchase.
Something like spikeball is going to be a little bit better for an older crowd - think teenager and up. They can follow rules, play a game fairly competitively, and enjoy doing so. It might be a little more complicated for the younger crowd to understand and they likely wouldn't be very successful at making it through a full game.
However; there are great options for the younger crowd as well. The rope ring toss is perfect - it mimics horseshoes but does so in a much lighter and safer option. Another similar option here is the rubber horseshoe set. This gives you the challenge that an adult can appreciate but also the ability for younger kids to enjoy it as well.
Features
Something that goes along very closely with the age group that you are trying to appeal to, is the skill set that you are appealing to. This will obviously vary widely with both age and ability, and likely go hand in hand.
Some yard games require some sort of knowledge or athletic ability before playing. Take the lighted frisbee for example. Throwing a frisbee around is not the easiest thing to do if you've never done it before, and that's not even talking about throwing it well. There is definitely a learning curve involved - one that can be frustrating and difficult if you aren't committed to learning how to do it. However, it can come with a great reward if you know how, want to know how or love throwing a frisbee.
On the complete other end of the spectrum is the Flickin' Chickens game. It requires absolutely no skill or strategy at all, simply the ability to go with the flow and laugh at how the chicken bounces and rolls. It doesn't matter how good you are or may think you are, that chicken is going to go wherever it feels like and you'll just have to be okay with it. No skills necessary here.
Spikeball and Badminton are closer to sports than yard games, even played with only a couple people. While this should not be a deterrent at all, it does mean that a certain athletic ability and/or skill set will go a long way. If you've never played before, the chances are pretty good that your first few rounds aren't going to be pretty at all. You'll get better with time though and likely learn to enjoy it the more you play it.
There are also some middle ground yard games - things like cornhole or horseshoes. While they don't necessarily require you to possess a certain skill, the game will vary greatly depending on what skills you do have. They are more adaptable for people of all ages and athletic abilities.
Versatility
Most yard games are fairly easy to transport. They are meant to be played outside wherever you want to play them. Some days that may mean you are playing them in your very own backyard but the next day you may want to be playing with it on the beach or while out camping. The purpose of a yard game is largely defeated if you can't carry it around with you.
Some will be more easily transported than others and this usually deals with the nature of the game itself. If it is designed as a few simple pieces that are meant to be picked up and put away after each use, then obviously it is super transportable. Many on this list fall into this category. Often, they even come with their own carrying case so that they are ready to go the second that you are.
There are some on this list, and many that aren't, that are a little more difficult to carry around. Things like the Badminton set. While it does boast that it is easy to put up and take apart and even comes with its own carrying case, you may very often be tempted to leave that net up so that you don't have to set it up again the next time you want to play. That may mean that when you are ready to go, your game may need a little extra work getting to that point.
10 Best Yard Games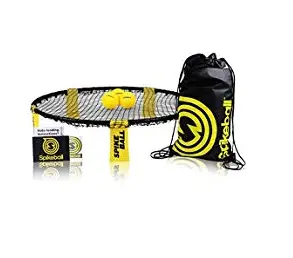 Spike ball is a fun, yard game that will really get you moving. It was featured on Shark Tank and is loved by many. It is easy to learn out to play and you can play it virtually anywhere - the lawn, the beach, the basement, and even gym class. It is easily packed up and transported so you can play in your friend's backyard too.
Foldable Legs
The legs on the original spikeball set are foldable. What this means for you is that they are hearty and durable. If you slip and fall on them, no problem. They'll fold and not break. They also allow you to make the net level on any surface whether it is level or not.
Get Active!
We all know how important it is to get active - and how hard that can seem to fit into your busy lifestyle. Spikeball allows you to do that in a fun way by playing with your friends in your yard. This yard game is as competitive as you want it to be - which means you can play hard and fast, or take it at a more leisurely rate. Either way, you'll be having fun and burning calories. It is also great for active recovery if you are in between soccer or football games.
Cost and Value
For all of the benefits you get from having a Spikeball set in your life, it really is worth the cost. You will have to spend a chunk of money to purchase it initially, but it will last a long time and keep your kids, friends, and neighbors happy for many years. It will keep you active and healthy, so it is well worth the cost.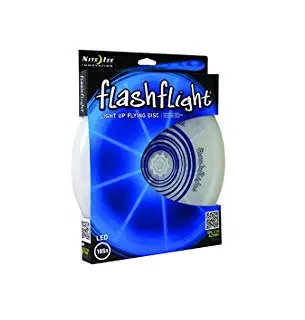 This is not just another disc you can throw in your yard. If you love Ultimate Frisbee, you'll love this disc. It is actually designed by professional Ultimate Frisbee player so it is properly sized and balanced for good long throws. The colors are bold and bright so it is good during the day and at night, when you typically can't play frisbee.
Patented LED Technology
This frisbee comes equipped with patented LED technology that will allow you to see your disc whether it is night or day. The colors are bright and bold and it comes in 4 different color options. The fiber optic array extends all the way to the rim so you can see the entire disc in the dark.
Designed by a Pro
A professional Ultimate Frisbee player designed this disc so it is perfectly weighted and balanced to ensure high flight quality. Your throws can be as straight and long as you are capable of making them. It weighs in at 185 grams and flies just like you would expect a non-illuminated quality disc to.
Cost and Value
As far as frisbees meant to be used as yard games goes, this one is top of the list in quality. It is balanced and you can play with it night or day. If may seem a bit expensive for simply a frisbee, but the lighting element makes it worth the extra money. Compared to other yard games on our list, this one is very near the bottom of the list price wise.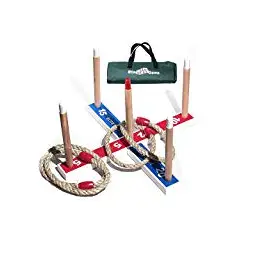 This yard game is one that was specifically designed with kids in mind. It is similar to horseshoes but has rope rings that you toss onto pegs instead of the heavier, less safe adult version. It is easy to set up and take down so your children can do so all on their own whenever they feel like playing.
Encourages Healthy Habits
We all know how important exercise and we also know how it is becoming increasingly hard to encourage it. This game does just that. It is a fun way for kids to get out and moving. They'll enjoy it so much they won't even realize it's good for them. It also helps improve hand-eye coordination and thinking/problem-solving skills.
Complete Set
This yard game comes with everything that you need to get setup and playing. It includes a wood ring board that is sturdy and built to last. It also includes 5 rope rings and a bonus set of 10 plastic ones. The pegs are marked on the top with how many points each one is worth. To top it all off, it comes in a convenient carrying case that makes it easy to store and transport.
Cost and Value
For everything that you are getting here, this is absolutely a great deal for the price. You get quality constructed wooden parts with everything you need to play at a shockingly small price. It is not the cheapest on this list, but very nearly so, and definitely the cheapest if compared only to games that have several working parts that require setup. You and your kids will very much appreciate this purchase.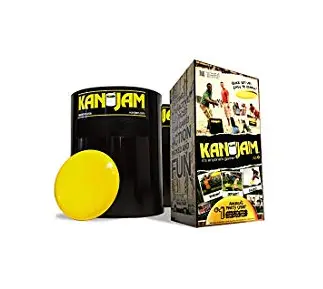 This yard game is fun, easily transportable, and comparable to cornhole - except elevated into much more of a team sport. It can easily be set up anywhere - your backyard, the beach, even tailgating. It is small and compact and packs up easily.
Made To Last
Kan Jam is proud to be made and manufactured in the USA. All of the materials used are top of the line and are meant to last a long time. The plastic "kans" will hold up to a lot of abuse and perhaps the best part is that it is completely weatherproof. It is durable and lightweight and you will love how long it will last you.
Flying Disc Game
A classic yard game involves throwing a frisbee around. It is easy and small and provides hours of fun. This yard game takes that up a notch and includes buckets to score points in. It is similar to cornhole, but ups the team sport feel and the competitiveness. It combines two well-loved yard games into one in a way that people of all ages will love.
Cost and Value
As far as price goes, this falls close to the cheapest end of the list. You won't be spending too much and the quality and amount of entertainment you and your entire family will get out of this purchase makes it well worth the cost. Your money is well spent here.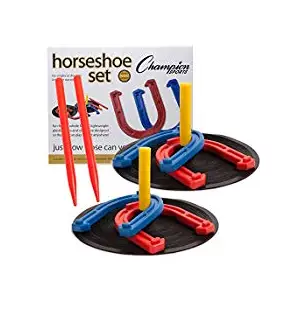 This yard game comes in the form of a rubber horseshoe set. All the traditionally very heavy pieces are made with rubber - center mats with pegs and the horseshoes themselves. This makes everything significantly lighter and gives it the ability to be played both indoors and outdoors. It is easy to set up and comes in bright vibrant colors.
Designed for All Ages
Because this horseshoe set is made of rubber and is significantly lighter than a standard set, it is very easy to use for all age groups. It is light enough for younger children to use, but not so light that it is rendered useless when used by an adult.
Quick and Easy Setup
This set is easy enough to put together that even your child, who wants to play with it at any given moment, can set it up when and where they want. It is convenient to both setup and take down and you don't have to worry about it ruining your hardwood floors if your child decides to set it up inside when you aren't looking.
Cost and Value
You get a lot of fun for both children and adults with not a lot of money spend when you buy this yard game. It is all-inclusive and comes with everything you need to play. You will be pleased with the money that you spent, as will anyone else who wants to play a game of horseshoes.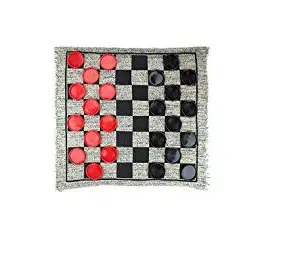 This yard game is another excellent example of an inside game blown up and taken outside. It includes a reversible rug that has a checkers board on one side, and a Tic Tac Toe, and Mega Tic Tac Toe board on the other. You'll get hours of fun playing on both sides.
3 in 1
Do you get bored easily? Like to move from one game to the next pretty quickly? This is the yard game for you then! It is actually 3 games in 1. The reversible rug allows you to play checkers, standard tic tac toe, and completely change any tic tac toe strategy you have ever had by including mega tic tac toe. When you tire of one, just flip it over and play another!
Easy to Clean
One thing that can be worrisome about outdoor yard games is that they can get dirty. Fret not, this rug is machine washable. It is made of a blend of natural and synthetic fibers including cotton and wool and can simply be thrown into your washing machine whenever it needs it.
Cost and Value
This is one of the cheapest yard games on our list - which is an added bonus as it actually includes three games in one. It is simply a rug with checkers, so it is logical that it is quite inexpensive. You'll get a lot of entertainment for the small price you pay here and won't think twice about spending the money.

7

. Giant Tumbling Timbers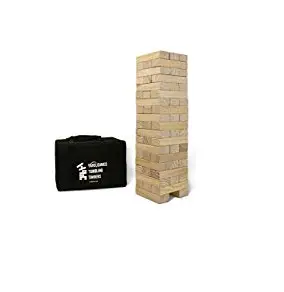 Yard game is somewhat synonymous with "inside game made extra large and taken outside". That is absolutely the case here with these giant tumbling timbers. Think life-sized Jenga and you get a good idea of how to play this game. It starts at 2 and a half feet tall but can get up to 5 feet tall, depending on experience.
Strong Carrying Case Included
When you have 56 wooden blocks, you need something to carry them in. And it can't just be a flimsy carrying case, you need a strong case that won't have any trouble fitting and hauling them around. After all, you do want the ability to play when and wherever it is appropriate.
Everyone Can Play
The best part about this yard game is that it is suitable for all ages and abilities. Sure, you won't have nearly as competitive of a game when you play with three-year-olds, but they can in fact still play. The blocks are easy to stack, safe, and perfect for whoever wants to get in on the action.
Cost and Value
This is one of the pricier yard games on our list. That is likely because it is all wood. Many of the games listed are made of PVC pipes and or material, but wood is more expensive and when the entire game is based on wood blocks, it is going to cost more. That being said, it is a good value and for the hours and hours of entertainment it'll provide, you won't be regretting this purchase for one minute.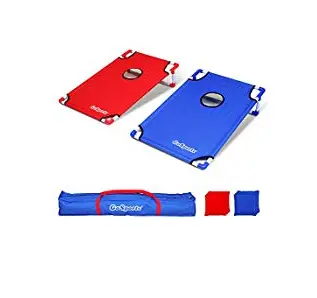 There are not many games like a good game of cornhole. This is a classic yard game that is loved and played by many, both old and young. This particular set is easy to set up and take down, very portable, and will provide hours upon hours of fun.
Ultra Portable
This yard game is very easy to set up and take down. This can literally be accomplished in less than a minute - both targets! It comes in a carrying case which is great for storage, checking on an airplane, and transporting wherever you may want to take it. Game night never looked as good as it does with this GoSports Cornhole set.
Durable Construction
The material and PVC used in making this yard game is very durable. It is guaranteed to hold up to any toddler shenanigans as well as hard throws, though the bean bags may bounce back at you.
Cost and Value
For the hours of entertainment everyone will get from this yard game, it's hard to go wrong at its price point. It is mid-range as far as price on this list is concerned and well worth its cost. Everyone loves a good game of cornhole, especially when it is very affordable.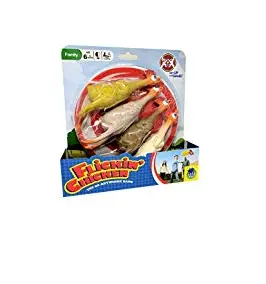 Don't judge a yard game by its name - this one is actually well-loved will provide hours of entertainment. You simply throw your chicken at the target until you get it there. Each flick counts as a point. You do this 9 times and the person who has the lowest score wins. Think mini golf, with chickens.
Not as Easy as it Seems
Not so fast - this game is not quite as easy as it seems. The Chickens bounce and roll with every throw so while your initial throw may be close to the mark, you can never be quite sure what will happen when your chicken hits the ground. This makes for a lot of fun, and perhaps frustration, because you never really know what is going to happen until the chicken stops moving.
Levels the Playing Field
This game really appeals to the masses and won't have a clear winner every time. Because you can't predict where the chicken will land, it doesn't really take any sort of athletic ability nor does your skill level matter. There are minimal rules so a lot of variation is bound to happen.
Cost and Value
This is one of the cheaper games on our list. It also happens to be one of the most versatile ones on our list. You don't really have to have any sort of skills and any age group can play. It will get a lot of use and be well loved. Your money is well spent when you purchase this yard game.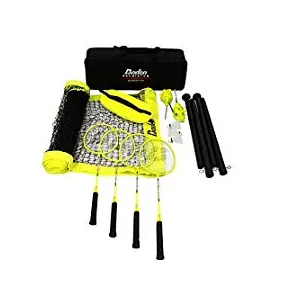 This Badminton set is well built and will provide a lot of fun and games in your yard all summer long. Everything is high quality from the net to the shuttlecocks to the tournament ready racquets. It is easy to set up and take down and comes with 3 shuttlecocks, 4 racquets, a net, and boundary lines.
Highly Visible
Everything on this set is lined in bright yellow. The net and the boundary lines are a bright, optic yellow that will catch your competitions attention and give you a slight edge. Baden also took into account that some people just have to match so the racquets are the same yellow. The shuttlecocks are white, but that is very standard.
Easy to Set Up
The poles are made of heavy-duty, powder coated, adjustable aluminum that makes setting them up and taking them down a breeze. A storage case is also included with your purchase so it is very easy to store or take with you wherever you may want to set it up.
Cost and Value
This Badminton Set falls toward the high end of our Yard Games list price wise. There are a lot of pieces and components that you want to be high quality, and that simply costs more money. You will be very pleased with how much play you are able to get out of this set and be happy that you decided to splurge and spend a little more. It will be well worth it with how much longer this set will last you.

Subscribe to our Newsletter