Best Hunting Waders Reviewed & Rated for Quality
last updated
Jun 25, 2019
It is vital that you choose good quality gear for all your hunting needs. The same can be said when picking out a set of hunting waders. They're essential for keeping you dry while cruising through the marsh. Nowadays, this protective clothing isn't just a one size fits all. Over the years, the designs have been changed to accommodate the depth of the water and your specific body shape. You also will need to choose which material will better suit your needs. When looking for that perfect fit, you will need to ponder where and when you will be using them, the weather and the type of hunting or fishing you'll be doing. But you've got this! Thanks to the list below you'll find exactly what you're looking for.
In a Hurry? The test winner after 20 hrs of research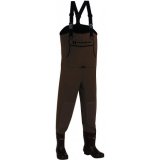 Hodgman Neoprene
Why is it better?
These are made from neoprene.
They offer you boots that are studded.
Boots have a 200g of Thinsulate.
The knees have been reinforced.
In a
Hurry? Editors choice: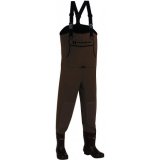 Test Winner: Hodgman Neoprene

15
Researched Sources
11k
Reviews Considered
20
Hours Researching
10
Products Evaluated
Features
Materials
Fit
Advanced Features
By Default
In Depth Review Top 10
Hodgman Neoprene
Sougayilang
Allen Big Timber
Goture
Frogg-Togg Neoprene
Tide We
Lone Cone
Ouzong
Compass
Azuki
Table of contents
Criteria Used for Evaluation
Frequently Asked Questions
Sources
10 Best Hunting Waders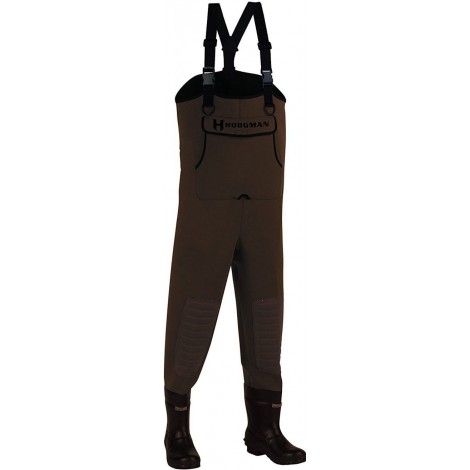 These are made from neoprene.
They offer you boots that are studded.
Boots have a 200g of Thinsulate.
The knees have been reinforced.
Some complaints that the sizing isn't true.
When entering the water with this type of protection you can be sure that you will remain cool and dry. The connected boots will keep you on your feet even when traveling over slick surfaces.
Read more
Neoprene
These are made from a good quality material called neoprene. Often times this material is preferred by many for there water excursions. It runs high on the durability scale while allowing you some breathing room.
Bootfoot
This option comes with the boots connected to them. This set of boots has a mid-range Thinsulate reading. This means they will keep your feet warm in cooler water temperatures. At the bottom of the boots, you will find that they are studded, which gives you better traction over the slippery rocks.
Cost and Value
The first selection on our list offers you warmth and stability at what we consider to be an affordable price. All good quality outdoor gear will tend to come with a higher price point. These will make a valuable addition to your fishing or hunting arsenal.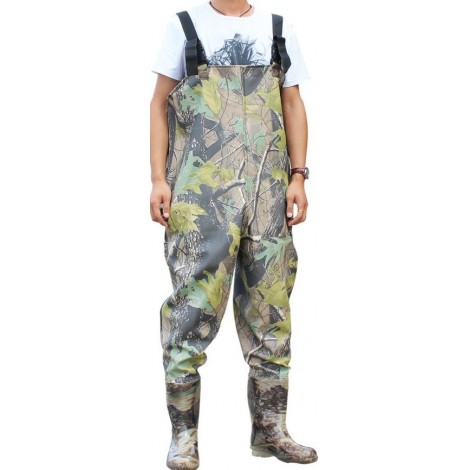 These provide a comfortable fit.
Made from waterproof materials.
Provide you with an adequate amount of durability.
These are offered in several size option.
Some have complained that these are quite heavy.
Customers have stated that the boot soles are flimsy.
Here is another great option for frolicking through the water while on your way to your stand. No need to worry about the depth of the water, these are designed for maximum protection.
Read more
Chest Height
This particular product was designed to offer you full protection from the water. Since they start at your feet and end at your chest I would say that the manufacturer has achieved it.
Breathable
Added to the design for your benefit are vents which allow air to flow through them. You can feel free to wear these even on warmer days, as they will not cause you to sweat as bad as some of the others.
Cost and Value
Here we have an option for those just getting into playing in the river or streams. These are a good first set, as they offer plenty of benefits at a great price level. Often times newcomers will turn away as they don't want to buy expensive gear right away.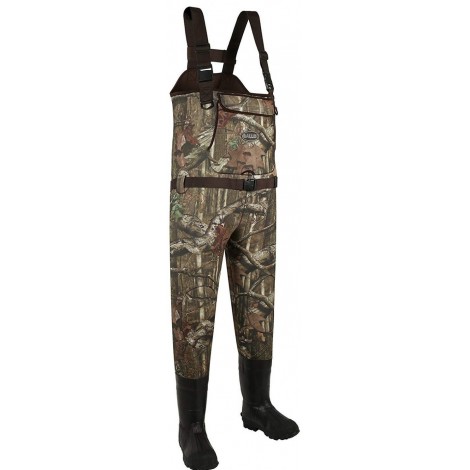 Made from neoprene.
The boots are insulated to warmth.
This set comes with the wading belt.
These are made for full coverage.
Some have stated that these are not for people of larger size.
The company that created these, has paved its own way on the market for outdoor equipment needs. Trust me when I say they won't let you down with this product either. Offering you warmth while keeping you dry at all costs.
Read more
Reinforced
Often times the areas of clothing that see the most use will wear the fastest. With this choice, you will see that the knees receive the most punishment. Which is why the manufacturer has chosen to reinforce them.
Warmth
Walking in the water can be a chilling experience when the temperatures begin to fall. The right choice for gear can keep you warm and satisfied. These are made with neoprene which is great for keeping you warm. Plus the boots are insulated to keep your feet cozy as well.
Cost and Value
You may have noticed that these will cost slightly more than the first two we have on our list. What you lose from your wallet, you will certainly gain in quality. These will come in handy for keeping you warm when the water starts to get cold.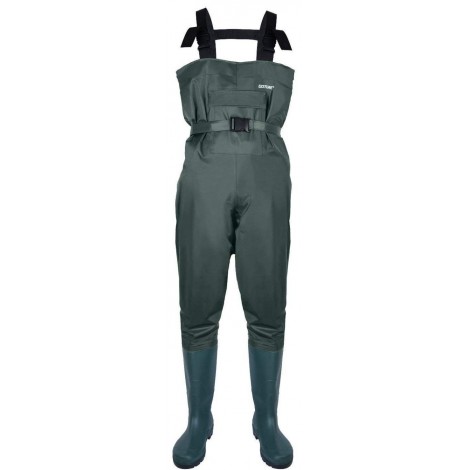 These are a lightweight option.
Made from nylon with PVC boots.
You can adjust some areas for comfort.
The soles of the boots are studded.
Some users have stated that these are not for use in cold water.
Next, we come to an option for material that we haven't had a chance to take a look at. This material change will offer you different aspects of protection. These have been made to make you feel like you don't even have them on.
Read more
Nylon
Here is a nylon material option for you to use during your water adventures. Many people choose to go with nylon as it is the lightest option for materials. You will also notice that this nylon is easier to put on and take off.
The Fit
Often times people struggle under the extra material to gain a sense of comfort. That is not the case with these, they are designed with the user's comfort in mind. Adjustable in all the right places, you may even forget you have them on.
Cost and Value
This is another less expensive option to choose from. Don't let that scare you away, they still hold plenty of potential for those who choose to use them. I would say for those who are looking at their first purchase these are great as a starter.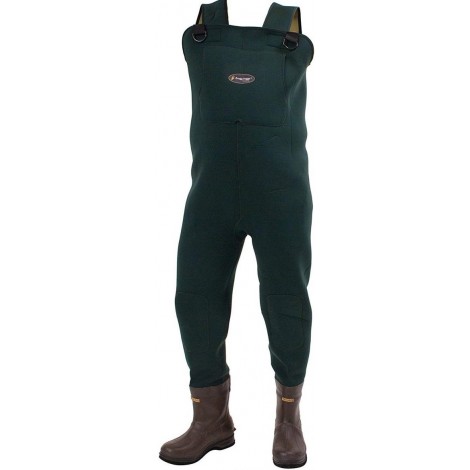 This is a durable option.
Made from neoprene.
They are made to be high rise in the back.
The boots were made for warmth.
Some have stated that the sizing isn't true.
There are some complaints that the legs are baggy.
These will have us taking another look at a potentially great neoprene option. The saying "Built to last" comes to mind when looking into a product with such great construction.
Read more
Construction
Made from a durable material such as neoprene, these are made to last. The material has a good amount of thickness which adds to the durability and the warmth. Seams and knees are all reinforced to prevent leaks or weak spots.
The Boots
Here is a boot that will keep your feet warm even in the cold water. Often times when our feet get cold we are miserable. The boots are designed to prevent your feet from becoming cold. Therefore enhancing your experience.
Cost and Value
A form of protection such as these can be a valuable asset to your hunting gear. You can make a valiant effort to make your next trip out for ducks a more memorable one.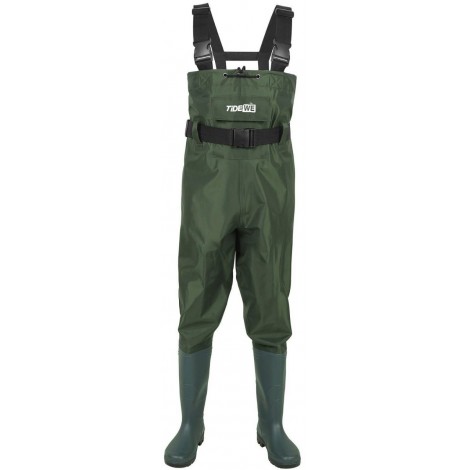 Made from both nylon and PVC.
The soles of the boots are thicker.
Boot seams are heat welded.
Pocket for storage placed in the front.
There are complaints that the sizing runs small.
Some users have questioned the durability of the product.
This is a great choice for those who don't care to be weighed down in the water. You can use these during warmer weather, instead of the heavier material choices. Be sure to check out the upgrade to the boots as well.
Read more
Convenience
Finally, an option that has your sense of convenience in mind. With a pocket in the front for you to store a few essentials. You can adjust the waist and shoulder straps for your comfort level.
Upgraded Boots
Listening when it matters the most, this manufacturer has resolved some of the former complaints. The bottom of the boots has a thicker sole design to make walking through the water that much easier. The seams have now been welded with heat, which helps to keep the water out.
Cost and Value
Here is a great protective option when you are looking to venture out into the water. You will also see that they won't cost you an arm and a leg to get them. For all your light duty needs, these will fit the bill.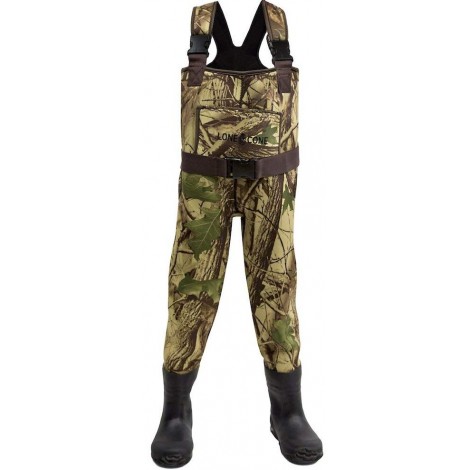 Seams have been reinforced with tape.
These come with the wading belt.
Made from durable neoprene.
Boots are well constructed.
There are some complaints that the sizing is inconsistent.
Now, this is a selection on our list that is geared more for children. But we found the product worthy of making the list. Having children of my own, I can attest to how hard it is to come by good quality gear for them.
Read more
Protective
To aid in keeping the cold water out, the seams have been taped for double the protection. These will also come with the belt for sinching off the waist, this limits the amount of water that can enter in the event of a fall.
Durable
Made from neoprene, these offer a ton of durability to the user. With all the adjusting that these allow you to do you can be sure that they can be used for years to come. The construction of the boots will keep feet warm and cozy.
Cost and Value
Offering you plenty of great benefits for safety and comfort. You can be sure that a purchase like this is the quality you have been searching for to keep your children protected.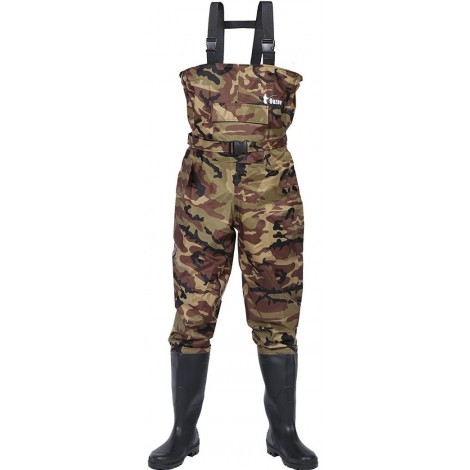 These are made from a mix of nylon and PVC.
The H-shaped suspenders add comfort.
Seams have been taped for reinforcement.
Made to be both waterproof and durable.
Some have had issues with sizing.
There are customers who say these are not as flexible as advertised. 
Taking a look into this awesome nylon/PVC material blend, you can be sure that you will get a stellar fit. Designed for your comfort level and to be a functional part of your outdoor gear needs.
Read more
Suspender Design
The suspenders for these are designed in the shape of an H. This is said to be a more comfortable design. It has also been noted that this design style offers better adjustability.
A Few Basics
As we have already talked about being made from nylon, this is a lighter weight option than most. The seams have been taped to help hold the water at bay. This is a flexible more comfortable piece of equipment to choose from.
Cost and Value
This is a relatively inexpensive selection for staying dry while seeking out your next adventure. The lightweight comfortable design features will have you satisfied with your decision.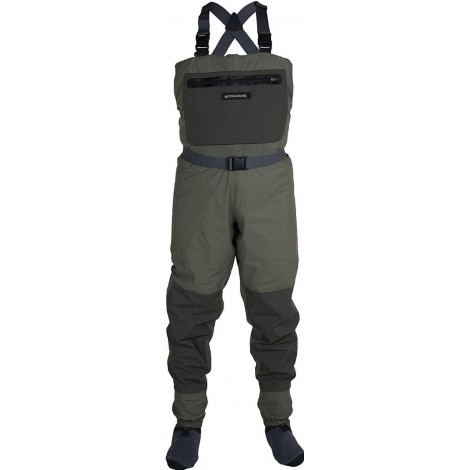 These are of the stocking foot variety.
Made from a layered nylon design.
Front pocket doubles as a hand warmer.
Seams have been taped for durability.
Some have stated that the material seems thin.
This is the first chance we have had to take a look at the stocking foot variety. There are plenty of people to attest that this variety is also fully functional. You will even get some extra use from the added features on these.
Read more
Stocking Foot
The stocking foot option is just how it sounds as there are no boots connected at the end. Here you have the opportunity to select the perfect fitting boots. Often times people complain about the boot fit, the stocking foot style will do away with that.
Added Features
These will have a pocket in the front but not just any old pocket. This one doubles as a hand warmer with it's thicker lining. Not only are these made from nylon but it is a four layer design. This will add to the overall durability.
Cost and Value
Good quality never comes cheap, this rings true for this product as well. Yes, it is one of the higher cost selections on the list. The potential they hold is seemingly endless.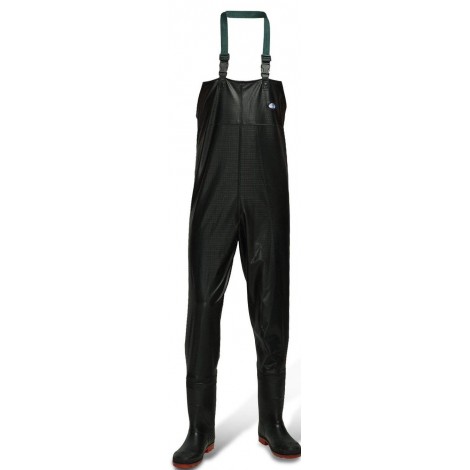 Seams are triple protected.
These are offered in many size and color options.
Pocket in the front for storage.
These can be adjusted for a more comfortable fit.
Some users question the durability of the product. 
There are some issues with material alignment being off.
Here is an all-around great selection for all your outdoor needs. Constructed from a durable material, these will hold up to whatever you have to throw at them.
Read more
Triple the Protection
Talk about good construction, the seams have been designed with triple the protection. This is perfect for keeping the water out which in turn will keep you dry. You will see that the seams have been stitched, then glued, and lastly taped.
Size and Color Options
No matter what your activity these are offered in a number of colors and patterns. You should be able to find an option that will best suit your needs. As for size, with all the choices you will be able to find that perfect match.
Cost and Value
Last on the list is a selection that offers plenty for the price you have to pay. They offer you a virtually leak-free option to wade through the water when you need to. With all the different color and size choices, you will be able to select what you need.
Criteria Used for Evaluation


Features
Hip
These are made to sit just above your knee, while often times connecting to a belt. One specific time in which you would use these is in shallow water. Taking extreme caution to not allow water inside as they can become waterlogged. Many game enthusiasts will use these for fishing instead. The reason for this is the fact that they offer little to no warmth.
Chest
Protection really doesn't get any better than this, this type offers virtually all over warmth. They are made to cover from bottom to the top. You can wear extra under them or add clothes over the top to keep you warm.  Many people will tell you that these are there one and only form that they wear. You can fold the top over on warmer days when the extra isn't needed.
Stockingfoot
This is an excellent option for those who are on land and in the water. As they do not come with a boot attached, you can easily switch from a boot to a shoe. You may even find that these are a lighter weight option for traveling. You will need to keep in mind that buying boots for these will mean an added cost to you.
Bootfoot
This option is exactly as the name states, you will find a boot connected at the bottom of these. Many outdoor warriors enjoy this added benefit, as they don't have to seek out a separate pair of boots. One key feature to keep in mind for these are the bottoms. Depending on your underwater travels, you may need a sole that provides better grip.
You will find that there are three types of soles to choose from. Rubber, which provides you a bottom that is the most all-terrain version. Giving you traction on land and slip resistance in the water. Soles made from felt are said to be the best for slippery underwater surfaces. Although it is best to check that they are legal in your area. Last we come to a studded version, these offer a tremendous amount of stability. You will notice that studs can be added to both the rubber and felt bottom boots.


Materials
Nylon
Nylon provides you with a lightweight option but will offer you no sense of warmth. When it comes to being in the cool water, you will need something to keep you warm. It is well known that these are the easiest to both put on and take off. Which makes them look attractive to many, just remember the conditions you will be exposed to.
Rubber
Rubber has been used for years, it is known for being both durable and warm. Often times rubber make the cut because it is a relatively inexpensive material. On to the downfalls, they offer you no breathability, so you can be sure that you will have sweaty clothing at the end of the trip. Many will find that lugging around the added weight that rubber creates tires them out rather quickly.
Neoprene
The last material choice we come to is neoprene, which is said to carry the highest potential. Neoprene offers a decent amount of warmth and can be purchased in different thicknesses. Even the boots of these will come with their own rating for warmth. Be sure you choose the right thickness to suit the water conditions you will be exposed to. Added to the warming qualities is the amount of durability that these have to offer. With neoprene, you can travel through the brush without snagging or ripping the material. Since these materials are thinner, they don't usually hold any muster for keeping you warm. It is best to save these material options for warmer water temperatures.
Non-Breathable
A material that is considered to be non-breathable will be thicker than the breathable type. A few good examples of non-breathable material are neoprene, nylon, or rubber. Many outdoorsmen will use gear made from these materials when the water temperatures start to drop.  One thing you will notice is that using these in warmer settings will cause you to feel the heat. Often times when leaving the stream or river, you will notice others removing their gear right out of the water. This will lessen the load for the distance back to your vehicle. This is the more durable option to choose from, as well as being the least expensive option.
Breathable Materials
Choosing a material that is breathable can be beneficial to you no matter what time of year you are outside. These are typically lighter weight options to choose from, as the materials will be thinner. The breathable material will typically have moisture-wicking properties, which quickly dries up you sweat. Preventing you from wearing a saturated clothing layer on the inside.


Fit
Next comes finding the size that suits you the best, taking your time here is crucial. As you will not benefit from choosing a set that is either too big or too small. When your gear isn't fitted properly it can hinder your movements, which at the end of the day can be frustrating. Be sure that you have enough room inside to layer clothing for warmth. When you are shopping in a store be sure to try on before you buy. This will give you the opportunity to check your range of motion. In the event that you are shopping online, look for a sizing chart. If there isn't one call the manufacturer, they will be able to help you determine the correct size.


Advanced Features
Pockets: Let's face it everyone loves having pockets, they provide you with a means of storage. Often times the pockets found on this type of gear will serve a second purpose as well. You can find them to be warmers as well, offering thicker insulation for warming up your hands. The pockets can come in handy for storing smaller items inside.
Reinforcements: The knees of any types of pants take the most abuse, the same can be said of your outdoor gear. Looking for a form of reinforcement at the knees can prevent against rips. Often times we are rough on our gear, climbing and kneeling on terrain that can do a number on our belongings. Reinforcing the weaker areas will give them a larger amount of durability.
Wading Belt: Even the novice outdoorsman shouldn't be caught without one of these. This particular type of belt isn't for fashion, instead, it is what keeps the water out. In the event that you fall into the water, the belt is what sinches the top closed so that no water can get inside. Essentially you should think if this belt as your lifesaver, itis that important.
Gravel Guards: When purchasing the stockingfoot variety, adding a gravel guard can be beneficial. Since the boots are not connected to the upper portion debris tend to enter them. The guards can prevent this from happening, which greatly improves your experience.
Colors and Patterns: This may seem like a feature of little importance but to some it means everything. You have plenty of color options to choose from most of which will be neutral colors. If your looking to turn heads this is not the gear to do it with. As all of the colors will be more earthy tones. For those who need it, there are several different options for camouflage patterns.
Expert Interviews & Opinions
Most Important Criteria
(According to our experts opinion)
Experts Opinion
Editors Opinion
Users Opinion
By Default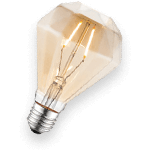 What's the most important thing in hunting waders
At the end of the day hunting waders are only as good as the water they keep out of your shoes. So the goal here is to first and foremost make sure you're getting a pair of waders that aren't going to split, leak break, snag or become compromised easily. And that means that you're going to have to lay out a bit of cash on the front end for a reliable product. There are plenty of waders on the market that are basically rain ponchos for your lower half, but unless you want to keep about 20 pairs on hand at all time, don't bother. The products on our list here are strong, they're sturdy and they're going to stand up against weather and every hunting or fishing environment you put them through. The other thing to look for is warmth, water is cold, almost always colder than the air around you, so look for some insulation or make sure you're wearing your own or your toes and legs are going to get cold awful quick.
Frequently Asked Questions
q:

Which material is the best choice for hunting?

a:

The true answer to this question is an opinion, but we can certainly offer you some advice. Nylon material is thinner and easier to use. However, it holds no ground in the area of warmth. Rubber can be durable and is a relatively inexpensive option. Keep in mind that rubber offers no breathability, so if you sweat a lot your clothes will be wet underneath. Neoprene is sad to be the favorite material option of many. It offers a high amount of durability and allows for airflow. Keeping you both warm and dry during your adventures.
q:

What does the climate have to do with my choice?

a:

The conditions you will be exposed to will most definitely sway your decision as to which material to choose from. Someone who will be exposed to cooler temperatures will want a material that can provide them with some warmth. While those who live in the warmer climates will want to choose a material that won't have them sweating buckets.
q:

Which is the better choice stocking foot or boot foot?

a:

Here we come to another preference selection. Choosing the stocking foot option will allow you to choose a better fitting boot. They also allow you to quickly change from boot to shoes when changing the terrain you are traveling. As for the boot foot, some prefer this choice as everything is attached making it more convenient when packing for a trip. Another perk to having the boots attached, less debris gets into the boots making it easier for walking.
q:

What type of sole is the best for boot foot style?

a:

The type of sole you should choose will depend on what you will be doing most often with these on. Felt soles are good for underwater walking, with some land travel. But in many states, the use of felt bottoms is not allowed. It is best to check the local laws before choosing felt. Rubber soles offer the most durability and versatility, as you can travel by land and water. In the event you will be walking over trails and in the river or stream, then rubber bottoms would be the way to go.
q:

What happens if you spring a leak?

a:

What can be done will depend on how they are damaged. In the event you find a puncture, there are patches you can purchase. The patches are easy to use and affordable, but keep in mind they don't always hold up for long periods of time. Now if you find fault in a seam, this needs to be sent in for fixing. You may want to consider a new set if you are not covered by warranty. Often times the cost for repairs and shipping can be more than buying new.
q:

Is it really necessary to wear a wading belt?

a:

Any avid outdoorsman who enters the water will tell you that this belt is an essential piece of equipment. The belt is what will hold the water out in the event you fall into the water. Without the belt, you can certainly run the risk of drowning. Most sets will come with the belt included, in the event that the set you chose doesn't have one they can be purchased additionally.
q:

What is the best way to dry my waders?

a:

We all know that taking the time to care for our gear will only prolong the quality of the gear. When you finish your outing be sure that you allow your gear to dry fully both inside and out. You can do so by simply leaving them out to dry. When doing this be sure you don't leave them exposed to the direct sun for too long. Doing so can result in damage to some material types. In the event that you arrive home to questionable weather, you can also hang your gear indoors as well.