Best Hunting Waders Reviewed & Rated for Quality
In a Hurry? Editors choice: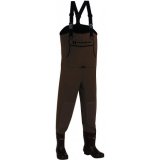 Test Winner: Hodgman Neoprene

It is vital that you choose good quality gear for all your hunting needs. The same can be said when picking out a set of hunting waders. They're essential for keeping you dry while cruising through the marsh. Nowadays, this
protective clothing
isn't just a one size fits all. Over the years, the designs have been changed to accommodate the depth of the water and your specific body shape. You also will need to choose which material will better suit your needs. When looking for that perfect fit, you will need to ponder where and when you will be using them, the weather and the
type of hunting
or fishing you'll be doing. But you've got this! Thanks to the list below you'll find exactly what you're looking for.
Standout Picks
Criteria Used for Evaluation
10 Best Hunting Waders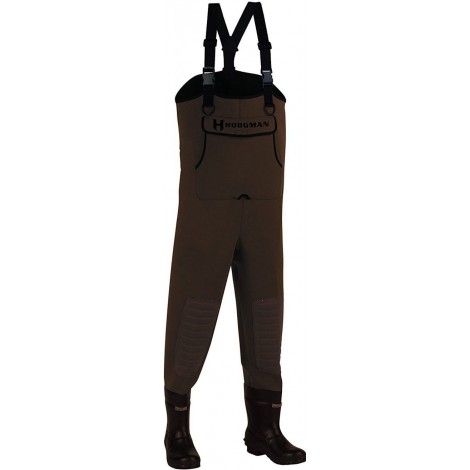 When entering the water with this type of protection you can be sure that you will remain cool and dry. The connected boots will keep you on your feet even when traveling over slick surfaces.
Neoprene
These are made from a good quality material called neoprene. Often times this material is preferred by many for there water excursions. It runs high on the durability scale while allowing you some breathing room.
Bootfoot
This option comes with the boots connected to them. This set of boots has a mid-range Thinsulate reading. This means they will keep your feet warm in cooler water temperatures. At the bottom of the boots, you will find that they are studded, which gives you better traction over the slippery rocks.
Cost and Value
The first selection on our list offers you warmth and stability at what we consider to be an affordable price. All good quality outdoor gear will tend to come with a higher price point. These will make a valuable addition to your fishing or hunting arsenal.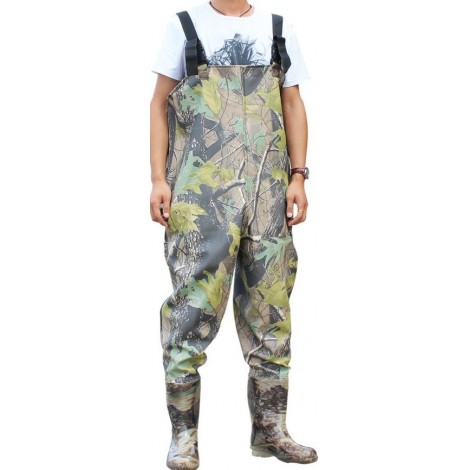 Here is another great option for frolicking through the water while on your way to your stand. No need to worry about the depth of the water, these are designed for maximum protection.
Chest Height
This particular product was designed to offer you full protection from the water. Since they start at your feet and end at your chest I would say that the manufacturer has achieved it.
Breathable
Added to the design for your benefit are vents which allow air to flow through them. You can feel free to wear these even on warmer days, as they will not cause you to sweat as bad as some of the others.
Cost and Value
Here we have an option for those just getting into playing in the river or streams. These are a good first set, as they offer plenty of benefits at a great price level. Often times newcomers will turn away as they don't want to buy expensive gear right away.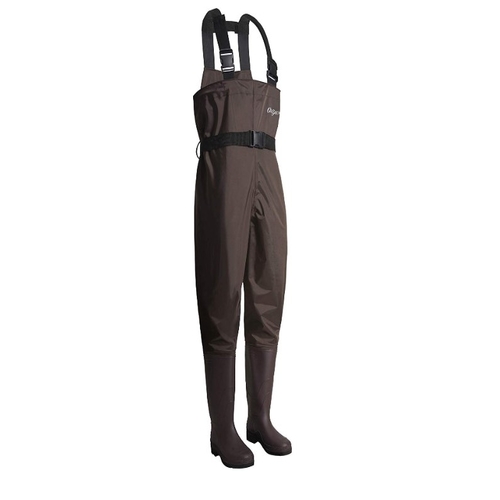 Having an item that will protect you while getting in the water or when hunting is a must; however, finding it isn't as easy. The brand OXYVAN has considered everything and brought forth an exceptional hunting wader. Constructed out of 70D nylon and PVC mixed material, this wader was meant to be durable with the perfect waterproof coating. It's all about being waterproof when you will be entering unknown waters. You want to be dry and sound, something this wader can provide effortlessly.
Lightweight
When you are going hunting you do not want anything restricting, or heavy as you want to be as light and airy as possible to move quickly and effectively. The brand kept that in mind and designed this wader out of 70D nylon and PVC mixed material which makes it 35% lighter than most wader material. Furthermore, by having this feature integrated into the wader you will be more flexible in water and on land while not wasting as much physical energy.
Convenient
One thing you most definitely want to have in a wader is convenience. Having a convenient wader is always a great idea, especially when you plan on using it for a multitude of things. Featuring an easy-on buckle and adjustable belt you can easily put it on and take off without a hassle. Furthermore, it showcases an inside pocket with a hook and lock to ensure you keep your belongings safe while you bend or move around. Having this inside pocket will keep your belongings dry and secure.
Cost and Value
As for the cost and value of this product, it is priced extremely fairly, due to how much you are getting from the product. Not only is it 35% lighter weight, but it's made of exceptional quality material. Additionally, you are getting a non-slip sole with thicken PVC, for your safety and comfort in any and every hunting area.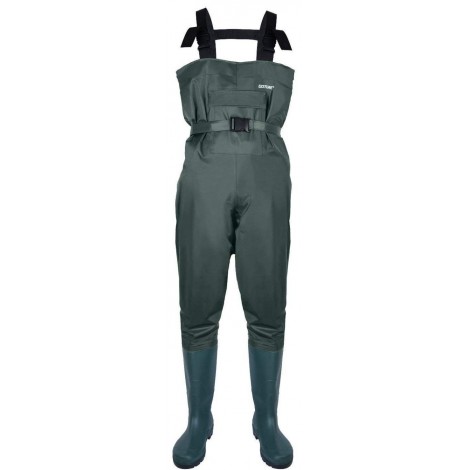 Next, we come to an option for material that we haven't had a chance to take a look at. This material change will offer you different aspects of protection. These have been made to make you feel like you don't even have them on.
Nylon
Here is a nylon material option for you to use during your water adventures. Many people choose to go with nylon as it is the lightest option for materials. You will also notice that this nylon is easier to put on and take off.
The Fit
Often times people struggle under the extra material to gain a sense of comfort. That is not the case with these, they are designed with the user's comfort in mind. Adjustable in all the right places, you may even forget you have them on.
Cost and Value
This is another less expensive option to choose from. Don't let that scare you away, they still hold plenty of potential for those who choose to use them. I would say for those who are looking at their first purchase these are great as a starter.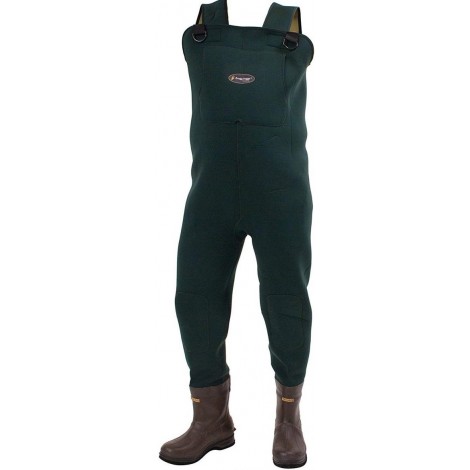 These will have us taking another look at a potentially great neoprene option. The saying "Built to last" comes to mind when looking into a product with such great construction. These will make wading through the water a breeze during your next hunt.
Construction
Made from a durable material such as neoprene, these are made to last. The material has a good amount of thickness which adds to the durability and the warmth. Seams and knees are all reinforced to prevent leaks or weak spots.
The Boots
Here is a boot that will keep your feet warm even in the cold water. Often times when our feet get cold we are miserable. The boots are designed to prevent your feet from becoming cold. Therefore enhancing your experience.
Cost and Value
A form of protection such as these can be a valuable asset to your hunting gear. You can make a valiant effort to make your next trip out for ducks a more memorable one.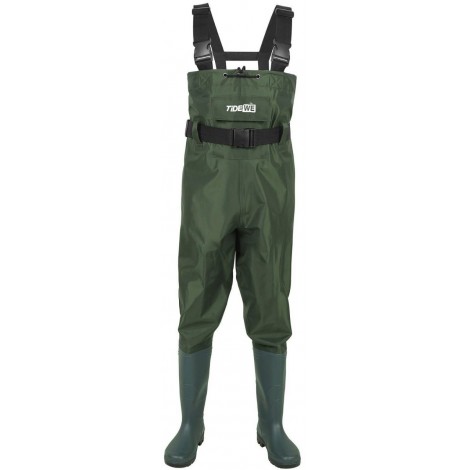 This is a great choice for those who don't care to be weighed down in the water. You can use these during warmer weather, instead of the heavier material choices. Be sure to check out the upgrade to the boots as well.
Convenience
Finally, an option that has your sense of convenience in mind. With a pocket in the front for you to store a few essentials. You can adjust the waist and shoulder straps for your comfort level.
Upgraded Boots
Listening when it matters the most, this manufacturer has resolved some of the former complaints. The bottom of the boots has a thicker sole design to make walking through the water that much easier. The seams have now been welded with heat, which helps to keep the water out.
Cost and Value
Here is a great protective option when you are looking to venture out into the water. You will also see that they won't cost you an arm and a leg to get them. For all your light duty needs, these will fit the bill.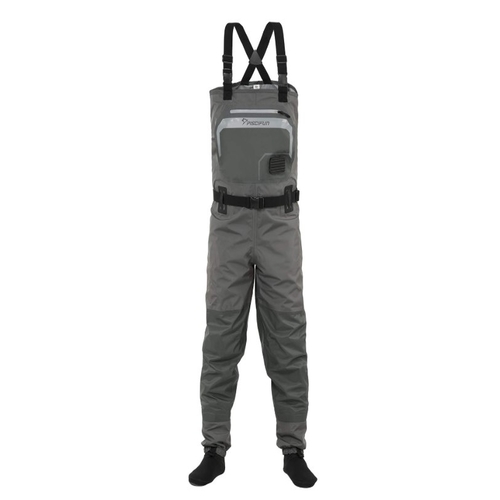 Showcasing a unique form of designing a wader, Piscifun brings forth a breathable constructed created out of polyester. Being created out of polyester means the wader is 100% waterproof with an extra dose of moisture-wicking technology intertwined with the material. Having this feature integrated into your wader ensures you not only get the most out of it, but you will be dry regardless of the weather or condition you step into. This wader was created to ensure you are not only comfortable, but you get the most out of your purchase.
Durability
When you are seeking the best wader on the market you want to look for something durable and easy to manage, that is what this wader provides. Showcasing reinforced thicker nylon suspenders with impeccable elasticity. Paired with a 3-layer polyester construction that reinforces how durable and water-resistant this wader truly is. Furthermore, this wader comes with 4mm neoprene solid booties as part of the construction to bring you a concrete product with all the bells and whistles you need.
High-quality design
Is there anything you want more than quality while shopping for a specific item? We think not! Quality is essential and this one offers just that, not only are the materials the best but the design itself is top-notch. Introducing an ergonomic design this wader presents a waterproof zippered pocket and a reversible pocket that keep your essential needs dry and safe, whether you are in the water or on land. There is also an elastic belt that has a quick-release button so that you are not only secure, but you can adjust the belt to your liking.
Cost and Value
The quality is highlighted in the features we have mentioned so it's safe to say this wader is well worth the price. Furthermore, it is not as expensive, and it does come with a 365-day wader repair as well as a 30 day no questions asked return, so if you happen to come across any issues you will be able to send it back and receive it fully repaired or get a new one.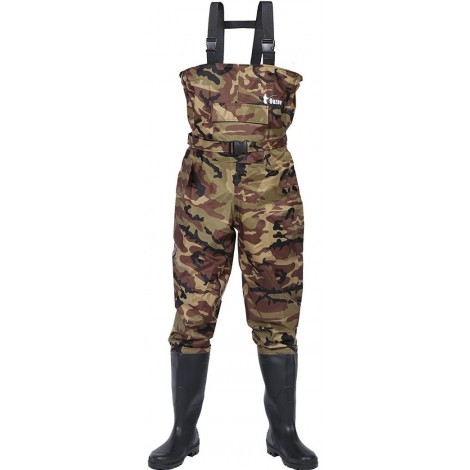 Taking a look into this awesome nylon/PVC material blend, you can be sure that you will get a stellar fit. Designed for your comfort level and to be a functional part of your outdoor gear needs.
Suspender Design
The suspenders for these are designed in the shape of an H. This is said to be a more comfortable design. It has also been noted that this design style offers better adjustability.
A Few Basics
As we have already talked about being made from nylon, this is a lighter weight option than most. The seams have been taped to help hold the water at bay. This is a flexible more comfortable piece of equipment to choose from.
Cost and Value
This is a relatively inexpensive selection for staying dry while seeking out your next adventure. The lightweight comfortable design features will have you satisfied with your decision.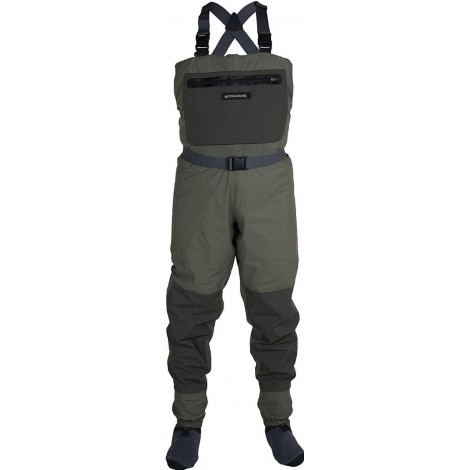 This is the first chance we have had to take a look at the stocking foot variety. There are plenty of people to attest that this variety is also fully functional. You will even get some extra use from the added features on these.
Stocking Foot
The stocking foot option is just how it sounds as there are no boots connected at the end. Here you have the opportunity to select the perfect fitting boots. Often times people complain about the boot fit, the stocking foot style will do away with that.
Added Features
These will have a pocket in the front but not just any old pocket. This one doubles as a hand warmer with it's thicker lining. Not only are these made from nylon but it is a four-layer design. This will add to the overall durability.
Cost and Value
Good quality never comes cheap, this rings true for this product as well. Yes, it is one of the higher cost selections on the list. The potential they hold is seemingly endless.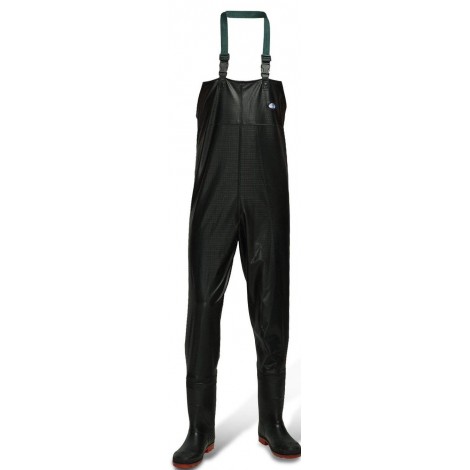 Here is an all-around great selection for all your outdoor needs. Constructed from a durable material, these will hold up to whatever you have to throw at them.
Triple the Protection
Talk about good construction, the seams have been designed with triple the protection. This is perfect for keeping the water out which in turn will keep you dry. You will see that the seams have been stitched, then glued, and lastly taped.
Size and Color Options
No matter what your activity these are offered in a number of colors and patterns. You should be able to find an option that will best suit your needs. As for size, with all the choices you will be able to find that perfect match.
Cost and Value
Last on the list is a selection that offers plenty for the price you have to pay. They offer you a virtually leak-free option to wade through the water when you need to. With all the different color and size choices, you will be able to select what you need.

Subscribe to our Newsletter