Best Hunting Scopes Reviewed & Rated for Quality
In a
Hurry? Editors choice: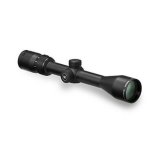 Test Winner: Vortex Optics Diamondback

The best hunters understand that you should only need one shot for one kill. Having a great scope on your rifle is an essential part of bagging a clean kill. When sighted properly, a hunting scope will help you get the best possible aim and allow you to aim for your target's vital organs. Not only does a clean shot stop the animal from suffering but a quick kill also reduces the amount of time you have to spend tracking after your shot. Since a scope provides you with magnification, you can get a much clearer look at such an animal prior to firing. You can purchase scopes in a large variety of prices and features which makes it easy to pick out a scope that is just right for you are your needs. This guide will help figure out which scope is right for you.
Standout Picks
Criteria Used for Evaluation
Effectiveness
If you're able to adjust your objective lens, you can manipulate the focus of your field of view given the range coordinates with the scope. Consider this seemingly small factor when looking for a scope. Not all scopes include an adjustable dial or slider ring for the lens, but scopes can be of the highest performance even without, so the option is not necessary. However, it is something you want to consider.
Accuracy
A scope gives the advantage of magnifying distant targets which gives the shooter better accuracy, making precise shots a little easier to pull off. There are a ton of technical factors behind the effectiveness of a sope and its lenses. There are also adjustments that allow manually dialing in your scope. If you want precision, you'll likely want as clear of a shot as possible. Here's how you can manually adjust your scope if you have the right scope, and how to do so. We aren't going to break-down everything but we will certainly steer you in the right direction.
Size
There are scopes with different size objective lenses. Scopes relay light to your retina and with a larger objective lens more light is allowed through it. You can manually adjust your exit pupil to allow more or less light. With more light through, the need to keep your eye dead center to get a clear field of view is lessened.
Style
If you're wondering which type of scope you will need, consider what you will be using it for specifically. If you may find yourself close to your game or target, being able to adjust the power to see more in the field of view will allow for a much more accurate shot at the considered distance. In a case where animals may charge, this convenience comes in handy. If you ever need to make a long-distance shot, adjust the dial upward. It may take some practice to get it right.
Fixed Power Scope
These scopes will usually have an adjustable objective lens but not much else in regards to dialing in and variables. These are great for target shooting, however, this really depends on who you're talking to.
Variable Power Scope
Characterized by the numbers you will typically see attached to any model. These numbers will be the magnification range of the scope via its adjustable dials.
Mid-Range Variable
These are "arguably" the most popular type of scope used for the more typical big game animal such as elk.
Tactical Scope
This type of scope is generally used for long-range, tight shots and small targets at a distance. They are characterized by their adjusting turrets, side-focus dial, and a significantly larger objective lens.
Features
Main Tube
The main portion of the scope that runs through all other components and holds the build together is commonly referred to as the "tube", although there are references that suggest many other common ways of referring to the section. You will likely find hunting rifle scopes with a one-inch tube although it's not uncommon for some to have a thirty-millimeter tube.
Objective Bell & Lens
Assuming you have the scope mounted in the right direction or are looking through the correct end, the objective bell is the side of a scope that is opposite of your eye while peering through. It's typically bell-shaped. This component contains the objective lens. The objective lens works by regulating the amount of light that is able to pass through to your retina.
Adjustable Objective ring
If you're lucky, you have a scope with an adjustable objective ring. This allows adjustment of the focus.
Eye-Piece & Ocular Lens
The eyepiece is the component encasing the lens closest to your eye. Enclosed is the ocular lens.
Power Ring
Allows for adjustment of the magnification, if you have a variable power scope.
Windage Adjustment Dial
aka turret. Chances are there will be a cap over the actual adjustment dial, more likely on hunting scopes although you may find other scopes commonly have exposed dials. If done correctly with a properly functioning scope, this dial should allow you to move the impact point of the bullet to the left or right.
Elevation Adjustment Dial
This dial is located just off to the side of the windage adjustment and is similar. The elevation adjustment dial alters the vertical alignment of the shot.
Side-Focus Dial
On the opposite side of the elevation adjustment dial would be the side focus adjustment dial. Keep in mind that not all scopes will have this dial but it is common.
Illuminated Reticle Dial
This reticle dial controls the illuminated crosshair if the function is available in your particular scope.
Eye-Relief
This is the amount of clearance between the ocular lens and your eye. If you're wondering if eye relief is at all significant, consider where the edge of the scope is going to be with the recoil of your firearm.
Field of View
The FOV or field of view is measured in feet an is the width of the area seen by the eye through the scope. We will have more information on FOV in our complete guide soon.
Exit Pupil
This is a calculation used for determining the amount of light that is allowed through the scope to your pupil by the objective lens.
10 Best Hunting Scopes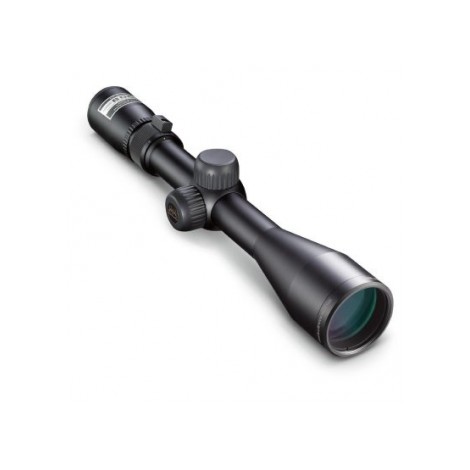 The Nikon Buckmaster is an excellent choice for a scope that can hold up to a variety of rugged conditions. This scope pulls out all of the bells and whistles when it comes to durability. The lenses resist fogging, shock, and water so the scope can withstand vibrations from carrying or dropping your rifle. It will also work in conditions where it's cold or even raining making it an excellent choice for a hunting scope.
Color Contrast
The scope is designed to help you spot a game that may be blending into its background. It has features that help your eyes see different shades of colors more distinctly. This helps you spot game much easier than what you could otherwise.
BDC Reticle
The crosshairs on the scope help you account for bullet drops at a long-range. There are clear circles placed below the lines where the crosshairs meet. You can use these circles to adjust your aim while firing at longer ranges.
Cost and Value
This scope has an average price which helps make it into an excellent value. It offers features found in many scopes such as waterproofing, trajectory compensation, and anti-reflection. Many consumers appreciate the lifetime warranty that comes with this scope as well.
2

. Vortex Optics Diamondback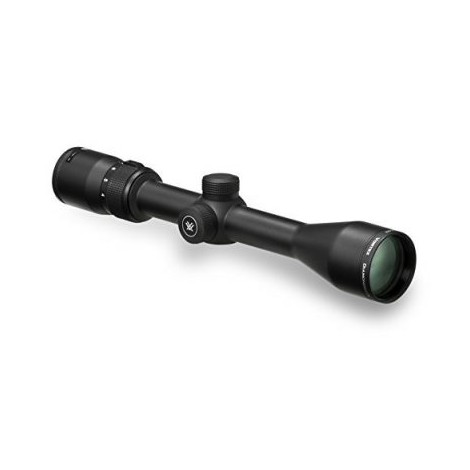 Here is another choice for an excellent hunting scope that is fully engineered for hunting in even the most extreme weather. The scope is completely waterproof and durable which allows you to get the best view of your target while you are zeroing in. It uses a dot design on the crosshairs that help you adjust for issues such as wind and the range of your target.
Aircraft Grade Aluminum Body
You won't need to worry about this scope getting ruined from vibrations, the weather, or even from getting drops thanks to the fully aluminum body. It is made out of an aircraft-grade alloy so that it's lightweight and durable.
Argon Purging
The interior of the scope is filled with argon gas. This helps the scope resist fogging up which helps you get a crystal clear view of your target. The moisture-resistant features allow you to use this scope in the rain.
Cost and Value
This scope has a price that is slightly higher than average. It justifies its higher price by being constructed out of higher-grade materials. The body of the scope is almost indestructible and it is fully waterproof and resists fogging.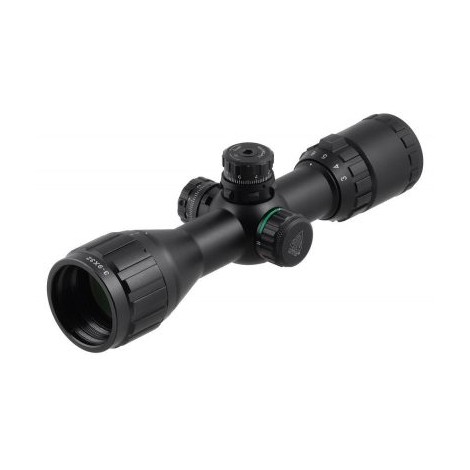 The BugBuster is an excellent general use scope that offers plenty of features found in more premium scopes. It is completely waterproof and is resists shocks, fog, and also rain which makes it a reliable choice for hunting outdoors. The scope offers a sunshade that helps protect your eyes on bright and sunny days. It also offers features such as RGB filtering and range estimating cross.
Range Estimation
The crosshairs turn different colors to help you estimate the range of your target. It has nine dots in both directions so that you can accurately adjust for wind or bullet drop when you are shooting at long ranges.
Accessories
This scope is sold with a variety of useful accessories. It has flip-open lens caps which allows you to protect the lenses when it isn't in use. There is also a shade that helps protect your eyes against the sun.
Cost and Value
This scope has a price that is well below the average price for hunting scopes which makes it into an excellent value. There are plenty of features found in this scope that usually come in higher priced scopes.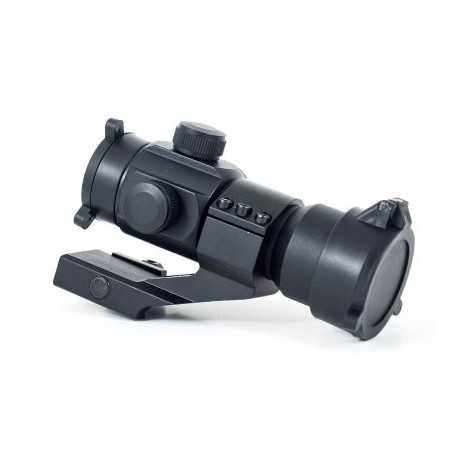 This is a great scope to use for when you are shooting at shorter range targets. It is a dot sight scope that allows you to pick between both red and green dots. You can also adjust the brightness level to help you get the best aim for your target. This scope can be mounted both securely and quickly by using the included mount.
Red and Green Dots
Since lighting conditions and your target can vary, you can switch this scope between red and green dots. This allows you to compensate for differences in conditions and your targets. If you have trouble with seeing with one dot, then switch to the other one.
Quick Mount
This scope is sold with a cantilever mount. This allows you to quickly and easily mount this scope to your rifle. The result is a highly secure fit that prevents the scope from coming loose from your gun.
Cost and Value
You will see this scope sold at a price that is well below the average price of hunting scopes. It costs less because it is designed for shooting shorter ranges which results in fewer materials when compared to other scopes.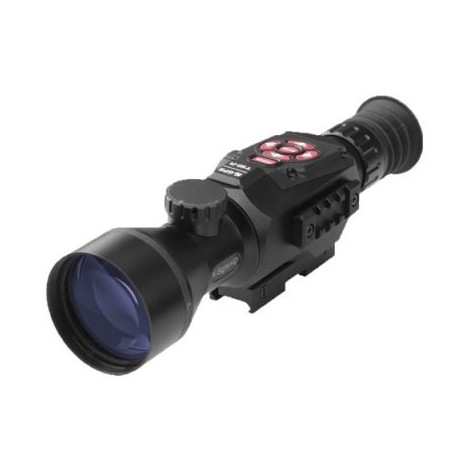 This high-end scope is perfect if you are hunting at long ranges or in low light conditions. It provides you with both day and nighttime vision in high definition resolution. The scope has a rangefinder so that you can estimate the range of your target. It can even record video which allows you to record your hunt and stream it over WIFI to a phone or tablet.
Night Vision
You can use this scope after dark because it offers high definition day and night vision. This allows you to hunt in low light or even after dark in areas where you are allowed to do so.
Video Recording
The scope has a built-in camera that allows you to take pictures and record videos. This allows you to record your hunt if you so choose to do so. Later on, you can stream the recorded video to a mobile device.
Cost and Value
This is a high-end scope that has a price that is way above the average price for a scope. It justifies its high price by offering high features such as 20x magnification, night vision, picture, and video recording.



The Compact by Sniper is a great low-cost hunting scope for low powered guns such as a 22. It can be mounted on a variety of different weapons including muzzleloaders, crossbows, and regular hunting rifles. The scope is easy to zero in and sight and it is made out of a one-piece tube. The scope itself only weighs 8.9 ounces so it won't make your gun feel heavy.
RF Reticle
The scope has an RF reticle that provides you with an optimal aim. This allows you to get the perfect shot on your target so that you don't end up wasting ammunition.
Cardan Joint Platform
This scope is built on a platform made out of Cardan joints. This allows the scope to remain durable and secure while it is mounted to your gun. You won't need to worry about the scope breaking from its platform.
Cost and Value
This is an extremely low-cost scope which makes it a great bargain buy. It keeps its price low by only offering basic features that one expects in scope but it is perfect for 22 rifles or crossbows.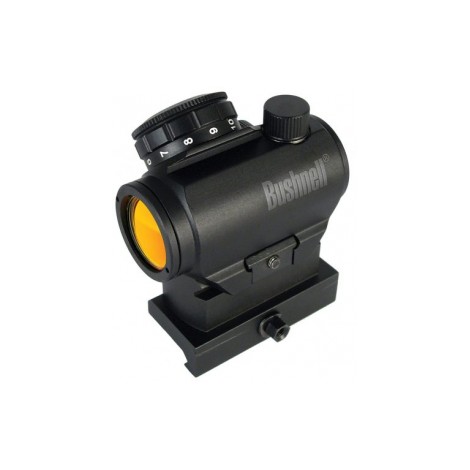 This is another scope that is useful when shooting at close to medium range targets. It is a red dot scope that comes with eleven different brightness settings. This allows you to quickly find and aim at your target when you need to move fast. The scope comes with a mount and lens cover so that you have everything you need to start using it when it arrives.
11 Brightness Settings
You can easily adjust the brightness on this scope thanks to the eleven different brightness settings. This allows you to adjust for different lighting conditions as needed which allows your eyes to see better through the scope.
Battery Conservation
This scope has features that help improve the life of its battery. The scope will regulate the brightness automatically based on the surrounding light. It will also power down when you attach the storage hood to the scope.
Cost and Value
This is a lower priced scope that is meant for close to medium range target. It gets its value by offering features such as different brightness settings and by regulating its power consumption automatically.



Here is a hunting scope that allows you to get the best view of your game. It has features such as red and green illumination on the reticle so that you can adjust it for the best aim. The lenses are designed to offer you an image with high contrast in the colors so that you can spot hiding game. The scope is also illuminated for low light conditions.
Dioptric Lens
The scope's ocular has a dioptric lens which is helpful for nearsighted and farsighted people. The lens is adjustable so that people who have impaired vision can get a clear view of their target.
Red and Green Reticle
The Reticle has three different color options which are black, red, and green. If you are having trouble seeing the reticle due to the target's color, then you are free to switch to a color that lets you see better.
Cost and Value
This is a low-cost hunting scope which makes it a bargain purchase. It is fully waterproof so that you can use it in wet or rainy condition. The reticle has three different colors and the lens is designed for people with impaired vision.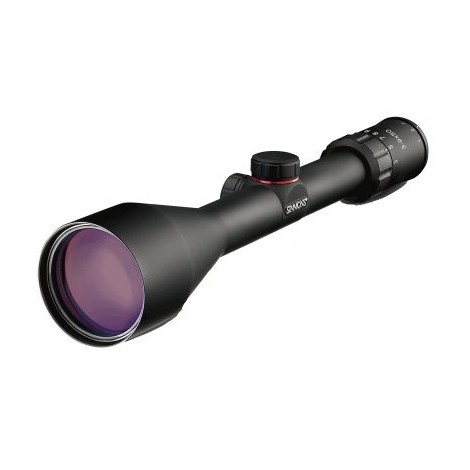 The 8-Point is an excellent scope for when you are looking for plenty of features without having to spend a lot of money. This scope comes with just about everything you would expect in a hunting scope. It has systems that help you adjust for elevation and even the wind. It also resists moisture so that you can continue to see clearly even in wet conditions.
Fully Coated Optics
The lenses in this scope are fully coated. This provides you with an image that has high color contrast which makes it easier for you to pick out wildlife that is blending in with its background.
SureGrip
The wind and elevation adjusters have a SureGrip adjuster. The adjuster makes a click sound so that you can hear it clicking as you adjust for wind and elevation without having to take your eye off your target.
Cost and Value
This scope has a price that is well below the average price for hunting scopes. This makes it a great value because it offers many of the features a person would expect to find in premium scopes.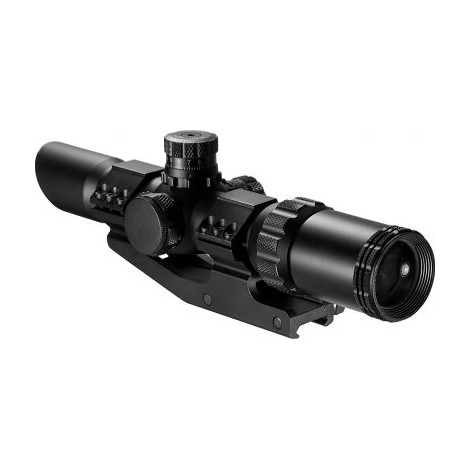 Here is another scope that is great for short or medium range shooting. It has up to 4x magnification and has an illuminated reticle that comes in green, black, and red colors. The scope is completely waterproof so that you can hunt in the rain or the snow without it getting damaged. It has range, wind, and elevation adjusters in the reticle so that you can adjust your aim.
Sun Shade
This scope includes a sunshade that helps protect your eyes from the bright sun. The shade goes on the exterior lens and reduces bright light and flares that you can get when using the scope on a bright day.
Fully Sealed
This scope is fully sealed against water and fog. This allows you to use the scope in wet or snowy conditions without you having to worry about not being able to see through it.
Cost and Value
This scope has an average price when compared to other scopes. It gets its value by being a heavy-duty scope that can withstand harsh conditions. The scope is durable, waterproof, and has a sunshade.

Subscribe to our Newsletter