Best Hoverboards Reviewed and Rated for Quality
In a Hurry? Editors choice: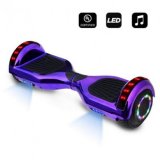 Test Winner: CHO 6.5"

Many of us watched those famous movie franchises during the 1980s and early 1990s and dreamed of the day we could float to and from with free will. Hoverboards were the dream. Modern hoverboards are technologically breaking boundaries and are providing us with a superior and exciting ride, the new 'floating' skateboards and longboards are a step closer to the dreams of independent riding. This review is written to help you look a little clearer through the maze of different hoverboards, the choices available today is vast and the features of each of the top ten best will pick out some items you may want to consider when you are looking for your ultimate hoverboard. The seven remaining on the list all have features that differentiate them; and will provide a broader overview of some of the top hoverboards on the market today. So, here's our top 10 hoverboards.
Standout Picks
Criteria Used for Evaluation
Style
Essentially there are two main types of hoverboard available to purchase today, one is simply #the board' and the second is the 'Airwheel'. Both use sensors and pressure for the operation side of things, but they differ in how they look and what kind of control you need to exert to use them appropriately.
The board hoverboard is similar to the skateboard except it is not ridden sideways – you ride it forwards and the two large wheels are either side with a center placed hinge. There are pressure pads for your feet which, once pressed with your feet; will move forwards, and the same in reverse, if you lean back on the pads the board will go backward too. The same principle is relevant when pressure is placed on the left or right foot, either pad that has the most pressure will determine the pull to which side.
An AirWheel board has one or more wheel but the placement is in the middle of it and not at the ends, it is self-balancing and is a bit trickier to learn to ride than a board, it uses whole body movements to adjust the direction and can affect which way you end up going. They have paddles on either side of the wheel for your feet and this makes them stable when your feet are placed correctly and in total balance.
Weight
When you see the perfect hoverboard, before you rush in with your hard-earned dollars – take a minute to check two areas of weight specifications. The first is the weight the board can actually carry safely, this may vary between different types although a modern design should easily be able to carry up to one hundred kilograms with no problems. Weighing more than that shouldn't be cause for too much concern because they are designed to be tough and capable of holding plus this weight. If you are concerned, it may be better to choose a board with a bigger wheel or even take the time to talk to an expert in the field to make sure you are buying safely.
The weight of the hoverboard itself should also be a consideration for you, they are amazing to ride but you will be hard pushed to find somewhere that doesn't require you to pick it up and carry it at some point on your journey. As a general guide, they often weigh between ten and twelve kilograms so are quite hefty and bulky to carry. You may want to consider where you will be using your hoverboard and for how long to allow you to choose the weight more specifically to fit your own needs and requirements, as well as your own capacity for being able to carry it.
Size
Generally, many hoverboards have a wheel size between six-point five and seven inches in diameter, this makes them lighter but offers a bit less stability when tackling uneven surfaces, they are a little more unsteady and tricks are harder to master with this size of the wheel.
Larger sizes are becoming more available, with some being between eight to ten inches, this small size difference makes them a bit more stable and is smoother to ride on bumpy surfaces.
The single-wheeled AirWheel board offers a size of between eleven and fourteen inches, and due to its central position on the board, makes riding rough and uneven terrains a bit smoother and easier to ride on.
Speed
Different hoverboards offer variable ride ranges and speeds, and new technology is improving this constantly, the range your board has can depend on the charge it has the capacity to hold and for the time it allows for use before it is all discharged. Of course; you should always endeavor to make sure your board is fully charged before you go on your ride to make sure you don't end up getting the bus home carrying a flat board.
As a general average, most hoverboards offer a speed of anywhere between two to ten miles per hour, this can be variable, however, depending on what brand you purchase, the cost of the board, (yes, unfortunately, higher price ranges do increase speed and range capabilities,) and your own weight may affect the speed you can expect from your board, for instance if you are lighter it may go faster, and likewise if you are on the heavier side – this may have a reducing effect on the speed you can expect to reach.
Use
One last thing you may want to think about before you splash the cash is just how much you are going to use your board and where you are planning to use it. Is it practical to buy a top of the range board that you will only use once in a blue moon for instance, and if you plan to use a hoverboard in built-up urban areas you have to check local by-laws to ensure their use is permitted.
There is little use buying a board if your chosen area or route does not allow the use of them on public highways, paths or in busy areas. The reality check here is just a process of checking again and again where you live, and what, if any, restrictions are in place that can affect your hoverboarding.
And this is the point where you need to think about the weight of your board again, say if you can only use it in certain areas of your chosen route, is it viable that you can carry the board safely, securely and without injuring either yourself or anybody else? These may sound like trivial niggles but; forewarned is most definitely forearmed and if you stop and think before you ride, you will get more out of your chosen activity for longer periods in safety.
There should be some useful basic points here for you to consider, and as long as you are always aware of your own limitations, and the legal limitation use of hoverboards have placed on them, you should be able to find an ideal board just right for you whatever your capabilities are. Just one last point though, always make sure you wear the correct protective gear when you are hoverboarding because you just never know what's just around the corner.
Top 10 Hoverboards


This hoverboard is fully covered with the UL 2272 tested certification, it boasts a cruising speed of up to eight miles an hour comfortably, and that it has powerful but quiet three hundred fifty-watt motors for a more peaceful ride. This also offers up to sixty minutes of continuous running time and is suitable for persons weighing up to two hundred twenty pounds in relative comfort. The foot pressure pads are made with safety in mind and are manufactured using anti-slip rubber to help and reduce the risks of slipping in damp conditions.
Functional Features
The Razor Hovertrax has a cool blue LED light bar for display appeal, and an LED battery life indicator so reduces the risk of running out of power before the journey even begins, plus; it features neat fender bumpers for an improved appearance.
Practical Additions
The board has a handy setting mode that allows for a different level of user competency, it has a starter training mode for better safety, and for when confidence is built is can be switched to the everyday normal use mode.
Cost and Value
Considering the relative balance between both cost and value; and taking into account the appealing design and added safety certification, it is a justified and equal balance between the two and this is a sound hoverboard for the price.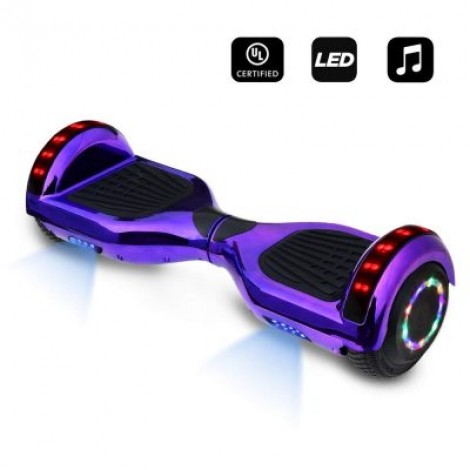 CHO offer this hoverboard in five striking color combinations; purple/chrome, gold/chrome, green/chrome, pink/chrome, and blue/chrome. The solid rubber tires on six-point five-inch wheels benefit stable and smooth riding and the board comes with the UL 2272 certification for confidence in the overall safety and usability of the product. It not only has lights on the front of the board but also boasts top rim LED lights that flash. It also boasts a built-in speaker so music is available for playing straight from a cell phone for a more personalized ride.
Good Range
On a full battery charge, this CHO hoverboard can cover up to ten kilometers and reach speeds of up to twelve kilometers per hour. This gives it improved scope and allows a longer ride to be planned without the worry of a flat battery.
Charge Time
The overall run time from the charge is three to five hours so that longer route is more accessible, the Bluetooth connectivity gives the added bonus of tunes whilst riding and the speakers are stereo for an improved sound.
Cost and Value
Overall the considerations that enable full qualifying balance between both cost and value take into account the connectivity, the range and use time covered with the CHO hoverboard, it is justified to say that both are well-represented and this is a great hoverboard for the money.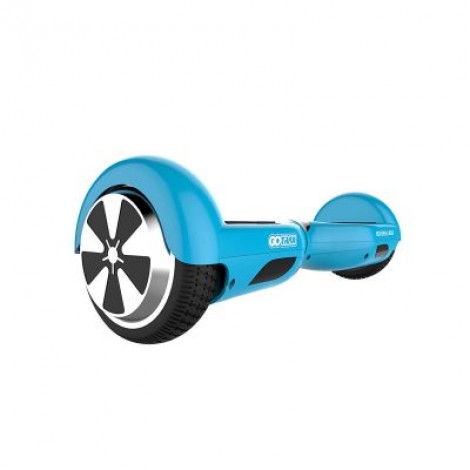 This hoverboard is available in seven striking colors that are contrasted in a smart design style and has been created and crafted in Denver, USA. It has UL 2272 certification for confidence in the safety aspect of all of its electrics, charging system and battery, and it features LED lights for a spectacular showy ride. It boasts being useable in a mere five minutes from beginner to fully fledged rider in no time.
Quality Materials
The hoverboard is made to be eco-friendly high-quality materials and boasts a two-hundred and twenty-pound weight capacity, this makes it ideal for most and offers a long ride time with the certified battery and charger.
Powerful Motors
The GOTRAX Hoverfly ECO has two two-hundred and fifty-watt motors that enable a speedy ride of up to seven-point four miles per hour, this is achieved with quality building and certifiable assurances that give a faster, longer ride.
Cost and Value
The relative balance between both cost and value means that this hoverboard is genuinely great value for the price, the UL 2272 certification along with the powerful motors give confidence that the hoverboard has been designed with ultimate fun and safety in mind.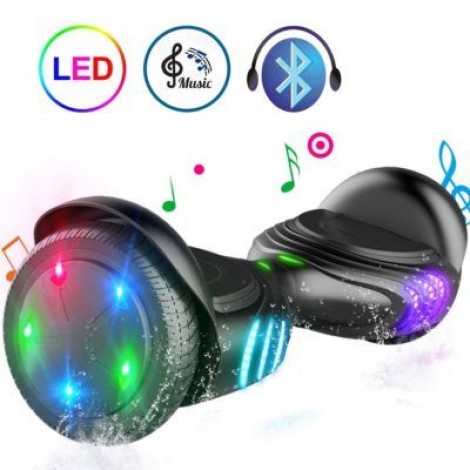 The TOMOLOO hoverboard is fully tested and certified to UL 2272 for greater confidence in the purchase, the tires have an appealing light system in the center which flashes as the board is moved, and change in sequence depending on the music and the personal preference settings. It has Bluetooth connectivity with a range of up to thirty-three feet and the stereo is V four-point two sound quality. The six-point five-inch wheel size boasts a minimum turning radius of ten degrees.
Variable Weight Capabilities
The hoverboard itself only weighs seventeen-point six four pounds so is not too heavy to carry when the use of the board becomes restricting or through law regulations. The weight it can comfortably carry is set at a maximum of two hundred twenty pounds.
Design Features
The hoverboard has a stylish footboard design that incorporates the lights both at the front of it and in the center between the feet. The swirling waves design is unique and circles the pressure pads in an eye-pleasing manner.
Cost and Value
The cost and value of the TOMOLOO hoverboard is justified when considering the great features including the stylish board design, the unique light positioning and the range offered, this hoverboard is great value for money.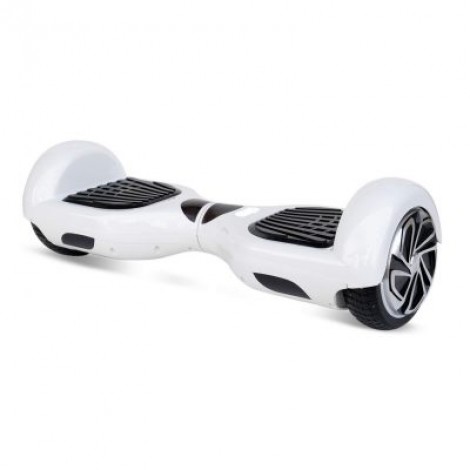 This stylish hoverboard is available in a good range of color combinations and is fully tested and certified to UL 2272 standards. It is manufactured using aircraft-grade aluminum alloy and this provides a substantial framework for heavier load bearing capabilities. It boasts six-point five-inch rubber tires which reduce sliding and slipping and give it a comfortable but stable ride, it also has Bluetooth connectivity and a speaker to enable playing favorite tunes during any ride.
Practical Features
The Levit8ion ION hoverboard has a substantial fifteen to twenty-kilometer range, and this is complemented with an impressive fourteen kilometers per hour maximum for a more exhilarating experience and a longer run.
LED Lights
The hoverboard has an impressive LED panel lighting system that is sleek and clean in appearance and improves visibility. And as a bonus feature, it has specially manufactured non-slip foot pads to reduce the risk of accidents whilst riding.
Cost and Value
When considering the longer than average range this offers, along with the increased speed, and also taking in the UL certification and added safety features like the non-slip foot pad, it is easy to justify and equalize both cost and value when purchasing this product.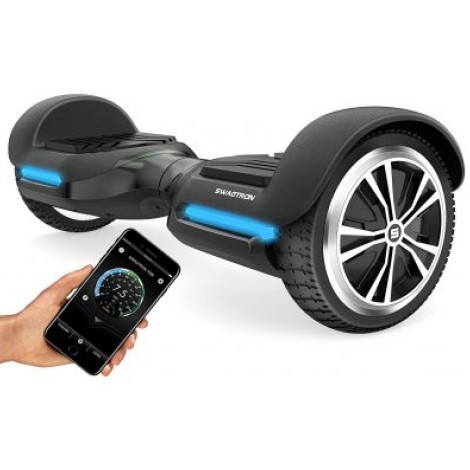 This hoverboard is available in three striking and contrasting color combinations; red, blue and black and each one is fully Bluetooth enabled that gives variable choices when connected – it is able to perform a battery check, play music through speakers and apps and also can access maps. The hoverboard has two powerful one-hundred fifty-watt motors that boast the ability to enable the use on inclines of up to thirty degrees and offers a speed up to 7.5 miles per hour.
Variable Mode Changing
The Swagtron T580 benefits from having three settings to make it versatile for multi-level use of anybody from beginner to expert. It can travel a distance of up to eight miles on a single charge and boasts being able to carry weights in excess of two hundred twenty pounds.
Practical UL Certification
The safety certification offers a great bonus in terms of practical safety and improves confidence in the overall product. It boasts six-point five-inch hard rubber tires to improve the smoothness of the ride and increases overall durability,
Cost and Value
The price of the Swagtron T580 offers a functional and practical hoverboard that suits almost any level of expertise, the features including the Bluetooth connectivity and the powerful motors, all add up to ensure an equal balance between cost and value.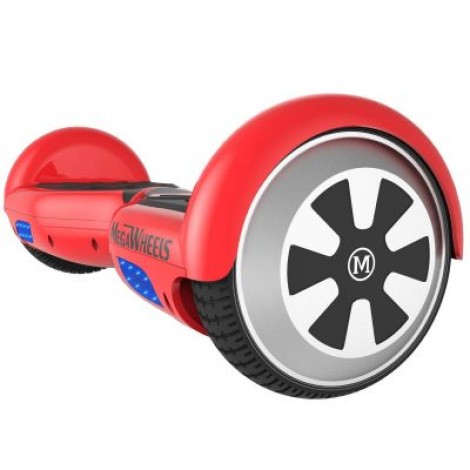 This hoverboard is measuring in at a practical one hundred eighty by one hundred seventy by fifty-eight millimeters and has eye-catching lights on the front boards. Available in a good choice of colors, this hoverboard is offered as being easy to use and provides adequate stable control when in use. It benefits from being able to turn on a complete three hundred eighty rotational spin and is sensitive enough for every ability. It is powered by powerful brushless motors that are a practical five hundred wattage for a better run, the UL certification provides greater confidence in the overall product.
Functional Chip
The Mega Wheels hoverboard has a handy ST Chip included that raises a speed alarm when going fast, and also offers low-speed protection through its placement in the mainboard. The board has a functional Bluetooth speaker, so the music can ride along for miles with it.
Practical Usability
The hoverboard can carry weights up to two hundred twenty pounds without losing any stability, and it has a distance range of up to ten kilometers. A comfortable top speed of seven point five miles per hour is offered as part of the fun.
Cost and Value
When considering the balance between both cost and value, the recognition of the UL 2272 certification along with the fun aspect features like the lights, it is clear that both are reflected equally; and this is a good value for money.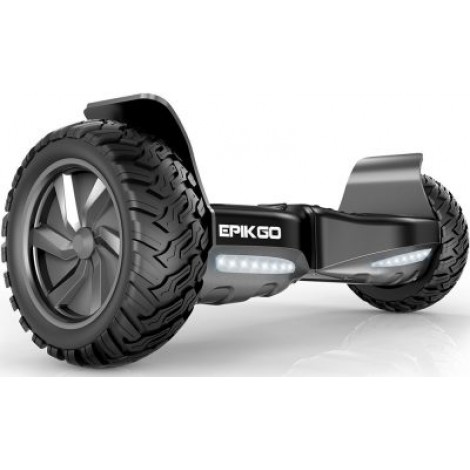 The EPIKGO hoverboard boasts being one of the larger boards on the market, giving more foot room for better comfort and improved control when riding. The solid rubber tires and eight-point five alloy wheels give the board a sleek, professional look that offers an IP56 rating for waterproofing purposes. The UL 2272 certification is complimented with a UL 2271 certification that also covers the smart battery in testing and safety aspects.
Powerful Motor
The board benefits from a pair of four-hundred-watt motors that boast improving efficiency for climbing slopes with an incline of up to eighteen degrees, and also boasts being able to ride over challenging and even rough terrains.
Good Range and Distance
This board offers a range of over ten miles and offers the additional capability of being able to ride over water and grass so makes it a much more versatile hoverboard especially when the surface is prone to alteration.
Cost and Value
The larger size and improved capabilities of the EPIKGO hoverboard, and the double complimenting UL certifications ensure that safety is paramount in the production and this makes sure it is an excellent purchase for the money.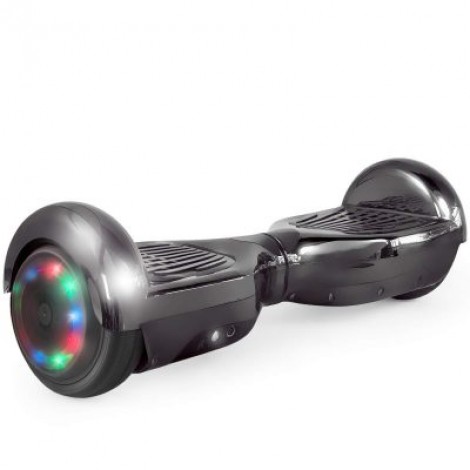 This sleek looking stylishly designed hoverboard is available in five striking color combinations; chrome/black, gold/rose, pink/chrome, blue and rose. It has a ring of flashing LED lights in the center of each six-point five-inch wheel, which improves visibility in changing light conditions and also benefits from full UL 2272 tested certification. The board has a capability of a full three hundred sixty degree turn and boasts a maximum climb angle of five degrees.
Bluetooth Connectivity
The Xtremepower US hoverboard has full Bluetooth connectivity so enables music to be played whilst riding with a connection to any cell phone. The design cleverly incorporates fenders over the wheels so there is little chance of getting jammed and stopping suddenly.
Practical Features
The board has unique solid non-slip foot pads that improve safety further and reduce the risk of slipping and falling, the overall charging time benefits from being a mere two to three hours and offers a range of between nine and twelve miles.
Cost and Value
The Xtremepower US hoverboard is competitively priced when considering the functional and practical features it has, the sleek and smart design and overall usability ensure this is well balanced on both cost and value and is an excellent buy.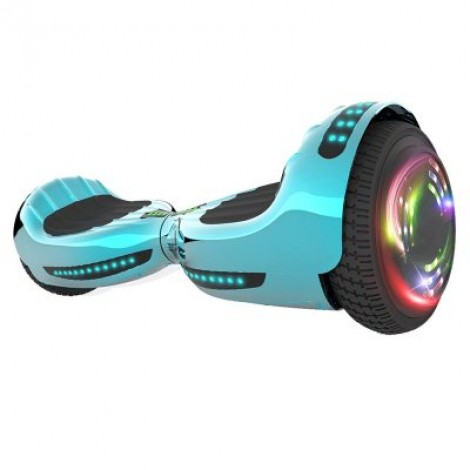 The Hoverheart board is fully tested and certified to UL 2272 standards and comes in a good choice of color combinations, which is complemented with anti-fire plastic materials for even greater purchasing and usability confidence. It comes complete with a charger and a full guide to help with all manner of setting up and using queries and even boasts being suitable for all age ranges and all abilities from beginner to expert.
Fun Features
The hoverboard has LED light up wheels that flash when operated with extra front lights too, and also offers Bluetooth connectivity with the ability to play favorite music through a speaker when on the move.
Practical Ideas
The weight limit is recommended for up to two hundred twenty pounds and the range boasts being for over ten miles whilst maintaining a good ten miles per hour speed. The sturdy hoverboard is built for long lasting durability.
Cost and Value
This hoverboard is offered with a great range of benefits including the competence and age range versatility, the appealing LED lights on the wheels and on the front, all combine to ensure that this fun and safe product is well worth the money paid for it.

Subscribe to our Newsletter