Best Glock Sights Reviewed & Rated for Quality
last updated:
May 23, 2019
The Glock doesn't really need any modifications or customization unless of course, you're one of the many who enjoys making your gun your own. With that said, the factory-issued sight leaves something to be desired. It can be difficult to look down the sights without the colors blurring together and ruining your visualization. That's where the diverse market of aftermarket Glock sights come into play. All of the choices on this list are great replacements. There's a wide variety of solutions to the problems exhibited by the factory sight, and this list is here to cover as many as possible. It can be a bit daunting trying to wade through the many types of sights so read on to find the best for you.
In a Hurry? The test winner after 7 hrs of research
Trijicon Bright & Tough
Why is it better?
Good visibility in different lighting
Long lasting warranty
Great colored front sight
Low profile
In a
Hurry? Editors choice:
Test Winner: Trijicon Bright & Tough

3
Interviewed Experts
16
Researched Sources
3555
Total Readers
17
Reviews Considered
7
Hours Researching
10
Products Evaluated
Materials
Durability
Versatility
Visibility
Portability
By Default
10 Best Glock Sights
1

. Trijicon Bright & Tough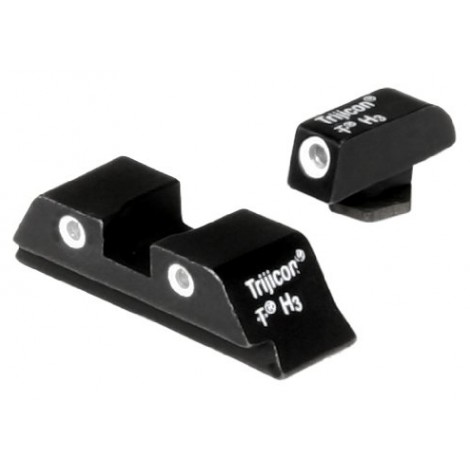 Good visibility in different lighting
Long lasting warranty
Great colored front sight
Low profile
The Trijicon Bright & Tough is a three dot sight from Trijicon. It is incredibly versatile due to being designed for duty use. As well as being designed for general use, the Bright and Tough is also designed for both instinctive and accurate shooting.
Versatile Aiming
The Bright and Tough is useful for any situation. It has painted circles for day use, but inside these circles are tritium filled lamps that shine in the dark. In the same way, the sights' low profile makes it good for instinctive shooting, while the iron sights are also defined enough for careful accuracy.
Long Lasting Durability
The tritium lamps are encased in an aluminum cylinder that is protected by a silicone overlay. The silicone is very effective at absorbing shock. Because the sights are designed with tritium there is also no need for a battery.
Cost and Value
The Bright & Tough is quite expensive for a set of Glock sights, but they are guaranteed to last any other son the market. They are remarkably durable, and effective in any situation. They'll fit in almost any model of Glock. On top of all that, these sights come with a twelve year warranty. That initial investment will last for a long time.
Good target acquisition
Easy to attach
Good price
Bright enough for the pitch black
The Truglo TFO Glock sight is a set that uses both tritium and fiber optics to give you the greatest advantage.
Tritium and Fiber Optics
Using both tritium and fiber optics make this a good choice if you plan on using it for general use. Fiber optics absorb light without bouncing it into your eyes or tricking your eyes. The tritium is good for low-light shooting because it will generate its own light.
User Friendly
The Truglo TFO is a good choice for all around, because of the many smaller features that make it easy to handle and set up. It has been designed with a lower profile that won't snag on your clothing or holster. Many people also noted that they didn't have to take it to a gunsmith to assemble it because of how easy it was to do themselves.
Cost and Value
The Truglo TFO has a slightly lower than usual price point. Not enough to notice over other sights that place in the middle of the pack price-wise, but still lower than most sights. It is cheaper than the Trijicon if that one's price had you sweating. It can come with yellow or green rear sights if you think having contrasting colors might help your aim. This is a very good choice if you plan on doing a little bit of everything with your Glock.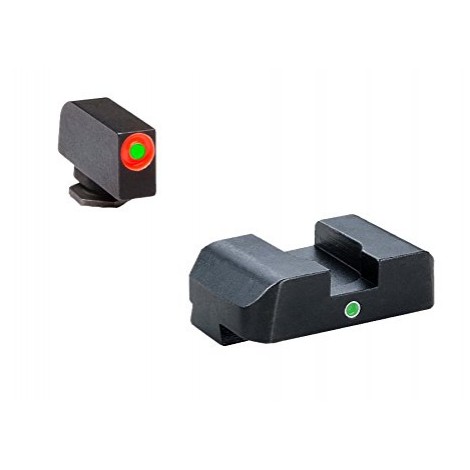 Easy to see
Can quickly line up sights
Very cheap
Good brightness
Can be less accurate at long distances
The Ameriglo Pro-IDOT doesn't use the traditional three dot sight seen in the last two sights and instead uses two vertical dots. This promotes instinctive shooting and quicker target acquisition.
Different Than Three Dot Sights
The Pro-IDOT uses a different ethos of targeting than the previous two entries on this list. Three dot sights are useful when you have the time to acquire your target, but your eyes can get conflicted focusing between the front and rear sights. The two vertical dots of the Pro-IDOT keep your eyes focused in the same place the entire time.
Speedy Acquistion
The Pro-IDOT makes it easier for your instincts to take over, which will help your shots go off quicker while staying on target. The eyes don't stray left and right to keep the three horizontal dots lined up, but instead are drawn to the large orange circle that surround the green tritium lamp.
Cost and Value
The Pro-IDOT also comes in at a much cheaper price than other items on this list. This is a really good budget choice for someone who is more focused on close-range speedy shooting.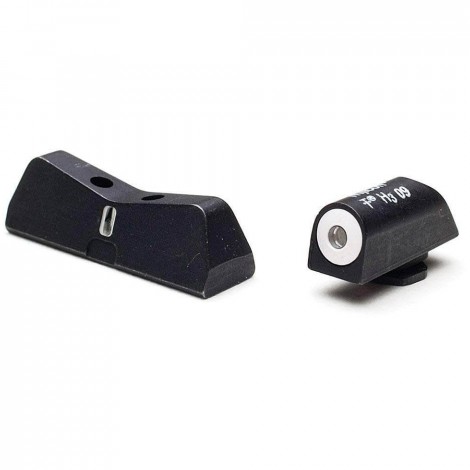 Very fast target acquistion
Good for low light and day light
Good lateral tracking
Easy to aim
Not as good at long distances
The XS Big Dot is another Glock sight that forgoes the three dot system for the two vertical dots. It has a few other tweaks that emphasize instinctive shooting even more than the Pro-IDOT.
Quick Acquisition
The Big Dot puts the most emphasis on quick acquisition among Glock sights. Just line up the vertical white mark on the rear sight with the eponymous big dot in the front and you are ready. There is also the rounded off and low profile rear sight. This makes it much easier to acquire a second target or follow a lateral moving target.
White Sights and Tritium
The white of the rear and front sights surround green tritium lamps. This makes this sight good for any level of lighting. The white paint does a really good job of standing out against the darkness of low light conditions.
Cost and Value
The Big Dot is a little more expensive than other Glock sights, but not enough that you will notice. It is pretty easy to assemble with the right tools. It also won't snag on your clothing due to the rounded edges. This is a really good choice for some one looking for a practical Glock sight.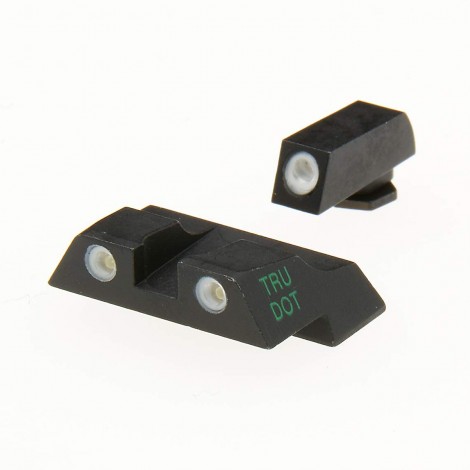 Tritium has great visibility
Much cheaper than the competition
Low profile
Very durable
The Meprolight Tru-Dot is the choice if you are worried about firing in low light conditions. The focus of these Glock sights are on durability. Their pedigree of being used by many militaries across the planet is proof that they can be used in many situations.
Brightest Tritium
Meprolight are a company focused on providing the best sights you could want. They use a special in-house process that makes their tritium lamps come out brighter than other competing Glock sight companies by housing them in materials that maximize their reflectiveness. They also use lenses to better focus the light given off by the tritium.
Durable and Versatile
The Meprolight Tru-Dot is made of durable steel to better handle the shock of consistent firing. Factory sights for the Glock will often break after hard use, but you won't have that problem with these ones. They're built to last through the shock of a firing pistol as well as the many environments you may have to bring a pistol to.
Cost and Value
This practical sight also comes at a practical price point. The Meprolight Tru-Dot comes at a much cheaper price point than many of the other sights on this list. It is closer in price to the Ameriglo. They come with a twelve year warranty, as well.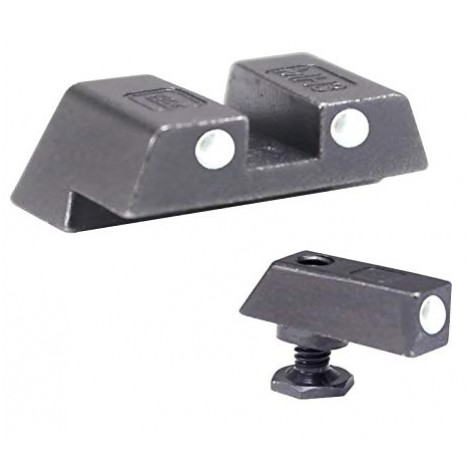 Simple installation
Simple presentation
Works well in dark environments
Affordable
No contrasting colors between rear and front sight
If you are looking for some simple sights for your Glock, then this is a great choice. They are very similar to the sights that come with your Glock, but now with tritium lamps in the three dot sight for use in low-light situations.
Simplicity
These sights work with no fuss. They are simple to install if you have the proper tools. This is because they come from Glock's part manufacturer. They'll fit any model of Glock. This would be a good choice if you are already used to the stock sights that come with the Glock, but need some more utility.
Colors
The white dots laid against the black metal casing of the sights are perfect for day time use. You may have some trouble without the contrasting colors found in other custom Glock sights, but the white will work in most situations. The tritium glows green in low light conditions and also stands out really well against the backdrop of darkness.
Cost and Value
Being factory issued sights, these sights come in at a very reasonable price. They're good value if you don't have much issue with the sights that the Glock came with, but just need a little extra versatility.
7

. Crimson Trace Laserguard
Easy installation
Lifetime supply of batteries
Easy to aim
Laser only engages when finger is on trigger
The Crimson Trace is a completely different sort of Glock sight. It uses a laser attached to the trigger guard for pin point accuracy. No aiming required on your part. As long as the laser is on the target, you should hit it.
Battery Life
The Crimson Trace's laser needs a battery to work. The battery will last for at least four hours. It does come with a lifetime supply of batteries. The battery will only be active while the laser is on. The Crimson Trace Laserguard uses a system where the laser will automatically activate when your finger is on the trigger and you're ready to fire.
Easy to Use
The automatic activation of the Laserguard means that you won't have to fiddle with the sight at all, which makes it very simple. It also benefits from having easy installation that won't require any outside help.
Cost and Value
Despite the fancier technology in use, The Laserguard comes at a comparable price to other Glock sights. It is easy to turn off the laser if you want to save power. The Laserguard is for people who want their shooting to be simple.
8

. Lasermax Guide Rod Laser
Easy installation
Turns on automatically
Won't need to buy a new holster or other accessories
Easy aiming
May degrade over time
Pricey
This is another kind of laser sight that fits inside your Glock. This has many advantages over other Glock sights.
Unobtrusive Design
Because the Lasermax Guide Rod fits right into the Glock's slide, the Guide Rod keeps your Glock feeling like your Glock. It is very lightweight to keep the weight similar to what you are used to. The profile of you Glock will also remain the same. It can also be easily installed without the help of a professional.
Easy to Use
The laser of the LaserMax doesn't need any extra alignment. You can just install it and then it is ready . The laser will only activate when you lift the gun so don't worry about having to turn it on or off.
Cost and Value
This laser sight is more expensive than all the other sights on this list besides the Trijicon. It does come with a thirty day warranty, but that is a quite a bit shorter than other guns on this list. When the LaserMax works, it works really well. This one is for those who want something unobtrusive and simple, but also with a little bit of extra money to burn.
9

. Vogel Dynamics World Champion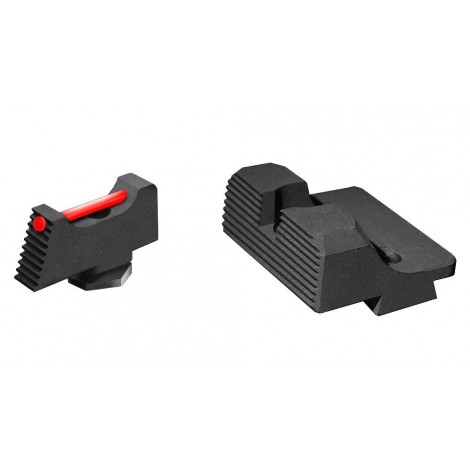 Well balanced between speed and accuracy
Good reduction of glare
Reasonable price
Good customer service
Designed for day use only
Can be hard to assemble
These Glock sights have been designed by someone who shoots competitively. Because of this, these sights are designed with speed and the range in mind.
No Reflection
This is the first entry on the list that only uses fiber optics to help with your aiming. Fiber optics are designed for day time use because they absorb light without distracting reflection. The other thing keeping you from being distracted by reflected light is the ridged rear sight that stops glare with its textured surface.
Quick and Accurate
You have to be both quick and accurate at the range to win. The World Champion is designed with both of these in mind. The fiber optic is reliable and contrasts against the black of the rear sights very well. It is placed extra high on the front sight for maximum visibility. The rear sights are also set extra wide to help the eyes reset your aim after each shot.
Cost and Value
The World Champion is on the cheaper side. You will get very good results out of this Glock sight if you are a range shooter or a competitive shooter. Another nice thing about these sights is that the customer service is widely considered to be very good.
10

. Dawson Precision Fixed Charger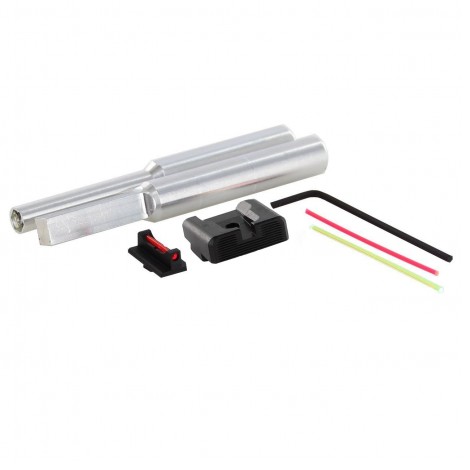 Quick target acquisition
Designed for one handed use
Affordable
Can be used for precision aiming as well
Only works in daylight
Can be difficult to install
The Dawson Precision Charger is another sight set designed for competitive shooting. This means that it aims for a balance between speed and accuracy.
Competition Shooting
The Dawson Precision set also uses fiber optics and is designed for indoor or outdoor range shooting. The fiber is a good level of brightness for indoors as well as outside. Having a single point to focus on allows you to shoot more quickly and without distraction.
Beyond Competition
Although it is mostly designed for the range, the Dawson Precision Charger set still has a few tricks up its sleeve. Most competitive pistol shooting is at a bit closer range, but this set's front sight is a bit more narrowly framed by the back sight. This makes it capable of precision firing as well. It also has a ledge on the back sights that make it possible for one handed movement of the slide.
Cost and Value
This set is a bit more expensive than the Vogel Dynamics World Champion, but still on the cheaper side. It is a good choice for people who spend most of their time at the range, but would still like some more dynamic features like precision aiming.
Criteria Used for Evaluation

Materials
The distinction between the materials that make up Glock sights is an important one. The sights can be made up of tritium, fiber optics, or lasers. The housing for those materials is often made up of steel or plastic. There are different levels of quality among those materials. So even if you think you have found a set of sights that look good on paper, the actual quality of the materials making them up can have quite a variety.
For example, the brightness of the tritium within a Glock sight can depend heavily upon how the isotope is housed. Some metal Glock sights can rust, as well. All of the sights on this list should hold up, but always double check the reviews.

Durability
The firing action of a Glock is snappy. You want to make sure that the sight that you choose is well-designed for repeated use. This will keep you safe, and will also save you some money. The reason many people have to buy aftermarket sights is that the sights that come with most Glocks are made of cheap plastic. This means that your replacement should be made of tough metal that won't dent or bend even if it is dropped on hard ground. There are other parts of your sights that need to be tough enough for the rigorous motion of gunfire. The tritium lamps of the sight that you choose should be reinforced by aluminum as well.
Glock sights will almost always do a great job the first time around, but what makes a great sight is the ability to withstand heavy usage so that it works like new when it is most needed. A Glock sight's ability to stay consistent relies heavily on its durability. Look out for things like the brightness of the tritium lamps, which can dim over time, or plastic pieces of the sights that might shift when exposed to the heat of constant firing. Most importantly, it is quite common for the sight to shift from the shock of the recoil, which will ruin your aim. This is especially common with fiber optic sights because of their more discrete nature.

Versatility
If you use your Glock for a specialized purpose then it would probably be best to get a specialized sight. There are sights that are specifically for close quarters firing. There are sights that are specifically for competitive range shooting. There are also sights that are specialized for precision. However, if you plan on only owning one sight then it might be best to find a sight with features that will be helpful in any situation.
This feature is one of convenience that really saves you some time when it comes to using your new set of sights. Try to find a set of sights that is still effective for aiming during the day as well as during the night. Tritium lamps don't glow during the day, so they won't impede upon your ability to see during the day with unnecessary brightness, but the sights that you get should have some kind of back up targeting system that is effective during the day. Fibre optic sights will often do a good job of this. They are often considered the best sights for day time shooting because of the way they absorb light. If the sights you get don't have fibre optics, that's totally fine. As long as there is some kind of painted targeting system that effectively allows you to tell the difference between the front and rear sights, then you should be fine.

Visibility
This is especially important for lower light situations. When looking at Glock sights, make sure to note what kind of lighting settings they are designed for. Some are designed with all day and low light settings, while others are specific to only one. Fiber optic sights are best for day time use, as they bend light in a way that makes sure you won't be getting tricked by your sights. Tritium sights are best for darkness because they generate their own light so they work all the time.
A good set of Glock night sights will make it possible for you to effectively acquire targets and aim your pistol at nighttime. Make sure that the sights that you buy use tritium lamps. Tritium lamps are the most effective type of night vision that can be currently found on the market. Tritium lasts for around twelve years and should be more than bright enough for that entire time. A good glow off the tritium lamps will also be provided by the type of phosphorescent paint that surrounds the sights. This will increase the visibility of your sights during nighttime. Another thing that will help your nighttime target acquisition is the ability is the contrast in brightness between the front and rear sights. This will better allow you to distinguish the front sight from the rear sight.

Portability
Having a low-profile Glock sight is important for multiple reasons. When it comes to the act of firing, having a low-profile sight will help you have a better awareness of your surroundings without any obstructions. Portability is also important because you want lightweight sights that won't impede on your natural firing form. Lastly, look for sights with rounded edges or internal design so that it won't snag on your holster or clothing.
Expert Interviews & Opinions
Most Important Criteria
(According to our experts opinion)
Experts Opinion
Editors Opinion
Users Opinion
By Default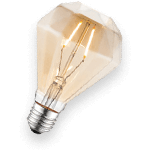 Decisions, Decisions
Glocks are universally acknowledged to be a great option for conceal carry weapons. They are typically made from very durable materials that lends well to the resilience of the weapon , especially in comparison to other metal framed options. Because Glocks are mostly made from hard plastic materials, it is important to make sure that any of the accessories you purchase for your gun are made from the same material or at least one that is of the same weight. You don't want your sight to weigh down your Glock! They don't necessarily need to be made of plastic (because this isn't as durable of a material), but a metal like aluminum is a fairly light option that won't add too much weight.
A Little Bit of History
When Glocks were first manufactured in the 1980's, they were poorly received mainly due to the plastic frame of the product. People didn't think they would be a durable or resilient handgun option. As time went on, however, and the Glock repeatedly performed well in both reliability and safety tests, consumers began to warm up to the idea of the Glock being a reliable pistol option. The Glock is actually now the most profitable weapon that the most profitable line of products for the company. The armed forced, security guards and police forces in 48 countries around the world currently use Glocks as their weapon of choice. They're also a popular firearm choice with civilians for both recreational and competitive shooting.
Other Factors to Consider

Accuracy
The chief thing determining the effectiveness of your Glock is how accurate it is. The accuracy of a Glock is determined by a few things. You want to look for an effective aiming system. On this list there are both three and two dot systems. These are both useful for different reasons. A three dot system will give you the ability to take your time and line up the perfect shot, while the two dot system is better for quick target acquisition. Another thing that is useful for improving the accuracy of your shots is to find a proper contrast between the front a back sights. This contrast can be one of color, one of differing levels of light, or even different sizes of dot.
This is probably the whole reason you are in the market for a new Glock sight. All the sights in this list will work as advertised, but it's always good to make sure of a few things. Depending on the tightness of your fitting, Glock sights may start shooting off target over time as they are shaken loose. How often you might have to recalibrate your sights should be something to look into. It really shouldn't be that often at all. Another important thing to keep in mind when checking for accuracy is that there is always a competition among Glock sight makers to balance speed and accuracy. Three dot sights will give you the most precise shot, but the common trend in thought is that they can also slow you down as you spend all that time making sure your shot is just right.

Speed
The speed of your target acquisition will be really important when you are in real firing scenario. There area few things that will help you pick where you want to shoot quickly and effectively. The first is the type of targeting system your sights have. Two dot systems are known for being faster at letting you aim. This is because your eyes have fewer things to focus on. Another thing that will help you pick a target quickly is having a low profile set of sights. This means that you'll be able to exercise your peripheral vision while you are shooting so that you can better scan your environment for new targets.

Compatibility
This point may be an obvious one, but it is also the most important. There are many versions of the Glock so make sure that you buy sights that are compatible with your model of Glock. Most of the products on this list are compatible for every kind of Glock, but as that list gets longer, it gets harder to accommodate every kind of Glock. The other important thing to remember when double checking the compatibility of the sights is that the more custom pieces you have attached to your Glock, the more you should be careful about the sights that you buy. This is especially true if you have a custom slide, as most of these sights are attached through that.

Color
The color of your sights can be surprisingly important. Sights often come in colors like white, red, yellow, or green, with some appearances from colors like orange or blue.The ones that you should choose is mostly base don personal preference. The most important thing about the color of your sights is that you are trying to speed up the time it takes for your eyes to focus on the front sight. Two major things help with this. One is the size of the dot on your front sight. The larger the dot, the more naturally your eyes will be drawn towards it. The other important thing to keep in mind is choosing sights with contrasting colors. Once again, this has more to do with personal preference, but choosing a sight with multiple colors will help your eye pick out the front sight. Sometimes having multiple sights of the same color will create a blurring effect towards your eyes that will make it hard to aim.

Value
So many companies selling Glock sights offer great warranties so it would be in your best interest to go with a company that offers one. Many of the sights that feature tritium lamps offer twelve year warranties as that is how long the brightness of your sights should last. With warranties as expansive as that, it would be remiss to go with anything less. Other sights will offer other interesting incentives in their warranties. Some laser sights will offer a lifetime supply of batteries with each purchase. Fiber optic sights don't fade, but many of them will also come with longtime warranties.
Frequently Asked Questions
q:

Which type of material should my Glock sight be made of?

a:

There are three major types of Glock sight that you will have to choose between. These are tritium, fiber optic, and laser sights. They each have their own distinct advantages.

Tritium sights are created by using small chunks of the radioactive isotope tritium and then housing that inside a glass case. This is then housed in some kind of reinforced metal to keep it secure and safe. Finally, phosphorescent paint is circled around the glass or on top of the glass, which then gives off its own self-sufficient brightness. Tritium sights are a very popular choice among gun enthusiasts because they create their own brightness.

Fiber optic sights are made of the cabling that has become so popular for internet. They are so impressive because of how well light travels through them without reflection. This means that the light will travel down towards your eye without reflection or distraction. Because they need an outside light source, fiber optics are the best choice for day shooting. Getting a combination of tritium and fiber optic is totally possible as they do not interfere with each other, and this method is actually recommended if you are looking for that extra bit of versatility.

In many ways, laser sights are the easiest to use. They are as easy as just picking them up, aiming, and shooting. The laser will point at what you are shooting without having to use your eyes. Many laser sight will automatically detect your grip and so only turn on when they are in use, which further adds to their convenience. The issue is mostly with their reliability. Even the strongest lasers have a maximum range that they are effective up until. The other issue is the battery, which can give out at any time. Laser batteries will last you for more than a year in most cases, but it can be hard to know when they will give out.
q:

Which sights are best for what?

a:

There are a few types of aiming systems present in this list, and each has a specific strength. These are the three dot sight system, the two dot sight system, and then there's also a single dot.

The three dot system is the class set up for a Glock sight. It has a single dot on the left and right wings of the rear sight, and then a single dot up front on the front sight. The way this works is that you are meant to line up the three dots horizontally with the front sight centered on your target. These sights are meant to be used for more precise shooting. Take as much time as you need with these sights and your shot will be right on target.

The two dot system seen with a couple sights in this list puts a little bit more emphasis on speed. It is a bit of a median between the three dot and single dot. This sight works by lining up two dots vertically from the front sight to the rear sight. This one still has the 3D element of the rear sight dot, but it lacks the extra help of the lateral aiming. It will allow you to fire off your shot a bit quicker because of the lack of multiple dots to focus on.

The single dot system is seen mostly with sights used competitively. It will accomplish the most speed-wise, simply because the system is so simple. Focus on the front sight, make sure it is lined up with the two wings of the rear sight, and fire. This sight is mostly for close range, but more importantly, it is for those who already have some experience with aiming and firing guns.
q:

What do I need to know about installing Glock sights?

a:

Installing your Glock sights can be a bit of a daunting endeavor. It is totally fine to go to a gunsmith to have them install them for you. In fact, if you are not confident in your handiness it might be recommended to go to a professional. If you think you can do it yourself then here are some tips to help you out.

Insert your sights into the slide after it has been removed from the Glock. Also make sure that your Glock is completely unloaded. You're gonna want a sight pusher to push out the rear sight. You can also use a punch, but it is somewhat likely that you might damage the sight, especially if it uses tritium sights. Lastly, with the rear sight you may have to file the sight down to fit flush with the insert. Make sure to always file the sides of the sight so that the accuracy of the sights doesn't get skewed.

The front sight should always be installed with the screws it came with. When you buy custom sights they should come with their own screws. Using some thread locker on the front sight's screw might help give you a tighter fit.
q:

How do you aim with a sight?

a:

The best way to aim your Glock sights is to focus on the front sight. From there, try to line that front sight up with whatever indicator there is on the rear sights. You will also want to place the front sight between the wings of the rear sight. It should be a perfect fit from your eye's perspective. Many sights are designed to help you aim instinctively. In a way, the less focus the better.
q:

What is tritium and is it safe?

a:

Tritium is an isotope of hydrogen. It is frequently encountered in nature. It glows green without any outside light source or movement. Tritium is used in Glock night sights because of its ability to give you a constant glow for a long period of time. Tritium is a very useful material to have around. It will last in your sights for around twelve years. This is because it's half-life will eventually expire and the isotope will degrade. Don't worry about it being dangerous because it is held within the sapphire lamps that keep it secure inside the night sight. On top of this, tritium is totally safe if touched. It doesn't emit enough radiation to get through your skin. The only thing you should worry about is if you eat it by accident. Call poison control if this happens.
Subscribe to our Newsletter