Best Generators Reviewed & Rated for Quality
In a Hurry? Editors choice: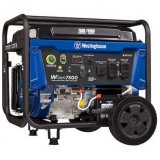 Test Winner: Westinghouse WGen7500

Generators are a great source of electricity when you're moving around in your RV, outdoor camping, or when the main grid power goes down. With
portable generators
, you'll still be able to and charge your appliances and devices regardless of whether you have the main power or not. We've compiled a list of the best options currently on the market. On our list, we've shown you different types of generators, including low-duty to heavy-duty lists to cover all your power needs. Following that, we've created a buying guide to help you figure out which generator suits your lifestyle the best. Lastly, if you have any questions, you might find them being answered in our frequently asked questions right at the end.
Standout Picks
Criteria Used for Evaluation
Ease of Use
When you're looking for a new generator or whether you're looking to replace your current one, it's important to factor in how it'll be used according to your skill level. If it seems like the generator might be too complicated to use, then the upkeep of the generator might be difficult for you.
So, you can look at certain features to ensure that you will have an easier time using and maintaining the generator. These include tech-based features, fuel tank capacity, and noise levels.
Tech-Based Features
Technology is continually advancing, which means that all the fields that use technology are having to keep up with this rapid change. These new features are then reflected in the latest version of generators. Some of the features are:
You can start your generator when you are meters away.
Receiving a warning when the oil levels are low or in some case allowing the generator to shut down if the oil levels get lower than the recommended amount.
Tank Capacity
Some generators have a LED display to show how much fuel is left and how much you have used, so that you may know how to use the remaining fuel efficiently. Others are now programmed to automatically adjust themselves so that the fuel isn't wasted but used effectively. This feature will help when there is a blackout or when camping and you have to use the fuel carefully.
Noise Levels
Some of the older generators used to make a lot of noise however with the advancement of technology there are generators nowadays that make little to no noise. Generators making little to no noise are great camping in an enclosed area or even if there are people living nearby. The less noise the generator makes, the more it's going to be preferred by people.
Portability
Occasional or Everyday Use
Whether you're frequently traveling or you take occasional trips in your RV, you need to have a generator that is there whenever you need to have power. You will need to take additional upkeep and maintenance in order for it to always be ready when you want it to me. But, after that's done, you'll continue to have a reliable source of power ready for you whenever you need it.
Emergency Situations and Power Outages
If you reside in an area which has a history of suffering from adverse weather conditions or frequent blackouts, then a generator can help to provide you with hours worth of power while you wait for yours to come back. It simply means that you won't have to go without modern conveniences.
Lightweight and Portable Power
In the modern world, connectivity is everything. Having a source of power can allow you to access anything from anywhere. For example, if you're on an RV trip and you need to run appliances or power up electronics, you need to have power. Portable generators give you that ability without taking up too much of precious space.
Durability
Portable generators can serve as various things in a home. However, where and how you intend to use the generator can determine the power rating that you need to get. The power requirement for homes is different to that of a construction site or on a camping trip. For each situation, you'll need to have generators with different power settings.
Appliances are usually rated in their running and starting wattages. The running watts are the amount that's needed to continuously run the appliance. The starting watts are the amount of power that is necessary to initially start the appliance. Power consumption is usually the highest at the starting points.
Size
Generators often simply come in two basic types, which are standby and portable. In addition to those, there are also inverters, which are not generators but they are able to meet your needs. The source of your backup power simply depends on the factors which you choose are important along with your power requirements.
Standby Generators
Standby Generators typically run around 7,000 to 20,000 watts in order to offer your home and/or business with 24/7 blackout protection. They are programmed to automatically provide power until the outage is over. These types of generators are professionally installed. They draw their supply of fuel from an existing line of propane or natural gas. Standby generators can cost anywhere between $1,800 to $40,000, plus they require professional installation along with permits.
Portable Generators
Portable generators are best used to supply limited power for leisure (like tailgating and camping), job site power, or emergency storm power. For these, it's important for you to consider mobility, size, runtime, and wattage when choosing which generator is best for you. Portable generators can often range anywhere from 1,000 watts to 10,000 watts. Their prices can then range from $100 to $3,000 on the wattage capabilities, special features, and brands.
Inverter Generators
Lastly, there are now inverter generators. These are mainly ideal for RVing, boating, camping, or tailgating as they have smaller wattage capabilities. However, due to their clean power, efficiency, quietness, and size, they are becoming more and more popular. Typically, these generators can range from 800 watts to 3,000 watts. Their prices can also range from $200 to $3,000.
Water Resistance
You'll find that many generators are not waterproof. Some might not even state whether they are waterproof or water resistant in their product descriptions. So, many generator owners choose to buy high-quality water resistant covers for their generators.
This way they are able to protect their generators from the elements without having to worry about sun, rain, snow, or wind damaging the generator. You should also strive to place it in a place where they are partially covered.
10 Best Generators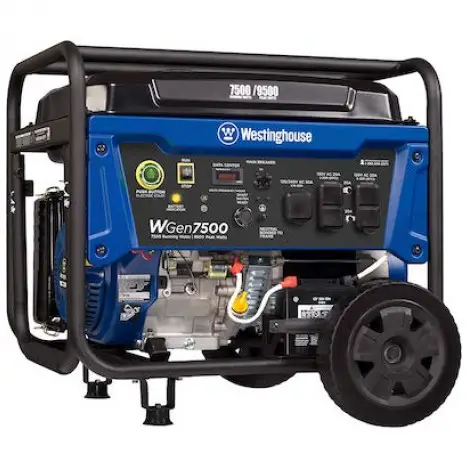 Westinghouse's has been known to create high-quality portable generators for over 130 years. The WGen7500 makes it easy for you to use a generator. With its one-touch push button electric start through the included remote, you can quickly start up your generator. In addition to its features, it also requires easy maintenance once in a while.
Remote Electric Start
WGen7500's remote start key fob allows you to save time when starting up your generator. It also offers you a more convenient way to do so. You can use the key fob to start the generator from up to 109 yards away.
Transfer Switch Ready
It features a convenient L14-30 30A 120/240V outlet that allows you to integrate your home through WGen7500's transfer switch. The twist lock outlet allows you to easily power all the necessary appliances whenever you need them.
Cost and Value
Westinghouse is a trusted name in the electric product market. They've built their reputations through excellent service and quality craftsmanship over the years. In terms of this list, the Westinghouse WGen7500 comes at fifth place with its price.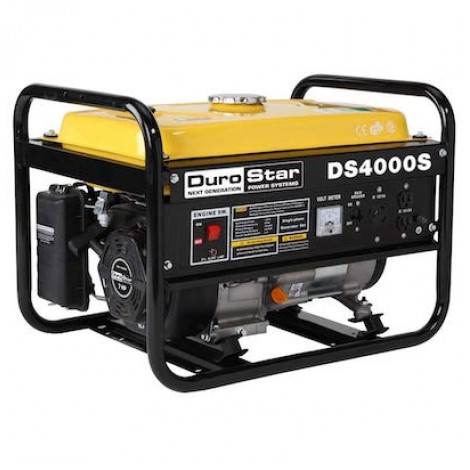 DuroStar DS4000S generator uses a seven HP air-cooled OHV engine that pumps out a total of 3,300 running watts and 4,000 surge watts. It's a rugged power machine that's ideal for a variety of uses, from getting you through a power outage to running your power tools on your remote projects. The heavy-duty steel frame of the DuroStar DS4000S, you can eliminate rattle, which then allows for a quieter operation.
Full Power Panel
The DuroStar DS4000S is equipped with a full power panel, which makes it easier to use the recoil start. The power panel also comes with power outlets, voltmeter, circuit breaker, and warning light indicators.
Low Oil Shut Off
The DS4000S comes with a low oil shut off features that prevent any damage from being caused to its 7 horsepower air-cooled engine when you are running low on oil. It also has a 4-gallon gas tank which allows it to be run for 8 hours at half load.
Cost and Value
The DuroStar DS4000S is an efficient and affordable option for anyone. It is ranked at the number one place in terms of its affordability due to its price and versatility.

3

. Briggs & Stratton Q6500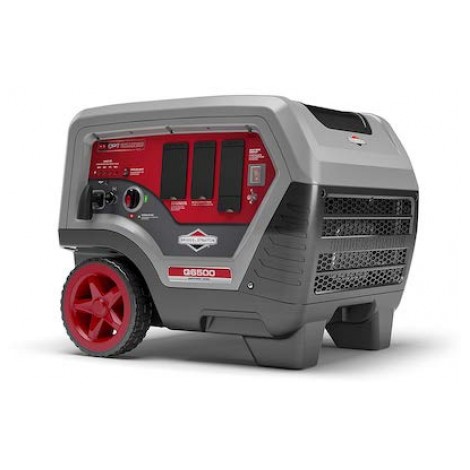 Developed to offer you with a reliable source of power during power outages and emergencies, the Briggs & Stratton Q6500 Inverter Generator. In comparison to its competitors, the Q6500 is 30% lighter, 45% more compact, and 60% quieter. It is full of cutting-edge features that put it above its competition and place it firmly on the list of the top inverter generators.
Highly Efficient Engine
The Briggs & Stratton Q6500 features a highly efficient 306 cc. air-cooled 4-cycle OHV engine. It also has a gas tank of 5 gallons, which allows it to provide fourteen hours of run time at a quarter load.
All Steel Frame
The all steel frame of the Q6500 keeps the internal components of the generator protected while also helping to minimize the noise level. The compact design also makes it easier and lighter to move this around.
Cost and Value
The Briggs & Stratton Q6500 Inverter Generator is designed to offer all the primary needs of a house backup power. However, with its price being quite high, it is ranked number ninth on our list according to its affordability.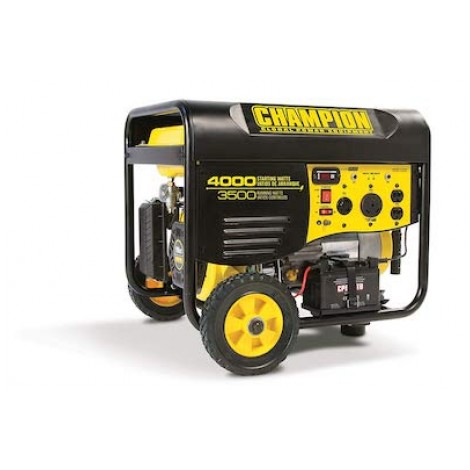 The Champion 3500 Watt Portable Generator is a powerful generator that can be a great addition to your RV camping trips. In addition to it being a semi cost-effective, it's a convenient solution for emergency situations, like power outages. The 4000W starting power and 3500W running power are enough for you to be able to power multiple applications at once.
Reliable 4-Stroke Engine
Champion 3500W's engine is a reliable 4 stroke OHV single cylinder. It runs at 3600 RPM on a 6.5 horsepower engine. With a full tank of gas, capacity of 3.8 gallons, running at half load, you can get up to 12 hours of power.
Remote Electric Start Button
The Champion 3500W comes complete with a remote start button that allows you to start and stop the generator from up to eighty feet away. It also features an electric start button and the regular recoil.
Cost and Value
In terms of affordability, the Champion 3500W ranked at number three on our list. Though it might not be the most portable option, it comes with wheels to offer it some semblance of mobility.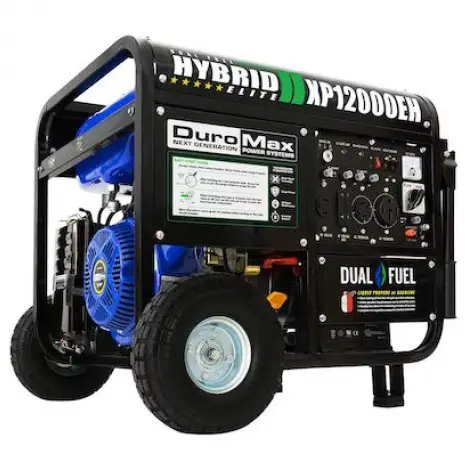 The DuroMax Hybrid Dual Fuel XP12000EH is a big investment, but if you're in the market for a lot of power, then this generator has plenty of it. It has 12,000 peak watts and 9,500 running watts which allows you to power your home if you need it as a backup power source. It can run for around 48 hours when it's being run at 1000W load. It is quite heavy, but with the pull handle and wheels, it does become more portable.
User-Friendly Operation
The overall operation is actually quite user-friendly in comparison to some other models. It features an electric start but also has a backup recoil starter. The engine also shuts down automatically if the oil level gets too low.
Reduced Noise
It's very unlikely for a dual fuel generator of this size to be very quiet. However, the spark arrestor and muffler reduces the noise considerably. Though it doesn't meet California's strict emissions guidelines, it is EPA approved for use in the National Parks.
Cost and Value
In terms of the affordability, the DuroMax Hybrid Dual Fuel is ranked on eighth place. Though it is on the fairly pricier size, the sheer capacity of this generator ensures that it will last for a lot longer.

6

. Honda EU2200i 2200-Watt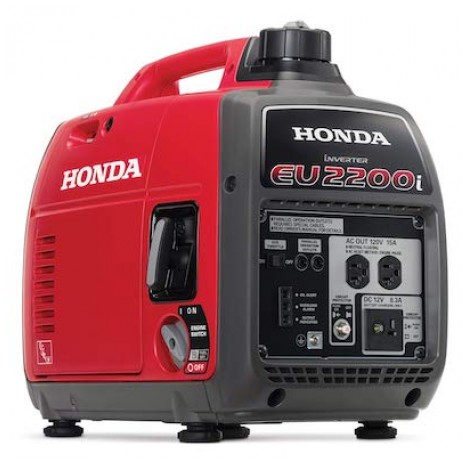 A popular choice among RV owners, the Honda EU2200i allows users to run various appliances at once while you are on a working job site, at home, or even on your travels. As it states, it's an extremely quiet generator, which means that you won't disturb your neighbors when you turn it on. If you need additional power, then you can simply hook up around EU2200i.
Eco-Throttle
Honda's EU2200i Super Quiet Portable Inverter Generator you get great fuel efficiency. Depending on the load, it can run up to 4 to 9.6 hours on a single tank. This makes it great for long-time applications or overnight power.
Inverter Technology
The inverter technology used in this Honda EU2200i means that there is clean, stable power in a lighter, smaller package. The precision of this technology ensures that the power produced is just as reliable as your home outlets.
Cost and Value
In terms of the affordability, the Honda EU2200i is ranked at seventh place, but it sure packs a punch for such a small bodied generator. The power that it can produce at that level of quietness, is unbeatable.

7

. Pulsar 5,250W Dual Fuel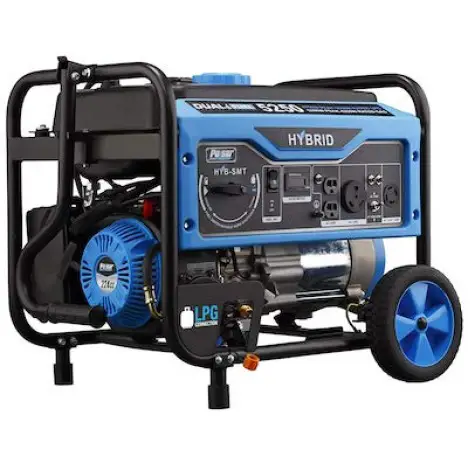 The powerful portable generator by Pulsar features a 224cc engine that can handle more than twelve hours of continuous operations, even at half load. This makes it perfect for those that have bigger energy needs. It comes complete with a built-in 'Switch & Go Technology' that allows you to switch between Gasoline and LPG with easy.
Switch & Go Technology
Along with its recoil pull start capabilities, the Pulsar 5,250W Portable Generator comes with the 'Switch & Go Technology' that allows smooth and seamless transitions between gasoline and LPG fuel sources.
Mobility and Easy Storage
The Pulsar 5250W is designed with two never flat wheels and a fold-down handle to increase mobility along with adding additional storage. It also features a 3-in-1 digital meter, low oil indicator, and low oil shutdown - leading to fewer worries for the user.
Cost and Value
In terms of the affordability, the Pulsar 5250W is ranked at number fourth place with a decent price and size which make it worth the price it's set at.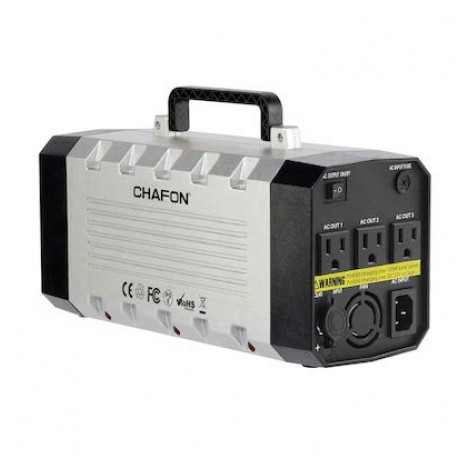 If you're looking for a handy generator that will be good for emergencies, outdoor use, power outages, and blackouts, then the Chafon Portable Generator 288WH Backup Battery Pack is a great option. It features a 110V AC output and a 12V DC input. The Chafon Portable Generator can generate around 5900 watts to power small items, such as small refrigerators, fans, game consoles, cameras, phones, small TVs, laptops, and more.
Built-In Surge Protector
The Chafon Portable Generator comes complete with a built-in surge protector which helps to keep your electronics and devices from undercurrent, over current, under voltage, and over voltage.
Compact
It designed with compactness in mind. At 7.36 lbs., it is also the lightest model on our list. It is easy to use and very silent which makes it a great all-rounder.
Value
In terms of affordability, the Chafon Portable Generator is ranked at second place, which means that it's definitely on the lower end of the pricing scale. It's also quite small and mighty, which make it worth its price point.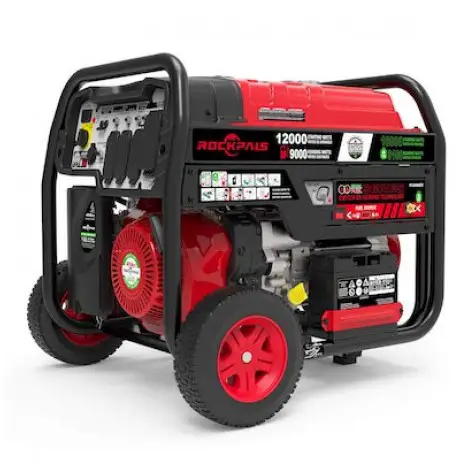 For a fuel generator that meets all of your backup power needs, the Rockpals 12,000W Dual Fuel Portable Generator is the way to go. Whether you are at your RV, a worksite, or at home during an outage, Rockpals 12,000W generator has you covered. The versatile generator can run on propane or gasoline, plus allows you to switch between both easily. On gasoline, it has 12,000 starting watts and 9,000 running watts. On LPG it has 10,800 starting watts and 8,100 running watts.
Oversized Muffler
The Rockpals 12,000W features an oversized muffler that helps to reduce it's noise, thus resulting in a quieter operation. It has a noise level of 78 dBA from around twenty-three feet away.

Safe and Reliable
It is designed to be as safe and as easy as possible for you. The Rockpals 12,000W features a user-friendly that is as simple as starting up a machine. The solid tires are also ensured to never run flat.
Cost and Value
In terms of affordability, the Rockpals 12,000W Dual Fuel Portable Generator is ranked at sixth place due to its price. Though it might be higher up in price in comparison to some models, the Rockpals version does have a lot more power to offer, therefore making it worth its price.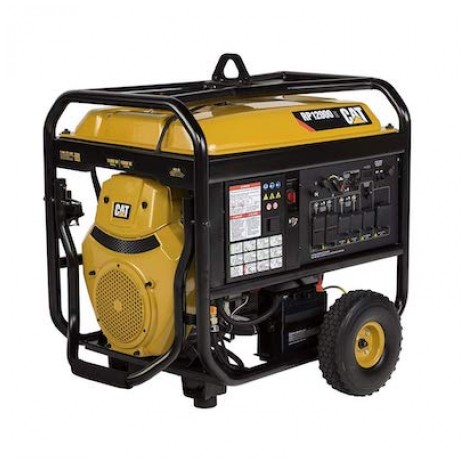 For those that are looking for a portable motor, the CAT RP12000E Gas Powered Portable Generator is a great option to look at. First and foremost, it comes from a company that's well-known for making some quality construction equipment. In addition to that, it has 15,000 starting watts that let you power all your major appliances while the 12,000 running watts keep the engine from overheating.
Usage
The CAT RP12000E Generator is ideal for those who want the flexibility and features that portable generators offer them. This generator can help you keep running AC units, furnaces, hammer drills, air compressors, belt sanders, table saws, and more.
High Fuel Capacity
The generator has 13.2-gallon fuel capacity, that has a run time of 11.7 hours at half load. It features a 670 v-twin engine along with 9 covered outlets and 120/240V outlets.
Cost and Value
In terms of affordability, the CAT RP12000E Generator is ranked at the number tenth (last) place. This is simply due to its high price, which makes it the highest product on our list. However, it does have a lot to offer you.

Subscribe to our Newsletter