Best Food Steamers Reviewed & Rated for Quality
In a Hurry? Editors choice: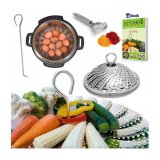 Test Winner: Kitchen Deluxe

There's nothing quite like a good batch of steamed veggies, is there? Who needs to fry or broil, when a good round of heated air will do the trick just as efficiently? And on top of that, steaming is one of the healthiest means of cooking out there, needing no oils or grease in order to cook the food that you're making. But of course, steam doesn't just grow on trees, and it doesn't come ready-made like a grill when you buy a house, so not a lot of people do it. So, if you're ready to take your cooking to the next level of health and flavor, then read on, as we count down our top 10 food steamers list.
Standout Picks
Criteria Used for Evaluation
Capacity
Cooking space
With any piece of cooking equipment, the main criterion for evaluation is obvious: how much food can this thing cook at one time? A few veggies? Some chicken? A whole meal? Two? These are the questions you should be asking when evaluating this for yourself. The cooking space a steamer offers depends on the type of steamer you're working with. A steamer meant to be put on top of a cooking pot, for instance, is going to house a lot more room than the kind you put in a mini steamer machine. But even so, standards must be kept. And this is why little innovations, such as #10's ability to widen the cooking space by joining the two tiers together, went so appreciated. So, when you look at a steamer that you're interested in buying, ask yourself the kind of meals you're actually going to be cooking in this thing, and then ask if it can handle that.
Water amount
Steam is a bit hard to make effectively without enough water to vaporize. If you're using a plain old straining steamer, then you don't have to worry about this, just make sure to put enough water in the pot as is said to be necessary for the cookbook, then get to cooking. But for automatic steamers, there's usually a water tank that holds the water for when you switch on the cooking mechanism. Usually, this water tank will hold about a liter of water, sometimes more, sometimes less. When buying this sort of heater, always make sure that the water level is at a good amount. Otherwise, the cooking will stop prematurely. This is why a popular method for auto food steamers is to have some kind of indicator that the water is running low. Whether it's a see-through glass window, or a light that goes off, most automatic steam cookers will be more than happy to let you know when they need a refill.
Ease of Use
Ease of use
Not everyone knows how to steam because steaming food is still technically seen as a niche activity in the cooking world. This is mostly thanks to homes having cooktop stoves and grills by default, which is what most people use and thus don't really use steamers. Because of this, a steamer can often live or die based on how easy people find them to actually use. This is why electronic steamers are so popular because they often have pre-programmed settings for the various foods you're meant to cook in them. And if they don't, they'll usually come with a handy guide or even a cookbook that will help you figure out for yourself how to steam various foods. Ease of use is one of the most sought-after criteria for most people when dealing with food steamers, and for a good reason.
Startup time
Steaming food, based on the food you're steaming, can take a very long time. This is normal, as a lot of food needs that nice, long, even cook time to get the right amount of tender. Meat that you slow cook for a few hours will come out "fall off the bone" soft. However, that's the time of the actual cooking. What shouldn't take so long is the windup time or the time it takes to get the entire steamer to the same even cooking temperature. With some steamers, this can actually take a minute, or even several minutes, which might be a bit longer than you're willing to wait for just to have some steamed veggies. As such, we looked for entries that took under a minute to start up, because when you're steaming some clams for lunch at work, you don't want to wait longer than you have to.
Value
Price
The final criteria we reviewed for this list was the price of each item. Because of the various different types of steamers, there are out there, there are of course varying prices depending on the kind of steamer you're looking for. If you're on a really tight budget, then we recommend going for the plain strainer steamers, as those tend to be the cheapest kind out there. If you have a bit more money to spend, though, we recommend going for an electric food steamer for the convenience.
Top 10 Picks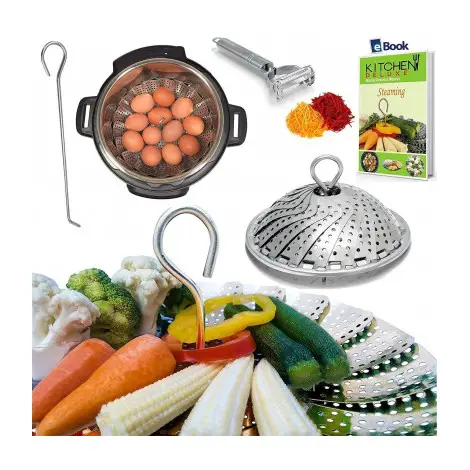 Kicking off our list, we have the Kitchen Deluxe Premium Vegetable Steamer Basket. Some food steamers give you the materials and just leave you to it, trusting you to know how to work google in order to figure out the recipes. And while that's not an unfair assumption to make, it's still appreciated that this one gives you a cookbook along with the steamer. So, what does the steamer itself do? Let's find out.
Complete bundle
Not only will you get a complete cookbook, filled with all the recipes you can make at home with your food steamer when you buy this deluxe bundle, but you'll also get a free safety tool, as well as a free peeler. So, when you buy this steamer, you can trust that you're set and ready to get cooking.
Perfect fit
The great thing about steamers is that the racks they include can be used for almost anything. Hard boiling eggs? Stick the rack in the pot, so you don't have to get your hands too close to the boiling water. It can be a strainer, a colander, or even a trivet. And it's as simple as running it under some water with maybe some light scrubbing before it's ready to be used again.
Cost and Value
The price of this item is rather average for a food steamer of this size. But when you take into account all of the peripheral items that you're also getting in the bargain, it becomes a much better deal as a result.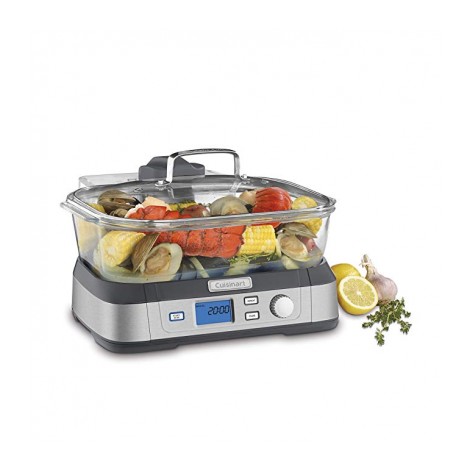 Coming in second place, we have the Cuisinart CookFresh Digital Glass Steamer. Cuisinart isn't exactly known for having the fairest prices in the world, but they are known for always making those prices worth your while. And that trend continues with the CookFresh, which earns its high price tag by being one of the best food steamers on the market.
Preprogrammed food settings
Like we said at the top of this article, not everyone steams their food, and most people are too stubborn to look up little things like "proper temperature" and "safety procedures" online. So, it's good that this steamer comes with the settings for every steamable type of food out there preprogrammed into its system. Giving you peace of mind while you cook.
Removable water tank
Steam tends to be hard to make without water, so of course, this steamer comes with its own water tank, that you can remove and fill with water as you need to. It's a 1L water tank that will use the water inside conservatively, making sure that you aren't constantly darting back and forth between the steamer and the sink.
Cost and Value
Of course, this being Cuisinart, this steamer's main issue is the high price it asks for in exchange for its services. However, also like Cuisinart, this steamer is 100% worth every penny you spend on it.

3

. Farberware Stack N' Steam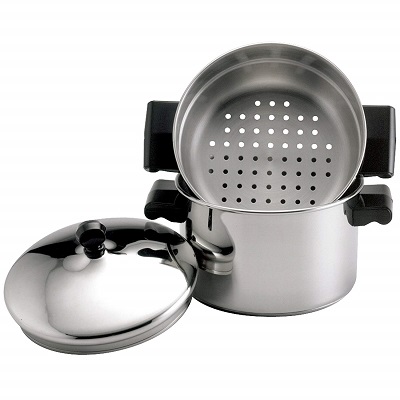 Finishing up our top three segment, we have the Farberware Classic Series Stack N' Steam Food Steamer. This is more of what people traditionally expect from a food steamer, a pot, and strainer that you use to boil water, and the steam that comes off of it does the cooking. So, what does this classic approach bring to this modern table? Let's find out.
Rapid, even heating
You may think that all cooking pots look the same and are made out of the same materials, but to the trained eye, every subtle detail makes a world of difference. When cooking something in a pot, what that pot is made out of, how well it's sealed, and how it's shaped decide everything, all the way down to how even the cooking is. And this pot's stainless-steel construction, aluminum core, and self-basting lid helps seal in the moisture and heat to make for nice, even cooking.
Versatile
The great thing about these kinds of steamers is that take away the strainer, and the pot is just a normal cooking pot. So, if you need a new cooking pot, but you also want to try out some steamed food, congrats, you've just killed two birds with one paycheck. This high-grade pot can cook anything your other pots can cook, and probably better.
Cost and Value
This steamer is a fair bit more expensive than the first entry, but not even a third of the price of the previous one. Like a lot of the entries on this list, it ghosts by through the middle, which is fine by us.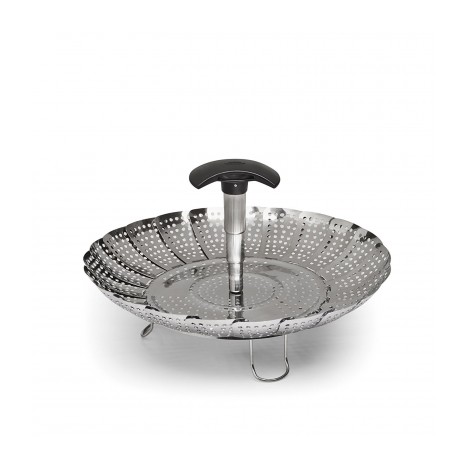 Coming in at #4, we have the Good Grips Stainless Steel Steamer. Unlike the other entries we've covered so far, this has no pot or special cooker. This is just the strainer that you put food on top of when steaming. But to be fair, as long as you have a pot that it can fit on, that's pretty much all you need to steam food. So, what does this one bring to the table? Let's find out.
Handy handle
Hope you don't mind the pun, but we couldn't resist. Like a lot of other steamer strainers, this one comes with a handle that you can use to pull the strainer out of the pot when the food is finished. But this handle has quite a few tricks up its sleeve that makes it stand out. For one, it's removable if you need to take it out, but it can also extend and lock into position when it's needed as well. And if you need to put on a pot lid, it can also almost completely retract to make room. And if you don't want to get your hands too close, don't worry, as the handle has a special hole for a fork.
Compact
But a steamer strainer is only as good as its capacity to fold and retract, and thankfully this one more than understands that. When you aren't using this strainer, you need only push down and fold the strainer into a compact, almost completely flat surface in order to put it away pretty much wherever you want to keep it.
Cost and Value
Being nothing more than a strainer, with no extras or add-ons to speak of, of course, this steamer isn't too expensive. It's just a little bit higher than the first entry, in fact.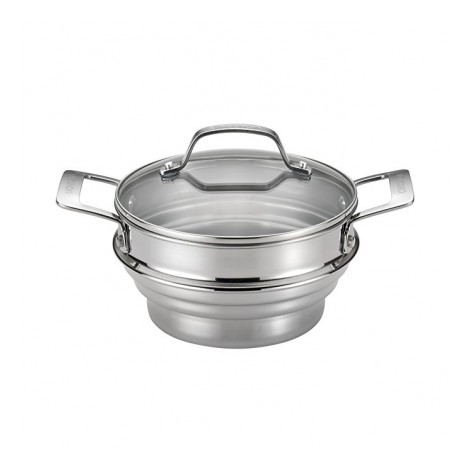 For our #5 spot, we chose the Circulon Universal Steamer. We're back to pots and pans for this steamer, and this one is unique. Instead of being a pot and a strainer, this one is technically both at once. You place this pot over another pot filled with boiling water, fill it up with the food you're steaming, and just let things take their course from there. But what else does this steamer offer? Let's find out.
Safe to use
There are two parts of any kind of pot, steamer or otherwise, that need to be operating in order for the pot to remain as safe as possible: the lid and the handles. More so the handles, but it's always good to have a lid that works properly. And on that note, this pot is equipped with dual riveted handles that are almost impossible to take off, and the glass lid allows you to look inside without compromising the heat and moisture, and the glass is completely shattered proof.
Stainless steel construction
There are many different materials used to create cookware, but generally speaking, you want to look for the stainless steel variety. It's the most durable material on the cookware market, for one, it's easy to clean, dishwasher safe, and the best at circulating heat evenly. So, if those are all things that matter to you, then this steamer is right up your alley.
Cost and Value
The price of this steamer is, once again, rather average for what we've seen of this list so far.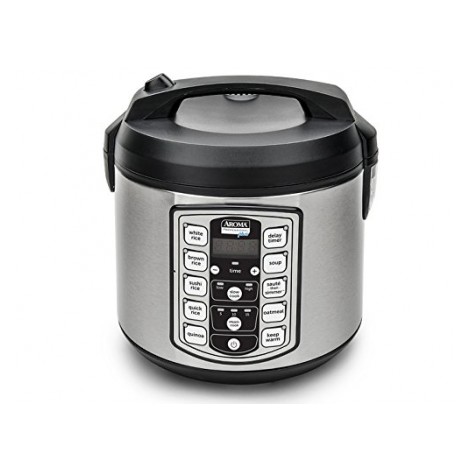 For our 6th place entry, we have the Aroma Digital Rice Cooker and Food Steamer. At first glance, this just looks like any other rice cooker. But a single glance at the features will tell you that it can do a lot more than that. Allow us to explain.
Auto keep warm function
Sometimes you finish cooking or steaming before the people you're cooking/steaming for have actually shown up. But the last thing you want is to serve cold food, and neither you nor your company particularly cares for stuff reheated in the microwave. Well, for this, you get your hands on this cooker right here. This steamer comes with an automatic function that turns on the minute it ceases cooking. It cools down just enough to stop cooking the food but maintains an even temperature to keep it warm.
Perfect slow cooker
Some dishes take a very long time to cook, needing to be slowly cooked over a period of hours to get that right amount of texture and flavor. And this is one of the best slow cookers and steamers on the entire market. Armed with 4 qts of space and a 15 Hr delay timer, however long your food needs to sit, this steamer will let it sit.
Cost and Value
This steamer is a fair bit more expensive than the previous entry, likely due to its dual functionality as both a rice cooker and a food steamer. Still, though, it's completely worth the money.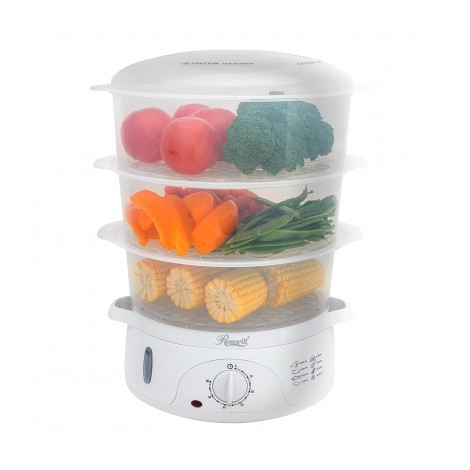 Coming in at #7, we have the Rosewill Electric Food Steamer. This is one of the more unique designs for a food steamer we've covered on this list. With its ultra compact size and plastic construction, it's certainly different from the other entries. And in this case, different definitely means better.
Turbo steam ring design
Judging by the three-layered layout of this steamer, you probably think it would take a few minutes to get the whole thing cooking at an even temperature. But in fact, the opposite is true. Because of the way this steamer is designed, along with the turbo steam rings placed within the device, the whole interior gets to an even temperature in as little as 40 seconds. Perfect for when you have to get to work, but you want to steam up some lunch before you go.
Water level indicator
When working with an automatic steamer, you need a means by which to keep track of the water level of the device at all times, so that you can keep tabs on it and replace it when you need to. Which is why this steamer automatically notifies you when the water level in the tank needs to be refilled. And even if it doesn't go off, the steamer also comes with double external see through water fill inlets that will help you take a quick peek inside to check the water yourself.
Cost and Value
The price of this steamer is a little bit above the average price of a steamer like this, but it more than makes up for the price, and it isn't even that high, to begin with, so it really isn't even worth bringing up.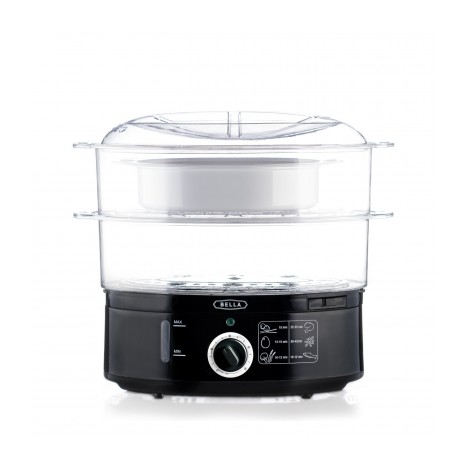 Starting off our final three segments, we have the BELLA 2-Tier Stackable Food Steamer. From top tier cooking manufacturer Bella comes steaming made simple, with this excellent, user-friendly food steamer. So, what does this thing have that makes it so special? Allow us to explain.
Guess free cooking
Take all the guesswork out of steaming food. This steamer comes with a water reservoir that is also equipped with a handy view window so that you'll always know exactly how much water you have in the tank. And on top of that, it comes with a guess-free steaming guide that carefully lays out how to steam certain foods.
Quick start heating system
This steamer has one of the fastest startup times on the entire market, getting up to the right temperature in as little as 30 seconds. And while the cooking itself is of average time frame, the startup won't add to it, which shaves off way more time from cooking than you might expect.
Cost and Value
The price of this steamer falls just below the average price range for a steamer of this type. Making it one of the best deals for an automatic steamer that you're likely to find.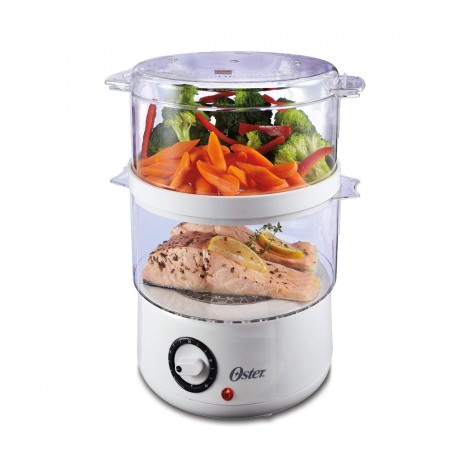 For our second to final entry, we have the Oster Double Tiered Food Steamer. This is another small automatic steamer that doesn't need to be placed on a stove to work. And while you definitely can't cook larger dishes, for a boxed lunch for work, this is about as perfect for steaming up some food as you can get.
Double tiered design
The great thing about having more than one tier to its design is that you can steam more than one type of food. Chicken and veggies, for instance, can actually both be steamed at the same time since they have the same steam temperature. However, you definitely don't want those flavors mixing, so it's good to have a steamer that separates them, while also cooking them at the same time.
Compact storage
The main issue with these sorts of steamers is finding a place to put them when you're done with them. Sure, they aren't that big, but they are tall, especially the multi-tiered variety. Luckily, the pots that make up the double tiers of this steamer can nest into each other for compact storage.
Cost and Value
This is one of the cheapest steamers of its kind on the market right now, so if this sort of steamer catches your fancy, but you're on a tight budget, we recommend giving this one a shot.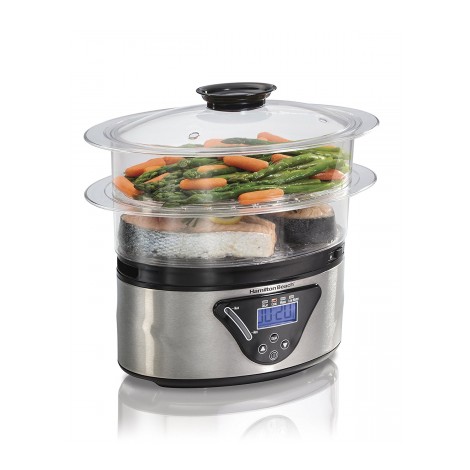 Finishing up our list, we have our final entry, the Hamilton Beach Digital Food Steamer. Hamilton Beach has made quite the name for themselves over the years in the food industry, so we couldn't think of a better entry to close out on. So, what got this entry on the list besides brand recognition? Let's finish up our list and find out.
Versatile cooking
You may think that this is another case of the two tier design getting in the way of what kinds of food you can steam with this thing, but you would be wrong. In fact, if you have a larger meal to steam, the central divider separating the two tiers of this steamer can actually be removed. So now you have all the room you need to steam up that full meal.
Digital touchpad
Everything is going digital these days, and this steamer is no exception. This steamer is equipped with an incredibly easy to figure out digital LCD touchpad, that gives you complete control over the temperature and steam usage of the steamer.
Cost and Value
The main problem with this product is the price. Of course, this thing wouldn't be cheap, and at least it isn't the most expensive thing on here by a long shot, but there are better steamers on here for much lower prices.

Subscribe to our Newsletter