Best Aprons Reviewed & Rated for Quality
In a Hurry? Editors choice: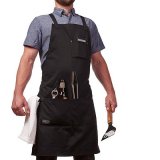 Test Winner: Hudson Durable Goods

Preparing a big meal or planting your new garden can be a messy job at times. Many people think to wear gloves or old clothing as a form of protection against the mess. What do you do when there isn't time to change your clothing? No one really wants to be hosting a big dinner party in clothing which is stained with dirt or grease. When your guests arrive early you want to be looking your best. For those times when changing your clothes just isn't feasible, you can protect your clothing by using an apron. Our list features a wide variety of different styles made from different materials that can of use no matter what job you need it for. After reading through our top ten you'll see that finding the right one for you really isn't going to be that hard at all!
Standout Picks
Criteria Used for Evaluation
Materials
Understanding the material from which the apron is made can help you decide if the apron will, in fact, due as you need it to. There are many fabric options from which to choose, each type of fabric will have its own potential benefits for the user. Before you decide on the type of fabric you want, ask yourself what type of fabric do you need.
Cotton
Cotton aprons will offer protection from light activity but are not good for use in more messy situations. Wearing an apron made from cotton while washing dishes, may not be a good idea, as they will allow water to seep through. A better example of when to wear a cotton apron would be while working in your own kitchen or garden. You may even see the staff at your local restaurant running around in cotton aprons.
Rubber
An apron made from rubber offers top-notch protection from both water and chemicals. These are commonly worn in an industrial setting, as they are slightly thicker, which makes them heavier. If you have ever worked in a restaurant kitchen, this is the type of apron you may have seen the dishwasher wearing.
Leather
An apron made from leather can be one of the longest lasting aprons, making them perfect in situations where heavy coverage is necessary. Leather aprons can withstand both spark and heat, which will make them worthy of use in an industrial setting.
Other materials
Aprons can also be cotton but have a layer of rubber added to it. This will offer more protection for those heavier messes. Disposable aprons made from plastic, offer slightly more protection from water than a cotton apron.
Fit
Full coverage
When looking for an apron you will want to consider just how much coverage you will need. Depending on the task at hand, you may need an apron that will offer you a form of full protection. This is an apron that will have a loop that goes around your neck, that typically ties in the back. This will cover both your shirt and pants, plus they are available in different lengths.
Partial coverage
You can also choose to go with an apron that covers from just above the waist, to the length you choose downward. These aprons will have long ties, for securing them around your waist. If your confident that you won't need coverage for your upper body, this is the type of coverage you may be seeking.
Style
There are plenty of colors, as well as patterns available to choose from when looking for an apron. When choosing one for personal use, you are free to choose what pleases you. You can get as cute and crazy of a color or pattern as you would like. An employer might require you to purchase an apron of a specific color or pattern. Typically when you are required to have a specific color, these are fairly common colors that can be found anywhere.
Features
Storage for your gardening tools is a must while working in your garden, choosing an apron with pockets is a plus in this case. If you're looking for an apron for work, pockets may come in handy for storing pens or miscellaneous tools you need to have at the ready. When searching for an apron for employment purposes, be sure that there are no requirements that the apron needs to meet. In some instances, potential employers may set forth guidelines for the number of pockets an apron can have.
Value
The ability to save your clothing is valuable enough, but we also looked at the cost to quality ratio compared to other aprons in the same price range. You want the apron to work, if stains seep through and reach your clothing, then the apron is worthless. We also looked at the durability of the apron and if it will last or if it will start to come apart after a few washes. Another good way to see if an apron you're looking at is durable is to read reviews and find out what other buyers said about the product.
10 Best Aprons Reviewed & Rated for Quality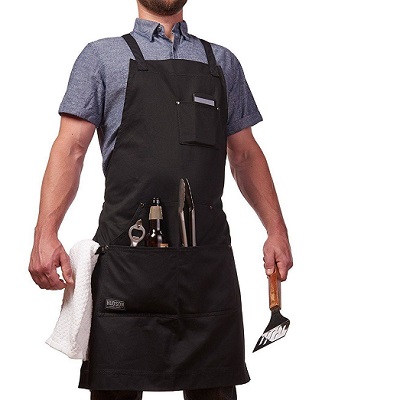 This apron option can be used for multiple purposes including in an industrial setting. Made to last, this apron can withstand the punishment doled out by those who work in the automotive field as well.
Industrial Grade
The materials used to construct this apron make it both durable and breathable at the same time. Reinforced pockets and seams give the apron the dependability you need to use this apron for your long days at work.
Pockets
Also offered by this apron is a variety of pocket sizes, four to be exact. One located at the chest, for storing your phone. A larger pocket in the center, much like what you would find on a hooded sweatshirt. Plus two additional pockets that are large enough to accommodate holding your tools.
Cost and Value
In order to obtain a good quality apron, that can be used either at home or in the workforce, you have to be willing to spend a little extra. The quality of the materials used to construct this apron is high, so you can be sure that this purchase will stand the test of time.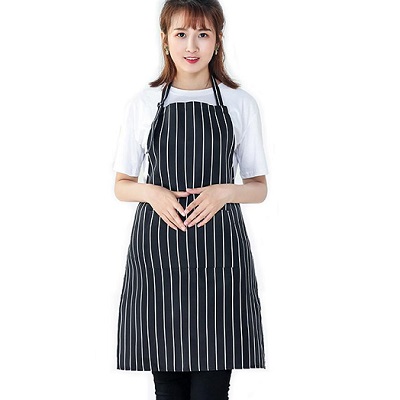 You can adjust this apron how you please for that perfect fit. Made from a blend of materials, this apron has several beneficial properties you won't want to miss out on.
Adjustable Neck Strap
Since the strap for around the neck can be adjusted, you can move the amount of coverage to your liking. This is also great for those who get irritated by the neck strap that is too tight. You can feel free to loosen this strap to your liking.
Blended Material
Made from a blend of cotton and polyester, you get the best of both worlds with this apron choice. Great qualities such as it won't shrink when washed, and it has resistance to wrinkles. So you can always look your best when stepping out of the kitchen to entertain.
Cost and Value
For a great price, you get an apron that won't let you down. With great potential benefits, you can be sure that even when you're making that holiday feast, your clothes will remain protected.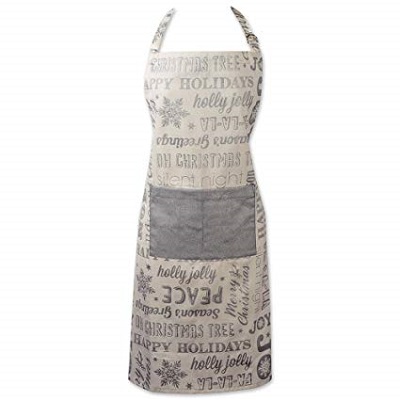 The next apron on our list lets you choose to accessorize your kitchen to match your apron choice. This apron has a specially designed strap making it adjustable for that perfect fitting apron.
Strap
This is a one-piece designed strap, which allows you to adjust the apron fit to your needs. With the added length of the strap, you can be sure there is enough to secure the apron around your waist as well.
Accessorizing
Since the patterns for this apron continue on through this company in their kitchen accessories, you can have one design theme throughout your kitchen. You should be able to find the right color for you, as there are plenty of options available.
Cost and Value
You can be sure that this apron gives you the right fit with the unique strap design. Plenty of color options to choose from, which can extend into your towels and oven mitts also.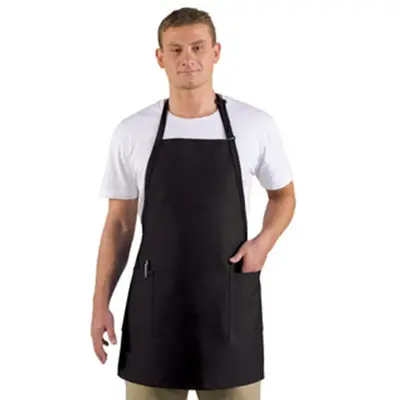 The next apron is another great option from which to choose. With plenty of room for stashing your spices when your hands are full. This apron allows you to move freely without the feeling of restriction.
Pockets
Let's face it, we could all benefit from a few more hands when working in the kitchen. But since that isn't possible, why not choose an apron that has pockets. This way when your recipe calls for a list of spices, you can stash a few in your pocket to save yourself a few extra steps.
Less Restriction
The design of both the neck and waist straps, allows you to secure the apron in a way that doesn't restrict your movements. Allowing you to twist and turn as you need, without bunching up your apron.
Cost and Value
This apron has plenty of potential to be your new favorite friend in the kitchen. The pockets allow you to stash some necessary items freeing up your hands.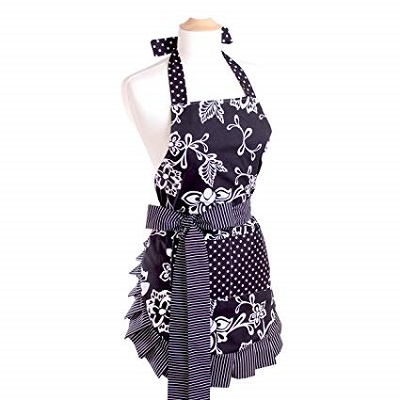 An apron such as this one provides you with protection while adding some style to your apron. This allows you to look great while slaving away in the kitchen. With the added fabric, you know you're getting an apron that will last.
Double Layer Fabric
Are you sick of aprons that rip or get snagged easily? If so, this apron offers not one fabric layer but two. Giving the apron the strength it needs to outlast some of the other options available.
Flattering
This apron is cut in a way that flatters your contours, making for a more comfortable fit. This will keep you looking great when your company arrives, allowing you to show off your entertaining skills.
Cost and Value
For the very little cost to the consumer, you get an apron that was built to last. These also make a great gift for that someone special in your life. It allows the entertainer to show their guests a little style while they are working.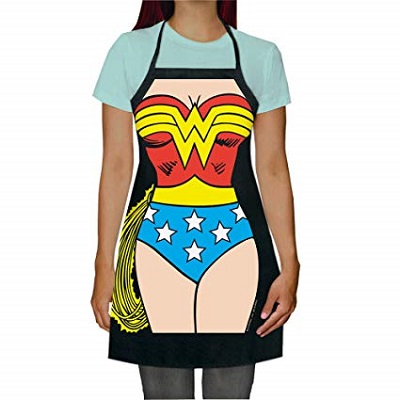 This apron provides you with full coverage from chest to just below your waste. The stylish design choices allow you to show off your inner child while entertaining your guests.
Full Coverage
This is one size fits most option, that offers you a full apron. The top loop goes around the neck, for protecting your shirt. The apron then cascades down to just below the waist, to serve as a form of protection to your pants as well.
Design Choices
This apron offers some of the most popular comic book heroes, allowing you to express your favorite childhood memories while wearing the apron. Let's face it, everyone has that goofy side that they want to show from time to time.
Cost and Value
This choice for an apron offers you full protection, with plenty of design options. Since it is one size fits most, there is no need to worry about measuring for the fit.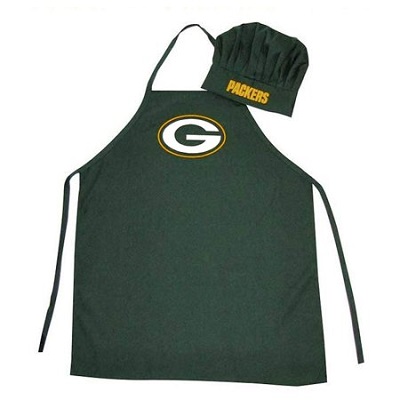 The next apron on our list is great for all those football fans out there. Picture yourself at your next tailgating party grilling for your friends wearing an apron sporting your favorite team.
Material
This apron is made from cotton, so no need to worry about the grease from the grill. Simply toss this apron into the wash from time to time to keep your team apparel looking fresh.
The Hat
With this apron comes that chef's hat that every great barbecue chef is looking for. Show your team spirit totally decked out in your team apparel while cooking for your next tailgating party.
Cost and Value
This apron is available in any team choice, for the small amount that it cost you can give these to your friends and family as gifts. Why not help them support their favorite team, or spark a rivalry with opposing fans.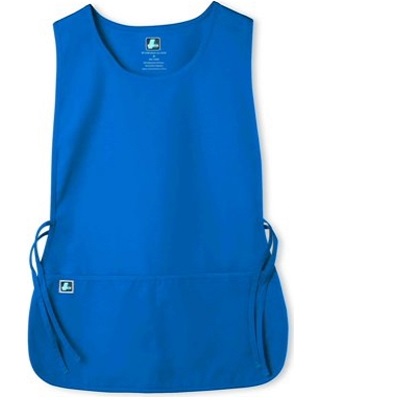 This apron is a perfect match for those who do a lot of activities. The design of the apron offers total coverage, while the pockets offer plenty of storage for fundraising tickets.
Colors
This apron has the largest color selection on our list, making it a great option for those looking to color coordinate their employees. These are great for waitstaff or event staff, as you can put them in color-coded groups as you please.
Design
Since this apron slips right over your head, to cover your shoulders, there is no worry about the sometimes bothersome neck strap. This apron will totally cover your shirt, tying at the sides to offer your full protection.
Cost and Value
At such a great price point, you can order these in bulk to dress all your staff. With 30 color options to choose from, you are sure to find a color that won't clash with the rest of their uniforms. These are also great for events where tickets and money exchange hands, like the apron, does have one large front pocket that is split into two pockets.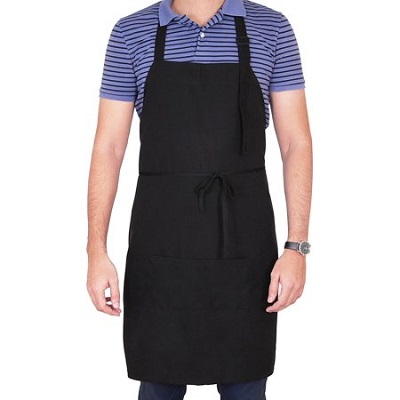 This apron offers you a bonus for a fraction of the cost of some of the other options. An apron that offers full coverage, made from a material that helps provide resistance to stains.
Bonus
Who wouldn't like a two for one price? Well, that is certainly what you're getting with this buy. You get two aprons with this purchase, so you can use one for your outdoor work. While leaving one in your kitchen for all your cooking needs.
Material
Since this apron is made from 100 percent polyester, it offers its own resistance to stains. This means you don't have to worry about any added chemicals, as polyester has a natural resistance.
Cost and Value
Since you get two aprons for the price of one, that makes this apron choice one of the better deals on the market. Polyester provides resistance to stains, so you can feel free to use this apron while tinkering in your garage.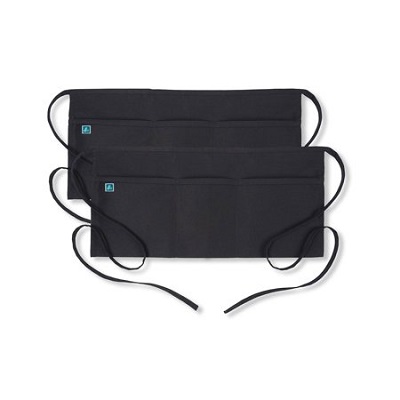 The last apron option on our list is one the covers your waist. Great for waitstaff, beverage servers, or those working in the yard looking for somewhere to store tools. An apron that sits at your waist will offer you great benefits without the bulkiness of a full apron.
Waist Style
Since this apron is designed to hang from your waist, it is a lighter option than that of the full apron. The three pockets in the front offer plenty of storage for all your needs.
Bulk Buy
These waist style aprons come in a pack of twelve aprons, you can use them for all your personal needs. Buying them in bulk can save you money in the long run, any food service employee can tell you that an apron is sometimes the most replaced part of their uniform.
Cost and Value
For the money you spend on buying aprons separately, one might want to consider finding ones that come in bulk. This style apron can be of benefit to you both at home or work.

Subscribe to our Newsletter