Best Fire Rings Reviewed & Rated for Quality
In a Hurry? Editors choice: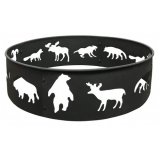 Test Winner: Landmann Big Sky

Fire rings are simple, rustic, safe devices used to control and contain fires. They are typically placed in the center of a fire. Whether used to set up a
campfire
over which you'll roast marshmallows with your family and friends in the woods or featured as the beautiful, ornamental yet functional centerpiece of your outdoor patio, these are as versatile as they are useful. If you are a
landscaping buff
looking to make your backyard even more enjoyable, or you are simply planning an outdoor party featuring s'mores and festive outdoor lighting, you will undoubtedly love gathering around the gentle flames of a safe, stylish, inviting fire ring.
They come in a variety of sizes and weights and are made with various materials, from concrete to metal. In this article, 10 popular options are reviewed and compared.
Standout Picks
Criteria Used for Evaluation
Materials
The materials used to construct theis equipment are important to consider for safety concerns. However, it is worth noting that a ring does not need to be physically heavy in order to be strong. Several of the models reviewed here weigh under 15 pounds when fully assembled, and yet are considered safe and sturdy to use. Other materials might pose a problem that are less obvious but a concern nonetheless. For example, some are treated with black paint that is banned in California due to being potentially carcinogenic when exposed to high temperatures. To be safe, read all of the relevant reviews and warnings concerning the materials and construction of a ring prior to purchase.
Also, be aware that some materials are more likely to rust than others. All rings are susceptible to corrosion over time, but some are much more prone to it than others.
Durability
A ring typically forms the foundation, core, and center of where your fire will be. It, therefore, needs to be strong, sturdy and reliable. If a ring fails, the flames could potentially become uncontained and out of control. A long-lasting, well-built ring that is utilitarian is more important than one that is decorative and aesthetically pleasing. When it comes to rings, safety, strength, and durability cannot be understated.
As mentioned above, not all materials work as well as others, and this includes the way materials stand up over time. Rusting was a common complaint among the models reviewed here. Rusting cannot be completely prevented, but cleaning and regular maintenance can be taken as preventative steps to preemptively avoid rusting, oxidation, corrosion and chipping.
Portability
These rings are frequently used by campers. As such, a ring should be easy to take apart and reassemble. The majority of rings reviewed here are portable, but some are certainly easier to transport than others. Some, for example, weigh upwards of 50 pounds, making them challenging to carry. Others, conveniently, are lightweight and compact enough to fit in a carrying case. Rings constructed with hinges and panels tend to excel in this category as they can be folded down flat, easily packed, stored, carried and so on. These rings can be disassembled and reassembled within minutes - perfect for campers constantly on the go.
Ease of Use
Most of the models considered in this article were received positively in terms of assembly, maintenance, and overall use. Others, however, were described as tedious and difficult to assemble. In terms of actual active use, the reviews did not vary much from one model to the next. Ease of use primarily pertains to assembly, disassembly, maintenance, cleaning and transport. Certain models are better than others in terms of ventilation, providing an adequate source of oxygen to keep flames going strong.
Value
Price, performance, overall ease of use, appearance, and other factors are all considered when determining value. Most rings are relatively inexpensive, but there are some outliers. Some people are willing to spend several hundred dollars on a ring that beautifies their backyard. Others are strictly interested in a ring that's going to keep the flames contained, and do not care about how ornate or unique the overall design is. The rings reviewed here are all generally high in value, though some are practically steals; superb products at extremely low costs.
Overall, safety is considered the most valuable aspect of a fie ring. Ultimately, that is the purpose - to safely contain a fire, protecting people, our homes, our campsites and the wilderness. A ring is worthless if it looks nice but cannot stand up to high temperatures. If it cannot contain sparks and ashes, it could certainly result in an accidental wildfire. Simple features added to rings make them safer, and therefore, more valuable.
10 Best Fire Rings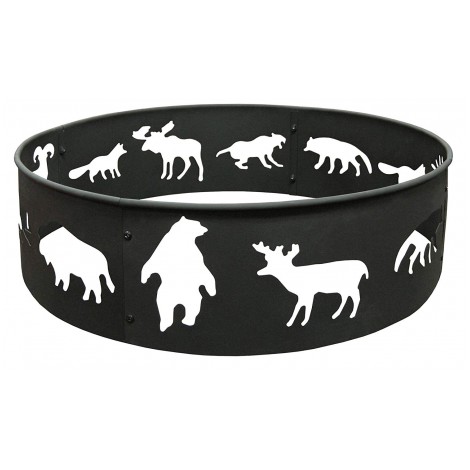 The Big Sky is a charming choice; cutouts of woodland creatures such as moose, deer, and bears decorate the ring's 28" circumference. The shapes glow and dance from the light within, creating an ambient, warm atmosphere that makes a campfire even more enjoyable to gaze at. This particular product would be perfect for sitting outside a log cabin on a chilly night, sipping hot chocolate. It's a beautiful, manageable, easy to use ring that will keep the flames controlled, and will encourage you to spend time outdoors with your family and friends.
Why is the ring at the top of this list? It's exceptional ranking across the board. Everything from the cost to the overall performance and reliability has earned the Big Sky the top place on our list; a wonderful product available to everyone, even on a limited budget.
Simple
The ring is simply constructed and, according to customer reviews, takes only a few minutes to assemble. It's easy to put together, use, clean and maintain. It's also portable, as taking it apart and transporting it is also uncomplicated. The Big Sky is essentially frustration-free. It is ideal for setting up a safe area with concrete, retaining blocks, bricks, gravel or other similar materials. It's sturdy and stays put. The ring can also be combined with other rings to create a larger ring; two or three Big Skies can be used together for bigger fires.
Remarkable Price
Landmann has offered a truly exceptional product at an amazing price with the Big Sky. It's a very affordably priced option with enthusiastic reviews and an excellent overall rating. Several reviewers commented that they were initially somewhat apprehensive and skeptical about the quality of the ring based on its low price, and were pleasantly surprised and impressed by the ring's fantastic performance, sturdy build, and long-lasting use.
Cost and Value
This product is an exceptional value. It's extremely budget-friendly, yet it's well-built, lasts for years and has a special, ornate design. It's a rare product that certainly could command a higher price, but Landmann is keeping its consumer costs low, resulting in a well-deserved, happy customer base.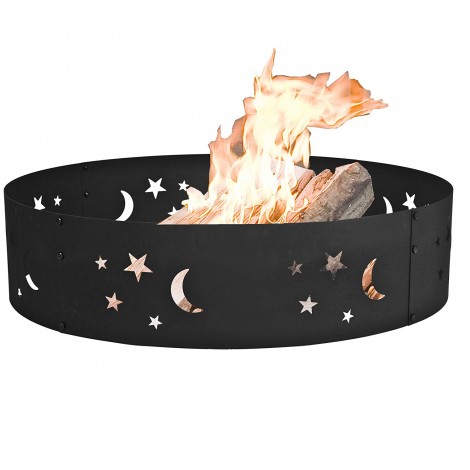 The Evening Sky is beautiful; a dark metal option with cutouts of the moon and stars around the circumference that light up and dance against the flames. It is sturdy, stays in place, and is ideal for a larger sized area. The ring is 36" in diameter and 9" in height; a generous size. There is no need to build an entire patio or install a stone assembly for the ring to sit on; it can be safely placed on bricks or blocks. It's a popular model thanks to its beautiful appearance, ease of use, the strength of the materials it's constructed with and its fair price.
Moon and Stars
Part of the draw of these products is the ambiance and atmosphere they help to create. In the Evening Sky's case, its overall appearance is mesmerizing. The ring is dotted with cutouts of the moon and stars, which twinkle and dance. The Evening Sky is a beautiful addition to any patio, backyard or campsite, with its extra-special appearance making it inviting and warm, as a campfire should be.
Easy to Customize
The Evening Sky can be used in a variety of settings. Whether on a stone patio, a brick assembly, in a sand pit or otherwise, it looks great virtually wherever it's placed. As long as proper safety measures are followed and the fire is set a safe distance from your home or any other structures, you can create your own customized area with ease, using the Evening Sky as your glowing centerpiece.
Cost and Value
This product is sold at a competitive, attractive price. It is affordable, reliable and popular for several very good reasons. Overall, it offers a lot of enjoyment and will surely get a lot of use, while not costing a lot, which is a rarity.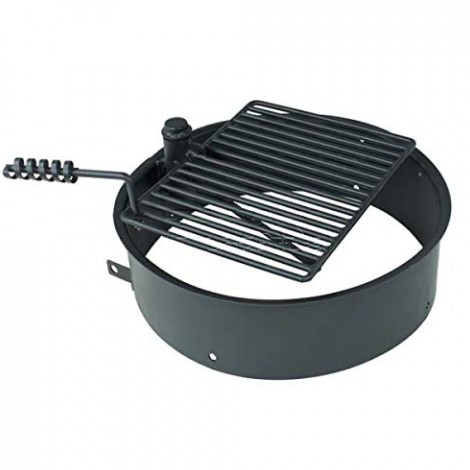 The Titan is a heavy-duty grill intended for regular use. It includes lots of features, including a grill which makes barbecuing food a breeze, and safe. The grill swivels for convenience; it can be angled and tilted for even cooking. The Titan is constructed with upper and lower ventilation holes to help keep the flames going strong. There are also safety anchors which keep the ring in place and deter theft. The Titan is a force to be reckoned with, heavy and strong, sturdy and reliable.
Barbecuing
A grill is included with the Titan which rests securely on top of the ring. The grill can be swiveled and angled for ease of use. You'll be able to cook your food evenly and avoid the dangers of reaching perilously across the ring. The ring is approximately 3' in diameter, allowing you to cook a generous amount of food at once, and also is capable of containing a large enough fire that will create ample warmth.
Anchor Pins
The ring is secured in place by two metal anchor pins. The pins also allow the ring to be tilted, as previously mentioned. This aids in cooking as well as cleaning. The ring is easy to keep in brand-new condition. The anchor pins not only secure the ring; they deter and prevent theft. Would-be thefts would encounter great difficulty attempting to remove the ring from the ground in a hurry without being noticed, if at all.
Cost and Value
The Titan is considerably more expensive than the other rings reviewed here. It is larger, heavier and has more advanced features. It is not a decorative, ornamental ring; it is intended for serious outdoorsmen and women who will use the ring on camping trips on a regular basis, or homeowners who plan on doing a lot of cooking outside. The ring is an investment. Is the high cost worth it? It depends; light, occasional use does not really warrant purchasing the Titan.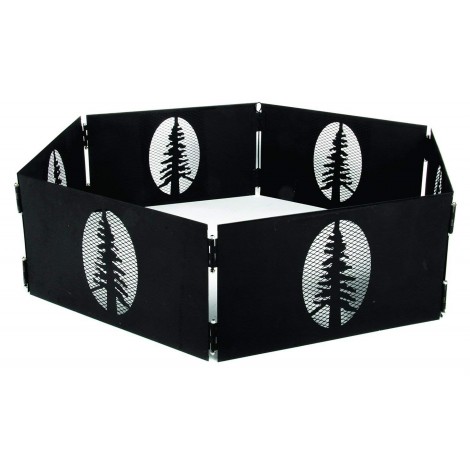 Camco's Portable Ring absolutely lives up to its name. Mid-sized, compact, easily assembled and durable, it's ideal for campers who travel frequently and need mobile equipment. The ring itself has a unique appearance, with cutouts of pine trees on each of its six hinges/panels, adding a nice tough to the ring's overall look, and providing soothing, ambient light. The ring is, simply put, fun to look at. It would make any campsite a little more fun.
Portable
The ring consists of six metal hinges or panels which easily affix together. Each panel is made of heavy-duty metal, yet is lightweight enough to be carried with little effort. The ring also includes a carrying case for added convenience, making transport and storage simple.
Efficient
The ring is designed for maximum efficiency. It does not take up much space but is large enough to serve its purpose. It is not just a decorative ring; it would work well in an average-sized space and is strong enough to safely contain the flames. It is lightweight and yet deceptively sturdy, the product of careful design.
Cost and Value
The ring is a good value sold at a competitive price. Customer reviews are almost exclusively positive. It is affordable, practical and nice to look at; not at all utilitarian as far as aesthetics go. It's the best of both worlds (fashion and function). It would make a great gift for anyone who enjoys camping, hiking or backpacking.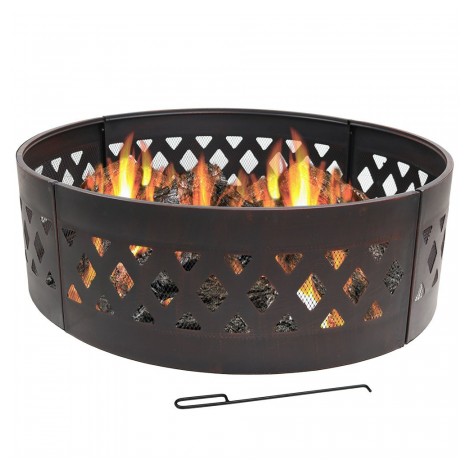 The Sunnydaze ring is large, composed of cross-woven metal, sturdy, and reliable. It's tall and wide and would work excellently in a large space. It would work nicely on a camping trip or as part of a permanent backyard installation. It's a serious ring and burns wood effectively and efficiently. The ring is built to last, providing many happy memories around the glowing campfire.
Mesh Design
The ring features a cross-woven metal mesh design. The mesh construction allows for maximum airflow inside the ring. This excellent ventilation keeps your fire going strong. Wood burns exceptionally well with the right supply of air.
Four Parts
The ring is comprised of four parts. Assembly can be completed virtually in minutes. The basic hardware is included and the instructions are easythe to follow. Once assembly is completed, you will have a solid, sturdy and safe ring.
Cost and Value
The ring is sold at a mid-level price. Based on its regular, enthusiastic customer reviews, high marks for safety, large size,, efficient design and clever construction, it represents a smart purchase and a product of high value. The Sunnydaze is an excellent choice and highly recommended.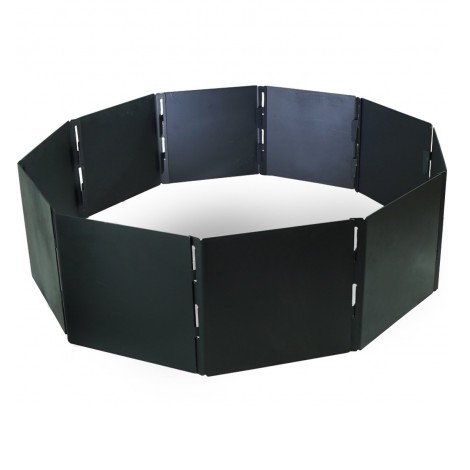 The Titan Portable Ring is massive. It weighs in at approximately 70 pounds when assembled. It consists of 12 heavy metal panels affixed together. The panels are painted black. The black paint in question is controversial, as discussed in more detail below. The ring is four feet in diameter; it is intended for use in a larger area. Many customers are enthusiastic about the heavy weight of the ring. However, the heavy weight makes the portability of the ring questionable to some customers. Estimates range from 55 to 70 pounds, making the ring more suitable as a permanent ring rather than a portable one. That said, the hinges can be easily unattached and folded for transport.
High-Temperature Black Paint
The ring's panels are metal coated with black paint. The paint withstands extremely high temperatures. It is easy to touch up and maintain. Several customers reported being pleased with the ring's unique, modern appearance.
Massive
The ring is heavy; as previously stated, altogether it's approximately between 55 and 70 pounds when fully assembled. Its diameter is four feet, making it larger than the average ring and intended for serious use over and over again. It is stable when assembled, rugged, durable and strong.
Cost and Value
The ring is on the more expensive side of the spectrum. However, it is larger than the majority of the rings reviewed here; heavier, and includes an impressive 12 panels. The reviews are overwhelmingly positive, and the ring appears to do well in all aspects considered. All things considered, the Titan is a good value.

7

. Pleasant Hearth OFW177FR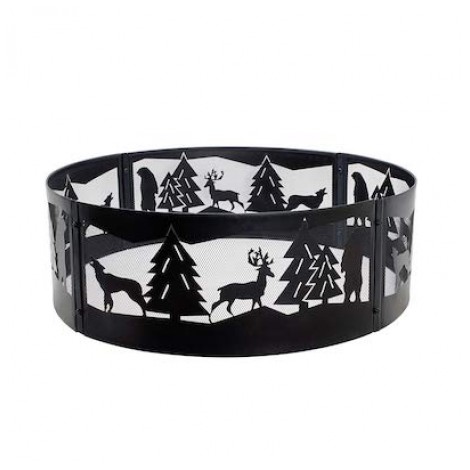 The Pleasant Hearth is a decent option offered at a reasonable cost. It features a metal mesh design with wilderness-shaped features.The ring itself does not have any special features or bells and whistles, but it's nicely constructed and the wilderness-shaped design is a nice, whimsical touch.
Wilderness Design
The wilderness-shaped design is a nice accent, reminiscent of Native American art. There are wolves, trees, bears and deer. Rather than cutouts, the shapes are fashioned out of the ring's metal, and stand out against steel mesh, beautifully silhouetted.
36" Diameter
The ring is an ample 36" in diameter. However, it is very lightweight at just 11 pounds, making it easy to transport. The ring itself is strong, made of steel. Even the mesh is heavy-duty steel, despite its delicate appearance.
Cost and Value
The ring is sold at a relatively low cost. Its reviews are solid, it looks great, and it's a good quality item. All in all, the Pleasant Hearth is above-average in value.

8

. Pleasant Hearth OFW169FR-1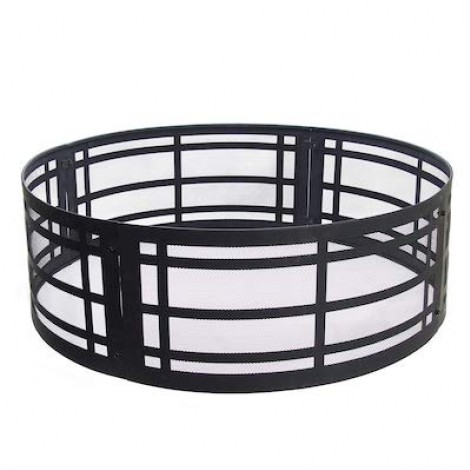 This product is very simple in design. It's lightweight, mid-sized and average-priced. It does not include any special features or advanced components. It's basic and serves its purpose of keeping a small fire contained. It's a workhorse and not a show pony, but there's certainly nothing wrong with it. It would undoubtedly be enjoyable to spend an evening sitting in front of, sipping a mug of hot chocolate.
360 Degree View
The ring offers a full view of the flames. The construction is steel mesh, with an overall modern look. It presents a safe way to enjoy a campfire, easily keeping the flames contained without any visual obstruction.
Spark Screen
The ring includes a spark screen as an added safety measure. The screen is unobtrusive yet effective, allowing the ring to prevent embers and flyaway ashes from escaping. Rogue ashes can easily spark fires if they land on dried leaves or dry sticks.
Cost and Value
The ring represents a purchase of average value; not fantastic and not terrible. The pricetag is decent. However, most reviews are mediocre at best. The general consensus of customer reviews appears to be that the ring is "just okay."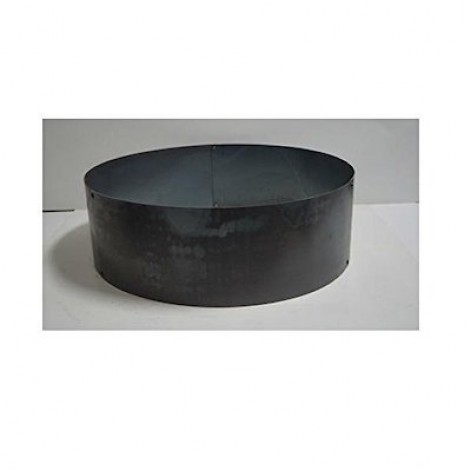 The PD Metals Steel Ring is a high-end, expensive, well-made option that is not for anyone on a budget, as much of its appeal has to do with aesthetics rather than overall performance or function. The rings are unique looking, heavy and solidly made. The company's overall stylistic approach is interesting and difficult to describe. The rings are undeniably fascinating; paradoxically simple yet ornate simultaneously. At first glance, the rings do not seem different or particularly unique; however, upon taking a closer look, the rings reveal intriguing, imaginative, and curious designs. Admittedly, they are mesmerizing. Does the artistic value of the rings justify their considerable pricetag? It's truly a matter of personal opinion, budget, and what you are looking for.
Dressing Up
The rings are advertised as a way to beautify your yard or campground with a decorative ring. The seller is acknowledging that the ring's overall appearance has a lot to do with its price tag. That is not to say the cost is unjustified; it's simply a matter of personal preference. If you are interested in a decorative, rustic, eye-catching piece than a ring from PD Metals might be ideal for you, as they are quite handsome looking.
Plasma Cut
Every ring is plasma cut of industrial-strength steel. The rings feature detailed, dynamic and unusual designs which are "brought to life" by the flames. The rings are unpainted, unusual and quite artistic. The design looks amazing when the fire is lit.
Cost and Value
The rings are quite expensive, primarily for the aesthetic reasons outlined above. Are they worth it? If your goal is to beautify your patio or make an artistic space, then yes, absolutely, the high cost is justified and the value is good. If you are looking for a safe way to roast marshmallows, no, the steep pricetag just doesn't make sense.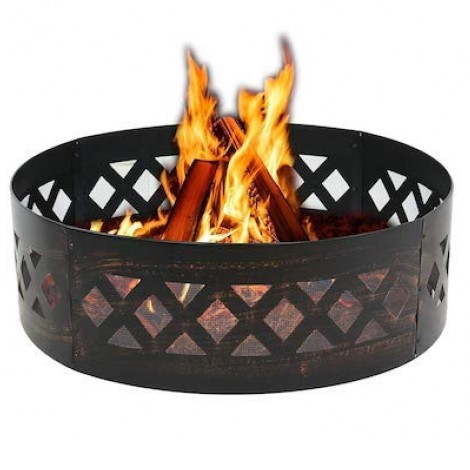 The LEMY ring is a basic option that serves its purpose and does its job, keeping your campfire securely contained with a spark screen for added security. It's also nice looking, with warm bronze coloring. The fact that the LEMY came in last on this list is not meant to disparage the model in any way; it's a fantastic option at a fair price.
Bronze Coloring
The ring is coated with bronze coloring to give it a hint of warmth. The bronze provides an overall classic appearance combined with the contrast of the steel mesh design. No matter what style your overall decorating scheme is, the ring is versatile enough to blend in well.
Exceptionally Simple
The LEMY is quite manageable. Assembly is simple, maintenance is easy and cleaning is a breeze. It gets high marks for ease of use. Additionally, it works quite well, generating a lot of heat while safely containing the flames and sparks of your campfire.
Cost and Value
The ring is on the less expensive side of the spectrum and, by all accounts, is a great buy. It is well-built, nice looking, easy to use and versatile. There is no real "wow" factor here, but the LEMY is reliable, durable, and simple.

Subscribe to our Newsletter