Best Barbecues Reviewed & Rated for Quality
In a Hurry? Editors choice: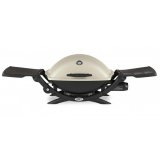 Test Winner: Weber 54060001

The act of barbecuing has been around almost as long as the human race has. Our first ever form of actually cooking (ignoring curing) was
the use of fire to cook things
like meats, vegetables, and
other proteins
. So before we head steaming towards the fourth of July, or you gather resources in preparation for your next tailgating party, let's take a look at some of the best options for your barbecue needs. Here are 10 of the greatest BBQs on the market right now. There's a lot to go over, so let's get cooking.
Standout Picks
Criteria Used for Evaluation
Capacity
There aren't many things more important to consider when shopping for a new barbecue than the capacity at which said barbecue has to feed. A lot of people head into the shops with a great idea as to what they need. How many people are in your family? Are you planning on hosting events, and need to feed them? These are some of the most important facts to bring to the table.
Ensuring that the new cooktop you're picking up has the physical size to hold enough burgers, or hotdogs, or veggies, or whatever you might be making, to feel the right amount of people is key. There is a vast variety in the sizes of barbecues. We stuck with mostly the single-family sized models, as we didn't want to open up into too big of a market. Almost all of the barbecues on our list can feed a large family in one go, while some (the more portable and small of them) might need a few turns of food before everyone in your abode gets a bite.
Luckily for us, and for the consumers of the barbecue industry, there is a very easy way to see just how large a barbecue cooking surface is. Like many other cookwares, barbecues tend to list the exact size of their cooking surface right there in the product name, or very prominently in the product description. Measured in Square Inches, almost every model out there will clearly state its size. Like the Royal Gourmet from our list, which lists its cooking grill at 320 square inches. Which is pretty large for these smaller-sized products.
It's important to keep in mind how much food you'd like to cook at one time on your soon-to-be newly purchased barbecue.
Materials
Like most of the products we talk about -- and even more importantly those products we discuss that are used for food prep, food cooking, or food serving -- it's crucial that the materials used to make them remain a key ingredient into the worthiness of these products. In the world of barbecues, barbeques, or bbqs (we don't judge, so use whichever), there is no more important time to harshly inspect and critique products based on the materials they use.
Most common modern models use the same types of materials when preparing and manufacturing the one thing that is most important when considering a barbecue, and that's the grill itself. The grill you're going to put your food on. In almost every product, you're going to find a porcelain-enameled, cast-iron grate used for the grill.
This complection of materials used to make the grills do a few things, of which was never done before, and that's that they are built to collect heat, retain it, for as long as possible, allowing for outdoor chefs of all kinds to get a fantastic sear on their foods, or cook plenty at slower, more controllable heats. It's a truly magical pair, and unless you're getting something super retro, we highly suggest that you make this build a priority when vetting.
Other things that can make a huge difference are the make of the wheels. If your product is of the wheeled variety, ensuring that they're made out of something other than just cheap hard plastic could save you from a large headache in the future. As for the lids, the side-tables, or the legs, there aren't many of the options on the market that you should outright avoid, so tread with caution, but don't stress out about that stuff all too much.
Use
One might think that there aren't that many different uses of a barbecue, that all they truly do is heat things that we put within them, until we take them away. And you wouldn't be wrong. But the specific types of uses we're talking about with this criteria base is the kind of fire. This is a hotly contested subject in the world of outdoor cooking, and there isn't really a whole lot of evidence that makes one better than others. It's absolutely, at the end of the day, up to you and how you want to cook, what source of heat you want to use, and so on.
The three main types of fire and heat within the barbecue industry are; propane flames, charcoal flames/heat, and electric cooktops.
Propane flames are by far the most dangerous and cumbersome, but luckily, as the advancements of recycling industries have continued, the reuse and refilling of propane takes is a common thing, and you might only have to ever buy a single one. There is a bit of an argument by chefs the world over that flames burning propane or other gases affect the overall flavor of things like meat or proteins cooked upon it, but that's for the real pros and sharp palettes to worry about.
Charcoal products were the most common prior to the invention of the propane tank, or at least the mass production of them. For these, the heat comes from hot coals, placed under a grill, lit a fire with accelerant and small fire. This might be a very familiar way to cook in a barbecue, but it does leave a rather undesirable clean-up. Plenty of public barbecue sites have even banned the use of coals just on the off chance that an unruly fire be started during the disposal process.
The final option is electric. These are a lot like those kinds of electric cooktops you can get for your kitchen counter, and are often not even considered barbecuing. There isn't a whole lot of difference in the three options as far as warming up your food, so it's mostly a choice of preference when vetting.
Value
Value is a general standard that shouldn't be ignored when vetting options for your backyard kitchen, because an extremely cheap barbecue might even venture into dangerous territory. Luckily for all those with a hankering to bunker over some smoke with a hilariously blazened catch-phrase apron on, and a pair of tongs in their hands, there are so many options for relatively inexpensive models that are made out of great materials, that have awesome quality of life additions, that you shouldn't actually ever have to venture into that scary end of the market.
It's important to spend what you can on things that produce fire, heat, and work with your food, because you don't want to leave much of those things up to chance, and the more premium end of the market is your safest bet.
Everything on our list is high in value, especially when you do the math of materials/use versus price tag. Finding that right balance can be tricky, but we hope that over the course of our top ten list, we've helped bring to light the varied, but quality market out there for all of us.
10 Best Barbecues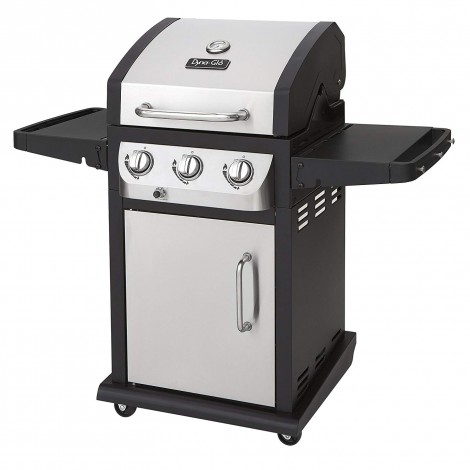 Dyna-Glo is one of those companies that have been around for a long while, making all sorts of amazing backyard cookwares, furniture, equipment, and much more. Here they are, near the top of our list, getting a podium spot (a much deserved one) on the guide for best products out there.
Electric Pulse Ignition
Throughout the years, the technology and ability to light a barbecue has been an ever evolving process. Most recent of those advances is the use of electronic circuits to cause a spark in order to ignite the gas entering the barbecue chamber. It's the safest, easiest, and most reliable form of ignition in modern barbecues.
The Porcelain / Cast-Iron Touch
One thing that is often overlooked when shopping for a great barbecue for your outdoor grilling needs is the make and the coating of the actual grill itself. The Dyna-Glo Smart Space Living 3-Burner LP Gas Grill has a particularly brilliant make, which is a cast-iron base, and a porcelain enamel meaning that not only are the grills easy to clean, but they hold heat, allowing chefs of all kinds to get a good sear.
Cost and Value
Below the average price we've come to see from our list thus far, we're still in shock at how cheap the Dyna-Glo DGB390SNP-D (solid name …. ) Gas Grill is, because you're getting a whole lot of amazing models for barely a buck. It's probably the greatest value on our entire list.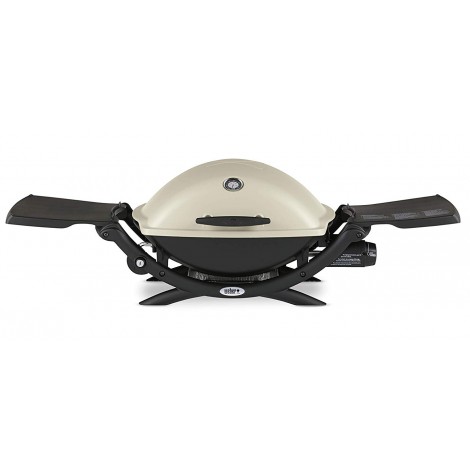 Weber is an all-American standard these days, with their illustrious offerings all over throughout many different marketplaces. But nothing really compares to their wonderfully portable Weber Q 2200 Gas Grill model. It's the ideal option for nearly any and all fire-top cooking needs, and comes with such a well made and sturdy structure that you won't need anything else for a long while.
Portable
Probably one of the last things anyone would think about when describing a really great barbecue and experience is the portability of your fire grill, but Weber thinks that the delicious product of barbecued foods should be available to all, no matter where they are, or where they want to go. The Weber Q 2200's side tables fold up, and thanks to the compact size of the unit as a whole, it's extremely easy to pick-up and move. Just don't do it while it's on.
The Form
One thing that Weber does really beautifully is kit out the rest of their products. From a built-in temperature gauge on the lid of the barbecue, to an extremely high-quality porcelain-coated, cast-iron cooking grates, and all of the bits, bobs that make using and cleaning a portable barbecue truly wonderful.
Cost and Value
At the rough budget-end of the properly well-made barbecue market, the extremely viable and wonderfully portable Weber Q 2200 is our choice for the best BBQ one can buy right now. Take it anywhere you wish, and use it for all sorts of grilled eats, thanks to its quality build, and conveniently user-friendly designs and additions.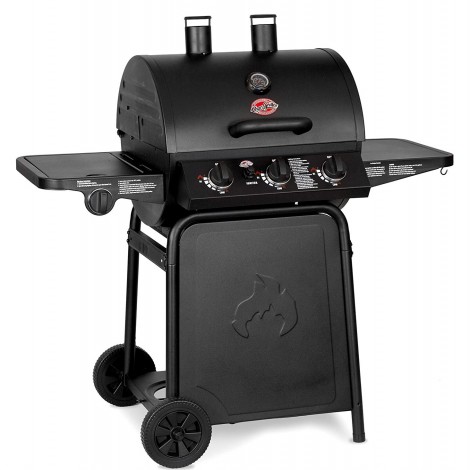 There are many reasons to love the Grillin' Pro 3001 from Char-Griller, but the most obvious one is the awesomely retro aesthetic that just isn't as common as most people would like in the 21st Century version of the barbecue industry. It's sleek, and extremely useful. It's one of the best gas grills on the market.
Warming Rack
The Char-Griller 3001 Grillin' Pro has an astounding 438 square inches of standard grilling area, but one thing that the more compact barbecues don't have is a warming rack. That's the top within the the barbecue that is usually connected to the lid, and keeps finished or yet-to-have-started foods warm, while keeping them a safe-ish distance away from the fires below.
Side Burner
Imagine, if you would, having to move back and forth from the backyard (where your barbeque is) and the kitchen (where your pot it) in order to sufficiently brew up a stock or boil pasta, yada yada. But, what some of the more elite barbecues have is a single burner on one or more of their side platforms. Like this one, the Char-Griller 3001 Grillin' Pro.
Cost and Value
Surprisingly, the Char-Griller 3001 Grillin' Pro 40,800 BTU Gas Grill is one of the best models on the market, and doesn't peak past the budget-end of the mega quality barbecues. It's crazy affordable, and comes with all of the perks one could want from a full-size barbecue.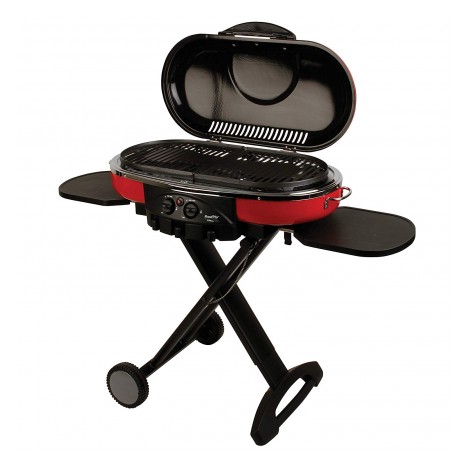 Coleman is another one of those brands that are insanely popular, especially in the great white north, for their ability to make a solid and wide variety of equipment, and cooking gear, mainly targeted at the camping market. The Coleman RoadTrip LXE Portable Propane Grill is probably the absolute peak of their design and purposeful manufacturing. It's one of the mort brilliant grills out there, and it's backed by a mega-brand with a longstanding history of quality.
Complete Transport
The idea and make of most portable barbecues involve build that are not full size, and they almost never include a stand/legs. But the Coleman RoadTrip is almost a replica of a completely full-sized barbecue, with legs and all, and folds down to a package barely larger than a backpack. As a bonus, there is even a pull handle, and wheels for easy movement while packed down.
All of the Simple Things
Coleman is synonymous with quality, but what great quality products that present a fair price normally lack in options, or design, Coleman provides here with the RoadTrip LXE. There are more than a handful of color options, ensuring you find your favorite. And there isn't a single bit of unnecessary build or design on this entire barbecue. Everything is made well, and has been made to use.
Cost and Value
One of the cheapest options on our list, and one of the most dynamic and sought after designs in any backyard or camping cookers dreams, the Coleman is one of the most perfect products we've ever seen, throughout any of our lists. If it were a little cheaper, or a little larger, then maybe, just maybe, it would have stolen the top spot on our podium.

5

. George Foreman 15-Serving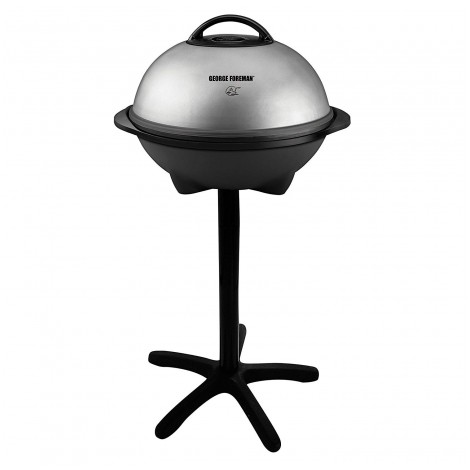 Not many folks have lived a full life in front of a crowd, drowned in the spotlight, and then gone on to do other things, but George Foreman has. The former boxer has since (beginning sometime in the early 2000's) retiring from the ring, become one of America's most trusted and beloved cooking equipment manufacturer.
100% Electric
Something that might make a huge difference to those looking for a barbecue experience (the cooking outdoors, or camping part) but might have restrictions as to what they're allowed to use on their property, is the fact that this model doesn't actually make fire. It's 100% electronic. Which is amazing if you wish to grill, but live in an apartment that does not allow flame-based outdoor cooking.
Control
Probably the single largest benefit to using an electrical grill for your cooking is that you've got far more control over the temperature that your food is exposed to. There's no guessing based on internal temperature thermometers, rather, barbecues like the Goerge Foreman Outdoor Electric Grill have temperature controls much like that of a modern stovetop, giving the cook a more generalized assist on the exact temperature they desire.
Cost and Value
Maybe it's the fact that the George Foreman is 100% electric, and that said electric cooking must take a large amount of technology and design in order to work the best, that makes the price of one of these astonishing. Because, this is a third of the price of the next cheapest product on this list. It's portable, electric, and budget-friendly.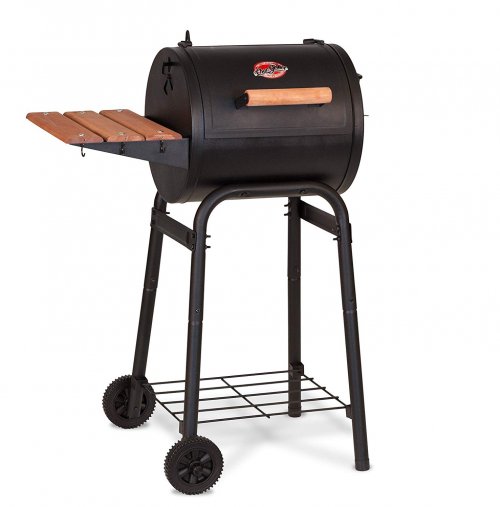 Our first repeat customer on the worst timed adventure -- although, one might want to gift the perfect bbq for the winter giving season, you will most likely have to wait to use it -- the Char-Griller company strikes gold again. This time, in a different flavor. The 1515 Patio Pro Charcoal Grill from Char-Griller is an insanely gorgeous throwback to a day before propane.
Casually Stylish
There's always going to be room in any consumer market for the praying of nostalgia, and this barbecue is hungry for it. There's a whole ton of stylish, retro feel to this charcoal grill, and it can make or break the entire aesthetic of your backyard. It's got that classic old smoker look to it, and paired with other retro or antique furniture, could be the piece you're missing.
Charcoal Power
Some folks that prefer to cook over an open flame don't like the idea of using propane to fuel said flame -- which makes things difficult in the 21st Century, considering that's what 90% of barbecues use for fuel. Using charcoal-born fire version burning gas can provide a whole different flavor and infuses your food with a completely different note.
Cost and Value
Regardless of how important one might think a "real fire" versus a chemical fire is, there's one very obvious reason why a charcoal grill is an astounding option, and that's the price. Thanks to having almost no technology within it, the price is in the ridiculously cheap area. The Char-Griller 1515 Patio Pro Charcoal Grill is no different. It's simple, and simple usually translates to your wallet.



Maybe we missed a very strong opportunity to dovetail this list with another Weber choice. They did, as you probably remember, begin our barbecue journey, and they've nearly wrapped it up here. But we couldn't let this, the Original Kettle Grill from Weber to fall even just one spot, because it's true beauty, in all of its tried and true wonder.
Simple Things
If you asked most people to describe a barbecue, or draw one, you'd be remarkably surprised as to how many of them conjure the idea of this exact product. The Weber Original Kettle Charcoal Grill was so popular in its heyday, that it has cemented itself within the idea of barbecues and grills. It's so simple, just a large kettle-like bowl and lid, with a smoke vent at the top, and a drip tray on the bottom.
Two Tiered Grills
While a lot of people will use the bottom grill to hold their charcoal, some sharper outdoor cooks will put their charcoal on the very bottom of the big basin, and use both tiers of grill for foods. This nearly doubles your cooking capacity, and can help you slow roast something large in the bottom, and cook sides and the like on the top rack.
Cost and Value
Just on the cusp of breaking into the triple digits on the price point, the classically iconic Weber Original Kettle Charcoal Grill is one of the most popular options on anyone's shopping list. There's a whole lot of these out there, making delicious food for people the world over.

8

. Royal Gourmet 2-Burner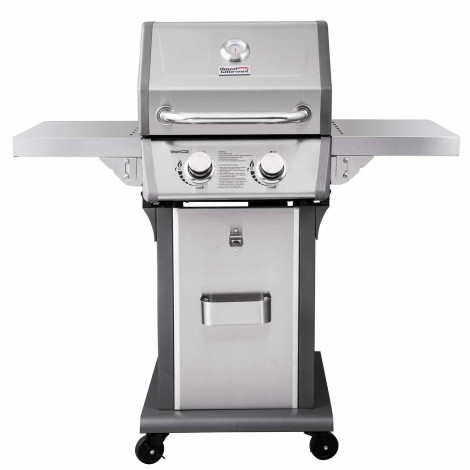 Now now, don't be put off by it's brand name, because this is one of those rare cases in which using the term Royal and Gourmet in the product brand doesn't mean it'll cost you a gazillion dollars to purchase. Not to say it's cheap either, but there's a whole lot of awesome barbecue here, and every stainless steel inch of it is worth the dollars it demands.
All in the Size
Probably the most important factor to look at when shopping for the best available product for your space is the size of it. There are, a whole ton of extremely large models, but the use of space is daring to say the least. The Royal Gourmet 2-Burner Patio Propane Gas Grill is one of the sleekest, and most amazingly perfect sized model on the market. It's well large enough to cook enough food for a large group of people, while remaining in a small footprint. It's the best of both worlds.
Cap and Collector
As we speed faster everyday towards the post-apocalypse realities that so many science-fiction authors introduced us to, we're going to need bottle caps (the most commonly used post-apocalypse currency). Today, we're also really big on beverages that arrive in bottles. The Royal Gourmet grill comes with a powder-coated from panel that shields the propane tank, and it also has a bottle opener and catch tray so you can start saving for the inevitable.
Cost and Value
The one downside to the Royal Gourmet product is that it doesn't really fit within the parameters of a "budget" barbecue, but it's also not that close to the average price, or anything above that. It might be the perfect price for the product you get. The only thing that would make it better would be if it also had a side-burner on one of the shelves.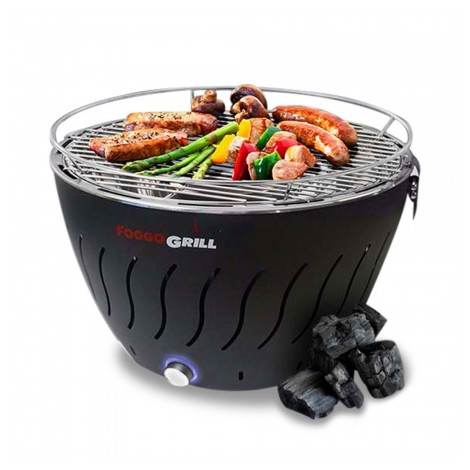 Yet another extremely viable option for those of us looking for that barbecue kind of experience but paired with the ability to travel, the size for packing, and the ease-of-use one desires while camping. The Portable Grill from Foggo Grill is an absolutely stellar addition to anyone's camping gear, RV, or beach bag.
Smokeless BBQ
Thanks to the incredibly well-designed ventilation system, and battery-powered fans, the Portable Smokeless Electric Charcoal Barbecue from Foggo Grill can propel fresh air on your fire, meaning you only have to use a fraction of the charcoal you would in a normal grill. This, in output, means that the tiny amount of charcoal makes no smoke.
For the Goers
There are a lot of things that Foggo Grill did with their Portable Grill to make it just that, Portable. It was imperative to them that there be no need for more than one, as you can easily take yours with you wherever you go. From it's battery powered electronics, to its relatively miniscule size, and the heavy-duty carrying bag, everything is meant to help it be one of the best portable grills on earth.
Cost and Value
At a relatively budget price, the Foggo Grill is small, portable, and capable of requiring far less charcoal for a steady stream of heat than other small charcoal barbecues. But it should be noted that this barbecue, regardless of how clever the design, isn't going to replace any full-size bbq, and it might not scratch that open-flame cooking itch you have.

10

. Char-Broil Classic 280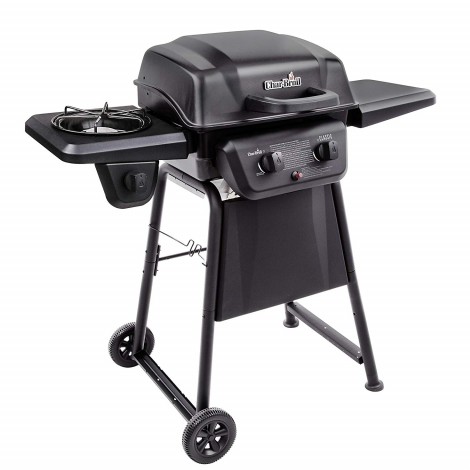 The first of the grand products from Char-Broil -- the great white norths most favorite outdoor cooking brand -- to make our list, the classic 280 with double burners and a liquid propane feeding gas system is one of the most reliable outdoor models on earth. There's no denying it has quality, because it's one of the most trusted brands north of the 49th parallel.
Side Burner
No, we're not talking about after-burner, or any sort of boost that pushes you to the side, rather, the side burner on the Char-Broil Classic 280 is the perfect spot to whip up some side dishes, boil some liquids, or work on a wicked sauce. It's important to some, to have the ability to work on many things at once, and having somewhere off to the side, but not all the way in the house, to get said stuff cookin' can be key.
Double Inline
Many of the models we've listed have a single line of burners down the middle of the interior from side to side, while the Char-Broil king of classics aims to provide backyard chefs with a far better control of their heat, providing two parallel burners running front to back, making it far easier to have a different heat and temp on either side of the grill.
Cost and Value
At only just below the market average, the Char-Broil isn't going to shock anyone into submission, but it does have a whole lot of well put-together craftsmanship that will sell a lot of units. It has a wonderful side-burner, two inline burners within the main compartment, and decades of earned consumer trust.

Subscribe to our Newsletter