Best Kayak Carts Reviewed & Rated for Quality
In a
Hurry? Editors choice: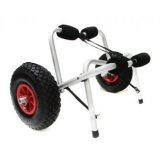 Test Winner: TMS

Kayaking is a popular water sport enjoyed by many. People all around the world have enjoyed this activity for many years, as it is fairly easy to do, as long as you're near large bodies of water. Kayaking is different canoeing by the number of blades on the paddlers, as well as the sitting position. If you own a kayak or have rented one to
enjoy by the lake
, you might understand how difficult it might be to get the kayak from land to water. You might have also been upset at seeing the damages to your kayak from scraping it along the gravel or sand. There are ways to limit this from happening and to protect your kayak so you can use it for many years to come.
Standout Picks
Criteria Used for Evaluation
Features
You definitely don't want to purchase just any type of kayak cart. You want to make sure you're purchasing one that is specific to your needs, so you may consider doing some research before you purchase one. There are a few key criteria to consider before making the purchase. Remember to consider most if not all of these criteria as a whole and not just individually, because all criteria can factor together to make the best purchase that best fits your needs.
Installation or Attachment Method
There are a few variations in how you attach your kayak to the kayak cart as you might have seen from the items listed. If you decide to make your own DIY kayak cart, these variations do not apply. But from what you have seen so far, the two types of installation methods are as follows:
Fold-Out Strap Version: This version is meant to be folded up and stored away when not in use. Most of the items on this list are able to be folded and detached from their tires, and some even come with it's won carrying case for maximum storage. These types of kayak carts are useful because depending on the size, are very portable. If you are unloading your truck or automobile with your kayak cart and attempting to go straight into the water, you might find it annoying or cumbersome to place your equipment back on dry land or store it safely away from the dock or ground- this wastes time and energy going back and forth. Most fold-out strap versions are compact so you can bring them with you on the kayak! This makes it a lot easier when you're done and back on the ground so you can bring your kayak back to shore easily.
To keep the whole contraption together along with your kayak or canoe, the kayak cart should come with buckles, cinch straps, or ratchet straps. These will tie around your kayak or canoe, keeping it secure from falling while you tow it to your destination. Make sure that the straps on the kayak cart are secure and adjustable. You don't want to purchase one that has straps that are difficult to move because kayaks can come in different sizes. The best type of kayak cart will have straps that are already designed to fit most kayaks and canoes.
The second type of attachment method is the scupper drain hole model, which we've seen in a few models in the list above. These may be easier to use for individuals who are adventuring alone, as you don't need to strap the entire boat down. The downfall is that these can't universally work on any kayak boat or canoe- they need to have scupper holes, which are deep tapered holes on the bottom of the canoe that will fit snugly on the cones, acting as a secure attachment method. If you are interested in this type of kayak cart, make sure that your boat is able to "sit on top" of the scupper hole. It should be a secure fit to limit moving when towing your kayak cart. These scupper holes are where the kayak or canoe self-drains, so the cones on the kayak cart should be made up durable material that won't corrode easily.
This might be an extra step for some people, but to buy a scupper drain hole model, you would need to measure the distance between the two holes on your boat to make sure it's a perfect fit. Most of these models should offer size variations based on the kayak size you have, as there are standard universal sizes depending on what you have.
Tire Types
You might have noticed the different types of tires on the list above. The type you choose will have some benefits and some drawbacks, but you always want to make sure that the tire is made from quality material. You will be dragging and towing upwards of 150 pounds on not so ideal terrain, so make sure the tires are not made of cheap plastic that can puncture and tear easily. Although the plastic tire models are cheaper, it may not be cost-effective if you are replacing the plastic tire model kayak cart every time you use it. You can tell the difference because plastic wheels tend to be smaller in diameter and have thin wheels. A good example of these would be the tiny wheels on heavy duty garbage gans, like the ones that sit outside your garage and are impossible to move down even to the curbside for trash pick-up. Imagine carrying around a 200 pound canoe on that! If you can, avoid these types of kayak carts.
You want to look for thicker wheels that look like they can support a lot of weight and are able to be easily carried in different conditions. There are inflatable tires- the benefits of these are that they act just like our car or bicycle tires. Those automotive tires are inflatable because they travel long distances and over harsh terrains with ease, and a kayak cart that is supporting a lot of weight should be able to maneuver quickly and easily. The larger diameter should also help move the kayak cart in different ways, because you will probably have a few twists and turns getting to your destination. The large diameter helps you glide over large objects and rocks without getting trapped.
Materials
Frame Quality and Material
This goes without saying, but you definitely want to look for material that is durable and heavy duty! You are going to be carrying around an extremely heavy object that will be wet, in probably less than ideal climate and ground. Frames that are made out of plastic won't withstand multiple carriages- if you're using this in warmer temperature, plastic is prone to melt as well. Because kayak carts aren't exactly cheap, you want to make sure you are investing in high quality material that can withstand harsh conditions. Most of the ones we have chosen are made from top quality aluminum and stainless steel, which are water-resistant and are scientifically able to withhold a lot of weight. You can probably trust your eyes with this- if it looks like it can take a beating, then this product is meant to provide the best support.
Accessories
Strap Types
There are usually two types of straps that accompany a kayak cart- the ratchet strap and quick strap. The ratchet strap is usually more heavy duty and is commonly used for heavy-duty purposes, like tying down trees and logs in a truck or even tying down a car. You might not need these types of straps for your kayak cart, but some people like the extra security, especially if they have a larger size boat. Quick straps usually come as is on the kayak cart and don't need extra time or equipment to strap down the kayak cart. These should work on the standard kayak or canoe without additional tools or installation. You should be able to just pull and snap them into place, but make sure that your kayak is secure before you go.
Top 10 Picks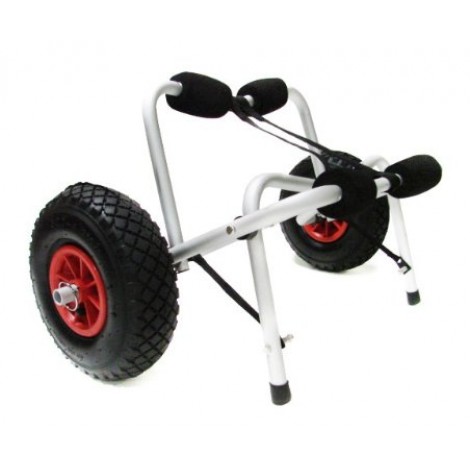 At the top of our list is a very popular model that is designed to transport canoes and kayaks with ease from the parking lot to the water. With easy storage and installation, solid metal frames, and durable tires, this kayak cart can help guide your boat to water with ease and satisfaction.
Foldable Frame for Storage
This kayak carts breaks down easily for convenient storage and ease of installation. All you need to do is detach or attach the wheels to use or store.
Large 9 ½ Inches Diameter Tires
The last thing you want your kayak cart to do is wobble when you're trying to transport it from ground to water. The large flat free tires provide the maximum support needed, especially on uneven terrain areas or sandy areas.
Cost and Value
This product is made from aluminum and anodized stainless steel, with stainless steel fasteners and a chrome lynch pin. The quality of materials makes this kayak cart, which is reasonably priced, a durable cart that will last for many years and prevent rusting and discoloration.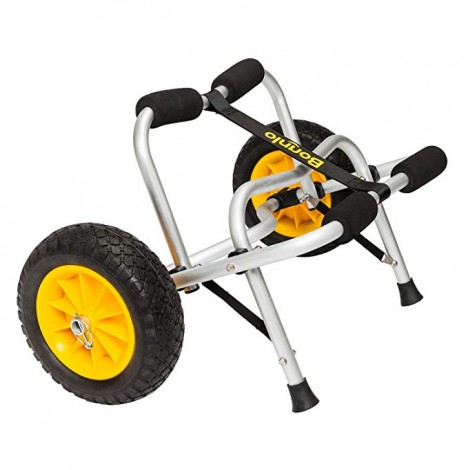 This is a simple and convenient trolley that can carry most paddleboards, floating mats, kayaks, canoes, and jon boats. With it's large diameter tires and ease of installation and storage, this trolley is the perfect water sport companion.
Easy Storage and Access
The tires on this cart can be easily removed with the snap of the lynchpin, and can be folded down and stored conveniently in a large backpack or right there in the kayak with you. Talk about convenient!
More Accessories
This comes with two 5 feet bungee cords with hooks, and a 12 feet spare tire down strap, making it easy to secure a full size 12 feet kayak/canoe and transport it with virtually no trouble.
Cost and Value
This product is also made from high quality anodized steel, making it a long-lasting durable product that will not rust from water and ensure longevity to keep carrying your sporting goods for years to come. The price point is very affordable compared to the other pricier models out there.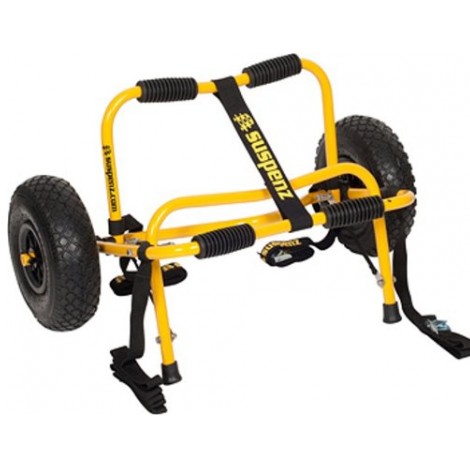 Customers may be familiar with this brand if they are active water sports participants. With their versatile, high quality cart, you know you are getting what you pay for- a product that will cater to your specific sporting need.
Airless Tires
One great thing about airless tires is that they can never (or should never if they are made from high-quality rubber) go flat! You don't want equipment for your equipment! These airless tires have quick release attachment and detachment, and have rubber bumpers on the sides to prevent scratches and dings from use.
Durable Material
The body of this kayak cart is made from a sturdy aluminum frame with stainless steel hardware. The tires are coated and protected with rubber bumpers so that even through harsh climates and rough terrain, your equipment will steer clear from harm.
Cost and Value
With Suspenz being one of the leading brands in this community, it's worth to note that this price tag may be a big steeper than others. Customers claim that the price point is very well worth it, if not for the number of years they get out of this product, then for the sheer simplicity and convenience of use.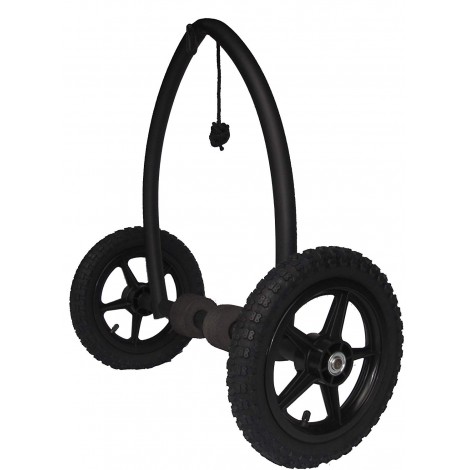 This comes in a unique design that makes it different from the others on this list. Uniqueness aside, customers say that this product just works. Made specifically for sea kayaks and slimmer kayaks, this kayak is made sure you get your boat from ground to water in the easiest, most convenient way possible.
Lightweight and Compact
This whole product weights less than a pound with the tires detached, making this a very convenient and portable product to take with you on your adventure.
"Traillogic" Stability
The design of this unique kayak cart, along with the large tires, make this very stable on uneven terrain. You won't have to constantly look back and adjust your canoe or kayak to make sure it's not slipping.
Cost and Value
This comes in four different sizes, based on how big your kayak or canoe is. These come in 24", 27", 30", and a maximus size. The 24", 27", and 30" are meant to fit standard or slimmer kayak sizes, and the maximus will fit wider fishing kayaks and canoes. With the wide variety of sizes, the price of this kayak cart remains the same. Although quite pricey, customers seem to be satisfied and state it's worth every penny.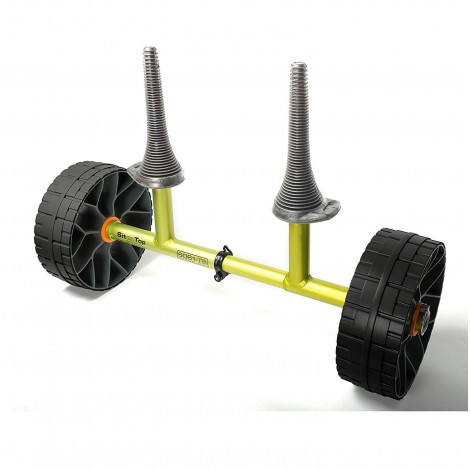 Users are averse to this style of kayak or canoe carts because of how wide they are and the fact that their heavier weight makes it challenging to use. The Sea to Summit challenges this with their unique model that is easy to use universally and big enough to fit a large variety of boats.
Innovative Design
This model is unlike one you've seen before in that it has tapered cones that fit into a range of scupper hole sizes while ensuring your cart doesn't move much during transport.
Easy to Use
You don't have to worry about extra security belts or tying down clamps (although it does come with those extra accessories). This is very easy to use in that you just place your canoe on top of the cones (granted that they fit), and you're on your way to go! This is also very easy to detach and store with it's removable tires.
Cost and Value
Customers state that the quality and construction of this product are great, and worth every penny! This product is in line with some of the higher-quality kayak carts on this list- but because the product already comes assembled, you're technically saving time, and time is money!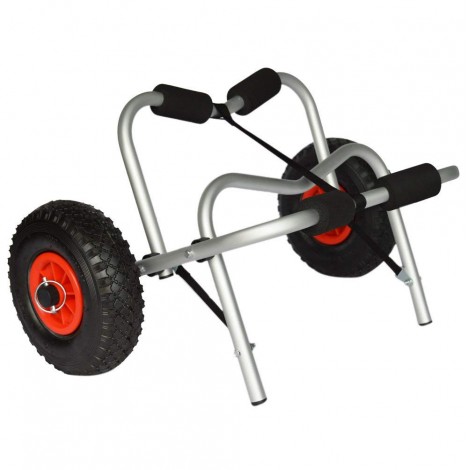 This foldable trolley for kayaks and canoes is the perfect, no frills way of getting your boat into the water safely and without strenuous effort. Save your energy for when you actually get onto the water, and not struggling to get your boat from ground to water.
Alloy Tubing
This is made from quality alloy, which is resistant to corrosion, making this a product that is meant to last for many years. It also boasts a wielded construction design, so your cart is resistant to damage, wear and tear.
Pneumatic Rubber Wheels
This product is made from pneumatic rubber, so that even in the toughest of terrains, your canoe should glide easily without strenuous effort. This should roll very easily over sand, rocky uneven beach terrain, and even concrete.
Cost and Value
Compared to the other products on this list, this kayak boat comes at a very reasonable and affordable price point. Kayak boats and canoes are very pricey as it is- if you want a no-frills kayak cart that gets the job done at a fraction of the cost, this may be the product for you.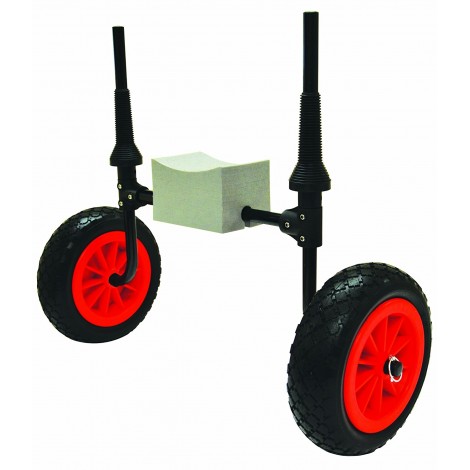 This is also another variation of the scupper-style, sit-on-top kayak. This may be on the user's preference in what they find easier to use. This is a newly designed kayak cart from Malone that features variable width control, airless tires, and a removable protection pad that helps protect your kayak or canoe.
Foam Pad Protectant
If you're towing your kayak in uneven terrain, you may find that the constant jolting causes damage to your kayak. This comes with a 6 inch by 4 inch removable foam padding that sits under your kayak while in transportation, so the bottom of your kayak is safe from damage.
Easy to Use
Some customers who have trouble with the cradle type kayak cart find this type a lot easier to use. This model specifically is easy for one individual to mount the kayak by him/herself- most cradle type kayaks are difficult to install by oneself.
Cost and Value
This product boasts a lifetime warranty. Made from a non-corrosion aluminum frame, 10" airless "Never Go Flat" tires, and stainless steel hardware, this product is highly durable and meant to last. This is comparable to the higher end of prices of the other kayaks on this list.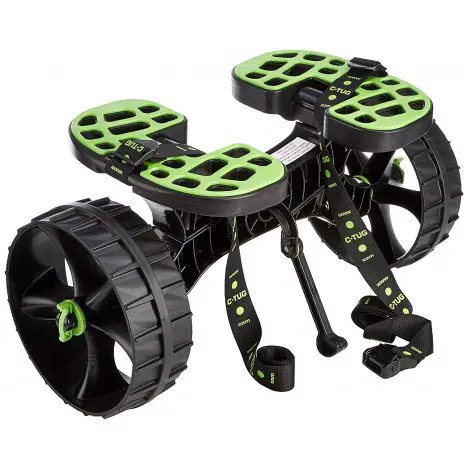 This C-Tug Kayak & Canoe Cart has a very unique design that is unlike most carts you see on the market today. Many sports enthusiasts are amazed by this product with its incredible strength and rugged aesthetic.
No Tool Assembly
The C-TUG requires absolutely no tools and assembles in mere seconds. This also dismantles in seconds, which gives you more time to store it quickly to take to your next destination.
Swiveling Pads
The pads that the kayak or canoe is meant to rest on is made from a soft rubber that doesn't cause damage to your boat, and is designed to swivel easily so that you don't get stuck and get transition very easily.
Cost and Value
This is a very popular and highly rated kayak and canoe cart. Reviews show very high customer satisfaction from this product because of how easy it is to use- the price is similar to the higher-end kayak carts on this list.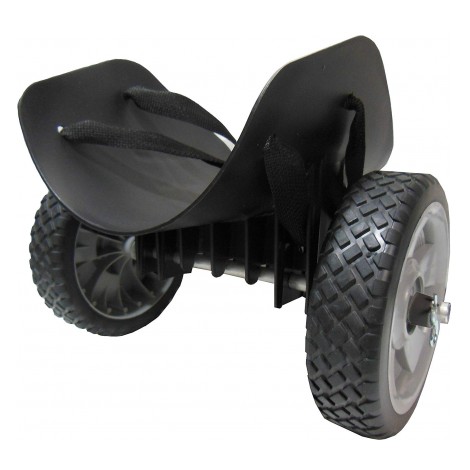 One look at this kayak cart and you know it is heavy-duty, and meant to carry large and heavy objects across surfaces with ease. TheKayakCart claims that all you need to do is strap, roll, and launch!
Flexible Cradle
One of the pain point of certain kayak carts is the inability to fit the kayak or canoe on the cart because of the size difference. This flexible cradle is different in that it can mold and fit most hull shapes. It also comes with dual straps, buckles, and hooks.
Extra Optional Wheels
This kayak cart offers three different types of wheel sets, that are tailored to the specific terrain you're going to be in. Most kayak carts have difficulty navigating through soft sand, but the extra optional wheels is specifically made for soft sand.
Cost and Value
This is TheKayakCart's bestselling model, and it has been scientifically and durably designed for all kayaks, canoes, or rowing shells, and can be quickly and efficiently attached to any shaped bows or sterns. Although the model of this KayakCart is quite pricey, this model is definitely worth it.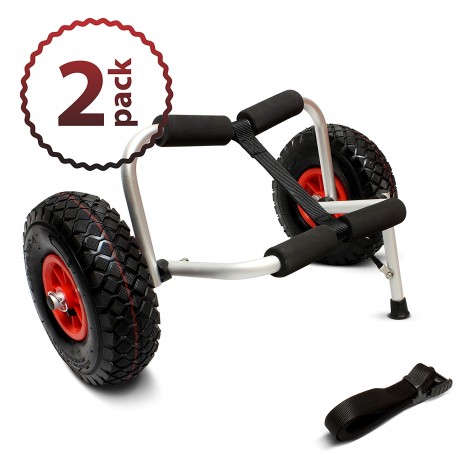 This is a universal carrier that is designed to fit all kayaks, paddleboards, canoes, floating mats, jon boats with a 200 pound weight limit. Auto Body Now (ABN) is a high-quality tire manufacturing company based out of South Dakota, and provides the best auto body supplies and car car products. Because of this, you know this product is meant to be highly durable and withstand harsh conditions.
Inflatable Tires
These tires are different in that they are inflatable and not plastic or soley rubber. Because car tires and transportation tires are inflatable, it allows for greater movement on tough terrains. This inflatable tire makes it easy to transport your boat.
Portable
This kayak carrier can fold down into a very compact size, making it easy to carry with you on the boat or in your backpack. The tires are also able to be removed very quickly with the removal of the lynch pin, so you save time for yourself.
Cost and Value
This product is on the higher end of prices, but still lower than other options on the market. Because the distributors also specialize in auto body hardware and equipment, this kayak cart will be made from high quality material that is made to last.

Subscribe to our Newsletter