Best Duck Hunting Waders Reviewed & Rated for Quality
In a Hurry? Editors choice: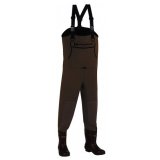 Test Winner: Hodgman

What's your favorite duck hunting style? Do you like loading your boat to the brim or assembling a hidden blind or swamp jumping? There is no doubt that
choosing the best gear
will make your experience easy and aboveboard.
If you are
searching for waders
, you will find an overabundance of them for hunting and fishing. Most hunters' use them for fishing however, these options are designed for hunting that involves water. With so many models out there on the market, it might be confusing selecting one that will deliver in performance.
So, what are the best options? Don't worry, our handy guide will give you recommendations in terms of design, brand, quality, performance, and price. We will also give you reasons why selecting the best is necessary.
Standout Picks
Criteria Used for Evaluation
Water Resistance
The water-resistance of a wading dungaree is its ability to resist water and prevent leaks. Waterproof protection is critical and should be among the first things you should look out for when shopping. The neoprene material is the best since it has a water resistant characteristic that will keep you dry and comfortable. The main advantage of this material is that it holds the body heat and shields your body from chilled water.
Another feature is padded knees that provide extra durability and protect your feet from water and cold. Boots made of rubber will lock out water; however, an insulation layer will protect your feet against freezing. Double or triple layered stitches for the seams is a plus in locking away water. Most often these are bonded together by hot glue or tape.
Comfort
A comfortable pair of duck hunting waders will make your wading experience fun, adventurers, and fruitful. However, coziness is more than beauty or elegance but has everything to do with keeping you warm and dry. These waders need to have a waterproof material that does not leak in water for a superior experience. Neoprene has proved to be a solid material as compared to nylon; however, it is also pricey but worth the money.
In keeping warm, these pairs typically have a hand warmer chest pocket that ensures you remain dry and warm. Additional features include an insulated lining in the boots and the body. The boots should be reinforced for protection, especially when you wade through deep waters. Moreover, the antiskid outsole will protect you against sliding and accidental falls when you are on slimy grounds.
Neoprene suspenders add to your comfort, and buckles make it easy for you to put on and remove.
Value
The issue of the price will never escape a shopper's mind, not now or not even in the future. For what reason? Budgeting has everything to do with what's in your pocket. Just like any other product, these waders are available in different sizes, shapes, and price, of course. However, the prices vary depending on brand and quality.
If you are looking for a high quality option, then you should be prepared to part with quite some bucks. For instance, Frogg Toggs is a premium brand, and their styles will cost you an arm and a leg. On the same breath, Foxelli is a bit cheaper, but are premium in terms of quality, durability, and reliability. You don't have to overthink on what you need to pick since there are options available for everyone depending on how much you want to spend.
On the same note, poor quality should not be a measure of affordability, since, it may be expensive in the long term. Let me explain further why this is so. Fishing or waterfowl chasing is not a one-time activity. Consequently, failure to buy high quality gear will mean every season, you will be spending more bucks in getting yourself a new pair. It could be much cheaper if you chose a high quality essential that will save on replacement costs.
That said, the best pair is one that strikes a balance between cost, quality, and performance. If you are not sure about the brand, you can check reviews online or check on customer recommendations. Since these products are premium in terms of price, ensure there is some guarantee just in case your package does not deliver as expected. Never the less, if it is your first time, refrain from buying pricy brands. At the end of the day, the best wader is one which meets your needs and gives you value for the money.
Durability
Durability depends on the quality of the wading gear and its material composition. As discussed earlier, the best options are those made from Neoprene, and they will surely last for many seasons. There are some made from Nylon, however, Neoprene takes the trophy in terms of durability and performance. It has super waterproof abilities and keeps you dry and warm while in chilly waters.
The quality of the boots also affects their durability. Sturdy rubber is ideal and will not tear pretty fast. All the same, reinforced boots are suitable since you can wade through deep waters and a cleated outsole allows you to walk on rugged or rough surfaces. The quality of the seam is also an essential consideration. The best styles have a double or triple layer of stitches and are bonded together with tape or hot glue.
Leaking water can really affect the quality of the wader, and it will not last long. A durable pair will also cut down on your replacement costs.
Effectiveness
Effectiveness is the ability of the waders to perform and exceed expectation. These options are necessary for chasing after water birds, fishing, or any other activities that involve mud or water such as ponds or gardening. The performance here means it should keep you dry and warm without leaking any water whatsoever.
How do you ensure you pick the right one? Have on your checklist the quality of the materials, the boots, the versatility and overall quality of the kind of pair you are looking for. A couple made of Neoprene is undoubtedly one to go for since it has proved to have waterproof characteristics that will keep water away. It is also a premium product and durable. Additionally, inside the pair, there should be an insulated lining to keep you warm and prevent your body and feet from freezing in chilly waters. Reinforced boots made of anti-skid material allow you to wade through rough and rugged waters.
Pockets are also necessary since they add warmth to the body, and you can also keep your essentials therein. Adjustable suspenders also keep the pair in place, and buckles allow for easy removal. Other features are a comfortable belt and D rings where you can hang your accessories
10 Best Duck Hunting Waders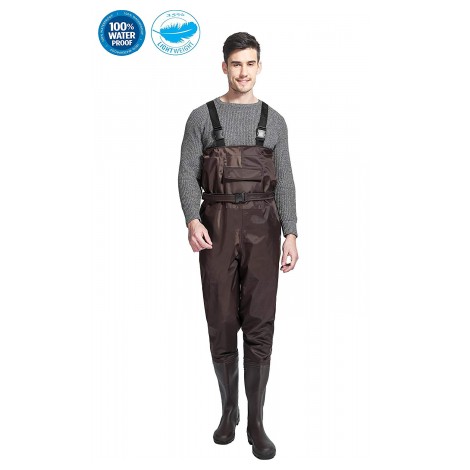 Yiwe Bode is one of the biggest names in the provision of water hunting gears, and for a good reason. Their premium quality has been consistent and loved by hunters for many years. They feature a nylon/ PVC fabric that is 100% water resistant with seams that are fully taped to lock out water.
They are impermeable and comfy with the pattern designed for hunting in water. There are different varieties for both men and women with adjustable suspenders and H-Back for support.
The package comes with rubber boots with an outsole which is super thick and does not skid. They are quite versatile, and you can use them for fishing, swim pool cleaning, large fish pond and other outdoor works.
Lightweight
These options are lightweights and weigh 35% less than standard types. The fabric is breathable, durable and offers maximum comfort. The sleek design provides you with imposing freedom to move with ease without worrying about the protective abilities.
Comfortable
With the Yiwe Bode, you can go deeper without having to worry about them soaking in water. The boots, trousers and the chest provide an excellent combination to ensure your comfort. They are sturdy and durable to endure heavy use in rough water flows.
The outsoles are made of thick rubber, and this keeps your feet comfortable and prevents slipping and accidental falls. You don't have to worry about your feet freezing since the boots are double taped and stitched; your feet will stay dry.
Cost and value
For the price, these options are budget-friendly, and you can choose the best color to suit your preference. They are durable and made from nylon fabric that insulates against cold and extreme weather.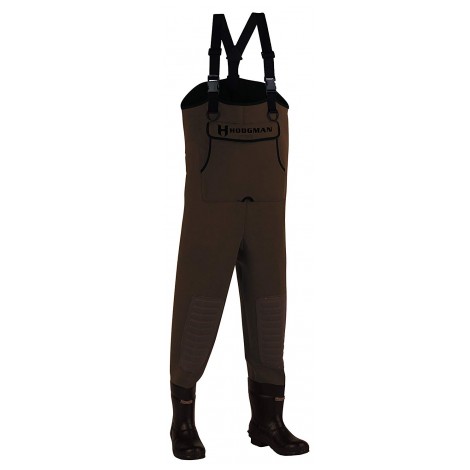 The Hodgman comes in handy if you are planning to on hunting or fishing in cold front waterfowl. These pairs are meant to ensure you stay warm and dry despite the harsh weather. They have multiple features that ensure warmth, comfort and reliability.
Durability
The Hodgman will last and last since it is made of 3.5 mm Neoprene material which has reinforced layer knees. The main advantage of Neoprene over Nylon is that it is more superior quality and not prone to tear. They are an elegant pair with super strong seams which are stitched, glued and taped to lock out water completely.
Neoprene also allows for mobility since it's flexible and therefore, you can move freely. The pair also has knee pads, which is an advantage if you want to fish or hunt and will be kneeling quite often. Therefore, you won't have to worry about stones touching your knees.
Features
This pair features boots made of 200g Thinsulate Rubber for protecting your feet against cold. The outsole is cleated rubber, which is an attachment to the boot that provides grip on a slippery ground and therefore prevents skidding or falling.
There are Y-back suspender straps with opposing buckles for extra support. The suspender is thick with neoprene pads that make them comfy, and it's quite easy to release the buckles. These are more reliable as compared to Velcro.
It also features multi-pockets with a classic one located on the chest area. There is also hand warmer pockets and another pocket on the inside made of polyester. These pockets are large, and thus, you will have ample space to tackle. The inner pockets provide extra warmth to your body and which increases flexibility and mobility.
Cost and value
The main advantage with these options is you can wade, kneel and walk through rugged grounds and they will still look the same. They are reliable, high quality and will not leak. The insulation is a plus and will keep you warm and cozy. They cost more than Yiwe Bode; however, they are a good value for the money.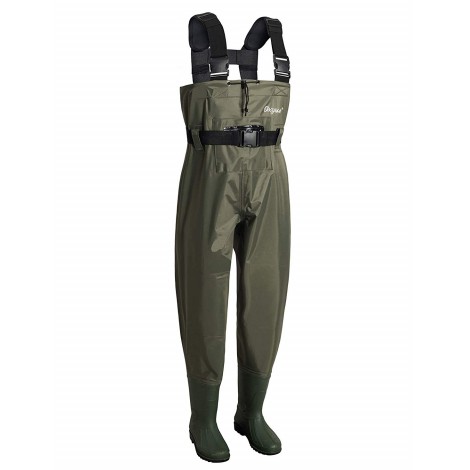 Are you looking for a pair of waders for your next hunting expedition? The OXYVAN promises quality, comfort, and reliability. These are lightweight with a reinforced exterior that they do not leak. They are made from high quality material that offers durability and resistance from abrasion. They feature double layer insurance that protects the knee and the backside as you bend.
Water resistance
It is made of nylon blended with PVC material, which is waterproof materials. The seams are firmly held with hot glue while the check pocket has a waterproof zipper. These are made from durable PVC, which is also water resistance. The seams joining the boots and the trouser legs are joined with hot glue under high pressure. The soles are reinforced and are anti-skid to ensure your safety and for comfort as you wade through water.
Perfect fit
The OXYVAN will fit you well with no sagging areas. It comes with an elastic belt that is easy to buckle. The waistband is perfectly stitched and has high pressure; therefore, it does not tear, and its design works perfectly with the belt. You can also adjust the shoulder straps using the easy on buckles.
Cost and value
These options are multipurpose and suitable for duck hunting, fly fishing, cleaning your fishpond, or working in the garden where there is a mess. These pairs are unbelievably cheap when you compare with Hodgman and Yiwe Bode. However, they are made from high-quality material, are durable and comfortable. They are a good buy worth the money.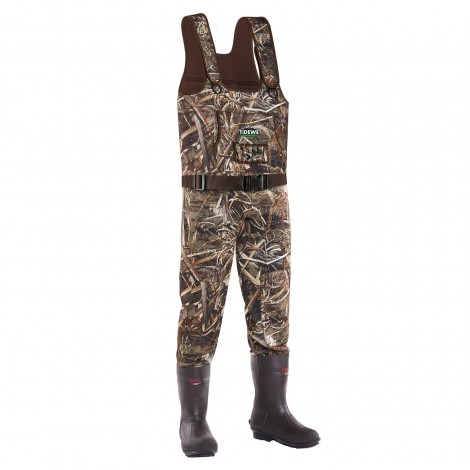 These duck hunting waders from TideWe are available in different sizes to suit your physique, there is a size for everyone, and if you have a regular or small build, there are perfect sizes. No need to worry if you have a large frame since they are similarly free shaped ones.
One unique feature about them is the elastic neoprene suspenders fitted with loops that make it easier for you to put on and off. The chest pocket has a small pocket on the inside that safeguards against cold and keeps everything dry.
Sturdiness
These waders are made of 3.55 mm neoprene blended with sturdy poly, jersey layer, and a stretchable liner. The seams are triple finished, perfectly stitched, taped and joined together by hot glue. It makes them strong and durable; therefore, you can stride in deep, rugged water for trapping and fishing.
They feature sturdy and insulated boots made of rubber and a comfortable interior. These are super cozy, and the good news is that you can wear without socks. They have a 3M Thinsulate that ensures your feet remains warm regardless of the weather. The strengthened vamp protects the boots from puncture. The sole has a rugged pattern; therefore, you will have a better balance and grip on wet and slimy surfaces.
Water resistant
The TideWe are made from high-quality material that is waterproof. They feature double stitching, and the seam is super sealed. They are coated with polyurethane and give you protection against leaks.
Cost and value
For the price, they are a good pick; however, they are quite pricey. Nevertheless, these water dungarees are quite versatile, and you can use them for pursuing waterfowls and fishing. You can also use them for cleaning your pool or farm duties.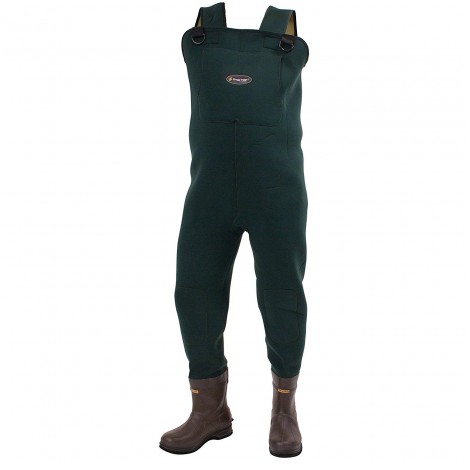 Are you looking for a pair of water tuckers to keep you toasted in chilly waters? The Frogg Tog will treat you pretty well. They feature a high back design that allows you to navigate in deep waters in search of water birds. The suspenders are made of neoprene and have a hook and loop that lets you customize depending on your needs.
Perfect fit
You will enjoy using the Frogg Toggs for quite several tasks such as hunting waterfowls, fishing, and maintenance of ponds. What makes them unique? They are a comfortable fit and are easy to put on and off, and the adjustable straps work perfectly fine.
Furthermore, there is ample space in the boots, so you can wear heavy stocking for keeping your feet warm and comfy while in a stream of cold water.
Extra warmth
These revolutionary pairs are made of 3.5 mm neoprene upper that locks water out and ensure you stay dry. The knees are hoisted for extra protection, especially where there is poor visibility, and you want to go deeper.
These have Thinsulate and thus ensures your feet are warm, protected, comfortable, and dry. The pockets are warm and sufficient for storage and keeping you warm.
Cost and value
For the price, Frogg Toggs are excellent quality made from thick neoprene that is extremely useful in chilled waters since they do not leak water. They are highly priced but worth every penny since they are more cozy and loose than similar options on the market. We highly recommend these options if you love fishing in chiller waters, and the fit is accurate for any size.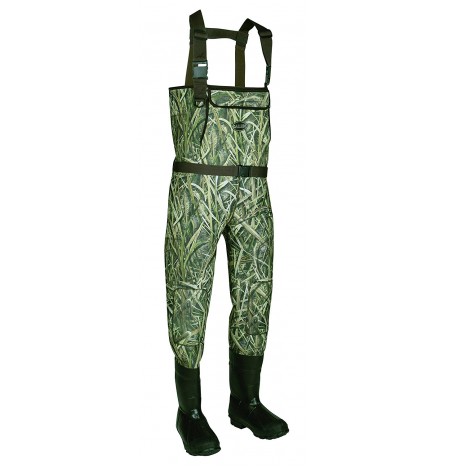 First expressions matter and the Allen Company water dungarees are an elegant pair for chasing waterfowls. They are made of laminated 3.5 neoprene upper and adjustable suspenders on the front and behind. They are a comfortable size with chest area measuring 47," and the inseam is 34.5".
Features
Most tall people have a problem finding a perfectly fitting gear; these duck hunting waders are a great fit with extra room and can fit well with regular socks.
They feature a raised back design, which is essential for keeping you warm and preventing water from gaining entry. The knee pads are raised to keep you warm and for protecting your knees in situations where you want to kneel.
The waist belt is adjustable, and the warmer pocket ensures you stay dry and warm. You can also use it to store some essentials.
Waterproof
These are made from waterproof neoprene material that does not leak. The seams are joined together with hot glue, taped and stitched to lock away water.
The rubber boots have 100gm of Thinsulate that ensures your legs stay warm and dry. They feature a hard toe cap and arch support made of solid steel for maximum stability.
Cost and value
These options will exceed your expectation, especially if you are chasing waterfowls under cold water. They are a great fit that will keep you dry. They are pricey; however, they are super durable and worth the price.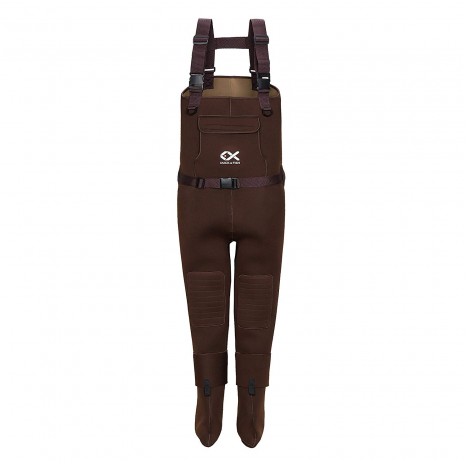 Next on, our recommendation is Duck and Fish, which is a comfortable pair with adjustable suspenders and YKK buckle. They feature gliding gravel frames, double coated Handwarmer, and a loose belt for extra comfort.
They are ideal for use in chilly water as they will keep you warm and cozy. These are made from high-quality waterproof neoprene, quite thick with a reinforced knee pad. There is a size for everyone since different sizes are available depending on your specific need.
Waterproof
They are waterproof and feature neoprene which is a high-quality material that will completely lock out water and consequently keep you dry and warm. They also have a raised back and front with a warm pocket, which is essential for maximum comfort.
Another added advantage is the seams which have thick layers of stitches and joined by use of hot glue.
Adjustability
They are a comfortable pair since the suspenders, and the belts are adjustable depending on your preference. Additionally, you can wear them and take off with ease since they buckle quickly and effortlessly. The boots are reinforced to provide a perfect grip on muddy water.
Cost and value
For the price, these pairs are versatile, and you can use them for fishing, pursuing waterfowls, cleaning ponds, and other tasks at home. They are made of high-quality material and do not leak in water. They are a good value for the money and the right choice for your water mission.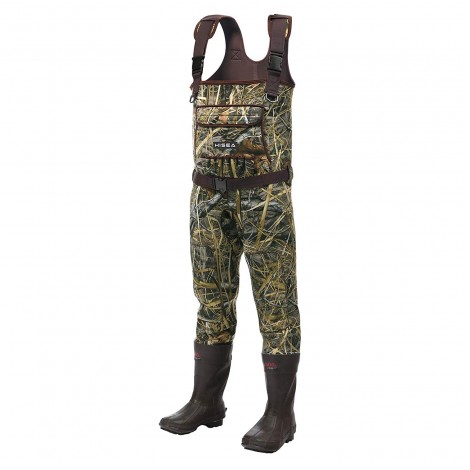 These are made from high-quality materials that guarantee durability and protection for active wading in cold waters. They feature a 4.5 mm neoprene that offers extra protection that you can rely on.
They also have a pocket on the chest area where you can keep your belongings. They are multifunctional and other than chasing wild birds, and you can also use them for fishing, cleaning pools, garden works, and much more.
Sturdiness
The Hisea are made from sturdy material that ensures you are comfortable and warm. The neoprene is laminated and has a stretch liner and nylon jersey for extra comfort. They keep water and locks in body heat.
The boots are pure rubber and have a 3M Thinsulate that keeps your feet warm and dry. The soles are cleated with antiskid properties that will provide a firm grip on slimy grounds.
Water resistant materials
These options are made from waterproof material, and the seams are double stitched, glued and taped and will not leak water. The boots are made from high quality material and reinforced to offer extra protection even as you wade through chilly water.
Cost and value
The Hisea are quite pricey; however, they are user-friendly and have adjustable neoprene suspenders and easy to release buckles. They are a comfortable pair, versatile, durable, and a good value for the money.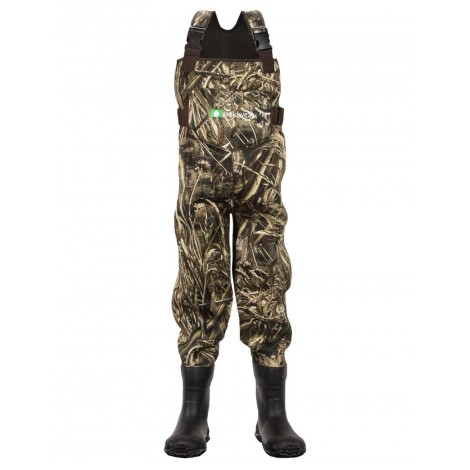 Up next on our list is the OAKI duck hunting waders. Well, it can be fun having your child accompany you for a fishing expedition or an adventure to chase after water birds. You can surprise them by buying them this pair.
They are versatile, and your child can use them for riding ATVs or playing outside. They are made from waterproof materials that protect your child against exposure to water and keeps him warm and dry.
Comfy
They are quite warm since they contain an insulating layer on the inside that ensures your child stays dry and warm. The boots have been reinforced with padded knees and a belt around the waist which buckles quite easily.
They also feature adjustable straps you can customize depending on your child's size. They are lightweight and pretty easy to put on and remove.
Safe to use
The padded knees protect your child kneels on a rough surface. The boots have cleated outsole that offers perfect grip on slimy grounds and minimize accidental falls.
Cost and value
These options are suitable for both boys and girls and are available in fun colors that your child will love. Besides, they offer protection to your child when wading in chilly waters and rough surfaces. That said, they are pricey when you compare to regular options; however, they are a super deal worth every penny.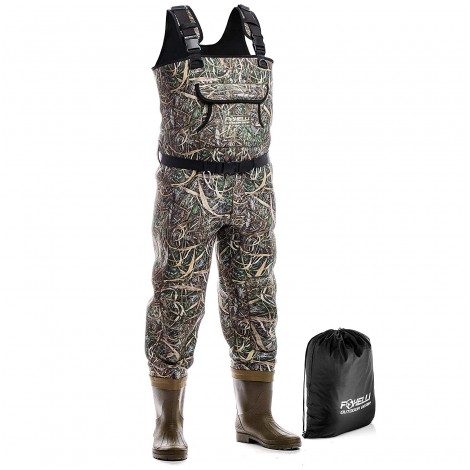 The Foxelli are a comfortable pair quite easy to put on and remove. They offer you with maximum flexibility as you wade through chilly waters and rugged grounds.
They are multifunctional for use when you want to clean the pool or catch some fish or even gardening. They are waterproof with double layered stitches on the seam for super durability.
Perfect fit
These options will fit perfectly and feature adjustable suspenders to allow you to customize depending on your preference. They have buckles that attach and release quite quickly.
You can use the chest pockets to keep your essentials, and they also double as a handwarmer that allows you to stay comfortable and warm.
Extra features
The main advantage of these pairs is that they are designed for fishing and chasing after water birds. They feature a D ring where you can attach your gears and external pockets for keeping your essentials. Also, there is a pocket on the inside for keeping small items like keys.
The boots are made from lightweight PVC and feature an anti-skid outsole; therefore, they protect you from skidding and accidental falls. There is a lining on the inside, which will keep you warm, and the good news is, you can wear without socks, and your feet remain dry and comfy.
Cost and value
The Foxelli are what you need for your water adventures, and they are not only high quality but also incredibly cheap. Furthermore, they are a premium product that has been tested for quality assurance, and the package comes with a carry bag for easy transport.

Subscribe to our Newsletter