Best Drones for Kids Reviewed & Rated for Quality
last updated:
Jun 30, 2019
Did you know there's a cool way to spend time with your kids outside? A drone is the perfect toy, as it allows kids to be the pilot of their own machine. Since today's kids have grown up around more technological devices than previous generations, these toys would help them use their familiarity with modern technology to pilot their very own.
When buying one, it is essential to make sure it is the perfect fit. Before purchase, it is important to understand the type you want, and if it will meet your child's needs. Does your child want to use it to take pictures, or do they just want to watch it fly really fast? We've compiled a list for you to help find the perfect option. Keep reading to see the top ten drones for kids.
In a Hurry? The test winner after 12 hrs of research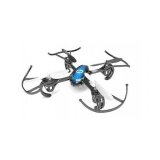 Holy Stone HS170
Why is it better?
Stability allows for a smooth flight
Prop guards to help with flying
Includes a home button
Remote syncs easily with drone
USB charger allows for simple charging
In a
Hurry? Editors choice: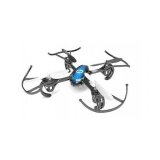 Test Winner: Holy Stone HS170

13
Researched Sources
11k
Reviews Considered
12
Hours Researching
10
Products Evaluated
Adjustability
Durability
Effectiveness
Portability
Style
By Default
10 Best Drones for Kids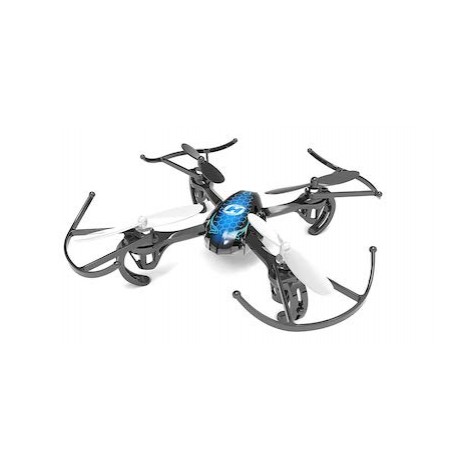 Stability allows for a smooth flight
Prop guards to help with flying
Includes a home button
Remote syncs easily with drone
USB charger allows for simple charging
Batteries for remote not included
Altitude control not always reliable
A headless security system means it will fly easily. The flight time is around 6-8 minutes. 2.4GHz technology means no interference. Its 6-Axis Gyro Stabilization System is flexible. For those looking to practice their newfound piloting skills, this is perfect.
Features
The charging time is about 45-60 minutes. It comes with a USB charger, making charging easy! No pesky USB wires.
Design
No need to assemble the parts. Everything is all put together when you open the box. This lights up, so nighttime flights are possible. Crash landings cannot disassemble it.
Cost and Value
The price is very affordable. For a product with a quadcopter that has ultra-responsive motors, this option is worth any cost.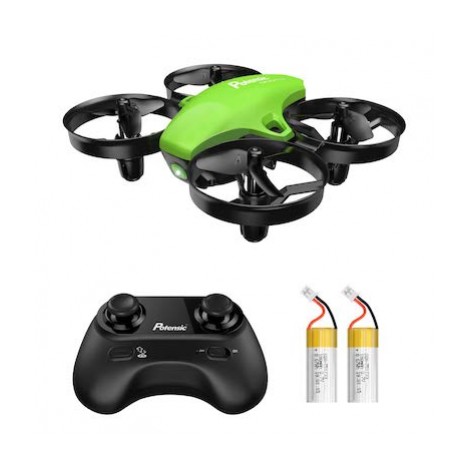 Easy to fly
Protect propellers
Made of durable, rubber plastic
Colored tail lights label front and back
No registration with FAA in USA
The battery must charge every 25 minutes
It must calibrate before start
The Potensic Upgraded A20 Mini is a fast and agile one. Through the use of remote control, you can fly this one in any direction. Its high-speed levels are also adjustable. It can even fly through obstacles.
Accuracy
Its Altitude Hold, Headless mode, and One Key Taking-off/Landing make directing it simple. You will not be struggling for control. Its 3 adjustable speed levels make for a good time.
Utility
It is portable, being the same width as an iPhone 5. It is incredibly lightweight and easy to carry. 12-month warranty and no need to register FAA in the United States.
Cost and Value
The Potensic Upgraded A20 is very affordable and worth the price. Its 2 detachable batteries and agility make it easy to use for even the newest of pilots.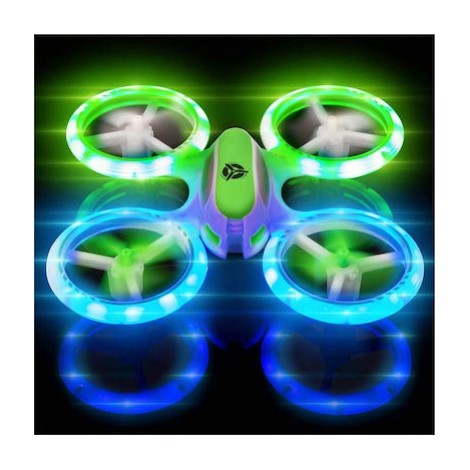 Extra propellers and batteries
LED guard rings for nighttime visibility
2-qty 500 MAH rechargeable batteries
It can perform flips and tricks
Portable, the width of a 5" iPhone
Battery charge can take up to 60 minutes
Flight time may last for only 6 minutes
The Force 1 is easy for children to fly. It is designed for beginners, and it is 1-Key Start/Stop flies in 2 speeds. It also has Altitude Hold and Headless mode features. It's a quality assured product.
Attention to Detail
This is one of those drones for kids with lights, as the LED light feature will allow your kid to make unique light trails while performing a 360 mini flip.
Build Quality
The design includes built-in prop guards and a rubbery finish for protection. The design allows it to be flown indoors, so no need to worry if it bumps into anything.
Cost and Value
The Force 1 Mini Drone for Kids can be purchased for a very reasonable price. The family can appreciate its sturdy bumpers and extra batteries, making for a fun time.


Can be used indoors
Battery charges in 10 minutes
Automatic landing
Lights to clearly indicate front and back
21 minute flight time
Battery charge may take 60 minutes
Spare parts may be difficult to find
The DROCON Ninja includes an advanced barometer that enables it to perform altitude hold and remain stable while in the midst of flying at increased heights. It is one of those drones for kids with video.
Advanced Features
This can be operated through an app on your phone. Once it's connected, you can take real-time images of the flight. Its flexible design means it's also portable.
Unique Design
It's easy for beginners to use, as this products one-key take-off/landing and altitude hold make for a non-challenging flight. The 120-degree-wide-angle will capture everything in the air for you.
Cost and Value
The DROCON Ninja Drone for Kids is quite reasonable for an option that performs so well. It is fast and responsive, and the set up is easy. Also works indoors.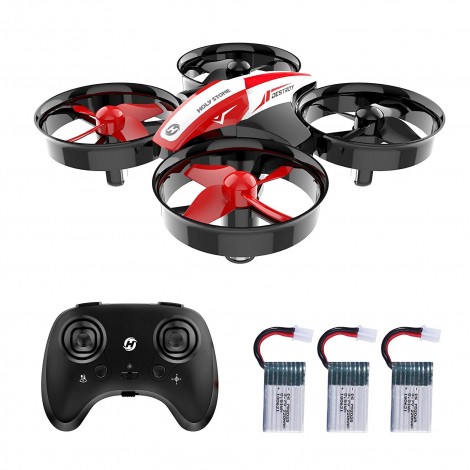 Can be used indoors
Battery charges in 10 minutes
Automatic landing
Lights to clearly indicate front and back
May drift a little during flight
Occasionally weak against wind
The Holy Stone HS210 boasts a flight time of 21 minutes, and it comes with three batteries. With headless mode, there is no need to worry about it losing direction, as the flight pattern remains very smooth.
Smart Design
The product is equipped to perform 3D flips and has a low battery power alarm. Speed can be adjusted for operation proficiency, making it fun for the kids to play.
Technological Benefits
The speed settings are easy to control, and the altitude hold function keeps it steady in midair. Its throttle stick can be released, allowing for better control.
Cost and Value
The Holy Stone HS210 is well worth the expense for all the technological features and hours of fun it promises. The easy assembly makes this a fantastic purchase.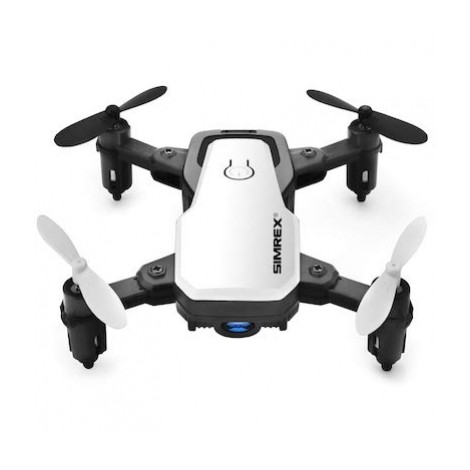 Features an emergency stop button
Can fold it up and place in your pocket
Very low noise level
Hooks up to a smartphone via wifi/app
30-45 minute range
A 10-minute break for overheated motor
Throttle requires slow adjustment for control
The SIMREX X300C can perform 360-degree flips and rolls. It has 3D rolling special effects. The flight range is 30-45 meters, with a flight time of 8-10 minutes, making this a model that can suit your needs.
Technological Advancements
The product is equipped with a 6-axis gyro flight control systems, making for safe flight experience. This can also be controlled via smartphone, Apple iOS, and Android phones.
Ease of Use
It comes equipped with a headless security mode, something that is beneficial to amateur fliers. The headless security mode helps to make control easier and prevents loss of direction.
Cost and Value
The SIMREX X300C is one of the cheaper items on our list, and its powerful, ultra-responsive motors make this a product you don't want to miss out on.


Labels clearly present on buttons
Auto-pairing function
Altitude not lost during stunts
Product very responsive
Foldable and portable
The battery may only last 5 minutes
Propellers a bit fragile
The HASAKEE features an altitude hold function, allowing it to hover at the same height even if the control lever is released. This product is portable, making it easy to transport it anywhere you go.
Features
The HASAKEE has an easy setup. All you need to do is turn on the power supplies, then press the Take-off/landing button to start your flight.
Advanced Design
This product is capable of performing 360-degree flips and rolls, and you can maneuver it to perform flips in multiple directions. It can also perform high-speed spins on site.
Cost and Value
The HASAKEE is currently at an affordable price for any family looking to engage in a fun, piloting activity. The unique operating tricks will certainly enrich your experience.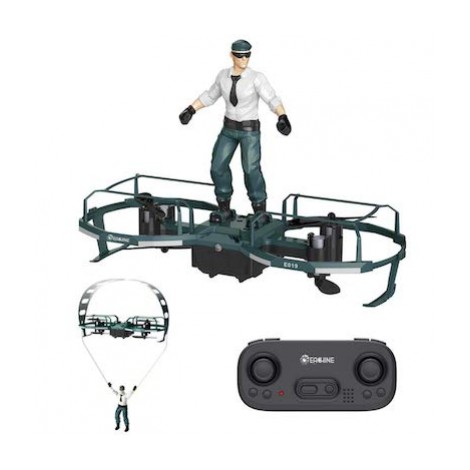 Can be used indoors
Lightweight and easy to transport
The durable design prevents damage
Very easy to control
Does not come with AAA batteries
Speed slowed in paraglider mode
The EACHINE Quadcopter comes with a 2-axis flying skateboard design, and 6-axis gyro, making flying stable and control simple. You are also free to pick your speed mode at any time. Skateboard mode lets you perform 3D flips!
Advanced Features
This product can switch into paraglider mode simply by holding the switch button, making for a 2-in-1 flight. One-key-take-off and one-key landing means no operational difficulties, keeping the flight stable.
Cost and Value
The Mini Quadcopter for Kids is available for a great price and is worth it for its many advanced features. The paratrooper that can be added makes its design unique.


Changes direction simply
Auto-hover allows for stability
Third speed mode is excitingly quick
Flip tricks are easy to perform
User-friendly
May take time to learn control
Must be placed on a flat surface
The GILOBABY RC Quadcopter boasts a long flying time. Lasting up to 12-15 minutes, it features a 6-axis gyro flight system for control. It is user-friendly, making it a perfect gift for beginners, and it comes with a built-in battery.
Effectiveness
Its 3 different speed modes make for plenty of selections for beginners. The night light mode enables you to fly in the dark. It can do a 360-degree circle
Durability
Easy assembly means you can start playing with it not long after it is taken out of the box. One touchdown function protects the drone during periods of low battery power.
Cost and Value
The GILOBABY RC Quadcopter doesn't require overspending to bring into your home. The stable flight patterns make for stress-free, entertaining play. The product can also be flown inside.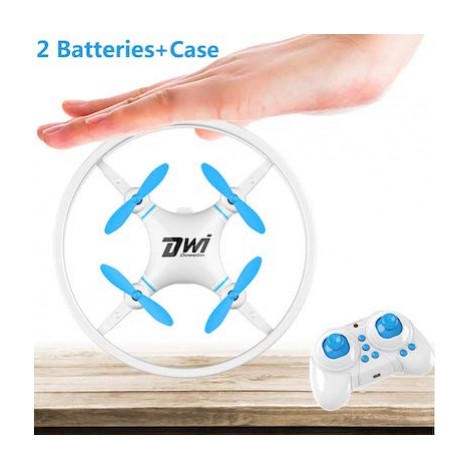 The soft structure prevents impact damage
Tiny and easy to maneuver
Fine altitude control
Propeller protectors help with flying
Money back guarantee
Fly time may last 3-5 minutes
The controller may often need to be reset
The Dwi Dowellin comes with high-quality crash guard rings, ensuring a very safe flight. Its lightweight remote control comes with a carrying case, making for easy transportation. Features 3D tumbling special effects and can flip 4 different ways.
Special Features
Headless mode allows for easy directional changes that respond easily to your transmitter, and the One Key Return protects it when it is out of sight or low on battery.
Functional
Pressing the takeoff/landing button sets it into flight. Return button can be pressed if its in danger of crashing, a feature that is useful for beginner pilots.
Cost and Value
The Dwi Dowellin is affordable, and what you pay is a fair trade for what's offered. Reaching distances up to 50-70 meters, this promises a good time.
Criteria Used for Evaluation

Adjustability
When making sure you've chosen the right drones for kids, there are a few features to take into consideration. It may be tempting to buy the cheapest one, but you are going to want to make sure the product you buy has the right features you are looking for in a wireless device.
It does not matter if you have never flown one of these devices before; or if you are expert in maneuvering one around. You want a product that will unlock the child's full potential when they learn how to fly it. In order to do this, you need to ensure it is designed with a degree of adjustability that will enable the child to enjoy flying their new wireless device. This does not mean your adjustment of the product needs to be something that is elaborate and stressful. But rather, this unit should aid in the reduction of any hardships further down the line as your child learns how to and continues to use it.
To eliminate any awkward controls, ensure you are aware of whether the product comes with many features which allow the user to adjust the speed to a preferred setting. These settings will permit it to have more freedom when it is in flight. It will also aid the user to feel more comfortable when it is set to a speed in which the user can feel in complete control of the device. Practice makes perfect, so the ideal wireless device you purchase for your kid will be one that permits the child to exercise a degree of control over the device as they are learning how to operate and control it.
If you purchase a wireless unit that flies and it comes with a camera, it is also imperative that one pays attention to its adjustability factor. You are going to want the unit to have the ability to shift camera functions as it is in flight. This will allow the user to create better images. It may not seem like much, but being able to adjust the features will always aid and strengthen a person's expertise with its use.

Durability
It is only natural to want to fly it as soon as possible. However, the durability of the device must be tested before it can be flown. A poorly made drone will be lacking in the proper design and it will eventually wear down with use. Or, worst case scenario, it may fall apart after a few accidental crashes. One made for flying should be able to withstand a few hits during flight and it is imperative to research the expected lifespan of the product before you purchase it.
They should have a degree of durability as well as have protected propellers. Since these are essential for the device to be able to take flight it is important that the propellers are protected against any damage. If the product has protected propellers, it will advertise this as one of its features, and it is something of interest you will want for your new flying toy. If this unit is going to be expected to withstand a lot of flying activity, you will want it to be able to fly at full capacity without fear of it being damaged. The material the product is made of is something to research as well, as it will speak great levels towards its degree of durability.
The capability when it is indoors or outdoors should also be researched. This is crucial to know if the brand can be flown in only one area or both. Not only do you want the body to be protected, but if you plan to fly it inside, there are other factors to consider. You do not want it to cause damage to the walls or the furniture inside the house/building. It will be advertised what a wireless unit is made to determine if certain materials it is made from will cause harm to objects such as a television or computer. If you plan to be flying the merchandise indoors, then this is definitely important information you will want and need to have.
Effectiveness
It goes without saying that the flying capabilities are something that is quite important, so you want to make sure it will perform in a way that meets everyone's expectations. If you have kids hoping to fly a fast toy, for example, be sure to research the levels of speed it goes so you will be familiar with that information.
Some products come with at least three different speed modes. These modes are usually notated by numbers-- with 1 being the slowest and 3 being the fastest, and so on. You should allow for the highest level of effectiveness when piloting your brand at certain speeds.
Effectiveness can also be measured by the intended purpose for which the recipient will be using the wireless flying product. For example, if its main function is going to be for entertainment, then you will want to research the unit's durability and speed as well as its battery life. How long it will typically last in the air when in flight is linked to their degree of durability so be sure to research this. But if the primary purpose for flying is to take photos, know that each product will come with a particular set of functions for the camera. In order to take the highest quality photos, look for an option that has the exact camera capabilities required.

Portability
One of the nicer aspects of drones for kids is their portability and the ability to fold up for the purposes of transporting. While it may be fun to fly the product within a backyard for a while, or even inside the home. Once the basics of flying have been achieved, you'll probably want to take it elsewhere. There's a lot of different locations that are perfect for you to fly this newly purchased item, but if it's too heavy and difficult to carry around, then this can be burdensome. Therefore, portability becomes a major factor in the purchase of a wireless device.
You will need to know if you can take your device to places that are not within the familiar confines of the backyard, then it is important to make sure it is portable. Some have a very flexible design which makes it possible to put them in your pocket. This is the portability that most people are looking for. Easy transport of a device is something that gives simplicity to a product. Make sure to browse through a list of potential devices carefully to see if it's advertised as being lightweight and easy to carry around; if it weighs about the same as a cell phone or tablet, then it is going to be a portable device. You want to transport to be simple, as the lightweight capabilities will assist you and expand the fun environments where this device can be taken to and flown.

Style
The style of an electronic device is heavily tied to its quality. If you are searching for a little bit of flare, then this will take some careful consideration, as you want to make sure it has the type of design and style required.
Try to maintain some form of an idea of what style you are looking for. To make it fun, some will feature a tiny paratrooper toy to give it more of a military design. If this is the type of style you are in search of, then this could be just the style you desire.
Be mindful of such objectives as creativity. There are cool accessories like LED lights, and features in technology that help to create a smoother flight. These things can be quite cool, as most kids flying devices feature some form of LED lighting and are capable of performing flips and tricks to show off your flying skills. The added lights help to provide just a little bit of dazzle to the performance, particularly if it is at night.
But sometimes the style can be for a practical purpose. This can be especially helpful to those who are only beginning to fly. There are many kids flying devices that feature front and tail lights, allowing you to clearly see what side of the product is the front and which side is the back. This will aid in letting you know where to point it when launching if from a solid surface, helping to make your flight less uneasy when sending it off for the first time.
Something like style may seem superficial, but it is one of the features that are inherent to ensuring your flight is a smooth one. Be sure to research what style will best suit you.
Expert Interviews & Opinions
Most Important Criteria
(According to our experts opinion)
Experts Opinion
Editors Opinion
Users Opinion
By Default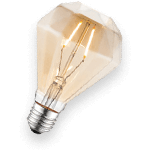 Quality of Drone
It is essential that a wireless unit for flight is designed in a quality, reliable manner. When there is quality in how it is designed this is what enables the product to fly and permits the user to easily maneuver it. For example, the options on the remote may be either too difficult to read or only found in the instruction manual; something such as this could prove to be a problem for an inexperienced flyer. So not only is the design and simplicity of the instructions vital to a person/child's flying expertise, how it holds up in severe weather conditions is something we must also take into consideration. The weather cannot always be relied upon to be perfect, so one of the things to be mindful of is how the product endures unpredictable weather patterns. You can research this not only by familiarizing yourself with the technological capabilities but how it handles itself in heavy winds. It is recommended that you consider if it is still possible to control it if flying it against the wind, seeing if it holds up against slightly severe weather conditions.
Set Up Time
The assembly should be quick because no one wants to be wasting time putting it together -- this is likely to take away from the fun. The set up should not make you have to pour over hours of instructions before you can start flying, which is the time you could've spent playing with it. Make sure to research, seeing if it requires a complicated setup or advanced adjustments before it can be flown. You want the experience of flying to be simple and fun, and the set up should reflect this.
Other Factors to Consider

Value
One of the factors to consider when buying any kids toy is the price you will be paying in exchange for the qualities the product will bring you. If you're looking for a more advanced device, be sure to look outside of the ones specifically targeted at kids and see if there are some models that are more adult-oriented. You will want to ensure you have as much fun as possible. Therefore, it is critical for you to take your needs into consideration when assessing what the product will do for you.
Be sure to take into consideration the complexity of the controls of the flying device you are about to purchase to assure it is not too difficult or challenging for the child you plan to purchase it for. Ensuring a flying device for kids does not have complex controls, will increase the value of the product. Another factor to determine the value of it is how long it is going to last. If the flying unit you buy for your kid has a propeller that is protected and an interior that is dense, then it will be guaranteed to last longer than one that does not have this same protection.

Visibility
Kids want something that will be seen when it takes off into the sky. The drone's visibility can play a large part in your enjoyment of the drones. When flying the drone at night there needs to be something that interests your children, so getting a drone that has LED lights may be the right fit for you.
As an added bonus, the special light-up features will make for lovely special effect if you're using your drone to perform flipping tricks at night. The colorful LED lights permit you to make light trails as you fly the drone at night, and this will help to add to the enjoyment of playing with your drone.

Ease of Use
The product is very easy to use and will likely play a huge role in your kid's enjoyment. Not only will you want to ensure it has features such as headless mode but an altitude hold mode. Whether or not the controls are easy enough to figure out when it comes to making your drone do performance tricks.
Headlights that tell you which side is the front or the back can aid with making the product easier to use, as you'll know where to direct it. For those who are new to flying, they may find this helpful. But what is a huge advantage for beginners is if the transmitter buttons used to control the remote are clearly labeled, saving you the time of having to dig through your instruction manual.

Use
What's important to remember is if these come with more benefits than simply using it to fly around. While there is, of course, the added bonus of having a fun, entertaining activity to do with your family, there are plenty of other uses. Depending on the technological advancements of your toy, you can use your merchandise to take high-quality images you would otherwise be unable to capture with your camera.
The high-level photography shots you can take with it will provide you with real-time images of your flight. This will make your camera reel quite memorable, and inspire you to fly your device to even higher flights for different shots. The added benefit of being able to use it to enhance your photography skills as you entertain yourself with it makes becoming bored with the product you bought a difficult task.

Battery Life
Unsurprisingly, the battery life of each of these is quite important. There are popular brands, but you want to make sure you can have plenty of playing time with the product before it has to be returned to the charger. Be sure to pay close attention to the comments in the review section to see how long the battery life typically lasts.
The final decision as to which of the devices to get for your kids should ultimately lie with the parent or legal guardian. But it is important to consider how long it will let you fly it for before it has to be recharged. What you need to look for is a product that doesn't take too long to charge and one that allows for plenty of recreational time.
Frequently Asked Questions
q:

What exactly is a drone?

a:

Drones are an unmanned aerial vehicle (AUV). They can be controlled through a remote control or depending on the software features of your drone, it can be controlled through other means. While they may be associated with the military, drones can also be used for photography and recreational use.
q:

What should I consider when buying my first?

a:

There are many things to take into consideration. Do not choose a drone simply because it has an attractive design. You want to make sure it performs well, and if you intend to use it for photography, you'll want to make sure it can record.
q:

How can I keep it from crashing?

a:

Low battery and high winds are some of the factors that can cause it to crash. Know the environment you plan to fly it in to keep it from crashing. Also, try to make sure its taking off from a stable platform.
q:

How high and how far can they fly?

a:

The height and distance are determined by the radio's range and battery. Depending on the product you purchase, you may get as high as 1.5Km.
q:

How long can I expect it to fly?

a:

How long each of these flies depends on the battery. The battery life is determined by the model and its equipment. But be sure to remember that flying it at high speeds will increase power consumption. This means the faster you fly when playing with it will determine how much power is being used. This will affect your flying time, and it is something to keep track of any time one of them is played with.
q:

Can I connect more than one device to a single controller?

a:

These devices typically have anti-interference which prevents any other controller from intercepting the connection. This feature will also prevent a separate device from connecting to a single controller which prevents you from using multiple devices with a single controller. If you get multiple controls however, you will be able to use more than one device at once.
Subscribe to our Newsletter