Best Drones Reviewed for Personal & Recreational Use
Drones started as a pocket-sized flying electronic gadget—and yet now it seems like everyone either has one or wants one. When it comes to drones, though, there are so many on the market that it can be impossible to even know where to start when you're doing your market research. Fortunately, that's why we're here—to help ensure you get the best reviews so you know what drone best fits your personal use!
For our purposes here, we're only considering introductory level drones, drones that you would use for your personal use, but not for commercial use. That means these aren't the drones you would use for professional photography or for filming a Hollywood blockbuster. That doesn't, however, mean these aren't still great drones!
Featured Recommendations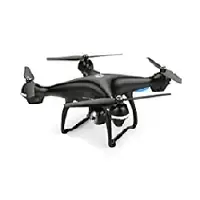 Holy Stone Wi-Fi FPV

Our rating
GPS assisted flight
Price:

See Here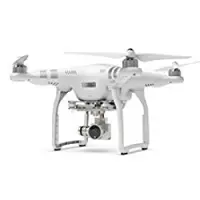 DJI Phantom 3

Our rating
2.7K HD Cam Included
Price:

See Here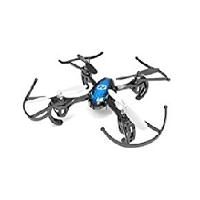 Holy Stone HS170

Our rating
6-Axis Stabilization
Price:

See Here

Again, these are drones for personal use. Check out our favorite ten below, and then check out the pointers and tips below our reviews of the top ten!
10 Best Drones
1. Holy Stone Wi-Fi FPV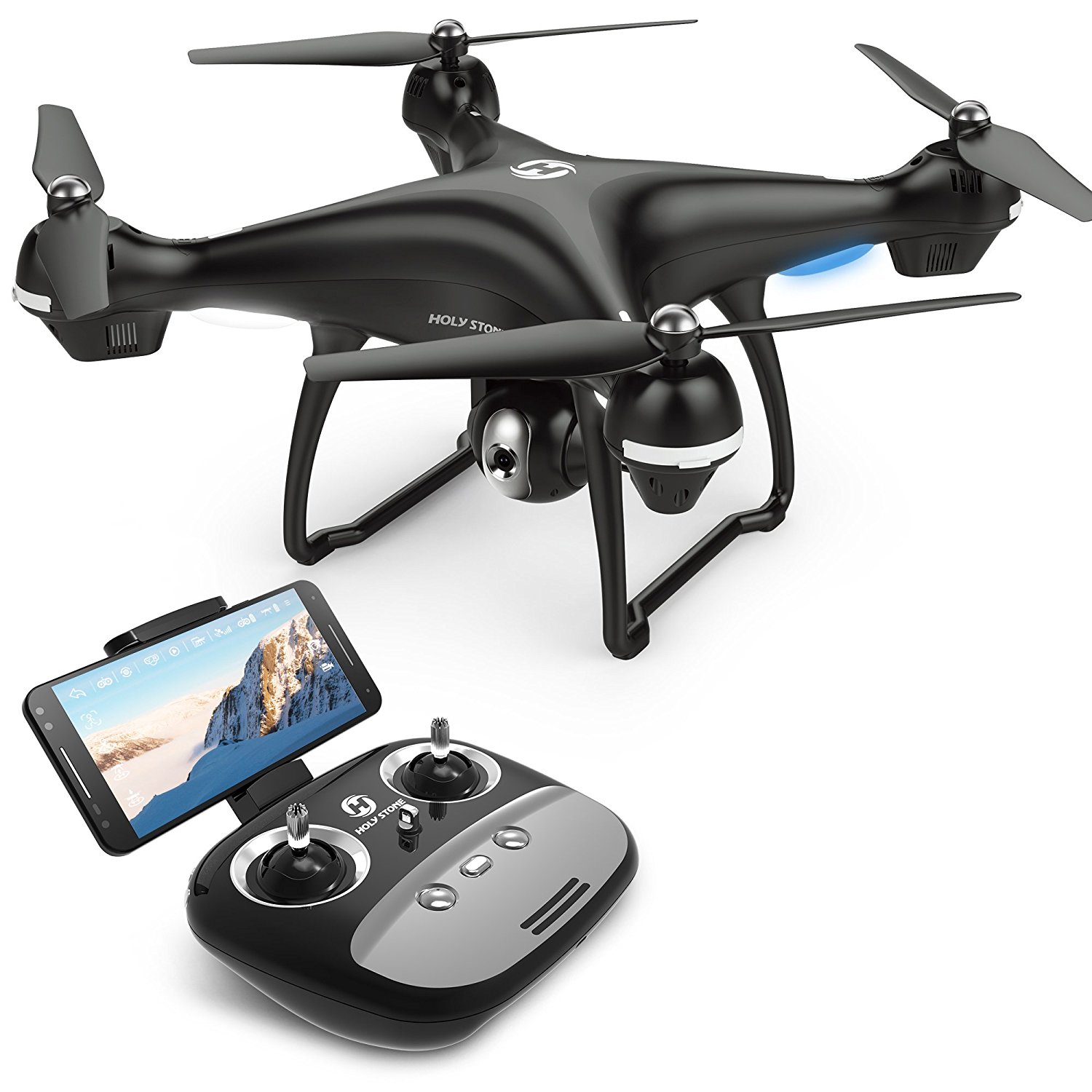 While more expensive than many of the other drones in this list, the Holy Stone FPV Drone is feature-laden to make that extra cost worth it. With a flight time of up to 15 minutes, one-key takeoff and landing, altitude hold, headless mode, a 500 meter range, and optimized video, it has all the features most users look for in a personal use drone, and the
GPS assisted
flight and return to home functions ensure you won't ever lose it, either.
Expand to see more
Better flight
The FPV drone by Holy Stone simply offers better features and better flight than most other personal use drones, including the GPS assist, one-key takeoff and landing, return to home function, built-in stabilizers, and even a follow me mode so you can take the drone on the go with you. With flight time of up to 15 minutes and a range of up to 500 meters, it also lasts longer than most of its competitors.

Fantastic video
The optimized 720P 120° FOV FPV wifi camera with a 90° adjustable angle ensures you can capture high-quality video and aerial photos, and the real-time viewing capacity helps ensure you get exactly the shot you want.

Cost and value
The combination of features and video quality means that while this drone is more expensive than most of its competitors, its well worth the bump up in cost.
Incredible video for a personal use drone
Great flight time (15 minutes) and range (500 meters)
Follow me mode means you can take it on the go, tracking your run, ride, or more
GPS function and return to home function ensure you'll never lose track of your drone
One-key takeoff and landing
More expensive than most competing personal use drones
2. Holy Stone HS170 Predator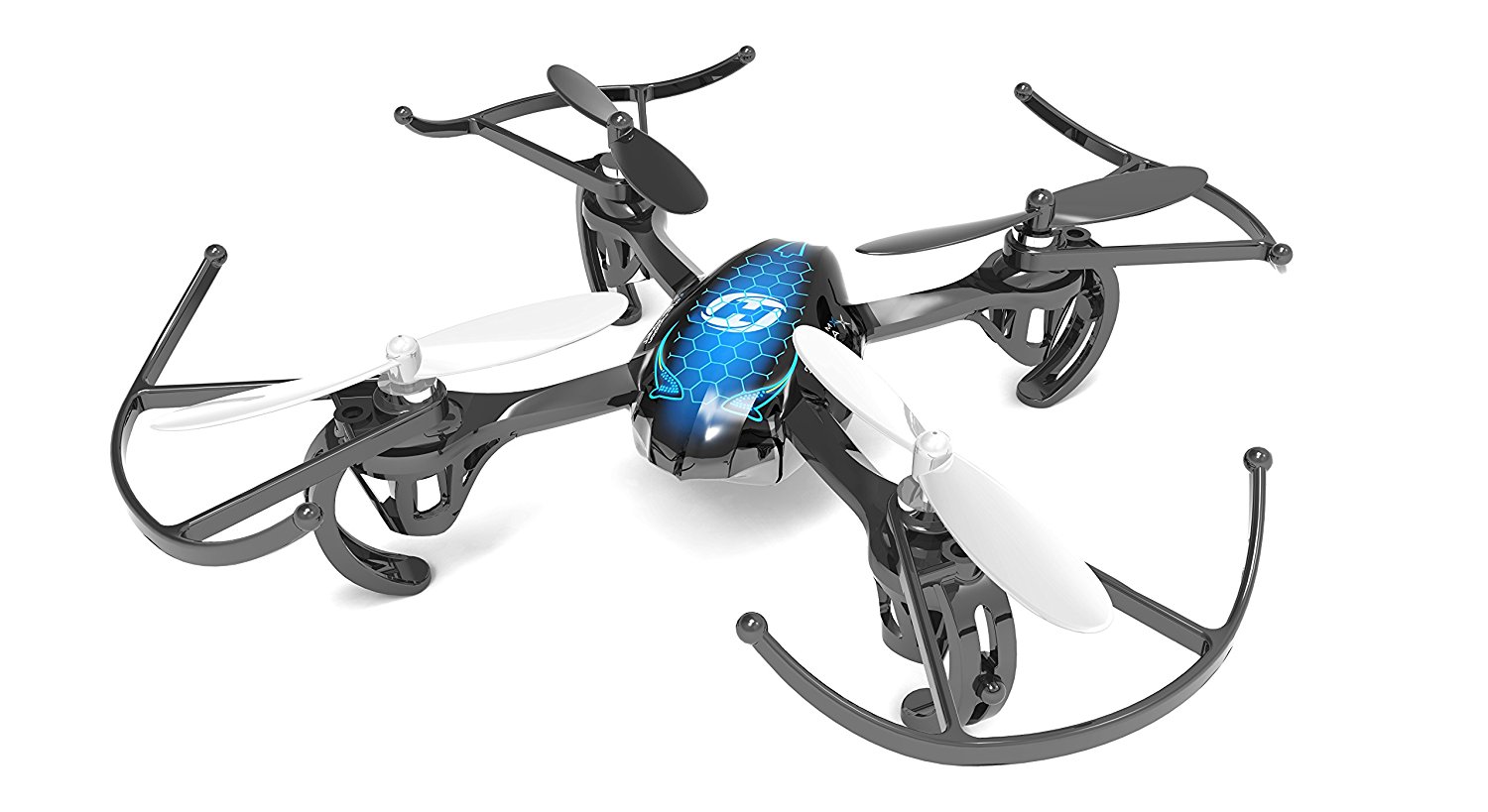 As one of the easiest drones on this list
for beginners
to learn how to fly, the HS 170 Predator Quadcopter is also the best value on this list. Super beginner-friendly, the stability and control it offers are better even than many more expensive entry-level personal use drones. As such, it's perfect for learning how to fly a drone before then moving up to more feature-laden models.
Expand to see more
Headless control and automatic stabilizing
With headless control and automatic stabilizing, it's hard for entry-level and beginning fliers to go wrong with this drone, which is incredibly forgiving and easy to learn. With built-in wind resistance and a maximum range of 30-50 meters, it's difficult for this drone to get away from you, making it a great learning tool.

Durable for the price point
Because of its limited range, beginner-friendly stability measures, extra propellers, and more, it may take some work to kill this drone—which is exactly what some beginners need. So if you're looking for a drone for the kid who manages to break everything, this is a great place to start.

Cost and value
This isn't by any means the best drone on this list, nor is it the most feature-laden. It is, however, the best value for its cost and the friendliest to beginner pilots.
Beginner-friendly controls
Great value for the price
Hard to break compared to many other entry-level personal use drones
Doesn't have very many features
Short battery life (6-8 minutes) and limited range (30-50 meters)
3. DJI Phantom 3 Quadcopter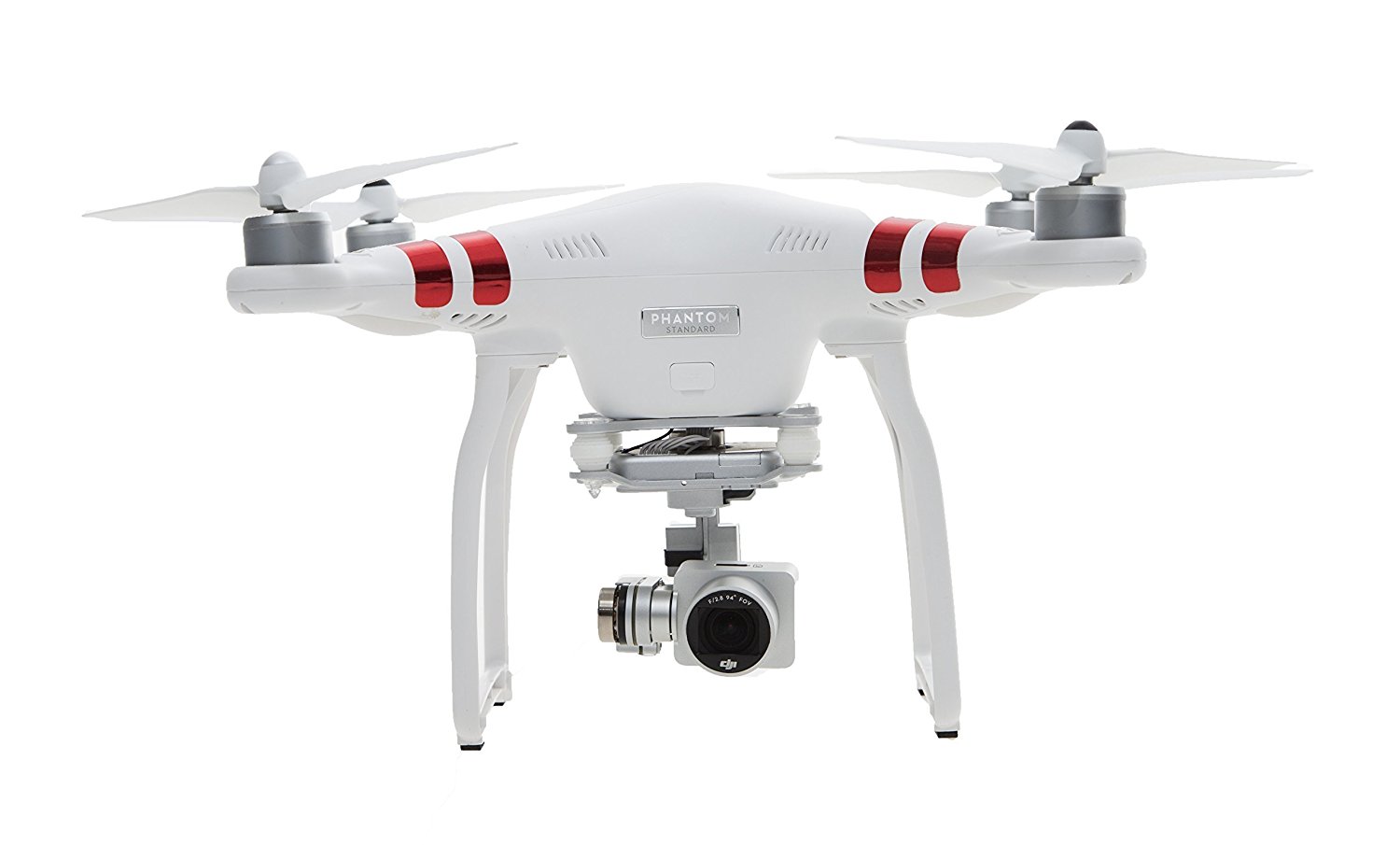 While much more expensive than many other drones for personal use, the DJI Phantom 3 offers features that make it quite worth the step up in cost if you already possess the flight skills to capably fly this quadcopter. With up to 25 minutes of flight time, 8 GB of storage, extra propellers, and much more, it simply offers significantly more than most other personal use drones on the market.
Expand to see more
Battery life and range
The DJI Phantom 3 can simply do more than most other personal use drones, offering up to 25 minutes of flight time and a range of up to a half-mile, considerably more than most of its competitors. Additionally, GPS-enabled flight helps you maintain a sense of where your drone is, so you can readily and quickly fly it back to you when the battery starts getting low.

Vastly superior video
The 2.7K video and 12MP stills from the 3-axis stabilized integrated camera makes the Phantom 3 Standard a much better video than most competitors, and the 8 GB micro SD card means you shouldn't have to worry about data storage while you're out. You can also live stream, so you can see exactly what you're shooting as you shoot it.

Cost and value
It's true, the DJI Phantom 3 is more expensive than most other personal use drones, especially compared to some of the budget-friendly drones on this list. As such, it isn't a true beginner drone—it's expensive enough that you really don't want to risk crashing it on your first flight. That said, the features are so far above most of the competition that its worth the price if those features are what you're looking for in your drone.

25 minutes battery life far outlasts most other personal use drones
half-mile range is also far greater than most other personal use drones
video quality is far superior to most other personal use drones
live stream and 8 GB micro SD mean you can make sure you get exactly the shots you want
GPS capability means you never have to worry about losing track of where your drone is
Significantly pricier than most other personal use drones
4. TOZO Q1012 X8tw Quadcopter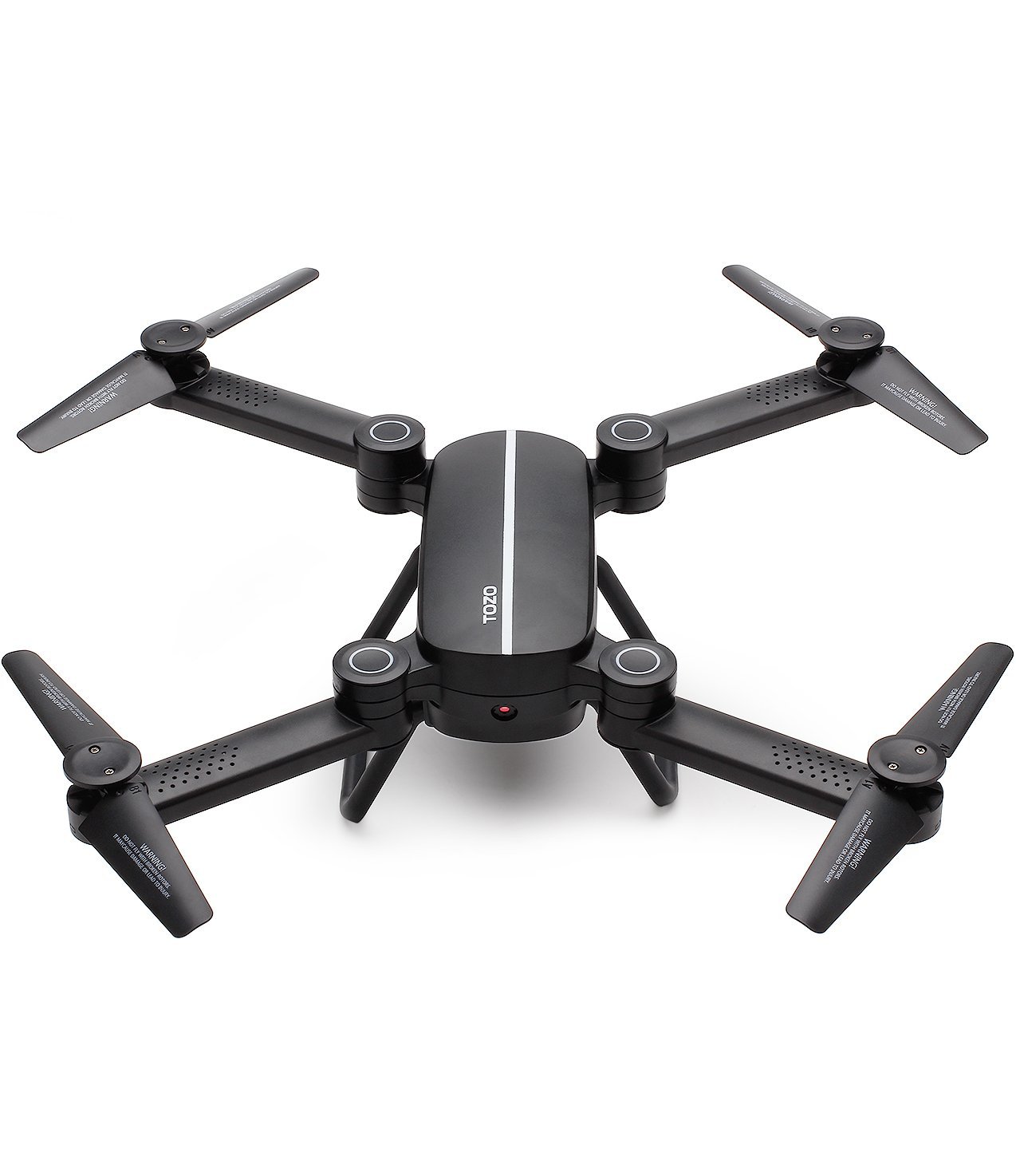 The Tozo Q1012 is definitely one of the best learning drones we tested, with a wide range of features that help first-time drone pilots build up their skills as they gain experience. The maneuverability available once the skills are there to capitalize is likewise quite impressive.
Expand to see more
Easy operation
Not only does the Tozo Q1012 X8tw quadcopter offer one-key return AND one-key take-off, the headless mode, easy flight controls, and three speed modes allow introductory pilots to quickly gain experience, comfort, and skill, making this a great drone on which to learn. Additionally, the foldable design makes it more durable when it does crash.

Responsiveness
This was also one of the most responsive drones for personal use which we tested, meaning that once you are comfortable as a pilot, there's very little you can't get this drone to do.

Cost and value
While not the cheapest entry-level personal use drone, it's also far from the most expensive, and the range of features that make it such a great learning drone make it a great value, both for yourself and for your kid (our nephew, etc).
Great learning drone, with full complement of features that help you use into piloting a quadcopter
Responsive flight features
One-key features
Streaming video
Video quality was a bit subpar compared to other comparable drones
5. Blade Nano QX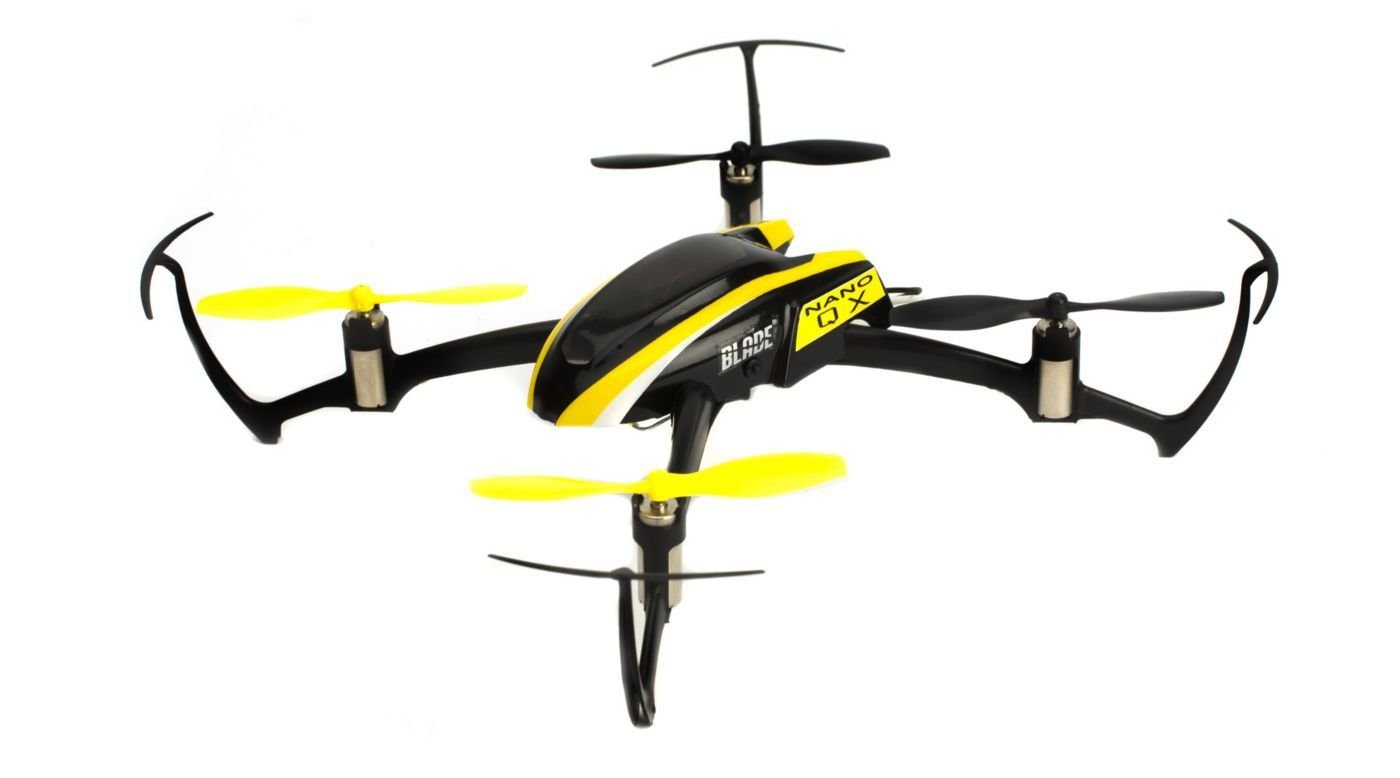 The palmable Blade Nano QX has tough brushed motors that provide smooth and powerful lift. It's
ruggedly built
, speedy, easy to fly, and can switch from a patented gyro stabilization system, for better ease of use, to stunt mode, for pulling off flashier tricks.
Expand to see more
Size that increases function
Because the Nano QX is so tiny (it fits in your palm), you can take it anywhere, indoor or out. At less than half of one ounce, you can literally fly it in a closet if you so desire. And that allows you to take the QX places other drones can't go.

Control AND maneuverability
Unlike many other quadcopters, the Nano QX offers both control and maneuverability. The SAFE (Sensor Assisted Flight Envelope) helps ensure it stays steady (simply let go of the controls and it will automatically level out) even as its small size ensures it stays nimble and responsive. That's not something many other personal use drones can say.

Cost and value
Even better, the Nano QX is laden with features that come at no extra cost, including wireless transmission, durability in crashes (helped in part by the rotor cages and its small size), and extra rotors. There may not be a better drone for its price point.

Incredible value for the cost
Nimble maneuverability and small size combine to mean you can fly it anywhere
Durable, especially compared to other drones at the same price point
The video is not as good as some other entry-level personal use drones
6. Force1 UDI HD+ Rc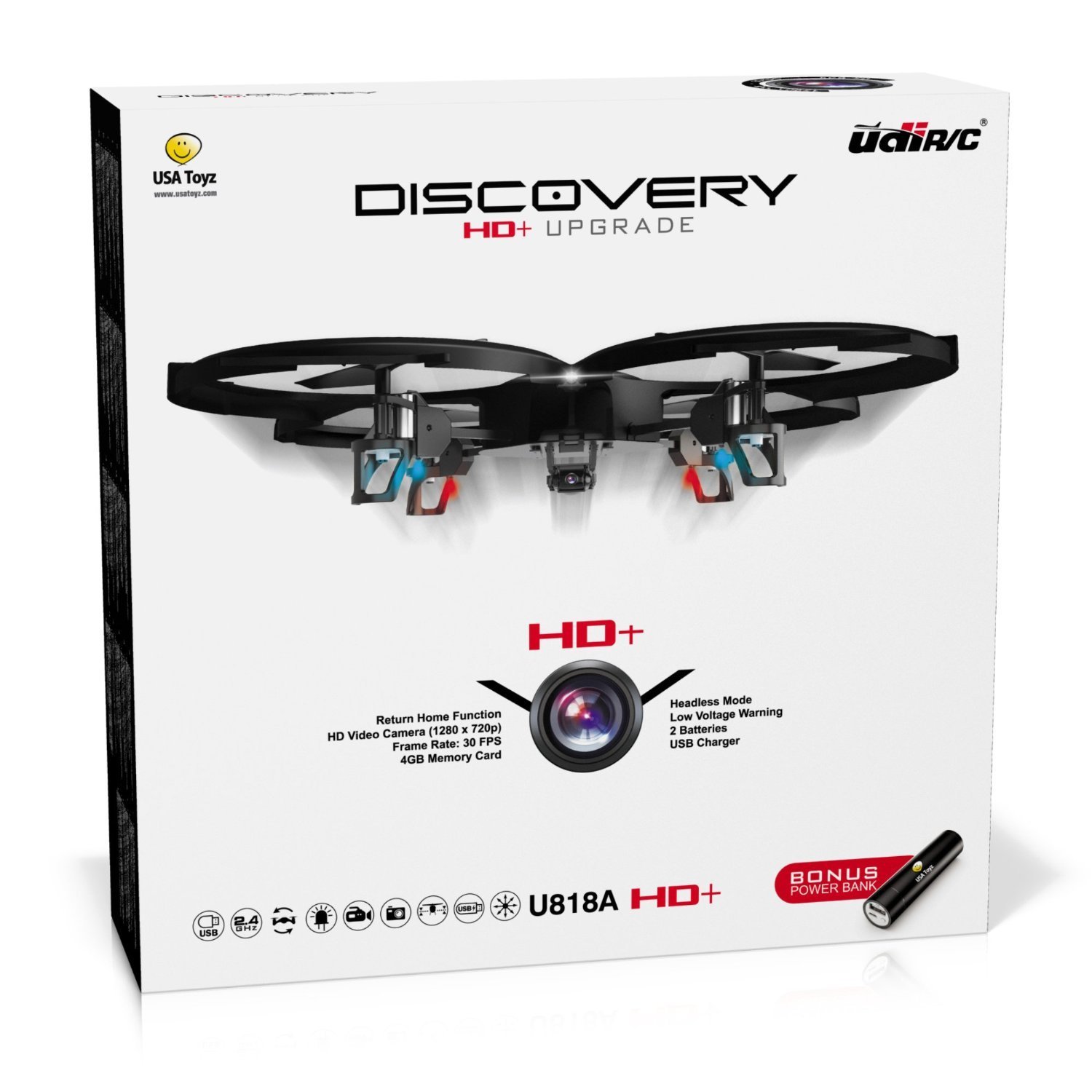 Incredibly feature-laden, the Force1 UDI is definitely one of our favorite drones, and with nearly twice the flight-time of most comparable models, it's hard to go wrong with the incredible
video features
.
Expand to see more
Extra features
Compared to many of its competitors, the Force 1 UDI offers a ton of extra features, including more data storage (including an extra 4 GB memory card), an extra power bank, a USB charger, a second battery, and more, such as 4 extra propellers, all of which increase functionality and help you love this drone for a long, long time.

Better video
Not only do you get better flight time, the increased stability of this drone compared to most comparable models means you get absolutely fantastic video quality—which you can also stream in real-time. If you don't want to stream, though, the 4GB memory card means you can shoot a ton of it before you need to clear more data space.

Cost and value
In addition to all the other features, the flight features and added low-battery notice make this one of our favorite drones. It won't break the bank either, so if you're looking for a way to get into the drone game, this is a great place to both start and finish your search.
Up to 18 minutes of flight time is fully double most comparably priced personal use drones
Extra data storage means you can shoot more and shoot longer
Low battery warning means that you shouldn't ever be surprised when you finally do run out of battery
Flight stabilizers are some of the best we've seen at this price point
Video functions and stability may come at the expense of maneuverability, so this quadcopter really doesn't work well for stunts or flying tricks
7. DbPower Mjx X400W Fpv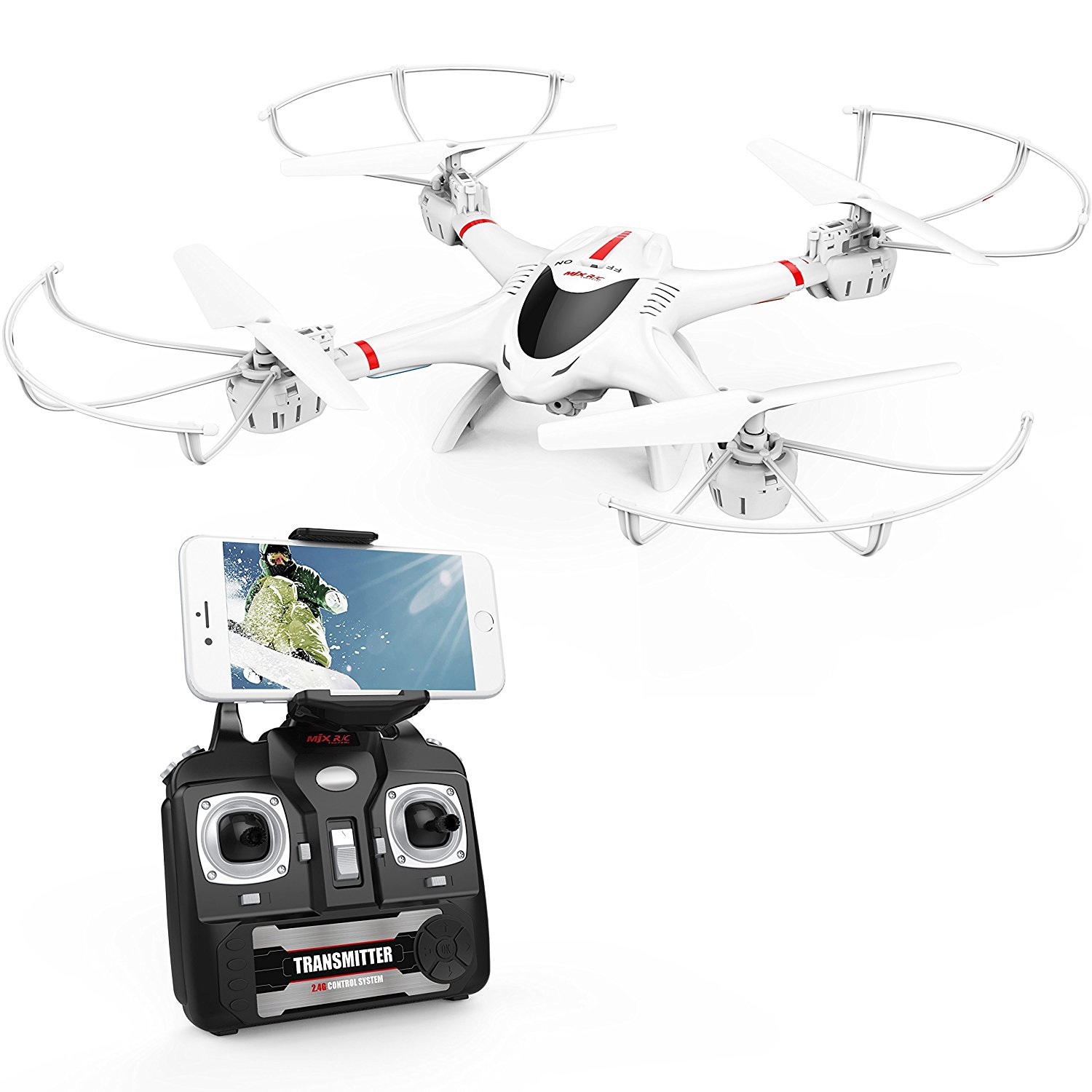 Packing the capabilities of a higher-end model into a less costly, lightweight and durable airframe, the MJX X400W features beginner and expert speed modes, 3D flip function and real-time HD image delivery. Headless operation and one-key return make it easy to use.
Expand to see more
Real-time transmission
With a wifi enabled camera, the MJX X400W allows you to watch your video as you shoot it, and stabilizing features help you keep the film steady. The headless mode helps ensure you can get the drone back quickly, too, when battery starts running low.

Easy learning curve
With headless mode, one-key return, and two different speed modes, it's easy to gradually increase your skills with this drone. Additionally, the varied functionality allows you to fly it both indoors and out, and when you're ready for tricks, the MJX X400W is flip and roll capable in all directions.

Cost and value
While not the cheapest of the entry-level personal use drones, it's also hardly not the most expensive, and the increased access of varied speed functions, headless function, and one-key return make it a great learning drone, helping you transition toward bigger and better (but also more expensive) drones in the future.
Easy to learn and beginner friendly
Intuitive function plus one-key return make it far less likely to crash
Real-time transmission means you can watch your video as you shoot it
Flip and stunt capacity is quite good for the cost
Isn't the most durable of the entry-level personal use drones
Quality control has occasionally been an issue for this drone, resulting in drone errors and runaway drones for some users
8. Holy Stone F181C RC Drone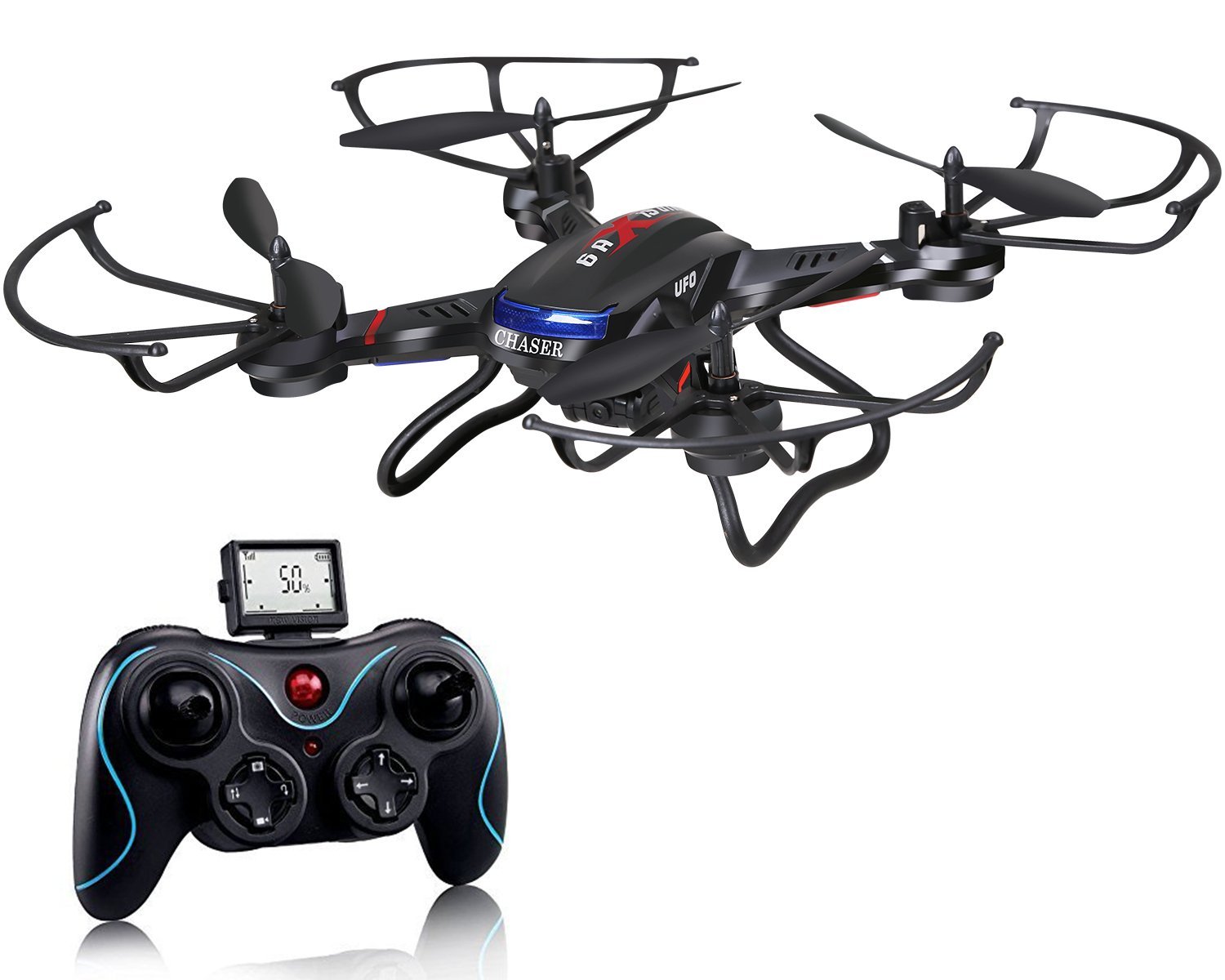 Holy Stone does it again with this quadcopter, which offers a bonus battery for extra flight time, incredible control for the cost, one-key return and altitude hold features. Additionally, it shoots great video for the price point, and while not the most intuitive drone we tested, is certainly one of the nicest of the entry-level personal drones.
Expand to see more
Flight control
While one-key return and altitude hold are the features you'll notice first, the 360 degree flip (which works in four directions—left, right, forward, backward) and continuous roll features are what really set this drone apart.

Extra battery
While an 80-minute charge time is pretty standard for a drone at this price point, the ability to swap the first battery out for a second included battery is not—which gives you extra flight time over comparable drones.

Cost and value
For this drone, the key features are the bonus battery and the improved flight control. Those are hardly the only reasons to love it, though, as the video quality is also quite impressive for the price point. If you're interested in getting into drones for video use, this drone is a great place to start.
Flight control features make this a great drone for crafting unique videos
Extra battery increases your capacity for filming sessions
Altitude hold helps hold video steady and stable
Feature-rich drone for cost
For the cost, is not as sturdy as some of the similarly price personal use drones on the market
Control is not as intuitive as some of the other similar drones
9. GordVE GV1808 Mini Foldable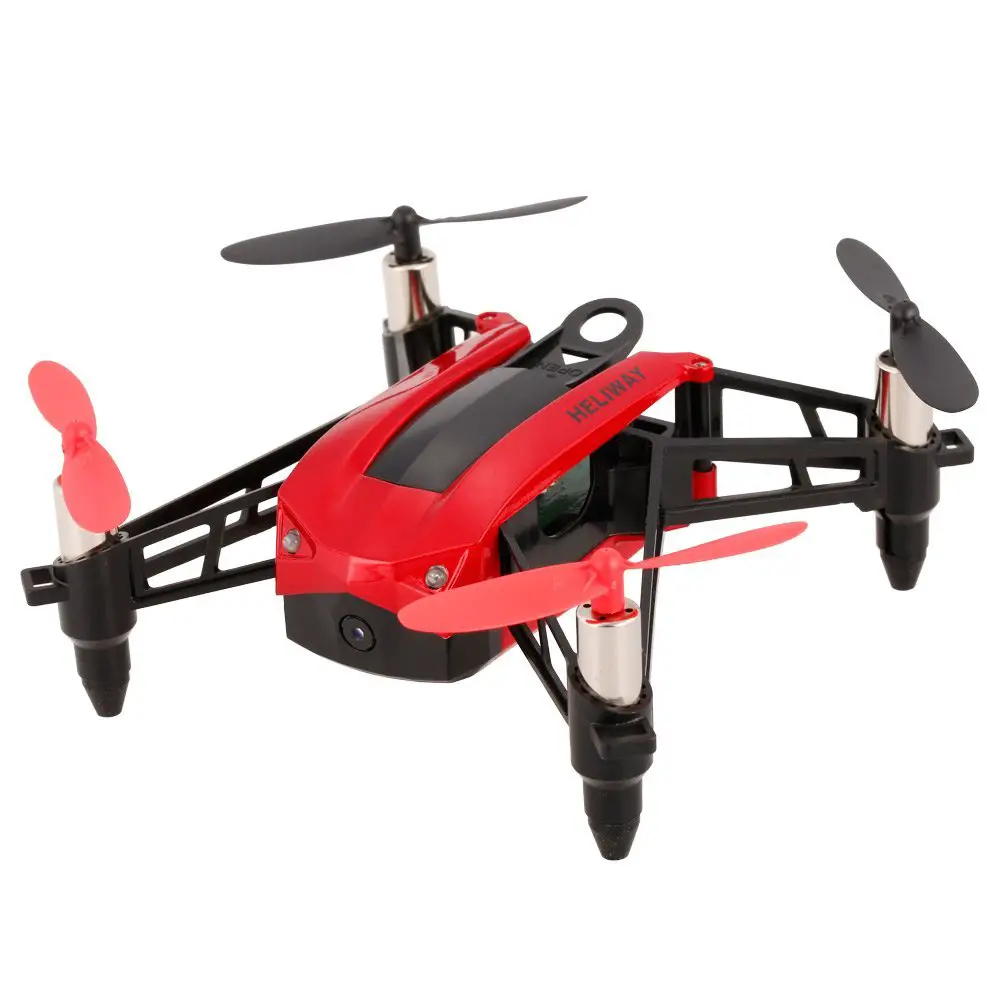 Not only is the GordVE GV1808 a foldable, light, and easy to use personal drone, it's rather feature rich for the price as an entry-level drone. In addition to hover control and one-key automatic return, the adjustable camera, easy steering functions, real-time video, and foldable frame (which keeps it from most major damage upon any collision) make it a great steal and an easy way to introduce yourself to the great ways a personal drone can change your life.
Expand to see more
Image and video features
Not only does the GV1808 offer real-time video and image transmission via wifi, so you can see exactly what your drone sees as you control it, the combination smart phone app and remote control control allow you to get those images in the way that makes most sense to you. Additionally, the HD wifi camera is adjustable to a full 75 degrees, meaning you can get the shot you need when you want it and how you want it, especially as hover control helps you keep the drone steady.

Maneuverability
With built in hover control and one-key return, you can always feel secure that you have full control of the GV1808. Additionally, 360 rollover and other steering controls like altitude hold help ensure the drone does exactly what you want it to, when you want it to. And, should you ever lose control of the drone and crash it, the foldable design helps protect it in case of any unintentional impacts, making this one of the sturdier entry-level personal drones on the market.

Cost and value
Not only is the GV1808 one of the most beginner-friendly entry-level personal drones we looked at, it's also one of the least expensive, meaning it offers great value for the price. You could hardly find a better way to introduce yourself to the world of drones than with the GV1808.
Easy maneuverability makes it a great entry-level drone
Foldable design and lightweight makes crashes far less likely to damage the drone
Smartphone and remote control allow you to fly however is most comfortable for you
Low cost makes it a great value for entry-level personal drone enthusiasts
Battery only lasts 7-10 minutes for most users
About 50' seems to be as high as the drone can fly while still maintaining user control
10. Holy Stone HS160 Shadow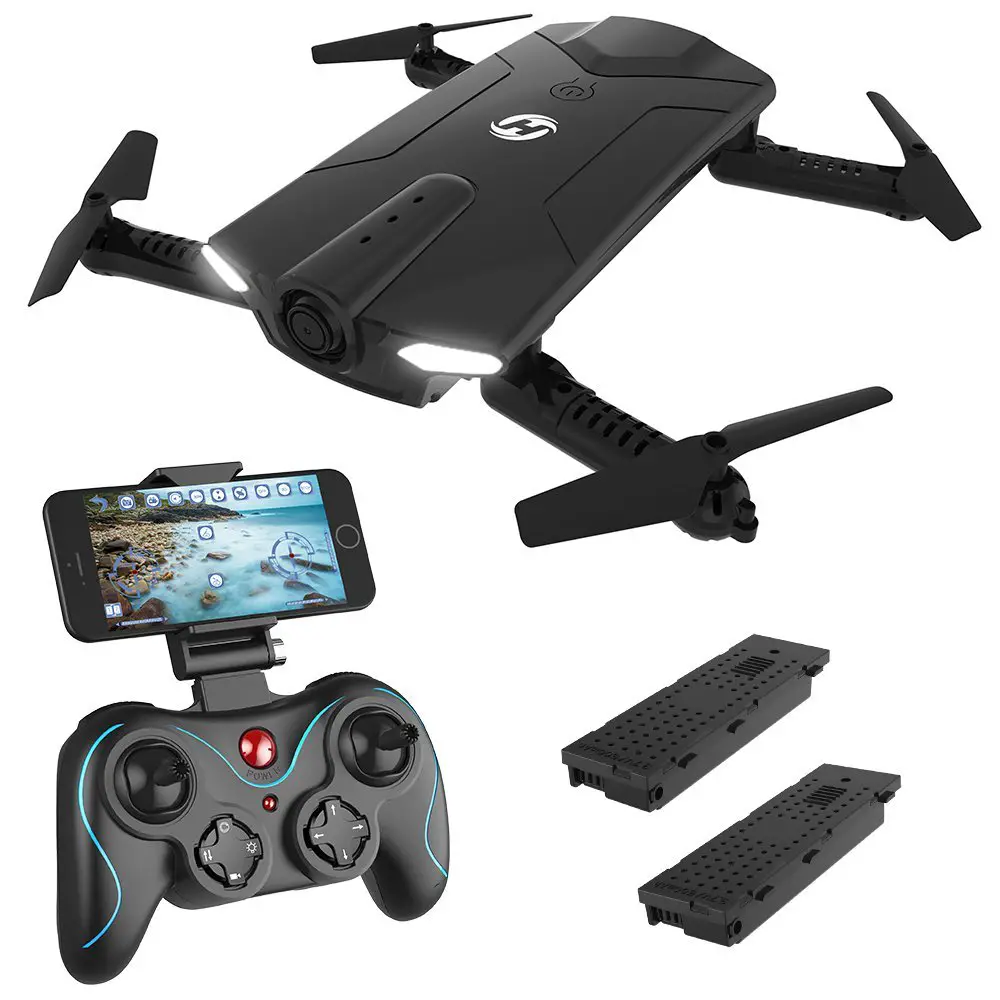 Not only is the Holy Stone HS160 Shadow smartphone app-enabled, it's also foldable and small enough once folded it can fit in your pocket. Despite its small size, it offers significant bang for the buck, offering 18 minutes of flight time even before a quick change of the batteries, and one-key return, 3d VR compatibility, gravity sensor control, and a fantastic FPV 720P HD camera all make this an ideal drone for personal use.
Expand to see more
Holy Stone has a great reputation, and with the HS160 Shadow, it's easy to see why. It won't break the bank, has a great smartphone app for easy controls, folds for convenient storage, offers good flight time, and comes with a great camera. What more could you ask for in an intro personal use drone?

Foldability
The foldable, flexible blades of the HS160 help make the drone portable, and its small profile makes it less likely crash as you learn how to fly. Additionally, when it does crash, the blades aren't easily damaged, meaning this is great for beginner drone operators.

One-Key Return
Not only is the app control (both iOS and Android compatible) super easy for navigation purposes, it also offers a bunch of cool features: real-time image transmission, it also offers one-key start, return, and landing, making it perfect for beginners, intermediate, and advanced fliers.

Cost and Value
Even better, the HS160 Shadow offers tremendous value, as it includes an amazing FPV 720P HD camera that shoots both photos and videos, with storage both in the app and a mobile album system AND both modular and bonus battery capabilities, meaning you can get extra flight time out of this bad boy.
Great value for the cost, offering a feature-laden, beginner-friendly drone for a fraction of the cost of many similar drones
One-key options for start, return, and landing
Foldability means crashes won't do major damage and the drone is easy to store in a pocket
FPV 720P HD camera takes great photos and videos
Small size means FAA registration is not required
3D virtual reality compatible, meaning you can experience your drone's flight through your phone and the app
Stabilization is pretty limited, meaning photos and video can be blurry or worse
Range is limited; only 50-70 meters for most users
As you can see, there are lots of options when it comes to finding a great drone for your personal uses! In addition to all of the great features mentioned above, though, there are also quite a few other considerations you should keep in mind when looking at drones, so let's take some time to talk about those considerations:
Breakdown of Drones for Personal Use
Ease of use
It's especially important if you are a first-time user that you consider how easy it is to use your drone of choice. While many introductory drones may be sold as "RTF" ("Ready To Fly"), that's hardly true of all drones, especially not for some of the more feature-laden devices. For instance, some RTF drones may come with software that makes it easy for the drones to automatically hover, but other more advanced drones may require extensive calibration and experience before the user can fully take advantage of their features. In either case, though, we recommend learning how to use your drone in an open field, well away from obstacles such as houses, trees, cars—and especially other people.
Features and accessories
While you may just be looking for a basic beginner model and don't really know what features and accessories you want, the following are some of the most popular feature considerations for other drone users:
Cameras: Lots of drones come with a camera, including HD models. For some drone users, though, the best action shots are only going to be had with the use of a camera specifically designed for such a purpose, such as a GoPro or other action camera. An added benefit of such cameras is that they're designed to minimize the effects of movement—such as flight, courtesy your drone. Additionally, many personal use drones come with the compatibility for other photographic and video stabilizing equipment, such as external mount, or gimbal.
Gimbals: A gimbal is a specifically designed external camera mount, which helps ensure you get the best possible shot, as it moves the camera away from the parts of the drone that are most likely to vibrate or shake, such as the rotors or engine. Additionally, many gimbals can pivot or swivel, allowing you a wider range of shots.
Remote control: While many drones are operated with the use of a smartphone app, others have their own separate remote control, which some users prefer for advanced maneuverability, especially if they have very specific drone uses in mind that require such advanced control.
Replacement blades: When you're first learning to fly your drone, especially if it's your first, accidents are quite likely. As a result, many users like to order replacement propeller blades for their drone so that they can be back airborne again shortly after crashing. Of course, for best drone performance (unless you're racing or performing stunts) flight at lower speeds and under greater control is going to result in the best functionality, which makes crashes less likely.
Storage: Many drones also may come with a carrying case or backpack system, which aids in transporting the drone safely. Depending on the set-up, the carrying case may also offer additional pockets for extra batteries, propeller blades, or more.
Indoor/outdoor rating
Not all drones are meant to fly outdoors; some of the smaller drones are specifically made and rated for indoor use only. Other drones, however, need more space and are specifically designated as outdoor drones only.
Range
For most drones, their range is a function of battery power, the drone's weight, and the drone's speed. Depending on what you want to use your drone for, you may need a drone that can go miles (if this is the case, make sure you know relevant aviation laws and how they apply to drones!) or you may only need it to go across the yard. Keep in mind, of course, that you don't want to send your drone somewhere where it won't have the battery to get back, and while many drones will indicate that they're running low on power, that isn't universal. Additionally, the ability of the drone to communicate between the remote control and onboard receiver also makes a difference in range; for instance, many drones have better range when they can work on a WiFi network. Lastly, keep in mind that in many states not only is keeping your drone in visual range a good idea for safety, it may be a legal requirement.
Safety and restrictions
Laws applicable to drones may vary state-by-state, but there are also FAA (Federal Aviation Agency) laws that apply to all drones. For instance, most states require drones be in visual range at all times—but some states allow exceptions to this rule if the drone has a real-time video camera. Additionally, drones are usually banned from coming within various distances of airports, military bases, and other locations, dependent on national, state, and local laws. Before you fly your drone, you should be sure you know all relevant regulations.
Similarly, you should be sure you know potential dangers of your drone. Be sure you know that all pieces are securely attached, and there are no sharp edges that could do you (or others) damage should you crash the drone. And of course, you always want to be aware of all potential obstacles in your flight area, especially those that could cause you danger—such as power lines.
Your intended uses
Common uses for personal use drones include the following:
Recreation: Many users love using their drones to perform stunts such as loops, dives, hovers, and even races. (Consider other gear reviews when making informed choices about the power you may want for the kinds of tricks you may want to perform with your drone.)
Photography: Many personal use drones include the functionality to carry a camera or even video equipment, making them a great choice for overhead photography. The additional use of stabilizers can even result in professional-quality shots and video. (Consider photographic equipment mounts if you're thinking of using your drone for better photography, and keep battery power in mind, as most drones only have battery power for 10 or 20 minutes, making pre-planning of your shots incredibly important.)
Security and surveillance: Drones can be used to monitor situations that might otherwise be hazardous, and can likewise be used to view otherwise remote locations. (Consider battery life if you're thinking of using your drone for surveillance.)
Additionally, what you plan to use your drone for may play a major factor in your budget, so be honest with yourself before you start shopping!
Tips for beginners
Lastly, when you are ready to fly your drone, consider the following tips:
Check the weather. High winds? Are not good for drones. Rain? Can also be a problem. Especially if you have to drive somewhere to have a clear space to practice flying your drone first, check the weather so you aren't wasting your time.
Start small. There is a learning curve when it comes to flying drones—even RTF drones. You're likely to crash at least once, if not significantly more times, while you learn, so start with a beginner drone, maybe even one with prop guards, until you get more comfortable with flying another piece of remote-controlled machinery.
Spare parts. Back up propellers and extra batteries are key pieces of your drone equipment, and if you're serious about really getting into drone flying, you're going to want both.
Quality counts. After you've gotten the hang of flying a drone, keep in mind what you really want to do with your drone. If you want great photography, for instance, the drone you invest in—or the camera you add to it—matters tremendously.
FAQ
Frequently Asked Questions
Q: Who (brand/company) builds the highest quality, most practical and/or useful drones for personal use? What are their key selling points?
A: We are considering only premium brands and not knock-offs or generic drones, which are sometimes a great value for what they cost but we want to highlight the best overall. This reflects the overall market and not the particular product releases of any given year, as you will notice if you study our list that sometimes the best brands come out with models that are put in the shadow of up-and-comers. Drones are becoming a popular product and this is our take on the most innovative personal use drone makers as of 2018.
Now, you may or may not be familiar with DJI. That depends on how interested or knowledgeable in drones at the moment I suppose. DJI has a hardy selection of extremely high-quality drones for both work purposes and photography/videography. Check out their stuff if you fit that bill. Now, if you want an agile, fast drone with a reputation for great battery life and long-lasting batteries in general, look into Parrot. Last but not least, we want to give a mention to Go-pro who burst on the scene with their Karma drone. Although not the most significant drone, it is in development and we're expecting to see a tightened up model soon. As is, for go-pro owners they couldn't have released it fast enough. If you own a Gopro and want to take it to the air, they are a great option. These are all just options. As for the best brand, that's your decision.
Q: What are the general rules/regulations for drone ownership and usage in the United States?
A: Etiquette aside, there are tons and tons of rules you will need to follow as a drone operator and/or owner. Factors include whether you are operating for a business,  non-profit, personal or recreational plus your immediate location, but it doesn't end there. This amount of detail and the accuracy needed when producing a statement dealing with legal matters such as regulations warrants a full guide on this subject. We will fully break down everything you will need to know about drone usage and point you in the right direction. We can assure that if you're operating a drone anywhere on public land, there are some things you will be good to be aware of. (see full guide here)
Q: What drones need to be registered?
A: All drones that weigh in between 0.55lbs & 55lbs are required to be registered as of the 19th of February 2016. Penalties of flying without proper paperwork or registration could be a fine of upward above twenty-thousand dollars or a few years behind bars. The laws are constantly contested and the tide seems to always be changing in these matters so we will keep up to date and provide fresh information as it's presented.
Sources