Best Vacuums for Hardwood Floors Reviewed & Rated for Quality
In a Hurry? Editors choice: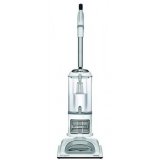 Test Winner: Shark Navigator Lift-Away Pro

No matter what household rules lay in place, snacks will be had on the go away from the table, pets will lovingly guilt their way indoors, and shoes will be worn inside when you run back in for those keys which you can never seem to find.

And while those sneaky pets can be counted on to lick up fallen crumbs, the war of hair and dirt is a strenuous and ongoing one.

So rather than doling out sentences for actions violating the Household Commandments, save yourself the stress (and more importantly, the time), and get yourself one of the amazing vacuums for hardwood floors below.

These vacs are engineered to hit hard surfaces with efficiency and voracity that you never thought possible. They go where standard vacs can't and do what standard vacs only dream of, so kicking your feet up doesn't become just a daydream.
Standout Picks
Criteria Used for Evaluation
Portability
Here we looked at the size and weight of each vacuum to determine how portable each product is. We also consider the weight distribution and the ergonomics of each product.
Versatility
When considering versatility, we look at the different forms that the vacuum can take and the different functions it can perform. So vacuums that can be handheld and floor pushed score highly. Also, vacuums that function well on hardwoods but can also handle carpets score highly here as well.
Accessories
When considering accessories, we look at the additional specialized tools that come with each purchase and how easily they are stored on or around the vacuum.
Power Source
Here we consider whether a vacuum is cordless and uses battery power, or whether you must plug it in. We also take into consideration the length of the power cord here.
Value
As always, we want you to get the best product for your money. While more expensive vacuums generally last longer, less expensive ones often function as well for a shorter amount of time. This is important to consider when thinking about your purchase.
10 Best Vacuums for Hardwood Floors
1

. Shark Navigator Lift-Away Pro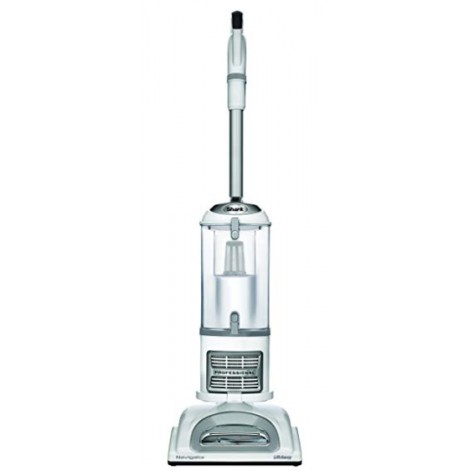 The Shark Navigator Lift-Away Professional is one of the top rated vacuums for hardwood floors and is one of the best performing vacuums for hardwood floors and pet hair. This product features multiple modes to meet every job with its match and it is super lightweight to boot.
Weighs Less than 14 Pounds
The Shark Navigator Lift-Away Professional is one of the most revered lightweight vacuums for hardwood floors, and it's also one of our favorite Shark vacuums. If you have ever spent any time vacuuming, you know that having a lightweight device not only cuts down on cleaning time, but it also prevents a ton of lower back pain and other achy muscles
.
This device weighs just under 14 pounds and is super maneuverable. It pivots on a dime and is incredibly easy to control. And with just the push of a button, you can release the canister from the base of the vacuum in order to reach those tough-to-reach places with the additional attachments that make reaching ceiling moldings and behind furniture a breeze.
This vacuum is versatile as well. It has special functions to deep clean in thick carpet as well as to gently clean those sensitive hardwoods.
The cord on this product is 30 feet long.
Allergen Destroyer
The Shark Navigator Lift-Away Professional is your new best friend for so many reasons, and keeping allergens at bay is a major one. While typical vacuums stir up dust and allergens, this vacuum works to suck in and contain those particles that cause unpleasant reactions in the user and in others in the home.
The Complete Anti-Allergen Seal Tech and HEPA filter work together to trap 99.9% of all allergens and dust that it comes into contact with holding them safely inside of the vacuum itself.
The pre-motor filters (felt and foam) should be washed about every 3 months if you are using the vacuum normally (for typical cleaning). The post-motor HEPA filter should be washed and dried (air) every 2 years or so.
Cost and Value
The Shark Navigator Lift-Away Professional rings up in the low middle of our price range and we love its value because it has specialized functions to get each job done correctly, it contains allergens to prevent irritation, and it is lightweight and easy to maneuver at about a third of the price of our most premium vacuum.
Plus, it comes with a 5-year warranty.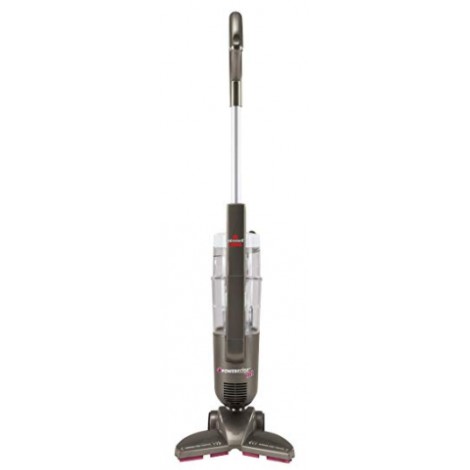 The Bissell PowerEdge is one of the most affordable options on our list, but don't let that fool you. This baby was designed specifically for hardwood action and delivers in miraculous form. And if you thought the last vacuum on our list was a lightweight, this 7 and a half pound powerhouse is about to blow your mind.
Unique V-Shape
The Bissell PowerEdge was engineered specifically with hardwoods and other hard floors in mind. Its shape and construction are perfect for these surfaces and optimize cleaning.
The V-shape of this vacuum will leave you wondering why all vacuums aren't shaped this way. Not only does the shape encourage larger bits and pieces towards the more powerful middle suction area, but it also allows you to hit corners and furniture edges with a precision you've never experienced before.
The squeegee system on the bottom of the V is primed for optimal hard floor cleaning. These squeegees trap and funnel pet hair and dirt into the vacuum, rather than blowing it around the floor as you will notice with other vacuum cleaners meant for carpet.
And it's not just the V-design that makes cleaning around edges and corners a breeze. The whole device turns on a literal dime and is so responsive, you'll feel like you're steering a luxury car. Plus, it weighs in at just 7 and a half pounds making maneuverability that much easier.
The cord on this device is 20 feet long.
Easy Clean-Up
The Bissell PowerEdge makes every step of the cleaning process nice and easy. Not only is the vacuuming portion a synch, but emptying the collected debris takes just seconds as well. Simply press a button to remove the dirt cup and enjoy all of that wonderful bagless cleaning by dumping easily into the trashcan.
Cost and Value
The Bissell PowerEdge rings up at the bottom of our price range and we love its value because it is as easy to maneuver as it is to clean and its powerfully and expertly engineered design makes short work of hard floor jobs.

3

. Shark Rocket DeluxePro


The Shark Rocket DeluxePro is a true two-in-one hero that tackles pet hair and standard household messes on your hardwoods and carpets like a pro. This vacuum easily converts to help with all of your tough jobs from the ceiling all the way down to the floor, and it comes with all the specialized attachment tools you'll need along the way.
Easily Converts
The Shark Rocket DeluxePro is a swivel master and turns on a dime. It weighs around 8 and a half pounds and is as light as air to maneuver. It also features lights at the base to help in spotting dust bunnies under furniture or in dimly lit rooms.
This product converts in a flash from a stand-up vacuum to a handheld one. With the click of a button, you can harness all of its power to reach the tops of furniture and even clean the ceiling moldings.
The cord on this item is 30 feet long. You can purchase it in bordeaux or black.
Tons of Specialized Tools
The Shark Rocket DeluxePro has precise functions that make it a great match for hard floors and carpets. With specialized tools, you can always get just the clean you need.
If it's hardwoods and other hard floors you need to tackle, strap on the Hard Floor Hero. This attachment is specially designed to usher in debris on slick hardwoods so you don't end up blowing them around your house.
And if you have a pet hair problem, it has finally met its match. With the Pet Multi-Tool, you can easily remove stuck-on pet hair from furniture and carpets, as well as curtains and in the corners of hardwoods.
You'll enjoy the Duster Crevice Tool which gives you cleaning access to those hard to reach places formerly out of reach. And if you'd like, this unit comes with a wall-mount for easy storage.
Plus, this version of the Shark Rocket comes with a larger dust bin so you can vacuum for longer without having to empty it. That said, emptying is lightning fast as you don't have to wrestle with any unruly bags.
Cost and Value
The Shark Rocket DeluxePro rings up in the low middle of our price range and we love its value because it's a two-for-one deal that can be used as your household vacuum as well as your go-to hero for small jobs and tough to reach places.
And we love that it comes complete with specialized attachments to get every job done the right way the first time.



The Miele Complete is one of the fanciest and frilliest of the options on our list. With more settings to get a more precise clean, you'll be able to get enjoy your slickest hard floors yet. Plus, this little cutie packs in a whole ton of power, firing at 1,200 watts.
Powerful, Yet Gentle
The Miele Complete packs in a whole ton of power (at 1,200 watts), but also delivers a necessary gentle clean to your hardwoods and other hard floors.
With a parquet brush that is nice and soft, as well as castor wheels that won't scuff your floors, you can rest assured that your floors will be left better than you found them.
This vacuum has different height settings that it can be adjusted to in order to get the most effective clean for each hard surface. With 6 different suction settings for each type of home environment you might encounter from rugs to hardwoods to furniture, you can feel confident about this vacuums ability to tackle all messes.
This product features a stainless steel tube that conveniently telescopes for storage. The additional handy attachments also nest nicely inside the body of the vacuum.
With your purchase, you will receive a floorhead meant for carpets, a floorhead meant for hardwoods, a crevice tool, an upholstery tool, and a dusting brush.
Sealed AirClean System
The Miele Complete also works super hard to keep all dust particles and allergens out of the air and trapped securely in the vacuum. With its 4.76-quart AirClean Filter Bag, you won't have to worry about tossing a bunch of aggravating particles into the air.
Cost and Value
The Miele Complete rings up at the top of our price range and we love its value because it features a setting for practically every purpose, it's powerful while still being gentle on your sensitive hard floors, and there's an attachment for every job.

5

. Bissell Hard Floor Expert


The Bissell Hard Floor Expert is another great cannister option that won't break your back in heavy lugging weight. Weighing in at just around 8 pounds and with some incredible sucking power, you will make quick work of any job no matter what it is.
Multi-Cyclone Tech
The Bissell Hard Floor Expert comes complete with Multi-Cyclone Tech. you will enjoy stronger suction for longer.
And with a larger dirt bin (one that can hold 67 fluid ounces), you'll be able to use your vacuum for longer before needing to empty it. When the time comes, you'll enjoy being able to remove the bin from the bottom to eliminate the possibility of spilling out that which you have just cleaned up.
The power cord on this device is 18 feet long. The hose on the device is 7 inches long.
Multi-Surface Functionality
The Bissell Hard Floor Expert is not only a showstopper on hard floors, but it performs well on rugs and thin carpets as well.
With the turbine meant for hard floors, you'll be able to pick up stubborn dirt without causing damage to the sensitive veneers. And with 9.2 amps and an 11-inch cleaning path, you can count on this small vacuum to serve you throughout the whole house.
Plus, you'll also add a multi-surface foot to your arsenal which can tackle messes on the rugs and thinner carpets in your house.
Cost and Value
The Bissell Hard Floor Expert rings up in the low middle of our price range and we love its value because it is an easily maneuverable canister vacuum that can tackle messes on multiple surfaces while packing in power and being easy to empty.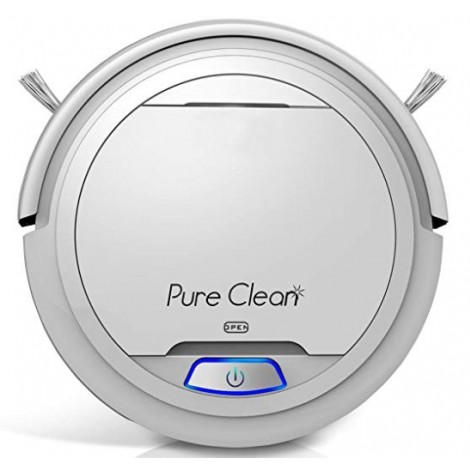 The Pure Clean Automatic Robot is the first true robot to make our list. If you are looking for a little hands-free help around the house, but you don't want to shell out the hundreds and hundreds of dollars that more high-tech robotic vacuums cost, this little buddy could be just the right fit for you.
Handy Smart Technology
The Pure Clean Automatic Robot comes full with smart technology that keeps in hard at work in your home. It has sensors that allow it to sense obstacles in its path and that also prevent it from toppling down the stairs and off of leveled surfaces. It also begins to develop its own cleaning path as it is used.
This product has a low profile at just under 3 inches off the ground so it can easily glide under most pieces of furniture.
Cleans for an Hour at a Time
The Pure Clean Automatic Robot is ready to spring into action at the touch of a button. While more expensive devices can be programmed to take to cleaning at automatically scheduled times, this bot will need to be prompted.
On a single charge, the bot can clean for about an hour at a time. You will likely need to empty the dust bin after each hour of cleaning, depending on the amount of debris on your floor at the time. The dust bin can hold .2 liters.
Once a cleaning is done, you will need to reconnect it to the charger and wait for about 4 hours before it is fully charged and ready to clean again.
This bot is great for cleaning all sorts of hard floors and even thin area rugs and carpets. And with its HEPA filter, it will trap agitating allergens and dust particles to keep your family breathing well.
Cost and Value
The Pure Clean Automatic Robot rings up at the bottom of our price range and we love its value because it is a wonderfully cost-effective alternative to more expensive bots, and while you may have to start it and charge it yourself, it will still work for you like a charm.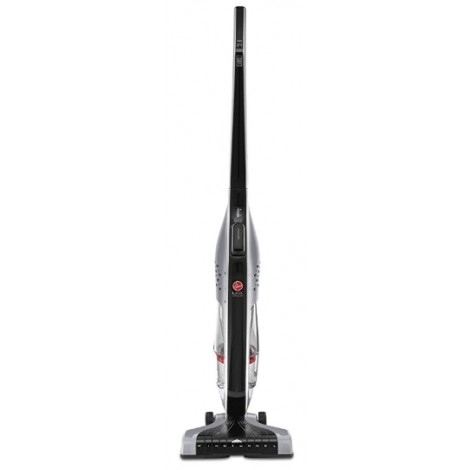 The Hoover Linx is one of the best cordless vacuums for hardwood floors out there. With versatile battery options and the ability to transition between different floor surfaces, you'll be able to zip around your home in no time so that you can save more time for the things that matter most.
Battery Powered Bombshell
The Hoover Linx comes with some major key battery features that make this product a go-to. The 18-volt batteries that this vacuum accepts can be interchanged. This means that you can have more than 1 charged battery on hand in case you've left the cleaning off for a little longer than you intended and you have a bit more cleaning to do than you care to admit.
Plus, there is a battery indicator on the unit which tells you clearly how much time if left on each battery charge so you can race the cleaning time clock for fun and efficiency.
Take it Anywhere
The Hoover Linx is truly cordless so you have the freedom to take it anywhere. Not only that, but it can seamlessly transition from a hard floor to a carpet to cut your cleaning time and frustration down.
With bristles on the sides of the head, you will be able to loosen dirt and debris from around the edges of the room and suck them safely inside without ever having to reach for a broom.
And because the handle reclines virtually flat, you can easily slip underneath furniture without having the rearrange your entire home every time you wish to give a thorough cleaning.
When you're all done, the dust bin empties from the bottom to eliminate messy disposal.
Cost and Value
The Hoover Linx rings up on the low end of our price range and we love its value because it gives you versatile power with the convenience of a cordless stick vacuum that can literally go anywhere. And it's light enough for kids to be able to use (with or without complaints).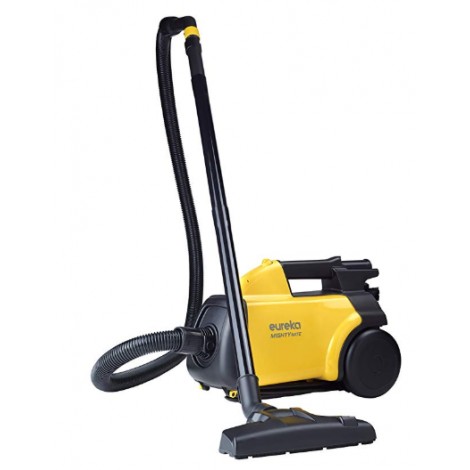 The Eureka Mighty Mite is a cute little buddy with no frills but tons of convenience. It is incredibly lightweight and can perform one function that you won't find on any other products on our list--blowing!
Features a Blowing Function
The Eureka Mighty Mite can, of course, deliver some serious sucking power at 10 amps. But it also has a unique feature that allows you to reverse the flow of air to turn this vacuum into a blower. This feature is a great option for garage floors that are covered in dirt and leaves and works to clear the area super quickly.
Handy Attachments
The Eureka Mighty Mite comes with all the attachments you need to tackle hard floor jobs. With a foot, a brush, and a corner tool, plus an extra-long flexible hose, you'll be able to get into every nook and cranny in no time. And we love that all of these tools are stored conveniently on board.
This vacuum is not bagless, unfortunately, and the bag will have to be removed and thrown away.
Cost and Value
The Eureka Mighty Mite rings up at the bottom of our price range and we like its value because it is an incredibly lightweight action that can tackle all hard floors, but especially those garage and workshop chores that may even require a little blowing action.

9

. Dirt Devil Simpli-Stik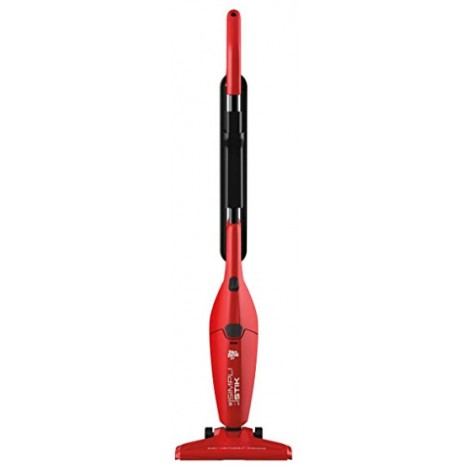 The Dirt Devil Simpli-Stik is a wonderfully compact 3-in-1 option that will dazzle you. It isn't the most powerful on our list, but it can go more places than most and fulfill multiple needs. This is an ideal choice for smaller jobs and for those living in studios or dorm rooms.
3 Functions in 1
The Dirt Devil Simpli-Stik can fulfill 3 different functions.
If you need a stick vac, roll the unit upright on its 2 wheels and tackle small messes on your hard floors. If you need a hand vac for small jobs and it hard to reach places, this guy is here to the rescue again with just the press of a button. And if you need to spot clean those high and out of reach places in your home, you can extend the stick to get to those messes too.
Easy to Maintain and Empty
The Dirt Devil Simpli-Stik comes with an easily washable filter that can be washed frequently to extend the life of the filter and the vacuum itself. You must let the filter dry for 24 hours before trying to use it again, however.
The .35 liter capacity dirt bin can be easily emptied with no fuss. And you'll enjoy the convenience of having a bagless cleaner (especially in small spaces).
Cost and Value
The Dirt Devil Simpli-Stik rings up at the very bottom of our price range and we like its value because it can fulfill 3 functions and still delivers decent cleaning power at a literal fraction of the cost.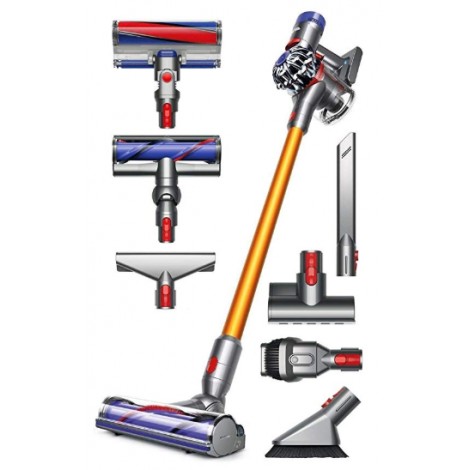 The Dyson V8 Absolute is the mack daddy of all cordless vacuums. With more tools that you'll know what to do with, and more cordless power than you could ever have imagined, you'll be practically looking for messes in your house so you get to play with this product.
Tons of Attachable Tools
The Dyson V8 Absolute comes with more tools than you'll know what to do with.
If you need to clean your mattress, there's a tool for that. There are brushes, there are wands, there are crevice tools.
If you have a high corner job, this is your guy. And if you've got both hard floors and carpets or rugs in your home, this vac has you covered as well with highly specialized feet for each job.
Plus, you'll enjoy a mounting and charging station for when your vac is not in use.
Genius Ergonomic Design
The Dyson V8 Absolute packs in a whole lot of power with its V8 engine. It can operate for about 40 minutes on a single charge.
It is ergonomically designed to carry most of its weight up top which helps especially with high-up jobs and with handheld jobs making it one of the easiest to operate handheld vacuums out there.
This vac comes with a HEPA filter which keeps allergens and dust out of the air and in the filter.
Cost and Value
The Dyson V8 Absolute rings up at the tippy top of our price range and we like its value because it truly is a cleaning wonder like no other with more specialized tools than any other product on our list--but golly do you have to shell out a lot.
However, considering you won't run through this product in a matter of even years, it may well be worth the investment.

Subscribe to our Newsletter