Best Portable Printers Reviewed & Rated for Quality
In a Hurry? Editors choice: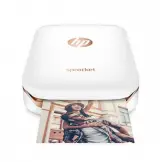 Test Winner: HP Sprocket

When on the go we often find ourselves either capturing moments we wish we could frame in our house, or even as writers, finishing stories or scripts we want to print. For those on the go for work, you will often also find yourself finishing something that desperately needs to be printed out by morning in your hotel room. None of us want to have to drag a 15 pound or more printer everywhere we go. But, is there such a thing as the right size
printer
that can easily be taken with you where you need it to go and do what you need it to? In short-yes!
We hunted all over for portable printers of various kinds, from picture to receipt and even full-size
paper
printers that are easily placed and carried in the right sized
computer bags
! We found a great solution for this top ten list and we know you will find what you need in the lineup! So, feel free to print this one at home just so you can keep each one in mind, or even share our list with friends!
Standout Picks
Criteria Used for Evaluation
Durability
Anything you plan to take with you consistently on trips, no matter how close or far, you want to know can survive the journey easily. So when we went looking for the different types of products on this list, we made it one of our first items on our 'things to know' list. We always look for this to some degree with long-term use items, but with portable electronics, it really does get tested a lot more. These items are more likely to be squeezed into tight places like suitcases, purses, and pockets. On top of that, there is a good chance of getting tossed around or dropped, and because of that, they need to be strong enough to last in situations they might naturally end up in. Of course, we don't expect it to survive anything abnormal, like being thrown or shoved onto the floor or crushed under heavier objects. So, if you are looking for that kind of durability we can't guarantee it- and we would be the first to point out warranty stipulations often don't cover that either.
Value
Many of the devices on this list have a warranty or at least a money back guarantee. A few even have Satisfaction guarantee's, which are definite pluses to their value. The convenience of these items also adds to their value and many of the other features they have. So when weighing them against their costs, we feel all of these definitely hit the bar for what we expect and then some. We strive with every list to make sure the items we give you are worthy of a top ten, and by being such, tip the scales more towards value than their actual cost.
Size
Portable means portable, right? And while at least one on this list may not meet everyone's idea of that word, truth is that it does. When wanting a true printer that is portable, you can't get something that fits in your palm and can still print full-size sheets. You can, however, get a lightweight machine that fits in a computer travel bag and not is carrying something that could definitively throw your back out. That being said, everything on this list is a perfect size for being what they are and still being portable. A major necessity to be on this type of list.
Ease of Use
Some devices are easy to take with you but are complicated to use. You buy it thinking all you have to do is plug it in, charge it, and turn it on when you want to use it, only to find out that there is some huge set-up process that even with the manual is almost impossible to decipher and get to run correctly. We buy these things so that we can remove difficulties- not add to them. When choosing our lists for electronics we try to make sure that the manuals are easy to understand, and the product as easy to use as it is to take with you. We feel that every item on this list meets that need and should be easy to set up to work with your computer, iPhone, Android, etc. However, the next thing on our criteria is a very important part of this process.
10 Best Portable Printers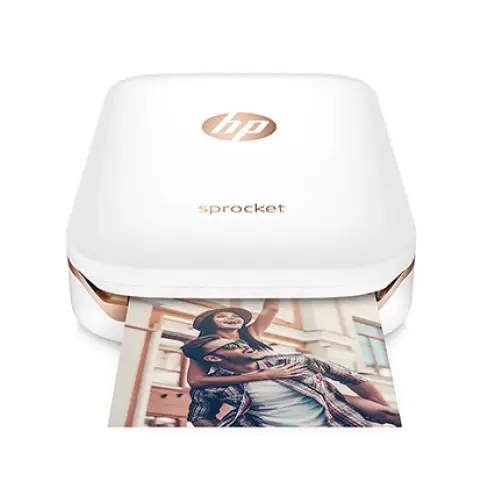 This beautiful little device will easily slide into your pocket with your phone or into the case next to your tablet. Its beautiful printouts will no doubt amaze you and your friends so that you will never be without a hard copy of your favorite moments in time.
Stick-em up!
Want to have fun with your photo's? Why not print them as stickers? With this device, you can print normally and get a good quality photo, or you can print it out as a sticker to decorate your journals, place easily in albums or add to your scrapbook of adventures with ease. If you are looking for a little more than your normal photo, this is definitely the pocket printer for you!
I need support over here!
Whether or not you use the warranties on items you have purchased, you have undoubtedly needed to call for technical support. With this product, you can be rest-assured that no matter where you are- or what time it is- you will get an answer and the help you need to quickly resolve the issue. HP promises you 24-hours, 7 days a week support ready to help answer all of your questions.
Cost and value
With this little device, you are looking to have fun with every picture you take. Instead of your typical picture where you have to find a way to put into your memory books, you can print it out ready to be placed anywhere you like. With the one-year warranty you are covered if something just doesn't go right, and with the live technical support, you can get answers to any and all of your questions. It is easy to use and doesn't take much to set up right out of the box. We feel that all of this in one package is definitely worth every penny, and the rest of its features are just icing on the cake!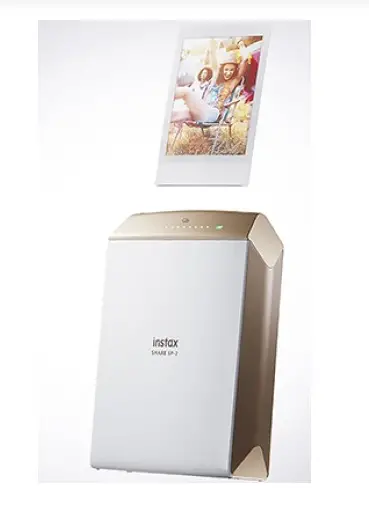 A true on-the-go printer, this product is easily used at a moment's notice and creates pictures you can treasure in an old-style flare that anyone can enjoy. If you are looking for a portable printer that can not only go everywhere with you but is easily recharged, this is the one for you! Read more below to get more details!
Recharge!
Rather than requiring you to hunt down an outlet to recharge your printer, Fuji thought ahead and made this little beauty rechargeable via USB. If you have your laptop on handy, or the charger cable for your car, you are all set to go, no matter what! Never be without enough power to enjoy printing your pictures on the go again!
Nostalgic look!
Remember the old instant print photography of the Polaroid era? Well, now you can get that all over again- only with your phone or tablet as the source of your pictures! Print your pictures and have that pretty white frame to write a message or date so you never forget when and where you took that picture. Make your memories always at the tip of your fingers with this Fuji product!
Cost and Value
With everything we have already mentioned this device is already well worth its price. You also get a great app that lets you adjust your pictures in many ways to get that perfect print quality image. Add new designs, change it into chromatic images, or just brighten or darken your image as you like to print just how you want- or send it with your touch ups to other devices for free!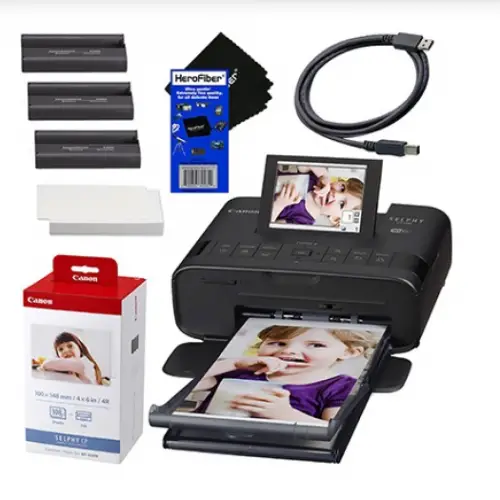 Canon is a name we all know and since it has such a knowledge base we know it has a following, which means it has trust. With that in mind, we look at this portable printer below to see what it has in store for us that keeps this company on the edge of technology while still producing great products.
Ready, set…
Cannon again impresses us with its quality. The pictures are crisp and print with great quality so that you are rarely if ever disappointed. On top of that, they also supply you with the cords and a sample set of the cartridge and paper. Great news for those who prefer normal picture paper over stickers too- this portable can do both! No more having to mess with the sticker paper that may or may not work right in your household!
Connection?
Being able to connect wirelessly is wonderful, but sometimes you have pictures you want to print that weren't taken on your iPhone and you don't think of it till you are already on the move and can't print from your laptop. Well, no more of that! This printer lets you use a USB cord from your phone, a USB stick and a memory card as well to retrieve and print the image you want.
Cost and Value
It isn't surprising to know that a Canon printer is worth every penny you pour into it and more. With everything this company does to ensure that their products are a high quality, you are almost guaranteed to get a great printer when you buy one of theirs. Speaking of, they also shower their loyal customers with great customer support and offer a warranty on almost every product they sell- so even if for some reason yours isn't up to par, you know they will help you fix things ASAP.

4

. Epson WorkForce WF-100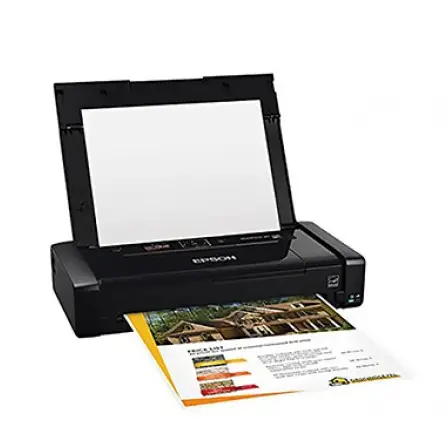 Need a real printer for full-size images or work documents, but need it to be small enough to carry in your computer bag? This is the printer designed with on-the-go- businessmen in mind. It's compact and light but still prints full-sized documents so that you can work on that resume, informational packet or novel you've been working on all week.
All-in-one!
So, you need a printer that can handle every task you throw at it, from every wireless information device you have? Not a problem! This gorgeous product connects via wif-fi which allows it to connect to phones, tablets, and even computers! It's great for any need, whether you want a full-size picture, or if you are looking to print out text! This pretty printer has you covered from all angles! Despite its small size when packed up, it uses traditional sized printer paper to give you that high-quality job everywhere you go!
Low on ink?
Ever wish you didn't just have to rely on your memory to recall that your printer was screaming low ink at you while you were working? Maybe you wish you didn't have to stop everything just to order ink, so you didn't have to hold onto that bit of information till later? Well with the Epson you don't need to worry! You can set it up with Amazon Dash and as soon as your running low, your printer can send in the order for just the right cartridge, so you don't even have to recall which thing it is you needed to order!
Cost and Value
If you are on the go a lot and need a printer you can keep with you for documents and other printouts, then there is nothing more valuable you can get. This printer is small enough that if you are already bringing a laptop, it can slide right into the case and you'd barely notice! Considering that it also can charge both via adapter and by USB, you also don't need to worry about not having a way to charge it. Add to that the one-year warranty against defects and you have a printer that exceeds its cost in value.

5

. HP OfficeJet 250 All-in-One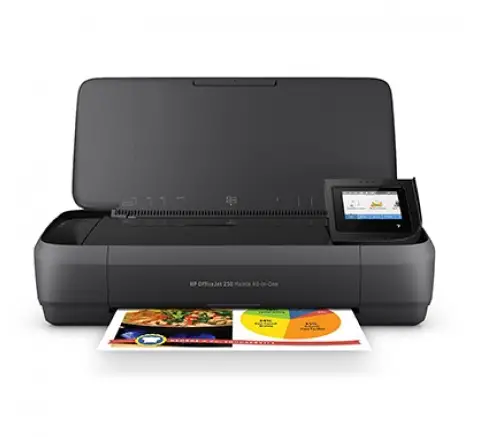 Here is another full-size print-out that fits into tight places, this time brought to by HP. Many of us have a love for one brand or another, but there is a definite trust with HP customers that they can rely on this company to serve them well!
It does it all folks!!
Don't just need your portable to print? Well, we have the answer for you then! Say hello to the printer/scanner/copier generation of portable devices! The HP OfficeJet 250 covers all your bases and can even email too! It connects to your wireless devices right out of the box and is charged after only 90 minutes. To think, you can do it all from this pretty portable machine. HP certainly knows it's stuff and has a market cornered with this one!
But… how?
When you think about everything this machine can do, you can't help but stop and wonder how it can be portable- but it is. While still bigger than other portable printers, it can be slid into large computer bags and backpacks easily. With most of us who would use it already having a laptop, this isn't an issue- and it is still lightweight! The fact that it has its own battery that charges in only 90 minutes I also just as incredible!
Cost and Value
You can't really beat an all-in-one deal like this one on value. When you simply need to have an on-the-go office, this truly surpasses expectations. So what else can we add? How about a one-year warranty on the item as well? Just in case you run into technical difficulties with your all-in-one, you know you can get things repaired easily, which can be a real weight off of anyone's shoulders.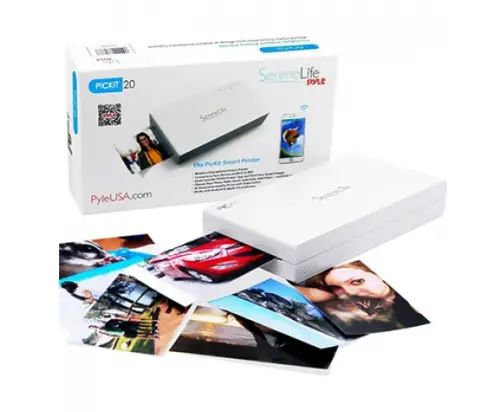 Want a painless way to print from any phone on the market? Try out the Serenity Life printer! This little guy can go to work right from the box and will give you gorgeous pictures to boot! Want to know more about what features this product has to offer? Read more below!
Play now!
Many of the portable printers might require an app set up for at least one type of phone, but this one is as easy as open, charge and use! The apps come already with the printer, so you don't have to go hunting it down and it works on all phone types that are wi-fi! This pretty machine is a no hassles creation that fits right into your pocket too!
Wi-Fi
While blue tooth seems wonderful, many tablets and phones are more dependable with their wi-fi connections than they are with blue tooth. Why go with something that may or may not connect with your phone? Be sure to quickly use your printer when you want with the wi-fi connection instead. Less hassle, less frustration, and more fun memories!
Cost and Value
While some of our products can only connect with certain phones, this one can connect with any that offers wi-fi connectivity. That makes this valuable already to us. Add to it the no hassle instant set up and its cost is covered. A lot of us have issues with our messy the cartridges can be so knowing that this is a completely quick and clean cartridge change which deals both the ink and the paper, so you don't have to worry that you loaded anything wrong- it's already loaded in one single click out, click in, process!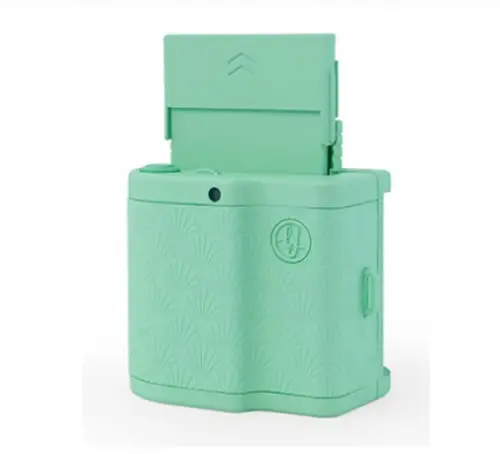 Want to have the feeling of holding a Polaroid, but the quality of your phone? This printer combines your phone with the printer, so you aren't having to hold each separately to use it. Like a transformer, it feels like you are taking your phone to its next form! Read below for more!
Live pictures!
This unique idea is only really available with this particular printer and its app. When you take a video with your picture, it can be taken to the app and viewed as a video through another iPhone. This means your photos can literally come to life! Imagine not just taking a picture of what happened and talking about the events around it but being able to show off your picture and have it come to life through anyone's iPhone! Now you can with this amazing printer product!
Camera phone?
While most portable printers connect with your phone via wi-fi, this one directly plugs into your phone, or rather your phone plugs right into it! Suddenly your phone is transformed into a polaroid camera and you don't have to worry about not being able to press the button to take the shot! Now you can instantly take your picture, and have it print without having to mess around with connectivity problems!
Cost and value
While this device has more cons than most, it is a new technology. The idea was invented by people who saw a great idea in their heads and decided to go with it and not give up. The value steps into overdrive when you realize your images are like mini-DVDs and can be used to relive a memory in action instead of a simple recollection you talk about. It's also added in with the growing 'no ink' cartridge design and the fact that you no longer have to worry about how to put a picture into your album- it's already a sticker. Overall, we feel this camera's value still places it on our list.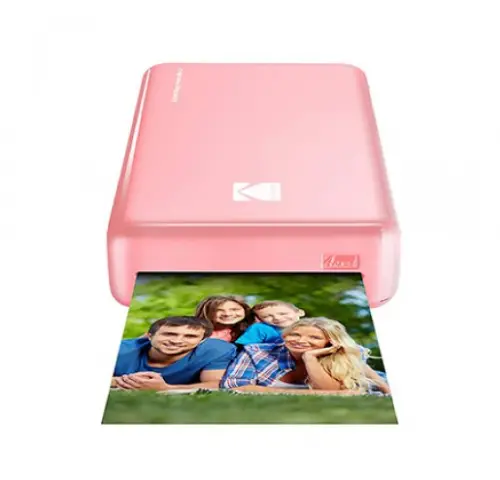 We are talking about a company here that definitely knows pictures. If you are not sure that a printer can handle optimal quality images the way a camera can, then maybe a company like this can change your mind! Check out the information we found to see if Kodak can make you reconsider a portable printing option for your phone over buying a film-based camera and waiting for the day you can see what you took for memory shots!
Connect your way!
This printer doesn't just connect in one way, unlike many of its competitors. Instead, it uses both wi-fi and blue tooth so that no matter which way you connect easiest. Sometimes life is just easier to enjoy with such a choice, and you never know when one way of connecting will be better than another. With this option, it is also easier for both newer and older phones and tablets to both be able to find the connection and allow you to print pictures that you took before you even had the option!
Layers are better
Anyone who is an artist and who has worked with any type of electronics to do artwork will tell you that a layered image is better. The colors are truer, and the end result is stunning. The same is true about pictures. Even the old camera film was done in layers of work rather than all at once, which is why they were more vibrant and lasted longer than today's simple one-layer printouts often look. Kodak knows this, so even with something as small as the portable printer, they wanted to ensure better quality.
Cost and Value
It's hard to outdo a picture company with printing images- even ones taken electronically. The quality of pictures this printer gives certainly among the best. Kodak is still a bit new at the computer style of things, but they managed to pull great work with what they do know and implement it here. They even provide you with two options for the end result and added a lamination process, so your photo will last. All in all, we think they deserved to be on this list along with the rest and certainly think we'll see them producing even better equipment in the future!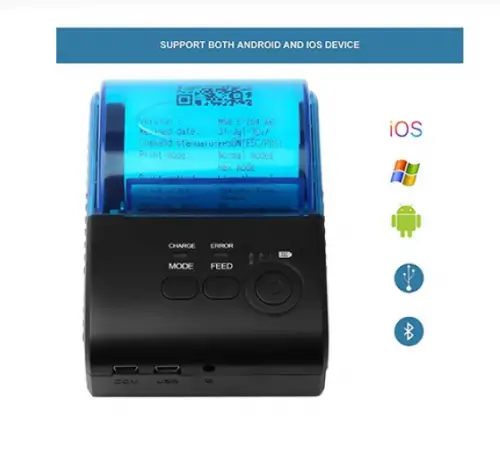 If what you are in need of isn't pictures, but receipts or coupon labels, this might be the option for you. Instead of trying to print out a scannable receipt on printers made for pictures, this portable printer was built for your desired task.
Quiet print
With its state of the art thermal printing system, this printer is extremely quiet so that you don't have to feel like your 'making your presence known' when you print coupons or receipts. This little machine is quick and easy to use and can connect to allow for a transfer of information so that you never lose track of what needs to be done in order to print on the go.
Never wonder
A lot of receipt printers don't warn you when your battery is low, and you may end up in mid print when it goes out. Not so with Livepow. With an LED battery indicator, you'll know when you need to recharge before it quits printing. That means you can work with the peace of mind that you know when you'll need to head off to recharge.
Cost and Value
For as little as this printer costs, it certainly packs a punch for what it does. The fact that it is quiet, fast and connects to other devices easily makes this a steal. It deserves not because of all the products in its line, it has no real downside to it. Livepow knew what it was doing when it built this one.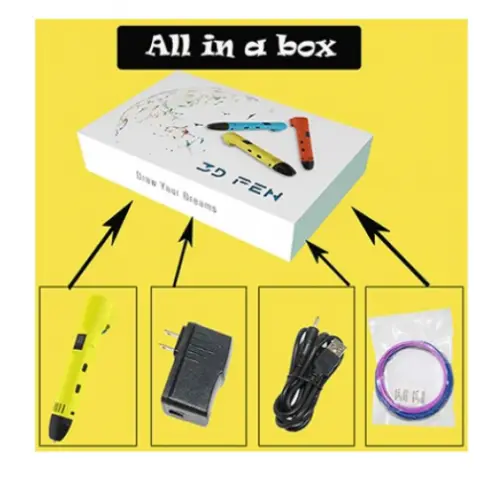 If what you are looking for is fun, portable and 3D, then our final list option is where you want to look. Ever wanted to draw a 3D model and just didn't want to deal with being in the room with a large printing device, or connected to some outside computer to do it? Check this entertaining little device out and see if you might want to add it to your 'wanted' list!
Fun for creating
This pen will definitely stimulate the imagination and can be fun for both kids and parents. Instead of simply printing something or only getting a flat image result- you can create new 3D crafts and spend hours designing things to be as you want them. This little 3D print-pen is great for parties too!
Mobile power supply
Most 3D print creations are forced to remain near an outlet- this one isn't! Although it doesn't have an auto-print, it does allow for you to get great ideas and create them on the go. Some might not consider this a printer device, but in the new age of technology, 3D concepts are becoming more and more prevalent, so we felt that mentioning this one on our list was a necessity to bring to light the option of 3D print even if it wasn't connected to anything other than your hand.
Cost and Value
This can't have a tag put on it for those of us in the creative fields- there simply is no price too big for the value of imagination. Even so, this 3D printing pen is actually cheaper than most everything else we could mention. It gives such a wide array of fun activities that in all truth- we feel everyone else will agree that it deserves it's place here.

Subscribe to our Newsletter