Best Bow Sights Reviewed & Rated for Quality
last updated:
Oct 17, 2019
Hunting with a bow or a compound bow not only connects you with the hunters of the past, but it also provides a better connection to nature. And even though plenty of hunters enjoy the simplicity of hunting with a bow, that doesn't mean they don't appreciate a little help. So it's good to keep up to date with all the upgrades when it comes to hunting equipment. One item that'll definitely improve your experience is a bow sight. This little helper usually consists of pins set in a calibrated frame and are easily attachable to a shooting bow to aid in long-distance aiming. Here are our favorite ten bow sights.
In a Hurry? The test winner after 12 hrs of research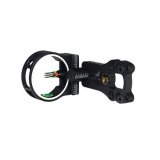 TopPoint Archery 3 Pin
Why is it better?
Simple to use for all levels of customers
Can handle short, medium and long shots
This bow sight is designed to last for many uses. 
In a
Hurry? Editors choice: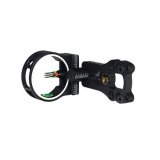 Test Winner: TopPoint Archery 3 Pin

14
Researched Sources
10k
Reviews Considered
12
Hours Researching
10
Products Evaluated
Accessories
Durability
Ease of Use
Accuracy
Responsiveness
By Default
Best Bow Hunting Sights
1

. TopPoint Archery 3 Pin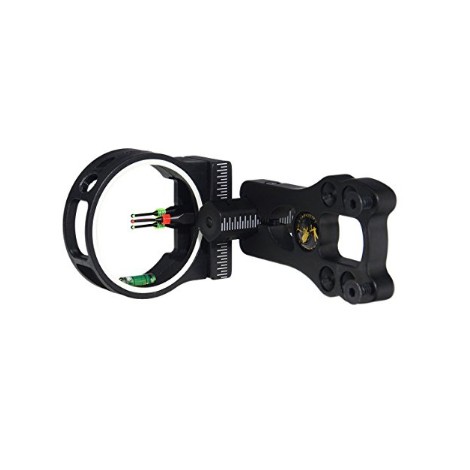 Simple to use for all levels of customers
Can handle short, medium and long shots
This bow sight is designed to last for many uses. 
Needs Allen wrench to adjust
It's rare that one of the big brands doesn't make the top spot. But this bow sight has been a revelation in the industry and has changed how some people view high-end sights.
Built To Last
It was both efficient and smart to use the lightweight 6061-T6 aluminum. Hard hits won't be a problem and the sight is built for years of use.
High Accuracy
This has markings for elevation and windage and is also built to be shake resistant.
Cost and Value
For such a low price it is a hard deal to beat since it is the #1 bow sight. Add in the extra durability and this is a solid winner in the top spot.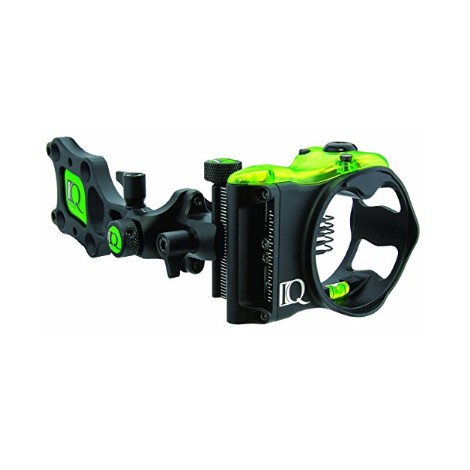 Right and left-handed models available
Powerful Retina Lock technology
Comes with a built-in sight level, making it easy for an individual to hit the target
Retina Lock takes some getting used to
If the sighting genius of the IQ 5 doesn't get you interested, then nothing else will. Field Logic made a lot of important decisions with this model that has really made customers happy.
Built-in Sight Level
It may not seem like a huge benefit at first, but after a few uses, the built-in sight level really works wonders. With a little practice, it will become the most used feature of this product.
Easy to Use
This is incredibly accurate with simple to use windage and Elevation micro-adjustments, but it ups the ante with stack tight pins with tool-free (and we love tool-free) locking knobs
Cost and Value
Hovering around the average-high price, buyers will find great value if they can master the Retina Lock technology. Along with the sight level, it is a huge main feature and takes a little bit of practice.
Reversible mount design for left-handed users
An incredible price that beats out more than half the list
Comes with a precision bubble system to ensure accuracy
Screws included are low quality
Trophy Ridge is on the list a few times, and Volt cracks the top 3. It is basic, yet effective in its job. It comes with everything you need to get started and is a great choice for beginners who want quality, but don't want to spend an arm and a leg getting it.
The Price Is Perfect
A low price for a high-end bow sight is pretty great, and the many reviews backing it up also helps. The Volt is the safest bet out of any other bow sight on the list.
Cool Bubble Level
The sight is all about accuracy with five 0.19 medium horizontal fiber optic pins and a precision installed bubble level to help you hit the target.
Cost and Value
This is the best price+value combo on the list, second to none. Customers can buy the Volt and feel safe with their purchase decision.
Can take a beating from rough customers
19 fiber optic pins
Made from lightweight materials
Micro adjustments are difficult to use
Accessories shouldn't be bulky or weigh down your bow. The React was created to be an invisible helper to improve your aim by a lot.
Lighter And Better
The Ballistix Copolymer System is lighter than aluminum by at least 24%, and all without losing any durability. This plays a big role in how it is used compared to other bow sights on the list.
High Tech Lighting
this sight comes with a rheostat controlled light that allows adjustable lighting, as well as a reversible sight mount.
Cost And Value
Customers can nab this model for a high price, but it's worth it. There are just too many positives to ignore what this sight can do for your accuracy.
Long fiber length at 5ft
Fiber optics are protected by a solid housing
The entire sight requires no tools to adjust
Bad instructions out of the box
Sighting in quick is important when you're on the move with your bow. And even for reasons of convenience, being able to sight quickly is why the OL-5519 is an impeccable bow sight.
Easy To Use Sighting Controls
Users can quickly sight in between 20-60 yards without fumbling around too much. With the five-yard increments directly on point while in action, you'll spend less time messing with controls and more time aiming.
Tool-Free Adjustments
This is huge when you're out in the field and this sight can be adjusted easily with only your own two hands.
Cost and Value
Right out of the gate this bow sight retails at an average-high price. More experienced users will get better value out of the product long-term.
6

. TRUGLO Pendulum Ultimate Treestand Bow Sight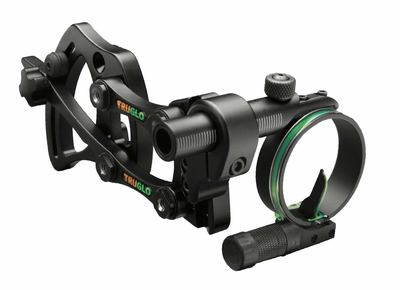 Extremely quiet
Auto-adjust compensation
Lockable pendulum
.019-inch pin
Adjustable for right or left-handed shooters
Great for treestand hunters and ground hunters
If pendulum gets loose, it can vibrate your shot
May not work well in extreme weather conditions
We chose the TRUGLO for our list because we wanted to offer a pendulum sight. These bow sights are great for hunters that use tree stands. When using a tree stand, the vantage point is high off the ground so hunters can definitely benefit from the advantage of 35+ yards of compensation this sight gives.
Locking pendulum
One of the biggest draws to this bow sight is that the pendulum locks in place. This is super beneficial because you do not have to take this sight off and mount another one when you decide to hunt from ground level. This one is versatile whether you are on foot or up in a stand.
Automatic compensation adjustment
This sight is perfect for bowhunters that rely a little on compensation (nothing wrong with it). With the TRUGLO, you will get up to 35 yards of compensation, and this bow sight also adjusts it automatically. This is a huge advantage for hunters. It is able to automatically adjust because the ring is on a pivot, so it moves with the position of your bow.
Cost And Value
With the TRUGLO it's like buying two sights in one. Again, you can use this one on the ground or from a high vantage point simply by locking the pendulum. Overall, this site is well-made and is an affordable option.
7

. Trophy Ridge React One Pro Dovetail Bow Sight
Precision pin auto-adjusts for the optimal location
Windage and elevation adjustments for easy corrections
Fiber optic yardage indicators
Helps strengthen your shot accuracy
Durable steel construction
Not completely tool-free device as stated
The Trophy Ridge React One Pro Dovetail is one for serious bowhunters whether you are right-handed or left-handed. This bow sight is on your team, meaning that it works for you to get the most accurate shot, adjusts automatically to your needs and has fiber optics so that you can see through many environmental conditions.
Super accurate adjustments
This bow sight is designed to help you get that ultimate accurate shot. It features windage and elevation adjustments and fiber optic indicators that help you get the best shot no matter what environment you find yourself hunting in. The ultra-bright fiber optic pin helps you see even in low or changing light, like dusk or dawn. Lastly, the triple-axis leveling strengthens your accuracy at severe angles (great for treestands) over far distances because it auto-adjusts to the movement of your bow.
Durable construction
What would a great bow sight be if it wasn't durable and well-made? This one from Trophy Ridge is made from stainless steel and fashions well onto your bow.
Cost And Value
This bow sight is definitely going to be a pricey option and investment. But, if you are a serious bowhunter, it should serve you well and be worth the investment. The precision, easy use, and overall solid build are worth it.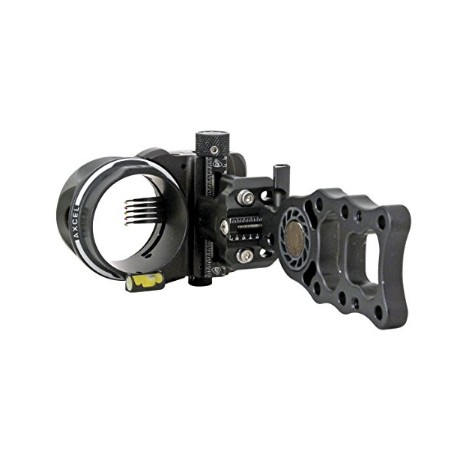 A long list of features with a short learning curve
Fibers are enclosed within the tubing
Made with Mathew harmonic damper
Described by some as one of the best bow sights on the market, the Armortech continues to be dominant. It's all about user-friendliness and one of the deepest feature sets of all the optics available.
Sighting Is Easiest With The Armortech
Rather than worry about getting an optimal sighting, purchase an Armortech and it is almost guaranteed. Very little experience is required to maximize the pros of this optic.
Stays Quiet
Harmonic Dampers make sure a dropped bow isn't going to be the thing that spooks your prey. These things really work, so consider them.
Cost and Value
This is the highest-priced bow sight on the list, and it still retains its value. Just make sure you'll use at least half the features and you'll get the worth of the product.
9

. HHA Optimizer Lite 3019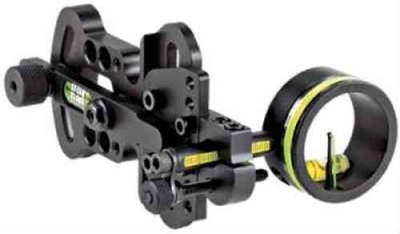 Solid construction
Single pin adjustable sight
Tool-free design
Windage and elevation adjustments
.019-inch pin
A.R.M.O.R. pin technology is secure
Some reviewers say that the screws may not fit
This single-pin model bow sight from HHA is one that bowhunters know and choose time and time again. It has high-quality standards that are constantly recognized. This is a durable and excellent option.
Ultra-bright fiber optics
Whether you are shooting targets or out hunting, the fiber optics on this bow sight won't let you down. It has a super bright light that helps you keep sight in low or changing light.
Durable materials
Again, this HHA Optimizer Lite sight is well-made. It has top-grade materials and because you don't have to worry about the construction of the sight, you can focus on your accurate shot.
Cost And Value
The HHA is on the pricier side, but it's not outlandish. You get what you pay for. If you want a super-quality bow sight that won't let you down, then this is your one.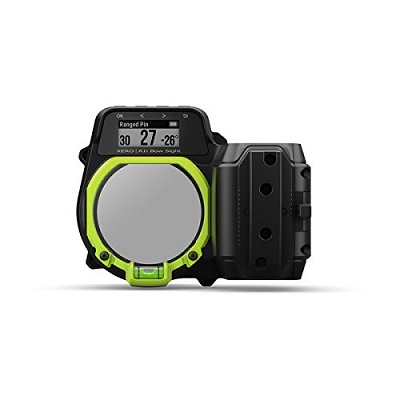 Automatically measures distance
The single-button trigger is silent
Can customize pin selection
Compatible with Garmin GPS
No magnification available
Some found it too expensive
For the ultimate in precision, the Garmin Xero A1i 2 measures the distance to your target automatically and provides you with an LED pin for the perfect shot. It requires little movement to use the single-button trigger and allows you to range whether at full draw and rest position at up to 300 yards. It's also the first of its kind to measure the angle-compensated distance and features LED pins that adjust to the lighting for convenience.
Dual-Color LED Pins
Pins are a great way to measure distance and aim for your target. Unfortunately, they can sometimes get in the way and obstruct your view. The dual-color LED pins to give you all of the same benefits and still allow you to clearly view your target
Laser Locate
This bow sight has a laser locate function that works with a compatible Garmin GPS Device to provide you with the exact spot the range or shot was taken. This will you locate arrows that missed the mark.
Cost and Value
This is one of the most expensive items on the list and its amazing, high-tech features are one of the main reasons. It's perfect for hunters and sharpshooters who depend on precision shots.
Criteria Used for Evaluation

Accessories
We tried something a little different and started out with extras as a criterion. This covered sights that complimented specific styles over using a universal approach. It also looked at models that went away from specific pin assignments and tried something new with their system. Pins that embraced new methods like vertical or pendulums were praised by both hunters and competition level archers. We didn't take points away from traditional sights, but we were wary about leaving barebones models on the list that didn't bring anything special to the table. With all of the feature-packed models that made the list, it made no sense to keep lesser products.

Durability
Durability was next, and it was a criterion that covered the quality of materials for the model as a whole. Pin durability was judged alone further below, so this section covers everything else. There have been reports of users breaking their sights on installation. This type of shoddy craftsmanship has no place with any bow accessory, especially where quality is expected to trickle down to all attached equipment. When durability was low, it also pointed to other failings within that specific bow sight. Models that couldn't pass a standard durability test were removed from the list in favor of better choices.

Ease of Use
We judged installation based on a company's provided instructions. Manuals that passed this test didn't need to go too in-depth with their instructions. By defaulting to layman's terms, it opened up installation options to new users. Bow sights that were complicated and downright lacked documentation were not included on the list. There are even instances of instructions not taking into account the user isn't familiar with handling a multi-pin setup. So the first time they sight in, they may be doing it wrong. Brands that marketed online instructions received a healthy boost with these criteria if they pointed the customer in the right direction.

Accuracy
Accuracy was a tough criterion to go through since a lot of it depends on the user's own ability. But there are some bow sight features that enhance accuracy, sometimes to an incredible degree. Models that had good extension in front of a bow are a good example of accuracy boosters. Another feature is pin related, which will vary from brand to brand. A general idea of pin accuracy has to do with sighting style or specialized pins that are made to promote long-range accuracy.

Responsiveness
Adjustments were all about how easy the manufacturer made it for users to customize the bow sight to their liking. When you first install a bow sight, it can be a little off from where you actually want it. Good products will let you make slight adjustments without having to start from step one. For competition users, this was an important feature for us to highlight since they are sometimes expected to adjust at a moment's notice. Any products that lacked ease of adjustments was left off of the list since we felt this was an important all around criteria to represent.
Expert Interviews & Opinions
Most Important Criteria
(According to our experts opinion)
Experts Opinion
Editors Opinion
Users Opinion
By Default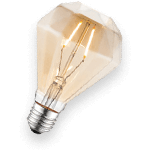 Take the Time to Understand your Bow Sight
Bow sights are like any gun sight, they take some getting used to. But take the time to use one and before you know it, you'll be using it as a third eye. Don't get frustrated, take the time to calibrate and make sure the sight works for you before you give up and just say the heck with it. And it may seem counterintuitive that you're using a sight with a bow, that doesn't have near the range of a rifle, but again, try them out, use them, and you'll get hooked.
Frequently Asked Questions
q:

What Brands Stand Out?

a:

3 Pin Bow Sight, Cheetah 5-Pin .029 and Axcel 5 Pin .010 are notable names to become familiar with. They are regularly mentioned in multiple top ten lists, with some of them receiving multiple honors. The one thing they have in common is killer features, like an LED Sight for the Cheetah. With many bow sights being built similar to one another, they have to make it a point to include one feature that makes it unique from the competition. Sometimes it really is no more than improving on a current innovation or adding their own spin. In either case, the difference is enough to make the brand stand out.
q:

Single-Pin vs. Multi-Pin

a:

This is one of the oldest debates ever for bow sights, but it still has merit based on how users handle their shots. In short, the advantages of multi-pin come into play when you want to set pins to multiple yards. What's great about this is that you don't have to readjust your pin on the fly to gain accuracy based on yards- this is set up for you and stays that way until changed. For a single-pin setup, things are more complicated, forcing you to do the calculations on the fly or adjust as necessary.

For experienced archers, this isn't a problem, but it's still necessary to point out that plenty of professional archers use multi-pin bow sights. There are still downsides to multi-pin, which comes down to choosing the wrong pin when aiming. This is common when using it for the first time, and may repeat itself if you're under duress while aiming. To find out which works better for your current setup, it is recommended to try both single-pin and multi-pin bow sights, regardless of experience.
q:

How Much Will A Bow Sight Improve Aim?

a:

There is no definite answer to this since it is an individual skill-based question. Some users will see tremendous improvement, some will see a minor improvement and in rare cases, the aim may get worse. This is due to the user trying to adjust to the new system.
q:

Will Depending On Bow Sights Worsen Aim?

a:

Only if the adjustments aren't made out of the box. Always adjust when you first get your bow sights so that you don't get used to a bad angle. Take the time to read the manual if possible, since it can contain important information.
q:

Are Bow Sights Easy To Break?

a:

It's not so much that it's breakable, but you have to be careful with the pins used for sighting. While some are protected, there are others that are exposed and can be bent accidentally.
q:

Are There Restrictions On Bow Sights In Competitions?

a:

Tournaments have their own restrictions in place that deals with bow sights. Sometimes it is based on the class the competition represents, but usually, it comes down to allowing a multi-pin setup versus a single-pin. This shows awareness of the competition in dealing with unfair advantages, so competitors shouldn't be surprised when their new bow sight is off-limits. If you're currently competing (or plan to in the future) then it is a good idea to get a list of what is allowed, not only for the tournament but also for the class you'll be placed in. Training with a bow sight for weeks only to have to swap it out at the last minute will lead to a huge disadvantage.
q:

How Far Out Does The Sight Enhance The View?

a:

The sight picture is essential to getting the most out of a bow sight at optimal settings. Proper setup is a part of it, and when done right the pins will give much better accuracy a couple of yards out. There is no 'max' yardage since it is set up by the bow user. Users will sight in at 10 yards, and adjust from there as needed. Adjusting pins up to 60 yards out is not unheard of, and is great if you have the right equipment. But average users will see the most benefit at 10-40 yards max even without an optimal setup.
q:

Is Installation Easy?

a:

Installation troubles are related to getting incompatible equipment. There are accessories available that can help in such situations, and customers can even turn to professional help when necessary. Getting a bow sight installed by a professional is the easiest way to get it done, and not as costly as other modifications to the bow. Users that are confident in their skills can install bow sights in a matter of minutes, and they only need the included instructions. You don't need special tools to complete the installation, so the biggest part of the process is just making sure everything is compatible with your bow.
q:

Can Recoil Change The Alignment?

a:

Customers that notice their alignment is off will have to do a reset. This isn't a big deal until it happens more than it should, on a daily basis. Recoil can play a small part in getting out of alignment, but not as much as other factors like loose accessories or problematic pins. Recoil is not a big deal to a tightly bound bow sight, even when the pins are adjusted a lot. No matter how heavy the bow or its pull, customers won't have to dial it back just to keep their alignment settings perfect. This is also taking into account the built-in dampeners/stabilizers built into mainstream bows and their optional add-ons.
q:

What Skill level Is Required For Adjustments, And How Often?

a:

Installing a bow sight and changing the pins requires two completely different skillsets. The latter will depend on whether the customer has purchased multi-pin or single-pin. A single-pin setup will be less of a hassle since yardage is managed per-adjustment rather than setting up multiple pins for different yards. Both methods are simple once you get the hang of it, so skill level becomes less of a problem after getting used to the adjustments. The rate of adjustments depends on how often pins get out of alignment, which shouldn't be often if the bow sights are installed correctly. Through heavy use, a reset here and there is to be expected, but should only take a couple of minutes to get back to normal.
q:

Are Bow Sights Universal For Left And Right-Hand Users?

a:

No, so it is a good idea to check if a model supports left and right-hand use. Sometimes bow sights are universal, so left/ right-hand usage will show up in their features. Customers shouldn't assume that their new bow sight will work in both hand orientations if the company hasn't specifically listed it as a feature. And if the support for left-handed users is from a generic company with no quality control, then accuracy will dramatically drop. Left-handed bow sights (and even universal) are not simply flipped to work with a hand orientation, as a lot of work goes into making the product from the ground up.
q:

How Can Bow Users Check For Compatibility?

a:

When talking about compatibility of bow sights, users are generally referring to how it works with their shooting style. Although there are some concerns with how compatible the equipment is, more effort is put into matching the shooting style with the bow sight than anything else. There are even bow sights that will interfere with your bow quiver on certain setups. Finding a happy medium between equipment compatibility and shooting style will give you the best possible choice when choosing a new bow sight.
Subscribe to our Newsletter