Best Bow Sights Reviewed & Rated for Quality
Hunting with a bow not only connects you with the hunters of the past, but it also provides a better connection to nature. Although many enjoy the simplicity and basic fundamentals of hunting with a bow, that doesn't mean they don't appreciate a little help. Passionate hunters know how important it is to be up to date with all the upgrades when it comes to hunting equipment. One item that'll definitely improve your experience is the bow sight.
A bow sight is a device that usually consists of pins set in a calibrated frame and attachable to a shooting bow to aid in long distance aiming. Whether in a tournament setting or on a bow hunting adventure, hitting the target is all that matters. Almost every compound bow allows you to mount a bow sight on it, making it a perfect accessory.
We've reviewed and rated some of the most popular bow sight on the market in an effort to provide you with all the information you need to make the right decision. We've included different types in varying price ranges to insure that you find something suitable to your needs. Now all you have to do is to choose your target and hit it!
Featured Recommendations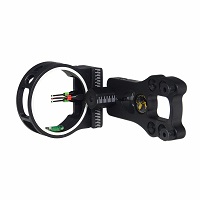 TopPoint Archery 3 Pin

Our rating
Built To Last
Price:

See Here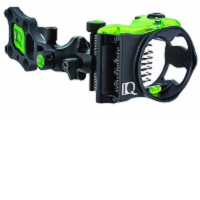 Field Logic IQ 5

Our rating
Micro Adjust
Price:

See Here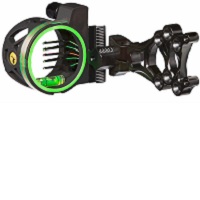 Trophy Ridge Volt

Our rating
Fiber Optic Pins
Price:

See Here

Trophy Ridge is a name that will come up a lot, and they're a great company to buy products from. One of the surprises on the list is Cheetah, with their bow sight being heavily marketed against the top brands. Cheetah could very well become one of the better companies on the list to make a purchase from.
Some of the models listed aren't as durable as the others, so handle with care. With a bow sight you want to make sure that none of the pins are bent or in danger of being bent. A lot of times the products will have an enclosed version of the pins that keep them away from danger. Other than the pins, keep the mount for the bow sight clear of debris.
10 Best Bow Sights
1. TopPoint Archery 3 Pin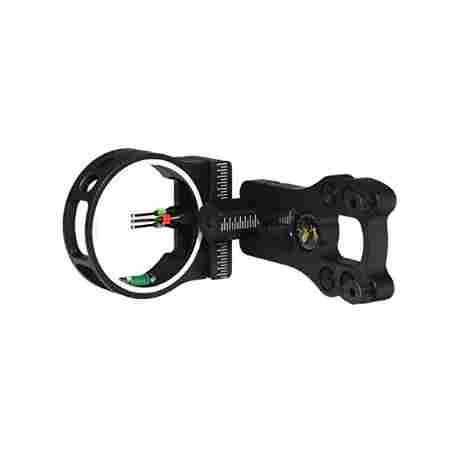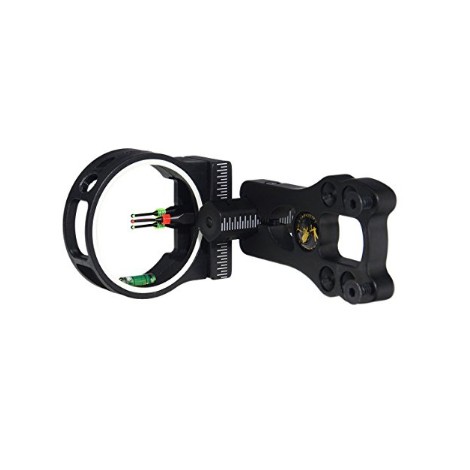 It's rare that one of the big brands doesn't make the top spot. But this bow sight has been a revelation in the industry and has changed how some people view high end sights.


Expand to see more
Built To Last
It was both efficient and smart to use the lightweight 6061-T6 aluminum. Hard hits won't be a problem and the sight is built for years of use.
Features and Specifications
Elevation and
windage
have markings
Shake resistant
Cost and Value
For such a low price it is a hard deal to beat since it is the #1 bow sight. Add in the extra durability and this is a solid winner in the top spot.
Simple to use for all levels of customers
Can handle short, medium and long shots
This bow sight is designed to last for many uses.
Needs Allen wrench to adjust
2. Field Logic IQ 5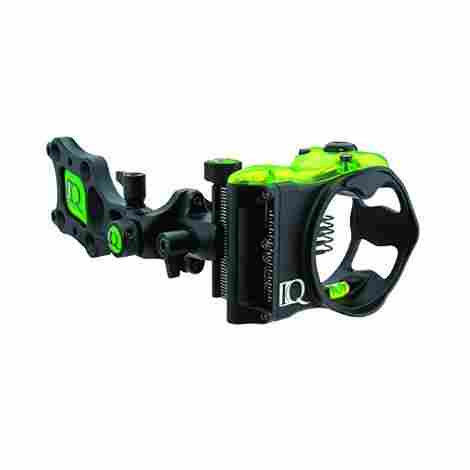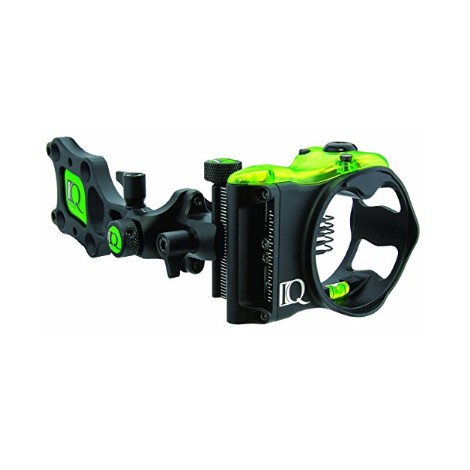 If the sighting genius of the IQ 5 doesn't get you interested, then nothing else will. Field Logic made a lot of important decisions with this model that has really made customers happy.


Expand to see more
Built-in Sight Level

It may not seem like a huge benefit at first, but after a few uses the built-in sight level really works wonders. With a little practice it will become the most used feature of this product.

Features and Specifications

Windage and Elevation micro-adjustments
Stack tight pins with tool free locking knobs

Cost and Value

Hovering around the average-high price, buyers will find great value if they can master the Retina Lock technology. Along with the sight level it is a huge main feature, and takes a little bit of practice.
Right and left handed models available
Powerful Retina Lock technology
Comes with a built-in sight level, making it easy for an individual to hit the target.
Retina Lock takes some getting used to
3. Trophy Ridge Volt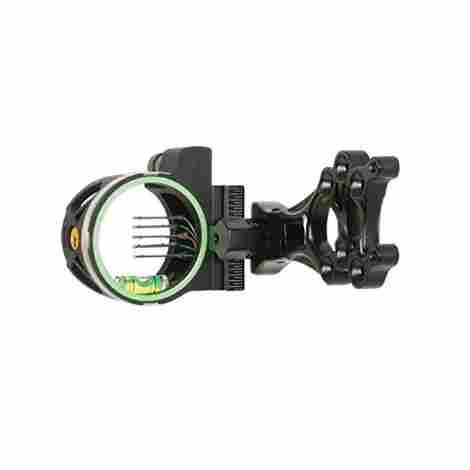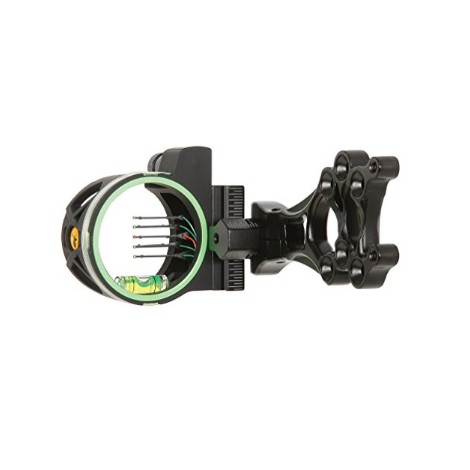 Trophy Ridge is on the list a few times, and Volt cracks the top 3. It is basic, yet effective in its job. It comes with every thing you need to get started and is a great choice for beginners who want quality, but don't want to spend an arm and a leg getting it.


Expand to see more
The Price Is Perfect

A low price for a high end bow sight is pretty great, and the many reviews backing it up also helps. The Volt is the safest bet out of any other bow sight on the list.

Features and Specifications

Five 0.19 medium horizontal fiber optic pins
Precision installed bubble level

Cost and Value

This is the best price+value combo on the list, second to none. Customers can buy the Volt and feel safe with their purchase decision.
Reversible mount design for left handed users
Incredible price that beats out more than half the list
Comes with a precision bubble system to ensure accuracy.
Screws included are low quality
4. Trophy Ridge React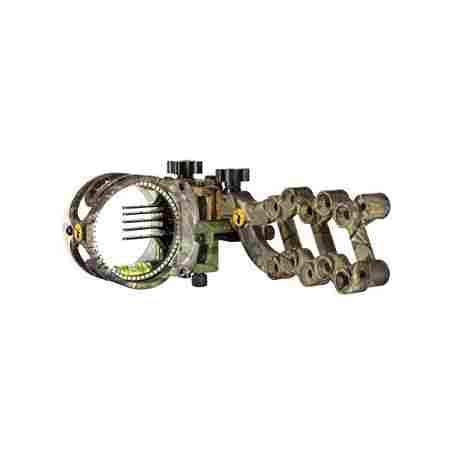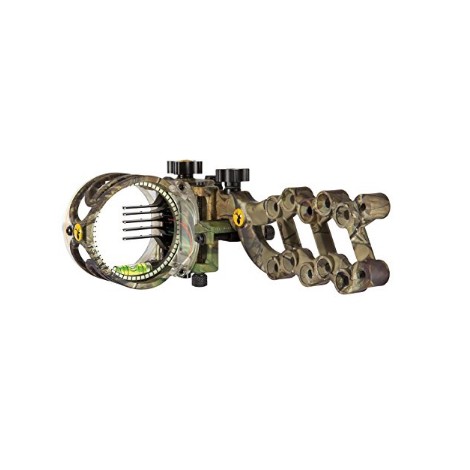 Accessories shouldn't be bulky or weigh down your bow. The React was created to be an invisible helper to
improve your aim
by a lot.
Expand to see more
Lighter And Better

The Ballistix Copolymer System is lighter than aluminum by at least 24%, and all without losing any durability. This plays a big role in how it is used compared to other bow sights on the list.

Features and Specifications

Rheostat light with built in sight level
Reversible sight mount

Price/Value

Customers can nab this model for a high price, but it's worth it. There are just too many positives to ignore what this sight can do for your accuracy.

Decision Time

The adjustments can be a little annoying, yet once they are set you'll be unstoppable. Using the right attitude, this bow sight has everything you'd want right out of the box.
Can take a beating from rough customers
19 fiber optic pins
Made from lightweight materials.
Micro adjustments are difficult to use
5. HHA OL-5519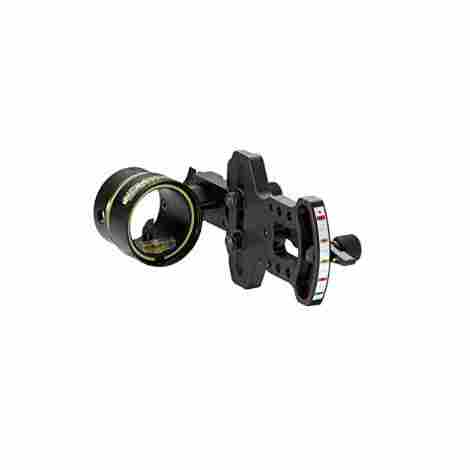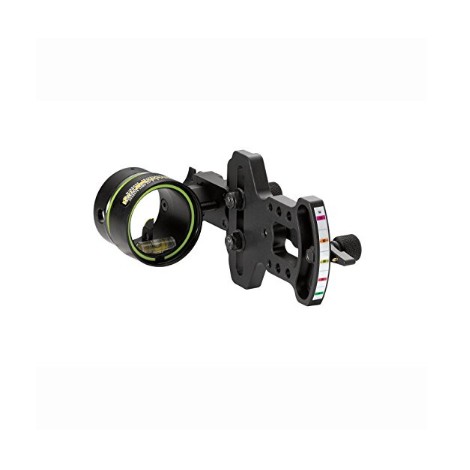 Sighting in quick is important when you're on the move with your bow. And even for reasons of convenience, being able to sight quick is why the OL-5519 is an impeccable bow sight.


Expand to see more
Easy To Use Sighting Controls

Users can quickly sight in between 20-60 yards without fumbling around too much. With the five yard increments directly on point while in action, you'll spend less time messing with controls and more time aiming.

Features and Specifications

Sight housing is 1 5/8 inches
Tool free adjustments

Cost and Value

Right out of the gate this bow sight retails at an average-high price. More experienced users will get better value out of the product long-term.
Long fiber length at 5ft.
Fiber optics are protected by a solid housing
The entire sight requires no tools to adjust.
Bad instructions out of the box
6. Field Logic IQ 7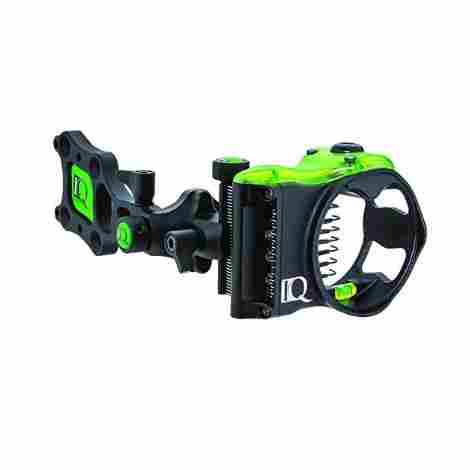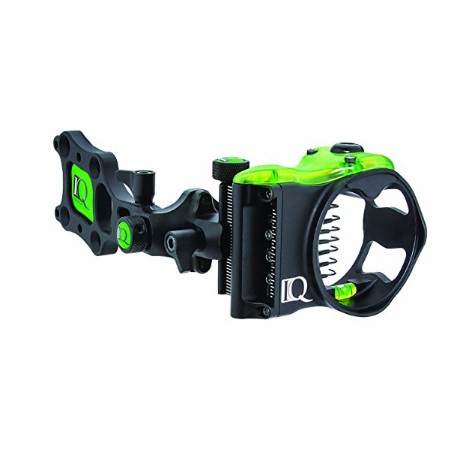 Not every bow user was born the same, and that is the logic behind the IQ 7 Pin Sight. There is more to it than the features list, and it has a good chance of being the best sight you've ever owned.


Expand to see more
Left Or Right Handed Options

Field Logic is one of the few companies to offer their sights in a left or right handed model. This makes a huge difference when using a sight, turning this into a preferred purchase for some left handed users.

Features and Specifications

Retina Lock Technology
Tool-free locking knobs with micro adjustments

Cost and Value

This is an average priced sight, so nothing out of the ordinary when it comes to the rest of the list. If durability is a concern, then check out the included warranty in able to feel out the true value.
Great for left handed users
Built to stay out of the way after some adjustments are made
Comes with retina lock technology.
Durability could be a little better
7. Apex Gear Covert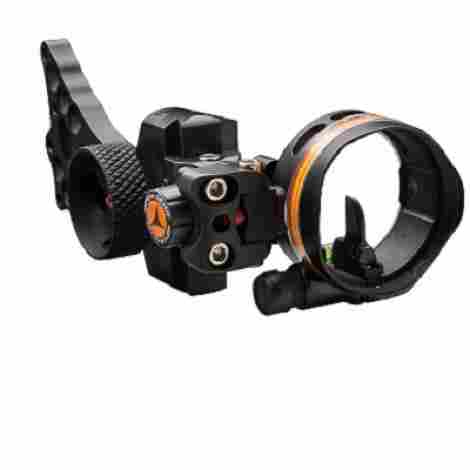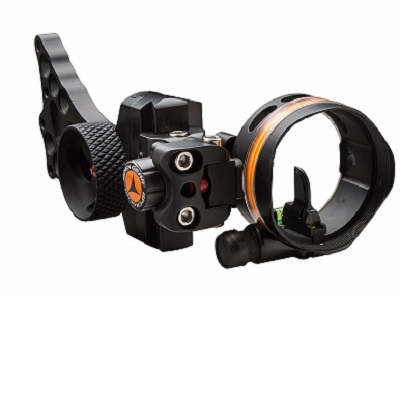 Apex Gear Covert prepares you for unpredictable changes in lighting by allowing you to quickly and easily change your pin from red to yellow or green in a matter of seconds. Its innovative design means that you need to use one hand when adjusting the yardage. The windage and elevation can be micro adjusted in order to provide amazing tack driving accuracy. This may be simpler than many on the list, but it does the job.

Expand to see more
Tilt Adjustments

In order to improve the quality of your experience, the aperture housing of Apex Gear Covert is easy to customize to fit your needs. The tilt can be adjusted both, horizontally and vertically.

Glow in the Dark

In some circumstances, we know that in can be better to hunt early in the morning or even at night. Apex Gear Cover enhances your experience with a special design that includes a glow in the dark shooter's ring.

Cost and Value

Made of aluminum, the Apex Gear's bow sight is designed to be durable and last. Not only is a product of high quality, but it's a real bargain, being compared to other bow sights.

Machine aluminum construction
Shooter's ring glows in the dark
Elevation and windage can be micro adjusted
Can adjust tilt vertically and horizontally
Optics not very bright
May need to be adjusted out the box
8. Axcel Hntng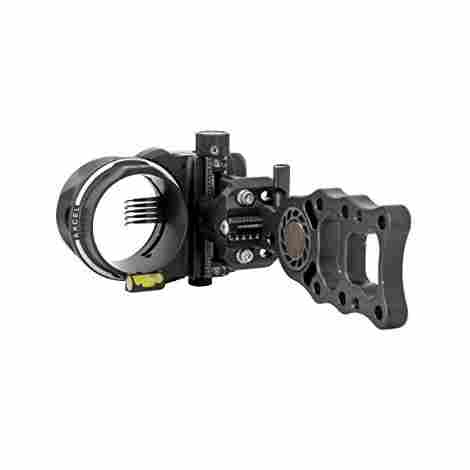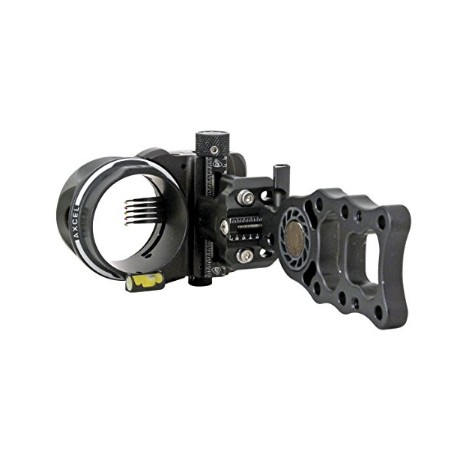 Described by some as one of the best bow sights on the market, the Armortech continues to be dominant. It's all about user friendliness and one of the deepest feature sets of all the
optics
available.
Expand to see more
Sighting Is Easiest With The Armortech

Rather than worry about getting optimal sighting, purchase an Armortech and it is almost guaranteed. Very little experience is required to maximize the pros of this optic.

Features and Specifications

Mathew harmonic damper
Amor Fiber Technology with True Center Vision

Cost and Value

This is the highest priced bow sight on the list, and it still retains its value. Just make sure you'll use at least half the features and you'll get the worth of the product.
Long list of features with a short learning curve
Fibers are enclosed within the tubing
Made with Mathew harmonic damper.
9. Trophy Ridge Mist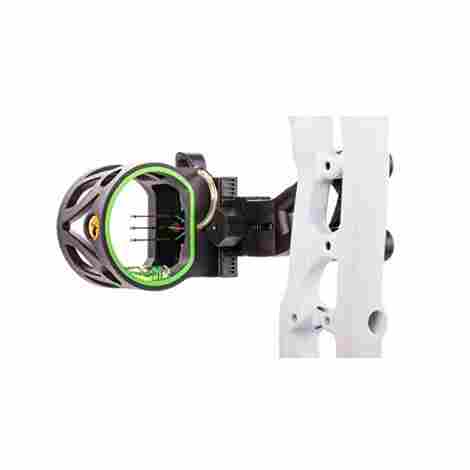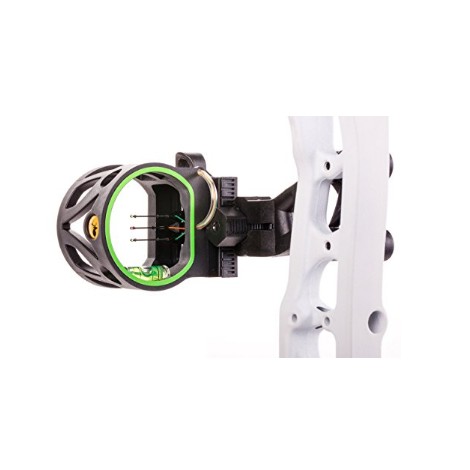 When visibility is important, bow users can depend on the Trophy Ridge Mist to get the job done. It's compact and has a lot of useful features for making shots easier to nail.


Expand to see more
The Difference Is In The Pins

With the amount of work they put into the three bright horizontal fiber optic pins, it's not wonder why it's the best feature. They are bright, and make hitting targets a one shot affair.

Features and Specifications

Reversible mount design
Multiple mounting holes

Cost and Value

This is the lowest priced bow sight by a long shot, which is surprising to see this high up on the list. Buyers will at least want to consider this as a backup even if it isn't going to be their main.
High customizability
Quicker sight acquisition with the help of the green hood accent
This product is the cheapest on today's list.
10. Garmin Xero A1i 2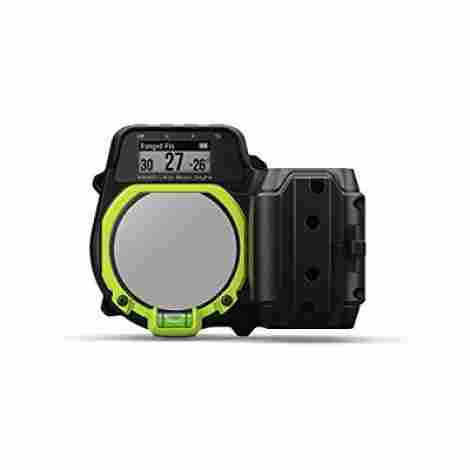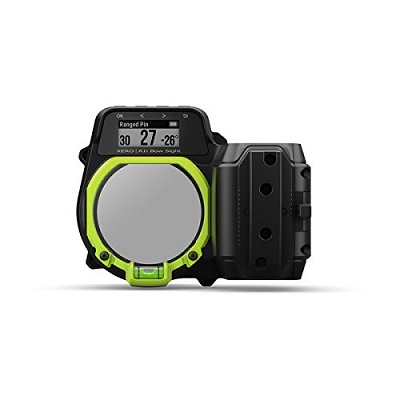 For the ultimate in precision, the Garmin Xero A1i 2 measures the distance to your target automatically and provides you with an LED pin for the perfect shot. It requires little movement to use the single-button trigger and allows you to range whether at full draw and rest position at up to 300 yards. It's also the first of its kind to measure the angle-compensated distance and features LED pins that adjusts to the lighting for convenience.


Expand to see more
Dual-Color LED Pins

Pins are a great way to measure distance and aim for your target. Unfortunately, they can sometimes get in the way and obstruct your view. The dual-color LED pins give you all of the same benefits and still allow you to clearly view your target

Laser Locate

This bow sight has a laser locate function that works with a compatible Garmin GPS Device to provide you with the exact spot the range or shot was taken. This will you locate arrows that missed the mark.

Cost and Value

This is one of the most expensive items on the list and its amazing, high-tech features are one of the main reasons. It's perfect for hunters and sharp shooters who depend on precision shots.

Automatically measures distance
Single-button trigger is silent
Can customize pin selection
Compatible with Garmin GPS
No magnification available
Some found it too expensive
How to Use and Adjust a Bow Sight
It's great now that you know that there is a solution for improving your aim: the bow sight. It's also nice that you can select yours with a little more confidence after looking at all the different ones we have featured here. While it is good to know what the good ones look like and what you should look out for when buying one, it's important to understand how to use it and also how to adjust it. However, Let's start by answering the question as to why you need to adjust the bow sight.
Why a bow sight needs to be adjusted
While the bow sight can greatly improve your accuracy, it is not something you just pick up and use. Even the best of these instruments will not help improve your accuracy if it is not properly sighted. You need to adjust your bow so that you always get an accurate aim at your target, otherwise, you will leave a trail of wounded animals and harvest none.
Using the bow sight
Proper use of a bow sight starts with knowing the methods of good shooting form. It's important to watch your posture, the way you stand, and particularly your anchor point. By anchor point, we are referring to that place on the face where the drawstring is pulled back every time when you are shooting. All these need to be consistent for you to successfully use a sight.
Learn to shoot properly before you start using a bow sight
Before you even start using the sight, you will have to get the proper techniques of pulling the bowstrings back. This has a bearing on the power that your arrow has as it exits the bow. For instance, if you pull different lengths all the time, the shots you produce will big variations up and down. This means that if your hand touches your face when shooting, it should always touch your face whenever you are shooting. If you are unable to shoot properly in the first place, using a bow sight will not be very helpful.
Adjusting the bow
Even though Different sights have different methods of adjustment, the general principle is the same. The pins move in four directions, up and down, or left and right. In many bow sights, these pins can move individually and also together in unison.
Even though adjusting a bow sight is not very hard, it is easy to get entangled and end up spending days attempting to adjust yours. The best advice we can give is to avoid big adjustments. This means that you should start with the shortest range that you will shoot and then move towards more distant ranges. This will ensure that you don't end up wasting time and getting yourself fatigued before your bow sight is properly adjusted.
If you notice that the arrows are hitting to the left of the target then you adjust the pin by moving it to the left. The same applies if arrows are hitting too high, you move the pins high. The principle is that the pin should be moved in the direction where the arrows are diverting to until you hit where you want. We need to reiterate again that adjustments need to be small so that you don't end up going back and forth.
Be patient
When adjusting a bow sight, patience is a virtue. What makes it difficult for many people is that they generally try too hard and expect to be good at shooting arrows overnight. This isn't possible. Like everything else in life, skill comes with practice.
The best method is to start by shooting a number of arrows, let's say five. This will give you an idea of where the arrows are going in relation to the center. Once you are clear, then you can follow the procedure we detailed above to adjust the sight accordingly. You will need to repeat the procedure as many times as it takes to finally get the arrows to the center.
Adjusting the three pin bow
The 3-pin bow sight allows you to adjust the sight to three varying distances. You will then use each pin for shooting targets at different ranges. Start with the first pin and measure a distance, say of 20 yards from where you expect the target to be. Align the top pin over the center of the bull's eyes and shoot. Look at how your arrows are deviating from the center and adjust the pin in the manner detailed above until you are hitting the target. Measure another distance of say 30 yards and use it to adjust the second pin. Finally, measure 40 yards and adjust the third pin.
When hunting, you will then need to estimate the distance at which the target is for you to know which pin you will use. As you may well guess, this is a skill that takes time to learn, so don't get yourself frustrated if the beginning doesn't produce the results you quite like. The accuracy of your shoot will depend on how accurately you are able to estimate the distances.
Once you have decided what you think the distance to the target is, you then select the appropriate pin and position it over that target. Sometimes, the target may be between two positions, say between 30 and 40 yards; you do the same with the pins, position it between the two pins. If it is closer to 40 yards than to 30 yards, position the pin closer to the last pin in our example. Once you are confident that the sight is aligned properly fire the arrow.
As you can see, using and adjusting a bow sight is not difficult. However, it is something you perfect with time. So, don't expect everything to go well the very first time you do this.
Criteria Used to Evaluate Bow Sights
Any bow user is going to be picky about their parts, no matter how small. Since a bow sight is an enhancement accessory, there are a lot of options to consider when purchasing one. We looked at important features of the most popular sights available and made a top ten list based off of their usefulness. Our criteria was strict in multiple areas related to hunting and archery competitions, so a lot of pros and cons from each overlapped with testing.
Extras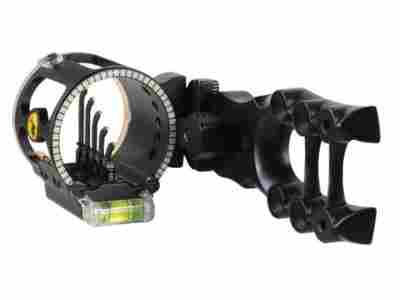 We tried something a little different and started out with extras as a criteria. This covered sights that complimented specific styles over using a universal approach. It also looked at models that went away from specific pin assignments and tried something new with their system. Pins that embraced new methods like vertical or pendulums were praised by both hunters and competition level archers. We didn't take points away from traditional sights, but we were wary about leaving barebones models on the list that didn't bring anything special to the table. With all of the feature packed models that made the list, it made no sense to keep lesser products.
Durability
Durability was next, and it was a criteria that covered the quality of materials for the model as a whole. Pin durability was judged on its own further below, so this section covers everything else. There have been reports of users breaking their sights on installation. This type of shoddy craftsmanship has no place with any bow accessory, especially where quality is expected to trickle down to all attached equipment. When durability was low, it also pointed to other failings within that specific bow sight. Models that couldn't pass a standard durability test were removed from the list in favor of better choices.
Installation
We judged installation based on a company's provided instructions. Manuals that passed this test didn't need to go too in-depth with their instructions. By defaulting to layman's terms, it opened up installation options to new users. Bow sights that were complicated and downright lacked documentation were not included on the list. There are even instances of instructions not taking into account the user isn't familiar with handling a multi-pin setup. So the first time they sight in, they may be doing it wrong. Brands that marketed online instructions received a healthy boost with this criteria if they pointed the customer in the right direction.
Accuracy
Accuracy was a tough criteria to go through since a lot of it depends on the user's own ability. But there are some bow sight features that enhance accuracy, sometimes to an incredible degree. Models that had good extension in front of a bow are a good example of accuracy boosters. Another feature is pin related, which will vary from brand to brand. A general idea of pin accuracy has to do with sighting style, or specialized pins that are made to promote long range accuracy.
Pin Quality
Accuracy led right into the pin quality criteria, which covered durability, features and overall ease of use. Bow sights with overly big pins were immediately left off of the list since they affected visibility. With single-pin setups being moved constantly, they need to have good material so they don't break on accident. Bow sights that made the list had quality pins that were made to be moved constantly, and regardless of pin type they had to stay in place without needing constant resets. This was harder to test with the .019 inch pins, which seemed flimsy at first use but were absolute champs after repeated usage.
Range
We jumped directly into range from here, as it seemed appropriate to test the limits of the bow sight. The average a couple of years ago was about 40 yards, but has vastly improved with superior equipment. Now the average range with the help of a bow sight (and in the hands of a capable user) is over 80 yards. When the average was about 40, that was the max before there was a drop-off in consistency. When a bow sight is matched properly and setup with care, hitting a consistent 80 yard target is a real possibility. So now an average user has similar advantages to more experienced users thanks to advances in bow equipment.
Adjustments
Adjustments was all about how easy the manufacturer made it for users to customize the bow sight to their liking. When you first install a bow sight, it can be a little off from where you actually want it. Good products will let you make slight adjustments without having to start from step one. For competition users, this was an important feature for us to highlight, since they are sometimes expected to adjust at a moment's notice. Any products that lacked ease of adjustments was left off of the list since we felt this was an important all around criteria to represent.
Marketing
For marketing, no products were removed since this criteria only affected the competitive consumer. Marketing was all about finding the bow sights that were recommended by multiple competitions as being okay to use. This represented a good 4-5 products on the list which all received favorable boosts based on the number of competitions that recommended them. Once we sorted through the marketing criteria, our list was balanced from top to bottom.
FAQs
Frequently Asked Questions
Q: What Brands Stand Out?

A: 3 Pin Bow Sight, Cheetah 5-Pin .029 and Axcel 5 Pin .010 are notable names to become familiar with. They are regularly mentioned in multiple top ten lists, with some of them receiving multiple honors. The one thing they have in common is killer features, like an LED Sight for the Cheetah. With many bow sights being built similar to one another, they have to make it a point to include one feature that makes it unique from the competition. Sometimes it really is no more than improving on a current innovation or adding their own spin. In either case, the difference is enough to make the brand stand out.

Q: Single-Pin vs. Multi-Pin

A: This is one of the oldest debates ever for bow sights, but it still has merit based on how users handle their shots. In short, the advantages of multi-pin come into play when you want to set pins to multiple yards. What's great about this is that you don't have to readjust your pin on the fly to gain accuracy based on yards- this is set up for you and stays that way until changed. For a single-pin setup, things are more complicated, forcing you to do the calculations on the fly or adjust as necessary. For experienced archers, this isn't a problem, but it's still necessary to point out that plenty of professional archers use multi-pin bow sights. There are still downsides to multi-pin, which comes down to choosing the wrong pin when aiming. This is common when using it for the first time, and may repeat itself if you're under duress while aiming. To find out which works better for your current setup, it is recommended to try both single-pin and multi-pin bow sights, regardless of experience.
Q: How Much Will A Bow Sight Improve Aim?
A: There is no definite answer to this since it is an individual skill based question. Some users will see a tremendous improvement, some will see a minor improvement and in rare cases, the aim may get worse. This is due to the user trying to adjust to the new system.
Q: Will Depending On Bow Sights Worsen Aim?
A: Only if the adjustments aren't made out of the box. Always adjust when you first get your bow sights so that you don't get used to a bad angle. Take the time to read the manual if possible, since it can contain important information.
Q: Are Bow Sights Easy To Break?
A: It's not so much that it's breakable, but you have to be careful with the pins used for sighting. While some are protected, there are others that are exposed and can be bent accidentally.
Q: Are There Restrictions On Bow Sights In Competitions?
A: Tournaments have their own restrictions in place that deals with bow sights. Sometimes it is based on the class the competition represents, but usually, it comes down to allowing a multi-pin setup versus a single-pin. This shows awareness of the competition in dealing with unfair advantages, so competitors shouldn't be surprised when their new bow sight is off limits. If you're currently competing (or plan to in the future) then it is a good idea to get a list of what is allowed, not only for the tournament but also for the class you'll be placed in. Training with a bow sight for weeks only to have to swap it out at the last minute will lead to a huge disadvantage.
Q: How Far Out Does The Sight Enhance The View?
A: Sight picture is essential to getting the most out of a bow sight at optimal settings. Proper setup is a part of it, and when done right the pins will give much better accuracy a couple of yards out. There is no 'max' yardage since it is set up by the bow user. Users will sight in at 10 yards, and adjust from there as needed. Adjusting pins up to 60 yards out is not unheard of, and is great if you have the right equipment. But average users will see the most benefit at 10-40 yards max even without an optimal setup.
Q: Is Installation Easy?
A: Installation troubles are related to getting incompatible equipment. There are accessories available that can help in such situations, and customers can even turn to professional help when necessary. Getting a bow sight installed by a professional is the easiest way to get it done, and not as costly as other modifications to the bow. Users that are confident in their skills can install bow sights in a matter of minutes, and they only need the included instructions. You don't need special tools to complete the installation, so the biggest part of the process is just making sure everything is compatible with your bow.
Q: Can Recoil Change The Alignment?
A: Customers that notice their alignment is off will have to do a reset. This isn't a big deal until it happens more than it should, on a daily basis. Recoil can play a small part in getting out of alignment, but not as much as other factors like loose accessories or problematic pins. Recoil is not a big deal to a tightly bound bow sight, even when the pins are adjusted a lot. No matter how heavy the bow or its pull, customers won't have to dial it back just to keep their alignment settings perfect. This is also taking into account the built-in dampeners/stabilizers built into mainstream bows and their optional add-ons.
Q: What Skill level Is Required For Adjustments, And How Often?
A: Installing a bow sight and changing the pins requires two completely different skillsets. The latter will depend on whether the customer has purchased multi-pin or single-pin. A single-pin setup will be less of a hassle since yardage is managed per adjustment rather than setting up multiple pins for different yards. Both methods are simple once you get the hang of it, so skill level becomes less of a problem after getting used to the adjustments. The rate of adjustments depends on how often pins get out of alignment, which shouldn't be often if the bow sights are installed correctly. Through heavy use, a reset here and there is to be expected, but should only take a couple of minutes to get back to normal.
Q: Are Bow Sights Universal For Left And Right-Hand Users?
A: No, so it is a good idea to check if a model supports left and right-hand use. Sometimes bow sights are universal, so left/ right-hand usage will show up in their features. Customers shouldn't assume that their new bow sight will work in both hand orientations if the company hasn't specifically listed it as a feature. And if the support for left-handed users is from a generic company with no quality control, then accuracy will dramatically drop. Left-handed bow sights (and even universal) are not simply flipped to work with a hand orientation, as a lot of work goes into making the product from the ground up.
Q: How Can Bow Users Check For Compatibility?
A: When talking about compatibility of bow sights, users are generally referring to how it works with their shooting style. Although there are some concerns with how compatible the equipment is, more effort is put into matching the shooting style with the bow sight than anything else. There are even bow sights that will interfere with your bow quiver on certain setups. Finding a happy medium between equipment compatibility and shooting style will give you the best possible choice when choosing a new bow sight.
How To Make The Best Decision
The most important thing to mention is the reversible mount vs. designs that are made from the ground up for left-handed users. While the former is good, the latter is on a completely different playing field. Left-handers should always opt for designs that were made for them rather than settling on reversible mounts, which can sometimes come out as an afterthought.
Sources