Best Crew Socks Reviewed & Rated for Quality
last updated:
Feb 25, 2021
While we are certainly living in the era of the no-show sock, crew length socks still have a very real and legitimate place in the fitness sock game. Why?
For one, they offer tons of compression and support to the foot, ankle, and lower leg. This helps to keep you in alignment and to keep you safe. For another, they won't slip around and cause you painful blisters, and they'll also ensure that you don't scrape up your ankles when you go off-trail. Plus, debris and dirt won't be able to work its way so easily into your sock, so you can avoid more discomfort there.
Finally, they have a sort of nostalgic style that makes them appealing, and as such, every big brand from Nike to Adidas makes their own specialized pairs so you can bring that throwback style to your workout routine.
In a Hurry? The test winner after 12 hrs of research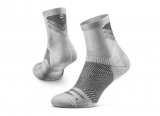 Rockay Razer Trail
Why is it better?
Can wear multiple times before washing
Padding in heel and toe
Total arch support
Excellent mid profile
Wonderful breathability
In a
Hurry? Editors choice: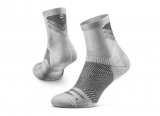 Test Winner: Rockay Razer Trail

13
Researched Sources
18k
Reviews Considered
12
Hours Researching
10
Products Evaluated
Comfort
Materials
Breathability
Durability
Value
By Default
10 Best Crew Socks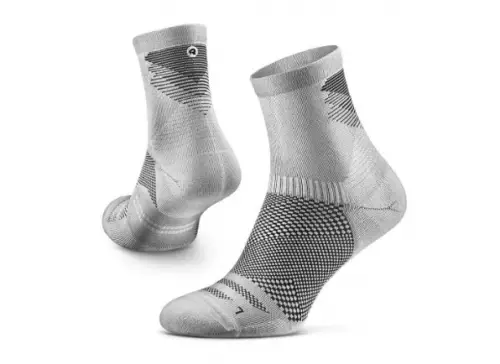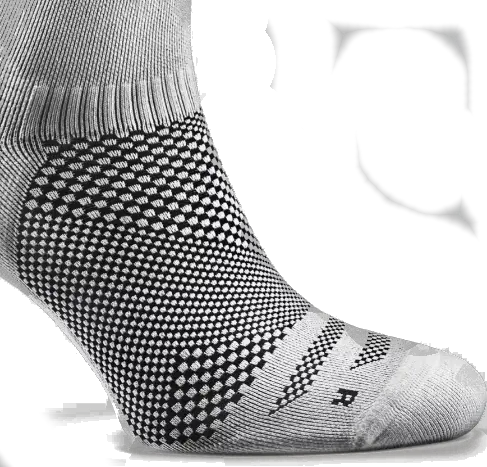 Can wear multiple times before washing
Padding in heel and toe
Total arch support
Excellent mid profile
Wonderful breathability
Aren't meant to go in dryer
We pop off our list with one of the best pairs of socks on the market. The Rockay Razer Trails have a great profile, not too short and not too high. They offer loads of support and comfort so that you can keep laying it all out on the line. And they are super durable and eco-friendly to boot, so they are a must-have in our collection.
Lower Profile
While these are not a traditional crew length, they come pretty close. We like their unique profile because it provides the just-right amount of coverage so that you feel support without feeling suffocated and bulky.
You'll get the same great coverage over the ankles and the same support at the ankles as well. This will safeguard against knicks and contact you make whether you are heading off the trail or you are playing a game of pick up.
These babies are super breathable and are outfitted with mesh components to allow for even greater airflow. This keeps your tootsies dry while minimizing friction from moisture, which works to keep blisters at bay.
We dole out points for Comfort and Breathability here.
Same Great Support
The Rockay Razer Trails have all of the traditional support of a crew sock, and then some. You'll fall in love with the extra padding around the heel and toes, and you'll also find yourself wondering how you ever went without the incredible arch support that wraps fully around the arch, compressing it securely.
In fact, the sock is made from materials that are primed for elasticity and snugness (and they are all made from 100% recycled materials as well), so you can feel good about the way they feel on your feet and the impact they have on the environment.
We award points for Materials and Comfort here.
Cost and Value
Though the Razer Trails are situated on the more premium price end for socks, you will more than get your money's worth.
These babies are mind-blowingly durable and will hold up for way longer than other budget pairs. And even though you won't be getting multiple pairs in a pack, you won't have to wash these every time you use them so you can get multiple wears out of them each week. That's thanks to Polygiene tech that helps to fight odors and bacteria.
Plus, if you do think that your pair is no longer performing as it used to and should, Rockay will send you a pair to replace them for as long as you live. We love that Value and Durability.
2

. Darn Tough Light Hiker Micro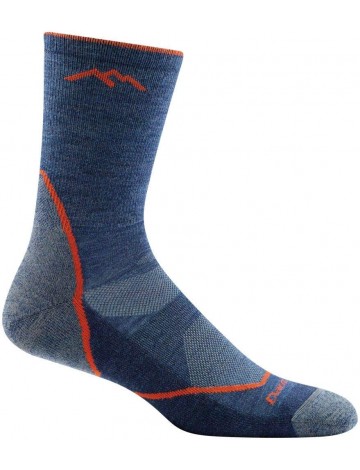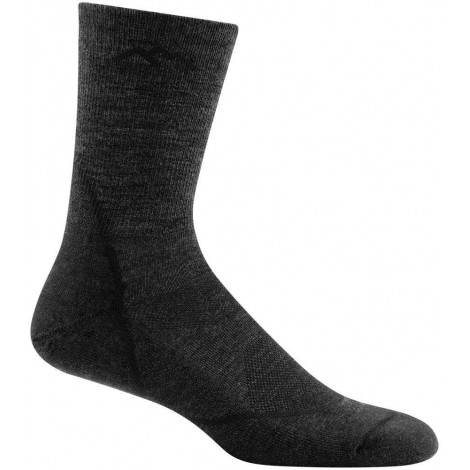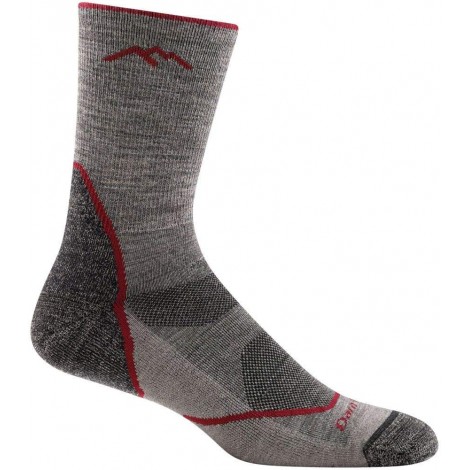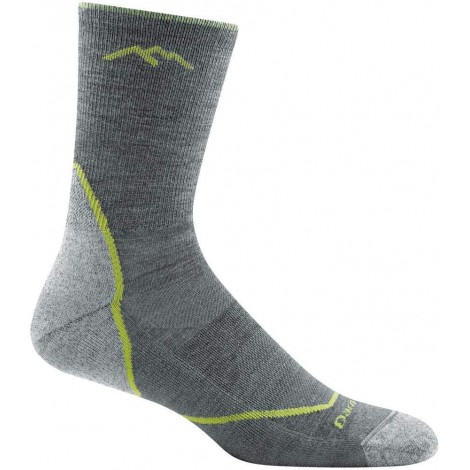 Very breathable
Temperature regulating
Anti-microbial
No slipping, no bunching
Super soft and incredibly durable
The Darn Tough Light Hiker Micro is another incredibly beautiful, durable, and functional pair of socks with a value that is hard to beat. Made from Merino wool in the state of Vermont, these bad boys are naturally anti-microbial, super breathable and supportive and just downright comfortable.
Seamless Fusion
The Darn Tough Light Hiker Micro has comfort in mind at every turn. With literally no detectable seams, as all of the seams are fused and essentially invisible, you will experience a wear like no other and freedom from friction blisters where your other socks had seams before. We award points for Comfort here.
We also love that these babies stay in place. While you may have found yourself wrestling with other products on the market, constantly having to pull them up--these stay in place. They offer the right about of elasticity so that they stay where you put them without cutting into the skin on your calves (a common theme with crews).
And there is no bunching to contend with either, so we extend the points for Comfort and Materials here as well.
Fine Knitting Gauge
The Darn Tough Light Hiker Micro is constructed with a super fine knitting gauge that works to make these virtually indestructible and immune to pilling as well as insanely comfortable and soft. So tons of points for Durability here.
And because they are made from Merino wool, they are naturally breathable and help to regulate your temperature no matter what the weather is like outside. That means if you're cold, they will keep you warm and if you're sweating, they will breathe and keep you cool.
In both instances, they will keep you dry as they allow vapor to escape and evaporate, so we award major points for Breathability here.
Plus, Merino wool is also anti-microbial in nature, which works to fight against the build-up of stinky, smelly bacteria that make you want to leave your socks in the other room. These stay fresher during longer hikes and won't need to be washed during every leg of your next great adventure.
Cost and Value
The Darn Tough Light Hiker Micro rings up at the top of our price range but we love its value because it is one of the most functional and comfortable products on our list and because it is constructed to last a lifetime. And, like Rockay, if you should ever have any issues with your pair running ragged, Darn Tough will send you a replacement pair for the entirety of your life.
How can you beat that value? This makes us say that they are definitely worth shelling out the extra coin.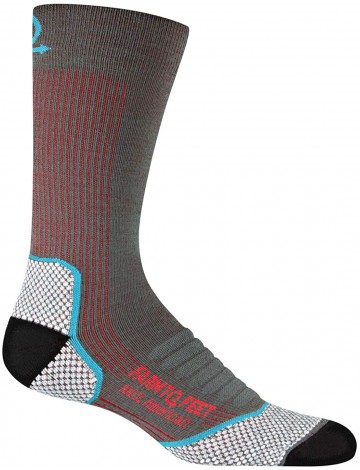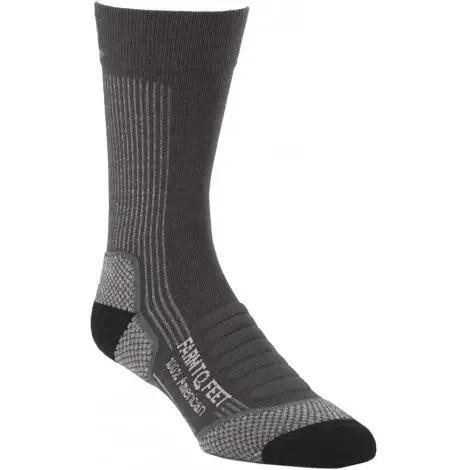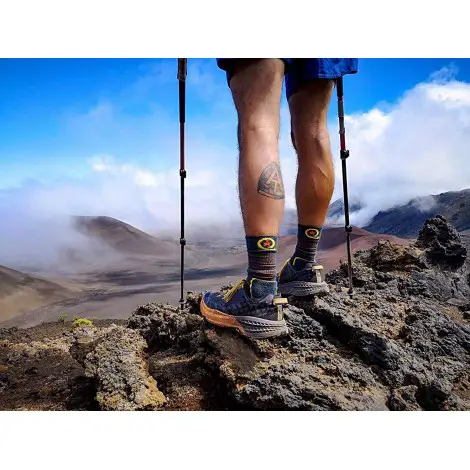 Lower cost than other Merinos
Breathable and temperature regulating
Nice compression support
Fun color options
Comfort cushioning
The Farm to Feet Damascus is another great Merino centric option that will keep you dry and supported with compression, as well as ensuring that your temperature is regulated throughout your wear, even if the temperatures change drastically. Plus, you'll get to pick from a few fun color options to personalize your style.
Temperature Regulating
The Farm to Feet Damascus works to regulate the wearer's temperature, no matter what the weather throws at you. As you will be well aware, temperatures can change drastically, especially as you move between altitudes and times of the day. That's why having a pair of these is a great aid to your packing plan.
Instead of having to pack two different pairs--a warm and a cool pair--you can get away with wearing just these. When it's boiling hot, the wool is breathable and cools you, but it also traps in heat when it's freezing cold so you get the best of both worlds. We award points for Breathability, Materials, and Comfort here.
Lots of Compression
The Farm to Feet Damascus features compression from the arch all the way up the calf. Extra compression works to ensure that the product stays in place without minimal bunching and to encourage more oxygen flow to your muscles so that you can fight through foot fatigue and keep longing super long hours out on the trail.
We also like the extra padding in the base of this product which works to minimize friction that can frequently lead to blisters, as well as to quickly soak up and wick moisture away from your feet to keep them dry and comfortable. And they manage to do this without adding tons of bulk, which we like as well.
So we give strong marks in the Comfort and Materials category here too.
Cost and Value
The Farm to Feet Damascus rings up in the middle of our price range and we like their value because they still have a high Merino wool count with all of the great Merino properties (like being anti-microbial and temperature regulating) at about ⅓ the price of their full-Merino competition.
4

. Injinji Men's Trail Midweight Mini
5-toe fit
Double ankle cuff
Elastic to hold in place
Breathable design
Fun colors to choose from
The Injinji Men's Trail Midweight Mini is a wonderful option if you're looking for performance on the trail with a slightly lower profile. These puppies are designed to stay in place and keep you fully protected and supported as you zig and zag at full running speeds on the trail ahead.
5-Toe Design
The Injinji Men's Trail Midweight Mini looks different than most of the other socks out there on the market (and on our list as well). These come with a 5-toe design that locks in place around each toe to ensure that you get the best possible fit that won't budge when you pivot and hit uneven terrain on your trail runs. We award points for Comfort here.
And because of their lower profile, you will enjoy a bit more breathability and tons of comfort in this regard.
Double Cuff
The Injinji Men's Trail Midweight Mini features a super thick and durable double cuff at the ankle. This cuff works to hold itself in place so that it can keep out small rocks and dirt from the trail which can work their way into your sock and cause blisters. And with the right amount of elastic, these will hold up without cutting off your circulation uncomfortably.
We award points for Comfort and Materials here.
Cost and Value
The Injinji Men's Trail Midweight Mini rings up in the middle of our price range and we love its value because it offers up a fit that few others can. However, many serious runners note that after they run for extended mileage, they always notice a busted seam at the toes so we take points away from Durability here.
Triple reinforced heel and toe
Breathable proprietary fibers
Slim and light fit
No toe seam
Deep heel cup and lefties and righties
Some prefer more cushioning
The Balega Ultralight was designed specifically for runners. These incredibly light and moisture-wicking beauties will have you feeling like you're in your first mile when you're actually in your tenth And because they are uniquely designed, you'll get a fit like no other as well.
Lefties and Righties
The Balega Ultralight word to deliver a fit that is hard to find in other pairs. With specialized righties and lefties, you will get uniquely tailored support for each foot which will help your feet and body to maintain the alignment it needs to keep pounding the pavement.
This option also features a snug compression fit around the arches to hold it in place and keep it from slipping around. And because these fit so well and are so supportive, they need less in the way of overall padding so you won't have to worry about not having enough room in your running shoes.
We award points for Comfort and Materials here.
Deep Heel
But the comfort doesn't stop there. The Balega Ultralight also features a unique triple-reinforced Y heel cup that is super deep and that works to cradle your tootsies in a way that makes you feel safe and supported. The toe is also reinforced to account for Durability and longevity, so points here.
We also love that these feature proprietary Drynamix fibers that work to actively wick away moisture and keep your feet dry and nice and cool (along with the reinforced mesh zones for airflow).
So more points for Breathability and Durability.
Cost and Value
The Balega Ultralight rings up in the middle of our price range and we like its value because this is a product that is loaded with technology, yet still manages to have a slim and slight profile so that it is compatible with more shoe types and is better for more runners.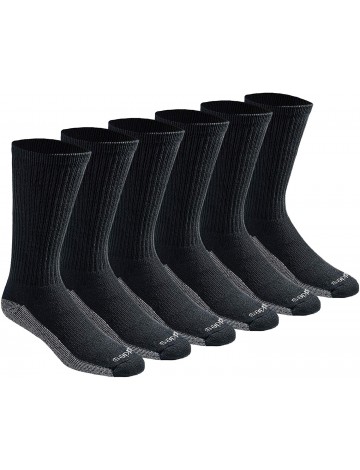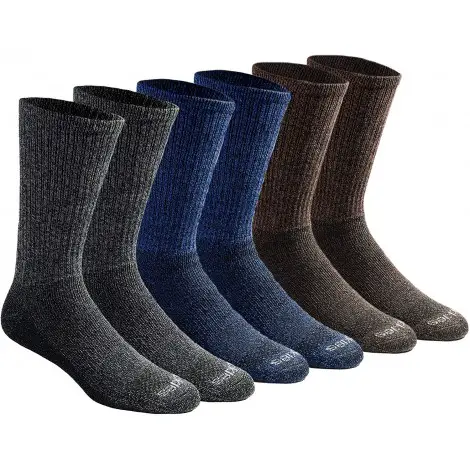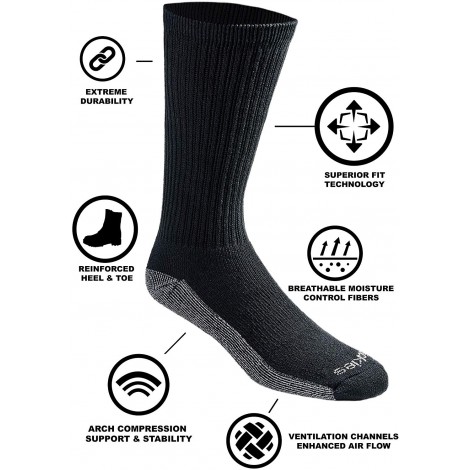 6 pairs for every purchase
Lots of padding
Moisture wicking that works
Reinforced stitching
More durability
Major issues with sizing consistency
The Dickies Dri-Tech is another excellent option if you're looking to add multiple pairs to your wardrobe and you want to go the budget route to do so. These guys are intended to take the heavy beating of work boots and their workers and are the more durable of the budget brands.
Durability Checks Out
These hold up like other budget brands don't. These are mostly intended for those who are working hard on their feet and they need to be able to keep up with that lifestyle.
With reinforced stitching at the heel and toes that actually works, you won't find yourself needing to replace these as frequently as with other brands. We award points for Materials and Durability here.
So Much Comfort
They also deliver tons of comfort and padding so that you can stand to stay on your feet all day. While these may not be ideal for most trainers because they are a bit thick, you will be able to wear them in total comfort in your workboots.
And what's better is that these manage to continue to effectively wick moisture so you won't end up with wet and sweaty feet by the end of your hard day. We give points for Breathability here.
And you'll find that there is decent support for the arches, though perhaps not as much as one might be looking for in a fitness sock.
Cost and Value
The Dickies Dri-tech rings up on the lower end of our price range and we like their value because they offer all-day comfort for those who are on their feet working and because they hold up better than the other budget brands.
7

. Under Armour Resistor III
6 pairs per purchase
Tons of cushioning
Arch support band
Stay up at the calf
Impact absorbing
Not the most durable or long lasting
If you're looking for a straightforward pair of gym socks, then the Under Armour Resistor III may be just the pair you're after. These guys provide the basic nuts and bolts that you require from a crew and also come with six pairs per purchase so you can keep them in heavy rotation.
Arch Wrap
The Under Armour Resistor III provides the kind of basic support and stability that you need from crew without all of the added extras that super serious competitors require.
These feature a snug compression band around the arches to ensure that they stay in place on your foot. They also have ribbing to make sure they stay in place in your shoe.
Plus, with a ribbed cuff at the top, these will hug to your calf without denting into it to keep them up where they're supposed to be.
Tons of Comfort
And what these lack in super-advanced technology, they deliver in comfort. Reviewers rave about how comfortable the socks are and how they basically want to live in them. Good thing they come with 6 pairs per purchase.
With lots of padding in the base, you'll feel like you're walking on clouds and this really helps to absorb some of the impacts that occur when running or when jumping and playing basketball. That being said, you may find that these are too thick to fit in all of your trainers so you should try them on as soon as you get the to see if they work with your shoes.
Cost and Value
The Under Armour Resistor III rings up at the very bottom of our price range when you consider the cost per unit. You will get 6 pairs with your purchase, meaning that these are about a third of the cost of a more premium pair.
However, reviewers report that while they love the feel of these, they are not the most durable and they can fall apart pretty quickly so you'll want to rotate them out frequently so you wear through them evenly.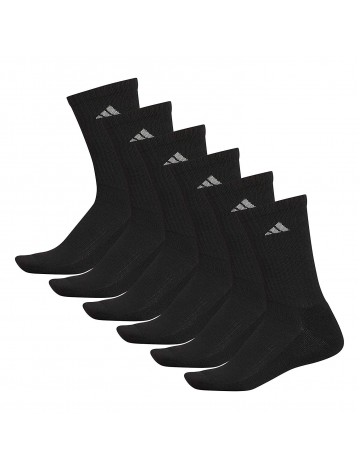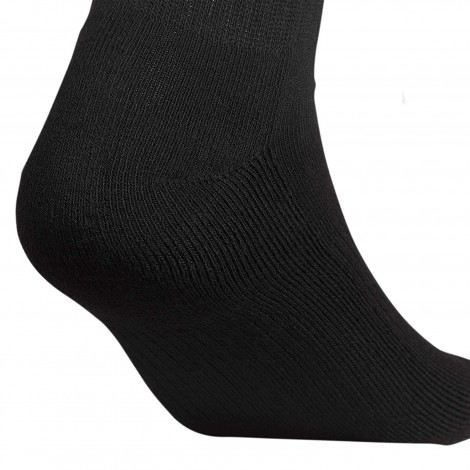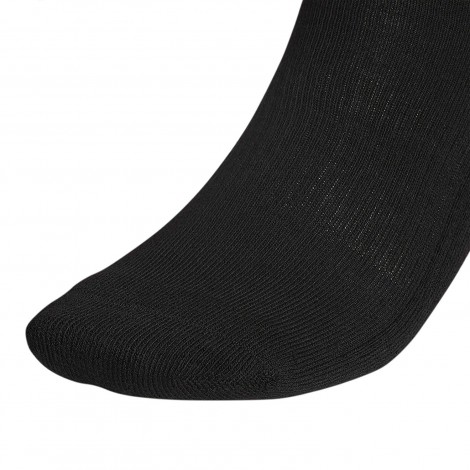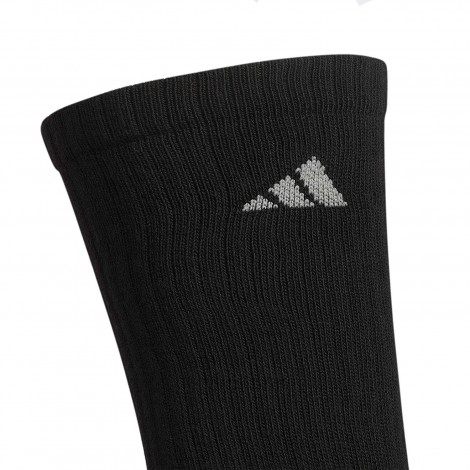 6 pair per purchase
Arch band compression
Stay in place
Secure fit
Soft feel
Do not hold up super well
No list would be complete without some Adidas socks. The Adidas Cushioned is also a great low-key option that provides cushiony support (as the name suggests), as well as yarns specifically designed to keep those tootsies cool and dry no matter what you put them through.
Fit Securely
These are designed to provide a secure fit so that you don't find yourself slipping around in your boots (or your running and basketball shoes). Specialized ribbing helps to achieve this.
With a snug fit around the arches, you can feel confident that your arches are supported and that the socks are going to stay in place. And with reinforced cuffs, you know that these will stay up on your calves. So we award points for Comfort and Materials here.
Cloudy Feel
The Adidas Cushioned offer up tons of cushioning and padding to help fight against pain in the feet and foot fatigue. Plus, the fibers are super soft to the touch.
And these fibers work to wick away moisture as well to keep your feet nice and dry in their cushioned clouds and there's nothing better than that. So points for Comfort, Breathability, and Materials here.
Cost and Value
These bad boys ring up on the lower end of our price range and we like their value because you will get six pairs with your purchase.
However, some reviewers find that the quality of these is not quite what it used to be and that they can wear out more rapidly than expected (think about a 6-month lifespan for heavy rotation). Depending on how often you replace your socks, to begin with, you should consider this.
We docked points for Durability here.
9

. NIKE Performance Cushion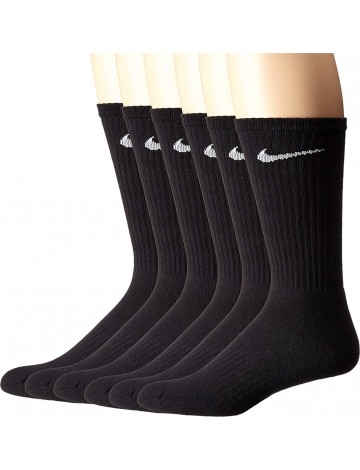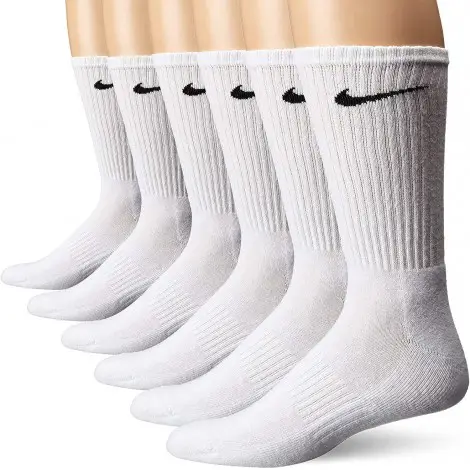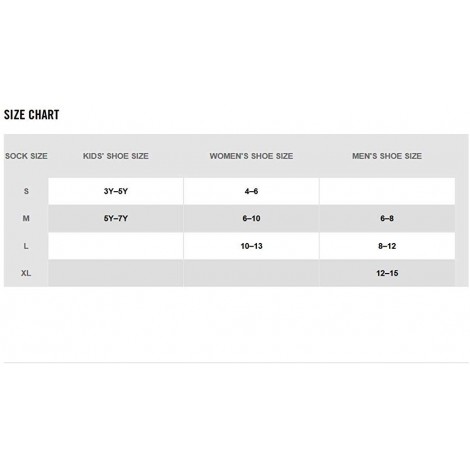 Purchase gets 6 pairs
Arch band support
Stay in place on calf
Ribbing for security
Pilling and fading noticed
Not very thick
And we have to shout out some Nike crew socks as well. The NIKE Performance Cushion is a nice budget option that will also come with six pairs per purchase. These are designed to fit both your foot and your shoes super snugly so that you can feel confident about your next step as well as your next thousand steps.
Cuffs are Ribbed
The NIKE Performance Cushion was designed to deliver a fit you can feel confident about.
The cuffs on these are ribbed to hold their place on your calf. There is strategic ribbing on the base of the sock to ensure that it stays securely in place inside of your shoe.
Plus, you'll get that arch compression band on these as well to ensure a snugly fitting sock to your foot. This serves to provide more lift and support to those delicate places on your feet that absorb so much of the impacts we sustain. We give points for Comfort and Materials here.
Reinforced Toe and Heel
The NIKE Performance Cushion also comes with reinforced toes and heels. This works to extend their lifetime and to provide a bit of extra cushioning and padding to the areas of the foot that hit the ground the hardest. We award points for Durability and Comfort here.
Cost and Value
The NIKE Performance Cushion rings up at the bottom of our price range as you will get 6 pairs with each purchase. We like that they can be heavily rotated but find that they do not hold up under serious use for as long as buyers expected. Pilling and fading were evident among the many reviews we read.
Anti-microbial
Temperature regulating
Made specifically for women
Medium padding for better fit
Not the softest to the touch
And to close out our list we bring you the Smartwool Jitterbug. These are specially designed to fit a woman's foot so that she gets the kind of support that she needs to pull through those long days playing superwoman. And with medium cushioning, you'll find that these work with most pairs of shoes.
Medium Cushioning
The Smartwool Jitterbug delivers comfort in medium cushioning. This is the happy middle between super-thin pairs that don't provide enough support and super padded pair that won't fit inside of your shoe. We like this build and find that it works with most shoes so we give points for Comfort and Materials here.
Merino Magic
The Smartwool Jitterbug is made from a majority Merino weave. This means you get all the benefits of Merino like anti-microbials properties, moisture-wicking, and temperature control so that you can bound around in comfort all day long without having to think about your socks.
Points for Materials, Comfort, and Breathability here.
Cost and Value
The Smartwool Jitterbug rings up on the higher end of our price range and we like its value because it provides all that you look for in a Merino sock, including the durability.
However, some find these to be itchier than other Merino pairs and disliked the overall feel.
Criteria Used for Evaluation

Comfort
Comfort was our main focus when making this Ten Best List. We look for products that have enough padding to provide support and that are nice and soft to the touch so that they feel good against your skin.

Materials
When considering the materials that go into each product, we love our featured options that are made from Merino wool because they are so durable, breathable, and comfortable.
But we also love cotton blends that provide a soft cushiony feel while also incorporating moisture-wicking fibers to keep you cool.

Breathability
Which brings us to breathability. If you're wearing a crew, you are getting more coverage so you are going to require more durability. And whether you're relying on these for hiking, basketball, or daily wear, you're going to want to ensure that your feet stay dry and comfortable.

Durability
While durability can be an issue with some of the budget brands, we find that the more premium pairs hold up super well and are even guaranteed for life. It really all depends on what you're looking to get out of the socks you buy so we make it clear what you can expect to receive with your order.

Value
Durability and expectations play into value. If you want a more durable and supportive sock, go with a premium brand. But if you're looking for daily comfort, a budget pack may be best for you.
Expert Interviews & Opinions
Most Important Criteria
(According to our experts opinion)
Experts Opinion
Editors Opinion
Users Opinion
By Default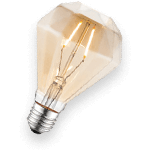 Just Get a Pair
Okay. Cue siren. The fashion police are here.
For those of you still wearing your ankle socks or no-show gym socks with your formal or business casual attire--they got to go. And this is not just a shout out at the gentlemen reading this list. We see you ladies wearing ankle socks and gym shoes with your work gear on the subway. We see you.
It's high time to grow up your sock game and throw out the lumpy ankle socks you've been using and passing off as no-shows since you were in high school.
Go with a crew. A crew is classy. They won't slip down. A crew provides the perfect amount of comfort, coverage, and support. A crew is your new friend.
While ankle socks are for one thing and one thing only--working out--the crew is super versatile. So hear us. We're not saying you have to invest in specific sock wear for different occasions!
You can buy one great pair (or a few good pairs) of crews and use them at the gym and with your more dressy attire. They are versatile, comfortable, and fool-proof.
So just get a pair.
The Best Uses for Crew Socks
Apart from preventing a major fashion faux pas, there are tons of reasons for you to invest in a great pair of crew socks. What are some of their best uses?
Hiking and Backpacking:
Getting an excellent pair of crews for your next big backpacking or hiking journey is a must. For one, you'll find that their height serves to protect you from scratches and impacts while you're going off-trail.
You'll also find that they work to come up higher than your hiking boots to protect your Achilles and ankles from too much friction while you're on the go.
We also find that these are the perfect mix of breathability and warmth so that you can stay comfortable in a wider array of temperatures.
Basketball:
While you'll remember old school ballers playing in striped tube socks, the modern-day hoopsters are regularly going with a crew (if they aren't wearing full compression socks).
The reasoning for this is because they provide the right amount of support around the Achilles and ankle so that you can feel protected and safe to break ankles up and down the court. They also work to provide the right balance of breathability and comfort that you need for pulling through your drill days.
Fashion:
But make it fashion! Both men and women can seriously work the crew look. Wearing a pair works to grow up the look of an outfit and it also does its part in completing a look and making it appear more expensive.
Plus, we like that many pairs on the market can double for athletic and dressier purposes so you can get a two for one deal out of your purchase.
Other Factors to Consider

Fit
We work to report reviewers' experiences with how you can expect your order to fit and whether you should be looking to order your standard size or a size up or down.

Style
As always, we like a bit of flair, especially when it comes to the sock game so we highlight brands that give you lots of color options.
Frequently Asked Questions
q:

Why are there no all-cotton socks on this list?

a:

While cotton is super soft, it tends to really latch onto and hold moisture, so we prefer blends for keeping your feet dry.
q:

Should I be worried about these cutting off my circulation?

a:

If you've had issues with socks doing this in the past, it is best to go with a size or two bigger than you normally would. Because many of these socks run small and tend to shrink (so they will better stay up on your leg), they can be tight. So go big.
q:

How should I wash these?

a:

Treat them nicely! You are okayed to put all of these in the washing machine but we strongly advise against drying them. They will likely shrink and show wear and tear more rapidly. Because they are moisture-wicking, they will dry very fast so laying them out or hanging them to dry won't take very long.
Subscribe to our Newsletter