Best Merino Wool Base Layers Reviewed & Rated for Quality
In a
Hurry? Editors choice: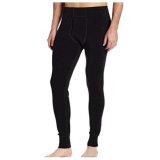 Test Winner: Minus33 Midweight Bottoms

Wool comes from sheep, and Merino wool comes from Merino sheep. So what makes these little lambs so special? Merino sheep can live comfortable in a wide range of temperatures from well below freezing to a balmy 95 degrees. That means their wool has evolved over eons to trap in warm air when it's chilly outside and
wick away sweat
when it's hot in a way that synthetic fibers meant to mimic wool simply cannot. And on top of all that science, it is just plain comfortable. Softer and finer than other wools, it won't leave you feeling itchy which matters when you're wearing wool right against your skin--especially as a base layer. So we've made a Ten Best list for wool base layers that will keep you warm, dry, and itch-free no matter what great adventure you take on.
Standout Picks
Criteria Used for Evaluation
Materials
When considering Merino wool bases, we wanted to make sure that each product was actually made from Merino wool. All of the products on our list are made from 100% Merino wool (aka the best wool in the world). While one product on our list has an elastic waistband, the majority use only wool for construction.
Of course, wool quality varies from flock to flock and season to season, so we made sure to highlight those companies who consciously and humanely source their wool as these are even finer and more luxurious than your average Merino.
Overall Fit
A base layer is practically useless if it doesn't fit correctly. A layer too small you can't even put on. A layer too large and you lose some of its base warming potential (though you can still layer under it). That's why we make sure to site user reviews on how each layer fits and how to order the correct size. Remember, you should always consult each company's size chart and measure it against a current base layer that you own if possible.
Use
We wanted to highlight base layers that could be used against the skin, used as a mid-layer, or worn on its own in order to provide you a list of products that were multifunctional. We love that Merino wool naturally locks in warmth while wicking away moisture, making it one of the most versatile outdoor products that has ever been harnessed. You really can use this gear in any weather.
Durability
Natural fibers don't always hold up as well as synthetic ones, though they may work better. To maintain the life of your Merinos, do no machine wash. We know it says you can, but hand washing and laying flat to dry will keep your wool from pilling and will help to prevent holes from developing.
Value
As always, we consider value. We love that Merino wool is Merino wool and that there's not a lot you can do to doctor it up or down. That's why even the most inexpensive items on our list can compete with the premium items. The main difference in value is how responsibly the Merino is sourced and the comfort of those little lambs.
10 Best Merino Wool Base Layers
1

. Minus33 Midweight Bottoms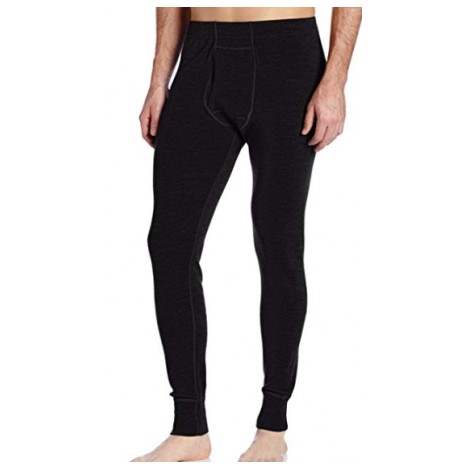 Minus33, a subsidiary of L. W. Packard & Co, has been making superior wool products for over 100 years--now that's experience you can trust. They specialize in working with fine Merino wool and the Kancamagus Bottom showcases their expertise. These men's long pant bottoms can be used as a base and mid layer.
Widest Size-Selection in the Industry
The Kancamagus Bottom is a long pant that comes in 8 colors including Mossy Oak, Denim Heather, standard Black, and Hunter Green. They are a mid-weight base and are made from 100% Merino wool, which means you can machine wash and dry these babies anytime they start to get less than fresh. Boasting the widest size-selection in the industry, you can purchase the Kancamagus from sizes XS all the way to 6XL including tall sizes from M to 4XL.
Seams with Flatlock Technology
The Kancamagus features seams with Flatlock technology that reduce the likelihood of chafing which is essential when considering comfort over long wears. They also come equipt with a stretchy cuff that works to keep your baselayer in place. Merino wool naturally locks in warmth while remaining breathable and wicks away steamy vapors before they liquefy and turn into a damp, cold sweat. The Kancamagus is durable, but won't restrict your movement.
Cost and Value
The Kancamagus rings up in the middle of our price range (though some of the highly specialized size selections could cost you quite a bit more). We love its value because all of Minus33's products are backed by a 1-year manufacturing and materials warranty, as well as a 30-day risk-free trial.

2

. Minus33 Franconia Bottoms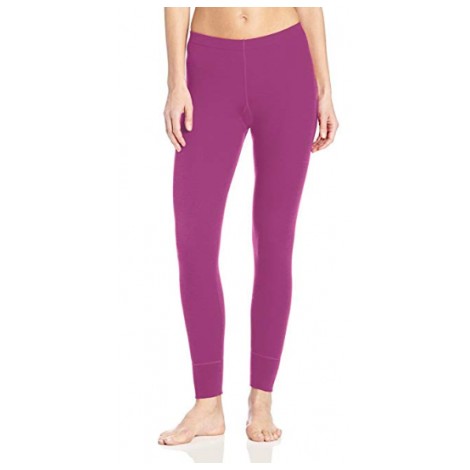 We've already sung Minus33's praises--they have experience and knowledge that you can really rely on. The Women's Franconia can be used as a base or mid layer, giving them versatility in wear.
Machine Washable
The super-comfortable Franconia Women's Bottoms are a mid-weight, long pant that comes available in 5 colors. They are made from 100% Merino wool and can be thrown in any at-home washer and dryer to maintain freshness. You can find the Franconia in sizes from Extra Small to 3XL.
Tagless for Comfort
The Franconia Bottom comes with seams that are Flatlocked to reduce the risk of chafing during long wears. They feature cuffs with stretch to keep the pants in place, and there's no pesky tag at the back that will make you worry about what's crawling in your crack. Merino wool is naturally weather resistant to keep you warm and dry, and these pants won't inhibit your natural movements even when you're all layered up.
Cost and Value
The Franconia Bottoms ring up in the middle of our price range. They are a bit more expensive because the Merino wool that Minus33 uses is even finer than other Merino wool brands. Plus, Minus33 products come with a 1-year warranty and a 30-day money-back trial to guarantee your satisfaction.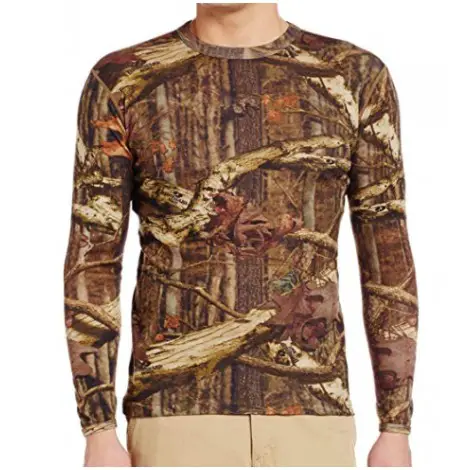 Minus33 strikes our list again--this time in a Men's Crew-style shirt that can be worn as a base or a mid-layer.
Style Options to Suit Any Taste
The Chocorua Crew is a midweight base or mid-layer that comes in 7 neutral color options and the Mossy Oak style (pictured). It is made from 100% superfine Merino wool and is 100% machine washable and dryer friendly making maintenance a breeze. Again, the size options of Minuss33 products are virtually endless. You can purchase this Crew in sizes from Extra Small to 6XL and tall sizes from Medium to 4XL.
Wear as a Shirt in Warm Weather
With so many amazing features, it's no wonder this Crew is hanging out towards the top of our list as it is also Minus33's best selling top base layer. As with all Minus33 baselayers, the Chocorua is tagless and features Flatlock seams with comfort in mind across the board. Stretchy arm cuffs keep the sleeves from riding up under your layers, even as you move freely with all of the Crew's flexibility.
Cost and Value
The Chocorua rings up in the middle of our price range and we love its value because it is backed by popular demand. It's a best seller on tons of lists and comes highly recommended. Plus, all MInus33 gear comes with a 30-day risk-free trial and a 1-year warranty to protect again manufacturing defects so you can be sure you'll be 100% satisfied with your purchase.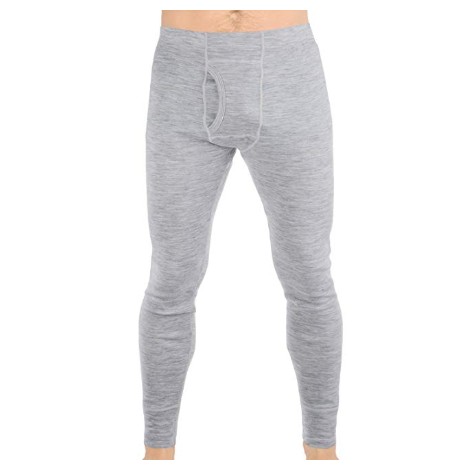 Meriwool Layers is a company we just love. They have been making Merino wool layers for more than 10 years and use Merino wool sourced exclusively from Australia. Meriwool is a philanthropic company that constantly looks for opportunities to provide warm layers to those who need them most. These Men's Bottoms can be worn as a mid or base layer.
Can Be Use as a Base or Mid Layer
The Meriwool Men's Baselayer Bottoms are a midweight thermal long pant that comes in 5 different neutral color options. They are made from 100% superfine Merino wool, making them an incredibly soft and comfortable base. 100% machine washable and dryer friendly, Meriwool advises you to wash them inside out on a normal cold cycle with regular or wool specific detergent. Tumble dry these pants on low heat and never use bleach or softeners as these will compromise the natural wool fibers, making them weaker. You can snag these guys in sizes from Extra Small to 3XL.
Anti-Bacterial Properties Work to Fight Odors
These Meriwool pants come with some unique features. A handy hanging loop is great for drying these pants while camping and on the go. The easy-to-use front pouch means you won't have to strip all the way down when you have to "go." Merino wool naturally absorbs and wicks away moisture, but that's not the only natural power it possesses. It is also antibacterial which helps to fight against less-than-pleasant smells, especially under extended use while worn against the body as a base layer.
Cost and Value
The Meriwool Bottom rings up at the bottom of our price range. We love supporting companies with philanthropic missions--especially when their products are this good. They've harnessed all of Merino's natural powers with goodness that's backed by a 30-day trial and 1-year warranty.

5

. MERIWOOL Women's Bottom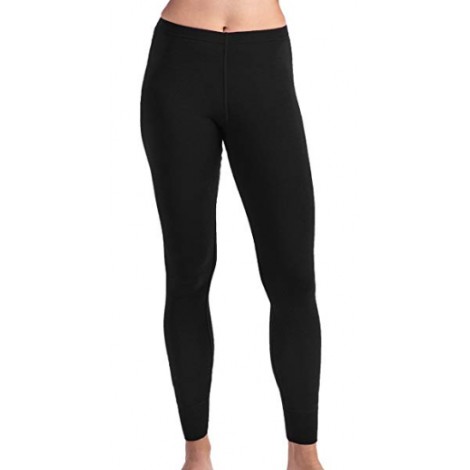 We've already introduced Meriwool, the company. Now allow us to showcase the Women's Baselayer Bottom. Like the Men's, it can be used as either a mid or a base layer.
Made from 100% Merino Wool
The Meriwool Women's Bottom is a midweight base made from 100% Merino wool and is available in black, heather, and purple. They are machine washable (and Meriwool provides best care washing instructions). However, reviewers note that the best way to stretch the use of these pants is to care for them by handwashing them only, and laying them flat to dry. These pants come in Extra Small, Small, and Medium, but these do tend to run large, so order a size smaller than you typically would.
Extra Seam to Keep Layers in Place
The Meriwool Women's Bottom provides insulation and breathability all at the same time. An extra seam towards the bottom of the leg encourages the pant to stay in place underneath your layers while still being able to move freely. With a convenient loop for easy-to-hang drying while backpacking and on the go, these bottoms will stay fresh even if you get caught in some mud-emergency. And what's better? These babies dry super quickly, so you won't find yourself waiting around on them.
Cost and Value
These Meriwools also ring up at the bottom of our price range. We love their value because they offer up the same benefits that other more expensive products do, all at a lower cost. Plus, they give a 30-day hassle free trial and 1-year warranty to all of their customers.

6

. Merino 365 Longsleeve Baselayer


The folks at Merino 365 honestly believe that Merino wool makes the best fabric on the planet, and we just might agree with them. They work to promote the uses of Merino beyond the winter months and hope to convince others that Merino is just as functional in warm weather as it is in the cold. They even ship ethically produced Merino all over the globe to other companies wishing to produce Merino products. Talk about dedication to a mission. The 365 Longsleeve Baselayer is meant to be worn as a base layer against the skin.
Made from Ethically and Renewably Sourced Wool from New Zealand
The Merino 365 Longsleeve is a lightweight base made from 100% Merino wool ethically and renewably sourced from New Zealand. You can get it in ochre (pictured), gray, graphite, charcoal, and black, and in sizes from Extra Small to 2XL.
Fire Resistant
The Merino 365 Longsleeve is a temperature regulating garment that will keep you basking in comfort for longer. The thumb loops in each sleeve are a handy (literally) way to keep your base layer in place, preventing it from riding up. And we love the added layer of comfiness these provide. Merino 365's wool won't stretch out, meaning that your base layer will retain its shape for years to come. Plus, Merino is naturally fire resistant and if a campfire mishap does happen to ignite your base layer, the base layer itself can be used to extinguish the fire. Seriously! Ask any firefighter, and some of them will even tell you that they use Merino to fight fires themselves. And what's more, Merino naturally possesses UV protection up to about 25 (and more the more layers you throw on). So what we're saying is, this puppy with make you feel cozy warm and dry while also providing some serious protection for your body.
Cost and Value
Merino 365 is a premium product and rings up at the top of our price range. However, we believe it is totally worth the extra money as all of their products are ethically sourced and produced, and the premium quality of their wool means more wear for longer.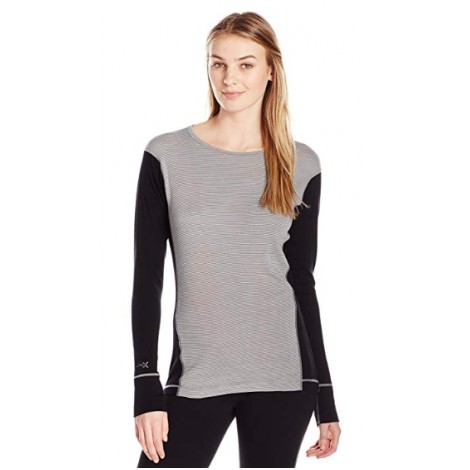 Like Merino 365, Woolx is working to fill in the gaps left by other companies producing wool and Merino products. They firmly believe that there's a wool for every weather, and they are out to produce a product for every need. The Woolx Hannah Top is meant to be worn as a base or mid layer, and can even look chic when worn on its own.
Fashion Forward Stripes
The Woolx Hannah is a midweight thermal top with extra long sleeves for more cozy comfort. Available in 9 different styles including solid and striped options, you'll want to reach for this top first when perusing your drawers. It is made from 100% Merino wool that is guaranteed by Woolx to be itch-free. You may machine wash this top without worrying about shrinking it down to toddler size. Choose from sizes Extra Small to XXL. Buy true to size if you want to wear it against your skin, but if you're looking to wear this as a mid layer, order a size up.
Princess Seams Flatter a Woman's Body
The Woolx Hannah is designed with built-in quick-dry technology that is antimicrobial by nature which aids in mitigating odors and assists in regulating your bodies temperature. This ensures that you will remain warm and dry the whole day through. The midweight design and armpit gussets aren't bulky and won't restrict your movements so you can easily ski, hike, or practice yoga without mobility issues. The 3.5-inch cuffs and seam provide more comfort and less riding, and the "princess seams" work to flatter the feminine form.
Cost and Value
The Woolx Hannah rings up towards the bottom of our price range and we love its value because it offers up all of the wonderful natural qualities of Merino wool while also paying mind to aesthetics in design. Plus, enjoy a hassle free return experience if you aren't 100% satisfied.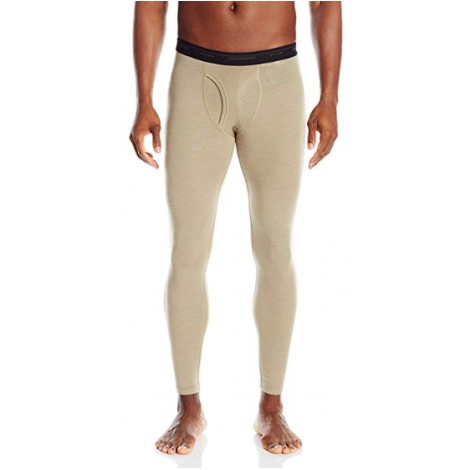 Icebreaker is a company that strives to abide by the 3 leading laws of nature:
1. Be willing to adapt--it's a survival tool
2. Nurture symbiotic relationships (where living things benefit from one another)
3. Honor sustainability and waste not
These ideals have allowed them to create a company that showcases all of nature's glory in their products. The Icebreaker Leggings are meant to be worn against the skin as a base layer but are thick enough to be worn as a mid layer as well.
Consciously Sourced 100% Merino
These Icebreaker midweight leggings are made from 100% ribbed Merino wool that is sustainably and consciously and humanely sourced. In fact, all of their suppliers are audited at least once every 3 years to ensure that their sheep are being treated with respect--even down to the very sheepdogs that each farmer uses. You can machine wash these though you are advised never to dry them in the dryer and to let them hang dry or dry flat. Many users prefer to wash their Icebreakers by hand. The leggings come in black, cargo, desert, and monsoon colors and can be purchased in sizes Small to 3XL.
Flatlock and Missing Back Seam to Eliminate Chafing
The Icebreaker Men's Leggings feature a gusset and functioning fly combo for convenience while on the trail, and an elastic waistband holds the garment up without cutting into your love handles. The seams of the leggings are Flatlocked so as to prevent chafing, and the back seam is omitted altogether which adds even more comfort to layering here. And since Merino has built-in odor-fighting agents (thank you, Nature!), these leggings are a base layer you can really feel comfortable in and confident about wearing for extended treks.
Cost and Value
These Icebreaker Leggings ring up in the mid to high section of our price range. With honest sourcing and durability, we love the value of this product. Plus, with Icebreaker, sizes are sizes so a lot of the guessing is taken out of ordering and you're more likely to get a product you're satisfied with the first time.

9

. Icebreaker Long Sleeve Crew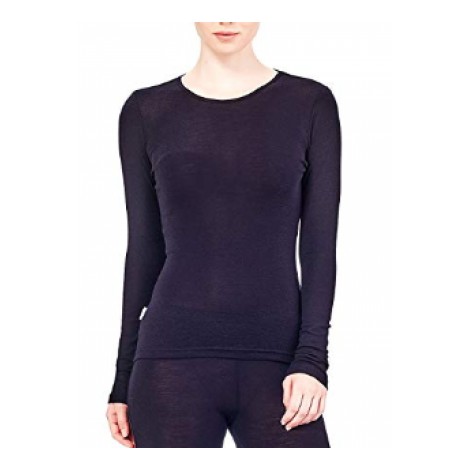 Another Icebreaker product means another garment we love. The Icebreaker Crewe Top for Women is as straightforward as a base layer can come, but boy does it get the job done. It is meant to be worn as a base or mid layer but can function for use on its own.
Can be Used for Daily Outerwear
The Icebreaker Women's Crewe Top is a midweight base layer that is made from 100% responsibly sourced Merino wool. It comes in sizes Extra Small to Extra Large and we hope you love black because that's the only color it comes in. It's meant to fit like a jersey t-shirt and is great to wear as workout gear and is even intended for daily outerwear.
Tapered Length to Prevent Riding Under Layers
The simple and straightforward design of the Icebreaker Crewe Top for Women may not have frills but she works like a charm. A slim collar profile and extra long sleeves work to keep you cozy and comfortable and also prevent layers riding up during normal and even heavy activity. The Crewe Top is tapered to honor a woman's curves which also serves to mitigate riding up. And as always, moisture wicking technology patented by nature keeps you warm in the winter and dry in the summer.
Cost and Value
The Icebreaker Women's Crewe Top is the most expensive item on our list, but quality and sustainability don't come cheap.
10

. LAPASA Thermal Underwear Set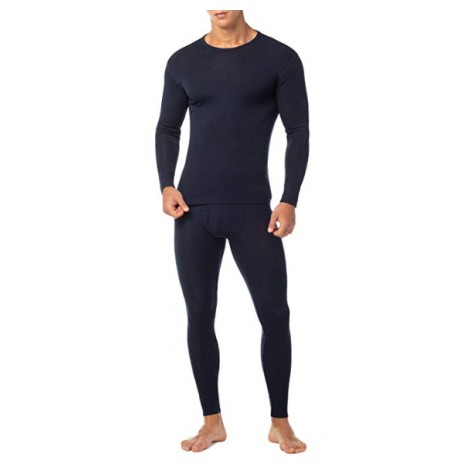 To round off our list, we feature LAPASA's Thermal Underwear Set. That's right--we're talking top and bottom. LAPASA specializes in quality workout gear for women, men, and kids, and they certainly didn't stop before trying their experienced hand at the Long John game. This thermal set is mean to be worn as a base layer but is just thick enough to pass for use as a mid layer as well.
Made from 100% Australian Merino Wool
The LAPASA Thermal is a super comfy mid-weight set that comes in navy, black, and dark gray. It is made from 100% Australian Merino Wool and can be machine washed. It's lightweight enough to be worn for workouts or under business casual clothing to the office in super cold winter months. This set comes available in sizes Small through XXL.
Rib-Knitting Helps to Maintain Product Shape
The hemmed seam of the set is made from material identical to the body of the garments, so no drafts slip through, and the same is true of the neckline binding. And for even more added comfort, the tag is easily removable so you won't be getting the itches from your base layer. Rib-knitting gives the fabric a 4 way dynamism that helps to prevent stretching and loss of shape. And of course, the odor-fighting properties of Merino are a much-welcomed friend here in the thermal underwear game.
Cost and Value
The LAPASA Thermal Underwear Set rings up at the top of our price range, but we love its value because you are getting both a top and bottom layer. We also love the flexibility of this set and that its materials remain consistent throughout.

Subscribe to our Newsletter