Best Chicken Coops Reviewed & Rated for Quality
In a Hurry? Editors choice: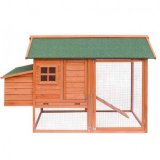 Test Winner: Merax Hutch

Whether you simply want to engage in urban husbandry or your live out on a large acreage with livestock, raising chickens has slowly but surely become a growing trend. With relatively low maintenance, these birds can provide fertilizer for a small garden and of course fresh eggs.
If you're going to be raising chickens, then you will definitely need somewhere for them to sleep. Though you can make your own
chicken
coop, it often ends up taking more time, money and handiness that many can afford. It can be confusing trying to find a chicken coop that is ideal for your needs, especially with the volume of products available nowadays. So, we've compiled a list of the top ten best chicken coops along with a buying guide to help you in your researching and purchasing journey.
Keep on reading for our Top 10 Chicken Coops and subsequent Buying Guide.
Standout Picks
Criteria Used for Evaluation
Breathability
In a standard chicken coop, there should be a minimum of two points of ventilation in the coop. This can be in the form of a vent or a window. Most tend to have these positioned near to room to prevent a direct draught from bowing in [something that chickens usually despise].
A lack of proper ventilation can cause a whole host of problems, so it's important to consider this before purchasing. Even having a sliding window with a screen [similar to that of a house] can make it easier for you to open and close the window whenever the need arises.
Size
The size of the coop is one of the most important factors to consider. Many advertisers will tell you that a box that's three feet by four feet that can hold six chickens but don't be fooled by this. Technically, it will hold 'six' chickens, but not if you want healthy and happy chickens.
A good way to establish how much space you want is that each standard bird should have a minimum of four square foot while a bantam should have at least two square feet per bird. If they have any less space, then that can lead to antisocial behaviors, such as pecking and picking. If the coop is a summer only coop with an extensive run, then it's okay to have less room in the coop as then they'll only be used for laying eggs or sleeping only.
Experts suggest having eight square feet per standard bird in the run (four square feet for bantams). Bantams need less space because they are easier to accommodate as they prefer to fly. To add space for bantam, you can add some perches
Materials
There is a little better than a chicken coop constructed with good quality wood. However, nowadays the market is flooded with coops constructed with cheap wood that will crack and warp in a few months. Before purchasing, ensure that you're searching for the type of timber, it's thickness and waterproofness [weatherproofness].
The standard materials that are used to construct the large majority of chicken coops include wood, plastic, metal, and composite.
Wood
Wood is often the best and most popular choice for a coop due to its strength and durability. However, the only scenario where this wouldn't be the ideal choice is if you lived in an area that had a red mite problem.
Plastic
Plastic coops are growing rapidly in popularity. They are durable, easy to clean, lightweight, and disinfect. They are the easiest to keep red mite out of. As they are lightweight, they might be a problem with under extreme weather or very strong winds [can be solved with anchor points].
Metal
Metal is rarely used for smaller chicken coops as it gets too cold in the winter and too hot in the summer. But, it's often used in larger chicken houses. A great way to use metal is to add it onto the roof over a plywood sheeting. It's easy to install, less maintenance, and lightweight than classic asphalt shingles.
Composite
Composite materials involve a mix of different products, such as wood and plastic mix. These are gaining popularity for its anti-pest, anti-mold, and anti-rot construction. They are quite heavy but they are very strong and durable.
Protection
There is a common misconception going around that chickens living in residential [backyard] farms, do not need protection. This couldn't be more wrong. While coyotes are a far-fetched proposition, there is a very real threat from dogs and raccoons. Owls and hawks are also a threat as they will snap a chicken when they see a chance.
The coop should be safe and secure to prevent any predators from gaining access to the chickens in any way possible. You should also try to cover up the windows to protect them completely. Other than this, they should also be protected from the varieties of weather.
Features
The most desirable features are ones that help to make it easier for you to care for your chickens. These features include easy to clean, the process of egg collection, and nesting boxes among others.
It's to no surprise that chickens are inherently messy. The coop will be covered in dirt that's tracked inside, feathers, and bird droppings. It's in your best interest to try and keep the coop as clean as possible. So, try to look for a coop that allows you to access the inside easily.
Many coops have multiple points of access, including a large door and a removable roof. The coop should also allow you to remove the perches and nesting box(es) to allow you to hose them down from time to time.
In terms of egg collection, try to look for coops that have access to the nesting boxes from the outside as that'll allow you to collect eggs on a daily basis without opening the coop and disturbing the chickens.
The nesting boxes are on the most important features as that's the place where your chickens will lay the eggs every day [aside from the winter months]. The chickens need a cool and dark place that is not disturbed often. The box should be placed lower than the perches to allow chickens easy access at all times.
10 Best Chicken Coops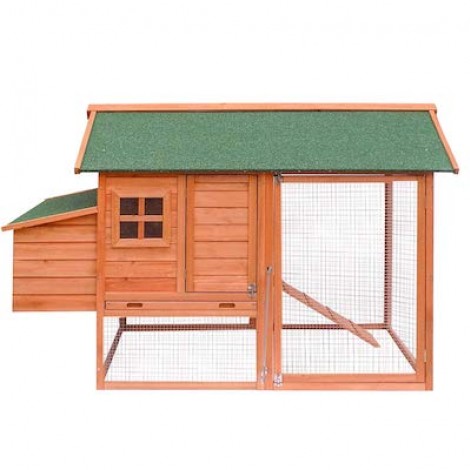 The Merax Hutch Wood House Chicken Coop has been designed to provide your chickens with the most comfortable house possible. Its constructed with a natural wood and green asphalt roof to create an aesthetically and constructionally pleasing design. With the spacious egg box, running area, and living area, your chickens have a good living environment.
Slide Out Tray
This Chicken Coop features a pull-out tray design which helps to make it easy for you to clean and it also helps to ensure a clean and neat environment.
Steel Slide Pole
The steel slide pole included in the design helps to control the door between the resting room and the running cage. The coop requires simple assembly with all the hardware and instructions included.
Cost and Value
The Merax Hutch Wood House Chicken Coop is the ranked at a mid-high price range from the products on our list. For all that it offers with its size and functionality, it's a great choice for those on a budget and those who aren't. The waterproof coating will also help to ensure it's durability for the seasons to come.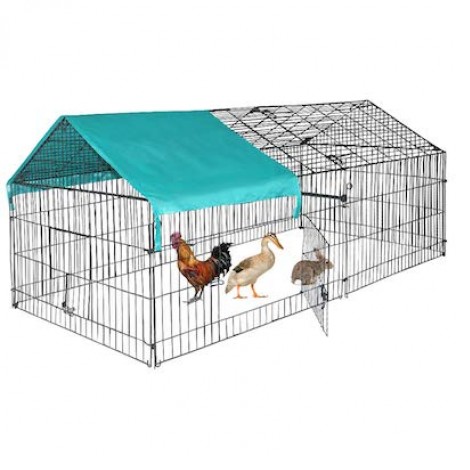 The BestPet Chicken Coop Enclosure Exercise Pen is constructed with anti-rust metal to extend the life of the product. The coating and material also help it to be resistant to rust. The design of this coop works great as an exercise area or playpen for chicken, without you having to gaze at them all the time.
Rust Resistant
This product provides users with resistance against fading, corrosion, and rust for even the most extreme climates to further increase its longevity. The included waterproof cover helps to provide added UV protection.
Strong Construction
This Chicken Coop is made with high strength solid wire which holds it firmly to the ground while it's in use. The coop is also very simple to install with instructions included.
Cost and Value
The BestPet is just as quick to assemble as it is to uninstall. It's ranked as the cheapest item on our list, making it great for those on a budget or not. The versatility that this product offers makes it a worthwhile purchase for anyone looking to house chickens.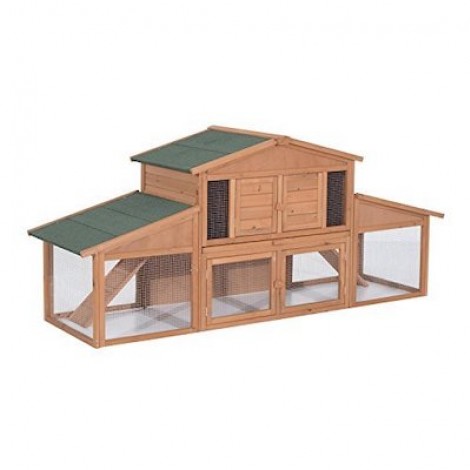 The PawHut Deluxe provides a run area that feels open on all sides for your chickens. It features a front living area that can be easily opened for easy access. The coop also has multiple ramps that lead to the inner box so that they never feel crowded. Overall making this a great high-quality choice to keep your chickens safe and secure.
Durable Construction
The PawHut has a durable wooden construction as well as a waterproof roof to keep your chickens secure while also lasting you for a while. The built-in windows offer your chickens with better air circulation to keep them as comfortable as possible.
Additional Features
The coop also features a slide-out tray to provide you with easy access as well as a heavy duty galvanized wire mesh to keep your chickens safe from any predators. Though assembly is required, all the parts needed come with the product.
Cost and Value
The PawHut Deluxe Large Wooden Chicken Coop With Outdoor Run is the ranked at the mid-high price range from the products on our list. Though the price might put off some, it's important to consider everything that you're getting with this product. It offers plenty of space along with durable construction that makes it a worthwhile investment.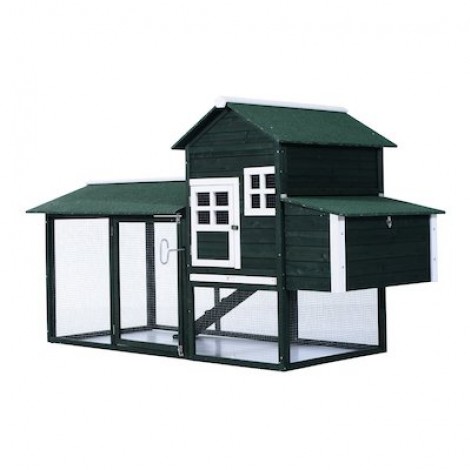 The PawHut Backyard is a fairly large sized coop. It features a two section nest box that has a prop open lid to allow for easy collection of eggs. This coop is constructed with wood that's been treated with a weather resistant coating along with a green asphalt composite room. The double-wide nesting box and multiple doors are added to ensure easy care.
Living Area
The laying and living areas can house three to four hens, but the wire mesh run might get a little cramped. The heavy duty wire keeps predators out and your chickens safe. The chicken coop has a pitched and hinged roof to allow you complete access for feeding, watering, and cleaning.
Compact Footprint
This product has a low footprint, compact design that allows it to fit easily in smaller spaces. It's well designed to offer you with ease in care and comfort for your chickens through the easy access ramp, screened windows, and a hinged top.
Cost and Value
The PawHut is the second most expensive item on our list. However, with the reputable brand name and design features, this coop is well worth its high price. If budget is not an issue for you, then this is a great choice of a coop for your chickens.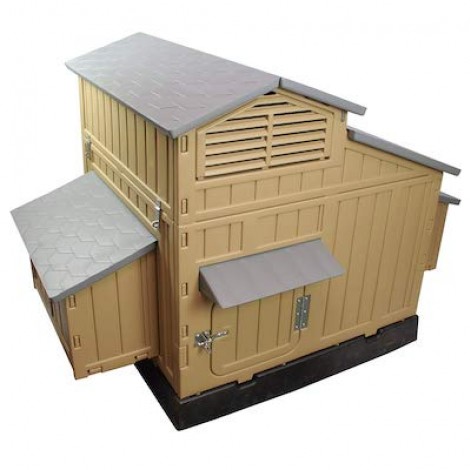 The SnapLock Formex resembles that of a well-designed dog house with dual tone exteriors in subtle colors. It's a lightweight and weather resistant design that is very quick and simple to put together. Through the use of plastic as the main material, this will be one of the most hygienic and reasonably easy to clean chicken coops.
Snap Lock System
This chicken coop has to be one of the easiest to set up. Though none of the others mentioned are typically very hard to construct, the Formex uses a Snap Lock system which requires no tools at all. You'll still need to use a screwdriver for installing the hardware, but it's still a simple task.
Large Size
This product comes with three roosts, which is the highest number of roosts a product offers on our list. It also has four nests, which provides plenty of room for four to six chickens.
Cost and Value
The SnapLock Formex is the most expensive item on our list. But, it also offers the most amount of space and capacity, therefore, if you have four to six chickens and budget is not an issue for you, then this will be a great choice. It is recommended that only those that live in moderate climates pick this option as the plastic will not fare well in extreme temperatures.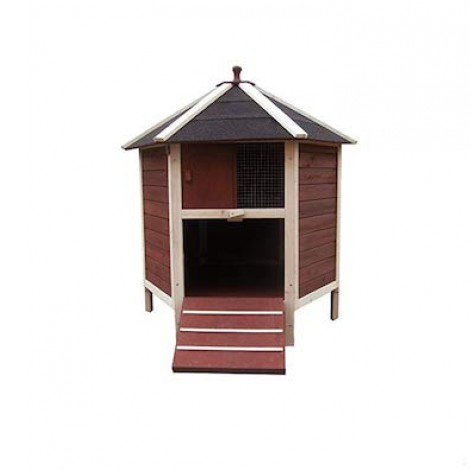 The Advantek The Tower is made with Advantek Gone Green lightweight rot resistant and insect resistant fir wood. The product design includes a hinged door and a removable room to ensure an easier time cleaning up after the chickens. The sliding window helps to ventilate the area while the ramp can be closed to offer complete containment.
Safe and Spacious
This chicken coop is safe and spacious to be a perfect housing solution for one to two chickens. The auburn colored design helps for the coop to look great and compliment your backyard.
Easy Access
The Advantek Coop features an access door and ramp to make it easier for chickens to come and go during the day while keeping them safely locked up at night. The nesting box roof can also be opened to allow you easy access to the chickens as well as easy maintenance.
Cost and Value
The Advantek The Tower is constructed with Cypress Fir, which is naturally rot resistant and decay resistant. While looking great, this product is placed at the low-mid price range product meaning that it will suit almost all budgets. The environmentally friendliness along with the construction and design, this product is well worth spending the money.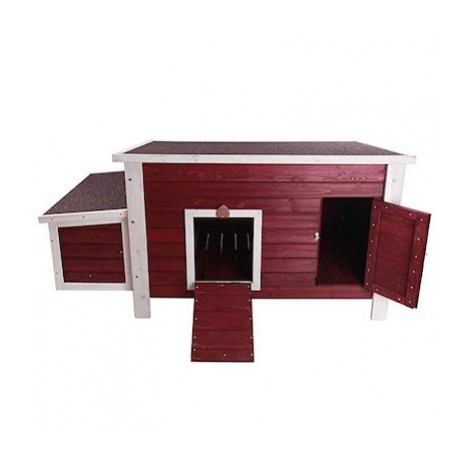 The Petsfit Weatherproof With Nesting Box is one of the few models that does not have a raised platform. The exterior is coated with waterproof paint to make it rain resistant and it's ventilated. This is a great choice for those that are just starting out with raising chickens.
Main Features
This option features two doors along with a nesting box placed to the side for laying eggs. The nest box has a hinged roof for easy collection of eggs. Through the roof isn't made to be opened, if you add hinges, it can be openable.
Size
The coop measures 53 inches x 25 inches x 28 inches, which makes this a great choice for smaller spaces and yards. It's made with fir wood and coated to ensure that it's able to withstand all kinds of weather.
Cost and Value
The Petsfit Weatherproof With Nesting Box is ranked in the mid-high price range from the products on our list. The coop can fit three to four smaller breed chickens and two to three average sized chickens. If you're just starting out, then this is a great beginner option.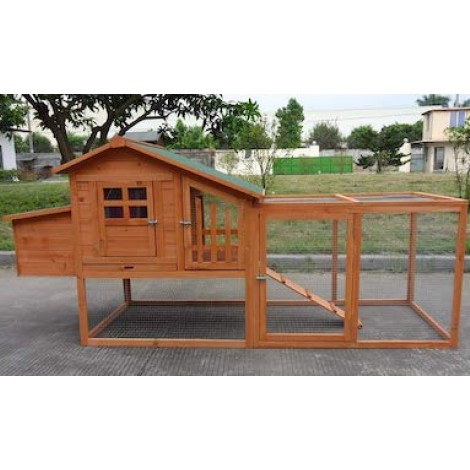 The Chicken Coop Outlet features durable construction that is sure to last you a while. It has three secure lockable doors on the run, veranda, and the coop. There is even a secure latched lid that easily opens for ease in collecting the eggs.
Eco-Friendly Design
The Chicken Coop Outlet has the coop in a green roof and wood finish to give it a more modern eco-friendly look. The color helps it to blend in seamlessly with your garden environment.
Added Features
The coop is coated with a waterproofing treatment to ensure it's longevity regardless of the weather. It also has a ventilation window complete with zinc mesh wire to keep snakes out. It overall has an integrated ground enclosure, nesting area, sleeping area to have three living areas.
Cost and Value
The Chicken Coop Outlet is our mid-price range product ranking right on fifth place. The coop comes with pre-drilled holes also ensure a quick assembly. Overall making the product well worth its price due to the space and quality of build that it offers users.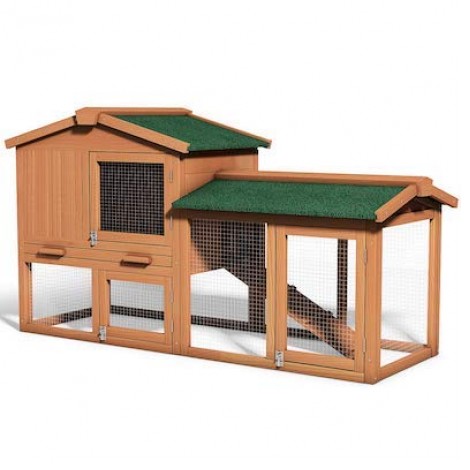 The Tangkula features a raised perch to help keep your chicken warm, dry, and safe - especially on cold, rainy days. The coop is just as good on hot days as the chickens can easily access their nesting boxes without being exposed to harsh lights. The fifty-eight-inch cage has a ramp, resting box, and nesting box to offer the utmost comfort for your chickens.
Sturdy Construction
It's crafted with solid fir wood for superior stability and strength. In addition to that, the roof is made of green asphalt composite, water-resistant material to give your chickens comfort and freedom to roam around.
Easy Access
The Tangkula has a removable bottom sliding tray to make it easier for you to clean thoroughly along with a non-slip timber ramp to make it easier for chickens to come and go from the raised housing area.
Cost and Value
The Tangkula is ranked in the low-mid price range from the products on our list. With its durability, user-friendly design, and plenty of space, it's well worth its already low price in comparison to other products that offer the same functionality.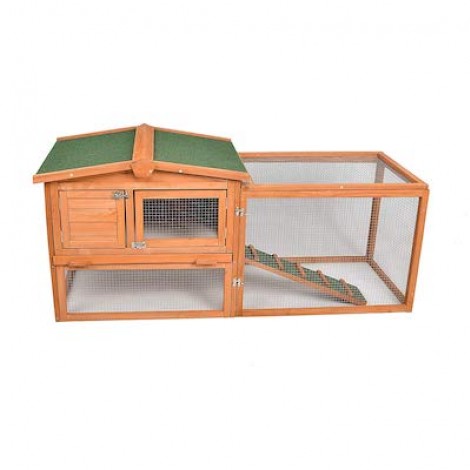 The EcoLinear Hutch has a two-story design that's great for indoor and outdoor use. It features a weather-resistant asphalt roof with hinges on either side to allow it to open from both sides giving you easy reach inside. The coop has a non-slip ramp along with a pull out rustproof metal tray.
Resistance
This EcoLinear is UV resistant, anti-corrosion, and waterproof to provide it the longest life possible. So, no matter what weather this coop sees, it should be able to handle it all.
Accessible Run Area
This optionhas an accessible outdoor run area that allows your chickens to enjoy the outdoors without having to worry about any attacks from predators and the elements.
Value and cost
The EcoLinear Hutch is the second cheapest item on our list. The design ensures that it's easy to maintain as well as assemble with clear to follow instructions. The deluxe design and construction ensure that this product lasts you for a few seasons to come.

Subscribe to our Newsletter