Best Chicken Coops Reviewed & Rated for Quality
last updated:
Apr 13, 2019
Whether you simply want to engage in urban husbandry or your live out on a large acreage with livestock, raising chickens has slowly but surely become a growing trend. With relatively low maintenance, these birds can provide fertilizer for a small garden and of course fresh eggs.
If you're going to be raising chickens, then you will definitely need somewhere for them to sleep. Though you can make your own chicken coop, it often ends up taking more time, money and handiness that many can afford. It can be confusing trying to find a chicken coop that is ideal for your needs, especially with the volume of products available nowadays. So, we've compiled a list of the top ten best chicken coops along with a buying guide to help you in your researching and purchasing journey.
Keep on reading for our Top 10 Chicken Coops and subsequent Buying Guide.
In a Hurry? The test winner after 8 hrs of research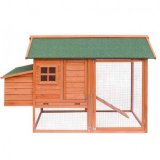 Merax Hutch
Why is it better?
The design makes it easy for you to add additional run space
Easily accessible nest box
Great for two to three hens
Incredibly easy to easy
Protects animals from predators
In a
Hurry? Editors choice: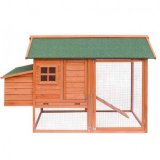 Test Winner: Merax Hutch

13
Researched Sources
12k
Reviews Considered
8
Hours Researching
14
Products Evaluated
Breathability
Size
Materials
Protection
Features
By Default
10 Best Chicken Coops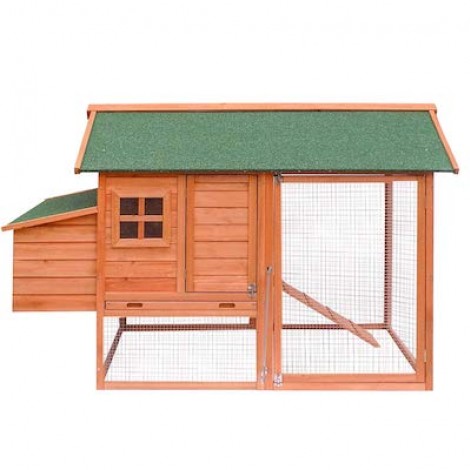 The design makes it easy for you to add additional run space
Easily accessible nest box
Great for two to three hens
Incredibly easy to easy
Protects animals from predators
The ramp can be a little slick
Many reports of the coop being difficult to assemble
The Merax Hutch Wood House Chicken Coop has been designed to provide your chickens with the most comfortable house possible. Its constructed with a natural wood and green asphalt roof to create an aesthetically and constructionally pleasing design. With the spacious egg box, running area, and living area, your chickens have a good living environment.
Slide Out Tray
This Chicken Coop features a pull-out tray design which helps to make it easy for you to clean and it also helps to ensure a clean and neat environment.
Steel Slide Pole
The steel slide pole included in the design helps to control the door between the resting room and the running cage. The coop requires simple assembly with all the hardware and instructions included.
Cost and Value
The Merax Hutch Wood House Chicken Coop is the ranked at a mid-high price range from the products on our list. For all that it offers with its size and functionality, it's a great choice for those on a budget and those who aren't. The waterproof coating will also help to ensure it's durability for the seasons to come.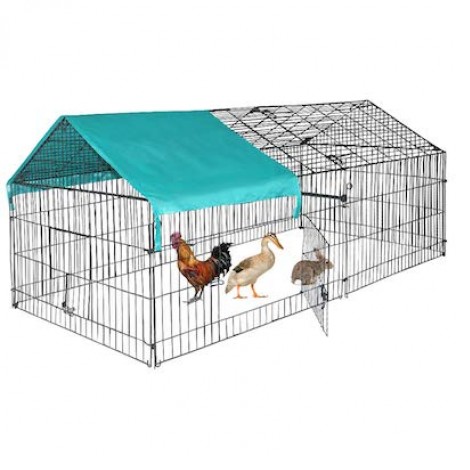 Plenty of room for them to play
Affordably priced
Portable
Customizable design (more can be added)
Great for chicks and chickens
Many reports of the coop not coming with instructions
The included cover is said to be too lightweight
The BestPet Chicken Coop Enclosure Exercise Pen is constructed with anti-rust metal to extend the life of the product. The coating and material also help it to be resistant to rust. The design of this coop works great as an exercise area or playpen for chicken, without you having to gaze at them all the time.
Rust Resistant
This product provides users with resistance against fading, corrosion, and rust for even the most extreme climates to further increase its longevity. The included waterproof cover helps to provide added UV protection.
Strong Construction
This Chicken Coop is made with high strength solid wire which holds it firmly to the ground while it's in use. The coop is also very simple to install with instructions included.
Cost and Value
The BestPet is just as quick to assemble as it is to uninstall. It's ranked as the cheapest item on our list, making it great for those on a budget or not. The versatility that this product offers makes it a worthwhile purchase for anyone looking to house chickens.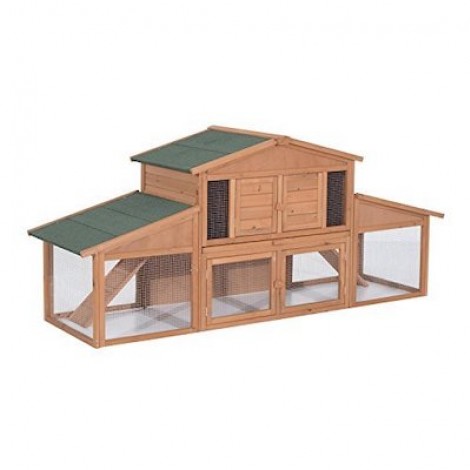 Waterproof
Extremely durable
Easy to assemble
Amazing quality
Easy to clean
Some reports of the wood having numerous splinters
Many reports of coop being difficult to transport
The PawHut Deluxe provides a run area that feels open on all sides for your chickens. It features a front living area that can be easily opened for easy access. The coop also has multiple ramps that lead to the inner box so that they never feel crowded. Overall making this a great high-quality choice to keep your chickens safe and secure.
Durable Construction
The PawHut has a durable wooden construction as well as a waterproof roof to keep your chickens secure while also lasting you for a while. The built-in windows offer your chickens with better air circulation to keep them as comfortable as possible.
Additional Features
The coop also features a slide-out tray to provide you with easy access as well as a heavy duty galvanized wire mesh to keep your chickens safe from any predators. Though assembly is required, all the parts needed come with the product.
Cost and Value
The PawHut Deluxe Large Wooden Chicken Coop With Outdoor Run is the ranked at the mid-high price range from the products on our list. Though the price might put off some, it's important to consider everything that you're getting with this product. It offers plenty of space along with durable construction that makes it a worthwhile investment.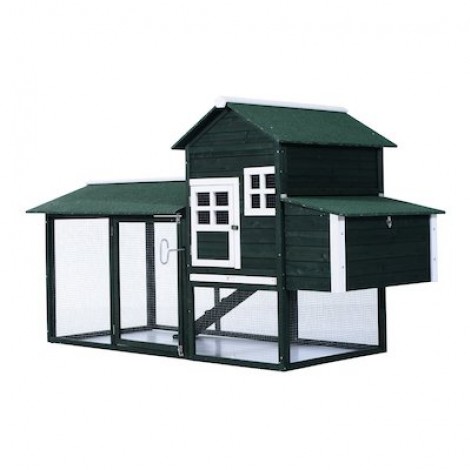 Removable tray for easy cleaning
Decent sized run
Weatherproof treated wood
Fairly easy to assemble
Reasonably ventilated
No space for a feeder
Smaller than advertised
The PawHut Backyard is a fairly large sized coop. It features a two section nest box that has a prop open lid to allow for easy collection of eggs. This coop is constructed with wood that's been treated with a weather resistant coating along with a green asphalt composite room. The double-wide nesting box and multiple doors are added to ensure easy care.
Living Area
The laying and living areas can house three to four hens, but the wire mesh run might get a little cramped. The heavy duty wire keeps predators out and your chickens safe. The chicken coop has a pitched and hinged roof to allow you complete access for feeding, watering, and cleaning.
Compact Footprint
This product has a low footprint, compact design that allows it to fit easily in smaller spaces. It's well designed to offer you with ease in care and comfort for your chickens through the easy access ramp, screened windows, and a hinged top.
Cost and Value
The PawHut is the second most expensive item on our list. However, with the reputable brand name and design features, this coop is well worth its high price. If budget is not an issue for you, then this is a great choice of a coop for your chickens.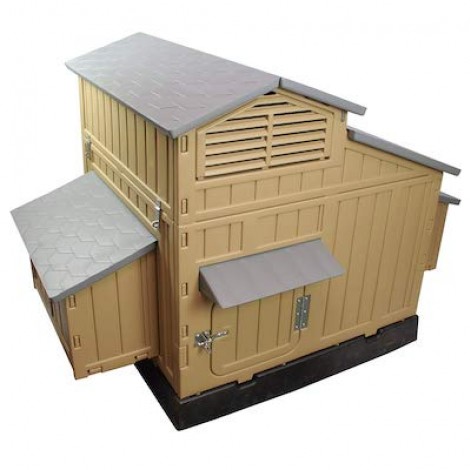 The wooden board offers security against wind
Mesh track secures predators
Plastic is easier to clean
Nest boxes contain removable dividers
Easy to assemble
Cannot withstand extreme temperatures due to the material (plastic)
Does not have a protected run
The SnapLock Formex resembles that of a well-designed dog house with dual tone exteriors in subtle colors. It's a lightweight and weather resistant design that is very quick and simple to put together. Through the use of plastic as the main material, this will be one of the most hygienic and reasonably easy to clean chicken coops.
Snap Lock System
This chicken coop has to be one of the easiest to set up. Though none of the others mentioned are typically very hard to construct, the Formex uses a Snap Lock system which requires no tools at all. You'll still need to use a screwdriver for installing the hardware, but it's still a simple task.
Large Size
This product comes with three roosts, which is the highest number of roosts a product offers on our list. It also has four nests, which provides plenty of room for four to six chickens.
Cost and Value
The SnapLock Formex is the most expensive item on our list. But, it also offers the most amount of space and capacity, therefore, if you have four to six chickens and budget is not an issue for you, then this will be a great choice. It is recommended that only those that live in moderate climates pick this option as the plastic will not fare well in extreme temperatures.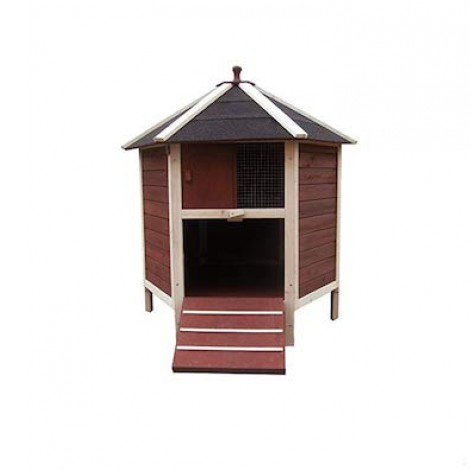 Insect resistant
Rot resistant
Removable room
The ramp can be completely closed
Environmentally friendly design
Might not be suitable for colder climates
Might not be suitable for rainy climates
The Advantek The Tower is made with Advantek Gone Green lightweight rot resistant and insect resistant fir wood. The product design includes a hinged door and a removable room to ensure an easier time cleaning up after the chickens. The sliding window helps to ventilate the area while the ramp can be closed to offer complete containment.
Safe and Spacious
This chicken coop is safe and spacious to be a perfect housing solution for one to two chickens. The auburn colored design helps for the coop to look great and compliment your backyard.
Easy Access
The Advantek Coop features an access door and ramp to make it easier for chickens to come and go during the day while keeping them safely locked up at night. The nesting box roof can also be opened to allow you easy access to the chickens as well as easy maintenance.
Cost and Value
The Advantek The Tower is constructed with Cypress Fir, which is naturally rot resistant and decay resistant. While looking great, this product is placed at the low-mid price range product meaning that it will suit almost all budgets. The environmentally friendliness along with the construction and design, this product is well worth spending the money.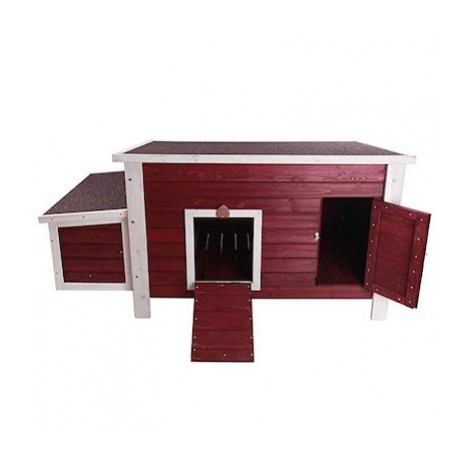 Fairly easy to assemble
The roof does not leak
Rain resistant fir wood (waterproof)
Removable bottom
Instructions are fairly easy to follow
Only providers one nesting box
Only have a single roost
The Petsfit Weatherproof With Nesting Box is one of the few models that does not have a raised platform. The exterior is coated with waterproof paint to make it rain resistant and it's ventilated. This is a great choice for those that are just starting out with raising chickens.
Main Features
This option features two doors along with a nesting box placed to the side for laying eggs. The nest box has a hinged roof for easy collection of eggs. Through the roof isn't made to be opened, if you add hinges, it can be openable.
Size
The coop measures 53 inches x 25 inches x 28 inches, which makes this a great choice for smaller spaces and yards. It's made with fir wood and coated to ensure that it's able to withstand all kinds of weather.
Cost and Value
The Petsfit Weatherproof With Nesting Box is ranked in the mid-high price range from the products on our list. The coop can fit three to four smaller breed chickens and two to three average sized chickens. If you're just starting out, then this is a great beginner option.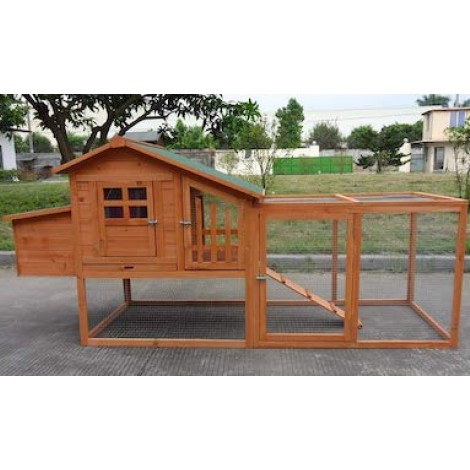 Keeps chicken dry and safe
Fairly sturdy
Easy to put together
Easy to follow instructions
Good quality material
Some reported that it was smaller than expected
Some pieces were reported to be quite sharp
The Chicken Coop Outlet features durable construction that is sure to last you a while. It has three secure lockable doors on the run, veranda, and the coop. There is even a secure latched lid that easily opens for ease in collecting the eggs.
Eco-Friendly Design
The Chicken Coop Outlet has the coop in a green roof and wood finish to give it a more modern eco-friendly look. The color helps it to blend in seamlessly with your garden environment.
Added Features
The coop is coated with a waterproofing treatment to ensure it's longevity regardless of the weather. It also has a ventilation window complete with zinc mesh wire to keep snakes out. It overall has an integrated ground enclosure, nesting area, sleeping area to have three living areas.
Cost and Value
The Chicken Coop Outlet is our mid-price range product ranking right on fifth place. The coop comes with pre-drilled holes also ensure a quick assembly. Overall making the product well worth its price due to the space and quality of build that it offers users.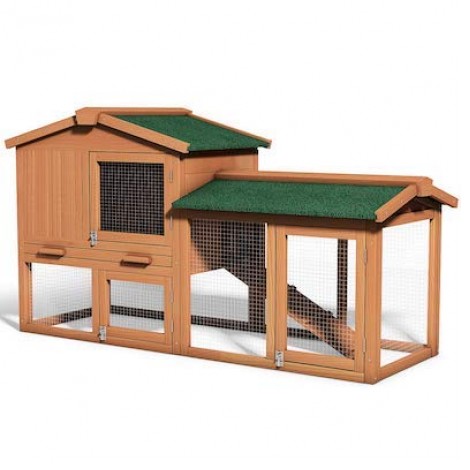 Good ventilation
Easy cleaning
Simple installation
Easy to follow instructions
Easy to retrieve eggs
Size might be small for larger chicken breeds
Smaller than it seems
The Tangkula features a raised perch to help keep your chicken warm, dry, and safe - especially on cold, rainy days. The coop is just as good on hot days as the chickens can easily access their nesting boxes without being exposed to harsh lights. The fifty-eight-inch cage has a ramp, resting box, and nesting box to offer the utmost comfort for your chickens.
Sturdy Construction
It's crafted with solid fir wood for superior stability and strength. In addition to that, the roof is made of green asphalt composite, water-resistant material to give your chickens comfort and freedom to roam around.
Easy Access
The Tangkula has a removable bottom sliding tray to make it easier for you to clean thoroughly along with a non-slip timber ramp to make it easier for chickens to come and go from the raised housing area.
Cost and Value
The Tangkula is ranked in the low-mid price range from the products on our list. With its durability, user-friendly design, and plenty of space, it's well worth its already low price in comparison to other products that offer the same functionality.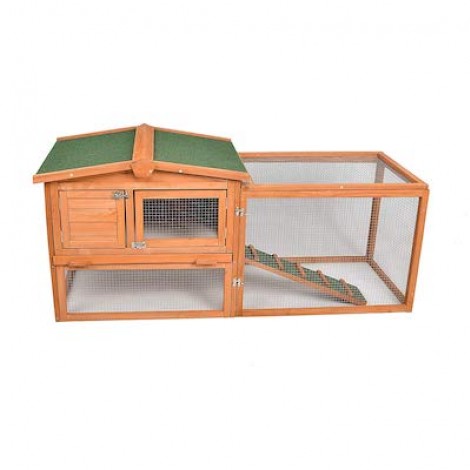 Affordable
Good quality
Sturdy for smaller breeds
Easy assembly
Uv resistant and waterproof
Might not be ideal for larger breeds
Can't be completely sealed off
The EcoLinear Hutch has a two-story design that's great for indoor and outdoor use. It features a weather-resistant asphalt roof with hinges on either side to allow it to open from both sides giving you easy reach inside. The coop has a non-slip ramp along with a pull out rustproof metal tray.
Resistance
This EcoLinear is UV resistant, anti-corrosion, and waterproof to provide it the longest life possible. So, no matter what weather this coop sees, it should be able to handle it all.
Accessible Run Area
This optionhas an accessible outdoor run area that allows your chickens to enjoy the outdoors without having to worry about any attacks from predators and the elements.
Value and cost
The EcoLinear Hutch is the second cheapest item on our list. The design ensures that it's easy to maintain as well as assemble with clear to follow instructions. The deluxe design and construction ensure that this product lasts you for a few seasons to come.
Criteria Used for Evaluation

Breathability
In a standard chicken coop, there should be a minimum of two points of ventilation in the coop. This can be in the form of a vent or a window. Most tend to have these positioned near to room to prevent a direct draught from bowing in [something that chickens usually despise].
A lack of proper ventilation can cause a whole host of problems, so it's important to consider this before purchasing. Even having a sliding window with a screen [similar to that of a house] can make it easier for you to open and close the window whenever the need arises.

Size
The size of the coop is one of the most important factors to consider. Many advertisers will tell you that a box that's three feet by four feet that can hold six chickens but don't be fooled by this. Technically, it will hold 'six' chickens, but not if you want healthy and happy chickens.
A good way to establish how much space you want is that each standard bird should have a minimum of four square foot while a bantam should have at least two square feet per bird. If they have any less space, then that can lead to antisocial behaviors, such as pecking and picking. If the coop is a summer only coop with an extensive run, then it's okay to have less room in the coop as then they'll only be used for laying eggs or sleeping only.
Experts suggest having eight square feet per standard bird in the run (four square feet for bantams). Bantams need less space because they are easier to accommodate as they prefer to fly. To add space for bantam, you can add some perches

Materials
There is a little better than a chicken coop constructed with good quality wood. However, nowadays the market is flooded with coops constructed with cheap wood that will crack and warp in a few months. Before purchasing, ensure that you're searching for the type of timber, it's thickness and waterproofness [weatherproofness].
The standard materials that are used to construct the large majority of chicken coops include wood, plastic, metal, and composite.
Wood
Wood is often the best and most popular choice for a coop due to its strength and durability. However, the only scenario where this wouldn't be the ideal choice is if you lived in an area that had a red mite problem.
Plastic
Plastic coops are growing rapidly in popularity. They are durable, easy to clean, lightweight, and disinfect. They are the easiest to keep red mite out of. As they are lightweight, they might be a problem with under extreme weather or very strong winds [can be solved with anchor points].
Metal
Metal is rarely used for smaller chicken coops as it gets too cold in the winter and too hot in the summer. But, it's often used in larger chicken houses. A great way to use metal is to add it onto the roof over a plywood sheeting. It's easy to install, less maintenance, and lightweight than classic asphalt shingles.
Composite
Composite materials involve a mix of different products, such as wood and plastic mix. These are gaining popularity for its anti-pest, anti-mold, and anti-rot construction. They are quite heavy but they are very strong and durable.

Protection
There is a common misconception going around that chickens living in residential [backyard] farms, do not need protection. This couldn't be more wrong. While coyotes are a far-fetched proposition, there is a very real threat from dogs and raccoons. Owls and hawks are also a threat as they will snap a chicken when they see a chance.
The coop should be safe and secure to prevent any predators from gaining access to the chickens in any way possible. You should also try to cover up the windows to protect them completely. Other than this, they should also be protected from the varieties of weather.

Features
The most desirable features are ones that help to make it easier for you to care for your chickens. These features include easy to clean, the process of egg collection, and nesting boxes among others.
It's to no surprise that chickens are inherently messy. The coop will be covered in dirt that's tracked inside, feathers, and bird droppings. It's in your best interest to try and keep the coop as clean as possible. So, try to look for a coop that allows you to access the inside easily.
Many coops have multiple points of access, including a large door and a removable roof. The coop should also allow you to remove the perches and nesting box(es) to allow you to hose them down from time to time.
In terms of egg collection, try to look for coops that have access to the nesting boxes from the outside as that'll allow you to collect eggs on a daily basis without opening the coop and disturbing the chickens.
The nesting boxes are on the most important features as that's the place where your chickens will lay the eggs every day [aside from the winter months]. The chickens need a cool and dark place that is not disturbed often. The box should be placed lower than the perches to allow chickens easy access at all times.
Expert Interviews & Opinions
Most Important Criteria
(According to our experts opinion)
Experts Opinion
Editors Opinion
Users Opinion
By Default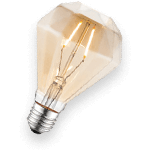 Quality of Materials
Certain areas and locations are likely to see more extreme weather, such as heavy snow, so it's important to have a durable coop that is able to withstand the force of several seasons.
A lot of the local farm supply stores have coops that look cute and are aesthetically pleasing, but they typically have poor craftsmanship and use low-grade quality materials while being charged at high prices.
When you're looking at coops, pay close attention to the material used and craftsmanship shown. Sometimes it's better to get one that works well than one that only looks good.
Pop Door Style
Chicken coops need an access door - it's one of the features that does not change. Many of them have a big back door that needs to be propped open. Nowadays, there are automatic door openers that allow you to automatically open the door without having to prop it open. These are usually an investment piece, but allow you to open the door at a certain period so that you don't have to go out and do it every time.
Other Factors to Consider

Ground Feel
In the U.S., many chicken coops are manufactured by the Mennonite or Amish community. As the majority of those communities are farmers, they know what's required from a coop, meaning these work very well. These usually have top class workmanship, meaning it will not fall apart after just one season.
The prefab coops usually come from China, are generally cheaper, and look good, but they often lack the standard of work.
It's actually quite simple to check the quality of coop yourself by looking at things like…
Are the vents and windows protected with hardware mesh?
How thick is the wood? [should be at least ten millimeters)
Are there gaps where the boards meet? [will not be ideal for colder climates]
Are the hardware and hinges rust proof?
How sturdy is it?
Does it rock and shake if it's pushed against?
What sort of lock does it contain?
If it's plastic, what type of plastic is it?
Will it keep gnawing predators away from your birds?
Some parts can obviously be replaced, such as the locks, hardware, and hinges, but if the basic structure is lacking then you're simply wasting your money.

Safety Hazards
The main safety hazard in that arise in chicken coops is the inclusion of finishes and/or preservatives in the materials used to construct the coop. Ideally, you want a coop that is either unpainted or uses a non-toxic finish.
Coops that are made in Far Eastern venues [i.e. China, etc.], have a higher likelihood of being finished with toxic chemical preservatives which are typically banned in the UK and the US. The preservatives fumes can then leech out of the wood and cause your chickens to inhale them continually. Chickens can also peck at the wood and accidentally ingest those small amounts of toxins within the wood.
As nothing is usually outwardly stated on the packaging, you'll need to make a point to ask about any finishes that have been applied to the wood. Lumber that treated under US Standards will be okay and is recommended as a moisture barrier. On top of that, you can place standard pine wood or similar materials.

Portability
There are two types of coops, mobile and stationary. If you want to avoid your garden reduced to bare earth, a chicken tractor is an ideal choice. A chicken tractor allows you to move it every few days to avoid bald, barren spots from appearing in your garden.
When choosing a tractor (ark), you should look at its weight and ease of mobility. If you already have an ATV, riding mower, or some other means of moving the structure, the weight typically does not matter. But if you're going to have to manually move it around, then weight matters a lot. If you're worried about cleaning the floor of the run, you can try paving a stone floor or lay concrete to make it easier for you to clean and rake occasionally.

Value
The price range for a chicken coop can vary greatly due to their size and brand. You can buy a chicken coop for as less $60, but you might not want to. The cheaper the coop is, the less 'frills' it has in it, making it the absolute basic version possible. Generally, coops range in price from $60 to $3000+, depending on what you're looking for.
Many of the mid-price range coops are great at doing their job for keeping your chickens secure, dry, and warm. Most of them also come with a pen enclosure which fits around the coop to provide an extra level of security. For a mid-range coop, you'll be looking at spending $200 to $750. Some users might also want to go into constructing the coop themselves, which is definitely more time consuming but allows you to fully customize the product.

Weather Resistance
Many, if not all, chicken coops are weather resistant or have some sort of waterproof coating done to them. If it does not state that it is weather resistant or waterproof then it's best for you to look elsewhere [unless you're putting it indoors].
Regardless of whether you live in a cool and damp area, a desert, or a temperate area, the climate will affect the type of coop that you need along with where you should place it.
For example, if you live in a place where it gets blisteringly hot by the afternoon, then you should place the coop in an area where it's in the shade from the worst of the heat.
If you live in an area that gets cold, Northern winds, then try to set the coop up against a building or wall to mitigate the winds so that your chickens stay warm in the cooler months.
Frequently Asked Questions
q:

How many chickens do you plan on keeping?

a:

If you're buying this before you have your chickens, then you need to plan ahead on how many chickens you're looking to keep. If your planning on getting chickens to get eggs, then three to four chickens will give you as much as seven hundred eggs a year. That number does vary from breed to breed. For example, a Rhode Island Red lays as many as two hundred fifty eggs a year.

You'll also want to think about the future a little bit. So, as the hen ages, the number of eggs will continue to decrease year by year. The number of chickens then determines what spice coop you need.
q:

Do I need to do anything before getting chickens?

a:

You'll want to be aware of any restrictions that your town or county has regarding keeping chickens on residential properties. Some disallow roosters [due to obvious reasons], while others have a limit on the location of the coop, the size of the coop, and the size of the flock. Ensure that you continually keep updated on these restrictions.
q:

What do chickens in my care need?

a:

The most basic level of this answer would be the following three factors, those being protection, food and water, and space. They need protection from other predators to allow them to freely move around [in a designated area] and well as protection from the weather. Just like any other living being, chickens need food and water to survive.

Maybe think about investing in an automatic feeder to help save you time. Lastly, they need space. Chickens need an estimated 1.5 sq. ft. of space inside of a coop as well as roughly 8 ft. on the run. The more room to move about, the happier the chickens will be.
q:

Is there any way to get around spending so much money on a coop?

a:

If you're serious about raising chickens, then it will be an investment. You'll also need to care for them properly. There are cheaper models available that can be bought for as low as $60, but they often do not have much other than the bare minimum.

Another tip is to build the coop yourself to your requirements. If you are not good at carpentry, try to find a friend or family person who is to help you out. Otherwise, you can even buy a garden shed and convert that into a coop for not too much work. You will need to add a pop door, perches, and nest boxes. The products on our list all come in a range of price points, so you're sure to find one that suits your needs and budget.
Subscribe to our Newsletter