Best Predator Calls Reviewed & Rated for Quality
In a
Hurry? Editors choice: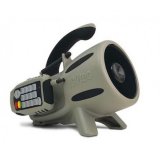 Test Winner: Icotec GEN2 GC300

Hunting down predators always come with some extra adrenaline rush. Usually, it's because you're trying to beat your target at their own game. But, that also means you bring in you're a-game and some extra equipment.
The handiest tool you will need is a predator call. Not many
hunters
have the rare gift of mimicking predator sounds without some help from technology. Poor imitations will not only expose your location but will also have you roaming in the woods all day without any success. Seeing how important this is, you should take some time to buy the best one for your application and understand what it has to offer fully. But, you're in the right place and we will help you sort out the different options and review some of the best ones for you.
Standout Picks
Criteria Used for Evaluation
Effectiveness
Considering the conditions that the device will be used in, quality and effectiveness are paramount. In any case, there's no need to spend money on something that will break down in no time.
When considering quality, you should look at the overall structure of the unit and if it comes with a remote, you should also check on that. The warranty period is also a good yardstick to measure the quality of the device.
Durability
You want the most value for money and, to use your selected device for as long as possible. A good device should be designed to survive the harsh outdoors for a long time.
It should have a sturdy and well-built casing that protects the components inside and should at least handle a few drops of water in case you're ambushed by the rains while hunting.
Size
When you leave for the hunt, you have plenty of items you need to carry. You need to carry water and food, camping equipment if necessary, bows, arrows or rifles among others. The last thing you want is an extra-large device that takes up all the space. The size should be both practical and compact. It should get the job done while taking up as little space as possible.
Battery Life
If you opt for a digital option, battery life is an important factor to consider. If it's too short, the batteries will run out before the device has done its job. On average, the batteries should last a few hours but this depends on the features and power of the unit. It's always advisable to carry an extra set of batteries just in case.
Brand
Old brands have built a reputation and have had numerous researches to build their devices. The more reputable the brand the better. If you're not sure about what to go for, sometimes going for the most reputable brand always seems to be the right decision. You rarely ever go wrong.
10 Best Predator Calls
First on the list is a one of a kind option that has all the features and amenities that you will need for a successful hunt. It's neatly built and compact so you don't have to worry about giving up too much space on your backpack.
Its range of features will not only give you the edge against predators but also allow you to even take advantage of the night cover. Every serious hunter who is looking to dramatically increase his success in the woods should consider getting this product from Icotec.
Remote Control
The device comes with remote control. It makes it easier for you to set up the sound equipment to where you would like the predator to show up for a kill shot. What's more, the remote has a 300-yard range which means you stay at a safe distance as you wait for your prey to show up.
Diversity
Usually, you have only a few sounds which can limit the type of animals you can attract. This particular device has quite a few options that you can easily juggle between depending on the kind of predator you're targeting. The sounds range from jackrabbits to birds like woodpeckers and crows and from raccoons to coyotes.
Cost and Value
For the quality and features this device offers, you should expect to pay a premium for it. It has plenty of benefits that it offers and is definitely worth giving a chance. Even though it is not a budget option, it definitely earns its stripes with the diversity and edges it gives you in bringing your prey closer. It is the ultimate tool for any hunter that takes life in the woods serious.

Primos has been a reliable brand for decades among hunters. They have constantly improved their equipment and the 3756 Alpha Dogg is a testament of the work they have put in providing quality devices of this nature.
It is uniquely designed to not only mimic the animals but also camouflage in the surrounding. It is sturdy and made from quality materials and easily portable. It has been rigorously tested to withstand the demanding nature of the woods and perform to the highest standards at all times. To make the device even more effective, it packs a few unique features that will prove very efficient and valuable in the hunt and give you a much-needed edge when hunting for your prey.
Directional Speakers
Most devices have the speaker in one direction. That means when you send out the noise, the sound travels further in the direction the speaker is facing. With directional speakers, you can increase the area you send out the sound to in all directions and have better chances of luring the predator to your location. The speakers can rotate so you don't have to keep moving the device around.
64 Mastered Digital Sounds
With the Primos 3756, you are not limited to the predators you can hunt. The device has over 60 digitally mastered sounds to mimic a variety of sounds from puppy noises to mating noises for a variety of predators. It helps to increase the number of predators you can hunt and can also help you take advantage of others that happen to stray into your hunting territory without any additional equipment.
Cost and Value
The Primos 3756 will cost you a handsome buck but, it makes up for the financial strain by providing you with a rich collection of features and diverse sounds that translate into more successful hunts with less struggle and waiting time.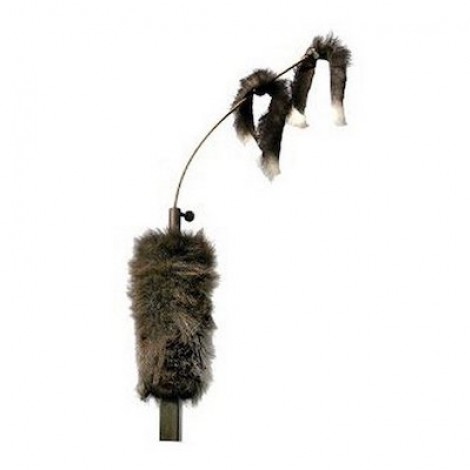 When dealing with smart animals like coyotes, the e-caller is not enough. You have to get a little creative. In most cases, such animals will always look for visual confirmation of the sounds they are hearing. This is where the decoy comes in. it makes it easier to lure the predator and give them something to concentrate on as you prepare for the shot.
The Mojo Outdoors Critter is as real as they come. It is irresistible and very effective. What's more, you don't have to worry about carrying a lot of dead weight to stand. It is lightweight and compact so you don't have to give up more space than necessary. Other than the audio features it also features realistic movements to attract even more predators.
Live Action
The Mojo Critter decoy is designed to make it irresistible for predators to notice and get interested. It is incredibly efficient and allows you to even make slight movements as you adjust your aim while the predator is locked on to the decoy.
Lightweight and Compact
You already have quite an arsenal even without the decoy. You have the rifles, binoculars, and other equipment. The last thing you need is another larger than life and heavier than the world equipment to break your back all day. The MOJO Critter Decoy is light-weight and compact. You won't even notice it's there.
Cost and Value
A decoy is not the same as the other devices we've reviewed so far. With that said, decoys are usually more affordable and this one is no different. It's perfect for hunters who are looking for a reliable decoy that they can buy even on a budget. The price is very reasonable and affordable. Because of the efficiency of the decoy, you won't even feel the pinch of having to add it to your hunting equipment.
4

. Primos The Third Degree


Primos The Third Degree is not your average all-in-one. It is narrowed down to only create a super-high pitched raspy cottontail distress sound. Because a lot of focus has gone into mimicking only one animal and one situation, you can rest assured that the sound is realistic and very high quality.
The device might not have all the bells and whistles that come with other options. But, it does get the job done very efficiently for hunters looking to take down coyotes and more so the skittish type.
Lightweight and Compact
One of the benefits of not having many sounds crammed into one device is that the unit can remain small, efficient and lightweight. The reduced size doesn't affect the performance of the device and ensures you don't carry a lot of dead weight on the trail which can be punishing if you have to carry the equipment around the entire day.
Manual Operation
There are a variety of benefits that come with this type of product. But, with all those benefits, there is always the risk that the device might give out at any time. The Primos 372 is operated manually operated by blowing. That means you always have a reliable and dependable tool. It makes for a great fall back plan in case the other varieties fail. What's more, it's simple to operate and manipulate.
Cost and Value
The Primos 372 is very affordable. It's an ideal option for hunters who have to manage a very tight budget but are looking for equipment that is going to be efficient and doesn't scale back on the quality. It's a simple but effective tool and one that is worth every penny that you're going to pay for it. You don't have to worry about mastering the codes or numbers. All you have to do is blow it hard and it does the rest of the work.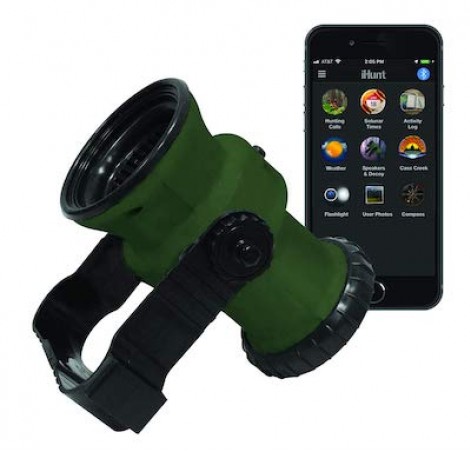 For suckers of technology who are looking to add a little spark and assistance in hunting predators, this might be a great and budget-friendly option to consider. With the addition of an app, you not only get more options but more features and ease of use.
This is not all about getting your predators to show up for the kill but, it's also built to survive the harsh outdoors. It is built to be easy and fast to set up and work and you can even hang it on the trees when it gets a little wet.
Weather Resistant
You never know where the hunt will lead. You need to be prepared at all times in case the weather changes on you. Your device shouldn't be the reason why you leave the hunt. This particular one makes sure of that by being weather resistant. It will stick up to any weather and the innovative handle also allows you to hang it on trees where it might not be as wet.
Wide Range of Animals
The gadget has over 750 sounds from 59 different species. No need to carry multiple devices. You just need one that will meet most of your needs with ease. What's more, unlike most options with multiple sounds, you don't have to worry about programming. You only need to use a simple and intuitive app that makes it easy for you to get out all the noises you're trying to make.
Cost and Value
The iHunter is very affordable. It is a budget-friendly device with loads of value built into it. For the price, you get diversity in the number of sounds and set up the device and quality construction that will stand up to the weather. It's a great option if you don't have much to sacrifice but still want something functional.

When hunting, you want to be as mobile as possible with your positioning. That's why having a device that comes with a remote is a top priority for most hunters. This unit is easily programmable and can pack up to 200 sounds.
It also makes it easier for you to send out your noises. You can organize them by function and the interface is easy to navigate. It also comes with an external jack that you can use to connect to other external speakers. This expands your range and makes it easier to lure in the kill.
Remote Controlled
There are a lot of benefits that come with having a remote-controlled device. In addition to the flexibility and advantage in positioning it gives you, this particular one come with the easy to see the screen that you can easily use to send out commands.
FOXBANG Activated
This is a unique feature which will come in handy during the hunt. With this feature, the device switches to play up to 5 pre-set functions after you have discharged the firearm. You don't have to be worried about playing the sounds so you can have your arms free and your mind focused on the prey that steps into your focus lens.
Cost and Value
The price of the FOXPRO Inferno is reasonable but not budget-friendly. You must be willing to spend a little more to get quality and functionality. Even though you might have to spend a little more, you get value in a diverse, reprogrammable device that will be an absolute asset in your hunting trips.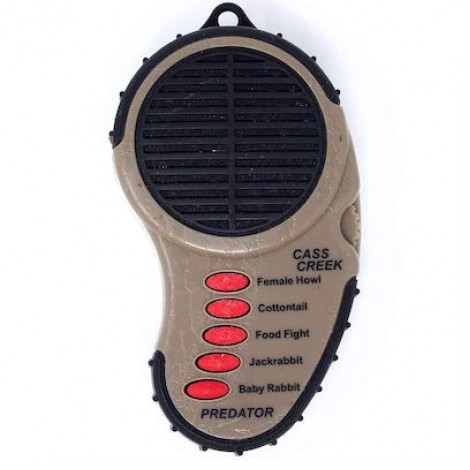 If your hunting bag is filled to the brim this little gadget will save the day. It is a compact, easy to use and handy device that will comfortably fit into the most suffocating space and give you a real chance at bringing home a kill.
Other than being small and compact, the device is also pretty easy to use. It comfortably fits the palm of your hand with buttons clearly labeled with the different sounds easily accessible at all times. Even though it's quite small, the sound remains good quality ensuring you have an effective device with you on all your hunts even when you have limited space.
5 Quality Sounds
It might not have the hundreds of different sounds that some of the other devices but, the five it has have been carefully mastered to provide you with a real chance when hunting. The five sounds are the basic and most important ones that get most predators to react. These include the coyote howl, cottontail rabbit, puppy, fawn distress and jackrabbit distress.
Simple and Ergonomic Design
You don't have to worry about giving up too much space or carrying too much weight while on the trails. This little device will fit almost anywhere including in your pockets or the glove compartment. It has an ergonomic design that fits comfortably in your palm making it easier to operate.
Cost and Value
When deciding to go with this product, you should be prepared to lose some good amount of functionality and features. However, that also means that the price is very manageable and perfect for hunters who are only looking for the bare minimum features without the bells and whistles. It is one of the cheapest options on this review list but, that doesn't mean you don't get value for your money. It provides quality sounds in a small and portable device.

With this device, you get the most bang for your buck. It comes with an effective decoy which maximizes your chances of catching the attention of your preferred game. it is an extremely diverse product made from high-quality materials and one that will quickly become you're an important part of your hunting expeditions.
If at any point you change your geography and go out to areas where their predators are different you can use the USB port to reprogram the sounds and make them effective for your new topography. With this handy device, you won't have to worry anymore about the long waits in the wild with no catch.
Fox Bang
Fox Bang is a unique feature that comes with most FOXPRO devices and could potentially give you a much-needed edge when hunting. Using this feature, the unit will play a sound that you had previously set when you discharge your firearm. It allows you to keep your focus and your aim on the predator with minimum movement.
Dual Amplified Speaker System
No matter how far the predators are, with this system, they will hear you. The speakers are extremely powerful and with the dual amplified system, the sound travels even further and doesn't get distorted when you play the high-pitched sounds.
Cost and Value
All these features and quality don't come without a price. This FOXPRO HammerJack will set you back a handsome price but, it is a must have tool for every serious hunter. It's the range of features make it valuable and a must-have and totally worth the price.

9

. Western Rivers Pursuit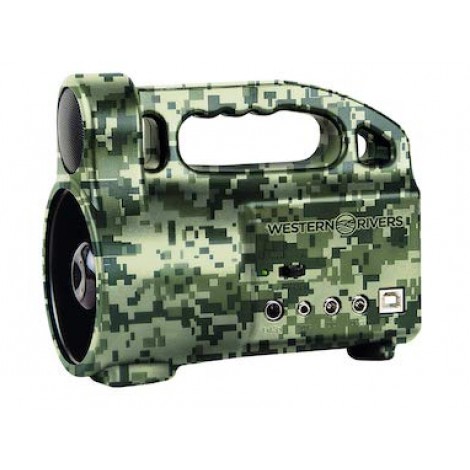 This device is all about quality and diversity. It packs about 400 wildlife sounds and has a camouflage casing that is perfect for the jungle.
It's a great option when you're not looking to break the bank but you want just enough features and functionality to improve your hunting and land more kills. This unit gives you that much-needed edge.
Remote Control
Not all products have a remote control that steals the day. But, this one does. Its remote control has a 250-yard range that allows you to operate the unit without giving your exact location away. The remote control has an LCD that glows in the dark making it easy for you use even in limited light.
Sounds
This device can hold up to 400 wildlife sounds. It has a 1GB storage capacity that can hold even more sounds. If at any point you find you need a sound that is not already in the system, you can quickly get the additional sounds from ORION online library at no extra cost.
Cost and Value
Despite the interesting and functional features, this product does not cost as much as you would expect. The price is reasonable especially given the quality of the device and the wide range of features you get to enjoy when you purchase it.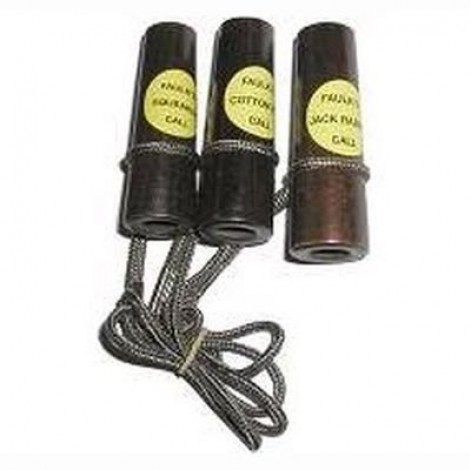 For the type of hunter that likes to completely disregard technology and blend in with nature, this is a great option for you. It is an interesting option for great hunters who have mastered the art and only need a little help to perfect some them.
The beauty with this set is that you don't have to worry about running out of batteries in the wild or having to carry extremely heavy and chunky sets to your hunt. They are simple, lightweight and effective.
Manual Operation
The three pieces are tuned to mimic the natural sounds of jackrabbits, cottontails and a squeaker. All you have to do is blow through them and it works. They are incredibly loud and the sound is very natural.
Pocket Friendly Price
This is a perfect set for users juggling a strict budget. It might not have all the glam and glitter that comes with the digital varieties, but, it gets the job done.
Cost and Value
It is worth considering if you don't mind giving up the features that come with digital devices. Even though the set is manually operated, it is very effective with natural-like sounds.

Subscribe to our Newsletter