Best Rain Barrels Reviewed & Rated for Quality
In a Hurry? Editors choice: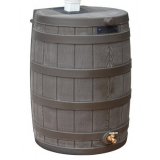 Test Winner: Good Ideas Rain Wizard

Long ago, rain barrels were used to collect rainwater that families would then drink. While we don't suggest anyone do that today, having a rain barrel at your home is still a good idea because of the water collection and other uses for it. With the
rainwater
collected, you can water your plants and
lawn
with it. And, by using this water instead of turning on a tap or hose, you can save on water bills and water consumption. We're sure you're going to find the barrel that works perfectly for any
lawn
or garden. Simply hook it up, let nature do her thing and in no time the
water
that's keeping your lawn green and your vegetables and herbs hearty will be the same water that falls from the sky.
Standout Picks
Criteria Used for Evaluation
Size
Size matters with a rain barrel. You want to make sure that you have a large enough one that it collects enough rainwater, but also so that it is not constantly overflowing (which is counterproductive to collecting the rainwater in the first place). Another reason to pay attention to the size of the rain barrel is that depending on where you live there may be rules and regulations to only having one barrel and/or the capacity it holds.
Safety Hazards
Pay attention to the safety measures that your rain barrel has. It's a good idea to get one that has some type of sealed lid on the top. This is because you don't want your kids or pets (or other animals) standing or crawling on top of the barrel, potentially falling in and getting trapped. Open rain barrels pose a risk of having small children and animals drowning.
Protection
This one is similar to the safety hazards, however by protection we mean something like a mesh screen filter. Having a mesh screen filter in your rain barrel will help capture any debris or gunk that may wash in from your gutters or elsewhere. Although you won't be drinking this water, it is easier to use the water for your yard or garden without having to scoop out debris before you do so. A screen filter will do that work for you.
Durability
Making sure that you get a durable rain barrel is key. You want to make sure that the barrel you choose can hold enough water, but that even if it gets really full, say from a really big rainstorm, that the barrel won't crack or bust open. If this happens, you will have some flooding in your yard (depending on how full the barrel is) and that can cause damage to your grass or plants.
Materials
Similar to a durable barrel, you want to make sure that the materials are of good quality. This helps with durability but also this will help you avoid any things like rot. That is why many barrels are made of hard, durable plastic rather than wood that can mold and rot over time, causing the barrel to break.
10 Best Rain Barrels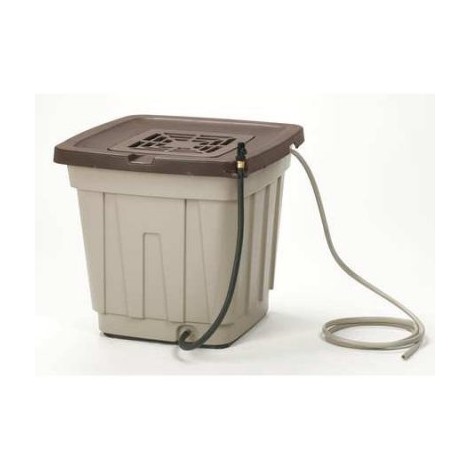 The most economical barrel on this list this is a no-frills way to save rainwater but it also has a few standout features that make it a great choice for not much cash layout. The resin cast barrel holds 50 gallons of water just like the big boys but in place of a brass spigot, the Suncast has a hose that allows easy filling of buckets and can also be attached to a hose. It's a great feature. Beyond the word, the barrel doesn't really apply it's more like a rain bin, so while it doesn't have the aesthetic appeal of the faux wood barrels on our list this product gets the job done.
Locking lid
Instead of a small hole for water drainage, the Suncast has a locking lid with a screened hole and the water simply runs from the gutters to the barrel with almost all of the debris staying outside the barrel.
No assembly required
Another selling point is that the Suncast comes ready to go to work out of the box. Simply lock on the lid and place underneath the nearest gutter and start putting rainwater to its intended lawn care purpose. Clean up and emptying is just as easy, simply pop off the lid and empty the bin out and it's good for winter.
Cost and value
One of the cheapest entries the Suncast gives back in ease of use what it may lose in aesthetics. It's square so will sit right up against a wall and it isn't as tall as comparable barrels so it's not quite as obtrusive. The addition of the hose extension and the easy to use shut off valve make this a great choice.

2

. Good Ideas Rain Wizard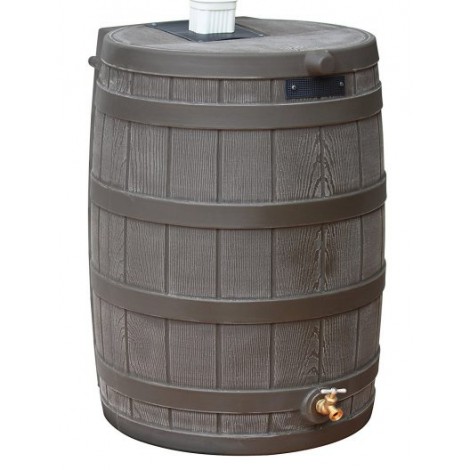 The Good Ideas Rain Barrel is our first choice for a few reasons. A few of our favorite features: It holds a solid 40 gallons of water and also has a screen air hole to keep insects or debris out of the tank. The spigot is low on the barrel for maximum water pressure, and it has a flat back so it fits snugly against the walls of the house. the high-quality brass spigot is also built to last, as is the barrel itself form molded with a weather-resistant resin that shouldn't crack over time.
Linkage System
One of our favorite features is the linkage system that can turn a single barrel into a network of barrels and enough water to cover almost anything that needs watering. The system is sold separately but promises easy installation for the water-hungry gardener.
Rotational Molding
These barrels are built to last, the tough resin material is rotationally molded as one solid barrel. Not only does this get rid of any potential leaky seams but it also makes the barrel thick enough to withstand hot sun or long winters.
Cost and Value
This rain barrel doesn't come cheap but think of it as an investment. Over time this barrel is likely to pay for itself in a few years, through lower water bills. And also, it's built to last and for the environmentally conscious can be made to order with 100 percent recycled resins.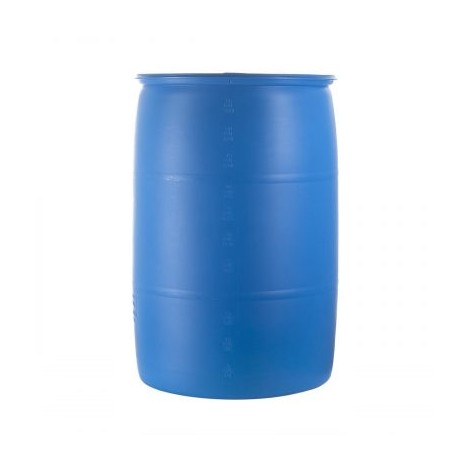 This is one of those products that hopefully won't be of much use. This isn't a rainwater collector but a barrel specifically designed to store drinking water for emergencies. They come with depth markers and open with a bunghole wrench so extra tools will be necessary. They are food grade quality so they'll safely hold water for a long time with a few treatment additives to extend water freshness. If emergency planning is important these barrels are the way to go.
Sturdy construction
A single formed storage container these aren't likely to lea, and they'll stand to a fair amount of abuse without splitting at the seams. The bungholes on the top are also sturdy and while they require special tools to open, they close securely to stop any leaking and will stay closed if the barrels fall on their side.
Made with food quality plastic
Food quality plastic is the way to make sure none of the plastics in the environment are going to leach into your emergency water supply. They'll need good cleaning when they arrive but after that will hold water for a rainy day.
Cost and value
The cost is all over the board but at the low end, this is one of the most affordable barrels in our collection. The depth markings and sturdy construction only add to the value as does the top openings which are built to last and stay put once in place.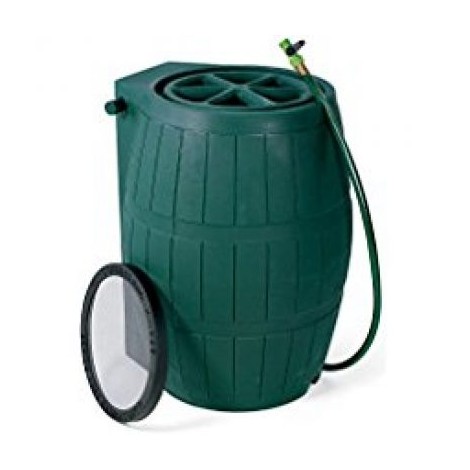 One of the things that set the Achla green rain barrel apart is a linking kit that comes included with every barrel. That's a nice change as it allows you to easily expand your holding capacity without having to buy an extra linking kit. Add to that the easy fill hose that comes from the bottom spigot and the removable screen and we think this is a product that will be a huge help in any garden. It doesn't look like much but hopefully, your garden will be as green as this barrel and it'll blend right in.
Linking kit included
this is a nice add-on and one we haven't seen in any of our other products yet. Linking barrels becomes as easy as simply buying a new barrel, no other kits required. It may not seem like much but taking a potential complication out of any process gets a thumbs up from us.
Removable debris screen
A removable screen is a nice addition as it makes for easy clean up when it comes time to empty the barrel for winter or if its time for a late summer refresh.
Cost and value
A bit pricey but the Achla has almost all of the bells and whistles that you need to get a rain collection system up and running in no time. The square back makes sure it sits firmly against any wall space, and the removable debris screen makes for easy cleanup. A solid entry in our top ten even with the higher cost.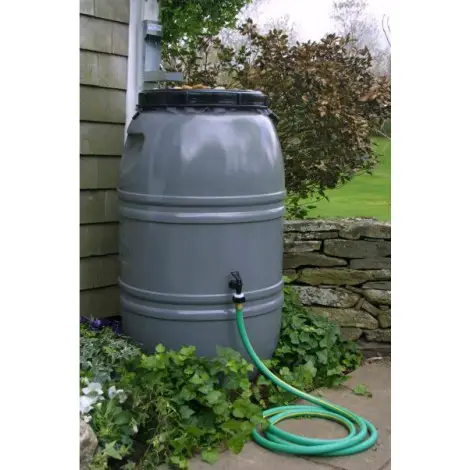 A durable entry into our list, this 65-gallon capacity barrel has a wide lid and small holes on the wide top to allow water to drain into the barrel. Remove the lid to install included mosquito netting to keep insects and small debris on the outside of the barrel. A unique feature on this barrel is that there are two entry points for the spigot a low point for attaching a hose and a higher point that works great for filling buckets. It's linkable with other barrels but the linking kit is not included.
UV protected
This food grade plastic barrel is built to last with UV resistant polyethylene that stands up to the sun or the cold. And they're built in the U.S. from recycled shipping banners.
Adjustable spigot heights
A unique feature on the Great American rain barrel is that it comes with two available spigot heights. The first is located close to the bottom of the barrel to allow gravity to do it's the best work and keep up the water pressure. 14 inches off the base is another spigot that's great for filling up buckets. An incredibly useful feature that sets this barrel apart from the competition.
Cost and value
Priced in the middle range this is a solid quality product that should last season after season. The adjustable spigots are a great feature but it does not come with a linking kit which is a great plus for those entries that have that feature. Still, this a great product, easy to install and built to last.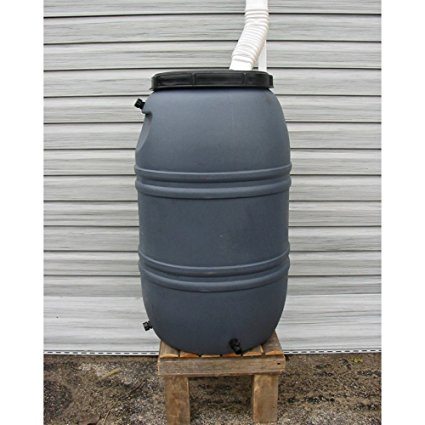 A solid workhorse of a rain barrel the Upcycle holds 55 gallons of collected rainwater and hold it until it's needed for watering. The lid is designed to be easy on and off and there's a central hole that will fit most downspouts easily. The Upcycle barrels are made from old food storage containers (called Food quality type containers) that have been retrofitted to serve as rain barrels, so this is their second life. The barrels also have an overflow spigot on top as well as two spigots on the bottom that will fit a hose or allow easy linkage to other barrels.
Reconditioned barrels
These barrels are getting a new lease on life as they are all reconditioned barrels that used to be used in the food industry. These food quality type containers are tough but for the environmentally conscious maintain a low carbon footprint not only in their products but in their goal to lower water use.
Removable lid
The easy on/off lid has a hole for a downspout but also a screen to keep mosquitoes out of the water. The top is easy to remove when it comes time to put it away for the winter.
Cost and value
Not as expensive as some of our other entries but it comes equipped with most of the attachments that are standard on more expensive models. the overflow spigot, linkage spigot, and easy fitting hose connection all make this a nice entry into our best of the category.

7

. Eagle 55 Gallon Black Drum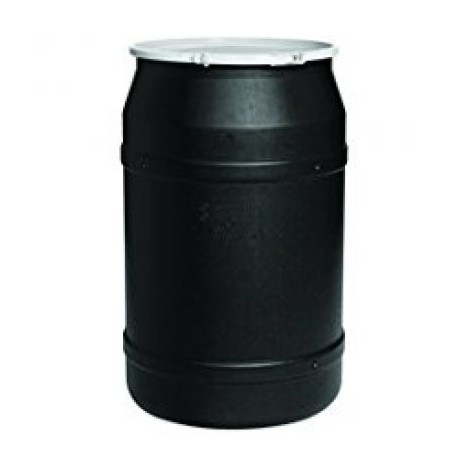 A simple no-nonsense barrel with hundreds of uses. It can be easily converted into a rain barrel but is also U.N. certified which means it can be shipped all over the world and should keep anything inside dry and safe. The plastic ring locked lid ensures a tight seal for storing drinking water if that it's intended use. There are also markings on the barrel that show exactly where to drill for a spigot and downspout holder if that's the ultimate goal. A multi-use barrel that's tough and versatile.
Multiple uses
As the bill, this is a barrel that comes without many frills but is meant to be adaptable. It's food quality so it can be used to store drinking water. It meets worldwide shipping requirements so it can serve as a packaging container without running into any customs trouble. And it has markings etched into the barrel that lay out exactly how to turn it into a rain barrel.
Locking barrel
The lid is plastic but has a strong locking mechanism that will stay in place once it's engaged. A locking small metal bar keeps it closed once it's in place and there's even a hold that would allow the insertion of a small padlock in case extra security is needed.
Cost and Value
A bit pricey for just a barrel but if it's storage that's needed, then this just might be what you need. Its adaptable nature makes it a great choice for anyone who's not quite sure which project to tackle first.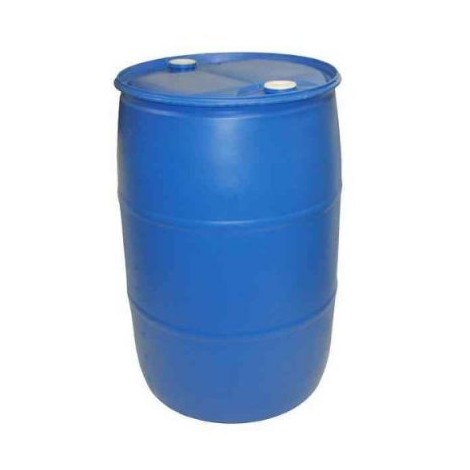 Another water storage barrel that could come in handy for emergencies. Like the other entry on this list, it holds 55 gallons of potable water for when it's needed. This product by ER Emergency Ready also has all the accessories needed to make sure the water stays drinkable for up to 5 years along with a siphon to get it out of the barrel. It's all included in one pack but it is sold separately. Still, if planning for trouble is your thing this might just be the ticket.
BPA free
An important feature in this day and age especially when it comes to the long-term storage that this barrel is meant for. The barrel is also made of an F.D.A approved resin so it will keep your water safe and ready to drink with just a little care.
Sealed and secure lid
Other than two small sealed openings this barrel is one complete product. That means fewer seams to potential leak and fewer places for contaminants to seep in. The only way in or out is through two securely fastened cap holes in the top.
Cost and value
One of the cheapest products on our list but also this is a product that really has one purpose to store water. And it does that very well, and with the add-on accessories, count on this barrel to hold drinkable water for up to 5 years.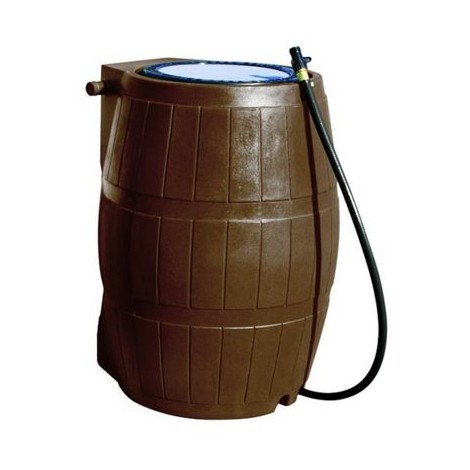 A bit of a unique entry the Yimby is all about ease of use. The top is a large mesh screen that allows for easy set up as placing the downspout is as easy as just putting the barrel anywhere underneath the water flow. There is only a 45-gallon water capacity, a bit on the low end but it comes with a linking kit included so that makes it easy to expand your rainwater network. Another plus, the barrels are constructed of BPA free polyethylene in case you're worried plastic leeching into the water supply.
Linking kit included
We can't stress how important linking kits are for gardeners or even just the environmentally conscious because it allows you to expand the amount of water you can save by just buying another barrel, and not having to also buy a linking kit.
Spoke and wheel pattern for safety
The large screen makes installation easy and that's important but the spoke and wheel pattern in the top of the barrel is an easy way to make sure curious kids or even small animals can't make their way into the barrel. Even if the curious, or the thirst were to get past the screen
the spoke pattern makes it impossible to get anything other than a hand into the barrel. A nice safety feature.
Cost and value
The Yimby comes in low on the cost scale and those fewer dollars go a long way. The mesh screen, the overflow spigot and especially the included linking kit make this a good bet if there is more rainwater collection in your future.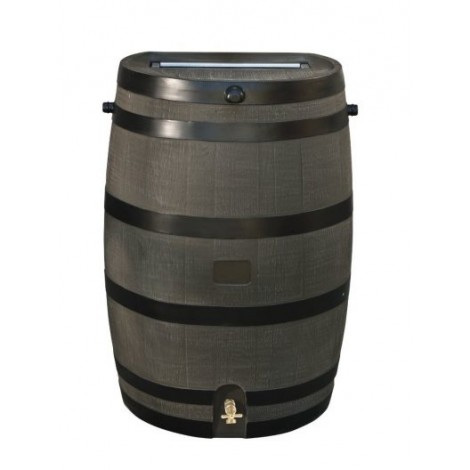 This is another great option for rainwater collectors. It has the flat back that pushes the barrel right up to the wall and an aluminum screen to keep the bugs and the leaves out. It also has a stand (sold separately) that allows a much easier way to fill buckets if necessary. It has a 50-gallon capacity and is also capable of linking with other units for even more water savings. It also looks sharp with faux oak styling molded into this giant weather resistant barrel.
Front side overflow
This simple feature is important for keeping water away from house walls when there's more water than a bucket. As a normal roof can produce hundreds of gallons of water a runoff feature that whisks water away from the walls is vital.
Molded barrel construction
Molded in one solid form this barrel is guaranteed to stand up against heat, or cold and resists fading, cracking or breaking. An authentic oak finish is also molded onto this barrel making it a nice looking addition to the yard.
Cost and value
These barrels don't come cheap but again they do tend to pay for themselves over time thanks to savings on your water bill. Also, the solid construction is going to make this barrel a great long term bet for keeping your lawn in rainwater.

Subscribe to our Newsletter