Best Camelbak Water Bottles Reviewed & Rated for Quality
In a Hurry? Editors choice: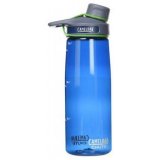 Test Winner: Chute 32 oz.

Everyone knows the
importance of drinking water
and keeping up with your daily water intake. Whether you want a bottle for your workday or you're
climbing mountains
, quality water bottles can help you ensure that you're meeting your daily intake requirements. In addition to that, a reusable water bottle is a more environmentally safe option to plastic bottles. The real tricky bit comes when you're choosing which water bottle to purchase. Luckily, CamelBak has tons of great options for water bottles that will suit your needs (regardless of they might be).
Standout Picks
Criteria Used for Evaluation
Durability
The durability of your water should be one of the first things that you look at when purchasing a water bottle. This includes the rigidness and carry-ability of the water bottle. If you're a traveler, then you would probably need to get something that is portable and light. However, if you're a frequent hiker, then you're going to want something that is durable and sturdy.
Similarly, the carry-ability plays into effect. If you're a runner, then a bottle with a strap won't be much help to you. On the opposite side, if you're a hiker, then a strap is almost essential for you long treks.
It all comes down to the use. If you're going to be putting it through some tough wear and tear, then the durability and carry-ability will be very important factors. If you're just planning on purchasing a bottle for your office or home desk, then durability and carry-ability won't be too important of factors for you.
Color
Though the color might not be an important factor to some, it can truly help the bottle to stand out from the rest of the crowd. Different materials also help to give bottles different looks, such as steel offers a very industrial and sleek feel whereas plastic offers a more colorful and bright feel.
The color of the bottle often does not play an effect on how the bottle works and feels. Some bottles come in a large variety of colors while others may one come in one or two. So, if the color of the bottle is an important factor for you, then be sure to have a look at the different products offered above. We have tried to feature a wide range of products from bright and colorful to reflective to simple, solid colored bottles.
Size
Water bottles come in a large range of sizes, shapes, and designs. They can range anywhere from 8 oz. to 5 gallons. Our list focuses mainly on the 20 oz to 35 oz range of water bottles, which means you're sure to find something that suits you from the products featured above
The normal water bottles that can be carried, they carry around 12 ounces of water. The smaller water runners belts, that are around 2 to 4 bottle and those can carry around 6 ounces each. The hydration pack can carry around 1 to 3 liters of water.
To find the ideal water bottle size for you, you're going to have to answer, 'how much liquid you want with you' and 'how much weight you can carry?' If you are a runner, then we would recommend going with the lightest option possible or choose one that has a belt-mount system to allow your more movement.
Insulation
Water bottles relatively have the same functions as a refillable receptacle that holds liquids. But that does not mean that they are made equally. Some water bottles feature insulation as an added bonus. They have double walls with vacuum or foam middle layers that help to keep the liquid inside cooler or warmer for longer periods of time.
Insulated water bottles are ideal for warmer climates in which cold liquids turn into lukewarm really fast or in colder climates where you want a hot beverage to stay hot as long as possible.
Materials
Finding and selecting the right material of water bottle is key to finding the right water bottle for your needs. The most common materials that water bottles are made out of are plastic, aluminum, glass, and stainless steel. Each of their own sets of advantages and disadvantages. Your final choice of material can vary depending on what the intended use of the water bottle is and what you deem important.
Plastic
With the variety of designs options, ease of cleaning, and affordability, plastic water bottles are the most popular type of water bottle on the market. Nowadays, there are plenty of plastic, environmentally friendly water bottle options that pose no health concerns. They are ideal for children, everyday use, and for athletes. However, if you're looking for insulation, then plastic water bottles will not be the option for you.
BPA-Free? Yes
Ideal Use: high activity users or events (e.g. sports team, etc.)
Plastic Pros:
Freezable
Environmentally friendly options available
Lightweight
Easy to clean
Affordable
Plastic Cons:
Can sometimes have an odd flavor
If the water freezes, then the bottle is likely to burst
Not safe for hot liquids
Aluminum
If you're a traveler, runner, or biker, then aluminum water bottles will be the optimal choice for you. Most of these lightweight bottles come with a top that is compatible with carabiners, so they can be easily attached to bicycles, backpacks, and belts. Most of them are also BPA-free. Similar to the plastic bottles, aluminum bottles are also not ideal if you're looking for insulation.
BPA-Free? Yes
Ideal Use: Activities or traveling where weight is a consideration
Aluminum Pros:
Trendy
Environmentally sustainable
Recyclable
Lightweight
Aluminum Cons:
Cannot be used in freezing conditions
Doesn't provide insulation
Heats up in warmer climates
Easily dents
Glass
Glass water bottles are sleep and sustainable, which make it the perfect option for long-term office and home use or to bring with you to a pilates or yoga class. These are a great investment piece as they are usually high quality and not associated with any health risks. These are not ideal for children, outdoor use, or heavy exercise since they are easily breakable and heavy.
BPA-Free? Yes
Ideal Use: less active customer base or use
Glass Pros:
Most are dishwasher safe
Lasts for years
Pure taste
Nonpermeable
Pose no health risks
High quality
Glass Cons:
Heavy
Pricier
Breakable
Stainless Steel
These bottles are gaining popularity, especially with the rising concerns about the environment. They are extremely eco-friendly and durable, which makes them perfect for those that prefer to retain the temperature of their liquids for long periods of time, outdoor enthusiasts, or dedicated hikers.
BPA-Free? Yes
Ideal Use: hiking, camping, or those who love the outdoors
Stainless Steel Pros:
Most are dishwasher safe
Can hold both cold and hot liquids
Ease of washing
Recyclable
Durable
Long-lasting
Stainless Steel Cons:
Pricier
After an extended period of time, the paint can start to peel off
The majority are not microwave-safe
Can get dented (not as easily as aluminum)
Can get hot in warmer conditions
10 Best Camelbak Water Bottles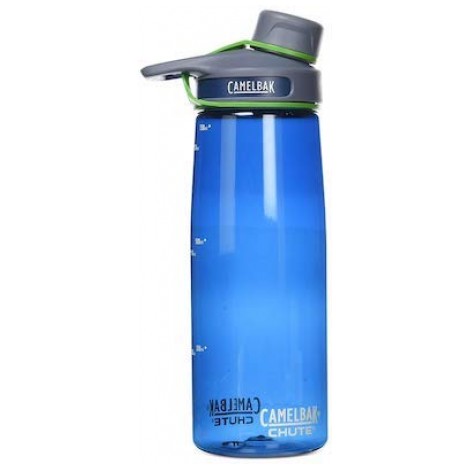 The Camelbak Chute Water Bottle has tons of features that are designed to make it easier and simpler for you to take your water bottle on the go. It features an angled spout to provide an ergonomic drink interface, spout cap snaps, comfortable carrying handle and a half turn cap.
Half Turn Cap
The leak-proof, easy access half turn cap allows you to have easy access to your water. The cap also snaps into the handle to get it out of your way when you're drinking.
High Flow Spout
The ergonomic design of the spout ensures that you can gulp down water easily. It is contoured and angled to give you a full on, and efficient, hydration process. They've even placed threads on the cap to give you a more comfortable lip seal.
Cost and Value
This product is the ninth-cheapest option on our list, which means that it isn't on the cheap side. However, with the cap material being BPA-free polypropylene and the bottle material being BPA-free Eastman Tritan Copolyester, you're sure to get a bottle that's 100% free of BPS and BPA.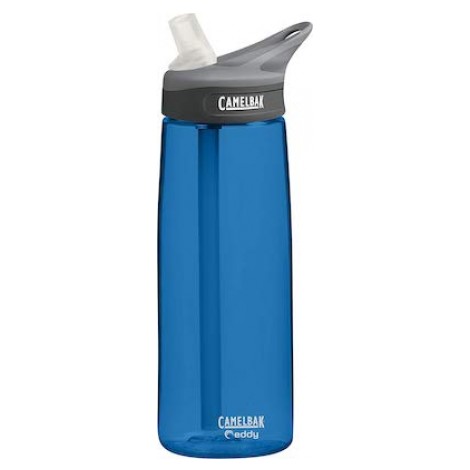 Camelbak's Eddy 25 oz. Water Bottle features a redesigned bite valve and cap to provide an enhanced durability and a faster flow of water. You can sip, bite, and flip, without needing to tip the water bottle (which is still possible, you'll simply need to remove the straw). It's designed to have a sleep shape that'll fit into most cup holders.
Redesigned Big Bite Valve and Cap
The redesigned valve and cap ensures that you'll get a faster flow of water in comparison to some of their previous models. The cap also ensures that your water stays inside your bottle when it's not in use.
Easy to Carry
The Camelbak 25 oz. Eddy Water Bottle features an integrated loop handle to make it easier for you to keep it without as you move about. You can use that loop to clip onto a carabiner or simply hook it onto your finger when walking.
Cost and Value
The Camelbak Eddy 25 oz. Water Bottle is the second cheapest item on our list. It's on the lower end of the price range, but that doesn't mean that it's not packed with great features. The bottle is dishwasher safe, relatively spill proof, and sleek.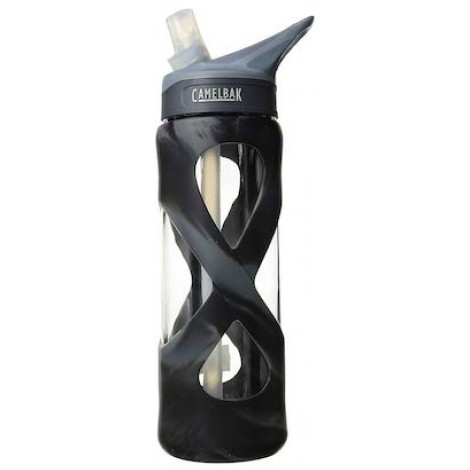 Made from naturally lead-free and BPA-free glass, the Camelbak Eddy 24 oz Glass Water Bottle ensures that there won't be any retained tastes of odors. So, you already get clean, clear water. Camelbak's patented flip-top bite valve helps you to avoid tipping the bottle. The design is a stylish wraparound silicone sleeve that adds protection in addition to style.
Silicone Sleeve
In addition to adding a bit of style and design to the water bottle, the silicone sleeve also helps to add protection against any potential impacts. As it's made of glass, the bottle is susceptible to breaking when dropped, so the silicone helps to cushion the drop.
Spill Proof Design
The easy to carry and durable design of this water bottle is also spill proof and dishwasher safe. The bite valve helps you to simply sip the water instead of having to tip it. It even features a wide mouth opening that makes it easy to add ice and water, while also making it easy to clean.
Cost and Value
Camelbak's Eddy 24 oz Glass Water Bottle is the fourth cheapest item on our list. With Camelbak's Lifetime Guarantee on this water bottle, you can't do much better. It is made of glass, which is great for those that won't be moving around too much.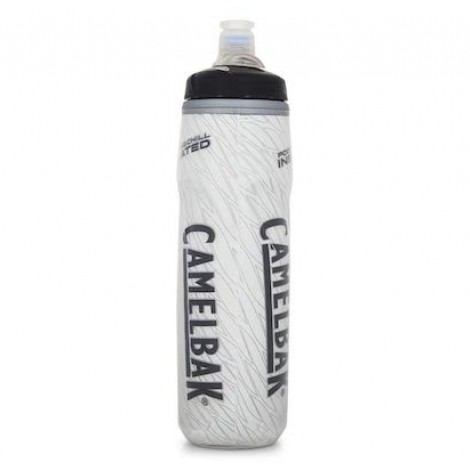 The Podium Big Chill Insulated Water Bottle by Camelbak features double-walled construction to keep your water cold for longer. It's made to be 100% free of BPE, BPS, and BPA. The decently large sized bottle can hold around 750 ml. It also features an innovative CamelBak design of self-sealing Jet Valve which helps to eliminate spills and splatters.
TruTaste™ Polypropylene
The Podium Big Chill is made out of TrueTaste Polypropylene featuring a HydroGuard that allows you to taste clear and clean water, instead of tasting your bottle. The lightweight bottles can be easily squeezed to deliver the right flow of water.
Removable Nozzle
The CamelBak Podium Big Chill features a removable nozzle to allow you an easier time cleaning the bottle. It also has a wide mouth opening to make it easier to fill up the bottle with water and ice.
Cost and Value
The Camelbak Podium Big Chill Insulated Water Bottle is the third lowest priced item on our list of ten items. Thus, meaning that though it's not the cheapest, it's still worth what you get. The leak-proof bottle is lightweight enough to be easily carried around with you wherever you go.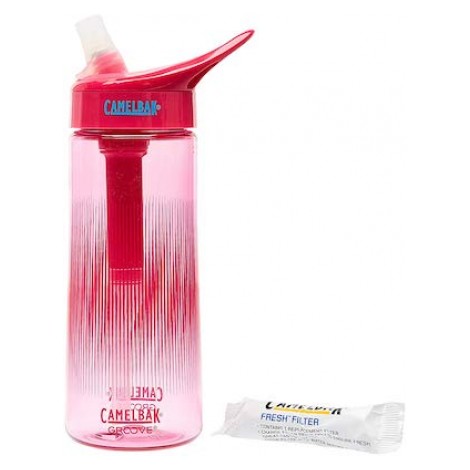 This 100% BPA-free Groove water bottle is great for those that don't always have filtered water with them. The straw has a filter built into it, which allows you to turn tap water into fresh water wherever you go. The Camelbak Groove Water Bottle is certified by NSF International,
Sustainable Straw Filter
The Groove water bottle features a plant-based, sustainable filter that's built into the straw. The filter is able to last for around three months or forty-eight gallons (180 liters) of water. It's also BPA Free.
Easy To Use and Refill
This water bottle features an integrated loop handle that makes it easy to carry around or clip it onto a carabiner. It's spill-proof and durable. The wide opening makes it easy to clean and fill up the bottle with water.
Cost and Value
The CamelBak Groove 20 oz. Water Bottle is the most expensive one on our list. However, the filter more than makes up for that price. It is important to note that the filter will not remove protozoa, bacteria, or viruses from the water.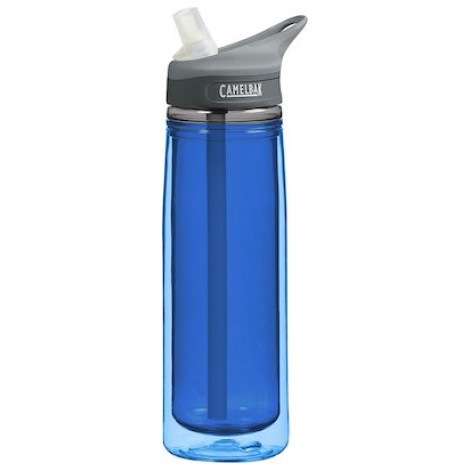 If you're looking to keep beverages cool for hours on end, CamelBak Eddy Insulated Water Bottle is the perfect option for you. It features a clean and sleek design with a dual color effect. The bottle is 100% free of BPF, BPS, and BPA.
Double Walled Insulation
The 20 oz. Eddy Insulated Water Bottle features a double-walled insulation that prevents condensation from building up and keeps beverages cool. The sleek shape allows the bottle to fit most cup holders and fits in your hand easily.
Redesigned Bite Valve and Cap
The 20 oz. Eddy water bottle features a redesigned bite valve and cap which provides enhanced durability and a faster flow. There is no tipping required. All you need to do is flip, bite, and sip it.
Cost and Value
This is the sixth cheapest product on our list. It's dishwasher safe and is easy to carry with the integrated loop handles. The wide mouth ensures that it's easy to fill with water and clean.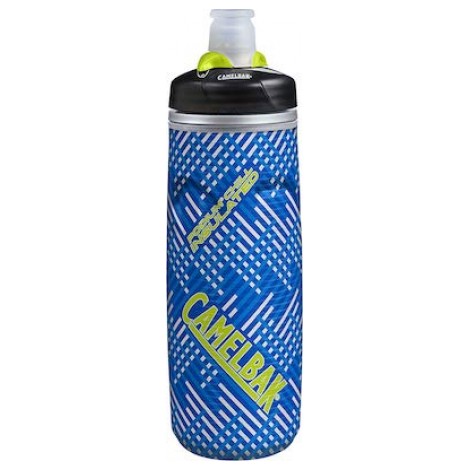 The Camel Podium Chill 21 oz. Insulated Water Bottle also features a double-walled construction to keep the water cooler for longer. It also features a self-sealing jet valve that eliminates spills and splatters. The innovative design comes in a variety of colors, so you're sure to find something for you.
Easy Squeeze, Lightweight Design
The bottle is designed to offer you with a lightweight option that can be squeezed easily to deliver you with the right flow of water. It also features a removable nozzle to allow you an easy clean.
Wide Mouth Opening
The Podium Chill has a wide mouth opening that makes it easier to clean as well as filling up the bottle with water and ice. It even has a positive lockout that ensures it to remain leakproof while you move about.
Cost and Value
The Camelbak Podium Chill 21 oz. Insulated Water Bottle is the cheapest item on our list. This means that it is the most affordable option for you. However, it does offer the user with a variety of advantages.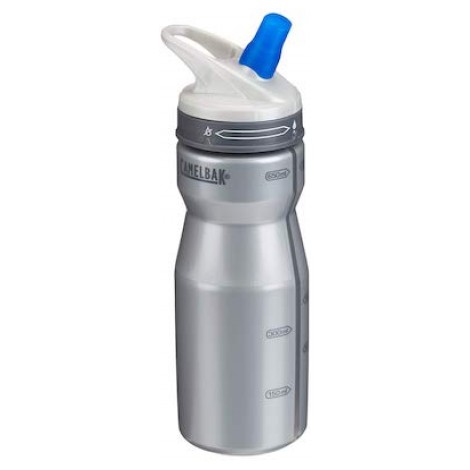 The Performance 22 oz. Water Bottle by CamelBak is great whether you're an athlete or not. The no-tip design is great for cyclists and runners especially due to the bottles no-tip design. You can easily drink water without needing to take your eyes off the road. The cap twists help to further eliminate the spills.
Clear Vertical Strips
The bottle features a clear vertical strip that allows you to see the level of water inside. In addition to that, there are also markings that allow you to see how much water you currently have inside. This helps to keep track of your water intake.
Taste Free Construction
The Performance bottle is made with polypropylene materials that help it to be taste-free, therefore you taste the water instead of the bottle. It's also durable enough to stand up to everyday wear and tear.
Value
The CamelBak Performance 22 oz. Water Bottle is the eight cheapest item on our list. It is higher up in the price range, but it does offer a few things that others don't, such as the vertical strip, and a squeezable, no tip design.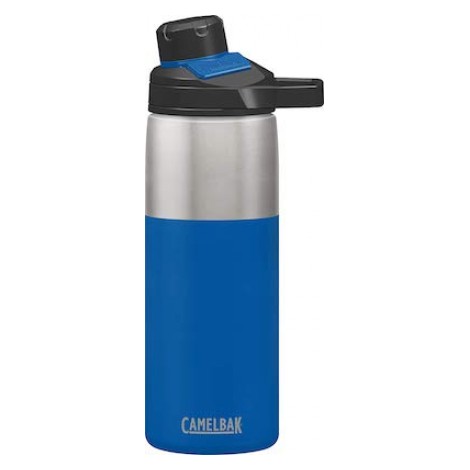 Whether you're carrying a hot drink or a cold drink, the CamelBak Chute Mag Vacuum Stainless 20 oz. Water Bottle is the ideal choice for you. The vacuum insulated bottle helps to keep the liquid hot for six hours and cold for 24 hours or longer if there's ice. In this bottle, they've also added a new magnetic top that keeps the cap out of the way.
Double Walled Steel Design
The water bottle features a sturdy design that helps to keep the condensation from collecting up on the sides of the bottle. The powder coat paint job also helps to add some extra color.
Narrow Mouth Opening
The narrow mouth opening helps to make it easier for you to drink without worrying about it spilling or you wasting a single drop. It also has an angled spout that provides users with a more ergonomic interface.
Cost and Value
The CamelBak Chute Mag Vacuum Stainless 20 oz. Water Bottle is the seventh cheapest bottle on the list. It is hand wash only, which might be a downside to some, but overall, it's worth what it's set at.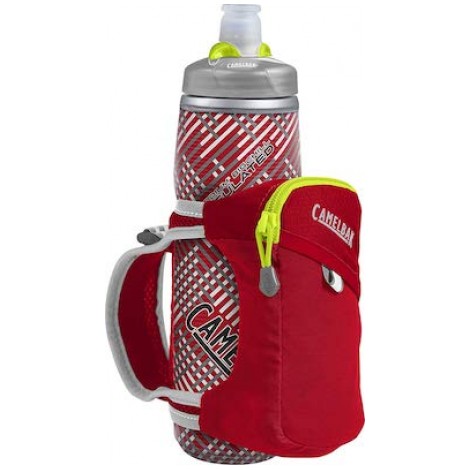 If you're always on the move, then the CamelBak Quick Grip Chill Handheld Water Bottle is a great option for you. It can hold enough water for a long run. It even comes with a zip pouch that has enough room to hold all your essentials, including phone, card, and keys.
Reflective Design
The design of the Quick Grip Chill Handheld Water Bottle is great for evening or early morning runs. It even features an adjustable cinch strap and a key clip for added security.
Zippered Pouch
This bottle comes with a zippered pouch that has an extra stretch that can expand to fit energy gels if you require them. In addition to that, the strap helps to keep your hands from chafing.
Cost and Value
The CamelBak Quick Grip Chill Handheld Water Bottle is the fifth cheapest item on our list. With its ability to keep your drinks cool for twice as long. The patented TruTaste technology also helps to ensure your water tastes clean.

Subscribe to our Newsletter