Best Canteens Reviewed & Rated for Quality
In a Hurry? Editors choice: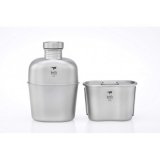 Test Winner: Keith Titanium Ti3060

There's nothing more drastic than getting yourself caught in a situation where you don't have access to clean drinking water. A person can go a few days (uncomfortably) without real food, but we all need at least a minimal amount of water over the course of that same time to survive. We are made of more than 70% water after all. This is precisely why committed tactical organizations like the U.S. military and others have "standard" canteens (some of which you might see on our list below). It's essential that we, even in today's day and age, have water with us at almost all times because you never know when you might need it, or find yourself without easy access.
Standout Picks
Criteria Used for Evaluation
Materials
Unlike most of the things you'll find reviewed and ranked on TheGearHunt, the canteen is something that you must prioritize material and build when shopping for. There's no shock here, but the base material of a canteen can drastically change the use and viability of whichever canteen you're going to pick.
One of the most important components of the canteen packages is the sling bag or pouch. This is a keen area of focus for one reason; it should be able to be soaked. I know it sounds confusing, why would we want the thing that's holding our liquid container to be able to get wet? Well, it's simply because of science. A soakable (preferably cloth) pouch will mean that you can survive long distances and time in the heat while maintaining a cool temperature of your liquid thanks to the effects that evaporation and condensation have on liquids within containers. Soak that pouch and your liquid will stay cool or even get cooler.
Durability
The best canteens, in the case of something you want to take camping or have in an emergency bag, is always going to be aluminum or titanium. The metallic alloys that can withstand a great temperature can make the difference between having something to drink, and actually using your canteen to cook foods, boil water, and so many other things. The ability to put your canteen (or at the very least, the cup that comes with your canteen) in or on a fire is a complete game changer.
Other variations on the build or materials include things like the cap. Whether it's metal or plastic, screw-on or lock-top, there is a single rule that you absolutely must keep in mind during your perusal, and that's the seal. If your canteen doesn't have a good seal, and can't manage to keep the liquid contents on the inside, then it's an absolute waste of time, money, and space.
Value
Price range is incredibly important when it comes to choosing which canteen you're going to buy. It's the most focused on portion of nearly all shopping for consumer products in any market.
One could easily be confused or set up for disappointment if they were to take all of the items on our list and build a market average off of those prices, and that's on us. But we chose to bring in a lot of budget-friendly priced canteens because we truly believe that they are amazing quality, and you can't discuss the worth or value of a purchase without comparing the price against the quality. They are all great values.
You can, if you wish, go extremely expensive, like we did with our number one — and head far north of a hundred dollars for a canteen, and what you're going to get is worthy of any country's space program. But at the end of the day, the value is always going to be an equation that includes price versus quality, and that makes the extremely top-tier and premium canteens just a little less valuable across the board.
Rather than focusing on features of a canteen — let's face it, most canteens are alike and should be able to do the basic principles of a liquid transport container — we wanted to focus a bit more of our time and search on the things that come with the canteens on our list.
These bundles include things like emergency supplies to round out your last minute or scary situation survival needs, a belt for shoulder slinging or waist wearing, and cups, you'd think it wouldn't be a necessity, but it makes a huge difference when you have a canteen with a cup, especially if that cup is capable of being exposed to heats.
10 Best Canteens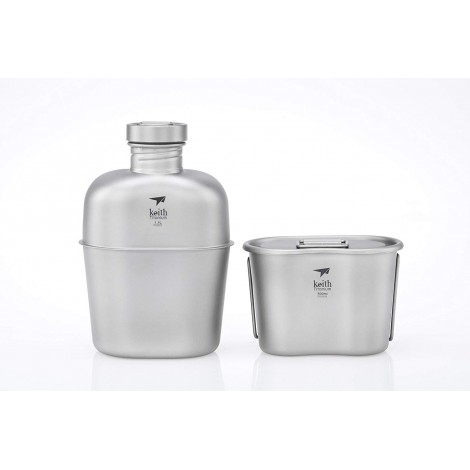 The mess hall of any place of congregation is a common name for the room where people do their eating and cooking. A mess kit is something of an all around set of items that will allow you to eat without carrying around a whole mess of singular items. There is, then, some confusion when Keith Titanium calls this product a Mess Kit when in actuality, it's a fancy modern canteen that can withstand the harshness of necessity more than almost every single other option on the entire market.
Titanium
It's right there in the name of the company, their products are made with Titanium. Normally, this isn't something to dream about, but in the world of canteens, it becomes crucial. Titanium is lightweight, extremely sturdy, and can withstand extremely high temperatures. Meaning that you can boil water or warm any liquid by sticking your canteen into a fire, without a single worry that your cheaply made canteen will melt away into nothingness. It's also an alloy that is not conducive of bacteria growth. That's not to say it's impossible for germs to grow, but it is "inhibitive".
The "Kit"
While it might not be the entire Mess Kit like the name of the canteen or product makes it sound, the Keith Titanium Ti3060 Canteen Mess Kit does come with some great stuff. Firstly, you've got the removable titanium cup. This is almost a standard practice with canteen manufacturers, and Keith Titanium pulled through on that. There's also a slipcover that acts as a shoulder strap, and a lid for your removable cup.
Cost and Value
There's a bit of a steep price to get into the Keith Titanium Ti3060 Canteen Mess Kit product, but that comes with a whole lot of promise that it will treat you well, withstand nearly anything you could possibly put it through, and keep you hydrated all the while. The price is definitely high enough that it will scare away a majority of shoppers that are looking for something to take on a simple camping trip or a similar adventure, but if you're counting on this canteen to possibly save your life, there's no expense too high for this quality.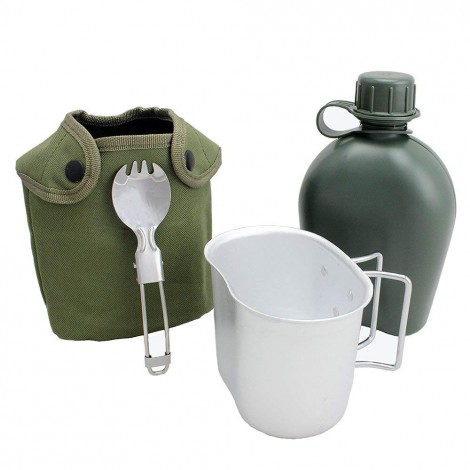 Here we've got a package that's a little bit closer to a complete mess kit, and it doesn't even mention it in the title. The BeGrit Outdoor Kettle Canteen Kit is considered a budget option for those looking to take a canteen with you on your next adventure, but that doesn't mean that it is lacking in value. The BeGrit Canteen is a great choice for those on a shoestring, which is why it landed so high up on our list.
Spork Game
If you've never heard of having a single tool that is usable as both a spoon and a fork, then you don't have enough cool friends that carry around their own eating utensils -- or maybe that's just me. A spork is a spoon-like utensil that also has fork tongs cut out (very shallowly) on the end of it. These can stab and pick-up food easily without going too far into the spoon portion of the utensil, which would just make it a fork. This spork even folds down into a small little thing for easy transport
Aluminium Cup
The spork is stainless steel, which is great for germ protection and longevity, but the cup that comes with this canteen is aluminum. As many of you know there is a vast majority of the cookware (especially the camping cookware) market that is made up of aluminum. This is because it's an alloy that can withstand quite a lot of heat (though we wouldn't suggest you place this cup directly in the fire), all while remaining extremely lightweight.
Cost and Value
At around the cost of a meal at any of our favorite fast food joints, the BeGrit Outdoor Kettle Canteen with Aluminum Cup, Cover, and Stainless Steel Foldable Spork is a fantastic deal. You lose out on a few of the things that expensive and extremely high quality canteens can offer you, but those shouldn't be detrimental to your decision. There's even a carrying case in this package, making it one of the best all-around bundles available, and at a budget price, you can't really argue.

3

. Survivor Filter Collapsible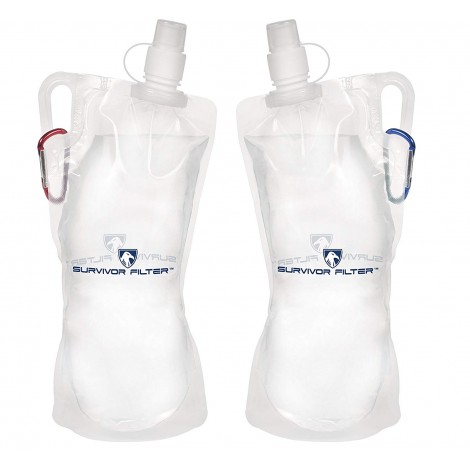 A long while after the industrial revolution, the world began to take note on all of the things and products we were making that affected the environment or the person and persons using them. Which is precisely why canteens like this modern plastic one were developed. They make for an easy sell when you think about it, and without losing many of the original capabilities that normal canteens boast, it's not even that hard of a choice really.
BPA Free
One of the biggest changes to the way we as a species developed and made plastics is to remove bisphenol A, which is one of the essential industrial ingredients used to manufacture and mix plastics of old. This is a chemical that is both harmful to the environment, and can (over a very long period of time) be very harmful to the person using the bottle. BPA bottles slowly lose their protective coating, exposing any and all liquids within it to the dangers of this chemical without the sealant. The Collapsible Canteen from Survivor Filter is completely BPA free, a standard in today's development, but a perk nonetheless.
Collapsible
The other major bonus of this bottle is that it isn't made of a rigid mold. It's a soft plastic bottle which makes it able to be packed away in any nook or cranny of your pack with absolute eazy when it's empty. It barely takes up the same amount of space as a hankerchief would. This is extremely useful when out and about because you don't necessarily have to leave your abode with a full bottle, but once you find a water source, you can store and enjoy an entire litre of liquid.
Cost and Value
Technically, this is a side product from a company that sells amazingly complex but with an affordable price survival straws (a drinking tube that filters harmful things out of water), but that doesn't make the Collapsible Canteen from Survivor Filter any less of an ideal mainstay in your pack. These types of canteens are extremely common in metro areas, and this one costs less than a couple of fancy drinks at your local coffee shop.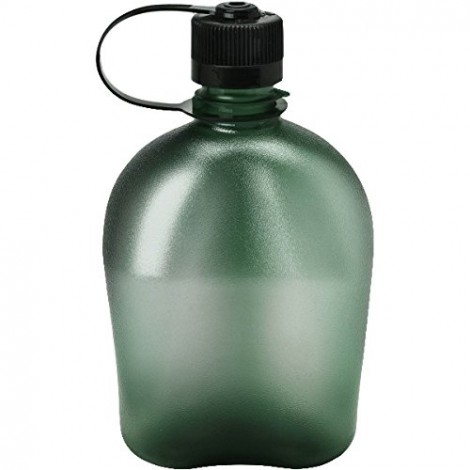 There's always going to be something to be said about the age-old tradition of simplification, and those products will always have a place in every market, and on our comprehensive guide lists. The Nalgene Oasis Bottle is one of those products. It's technically just a water bottle, but it is designed to resemble the classic canteen, and doesn't come with a single bit of fringe or frill. Just the bottle.
BPA Free
Much like our previous canteen, the Nalgene Oasis Bottle is one that is made and manufactured without any bisphenol A additive in the plastic, making it a whole lot safer for humans to continuously use it as a liquid storage and drinking device, and will prolong our lovely planet by keeping harmful chemicals out of the ground when these bottles do get tossed away or recycled.
Simplified
This is something that a lot of shoppers and sellers overlook, but there is never enough options out there for someone just looking for the simplest of ways to get what they're after. Nalgene does a great job of offering folks this simple canteen bottle without a single extra. There's no bottle strap or carrier. There's no cup (though many are available). But most importantly, there's no added costs to include in the consumer-facing price.
Cost and Value
A true budget canteen if ever there were one. We're talking about a worthy contender in any plastic bottle canteen fight for under ten bucks, which is nearly unheard of at this stage of quality. The modernization of the canteen hasn't come and survived without having a single perk, and the cost of plastic manufacturing trickling down to the consumer is one of those perks.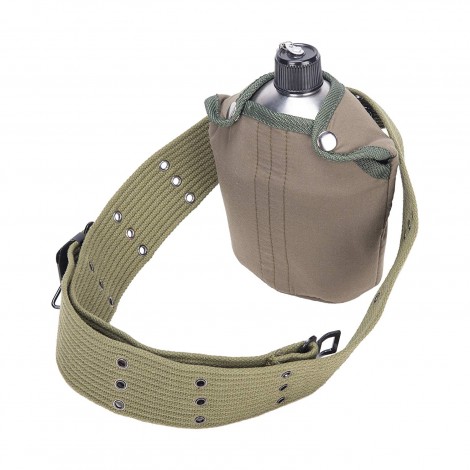 If you were to close your eyes right now and attempt to conjure the image of an army canteen, beyond that of the first world war, you'd probably land somewhere extremely close to the Pinty G.I. Army Stainless Steel Canteen Military. Thankfully for this market, Pinty knows what they're doing and have cut just enough corners to make an extremely versatile and affordable canteen package with their G.I. Army replica.
The Kit and Cup
Some of the canteens on our list have neglected to provide purchasers with a cup to drink from. Now, we know this isn't necessary in all situations, but it's a nice and welcome addition to the package in most cases. Canteen cups -- one's like the version Pinty is offering with their G.I. Army Canteen -- are usually molded to fit over the bottom half of the canteen, with folding handles, so that the entire pair combines to stay the say size (roughly) as the canteen itself. It's almost as if you don't have to carry around a cup, but you've got one anyways.
Army Surplus
One of the things that makes the Army-issued canteens so great is that they are easy to keep on you, and Pinty does a fabulous job of providing the same ease with their G.I. Army Canteen. The package comes with a cloth case (when moistened, it will keep your bottle contents cooler in the blazing heat thanks to evaporation properties on temperature), a riveted belt, and the canteen couple. You can use the belt to carry the canteen on your shoulder, or on your waist. Or just use the belt loop on the cloth carrying case to carry it with your hand, with a carabiner, or any sort of tie.
Cost and Value
At less than the cost of a night out for a decent meal, you can have a canteen that will last you years. The entire package is a dream come true, and at this price, with this quality, you can't really beat it. It is made out of stainless steel, which does leave us wanting a bit more from the canteen, but you truly can't beat this price.

6

. Military Issue 2 Quart Water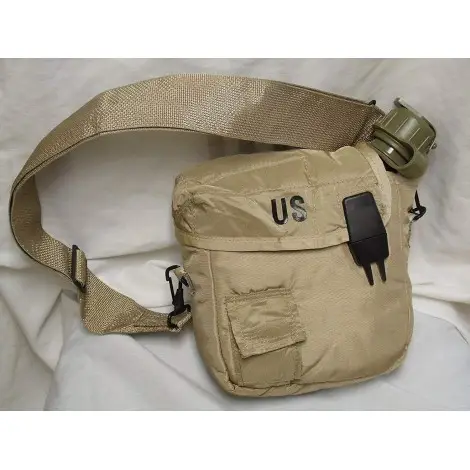 This not-so-military issue giant canteen is the perfect product for those of you wishing to replicate the United States Army issued drinking tool without having to go through the rigorous training in order to qualify for the military. There's something cheeky about the fact that this company is named Military Issue even though they have no connection to the army at all. This means they can get away with saying this is a Military Issue canteen. It's pretty funny.
2 Quarts
The absolute best part about this canteen is that it is double the normal capacity of almost every single other canteen on this list. At 2 quarts (somewhere around 1.8 litres, half a gallon, and roughly 8 US Standard Cups) of liquid, the Military Issue Canteen is nearly the perfect amount of water -- because it's recommended that a full-grown adult drink at least 8 cups of water per day.
Collapsible
The second most intriguing aspect of the Military Issue 2 Quart Water Canteen is that the actual canteen itself inside the carry bag isn't made out of metal. In fact, the body of the canteen is made out of a soft plastic. This means that when the bottle of the canteen is empty, it's nearly completely collapsible (aside from the cap/lid of course, which is manufactured out of hard plastics) so it is easy to lug around.
Cost and Value
Though it doesn't factor into many folk's decisions, the Military Issue 2 Quart Canteen is also compatible with gas-mask straws, so if that doesn't make the value skyrocket, we don't know what will. This canteen is an amazing travel companion, and at this price, with the capacity to house nearly 8 cups of water, it's one of the best on the market at this price point.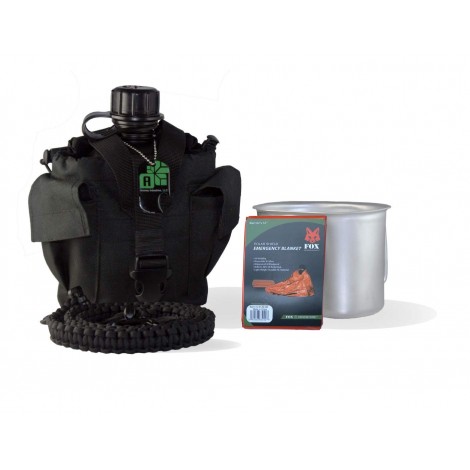 Wow! It took all the way at number 7 for us to get a little weird and off the path for canteen recommendations. That's odd. This, the Arcway Industries Canteen Survival Kit is far more than just the canteen itself, which is probably why the name of this product reads like a small novel. It's far more than a typical canteen on it's own, and then you throw in everything else that Arcway Industries is offering here, and you just can't ignore this product.
The Canteen
The canteen itself, removed from the carrying pouch is a nearly standard 1 quart liquid canteen with the addition of the slip under stainless steel design of the nesting cup for pouring, heating, and drinking. The pouch itself is a magnificent Molle Cloth pouch that has side pockets, and houses all of the included extras in this bundle alongside the canteen and cup combo.
Survival Kit
This is the real butter on the bread when it comes to the Arcway Industries Canteen Survival Kit with Military Canteen. That's the Survival Kit portion of that combination. The kit includes a packaged mylar-made thermal space blanket for easy field use with high-visibility color-ways and an intense ability to store heat. It also comes with a survival sling, which is a paracord designed to store long lengths of extremely tough cord in a small woven loop. The extra cord can be crucial in so many situations. To top it all off, the Arcway Industries Canteen Survival Kit also has a metal can and bottle opener that ties to the outside of the pouch, or loops around the stem of your canteen. It's a perfect combination.
Cost and Value
With the amount of things you get in this package, one can hardly argue that being out of budget range is a terrible thing. Especially if you consider that most of the package highlights are survival gear, and we all know what risks we take by going cheap on the survival stuff. It's not cheap, but surprisingly it's not that expensive either. It's a solid value.

8

. Made In USSR Soviet Army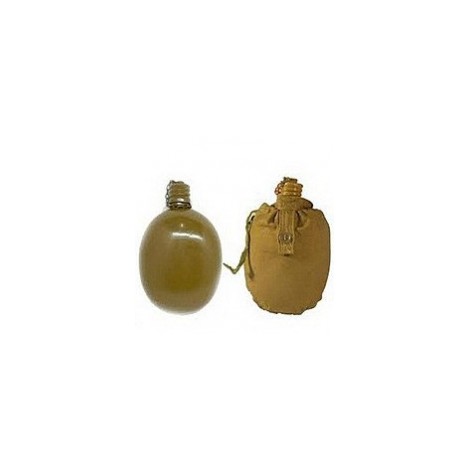 Here we've got another one of those magnificent remakes that just can't let the past die. In the 21st century, many industries bank on nostalgia, and apparently the canteen market is much of the same. This is a replica USSR Soviet Army World War II Canteen by PetriStor and it's worth every single penny you'll have to pay for it.
The Simple Details
Whether you're a tired and run-down props master on the set of a World War II period drama film, and in desperate need for some quality replica props for your background or principle actors, or you're just a fan of replicated war and military gear, this canteen is for you. This company makes many great USSR replica gear items, and the aluminum flask is one of the best in their catalog. It even comes with the military standard cloth pouch for carrying or attaching.
Metal
Maybe it doesn't seem like a big deal to anyone else, but we were getting a little tired of telling you all that you can't put these canteens into the fire for some warm water, tea, or even coffee. Luckily for you (and us, if we're going to remain focused on that subject) this canteen, if removed from the pouch, can indeed be submitted to the flames of warmth and boiling. All thanks to it's aluminum make-up.
Cost and Value
This replica canteen isn't going to blow you away. As one reviewer writes "I wanted a canteen, I ordered a canteen, what did I receive? A canteen." But it will get you a near exact copy of a canteen that the USSR issued their soldiers during the second world war, and if that's your bag, then look no further. For those just seeking a competent canteen, you also can't go wrong with this no-frills experience.

9

. Coleman Military Style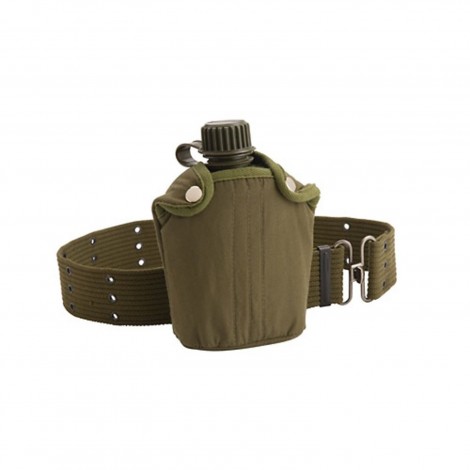 Coleman is a company that -- in North America at least -- is synonymous with absolutely top-notch quality outdoor and camping gear. Americans and Canadians alike have been clad in Coleman gear for their adventures for decades now, and this canteen in a military style absolutely doesn't sway from their path of quality dominance. Coleman is a brand to be trusted, which makes this item especially important to this list.
Belted
With their supplied military style belt, Coleman offers up a ton of possibilities with this canteen package. The standard three hole attachment portions of this belt will work well with nearly any other military style pouch, pocket, harness, or holster. It's a long belt, so it won't be suitable for someone small, but it's durable and comes in handy if you want to keep your canteen pouched and portable.
Cotton Cover
Many people will overlook the cover to their canteen whilst shopping for something. It's the canteen you're after in the first place, right? We can't blame them. But in the case of the Coleman canteen, the cover might be one of the better parts. It's especially important that the cover is made out of cotton. Because, thanks to the material, one can keep their cool liquids cool for longer thanks to the way evaporation sucks hot energy from liquid. All one has to do is soak the cotton cover in water of any temperature, and your liquids inside will stay cool even in the heat.
Cost and Value
At just a single digit (barely), the Coleman Military Style Canteen is an amazing budget-friendly canteen option made by one of the most trusted brands in all of outdoor equipment, gear, and survival. This canteen is a can't miss, even if it comes pretty bare-bones in comparison to other canteens on this list, or in this market.

10

. Laken Cuadrada/Octogonal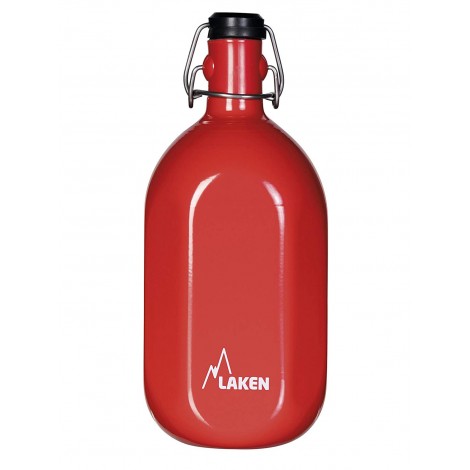 Calling all hipsters, craft beer enthusiasts, and granola-totting grouse grinders! We've found the canteen of your dreams! The Laken Octogonal Aluminium Water Bottle Canteen is a great option for those looking for a little bit of modern flare to throw into their liquid carrying game, and it's going to look absolutely amazing while it does it's job.
Brew Cap
Much like all of those fancy craft beer growlers one can buy at the local brewery or liquor store, the Laken 1 Litre Water Bottle Canteen has a locking cap on the top that is almost guaranteed to never open or surprise you by popping off and spilling your water everywhere. With the clamping growler cap, you also get an extremely strong seal that will guarantee no liquid escaping while you carry the canteen around.
Cover and Sling
In very convenient style, Laken also sends along a cover with their water canteen, one that you can soak in water to keep your liquid cool. The cover also has a detachable strap for shoulder wear, or tie-ons to other packs. Being an aluminum canteen, the cover will also keep your pristine and colorful drinking apparatus safe from dings or scratches during use or travel.
Cost and Value
The budget-friendly weight of our entire list might communicate the idea that getting an at least semi-decent canteen is going to be easy and cheap, but we scrounged the market for a great selection of quality, but fair-priced merchandise. So while the Laken package is just as much as a low price as other items on our list, don't let the entire list speak for the market. Laken has an amazing product here, with some modern and hip influences. It's unique, and still in the budget category.

Subscribe to our Newsletter