Best Neoprene Socks Reviewed & Rated for Quality
In a Hurry? Editors choice: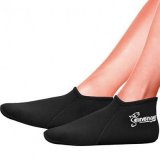 Test Winner: Seavenger Zephyr

There is something to be said about having warm, dry feet- even when
scuba diving
. There is a difference to be had when you are swimming and when you are going down deep or staying in cooler waters for prolonged periods of time. Our feet are sensitive to both the cold and to the wet. If you expose your feet to either for too long it can lead to hypothermia, and so when you enjoy the deep-water diving or
ocean swims
, you want to be able to do so knowing you won't be costing yourself in the long run. A great way to stay warm and safe is to look into
specific gear
needed to keep you healthy and safe, thus enter the neoprene socks. Here's a look at some of our favorites.
Standout Picks
Criteria Used for Evaluation
Durability
We know, this seems to pop up on every item we ever show off! Of course, this particular trait is one everything that is a non-consumable item should have as a set criterion. No one wants to buy something that, when used as intended, breaks after the first time or even after only a few times. With a pair of socks, this would be a fatal flaw. No matter what kind of clothing we have ever looked at or had, we haven't enjoyed only wearing it once before watching it fall to pieces. The same sort of wearing resilience is expected here- especially since it's intended use is to keep your body from getting too cold.
Protection
When looking over this list one of the biggest things we took note on was how well it did its job. Did it keep the customer's feet warm? Did it keep their feet from being harmed where they shouldn't? A diver whose ankle or heal gets rubbed raw can end up in life-threatening situations, and the same can be said if they weren't kept warm enough. Hypothermia is dangerous, especially if your several feet beneath the water. All of the items on our list performed well or above the expectations of their users, and so we feel they did a great job at protecting where they needed to.
Value
This will always be an important aspect for us. If an item costs too much and gives too little, then it isn't worth the price. On the flip side, if it costs very little but goes beyond the call of duty, those items should be well in the eyes of our readers. Value is where the real importance lays with us. A quality item is not based on how much the cost is, but in its performance. If it outlasts all other items in the same price range, it is worth every cent.
If, however, it falls apart at twice the speed of even lesser costing items, we want to help you avoid purchasing it- after all, it's not a good thing to have to replace an expensive item every few days or weeks if a cheaper one, or even one of equal cost can keep going for a much longer period of time. We want you satisfied with our findings, and so we weigh the pros and cons and look for an overall good standing before offering it to you as food for thought.
Effectiveness
Some Neoprene socks only hold up to one intended use, others can hold under the strain of several different types of activities. While they are mainly used for cold water diving, we tried to find those that hold up to other cold style footgear needs as well. The more useful the sock, the more likely we were to bring them up on our list. This can be applied to any number of the other criteria listed as a good reason to think this way. The more useful they are, the more likely that they are durable and protective in their main use.
Traction
Not all neoprene socks have good traction, but we tried to keep the ones that did on this list. Why is this important? Well, while you might not consider what it does for you before and after your dives, or when using them elsewhere, a neoprene sock with excellent traction can keep you safe from falls on a wet deck or other wet surfaces like rock or cement when you come out of the water. On top of that, traction means they won't slide around in your wet foot gear- or in the case of hiking, your boots. No slipping means less chance of injury- either by way of falling or stepping wrong, or simply getting rubbed raw.
Best Neoprene Socks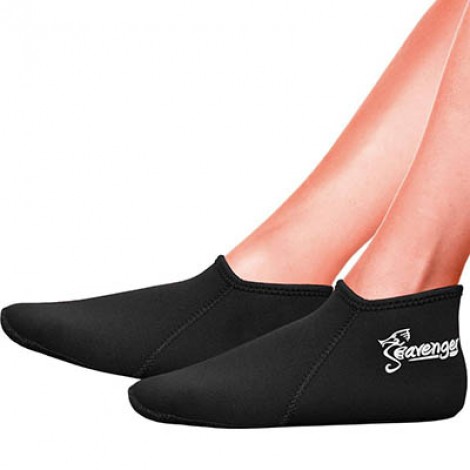 Looking for comfort and style with your new swimming socks? This might be the first pair you want to check out for sure on our list. Not only will you get a quality hiking or swimming sock, but you'll have your choice in how you look in it to! Read below for more information.
Pretty in Pink?
Black isn't the only color option for these socks. With Seavenger you have a lot of color options opened up to you. Their selection has black, blue, green, red, purple, teal yellow and even pink! You don't have to wonder if you'll look good wearing these to keep your feet warm, in or out of the water. You can pick a pair for every outfit if you like, and they aren't very expensive for the type of sock either- so you don't have to feel anxious about doing it!
No cramped feet
A lot of neoprene socks technically fit but aren't really comfortable. The right size can either feel like your crushing your toes or like they could fall off at any second. With Seavenger socks you don't get that! The material is put together so that it stretches to fit right, and the elastic band means they won't slide easily off of your foot. More comfort is always better!
Cost and Value
With these products, you get comfort, style, and function all in one nice little package. For us, that means you can feel assured you have quality for your money. You can not only feel great by the fact that your feet are protected but also in how you look. When you have something that works right, fits right, and looks good you really have everything you could ask for. So if you are looking for something that fits all three and will last when worn as intended, you need not look any further than the number one product on our list.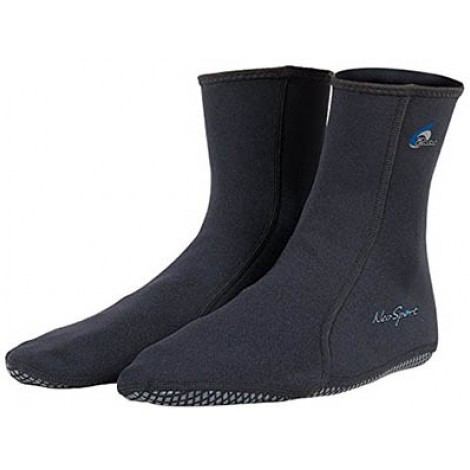 Looking for a good boot sized sock to fit in with your wetsuit? Don't feel like an ankle sock can really protect you from getting rubbed raw when you're diving? NeoSport has the answer for you with their item on this list. Their boot might be just what you are looking for- read on for more!
Hiking and swimming?
If you don't want to have to find both a pair of good warm socks for diving and a pair for hiking, then you have come to the right item on our list. This neoprene sock is intended for both water sports and for outdoor activities where feet need to be kept warm and dry. Instead of going out looking for something different for each activity, why not buy a one-size-fits-all type of product?
Some like it high…
Whether you need something in the high top or low top, Neosport wants to be the best choice for you to go to. Their brand may get its place on our list for being perfectly sized for hiking, but they have a low-cut version as well! Just in case boot socks aren't what you were after doesn't mean our number two choice needs to be skipped!
Cost and Valu
Although a little pricier, Neosports is a name known well enough for having a good product that you can bet that you are getting quality for your money. As with any product there are main intended uses for them, though- so be sure that if you want their dependability for durability you aren't overusing the product or using it on surfaces they aren't intended to be worn on. These are socks, and as designed they are dependable and are definitely worth the money you can invest in getting a pair.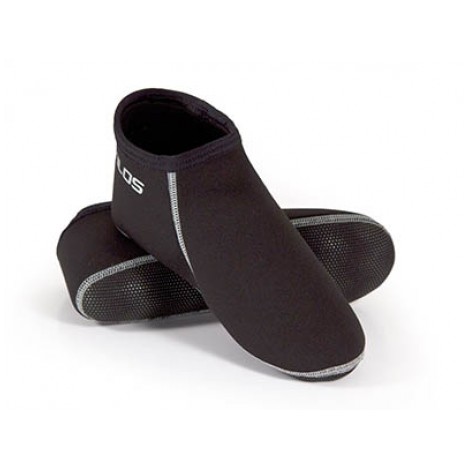 Although not as flashy about it as some, Tilos does offer just that splash of color to choose from on the seams so you aren't left feeling like part of an overflowing crowd. If you need something lightweight that works great for both water activities and just to keep your feet warm, this is another great pair to check out at number three.
No bad slips!
If you want a good swimming sock with a good design to prevent falls on slick surfaces that will hold well to the inside of your gear, look no further than Tilos. This product offers great traction meant to ensure that your foot doesn't slip around in your flipper and so you don't have to worry when walking around on wet decks or slick surfaces. This sock was definitely designed with safety in mind.
Easy to pack
With their smaller size and weight, you will likely find plenty enough room to fit this pair into your suitcase on your next trip. With how flexible they are you don't even have to worry about them taking up any more room than any other pair of socks- but unlike your typical footwear, they will give you the added benefit of being good for swimming, or keeping your feet even warmer than usual during the cold weather without having to wear several extra layers of socks to get there.
Cost and Value
Although some versions of this sock can get rather pricey, for its brand and known quality, you can be assured that quality work went into its design. Not a lot of things can be backed with good names for their prices, but we have seen Tilos pop up in a lot of water hear, and always with good ratings on their products.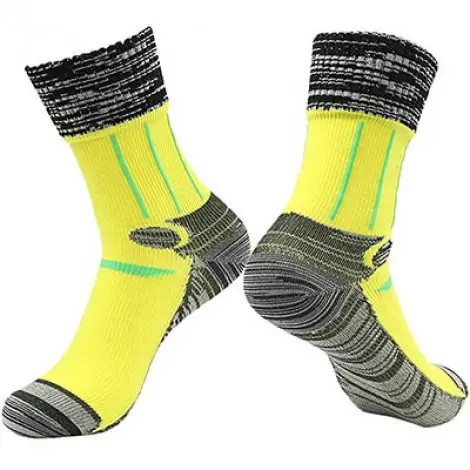 Many of the socks on this list can serve you well both for swimming and hunting, but this pair has unique bragging rights to be both neoprene and having what is usually the secondary use as it's primary intent. If you love to hike, climb or hunt, you may want to check this sock out as your first stop despite it being fourth on our list. Read more below!
Wide variety
This line of products offers you the perfect chance to keep your feet warm and dry while also showing off a little more personality. Built with those in mind who are out during the cold weather in boots or hiking shoes, Randy Sun developed a line of socks that doesn't just give you solid color, but combinations with patterns to suite so many pallets that we can't list them all here or we'd have a full paragraph just describing them! They are as fun as they are comfortable!
Not really swimming
While the swimming socks work well for cold weather liners, I mean hey- boot liners are made of the same stuff, sometimes you want socks that are specifically designed to keep your feet warm while on solid ground. Not all of us are sports types either, some of us simply have a hard time finding socks that really work during the cold months. These are for us! Yep, we deserve a good warm sock that won't get soaked with sweat by doing its job and only make us colder.
Cost and Value
Can you put a price tag on better health? Keeping your feet warm is actually one of the best ways to help keep your body temperature up and help keep your immune system from the shock. Not only that but when you are out in the cold for hours, having something that can prevent hypothermia is always good. These socks are also extremely durable and have a three-layer system that pulls sweat away from your feet while not allowing water to really soak in either. Talk about the quality that makes it worth every cent and then some!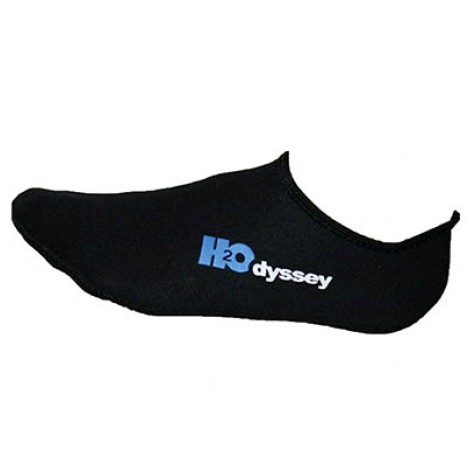 Want something specifically made with swimmers in mind and nothing else? Our number five-item is built with only divers in mind. This product by H2Odyssey is not looking to impress everyone- just those who want to pull their flippers on and go for a dive. Read more below to see if it's the right fit for you!
Snug and waterproof
This brand was developed to form fit your foot and has an elastic style fit so that it is perfect for protecting your foot against water getting in and from your fins rubbing you raw. It leaves your foot and ankle with the flexibility to dive but covers everything you need it to so that your foot has the extra padding of protection you desire. It is sure to keep you dry and safe.
Rubber soles
While many of the brands have a form of traction on the bottom, H2Odyssey felt that having small rubber padding on the foot that left it as flexible as it was without it was the perfect addition to making sure you had no spills above water, and your feet remain firm to the bottom of your flippers while your under it. With their design of traction, you get both safety and the flexibility you'd want in a diving sock.
Cost and Value
A lot of socks we went through felt that you needed something to cover your foot, ankle, and part of your leg just to keep your foot safe while diving. This brand felt that you didn't need to go over the top and therefore go the more expensive route in order to protect. They are a great price with a wonderful quality so that you pay less and still get everything you need, making them stand out heavily in this category.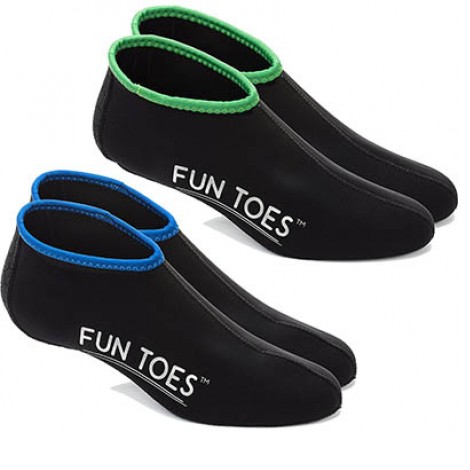 If you are looking for a pair of water socks focused on keeping your feet safe and secure, these are well worth a look. Coming in at number six are the Fun Toes brand of socks. Built for those that don't intend on wearing their sporting goods for everyday activities, read on to see if this line of items works better than the rest for you.
No more Band-Aids
Designed with those in mind whose focus is on keeping blisters, cuts and chafing from their feet, this line of products is focused on those who aren't looking for keeping their feet dry in the water more than they are looking for the needed padding to prevent their feet from aching because of their activities. Built thicker, these were designed to hold shape and prevent your feet from sliding around in your sock and your flipper. No one likes to finish what they love only to pay for it with Band-Aids all over their feet just to pad the sore spots from their normal shoes.
Preferences vary
When looking over each offered piece of footwear for this article you may find that many focus on one type of fin over the other. A lot of the companies know that most chafing and injury occurs on the back of your foot, and they focus mainly on the strap versions of diver's fins. With fun toes, they knew that fins of all shapes and sizes can rub the wrong way. So, instead of focusing on just one style of a fin, they took all into consideration and made sure their cut was high enough to cover with even the higher backed flippers while still remaining low enough to give good mobility.
Cost and Value
These aren't the most expensive ones on our list, but kind of settle right in the middle. Their quality for their intended purpose, however, makes them well worth it. While thinner versions of swimwear are alright for most, if you have a sensitive or softer fee, you'll want the extra padding these offers. While they may hold in some extra heat, for those upset by the lack of waterproofing, we can pose the reason we feel this style balances its worth- thicker padding means less slide and less physical injury. If we were all worried about getting wet- we wouldn't be getting in the water.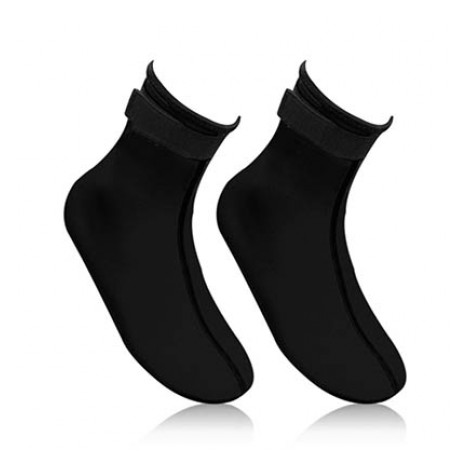 Does the usual method of assuring your diving socks not really work well for you? Maybe you need something a little more than the equivalent of a rubber band to make you believe they won't simply just slide down your leg and into a bunch the minute you are in the water. Keep on reading to find out what sets this gear apart from the rest of our list and why we felt it deserved a position.
Adjustable without losing grip
Instead of the usual one-size-fits-all elastic that most brands use to keep your gear on underwater, Lifemall decided to take it just that little bit further. While the band is still elastic, it is wider and is part of an adjustable Velcro band so that it won't be so tight it bites in or so loose that your sock balls to your shoe when it should be protecting your skin. Protect your feet while nor just adding yet another piece of equipment that may make you feel raw in a new but just as painful method as having your flippers on tight.
Added warmth
While these are not waterproof, when used in combination with water boots, or out hiking, they can give added protection against the cold. These boots are perfect if what you need is overall warmth and protection against abrasions. When looking for something that can take the bite out without causing additional circulation issues, these are what you want to add to your already prepared repertoire.
Cost and Value
These are on the lower end of the cost scale already when it comes to these types of products. So, with the fact that they only add to your safety, comfort, and warmth, they definitely make themselves a worthwhile purchase. Much more valuable than the going price would lead you to believe, we feel this is a pair that is highly deserving of being on our list for you to consider.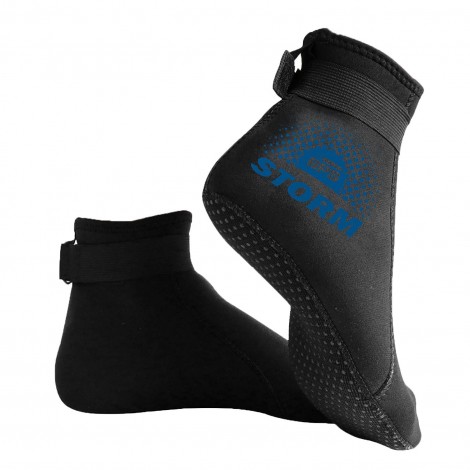 Style, comfort, and protection are hard to come by all in one package, but BPS had pulled it off with their brand of gear. Read below to see why we had to put them on this top ten for your consideration.
More than your typical rainbow
This is yet another line of socks that offer too many choices to list here for you to look at. They have fifteen different colors for you to choose from and all come with the same great features. No need to give up on what you need to have a color you feel fits you. Option in this is one of the rarer things to come across, especially in any type of swimming gear, which makes it well worth it to check out.
A year you say?
Even more rare than color options is knowing you have a full year to decide if you are satisfied with your gear! BPS Storm is so sure that you will like their product that they offer to let you return or trade them for a full year if you find you are dissatisfied with the way their product works.
Cost and Value
Offering the same safety features as many others with more color options, adjustable straps and the ability to decide on them for a full year, these items definitely cover their own cost. Take into further consideration that they are also one of the least expensive on our entire list and we have to say it made these a hard pair to place on the scale.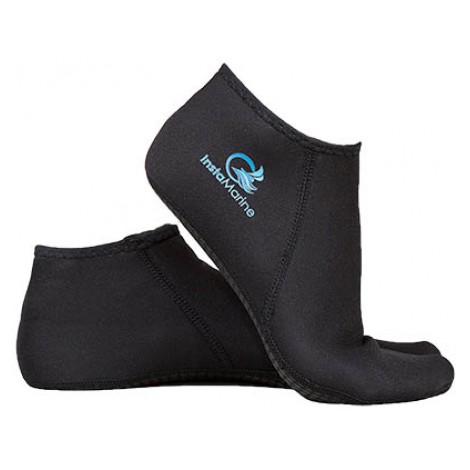 If you are looking for a design that is built on diving and improves based on the input given by customers, you may want to look over Instamarine. These are built with the people in mind who buy them.
Safety
In order to better perform for their customers, this company thickened the soles of their gear to make it harder for harder objects to penetrate. Of course, we are still discussing a short use piece of gear that is soft enough to let your feet and ankles move freely underwater, so they still advise you to stay to not so rough or sharp surfaces. They were given the extra padding to help prevent quick wearing down of the sock and make them more durable so that you can keep using them over and over.
Shape
This pair is created to be snugger and form-fitting for you as a diver. This means when you put them on, they are meant to conform to the shape of your foot while still providing what the desired effects of warmth and protection are. The sizes are mostly accurate, though, as with any snug fit clothing, you may want to go a size larger or smaller for comfort.
Cost and Value
We feel that overall this line hit right where they needed to in order to be within the cost, and then a little beyond by changing their product to better suit their customers. They are in the mid-range for a cot on our list but aren't really too expensive still. We feel that if what you want is a form-fitting and protective swimming product you will end up satisfied with these.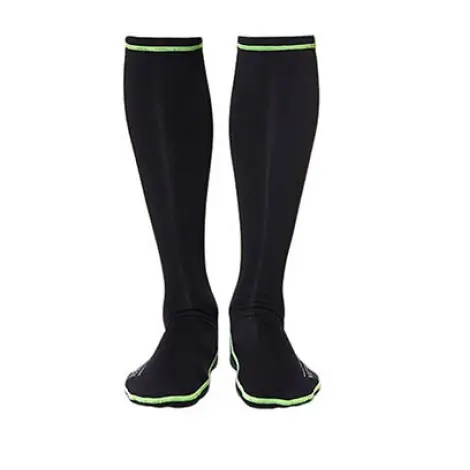 This pair is truly unique on our list, and assuredly deserving to be mentioned at number ten. If ankle boots and socks simply aren't enough, then you have to read this!
All the way up!
Still flexible, these water socks are designed to go under your wetsuit all the way to your knees! These will help not only to insulate but are designed to help slide your suit and boots off and on a lot easier so that you don't have to struggle to get in and out of your gear. With the added length, it is also guaranteed to protect everything from abrasions that your flippers might otherwise cause and add to the overall safety for your body.
60-day money back!
Not just an exchange, or a partial return, but full money back, no questions asked satisfaction guarantee! No matter what, if you don't like how these work within the first two months of owning them, you can return them for a full refund. This is one of the very few products in this line of gear to offer a guarantee of any kind, and this is definitely one of the best.
Cost and Value
Though a little more on the expensive side, we still feel this pair meets and exceeds the cost with the value of everything it offers. These socks offer everything a normal pair does, plus added length, and makes getting ready for a dive, or finishing one, easier. Topping that all off by assuring your satisfaction no matter what or it doesn't cost you a thing and you can return it.

Subscribe to our Newsletter