Best Balaclavas Reviewed & Rated for Quality
In a Hurry? Editors choice: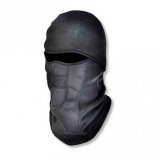 Test Winner: Ergodyne

The balaclava might have gotten its start in the
military
but over the years we have seen it grow to encompass a wide range of use. Cyclists typically use balaclavas to protect their face from elements such as wind, spray and dust. They are particularly useful in the cold. For this reason many winter sport participants have adopted the use of this specific headgear. They are also commonly used by
fire
fighters and race car drivers for its fire resistant properties.
Due to the increase in use, many styles of balaclavas have developed. Although the traditional full face balaclava is still dominant, some feature only half a mask. Others can be rolled up to protect just the head or rolled down to the neck. Let's take a look at the ten best on the market today.
Standout Picks
Criteria Used for Evaluation
Adjustability
One of the benefits offered by a Balaclava is its adjustability. Most can be worn in a variety of ways with each style having its own benefits. For example, full face masks offer a lot of protection. When doing outdoor activities such as cycling or skiing, you are moving at a considerable speed. In cold weather this can cause the icy air and dust to beat against your face and neck. In a full face mask you are protected from such elements.
Not all balaclavas are free flowing, some are fitted and offer excellent insulation. This makes them ideal for extreme temperatures. They tend to lock in your body heat which assists in maintaining a medium temperature no matter the external conditions. A full face mask also increases visibility. On exhalation, when your body heat mixes with the cold air surrounding your face it creates a fog that can settle on your eyewear, obscuring your vision. Full masks generally have ventilation near the mouth to direct your breath outwards and away from your face, preventing your eyewear from fogging.
Adjusting your balaclava to a neck gaiter gives sensitive areas such as the throat added protection. This is necessary the lower temperatures drop. For this reason it is a great choice for outdoor activities. Bikers also make use of this product. Most can easily fit under protective gear such as helmets. Some masks offer 3 in 1 use which also allows the balaclava to be used like a hoodie. This makes the product ideal for warmer conditions. Wearing a full mask that insulates in the heat can create a very uncomfortable experience.
By leaving only the face off of your mask, you can not only stay cool in warmer climates but you also benefit from UV protection. UltraViolet waves can do a lot of damage to the skin which is compounded with continued exposure. This style gives you both direct and indirect protection from UV waves by blocking out up to 90% of these waves in addition to spf 50+. The more adjustable your face mask the more benefits you can extract from it.
Breathability
There are a few strategies employed to increase the breathability of a balaclava. Some masks use just one layer. With materials such as polyester, breathability is increased. Since these do not offer much protection from the wind and cold, many persons opt for the heavier neoprene and fleece masks.
To achieve optimal airflow using these products. Manufacturers employ the use of mesh panels or air vents. Mesh panels are a thin netted material that fits over the mouth allowing your breath to easily release outward. This prevents the typical upward movement that tends create fog on eyewear. Air vents are designed to serve the same purpose. These appear as small holes around the mouth area. They may, however, be less efficient than mesh panels and holes that are too small cans cause air restriction.
Having a balaclava with proper ventilation adds to a user's convenience. This is not solely due to visibility challenges. It also means that you can keep your mask in a full face design without any needed adjustments or challenges. During extreme cold, wind and even rain. This can ensure you are comfortable, dry and protected at all times.
Comfort
Balaclavas tend to offer four way stretch. This ensures that the user gets a snug fit which is essential for thermal coverage and wind resistance. The materials used to construct the product also plays an important role when it comes to comfort. Some fibers have natural elasticity. This aids in accommodating a wide variety of shapes and sizes which is essential in a one size product. Areas surrounding bone structures such as the nose, cheeks and chin are notable pressure points. Adding a piping along these areas reduces force and irritation.
Another feature that improves comfort is the use of multiple layers. Some masks are uniquely designed to produce an overlap at key points such as the ears and neck. These areas are most vulnerable to the wind and harsh temperatures. This gives an added protection and increases insulation. Sweat wicking technology is used in most designs. This helps to control bacteria, assists in odor protection and ensures consumers are cool and dry during use.
Many balaclavas have an inner lining that is commonly brushed. A soft material is placed inside to ensure comfort even whilst the product maintains a snug fit. These linings typically act as insulation barriers. This is used to maintain a medium internal temperature which is especially useful when used in extremely cold temperatures.
Materials
Neoprene in balaclavas are generally selected for their elastic properties. Since most masks are one size, extra stretch is needed to accommodate the widest range possible.It also helps in adjusting the fit for each individual user. Nylon has also been commonly used for its almost identical properties. It has also been used to pipe seams along pressure points such as the eyes, cheeks and chin. This helps to increase comfort while the product is in use.
Polyester is another common material used in balaclavas and it is generally for its sweat wicking capabilities. This material tends to pull the sweat and moisture from your skin and dries at a high rate. This feature keeps the wearer cool and comfortable decreasing friction and irritation. Another material meant to soothe a consumer is the inclusion of fleece. This is used in the lining of many face masks to add skin contact comfort. It also doubles as an insulator. This material is known for its ability to trap body heat which makes this material selection a great choice for colder climates.
Each material listed above can be used individually but most times they are combined within a single design to maximize benefits and increase value to customers. For this reason many balaclavas are multi-purposed and can be used for a wide variety of outdoor activities.
Use
The most common use of a balaclava is for protection. Many masks are labeled wind resistant, water resistant, thermal or fire resistant. This is an indication of the level of protection that specific mask offers. For example, those that are wind resistant will typically be full coverage. They cover the face and chin and generally run long enough to reach the chest area. The purpose of the design is to protect your face and neck from dust and the wind at very low temperatures. For snowboarders, bikers and cyclists who generally move at a high rate of speed this is a necessary feature.
Water resistant masks don't just protect from external moisture but also internally. If you wear protective gear such as helmets you are bound to sweat a considerable amount. When sweat is allowed to run down you face it can get into the eyes and become very unpleasant. This can also obscure your vision and for persons like bikers, boarders and skiers, an event like that can prove life threatening. Having a balaclava remove or prevent moisture is very useful even more so in cold temperatures where moisture adds to the chill and discomfort of external temperatures.
Thermal masks help to regulate internal temperatures. Your body naturally gives off heat and these balaclavas have the ability to lock that heat in. This helps to maintain a medium temperature despite external conditions which keeps users comfortable while their mask is in use. Others can be used specifically by bikers and race car drivers. Fire resistant masks protect users from serious burns and life threatening injury by repelling flames. In the event of an accident, you'll be happy you invested in a fire resistant face mask.
10 Best Balaclavas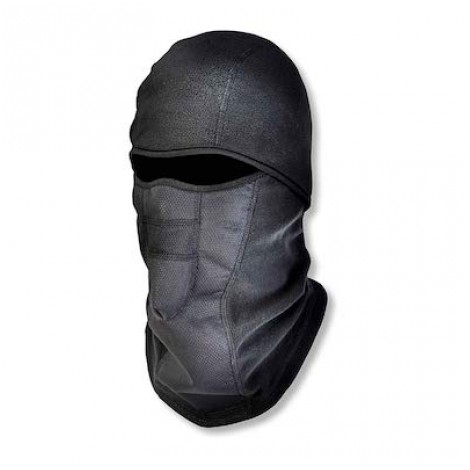 The Ergodyne winter balaclava is a full face wind resistant mask that can also be used for skiing. This balaclava features a windproof face panel that also has mesh openings. It can be worn to protect the entire face or the user has the option of adjusting it to be used as a half mask. High-grade thermal fleece is used in product construction along with a four-way stretch polyester.
Use
The Ergodyne winter balaclava has a fabric panel that can be placed over the mouth and other vulnerable areas such as the head and neck. This can serve to protect the user from the wind and other harsh natural elements such as the cold.
Breathability
Mesh panels are located near the mouth area to assist with breathability. It is also effectively used to redirect airflow. This prevents the fogging of eyewear which increases comfort and visibility.
Cost and Value
This lightweight, full coverage, a versatile mask is extremely low cost. Itfour-wayatures a four way stretch material that provides a comfortable fit for most individuals and can easily be worn under protective gear such as helmets.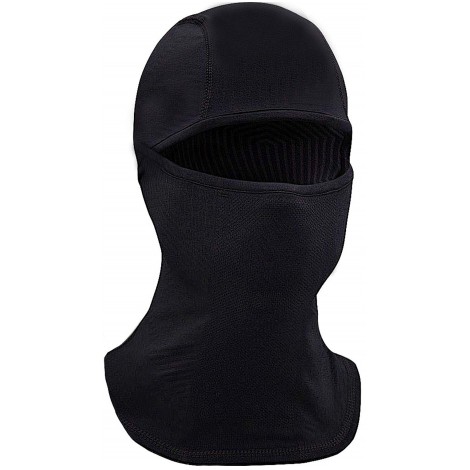 The Self Pro windproof balaclava is a cold weather face mask that features a thermal hood. This balaclava has a money back guarantee. It is designed for outdoor sporting activities and can be used effectively in both cold or hot environments. Polyester was used for product construction. The full coverage style provides UV protection while offering a breathable wrinkle-free finish. It is also allergy tested and machine washable.
Materials
The high-grade polyester used in self-pro windproof balaclava contains sweat-wicking technology. This helps to eliminate odors as well while keeping you cool and dry. It also anti abrasive.
Adjustability
This balaclava can be worn closed to offer full coverage or it can be worn open to facilitate warmer temperatures. It can be rolled won to act as a neck gaiter or placed under protective equipment such as helmets.
Cost and Value
This low cost Self Pro product features an extended neck and front area for added protection as well as an additional layer of fabric at the ears. The unique sewing design produces a better fit and increases adjustability.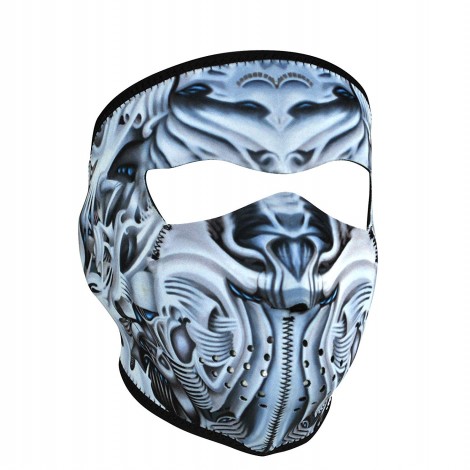 The Zan Headgear neoprene balaclava is a full face mask that offers consumers a wide variety when it comes to color and design.
This balaclava offers full coverage and provides excellent protection for high risk areas such as the ears. It is constructed from a fiber blend of nylon and neoprene which is what gives this mask its elasticity. Noteworthy features include thermal insulation and water resistance. It is a great choice for cyclists as well as skiers.
Breathability
Strategically placed air vents help to increase breathability while wearing the Zan Headgear balaclava as a full mask. These vents also effective at preventing eyewear from fogging during use.
Comfort
Neoprene is a naturally elastic fiber and a great choice for producing a snug, comfortable fit. The nylon stitched outer piping not only reduces friction but it also increases the durability of the product.
Cost and Value
This inexpensive balaclava effectively protects users from natural elements such as wind, snow, rain and dust. It can be repurposed for almost any outdoor activity and all designs are double-sided.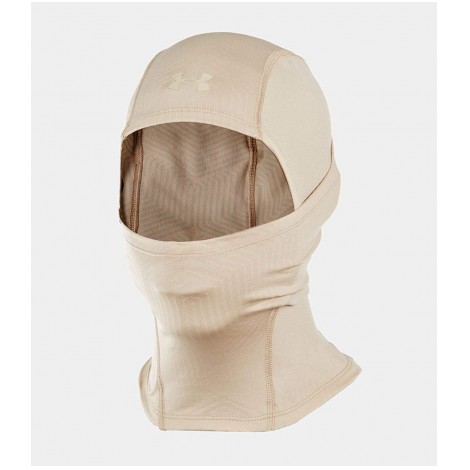 The Under Armour coldgear infrared face mask fits like a hood and designed for tactical use.
This balaclava has an inner coating that acts as a thermal conductor. Not only can it absorb your body heat but instead of releasing it into the atmosphere it retains it ensuring that you are always cool. It has a full face design which protects your face and ears during high wind and extreme cold.
Adjustability
The Under Armour face mask has adjustable features that allow you to wear your product open for warmer climates or as a neck gaiter which can greatly improve breathability.
Material
The uniquely designed coldgear evo fabric not only increases warmth but improved comfort while the product is in use. A four-way stretch ensures a great fit and increased mobility.
Cost and Value
This moderately low-cost balaclava includes sweat-wicking technology. This technology is designed to keep you dry and cool. It also reduces friction and skin irritation. It even provided anti-odor protection.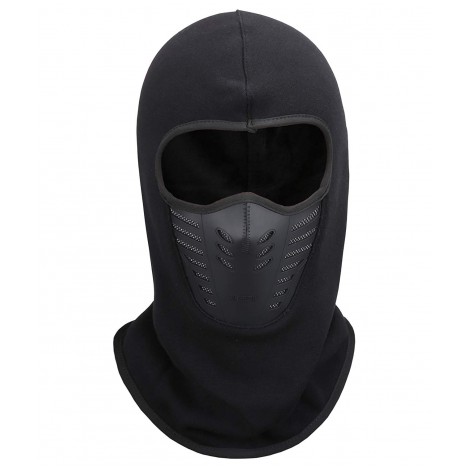 The Fantastic Zone winter face mask is windproof and the ideal accessory for colder climates. This balaclava is premium grade and specially designed to withstand both hot and cold temperatures. This multipurpose mask can be used for activities such as skiing, cycling and fishing. Due to its full face design consumers receive both direct and indirect UV protection. This design is eco-friendly, allergy tested and odor resistant.
Use
The Fantastic Zone face mask is machine washable which allows you to wear your mask as often as you need it. It is also designed to be worn comfortably under protective gear such as helmets.
Comfort
Due to its unique design fabric is double layered at high-risk areas such as the ears. This gives users added protection in extreme weather conditions. Polyester construction wicks sweat away from the skin leaving you cool during use.
Cost and Value
This balaclava has a very low price range. A high-grade fabric blend of polyester and cotton improves both insulation and comfort. An extended headband provides added protection from adverse weather.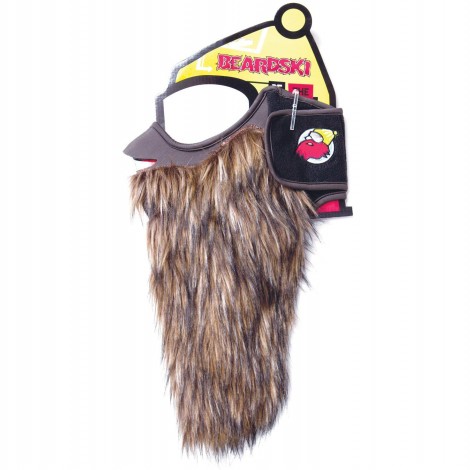 The Beardski imported face mask is a great choice for outdoor activities such as skiing.
This balaclava maintains a mean temperature no matter the weather conditions. It features a fiber blend of neoprene and fleece at the inner lining which improves user comfort. This one size mask is both water repellent and flame resistant. Its unique design offers full coverage. The product is also machine washable allowing for daily use.
Materials
The Beardski imported face mask is constructed from cotton and polyester. The inner lining, however, features neoprene and fleece. This improves wear while keeping the user comfort during use.
Adjustability
The flaps used to secure your mask to your face is adjustable. This enables the user to adjust the size of the product to produce a custom fit. The one size design is able to accommodate a wide range of shapes and sizes.
Cost and Value
This imported balaclava from Beardski is moderately priced. It not only provide enhanced function but is a great choice for users to make a fashion statement. The attached "beard" is guaranteed to amuse onlookers.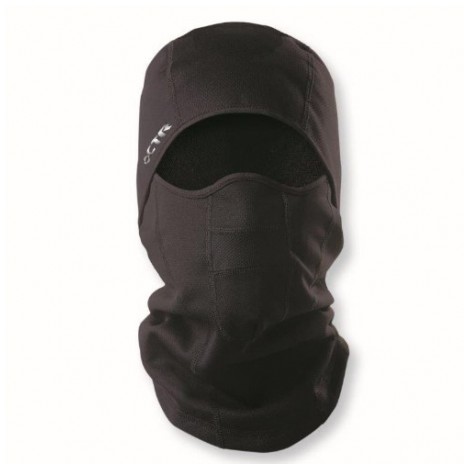 The Chaos howler face mask features a full coverage structure design and is also windproof.
This balaclava is highly adjustable and provides users with multiple options when it comes to wear design. This howler pro mask has the ability to self adjust to ensure a medium temperature no matter the external conditions. It is resistant to both water and wind courtesy a three layering process.
Comfort
A three layer full coverage design ensures wind resistance. This is a great feature for cyclists and skiers. The chaos howler mask also has sweat wicking technology to keep you cool during uses.
Use
Thanks to its unique design this balaclava can be easily used for a wide range of outdoor activities. It can also be worn under protective gear such as helmets without bulking and discomfort.
Cost and Value
This low cost face mask offers the added benefit of being machine washable. This means it can be used on a daily basis and maintain its freshness. It is also odor resistant helping it to keep up with users and their active lifestyle.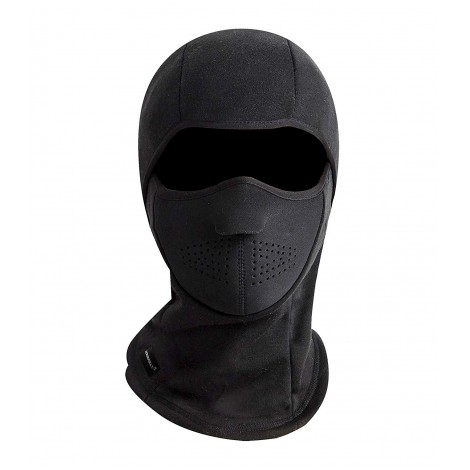 The Zerodocean winter mask is offers full coverage. It is constructed from fleece and offers thermal benefits.
This balaclava has an inner lining that is constructed from fleece. It features a hinged design which makes it highly adjustable. Mesh vents are strategically placed to increase breathability. Elastic properties in this one size mask help to produce a snug fit for a range of size variations. It is well suited for most outdoor activities.
Materials
The inner lining of the Zerdocean mask is made from fleece. This material tend to insulate which keeps your body heat locked in during colder weather. It is also very soft, which improves comfort during use.
Breathability
There are air vents strategically placed around the mouth area which increases breathability and helps to direct airflow. This decreases the chances of eye wear becoming fogged which reduces visibility.
Cost and Value
This balaclava has a very low price range and is expected to create an ideal fit for most adult users. The hinged design allows you to adjust to a wide range of wear preferences including half mask and open face.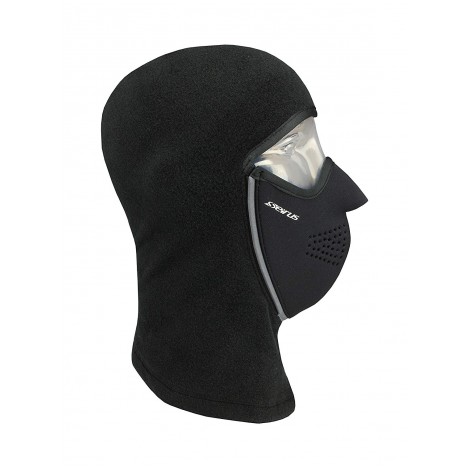 The Seirus Innovation face mask is a fiber blend of neoprene and fleece. It is an ideal option for cold temperatures.
This balaclava has a unique feature called magnetic seams which snaps shut and locks your mask in place. It has four way stretch and locks in body heat for efficient insulation. It is both water resistant and windproof. The inner lining is constructed from fleece for increased comfort. You can adjust the wear design for improved protection under varying circumstances.
Use
Due to its advanced insulation ability the Seirus Innovation face mask is ideally suited to withstand extreme temperatures. This makes it a great option for outdoor activities such as skiing. Remove the hinged parts and wear open, as a half mask or around the neck.
Comfort
This balaclava is constructed from a 100% neoprene fleece blend. This makes it not only versatile but very comfortable. Add piece of mind to the list of comforts as this product is certified non-toxic.
Cost and Value
This Seirus Innovation one size mask has a very high price range, however, it does offer comfort and convenience. With the easy to remove magnetic seams its very easy to take apart your mask in case of an emergency.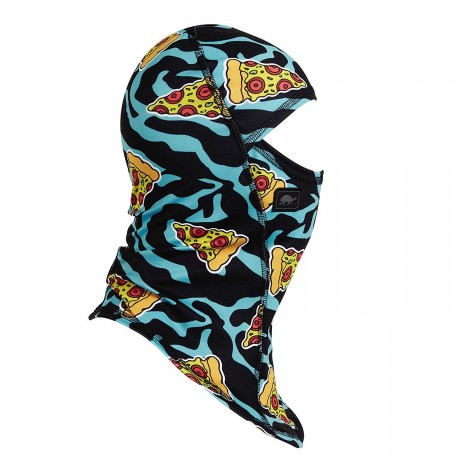 The Turtle Fur face mask comes in a wide variety of unique designs. It is lightweight and opens the way for a user to express their individuality.
This balaclava is constructed with a lightweight performance fabric that has an inner lining designed for increased comfort. It features sweat wicking technology and effectively protects users for UV exposure. The design is odor resistant. It also has a versatile one size fit that can be used for any age group.
Materials
The Turtle Fur face mask has a unique fabric blend of polyester and spandex. These materials give the mask its sweat wicking properties as well as the ability to provide a custom fit for a wide size variety.
Use
This lightweight balaclava can be used as a protection from UV rays. It is machine washable which allows for heavy wear. The mask is adequate for a variety of outdoor activities.
Cost and Value
The cost of this balaclava is within medium range. Skiing and snowboarding are just two activities for which this specific mask is well designed. It even offers spf 50 protection in addition to blocking out 97% of UV rays.

Subscribe to our Newsletter