Best Baby Shower Gifts Reviewed and Rated for Quality
In a Hurry? Editors choice: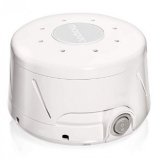 Test Winner: Marpac Dohm White Noise Machine

Let me paint you a picture: You're in your 20s or 30s. All of your friends are having babies. All of them. You're excited for them--sure. But after paying for destination weddings, wedding showers, and wedding presents, now you have to shell out more for all of the babies on the way?
Take a deep breath! We've got you covered. To help you find that perfect baby shower gift, we have scoured the internet for baby trends,
gadgets parents can't live without
, and old reliable favorites that never go out of style. And we've compiled this list of our favorites--all at a price that won't make you poop your diaper.
So whether your the type to give something sweet and sentimental or something totally utilitarian and practical, we've found just the budget-friendly gift for you to give.
Standout Picks
Criteria Used for Evaluation
Application
When considering application for this list, we looked at how much easier each product stands to make a new parent's life. We spent hours working to bring you the best gifts for parents that will save them priceless time and energy--especially in the beginning.
Some products deliver sleep (for everyone). Some products eliminate the need for hours of cleaning and sanitizing. Some products offer up the hands-free factor, and some are meant to keep the frantic new parent organized. But whatever its function, we wanted to feature items that actually make life easier.
Ease of Use
To that point, we looked at ease of use. A product designed to make a parent's life easier that is a pain in the rear to operate is a total failure. That's why we also made sure to find products that work the way they're supposed to and that don't require a Ph.D. to use.
Effectiveness
And to the two previous points, a product that doesn't work can't make a parent's life easier. We mostly feature products that don't have a ton of frills. While these definitely exist, they can often be more trouble than their worth because often times, they just aren't as effective as they claim to be. This is where the thousands of reviews we read really come to shine.
We diligently poured over earnest reviews from parents to bring you the products that actually work. The items on our list are backed by parents because they have been tried by parents who have used them on the battlefield. So you can feel confident about any choice that you make.
Materials
Whenever we look at products that are specifically intended for children, we always take an extra close look at the materials each item is made out of. And you know why--kids love to put not mouth things into their mouths. They love it.
So we work to bring your products that are made from the safest materials, that are free from all known toxins, and that meet all industry standards. Products on this list are free from latex, BPA, flame retardants, Phthalate, and lead.
Value
We work around the clock (literally) to bring you products of the highest value. That's why we pour over sources and reviews from consumers much like yourself--so that you can rest assured you're getting a product that has been tried and tested.
Especially with baby products, parents require reliable items that are easy and that work. That's where all the value is. And we've delivered a whole list of them at a price that won't break the bank.
10 Best Baby Shower Gifts
1

. Marpac Dohm White Noise Machine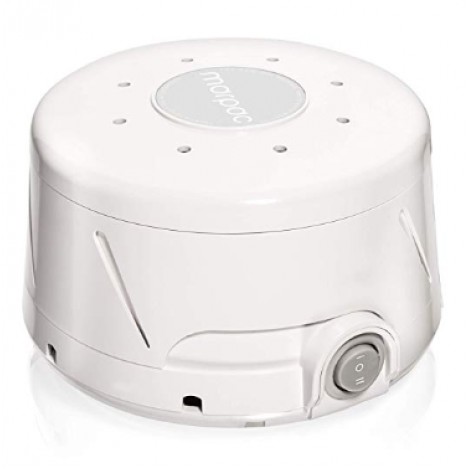 Marpac has been helping people sleep like a baby for over 50 years. Their white noise machines work to give the brain a neutral noise to focus on so that other sounds fall away and sudden sounds aren't noticed. The Dohm Classic is an essential tool for every family with a newborn.
Makes It Easier to Fall Asleep and Stay Asleep
The Classic White Noise Maker from Marpac helps babies (and even adults!) fall asleep faster and stay asleep. It does this by creating a sound that is soothing for the mind to focus on so that other distractions fade away. It also covers up sudden noises in the background that could cause you to wake up in the middle of the night.
Not only is this good for the sleeper, but it's also good for the rest of the household! Parents, family, and friends will no longer have to walk around on eggshells to ensure that they don't make any loud sounds that might wake the child.
2 Different Speeds to Choose From
This product produces noise by using a fan, but this fan won't blast air or spread allergens. The fan features two different speed options. For louder situations, use the second setting, and for normal situations use the first. After you have selected the volume, you can turn the base of the unit until you have achieved your desired tone. Tones range from high to low. It really is so cool!
The Marpac Dohm can be plugged into any normal outlet, but it is not battery powered (however, Marpac does make portable, battery-powered products). It comes with an 8-inch power cord.
Cost and Value
The Classic White Noise Maker from Marpac rings up towards the top of our price range but it will still cost you about half of other typical baby shower gifts. Because it has literally thousands of positive reviews, and because it delivers one of the most precious gifts of all--sleep--it has unmatched value. Plus, it comes with a 1-year warranty.

2

. Boon Lawn Countertop Drying Rack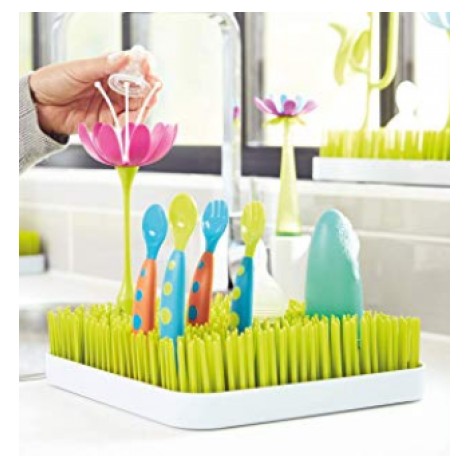 We are absolutely in love with the Boon Lawn Countertop Drying Rack. Because many bottles, pacifiers, and dishes for the little one aren't dishwasher safe, they need their own special hygienic place to fully dry. That's where Boon Lawn comes in. They are super affordable and are available in a variety of sizes and shapes to fit any countertop.
Made From Strong, Safe Polypropylene
The Boon Lawn Countertop Drying Racks are made from polypropylene. Polypropylene is a safe polymer that is strong, flexible, and resilient.
It stands up super well to heat and oils and it fights mold and bacteria growth so it remains a clean surface for longer--the last thing you want is mildew around a child's bottle. And you won't find a single ounce of BPAs, PVCs, or phthalates in these products.
These lawns come in two parts that are easy to clean and sanitize. Water drips through the grass portion and into the tray underneath which can easily be dumped. Their uniform design makes them great for holding all sorts of kid gear, and because the blades of grass are flexible and strong, they are even able to hold glass bottles.
Different Sizes and Fun Accessories
We love that Boon offers tons of different sized and shaped lawns to fit every countertop configuration, even those with limited space. The item we feature measures 13.5 inches long, 11 inches wide, and 2.5 inches tall. But if space is an issue, pick up one of the long and narrow lawns.
Because this product is so affordable, and because these accessories are so cute, you may choose to throw in a couple of bonus flowers with your gift. You can pick a bud, a flower, a twig, or a butterfly addition for a few extra bucks.
Cost and Value
The Lawn from Boon is an amazing value and it offers up tons of features that new parents are wild about. There are no toxins in the product, it helps to keep the things that go in the child's mouth clean and free from mildew, and it creates a safe place to keep all of the little one's new things.
And to top it all off, it's super inexpensive and just darn cute.

3

. Fisher-Price Sit-Me-Up Floor Seat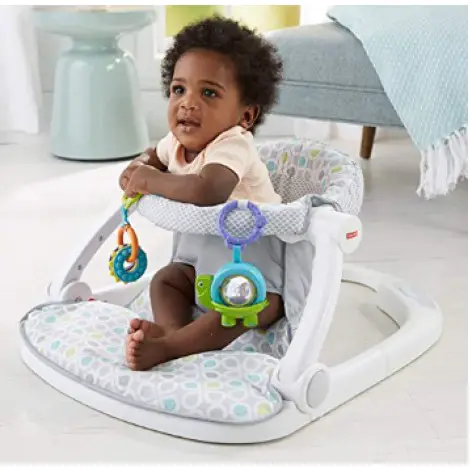 The Fisher-Price Sit-Me-Up Floor Seat is an amazing option for new parents. They won't be able to use it right away as it is only intended for children who can hold their own heads up unassisted, but it will be in heavy rotation in no time. It's compact, portable, and washable (3 major players in the new parenting game) and it's a great product that allows the child to sit up and interact without being held.
Let's The Child Sit Up and Interact
The Sit-Me-Up is a great choice for parents on the go. It features a super comfy seat for the child that is removable and washable in case a major blowout occurs. With a high supportive back and armrest that encloses the seat, the little one can sit upright and interact with the world around her. Everything is padded for their comfort.
Plus, 2 linked toys are attached to the front of the seat in case adult time isn't holding the little one's attention. 1 toy features "clackers" that have different textures and make noise, and the other features a turtle spinner and mirror so that the little one can see themselves and have a tactile experience all at the same time.
Folds Up Compactly
Unlike some other seats on the market, this seat is incredibly compact. The whole thing collapses in on itself and can easily be carried with one hand or tossed in a large tote-shopping bag. It only weighs about 5 pounds so it's easy to take on short car trips.
Cost and Value
The Fisher-Price Sit-Me-Up Floor Seat rings up towards the top of our price range but it is still way more inexpensive than your average gift. It is compact and machine washable, and it allows new parents to have their hands free for a moment while resting assured that their new child is comfortable, supported, and engaged.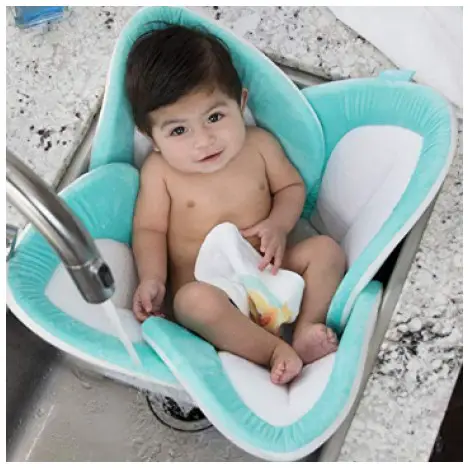 The next item on our list is the Blooming Bath Baby Bath, and it is almost too cute for words. Parents have been giving their little ones a bath in the sink for ages, but never like this. With the Blooming Bath, the child will have a comfy and clean place to sit so they can enjoy bath time like never before.
Cradles for Comfort
While traditional baby baths are made from plastics and are super uncomfortable--not to mention they give no support to the child's head--the Blooming Bath is an amazingly cushy alternative.
Each bloom features either 4 or 7 petals that open up to fill the sink as the child lays inside. Because the petals overlap, the child's head is given ample support and the parent is free to use both hands for bathing instead of 1 for support. We recommend the 4 petal bloom for smaller sinks and the 7 petal bloom for larger sinks.
Made from Safe Materials
The Blooming Bath is made from polyester which is super soft and super cushiony. And what's more, it's totally machine washable (on gentle) and can even be tumble dried. This changes this sink-bathing game as you no longer have to spend long periods sterilizing the sink before bath time.
And as a rule, Blooming Bath products are always free of latex, BPA, flame retardants, Phthalate, and lead. That means you can feel good about the product you're giving knowing that it's free from dangerous chemicals and allergens.
Cost and Value
The Blooming Bath also rings up at the top of our price range but we love its value because it totally changes the prep for bath time and it also makes it a much more enjoyable time for both parties. Now parents can have 2 hands-free while resting assured that their child is supported and comforted effectively.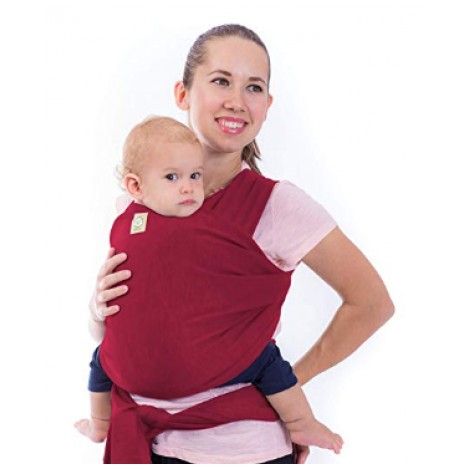 The KeaBabies Wrap Carrier is a wonderful choice for the expectant mother. While fathers can use this wrap as well, it was designed with a woman's body in mind so it works best on the female form. It provides tons of hugging comfort to the child and the mother, and it can truly change the way moms go about their daily routines.
One Size Fits All
This product is made to fit all women's body types, no matter the size. In fact, this product is longer than most of its competitors. With detailed youtube tutorials developed by KeaBabies, mom will learn just how to secure her child to her front based on her size and height. But, of course, mommy knows best and it may take some playing around with the find the perfect tie.
Made for semi-stretchy yet durable cotton, this product allows for just the right amount of give to support the child over long uses without having to readjust and retie. Plus, the fabric is soft to the touch and won't wear on your tired neck and shoulders. And to top it off, it's machine washable!
Plus, you can pick this up in an array of rich colors.
Fosters Bonding
Not only will carrying a child in this wrap help to sooth them if they're fussy or suffering from colic, but it will also enhance the bonding experience between parent and child. Having them close enough to hear your heartbeat is proven to develop strong bonds. And you can keep fostering this bonding style until the child reaches 36 months.
Cost and Value
The KeaBabies Wrap Carrier is an amazing value. It is super inexpensive, especially compared to some of its competitors, and it can fit all bodies no matter the size. Plus, it fosters bonding and can be used until the child is 36 months--so mom will get tons of mileage out of it.

6

. Magic Bullet Baby Bullet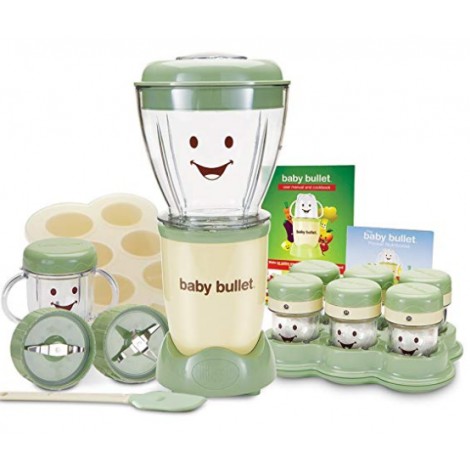 The Magic Bullet Baby Bullet System is a great option for parents who are super serious about their own nutrition and who are determined to have an eagle's eye on what goes in their child's mouth. This is a super easy to use device that makes preparing and prepping a child's meal a breeze.
Same Power as Magic Bullet
The Baby Bullet system has the same power as the famous Magic Bullet at 200w (the NutriBullet is 600w) and is a leader in the child food processor business. And with the same power comes the same ease in use. Though the baby bullet features a different size and shape cup than the Magic Bullet, it works in the same, simple manner time after time.
Simply load in nutrient-rich combinations, screw the baby blend blade on, and twist it into place. You can literally prepare a weeks worth of healthy meals for the little one in about 10 minutes time. Once you're finished, the Baby Bullet is as easy to clean as the Magic Bullet--easier than some of the best blenders--and can be air dried for safety.
Fully Loaded Kit
You get everything you need to make healthy meals for a child with this kit. Of course, you get the power base, blending blade, and blending cup, but you also get a milling blade and a spatula to help spoon out the goodness. But that's not all.
New parents will enjoy a short cup for serving kids directly, as well as a lid to place on top of the cup. You will also get a storage tray and 6 storage cups that have date dials on them so that you can always be sure about the food's freshness. And what's more, you'll get a silicon batch tray with a lid that you can freeze food in a pop out when ready.
And to top it off, you'll get a couple of nutrition and meal guides to help make sure your child is getting all of the nutrients they need.
Cost and Value
The Baby Bullet is the most expensive item on our list, but you will be shocked at the price. It's still well in the reasonable range and it comes loaded with tons of bonus features that will literally make meal planning for baby a breeze.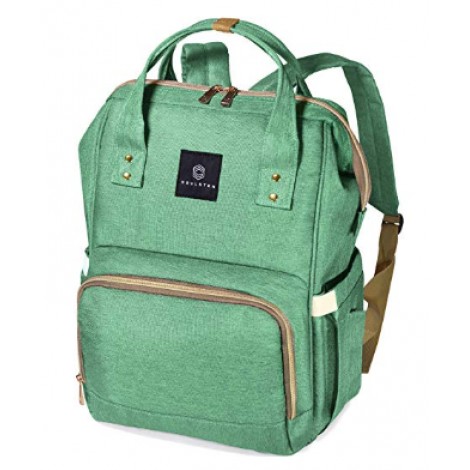 This diaper bag backpack from Soulsten is a fashion-forward, yet practical way to tote around all of a child's myriad odds and end essentials. It's both cool looking and offers up tons of storage space. And it also has an ergonomic design so mom and dad won't sag under its weight.
Premium Quality
This bad is made from super premium quality materials so it can fight the good fight right along with mom and dad. The body is comprised of oxford canvas which is both durable and waterproof. It features high-quality, reinforced zippers that can seal even the most packed-tight loads.
This is a great gender neutral bag that comes in sea green (pictured), grey, and midnight black.
Loaded with Features
This puppy is loaded with features. First of all, it's self-standing. The rectangular base supports the bag so it won't fall over when mom or dad is digging for something. It also has a super wide opening at the top to make finding items easier, as well as a zipper in the back to make finding items at the bottom a breeze.
The bag has a total of 15 different compartments for easy-access storage. These include a waterproof section for soiled and wet clothes or diapers, a hiddle phone case, a wet wipe dispenser, and an insulated pocket to keep bottles cold. Plus, parents will enjoy the different storage sections on the inside of the bag for even more organization.
Cost and Value
Even though this bag is loaded with features, it will not cost you a fortune. It rings up around the middle of our price range and it is a product that couples love.

8

. Lil Dandelion Drool Bibs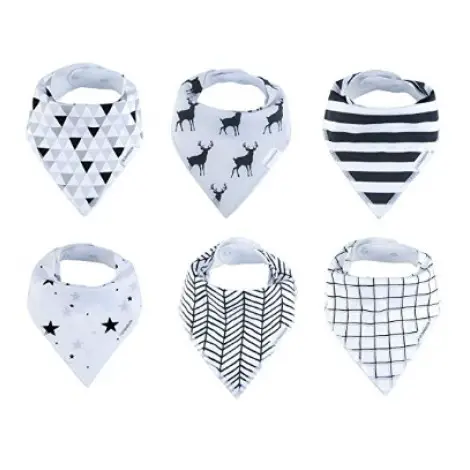 Okay, okay. Time for something cutsie! These Bandana Drool Bibs from Lil Dandelion certainly fit the bill. They're gender neutral and great for little spit ups and drool that are bound to happen all of the time. You can choose between a set of 6 or 8.
Smart Design
Apart from being absolutely darling, this product boasts a sound design. It features 3 different size settings (with 3 different snap buttons) so it's a great option for newborns and toddlers. It also features an extra lip of fabric that helps to keep the bib from bunching as well as ensuring that only the super-soft cotton part of the bib touches the child's face.
High-Quality Materials
Only the highest quality materials were used when making this product. It was created using dual layers to help prevent irritation and skin rashes on a child's sensitive skin.
The back layer is made of hyper-absorbant fleece (100%). The front layer is made from 100% certified organic cotton. Both of these materials are super soft and hypoallergenic.
Cost and Value
The Lil Dandelion Baby Bandana Drool Bibs are among the most inexpensive options on our list and we love their value because they are practical and fashionable, while still being made of super quality materials that are good for baby.

9

. Ell Nino Baby Diaper Organizer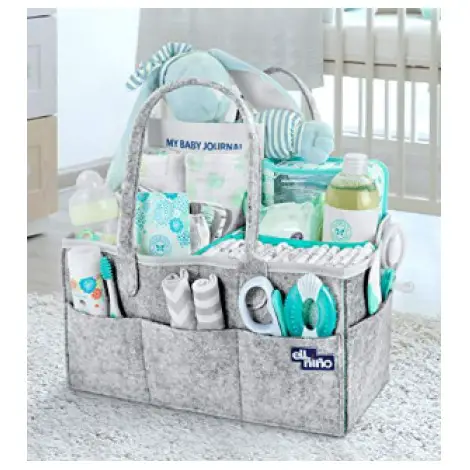 This Diaper Caddy Organizer from Ell Nino is an amazing option for getting the changing table organized. Often, new parents are overwhelmed with all of the new gadgets the receive and need a way to make sense of it all. This caddy is the answer.
Tons of Storage Space
This caddy offers up major storage space. It features storage inside and on the outside with an array of different sized pockets.
Not only can it hold regular bulky diapers or cloth diapers and all of their accouterment, wipes, creams, and oils, but it can also hold grooming supplies and toys. Basically, this organizer can hold all of a child's essential hygienic tools, all while being super portable and easy to take on car trips.
Reinforced Design
This product is made from super durable fabrics that have been reinforced to stand the test of time. With a double enforced bottom, stronger seams, and reinforced stitching, this product is built to last. In fact, it can be repurposed after baby no longer needs a diaper caddy and can become a fun purse for a child to store their own valuables in.
Cost and Value
The Diaper Caddy Organizer from Ell Nino rings up at the bottom of our price range and we love its value because it offers up tons of storage and because the product can be repurposed for multiple different uses once the child gets older. It also comes with a 3-year warranty.

10

. Pondering Pine Milestone Blanket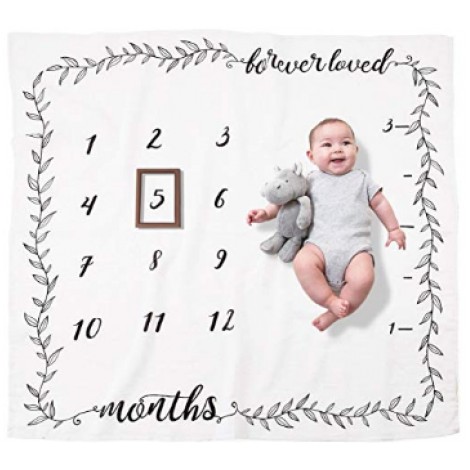 We close out our list with the Pondering Pine Milestone Blanket. Let's face it, our Instagrams are bombarded with these pictures--you knew one of these had to make the list. So we give you one that is organic so it can double a swaddle blanket or lovey.
Certified Organic
This is a certified organic product that is 100% free of BPA, pesticides, toxic dyes, phthalates, and plastics. It is made of eco-conscious cotton muslin, so it's a responsibly soft textile that a child can cozy up to.
Multi-Purpose
You can use this item for many different purposes. It's large, so it's big enough (larger than many competitors) to place the child on it with multiple different props, and it's a square so it's great for picture-taking. You will be able to see how much a child grows over the months by aligning them with the ruler on the side.
Plus, because it's made from organic, non-toxic fabric, you can use this as a lovie blanket, a swaddle, a stroller cover, or a playmat. You can even track a pregnancy belly with it if you wish.
Cost and Value
The Pondering Pine Milestone Blanket rings up in the middle of our price range and we like its value because it has multiple functions and because it's an eco-friendly, non-toxic option.

Subscribe to our Newsletter