Best Faucet Water Filters Reviewed and Rated for Quality
last updated:
Oct 10, 2019
With one of the most advanced societies in the world (and in all of human civilization to date), it would stand to reason that we should all have access to clean water, but this is sadly not the case. Even in areas with relatively clean water, you can still find harmful additives and cleaners that are detrimental to your health.
For many, the solution to this problem is buying bottled water. Not only is this insanely expensive, but it is also incredibly wasteful and terrible for the environment.
So we've done some digging and compiled a list of the best faucet water filters. These are inexpensive and environmentally friendly alternatives to bottled water that bring clean, filtered water right into your home--plus, they're hassle-free. So peruse these products and welcome fresh water into your life again.
This is the best product on our list that is currently in stock: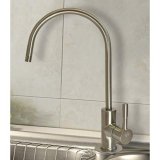 Aquaboon
Why is it better?
Beautiful faucet (chrome and brushed nickel)
You can move the faucet in its best
Fits almost any sink
Removes heavy metals
Doesn't need to be replaced frequently
In a
Hurry? Editors choice: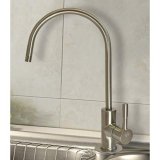 Test Winner: Aquaboon

17
Researched Sources
1200
Reviews Considered
8
Hours Researching
10
Products Evaluated
Effectiveness
Features
Materials
Taste
Value
By Default
10 Best Faucet Water Filters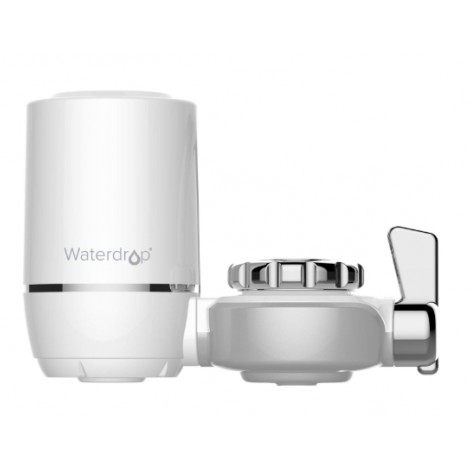 Proceeds go to bringing clean water to children in Africa
Removes 93% of chlorine
Removes large particles as well as lead and fluoride
Fast filtration speed
Easy to switch faucet from filtered to regular tap water
Some reviewers report that it leaks when turns on to the regular faucet water setting.
The white and silver Waterdrop Faucet Filtration System is the first to make our list because we love both the product and the company's mission to bring clean water to the world. For every filtration system purchased, Waterdrop donates a day's worth of clean water to a child in Africa and has been doing so for years. The Waterdrop system is meant to be used on standard faucets, not on faucets that are handheld, pull out, or spring loaded.
Stainless Steel Mesh
The Waterdrop Faucet Filtration System features layers of defense against contaminants in your water. The first line of defense is the stainless steel mesh and pre-sediment layers that filter out bigger solids. After that, the ACF (or activated carbon fiber) removes up to 93% of chlorine. Then the advanced filtration layer takes care of fluoride and lead. Finally, the post-filtration layer attacks rust, sand, and other solids that are still suspended in your water. And if you can believe it, all of this happens in a matter of seconds. The filtration process is fast enough for you to fill up 4 16-ounce water bottles in one minute. We love that this comes with a super-convenient switch that allows you to alternate between filtered water and regular tap water with a single flip.
Good for 320 Gallons of Water
Each Waterdrop Faucet Filtration System lasts for an incredibly long time--about 3 times longer than other faucet filtration systems. Each can produce about 320 gallons of water which equals about 6 months of average home use. And once it has expired, you can purchase replacements that come in packs of 3 for minimal cost. This product really works and you can taste the difference in every glass of water.
Cost and Value
The Waterdrop Faucet Filtration System is one of the most inexpensive items on our list and we love it because it has a sophisticated filter that attacks multiple different contaminates, because it comes with a 30-day satisfaction guarantee, because cheap replacement filters are available, and because the company donates clean water to children in Africa with each purchase.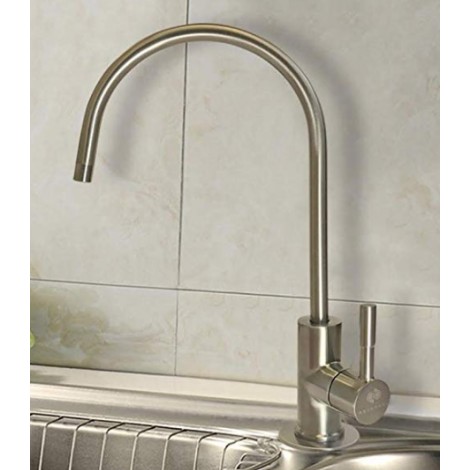 Beautiful faucet (chrome and brushed nickel)
You can move the faucet in its best
Fits almost any sink
Removes heavy metals
Doesn't need to be replaced frequently
Some reviewers report that they had a hard time installing this faucet, but once they did they were extremely satisfied.
The Aquaboon faucet is a reverse osmosis water purifier that uses a filter, a porous membrane, pressure, and gravity to purify your drinking water. This product is the actual faucet itself and can be installed in almost any sink. It is not compatible with an airgap faucet.
Beautiful Design
For starters, the Aquaboon Purifier Faucet is an aesthetically pleasing addition to any kitchen. It comes available in both chrome and brushed nickel. It is 11 inches tall, has a quarter-turn handle, and can pivot fully in its base.
Removes Heavy Metals
The Aquaboon (and all reverse osmosis water purifiers) is designed to remove calcium, iron, salts, mercury, and lead but it does not remove chlorine. If removing chlorine is a major concern of yours, then this is not the faucet for you. While other filtration units need to be replaced every couple of months, this system can last for up to 3 years without needing to replace the filter and membrane.
Cost and Value
The Aquaboon faucet rings up at the very bottom of our price range and we love it because it is a dream to look at and it also works. Plus, it lasts forever and you won't have to worry about purchasing a replacement filter or membrane.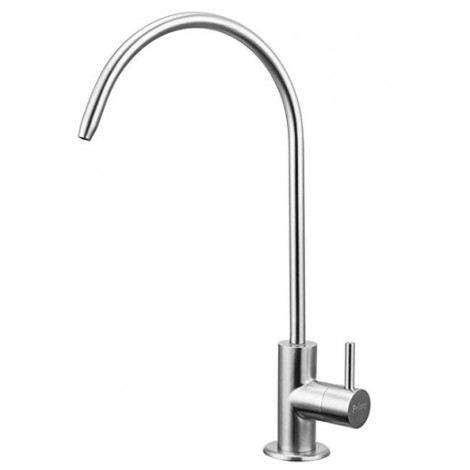 Reverse osmosis
Lead-free stainless steel with brushed nickel finish
500,000 uses in one
Anti-leak
Easy and detailed installation instructions
Some users report some leaking after months of use.
The Primy 100% Lead-Free Faucet is made from (obviously) lead-free stainless steel that is brushed in a nickel finish. It is a full faucet that functions as a reverse osmosis filter.
Ceramic Disk Provides 500,000 Uses
The Primy Faucet is made from totally safe, lead-free stainless steel that is brushed in a beautiful nickel finish designed to resist corrosion on the inside and outside so that you can enjoy your faucet for a lifetime. The internal disc cartridge made of high-quality ceramic is literally designed to last a lifetime. It is tested and proven to sustain up to 500,000 uses. The Primy channels water flow so that you get a steady stream that doesn't splash all over your kitchen and triple "O-Rings" prevent leaks above and below your counters. Plus, the faucet can rotate around 360 degrees and the handle pulls down a full 90 degrees to give you total control over water pressure.
Detailed Installation Instructions
The Primy Faucet is perhaps one of the easiest reverse osmosis options to install on our list. It comes with super clear instructions (both picture and written) and the rubber washers and O-Rings function for easy installation and no-drip security that you can feel good about. Again, reverse osmosis filters are meant to take out heavy metals and particulates but will not remove chlorine.
Cost and Value
The Primy Faucet rings up in the middle of our price range and we absolutely love this value because it is designed to last a literal lifetime--up to 500,000 uses.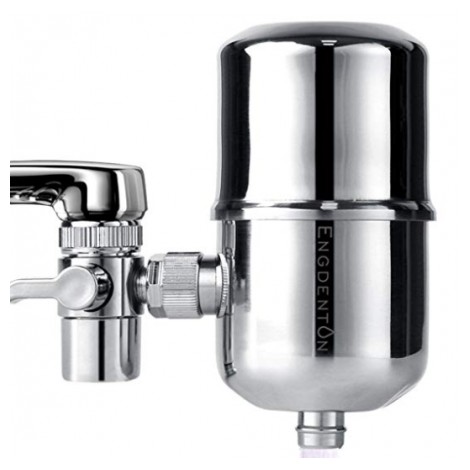 The filter is super long lasting
Beautiful design
Fully rotating body to use like a fountain
Nice flow speed
Fights bacteria and purify chlorine, rust, and other particulates
Some reviewers wish there was more information about the filtration process provided with the product
The Engdenton is made of food grade stainless steel and not only looks nice but is a breeze to install as well. It is meant only for conventional sinks and will not work on other sinks. Engdenton has done a nice job of providing picture illustrations of which sinks are compatible and which sinks are not compatible with their filter.
Made from Food Grade Stainless Steel
The Engdenton is made from food-grade stainless steel which is important, especially considering you're trying to take toxins and hazardous materials out of your water. It is leak resistant and crack-proof and super easy to install--you won't even need any extra tools. The activated carbon fiber fights the growth of bacteria inside of the filter and works to remove chlorine, rust, dirt, and sand leaving you with better tasting water than you ever thought possible out of your home sink. The Engdenton also boasts a hefty flow speed. In just one minute you can fill up 4 16-ounce water bottles, so you won't have to sacrifice filtered water even when you're in a hurry.
Swivel for Fountain-Like Drinking
The Engdenton has a majorly cool feature that we love. You can swivel the whole unit up and enjoy filtered water that comes out as though you were drinking out of a water fountain! This is great for sips on the go. The filter is long lasting and inexpensive replacement filters can be purchased easily online.
Cost and Value
The Engdenton is one of the most expensive filters on our list but we love it because it is super easy to install, each filter lasts a long time, and it has full rotation ability to allow you to flip it up and use it like a fountain.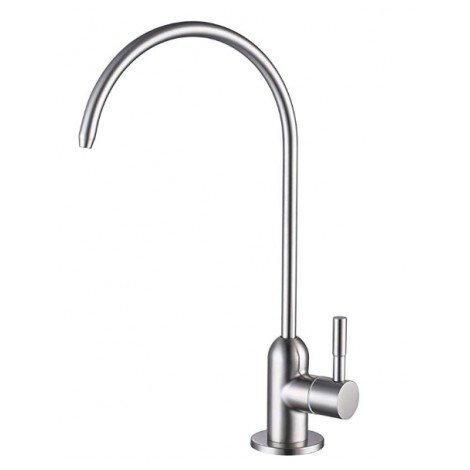 A beautifully designed faucet that comes in 2 great colors
Reverse osmosis faucet
Lead-free stainless steel design
High-grade ceramic disk
Fully rotating faucet
Anti-leaking design
Get up to 5,000 uses before needing to replace the ceramic disk
Some reviewers report that installation was a bit tricky and that you might need to purchase additional hardware depending on the configuration of your current sink and faucet.
The ESOW is another beautifully designed reverse osmosis water purifying that is not compatible with an airgap faucet. You can purchase the ESOW in brushed nickel and matte black.
Stainless Steel Durability
The ESOW is made from quality stainless steel that is free of lead and designed to be durable and to resist rust which causes corrosion and tarnishing over a lifetime of use. The inside of the faucet fights secondary contamination and the ceramic disk is super high grade and quality assured before leaving the factory. Water is gathered nicely at the outlet to prevent splashing even with high-pressure sinks. And with triple "O-Ring" seals, this product won't leak all over your countertops and under your sink. Plus, we love that the faucet can rotate 360 degrees and also that the handle works at a 90-degree angle for supreme control in water pressure.
5,000 Uses in One Ceramic Disk
This product is designed to last for years. Each faucet and the provided high-grade ceramic disk can last for up to 500,000 uses--that's years and years worth of pure water. These reverse osmosis filters are great for removing heavy metals, but remember, they will not remove chlorine.
Cost and Value
The ESOW rings up towards the top of our price range, but when you consider that you're getting a faucet and a filtration system that will last up to 500,000 uses before needing to be replaced, the ESOW is a steal. Not to mention, ESOW promises you'll be totally satisfied or they'll give you your money back within 30 days.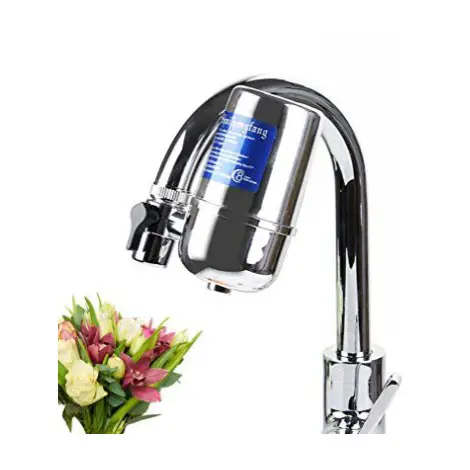 Virtually eliminates over 70 known harmful substances in tap water
Super easy to install
Made from food-grade materials
Filters last up to 3 months
Filter fully rotates 360 degrees
Easily alternates between filtered and tap water
Some users complain that the directions are only pictures and don't come with words.
The NeillieN is a wonderfully affordable option that can adapt to any standard faucet. Made from safe materials with the safety in-safety out philosophy, NeillieN is committed to bringing everyone safer and tastier water to drink.
ABS Non-Toxic Materials
This product is made using ABS plastics that are guaranteed to be food-grade and non-toxic. Additionally, the filter is finished in zinc plating to prevent rusting and corrosion. It can spin 360 degrees to allow for better access and maneuverability no matter what size sink you're working with. Plus, this product is designed to fight skids and expulsions that other options on the market struggle with. If any leaks occur, simply seal with Teflon tape or silicon. And if you don't need filtered water, simply flip the switch to expand the lifespan and use regular tap water instead.
Certified to Remove Tons of Contaminants
The NeillieN is certified to remove all sorts of unwanted contaminants, specifically: 92% of pesticides, 96% of dangerous mercury, 99% of nasty lead, and over 70 other unwanted and harmful substances that manage to find their way into your water. This leaves you with pure tasting water that you can feel confident is safe for your family. Each purifies about 100 gallons of water which lasts a standard household about 2 to 3 months. Easily reorder NeillieN filters online.
Cost and Value
The NeillieN rings up at the low end of our price range and we love its value because it is simple and it works as well as some snazzier and more expensive options without breaking the bank.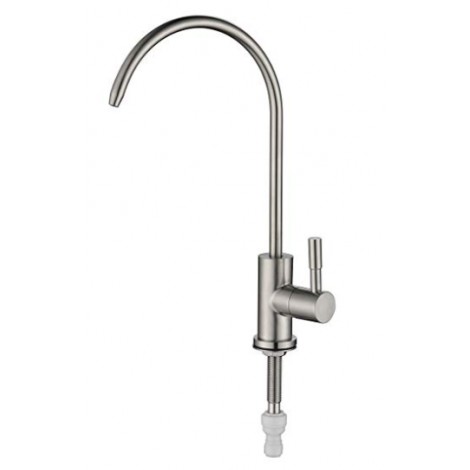 Full faucet set up
Comes with tubing
Made from stainless steel
A reverse osmosis filtration system
Meant to last a lifetime--up to 500,000 uses
90-degree handle
Some reviewers report that this product can be a bit tricky to install, especially with certain sink styles.
The E-Starlet System is another wonderful reverse osmosis filtration system on our list. It comes in brushed stainless steel to prevent streaking and to give a current, fashionable look to your kitchen.
No Washers at Valve For Longevity
The E-Starlet System is made from solid stainless steel that is literally designed to last a lifetime. The lead-free brass and ceramic filter that is free of washers at the valve guarantees that your filter will last a lifetime as well without needing to be replaced--up to 500,000 uses.
90-Degree Handle
The E-Starlet System features a 90-degree handle that allows you to have tons of control over water pressure and expulsion. As we mentioned above, the filter is designed to last a lifetime and won't need to be replaced constantly like some faucet top styles. If removing chlorine from your water is a main concern, this is not the one for you. Rather, the E-Starlet is meant to remove heavy metals and larger particulates.
Cost and Value
The E-Starlet System rings up towards the middle of our price range and we like its value because it adds a touch of class to the kitchen while also making your water tasty and safe to drink.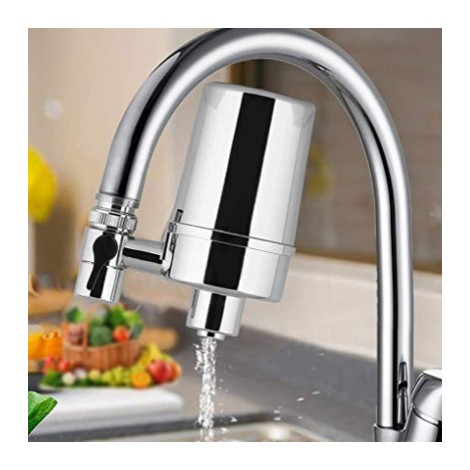 Long life of 360 gallons
Easy to install
Swivel design to make it fit most faucets
Works with hot water as well
Premium features at a non-premium cost
Some reviewers experienced leaks after installation
The WaterQueen System is a faucet top style that can seriously fix your water and that can fit almost any standard faucet.
Can Use With Hot Water
The WaterQueen System features a unique swivel design and easy-install so that you can enjoy this product in almost any sink and faucet. While many filtration systems are damaged by running hot water through them, this can handle hot water without detriment to the life-span.
360 Gallons of Fresh Water Per Filter
The WaterQueen System filters out impurities works to remove odors and tastes and helps hard water soften up. Each filter can purify up to 360 gallons of water which is way more than most other faucet top styles on the market. This means you will get around six months of use before needing to be replaced.
Cost and Value
The WaterQueen System rings up at the bottom of our price range and we love its value because it works with hot water as well and it has a longer life.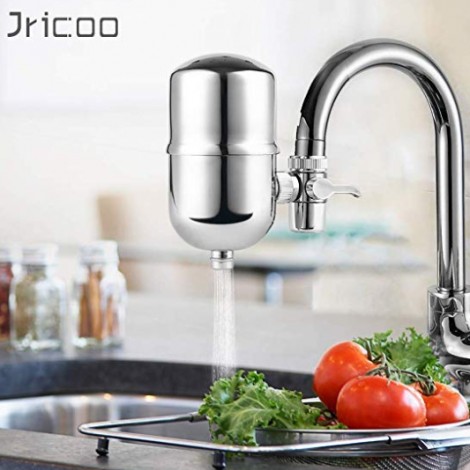 4 faucet connectors and easy install
320-gallon filter life
Certified by several safety organizations
Real purifying power
Some reviewers found that the filtration process takes time and the water comes out slowly.
The Jricoo is certified safe to use and is made using safe materials so you can feel good about the water you are giving your family.
Meets ASTM Standards
The Jricoo is made of stainless steel that meets ASTM standards and is finished with seals that are made from ABS plastics. This product is super durable, it won't crack or leak, and it is corrosion resistant on top of being able to hold up to a whole ton of water pressure. The product comes with 4 different connector options so you are bound to find the one that is best suited for your faucet.
ACF Filtration System
The Jricoo features an ACF filtration system that has 5 layers. It removes 100% of harmful bacteria, 92% of pesticides, 96% of mercury, and 99% of lead along with about 70 other known water contaminants. Each can process up to 320 gallons of water before needing to be replaced, and replacement is a breeze. This product is certified by ANSI, NSF, WQA.
Cost and Value
This product rings up towards the top of our price range but it has an insanely long life and 4 different connection options which means it's almost guaranteed to fit on your home faucet.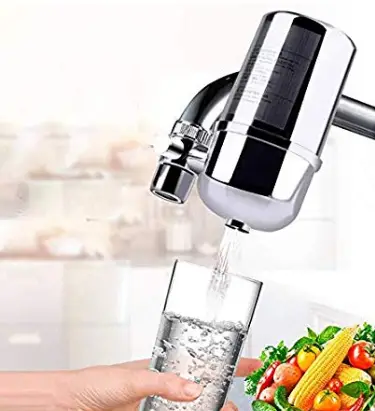 Easy to install
Fits more faucets
Combats over 70 known contaminants
Made from lighter weight materials to eliminate strain on the faucet
Some reviewers report that their water tasted better but was still cloudy after use.
The STRATOMAX is another great faucet top style that delivers super clean and delicious drinking water without breaking the bank. Plus, it fits on 99% of household faucets.
Made From Lighter Weight Materials to Be Kind to Your Faucet
The STRATOMAX is made from ABS food-safe plastics with a crack-proof galvanized outer layer that is lighter weight than stainless steel and therefore easier for your faucet to support. This prevents leaks and the wear and tear that heavier products struggle with, and it means you can enjoy your STRATOMAX for years and years to come. With a double connector, it's easy to install without using any extra tools, and it fits almost every household faucet. It features an 8-layer filtration system that combats over 70 contaminants include chlorine, sediment, lead, rust, and other organic matter.
Easy-to-Replace Filter
The STRATOMAX can last for up to 2 or 3 months. The filter is super easy to replace and you can purchase replacements at a great price online and have them delivered directly to your door.
Cost and Value
The STRATOMAX rings up at the low end of our price range and we love it because it's easy to install, it fights against tons of known contaminants, and it comes with a great warranty so you can be sure you'll be satisfied with your purchase.
Criteria Used for Evaluation

Effectiveness
Effectiveness was the most important consideration when making this list because there's no need to fuss around with getting and installing a filtration system if it doesn't work. We make sure to outline which dangerous particulates each product on our list is meant to deal with so that you can make the best decision when making your selection.
Reverse osmosis filtration systems are meant to handle heavy metals and other large particulates, but are not designed to fight against chlorine and other smaller toxins.
Conversely, faucet top filters are designed to filter out a number of contaminants ranging from large particulates to microscopic toxins, depending on how many layers of filtration each filter has.
We love products on this list that are backed by safety organizations so that you can feel truly safe about the water that you and your family drink.


Features
When we took a look through features, we favor products that are easy to install and products that are designed to fit on many different styles of faucets. We also feature products that can swivel 360 degrees with handles that can move up to 90 degrees. And of course, we love faucet top filters that allow you to easily switch between filtered and tap water so that you can preserve the life of your filter and save on money.


Materials
We were shocked to find that some of the filters out there on the market are not actually made from food-safe and lead-free materials. What sense does it make to purchase a filtration system to filter out dangerous substances when the filtration system itself is introducing even more dangerous substances than before? Crazy, right? That's why we only feature products that are proven to be made from safe materials that are food-grade and lead-free. In fact, many on the products on our list are vouched for my known and respected safety organizations.


Taste
The tastier your water, the more you'll drink it. We read hundreds of reviews in order to bring you the filters that produce the best tasting water. Obviously, if your filter is working correctly then the cleaner your water, the better the taste. And while a change in taste can be an alarm to you that you need to change your filter, don't wait until it's too late! Set an alarm to remind yourself when to change your filters on time.
Value
We could not believe how affordable most of the home faucet filters are. While we believe that clean water is a right and think it's a bummer that these filters are necessary, we are still so impressed with the value that these products pack in. Most of these can be afforded on any budget--and if you get a reverse osmosis filter, you're even getting a whole faucet along with your purchase so it's a 2-for-1 extravaganza deal. And with replacement filters being super affordable as well, these products are really hard to beat considering how much benefit they give to your family's overall health.
Expert Interviews & Opinions
Most Important Criteria
(According to our experts opinion)
Experts Opinion
Editors Opinion
Users Opinion
By Default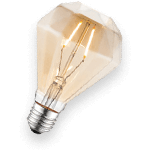 Do Some Research On Your Water
Not all water that comes out of the faucet is the same. In fact, tap water varies pretty widely not only from town to town but from neighborhood to neighborhood. Do yourself a favor and spend some time researching the water in your area. This will help you to make the right decision about what kind of faucet filtration system you will need. Reverse osmosis filters are great at filtering out heavy metals and larger particulates and they come with the whole faucet and a filter that doesn't need to be replaced. However, these faucets won't filter out chlorine so if you're living in an area that has a high chlorine content in the water, this is not going to be a good choice for you. Likewise, a faucet top filter will filter out all of the nasties you don't want in your drinking water, but it's a bit bulky and the filter will need to be changed frequently. If chlorine isn't a major concern to you, then you might be better off going with a reverse osmosis faucet.
Set a Reminder in Your Phone to Replace Your Filters
Let's just all be real, real honest for a second. Life gets hectic. Life gets hard to keep up with. And to be sure, your faucet filters are probably not going to take priority in your brain space. That's why we suggest setting alarms in your phone to alert you when to replace your filters. Don't wait for your water to start tasting funny or for your faucet to stop working. Replacing your filters regularly will help to maintain your filter's functioning and will guarantee that you continue to get safe water from your filter. We suggest setting the alarm for the lower end of the filters life so that you can remember to check in on it and see if it needs replacing and so that if you don't have any filters on hand, you can afford yourself some time to order them. We also suggest that you keep a fair number of filters on hand for this purpose and because they aren't a huge expense and investment.
Other Factors to Consider


Speed
When making this list, we also considered speed. I don't know about you, but I've definitely had some faucet filters that literally trickle out water. Who has time for that? That's why we highlighted options that have purifying powers while still being able to produce an ample amount of water per minute. Our favorite filters will allow you to fill up 4 16-ounce water bottles per minute so you can be sure to enjoy fresh, filtered water even when you're in a rush.


Style
We know that when looking for a filtration unit, you are most concerned with getting a product that actually works in purifying water for you and your family. But we also know that this unit is going in your kitchen and you're going to have to look at it all the time. That's why we did give a nod to style when we were making this list. We love the brushed nickels and steels that are on this list, as well as the arching swan neck faucets of the reverse osmosis filters. We also love filters that come in color options and filters that have a low profile so as not to overpower the aesthetic of the sink or kitchen.
Frequently Asked Questions
q:

How often should I replace my filter?

a:

If you are getting a reverse osmosis filter, the good news is that you probably won't ever have to replace your filter. They are designed to last a lifetime or up to 500,000 uses. If you are purchasing a faucet top filter, you will have to replace your filter anywhere from every 2 months to every 6 months. While a lot of this has to do with the product and filter itself, this also depends on use. Obviously, the more you use a filter, the less time that filter will last. Also, if you use hot water with your filter, it will deteriorate rather quickly as well. We suggest following the guidelines specified by each product and monitoring your filters for the first couple of cycles to see how long each filter truly lasts. That way you can be sure you're getting the most out of each filter while still ensuring that you're getting clean drinking water too.
q:

Does it matter what kind of replacement filter I buy?

a:

While some filters are interchangeable, we strongly suggest that you only buy replacement filters from the same company and maker that you purchased your filtration system from. The reasons for this are quite simple. For one, the company may provide discounted and packaged deals on replacement filters if you've already purchased a product from them. For two, getting a factory made filter designed specifically for your unit will ensure that the filter fits snugly and functions as it was intended to function. Gaps in filters can result in bacteria growth an ineffective filtration which could leave you with even more contaminated water than your regular tap and nobody wants that.
q:

What is the difference between a reverse osmosis filter and a faucet top filter?

a:

A reverse osmosis filter uses gravity, osmosis, and pressure to filter out impurities whereas a faucet top filter uses various different levels of screens and barriers to filter out different types of impurities. The reverse osmosis filter is designed to target larger particulates while the faucet top filter can wage war against even the smallest of dangerous substances.
Subscribe to our Newsletter