Best Acoustic Guitar Strings Reviewed & Rated for Quality
In a Hurry? Editors choice: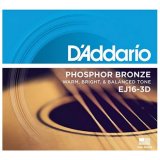 Test Winner: D'Addario

One aspect of owning an acoustic guitar is that you need to take extra care of it. Every month, the strings need attention, because they are prone to catching dirt from the environment and even from your own hands. It also needs polishing and maintenance.
It can be difficult to choose the right brand of guitar strings because the market is full of low-quality options. However, strings are the most vital part; otherwise, it's just a box of wood. Maintaining it should be part of your daily routine or your guitar will eventually become another useless object placed in the corner of your room.
Therefore, it's always better to select the right strings.
A good quality guitar
is easy to handle and is also easier to maintain. To help you in searching for the top-rated acoustic guitar strings, we've sorted some fantastic brands.
Standout Picks
Criteria Used for Evaluation
Value
Accessories with better overall cost, quality, and value are more preferable. That is why most beginners look for brands with the best output and the least cost. No guitarist would ever compromise on how quality accessories will affect their performance.
Cheap items with poor sound quality or higher-quality items with extremely high pricing are never recommended. That is why you always look for brands that are the best value for your money.
Weight
Different brands come in various shapes and sizes, and this has a direct effect on their outcome. One of the most fundamental physical aspects in this regard is the weight. Lightweight brands are most preferred due to their flexibility, but thinner ones are also cost-effective.
Lighter strings are easy to use since they require less energy to operate. The quality makes them a perfect choice for a beginner who is looking for a smooth start. Moreover, due to less mass, thinner ones are more flexible, which aids in better sound quality.
Heavier brands require high-energy strokes to operate effectively. This aspect makes them limited for beginners.
Sound Quality
The sound quality depends upon several different factors. Some guitarists prefer heavier strings because they produce loud and powerful sounds, while others prefer brands that offer those that are lighter weight to create warm notes. No matter what kind of guitarist you are, always look for manufacturers that offer products that are of higher quality.
To enjoy the perfect experience, you need to have adequate knowledge of different varieties; from light to heavy.
Protection
Protection and maintenance of your lines are essential if you want to enjoy a long-lasting experience. To address this, you should look for those made with high-quality materials. The best materials to guard against environmental factors are bronze and phosphor, as these materials protect by keeping away the dirt, grime, and oil.
Environmental factors are the primary elements that affect the playability of your guitar. Moreover, you also want to prevent the rusting and corrosion of your lines. It is not wise to let them rust and corrode when you invest so much into purchasing them.
Ease of Use
What's the use of any instrument if you are not comfortable with it? Do you want sore or bleeding fingers at the end of a concert? We are sure you don't want to have such an experience. So to avoid that, you need to choose the lightest and most comfortable lines for your guitar.
The factor of "ease of use" especially comes into play when you are a beginner guitarist. While it is also essential for pros, beginners need to pay more attention to the ease and comfort of the lines they choose.
To ensure that they are easy to use, go for an option like nylon. They are easily bendable and require less finger force to operate. With less finger force, you can produce better and warmer sounds.
10 Best Acoustic Guitar Strings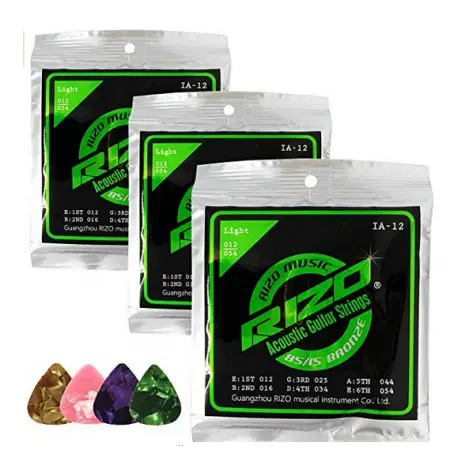 The top product on our list is this amazing set of acoustic guitar strings by the well-known brand, CL FUN. These are manufactured with care using high-quality bronze and phosphor. Internally, it consists of top-quality steel which keeps these strings working for an extended period.
This item counters one of the most vital issues, which is the accumulation of dirt, dust, and oil. The sturdy build is highly repellent to all kinds of dampness, dust, and even grease.This feature makes them one of the best brands out there.
Despite being highly sturdy and compact, they are lightweight. They weigh a mere 4.2 pounds and have a medium string gauge. Thus, they are easy to use and provide the highest quality tone you can expect. Let's look at some of the features.
Dirt and Dust Repellent
One of the primary reasons why strings wear over time are environmental factors. Many low-quality brands use inferior construction materials that are prone to attracting dirt and dust. Moreover, they also attract moisture, which negatively affects the performance of them; however, the good news for you is that CL FUN wins the race in this regard.
These are made of high-quality bronze with a steel interior, so they tend to repel all sorts of stubborn dust particles to provide you the best quality tone and music. Thus, you can easily >maintain them by cleaning them once every two weeks. They will offer you the best possible and most immersive music experience you have ever had.
Quality of Sound
Another important aspect musicians look for is the quality of sound. The sound and tone depend entirely upon the quality of strings you are using. These produce bright, deep, and composed tones, and due to this reason, they are very popular among professionals.
They are designed with so much precision that you will never experience any compromise on the high-end tones and notes. Even if you are beginner, you should go and grab these to have the best start of your guitar journey.
Cost and Value
These strings by CL FUN are among our top ten products, not only because of the super features but also because of the price. They are the best combination of efficiency, quality, performance, and price. They are a great value for your hard-earned money and expectations.
With these fantastic features and high-quality results, such a low price doesn't even make sense. Thanks to CL FUN for bringing innovation into the world of music by offering newbies a chance to grab these whimsical strings.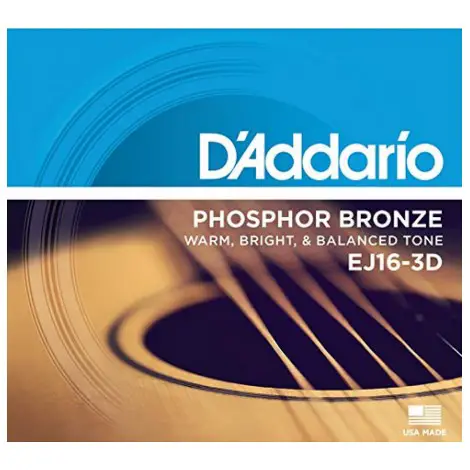 Another popular and trusted brand is D'Addario. They are well known for their audio equipment, especially guitar strings. These are known to be made with passion and attention.
EJ16-3D is another fantastic pick from the bundle by this brand. They are corrosion-resistant and highly durable. Moreover, the medium string gauges produce the most fantastic sounding notes with a comfortable hold. The blend of phosphor and bronze further adds to the quality of sound.
It provides you the quality of both coated and uncoated strings, which is a rare combination. The overall dimensions are 4.8 x 4.5 x 1 inches, which is pretty handy. Let's dive deep into the features.
High-Quality String
D'Addario offers one of the most high-quality strings, not only in terms of performance but also in terms of construction. They consist of bronze, phosphor, and nickel. Due to the inclusion of these materials, they produce the sound of your choice, which is why it is the favorite of many of the professional guitarists.
In terms of strength, it is the most robust and sturdy you will ever experience. They are incredibly consistent in terms of build and quality, with a rare chance of breakage.
Quality of Sound
Sound is perhaps that final reason we all want to get the best quality guitar accessories. The sound is bright and smooth. You will feel some rumble while playing the guitar, which sounds astonishing on high notes thanks to the lighter weight of them.
With a weight of only four ounces, they are straightforward and comfortable to hold and play. Due to this, the tones come out warm and eccentric. Moreover, it is also a great set for newbies due to the ease of use and affordable price.
Cost and Value
D'Addario is one of the most reasonable brands compared to many others with similar features. We are amazed by its aspects, which are matchless with the price. No matter if you are a beginner guitarist or a professional, these are precisely the ones you can count on.
They come with an absolute value, and they can take your music experience to a whole new level. Stop thinking and grab them right now to enjoy the most immersive music experience ever.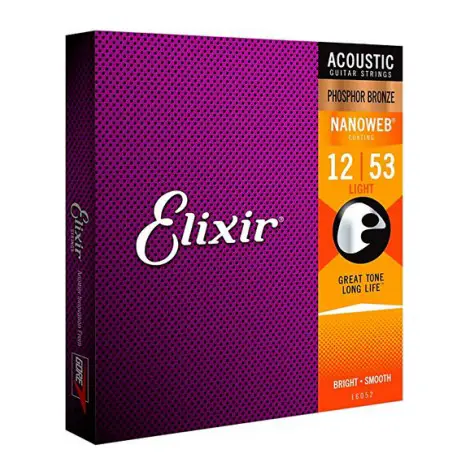 Elixir is famous for their high-quality accessories. This brand manufactures both coated and uncoated strings. They contain polyweb coating, which makes them highly durable, and they also have stainless steel finishing, which makes them corrosion and rust free.
Due to this construction, they are long lasting and will provide you with the best music experience. Moreover, they are incredibly lightweight, only 0.3 ounces, which makes them ultra-smooth and easy to use.These are one of the smoothest, which is why they are equally suitable for both beginners and professional guitarists. However, we recommend that beginners not get them on their first try.
They are made up of phosphor bronze, which is the perfect material. Due to this, they are prone to repel dirt, grime, and oil from the environment, which further increases their life. The following are their best features.
Long Lasting
They are one of the rarest ones you will ever find - with a long-lasting life and flawless performance. It means that you can enjoy long-term music experience at a less expensive cost.
The reason why they are so durable and compact is due to their construction and coating. They are not only coated on the outside, but the inside is also lined with high-quality materials. Thus, you enjoy long-term and immersive music experiences for years.
Moreover, the polyweb varnish produces a much perkier and warmer sound. The credit for its long life goes to the extra-thick varnishing, which is the primary source of protection against dirt and humidity.
Quality of Sound
There is no match to sound quality when it comes to Elixir strings. These highly-affordable items offer a piece of eccentric music and sound quality. Because of the polyweb coating, which is thicker than the usual strings' coatings, you get a brighter sound.
This vibrant sound, at such a low price, cannot be found anywhere else. Moreover, you will experience the smoothest classical music. In short, they are perfect for anyone who is in search of high accuracy and tone.
Cost and Value
These are a great value in terms of price and performance. Moreover, you can always contact Elixir if you need any help or face any issue. The high-quality coating will give you a lifelong experience without the fear of breakage.
Like all other brands, Elixir doesn't offer a warranty, because the usage depends upon the knowledge of the user. However, they promise high quality from usage and are always open to suggestions.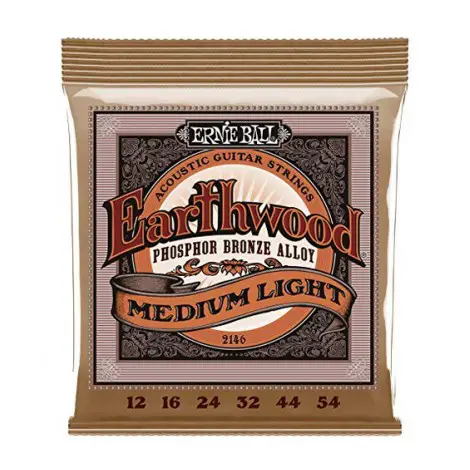 Ernie Ball are another high-quality brand designed with phosphor and bronze. They are wrapped with precision and accuracy which produces a warm, deep, and alluring tone. They come in a vast range of string gauges, and moreover, these are one of the most affordable and lightest strings that offers a long-lasting life span.
Ernie Ball has the same level of popularity as Elixir, due to its exceptional quality and optimal choice of construction material. In addition, these strings are comfortable to use and easy to bend.
Quality of Sound
This brand is up there when it comes to the quality of sound and tone. They produce a rich, deep, and bright tone that is clear and appealing. Moreover, they will feel smoother on your fingers, which furthers contributes to providing the best sound, and they are powerful enough to hold the pressure and duration of the music.
Construction Material
They are constructed with phosphor bronze and come in the category of medium to light range. This mode of construction always has the advantage of producing light tones with smooth handling. This does not only increase usability but also gives the best output, which is why we put these among our top ten list.
The material is not only durable but also has a much longer life. Moreover, it doesn't require frequent maintenance. It is highly repulsive to problematic environmental factors, and when all of these perks come at a reasonable price, you shouldn't wait to get your hands on this valuable item.
Cost and Value
Despite the high-quality construction material and fantastic performance, they come at a very reasonable price. They offer great value, and once you use them, you will never look for other options. Moreover, Ernie Ball is open to suggestions, and will always guide you in case of any damages. The company also offers help in terms of usage.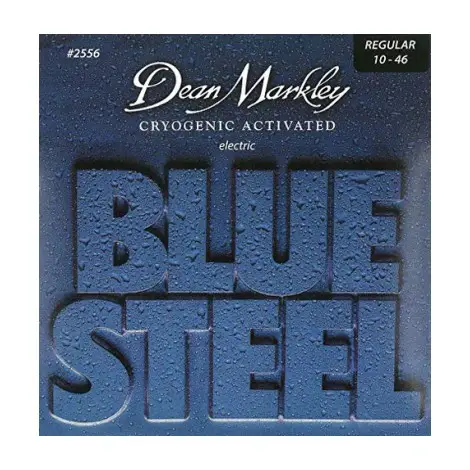 Let's explore another amazing brand: Dean Markley. They are famous for their bass strings and various other musical instruments. However, the type we are going to review are blue steel strings.
As the name suggests, they are manufactured with steel. But the fun doesn't stop here, because these are not mere steel, but they are something else too: They include liquified nitrogen. What an unusual and unique combination that is!
Construction Material
These look like just another set of regular steel strings, but in reality, they are infused with nitrogen in liquid form. Can you imagine the quality of these with the inclusion of nitrogen in them?
Well, it means many years of the highest quality tone. This kind of construction ensures minimum space between molecules, and thus offers more compactness. Overall, it produces exactly the sort of rhythm that you want, and it is the most unique construction we have ever experienced.
Quality of Sound
You can imagine the quality of sound that such a unique construction can produce? That is why they are popular among millions of guitarists around the globe. They are famous for producing a bright, warm, and sustained tone to give the best sound experience.
You will love the round of applause you will receive after you play your guitar with them. Moreover, these are delicate, providing anti-breakage properties. Due to this, they are the smoothest and most comfortable to play.
Cost and Value
These are one of the most affordable in terms of price and produce the most exceptional quality during performances. It is the right place to spend your money, because you will get more than your desired results in return. There is absolutely no match of quality when it comes to Dean Markley. It will be one of your best investments and a turning experience in your musical life.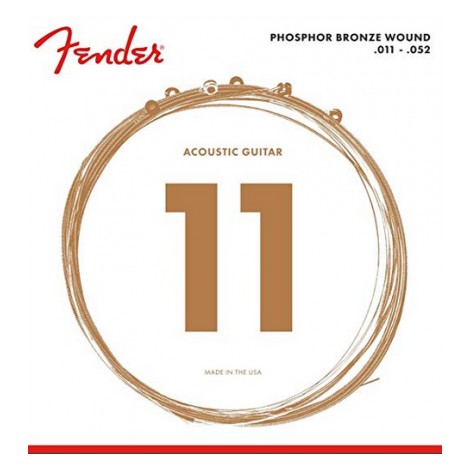 Another brand on our top ten collection is by the well-known brand, Fender. If you are a solo guitarist or singer, then these strings are for you. As we move on, you will find out why this set is recommended.
These are again a blend of phosphor and bronze, which provides the best quality tone and sound. They are also lightweight, only weighing 0.64 ounces, with dimensions of 5.1 x 4.3 x 0.4 ounces. That is why they are categorized as being most suitable for solo artists. Let's find out what makes them one of the top ten.
Light Strings
These fall under the group of light strings which means two things. First, they are easier to use and highly flexible. Secondly, they are perfect for all kinds of guitars as they are easy to install.
All of these features make them unique and best for solo artists. Other than weight, the size of them is also ideal, which makes them easy to replace and use. We found this feature to be one of the best, because you can rarely find it in other guitars.
Quality of Sound
If we talk about the sound quality these produce, you will be more convinced as to why they are one of the best among all other brands. You will experience the most delicate sound, with high notes and excellent grip. It produces a fantastic combo of tones, which are bright and beautiful.
The thin construction further aids in producing the smoothest and most optimum tone. Therefore, we recommend this set if you want to take your music career to the next level.
Cost and Value
These offer great value for your money. Just like our other top brands, they also come at a fantastic, affordable price. Thus, it affordable to all, even if you are a beginner guitarist. Because of its cost and quality, it is among the top acoustic strings.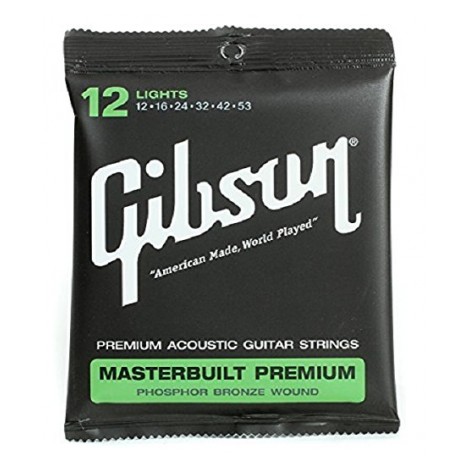 Another premium collection is by Gibson. They are manufactured in the USA. It is also a well-known name among the pros and is famous for its high-quality accessories.
This brand is known to be long-lasting and for their high performance. These are also made with phosphor bronze, a remarkable and great material for lighter strings. You cannot find anything better than these for your acoustic guitar.
Their lightweight nature is another reason for their popularity, with dimensions of only 1 x 1 x 1 inches. You can fit them on almost any of your acoustic guitars.
Premium Quality Construction
Gibson is famous for manufacturing phosphor bronze strings with nickel coating. They are robust and sturdy. They are easy to bend, which makes them easy to use.
Moreover, they have anti-rusting and anti-corrosive properties, which is another advantage. Furthermore, they come in a well-packed box, which shows the amount of effort and care that the brand puts in.
Quality of Sound
The quality sound of these is clear. They provide a unique crisp tone, which echoes all around. Moreover, the music is smooth and expressive.
The sound quality also dramatically depends upon the type and quality of materials used in the manufacture. This brand fulfills this requirement for your music needs.
Cost and Value
Gibson provides you with a reasonable price. They promise high quality and performance, which is a rare combination that guitarists need. They are adequate in addressing all of your music needs at a fair price.
Moreover, they have a long life and are sustainable. Gibson manufactures their strings in such a way that you get the best results out of them.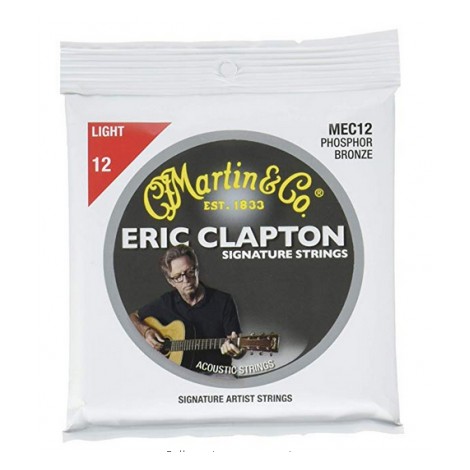 The enthusiastic and devoted workers of Martin have combined their efforts to produce the most fantastic and unique products. They are known for using the highest quality materials with a smooth finish to provide you the best sound. They will offer bright and pulsating tones to encourage you to reach for more.
Construction and Price
To get a life-long experience of vibrant musical effects, you need to keep the grit and dirt away from your strings. The buildup of such substances can jam your guitar, which in turn ruins not only the strings but also your expectations and confidence.
Martin comes with dust-repelling technology. It has a prolonged maintenance time in between which saves you time. On top of it all, it has a fragile, almost invisible, dust-repellent coating, which doesn't affect the quality of sound or ease of use.
Quality of Sound
Due to the fragile coating on its surface, they produce the loudest, finest, and smoothest sound. You can get innovative with them by playing high notes to achieve the desired results. These vibrant sound effects and bright tones will make you more confident as a guitarist. In return, you will have one of the best music experiences ever.
Cost and Value
All of the brands we have mentioned in our list have a fair price and great results. These are no exception. They are even available on discount from the company.
Martin provides a brief guide to all of its users which makes things easier. Therefore, investing in them for your guitar will be a wise decision.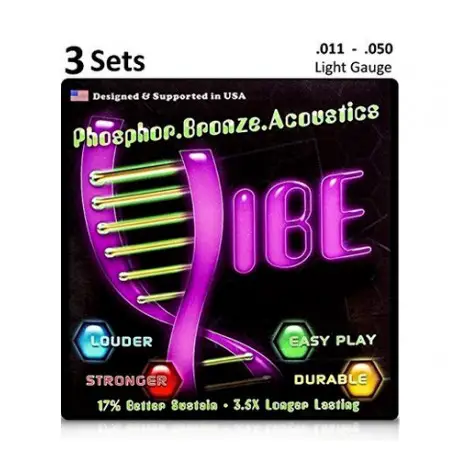 Here comes a bit expensive, yet durable, set of acoustic guitar strings for all the music fanatics out there. They are premium-quality, which are well known for their long-lasting performance and stronger build.
They are easy to use due to their flexibility and sustainability. They are comfortable enough to give you the best possible music experience. You can play a vast variety of tones using them.
Extensive Lifespan
You can enjoy a longer and better quality lifespan of your guitar due to their sturdy build. To keep the possibilities of breakage as small as possible, Vibe Strings has made them extremely flexible and bendable.
They are highly compact and even sustainable to rough use. That is why they leave a reasonably impressive reputation among professional guitarists. The long lifespan also takes away fear of spending more money on strings every other month.
Quality of Sound
They deliver an excellent variety of sound. They are famous for providing well-balanced and bright tones. You can enjoy high notes and crisp music with them.
This investment will not only polish your skills, but they will also increase your poise. We highly suggest you give your music career a boost and opt for this brand.
Moreover, it comes as a pack of three, which allows you to play a wide range of music. They are easy to tune and easy to use. Thus, they are the best for apprentices as well as pro guitarists.
Cost and Value
Although these cost a bit more compared to other brands on our list, the price comes with an advantage. Vibe Strings offers an incredible 30-day-money-back guarantee, which is excellent for your satisfaction. This offer also ensures their quality and their outcomes. These are no doubt the best value for your money.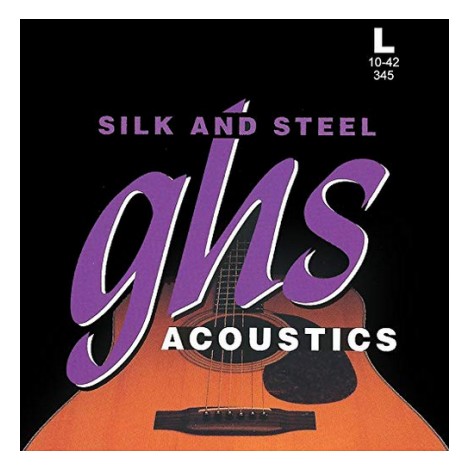 Last but not least on our list are the acoustic guitar strings by GHS. They specialize in manufacturing high-quality and long-lasting products. These steel strings are another launch by GHS as they are lightweight, durable, and compact. They are equally perfect for newbies and experienced musicians due to their ease of use.
These come in the category of light strings, which is proof of their smooth and consistent performance. They weigh only 1.6 ounces with the dimensions of 0.5 x 4.5 x 4.5 inches.
Construction
They consist of high-quality steel. Even though they are anti-corrosive and anti-rusting, they are also prone to breakage. Internally, they contain iron, while on the exterior, there is a finishing of copper and silver. Moreover, there is also an additional layer of silk to give them a glossy varnish.
All of these features make them easy to use and highly durable. This smooth construction with a soft finish makes them a great option for guitarists and musicians.
Quality of Sound
With the finish of silk and copper on them, they are comfortable and smooth to use. Due to this, they are excellent for producing high notes and bright tones. You will experience vivid, appealing, and catching tones and sounds using them.
They are also perfect for your full-scale instrument. You can produce a comprehensive and vibrant range of tones using them on your guitar.
Cost and Value
These are one of the most highly-affordable and high-quality items you can opt for. GHS Strings has made themselves available to all kinds of guitarists, whether new or skilled. They are excellent value for your money, as they are sustainable and flexible.

Subscribe to our Newsletter