Best Digital Pianos Reviewed & Rated for Quality
In a Hurry? Editors choice: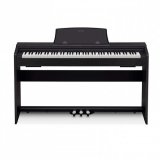 Test Winner: Casio PX-770 Privia

A lot of people note that the piano is one of the most versatile and useful instruments that you can play. It gives you the ability to better understand music, and now that there are all these new advancements in technology, owning a piano gives you access to tons of other options when it comes to
playing music
. Digital pianos are a must buy for anyone who wants to truly delve into the musical scene. They give you lots of options for your playing, but there are other advantages, as well. They are much smaller than a grand piano, which means you don't need to live in a castle or mansion to own one. They are also much cheaper, which means you don't need to live in a castle or mansion to buy one. This is a list of the best ones on the market, according to the experts.
Standout Picks
Criteria Used for Evaluation
Weight
The feeling of the keys is one of the most important things about playing this type of instrument. It is the reason that you can get a fluid level of playing going. Your fingers will become used to the way that the keys feel. This makes it very important that a digital piano does its best to simulate the feeling of playing the heavy keys of a larger acoustic one.
This is harder than it seems because it is a totally different thing happening when you are using the keys of a computerized keyboard. They do a lot less heavy lifting than the keys of a grand piano, for example. The makers of these have done their best to emulate the feeling of those keys. The higher the rating in this category, the more likely you will feel like you are playing a classical piano. That comforting feeling is the difference between smooth and clunky playing.
Sound Quality
If you're playing an instrument, the sounds that it makes are probably the reason that you paid admission on that ticket. All the options on this list will come with some speakers that are built into the back of the keyboard. The quality of those speakers is the difference between a good sounding product and one that isn't good for much of anything. The higher the rating in this category, the better the sounds coming out of it will be.
There are a few ways that you can get noise to come out of your instrument. Many of the pianos on this list come with options that let you choose how you want the sound to come out. some pianos on this list will let you attach speakers to the piano through an audio jack, while others will give you the opportunity to attach some headphones so that you can better hear your music.
Versatility
Many purists may say that an acoustic piano's sound can never be matched, but the advantages of a digital piano are evident and obvious. The first big advantage is just how simple it is to be able to change up how your new instrument will play. This gives you the opportunity to play any kind of sounds that you like. There are the obvious candidates, such as using your digital piano to sound like a digital organ, but the opportunities are endless.
Some of the options on this list make it very easy for you to connect it to the bank of sounds that you have access to through any number of studio tools. This turns your keyboard into just about any instrument that you could hope to get your hands on. The higher the rating in this category, the more freedom that you will have.
Features
To continue espousing the advantages of the digital piano, next on the list is the pile of extra features that can come with the product that you buy. There are options that are designed to teach you how to play like the pros. These methods of learning are wide and vast.
There are programs that teach you how to play through organized lesson plans. Also on our list are items that can be turned into two smaller keyboards so someone could play along and learn with a teacher. Some have features that let you stream music from your phone onto the piano and then allows you to play along. There are options that are designed so that music can be recorded on them. This category is a rating of how many extra goodies you get along with that set of keys.
Value
There are lots of different price tags to go along with these pianos. This is because what you get with your piano will vary greatly. In comparison to an acoustic piano, the ones on this list are chump change, but you might want to consider the price a bit before you go through with your decision.
The easiest way to know what you are looking for is to think about what kind of performing you are going to be doing. If you are just getting into playing the piano, it might be a good idea to get one of the cheaper options on the list. They all do a great job and are perfect for anyone who is just going to be playing in their room. The more expensive options are more designed for those people who want a more professional sounding piano. This rating is to let you know how much you are getting for your dollar.
10 Best Digital Pianos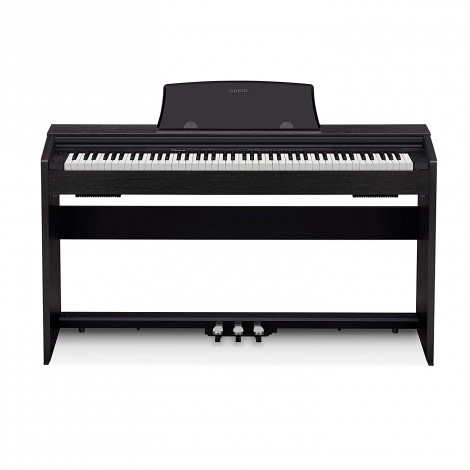 Casio is one of the classic digital piano companies. Almost everyone knew somebody who owned one of their smaller, cheaper models. This one is the real deal.
High Quality Casio
The Privia is designed to do its damnedest to give you the true to life sounds of a grand piano. It is designed to emulate the sounds with great accuracy and power. It does a great job of that. When you look at it, it just looks like a classic style, just without that large back half. The digital sounds do their best to capture the resonant sounds of the inside of a truer piano.
Other Features
There are tons of things that the Casio can do that its competition cannot. They are designed with thoughtful features that make playing much easier and smoother. It can quickly be divided into duet mode so that the keys are replicated over the other half for two people to play. It also has the ability to be hooked up to an app that lets you quickly learn any song that you could think of.
Cost and Value
The Privia is a great choice for anyone who loves to play, but is like most people in their lack of funds for a true grand piano. If you have the love of the classic sound, but not the funds to back it up, then the Privia is a good choice for you. It has the foot pedals. It has the weighty feeling keys. The only thing it doesn't have is you to play it.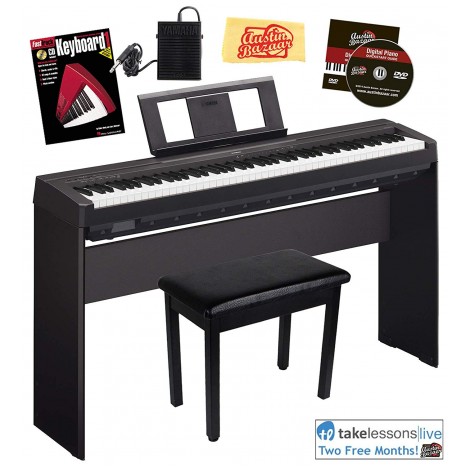 Speaking of classic companies making electronic sounds, the P-45 comes from another classic creator of computerized options, Yamaha.
Full Set
The P-45 is a great choice for those who don't have anything in their home that points towards the soon ownership of a piano. It comes with the bench to sit on, the stand to prop the keyboard up on, a place to put your music, and even a cloth to clean the whole thing up after use. If you want a product with all the fixings, then you have come to the right place.
Other Features
The Yamaha has a lot more to impress you under the hood, too. It comes with sixty-four note polyphony, which means that you can have your fingers dancing across the keys as fast as you can manage without the Yamaha skipping a beat, or rather, note. The Yamaha also has the coll feature of letting you bind multiple sounds to a single key, which lets you create multiple layers of sound on the same note.
Cost and Value
The Yamaha is a great option for someone who wants everything, whether it is in the form of the pile of equipment that comes with it, or the boatload of features that you can play with your computer. The Yamaha costs around the same as the Casio, but where the Casio is giving you the truest to life sound that it can muster, the Yamaha is giving you all the bells and whistles that you could want.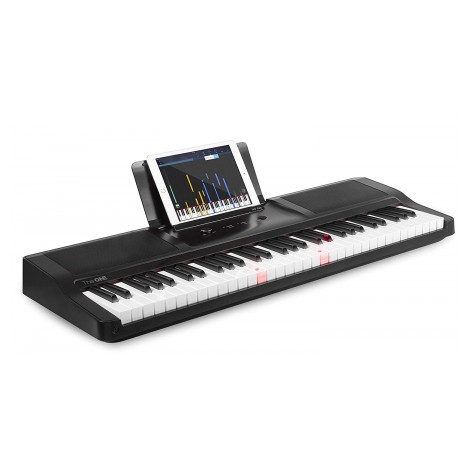 Not everyone was trained as a pianist at a young age. The One is the solution for those who don't quite have the deft fingers they hoped for yet.
Teaching
The big sell of the One is that it will do its best to teach you how to play. It does this through a few different things. The first thing it does is lights up the keys so that you always know where your fingers should be going next. The next thing that it does is give you a fully featured app that will tell you exactly how to get from someone who doesn't know what the black keys do, to someone who understands how musical notation works.
Other Features
The One is a great option for tons of other reasons beyond its ability to teach you how to play. It has a keyboard that gives you sixty-one keys of goodness, which is more than enough to play just about anything that you can think of. The other thing it has going for it is that it doesn't take up too much room in your house, even compared to the much smaller Casio and Yamaha.
Cost and Value
The One is a great place to start for anyone who is thinking about becoming a master of the ivories. It will start you at the bottom, and then bring you all the way to the top. It does its best to make everything simple for you by giving you everything you need on its handy to use app. This also doesn't strain the purse strings, which only furthers how much it is recommended.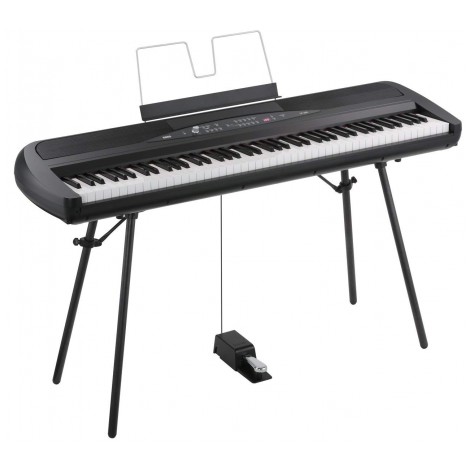 Although you might be in a place where you are feeling embarrassed about playing in front of others, the Korg is an option that believes that it's time to go out there and show the world what you can do.
Portable
The Korg is designed to bring a rich and dynamic sound to your playing, but it doesn't want you to be doing it at home. It comes with a lightweight stand and wired pedal, which makes it the perfect choice for those who want to play in front of others. Everything folds up into the Korg, so that it is incredibly easy to bring it along to the audition with you.
Other Features
The Korg better do a good job of making beautiful sounds if it expects you to show off your talents in public. Luckily, it does a great job of doing your playing justice. It comes with a powerful speaker that will really let the world know what you are trying to say. It does a good job of emulating the sounds of classic pianos from the past.
Cost and Value
The Korg is the performer's piano. It does everything you could hope for when you are trying to put on a show, and it does it all in a lightweight, portable package. It costs a little more than the other options on this list, but it makes a good argument for the old adage of "you get what you pay fo." The Korg mixes portability and potency into the perfect cocktail.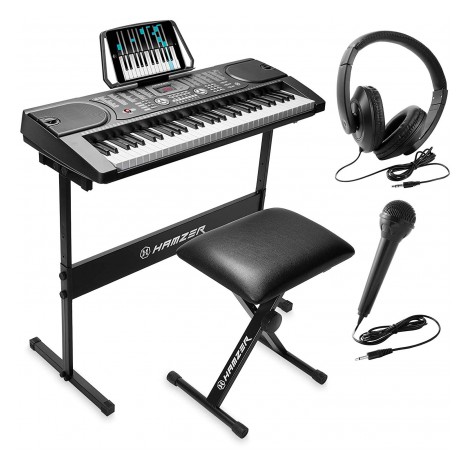 The Hamzer might not have the same quality of performance as you will find with the Korg, but it beats it at its own game when it comes to portability.
Lightweight and Convenient
The Hamzer is a great little device for those who want something that they can take on the road with them. This is a truly portable option. It is a bit shorter than a classic piano, and it comes with a stable and lightweight stand that you can easily remove from the rest of the keyboard. The whole operation doesn't weigh very much at all, and it even comes with somewhere to put your music.
Other Features
The Hamzer comes with tons of other little pieces that make it a fully functional, albeit tiny, product. It comes with some headphones so you can play silently to yourself. It also comes with a microphone if you style yourself after an Elton John, or Billy Joel. Although the keyboard is smaller, the keys are not,, so don't worry about an inauthentic performance in front of your new piano.
Cost and Value
The Hamzer has another big thing going for it. That thing is its small price. The Hamzer is much cheaper than all the preceding options on the list so far. It comes with all the pieces you need to put on a one-man show, but it just does it all in a small and manageable package. The Hamzer can be brought anywhere, and do anything.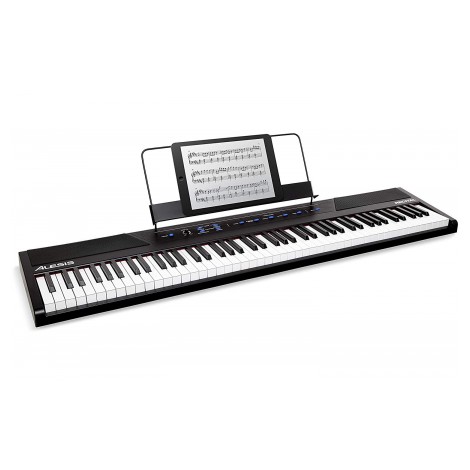 This option from Alesis is made for those out there who are still trying to make heads or tails out of their love for playing.
Beginner's Choice
The Alesis is a full-sized option that will do its best to make sure that you learn how to play. It comes with a boatload of modes that make sure to cover every kind of learning style that you could think of. It can be split down the middle so that two people can play it at the same time, it can also be programmed to give you lessons on how to play.
Other Features
The Alesis doesn't stop by teaching you how to play. It also goes the extra mile to make sure that you sound good while you do it. It comes with a full set of speakers inside that will make some quality sound bounce off the far walls of your room. If something a little quieter is to your liking, the Alesis also comes with a headphone jack that lets you keep your mistakes to yourself.
Cost and Value
The Alesis is a great option for those people out there who aren't quite at the level of Beethoven or Mozart. The Alesis will do the best it can to get you there. It doesn't come with all the extra pieces that you need to set up, like a bench or even legs, but it comes at a low enough price that youwon't really be worrying about if you are getting your money's worth.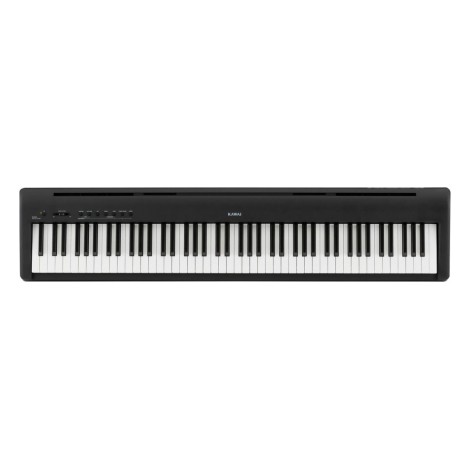 The Kawai is a good product to be looking at if you like to play around with different sounds. This is the kind of keyboard that is a good centerpiece for a studio.
Studio
If you have a room in your house that is filled with all the bells and whistles of music production, this is a good keyboard to put in the middle of it all. The Kawai gives you the ability to effortlessly hook your studio gear up to the keyboard. It can be connected through MIDI or Bluetooth, so you can have it permanently connected to your gear at home, or quickly connect it to something that a guest brings over.
Other Features
The Kawai will make itself at home among your other music gear, but it will also do its fair part to stand up among the crowd. This is a full-length keyboard with eighty-eight keys for you to play and experiment with. It also does a fine job of keeping its keys feeling as close to the real thing as you are going to find on a digital version.
Cost and Value
The Kawai is not really a piano that you should buy on its own. The big sell here is that it can easily be connected to all your other gear. Having a full-length keyboard is the best way to feel like you can make the kind of music that you want to make, and the Kawai is the perfect choice to make that feeling come to life. It costs quite a bit to achieve the dream, though.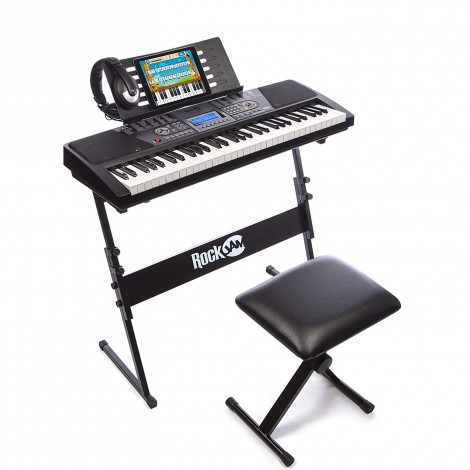 If you find yourself in the sort of living situation that can't house a full-length digital option, let alone a grand piano, then maybe you should look into getting yourself the Rockjam.
SuperKit Supreme
The SuperKit is a good idea for anyone who wants the whole kit and kaboodle. Sure, you could look up every single little piece of equipment that it takes to set up your digital piano for playing, why would you? The Rockjam comes with everything that you are going to need. Once it comes to your door, just set everything up and you will be ready to go.
Other Features
The Rockjam gives you everything that you need, but that is not the reason that it finds itself on this list. This is a bit smaller than a full-length piano, which gives you a bit more room in that cramped apartment or bedroom of yours. It also comes with a pair of headphones that will let you play away into the wee hours of the night.
Cost and Value
The Rockjam will do a great job at giving you everything you need to begin your path into music. Everything is here, including a teaching aid to make sure that you are always on the right path. The Rockjam also isn't going to leave you in the lurch. It gives you the whole set up for a price that won't have you living on the street after everything is said and done.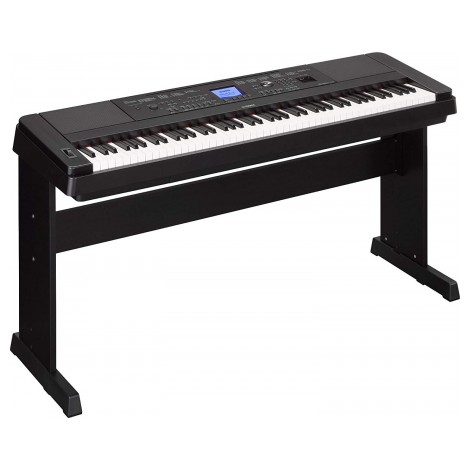 Yamaha, being the classic brand that it is, was not happy with only having a single entry on the list. Thus, the reliable and wonderful DGX660B.
Fully Featured Piano
The DGX660B is here to make sure that you have everything that you need to make some great ballads. It comes with an input that is designed for a microphone so you can put some vocals over top of that track. It also gives you the ability to record any kind of music that you play, which is great for listening back to your audio and seeing where the music has gone to creatively.
Other Features
Yamaha's second entry on this list is no slouch in the practicalities, either. This is a full-length option that comes with a long set of eighty-eight keys that you can enjoy tickling. The weight of these ivories is very close to an acoustic style, which is good news for being able to translate the skills you learn to all other kinds of pianos down the road.
Cost and Value
Got some bad news. The Yamaha is the most expensive option on this list. There is a heaping pile of good news, though. This is worth every penny. It has an authentic sound and feel that will have you feeling like one of the masters in no time. The multitude of recording options only sweetens the deal and lets you immortalize all that work you are putting in.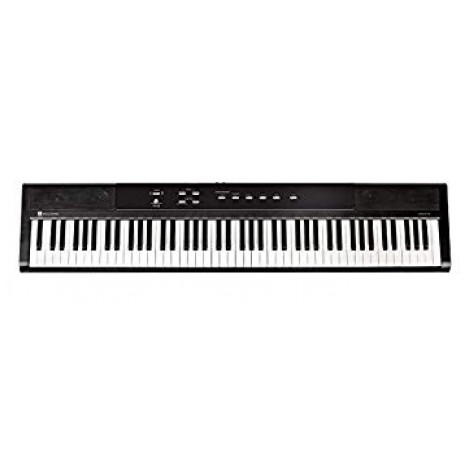 The Williams Legato may find itself at the bottom of the list, but this option will still bring you a crisp and clean sound that you will feel proud to produce.
Classic Electric
The Williams Legato is a great choice if you are looking for an option that is more in line with the keyboards of old. This runs on a set of D batteries that you can switch out as you need. It also comes with a set of five different piano-y sounds. It can be made to sound like an electric piano, an organ, a synth, and a bass.
Other Features
The Legato is a classic computerized option that packs in all the features you are going to need to start rocking out on your keyboard. It comes with a metronome feature designed into it, which will do a good job of stopping you when you start getting too wild with your playing. It also has a connection that you can use to connect to a ton of things, including a USB port, a jack in for stereo and mono speakers, and a power supply.
Cost and Value
The Legato is a great option that comes across like a little bit of a blast from the past. There isn't much in terms of more futuristic features, but the Legato is a dependable and hardworking piano. It will do a great job at giving you all the sounds you will need to make all the kinds of music that you want. It comes right in the middle of the price range for this set of instruments.

Subscribe to our Newsletter