Best Natural Sunscreens Reviewed & Rated for Quality
In a Hurry? Editors choice: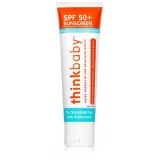 Test Winner: Thinkbaby

The following buyer's guide is about the best natural sunscreen available. It is going to show you how you can continue to enjoy sunbathing and still maintain your skin's healthy, youthful glow. The following products have been hand-picked to help you in deciding which sunscreen product is best for you and your skin type.

What is the biggest concern we all have for our skin?

The answer to this question is overexposure to the sun and its dangerous ultraviolet rays. We all fear the repercussions of spending too much time in the sun. Gone are the days when we "sunbathe" to get the perfect tan. The media gives us awareness (and fear) to the dangers and risks of what overexposure to the sun and ultraviolet rays can cause.
Standout Picks
Criteria Used for Evaluation
UV Protection
Although the Sun Protection Factor, SPF, is a measure of the protection from UVB rays, higher SPF does not necessarily mean more protection. The period one takes in the sun before burning after applying natural sunscreen is partially determined by the light intensity, skin type, and sensitivity, and amount and type of sunscreen used, among others. Even so, under constant conditions, SPF 15 will block 93.5%, SPF 30 will block 97%, and SPF 50 will block 98% of the sun's rays.
Experts recommend an SPF of at least 15 if you have dark skin and above 30 SPF if you have light skin. In addition, sprays have higher alcohol content than creams, making them less photo-stable and less effective. On the other hand, broad-spectrum SPF will protect the user from both UVA and UVB rays. Natural sunscreen needs to pass the FDA's Broad Spectrum Test to be labeled 'Broad Spectrum'.
Effectiveness
By now, every natural sunscreen user should be well aware of whether their skin is dry, oily, or sensitive. While it is advisable to use lightweight or gels for oily skin, avoid sunscreens with alcohol if you have dry skin. Hypoallergenic and fragrance-free natural sunscreens are perfect for sensitive skin. Alcohol sprays and creams are a decent choice if you are prone to acne.
The areas around the nose, eyes, and behind the ears have thinner skin, making them more prone to burns. Concentrate on these areas for the best results. Do not sleep with the sunscreen on since the skin will need to breathe.
Although the natural sunscreen protection lasts only a couple of hours, the grime and debris that builds upon your face need to be washed off to reveal smooth, purified skin beneath. Therefore, ensure you wash properly and apply a light natural oil when going to bed to allow your skin to recover.
Safety Hazards
It is important to check that all the ingredients used in the formula are compatible with your skin type and preferences. FDA only approves natural zinc oxide and titanium dioxide as safe ingredients for natural sunscreens. You should seek to know the different types of materials used in making natural sunscreens and how each reacts with your skin to avoid any problems.
Chemical compounds such as bemotrizinol, avobenzone, biscotizole and oxybenzone and preservatives like methylisothiazolinone may cause allergic reactions, cancer, disrupt hormones and more. Before applying the natural sunscreen, always check the expiration date.
Water Resistance
There is no such thing as a fully waterproof natural sunscreen in spite of the alluring advertisements from companies. Manufacturers use 'water-resistant' to indicate the sunscreen's ability to retain its SPF value after exposure to water, sweat, fluids or moisture. For example, an 80-minute water-resistant sunscreen will protect you for 80 minutes when swimming or sweating, without coming off.
That said, you will need to apply sunscreen each time before getting in the water and reapply once you get out. Water-resistant sunscreens are the best choice for water sports like skiing and other perspiring outdoor adventures.
Versatility
What you choose to pay for should be practical and safe for both you and your family. Children need extra protection and non-irritating sunscreens. Zinc oxide sunscreens are compatible with most skin types, making them more versatile. Water-resistant sunblocks are also recommended because they can stand up to water, moisture, and sweat and offer protection for a longer duration.
Check the natural treatments used to be sure what it contains and eliminate any chances of sunscreens that irritate your skin. Ensure it goes well with your skin and the children if any. If you plan to combat both UVB and UVA rays, ensure the choice you settle for offers SPF and broad-spectrum protection.
10 Best Picks for Natural Sunscreen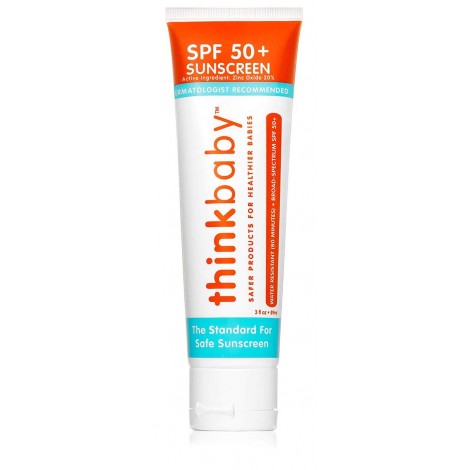 You will need to take Thinkbaby natural sunscreen on your next beach day if you want to enjoy unmatched protection. If you have spent a day on the beach before, you must be familiar with how severe sunburns can take the fun out of your beach day. Taking this mineral-based tube is an effective approach to offering full protection from the cancerous sun rays.
Works as Advertised
This natural formula passed our tests with flying colors. The company assures users of a broad-spectrum formula, which blocks both UVA and UVB and promises 97% protection from UVB rays. Thanks to the 80-minute water resistance, the Thinkbaby Safe Sunscreen is an excellent choice for all your sweaty, water-filled outdoor activities. It comes in a 3 oz tube.
Safe and Versatile
The manufacturer was very careful not to include any harmful ingredients that could cause further damage to your skin. This makes it safe and ideal for babies older than six months or if the user has sensitive skin. Worry not if the user has any allergies or dislike for smelly skincare products, this natural sunscreen has no obtrusive odor typical options.
The makers recommend applying generously to all areas that may be exposed to sunlight at least 15 minutes before going out to the sun.
Cost and Value
If natural sunscreens are part of your skincare routine before going out for a day at the beach, but you are not willing to spend a ton, then this is your best shot.
You get much more for much less with this unit, making it perfect for budget shoppers. Would we recommend this product to you? Of course, we would.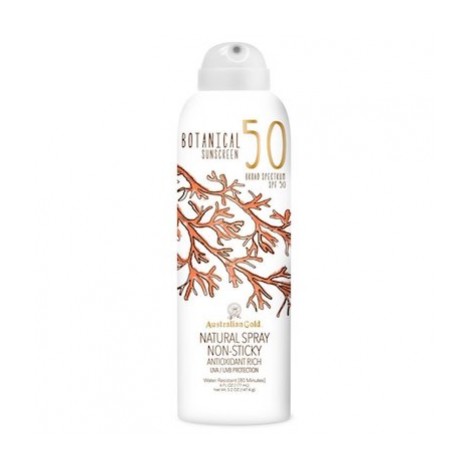 Australian Gold seems to be aware of how the scorching sun can have a toll on your skin complexion and color to the point of ruining your fun-filled day out in the sun. So they bring you this efficient and effective natural sunscreen spray to ensure that your skin remains hydrated, soft and supple even after long-term exposure to the sun's rays.
Full Protection
As you would wish, the broad spectrum offers complete protection from both UVA and UVB rays. Also, SPF 50 protection means you will stay longer in the sun without feeling the impact of the harmful sun rays. Rather than absorbing the rays, this mineral-based formula will deny entry to the rays, reducing the burning effect and leaving the skin looking as good as it feels. What's more, the formula has been tested by dermatologists and pediatricians and declared safe for sensitive skin, allergic and younger users.
Be comforted if you will be engaging in sweaty or water-filled outdoor ventures; the formula is 80 minutes water-resistant, saving you the trouble of frequently applying more sunscreen after a short period.
Easy to Apply
You have to apply the spray 15 minutes before exposure to the sun, and so as soon as you are ready, the sunscreen will be ready, too. Also, the application is way more straightforward thanks to the convenient 360 ͦ continuous spray.
To spice up the experience, the company included a subtle and refreshing citrus oasis scent that smells amazing.
Cost and Value
It is time to kiss goodbye to the unwanted, less effective yet highly-priced sunscreens. Australian Gold brings you the solution to cancer-causing UVA and UVB rays and painful sunburns at a pocket-friendly price.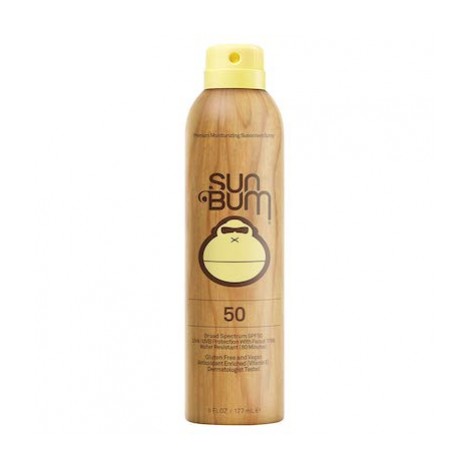 Sun Bum designed this piece to ensure you are always on top of your game. This significantly adds to your self-confidence and naturally revolutionizes how you work and interact. The company has been in the business long enough to streamline their artistry to excellent standards. They apply this expertise on this product, meaning you get premium quality.
Skin-Friendly Formula
The sunblock relies on non-comedogenic, paraben-free, gluten-free, cruelty-free, PABA-free and oil-free ingredients to physically bounce radiation off the skin. Castaway any doubts over your safety, since the product has been tested and approved by the Skin Cancer Foundation (SCF) and the American Cancer Society.
The makers enriched the formula with vitamin E, which ensures all the free radicals are neutralized and moisturize the skin, preventing early sign of aging.
Supreme UV Protection
There will be limited entry to destructive UVA and UVB rays with broad-spectrum SPF 50 protection. If your skin comes into contact with water or sweat, be comforted for the product is 80 minutes water-resistant. The manufacturer advises that you administer the sunblock 30 minutes before proceeding to the sun.
Cost and Value
Budget shoppers have another reason to be excited about the Sun Bum Moisturizing natural sunscreen. The price is reasonable, considering what you will have to spend on other skincare product to get this level of protection. It comes in a sizeable 7 oz container that promises long-lived delivery and saves the cost of frequent replacement.

4

. Alba Botanica Sensitive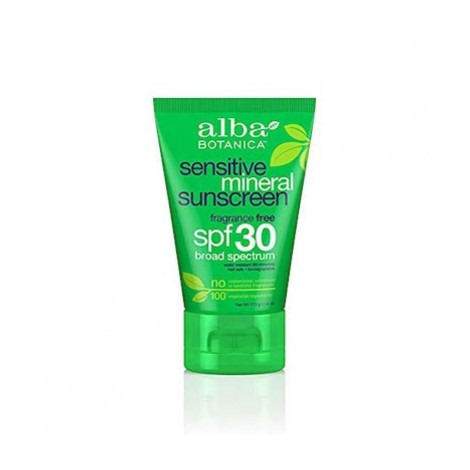 With the bright spring in full force and the hot summer around the corner, you will doubtless be spending more time in the sun. Even so, you need not worry about sunburns, itching, and discomfort when an inexpensive solution is right in front of you. This is for you if you are genuine about protecting your skin with professional-quality skincare products.
Safe Plant-Derived Ingredients
The manufacturer decided to keep it natural and safe with 100% vegetarian ingredients. This makes this product safe for all types of skin, including sensitive skin and babies. The company does not include any gluten, oxybenzone, octinoxate, or any other harmful components.
Also included are botanicals like chamomile and aloe leaf juice, which add to the nourishment and skin texture.
Full UV Protection
With this product at your disposal, you can be sure of protecting your face the way you please. You should do just fine in the unbearably hot summer sun with the SPF 30 and broad-spectrum protection that blocks UVA and UVB rays from making entry into your skin.
The company also settled on the best water resistance out there and used 80 minutes of water and water resistance to ensure the sunblock retains its SPF power even when exposed to water and sweat.
Cost and Value
At this easily attainable price point, you have no reason to not stay protected from harmful UV radiation. Although it is the least expensive on our list, the Alba Botanica Sensitive Sunscreen Lotion is unquestionably up to the task and is a real value for the money.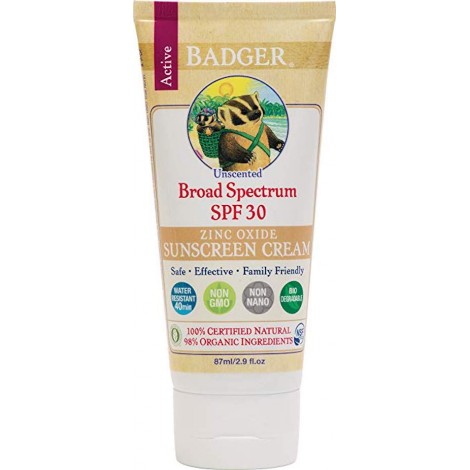 Fun and comfort are inseparably bound; therefore, having such a natural sunscreen if you are a lover of outdoor endeavors should a necessity rather than a luxury. Your outdoor ventures will never be the same again with the superb level of protection and user-friendliness this product promises.
Made for Protection
The company achieves UVA and UVB protection using non-nano, uncoated mineral zinc oxide that ensures broad spectrum and SPF 30 UV protection. Other natural ingredients used include sunflower oil, vitamin E, beeswax, and seabuckthorn to enhance protection and keep the skin soft and hydrated.
The manufacturers promise up to 40 minutes of water and sweat resistance, making it a wise choice if you intend to venture into the waters or will be soaking in sweat.
Safe for the Planet
All ingredients used in making the formula are natural and safe for sensitive skin and children. If you intend to use it in water, you will want to note that it is reef-friendly and ocean-friendly while also cruelty-free. It is a smooth cream that rubs in clear without affecting the skin composition or structure. This leaves the skin looking brighter and feeling soft to touch.
Cost and Value
If you are short on cash but are still conscious of the complexion and health of your skin, then you ought to get such a moderately priced sunblock. This is one of the cheapest products money can buy, yet the protection it offers is of an elite level, making it a worthy investment.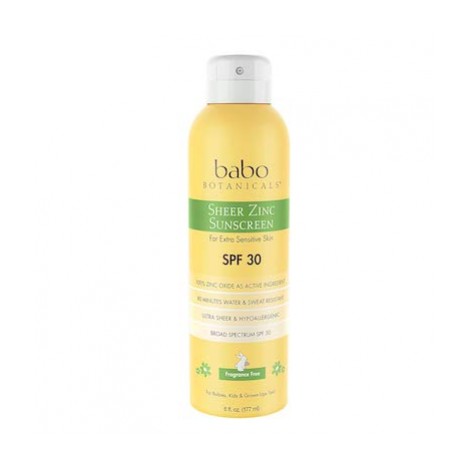 The most infuriating and challenging aspect of going outdoors is dealing with the withering daytime sun. However, courtesy of this superior product, protection against this shortcoming is a reality. Comprised of predominantly zinc oxide, expect improved luster and zero early signs of aging after long term exposure to UV rays without altering the skin's structure. The skin retains its dazzling and nourished look, leaving all your friends in awe.
Effective UV Shielding
As you would expect, the non-nano natural sunscreen boasts broad-spectrum SPF 30 protection and shields the user from harmful UVA and UVB sun rays. You will enjoy unlimited adventure and enjoy water activities and sweaty endeavors under the sun, knowing that this skincare product is 80 minutes of water and sweat resistant.
The company included other natural plant-based extracts like sunflower, avocado, watercress, and jojoba to ensure the skin retains its nourishment and replenishes water. Watercress reduces eczema and inflammation, while jojoba oil treats inflamed and irritated patches of skin.
Simplified Application
Application has been simplified a great deal with the spray can. You need not rub the sunscreen all over your body like conventional creams and gels. This ensures uniform application meaning that a little sunblock will go a long way.
Cost and Value
While we all express admiration for high-end products, our wallets may disagree. Fortunately, Babo Botanicals cares for budget shoppers with this reasonably priced piece that still gives the pricier competition a run for their money and delivers desirably.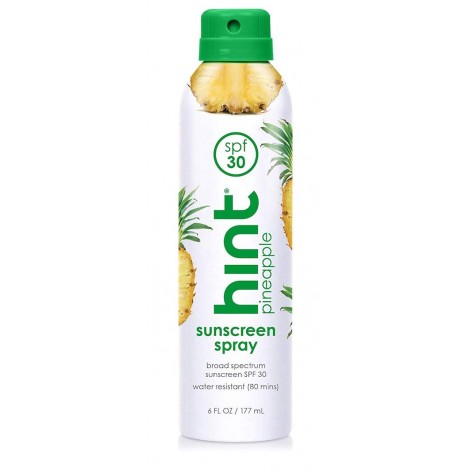 Those of us who regularly run, swim or spend days out in the sun know how much an effective sunscreen can maintain the exuberance and suppleness of the skin. This is one such product that ensures the skin remains healthy and glowing in spite of the sweltering UV rays.
Ultimate Protection
Like other top products in its class, the Hint Sunscreen offers broad-spectrum SPF 30 protection, meaning most UVA and UVB rays will be kept at bay. The 80-minute water resistance means you will find pleasure in water activities and sweaty days out in the sun without worrying about sunburns.
Simple and Convenient to Use
Applying this skincare product is as easy as can be thanks to the 360 ͦ spray can that eliminates the need for rubbing and irritating the skin and delivers uniformly. The sunscreen dries fast without leaving greasy residue or marks.
Cost and Value
You need not be rolling in the greens to purchase this product. The makers offer it at an affordable price that is well within reach of the average user. The sunblock comes in a sizeable 6 oz spray can that can hold up to multiple uses and save you money.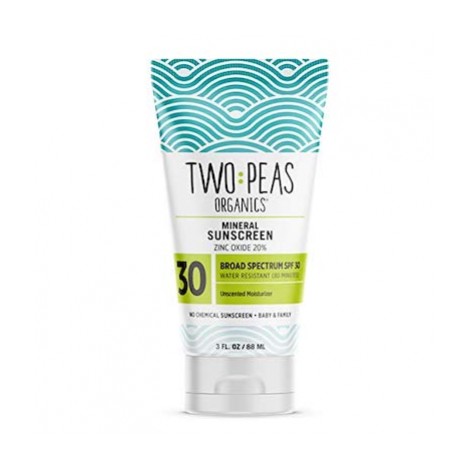 There are countless skin care products available on the market that will promise to give you that ultimate protection in the red-hot sun but only a few like the Two Peas baby-friendly natural sunscreen stay true to their word. The sunblock will safeguard and revitalize your skin, making you feel and look youthful. This will leave you with a healthier complexion and significantly boosts your confidence.
Safe and Eco-Friendly
The natural, biodegradable, mineral-based formula has 20% zinc oxide and has been tested and approved to be family-friendly, coral reef-friendly and chemical-free. This makes it the go-to option if you are on the market for a baby sunscreen, sensitive skin or for skiing, snorkeling, and other water adventures.
Deflects All UV Radiations
The organic sunblock uses zinc oxide to bounce off UV radiations and keep your skin relaxed, soft and smooth. You will enjoy a broad spectrum and SPF 30 protection without impacting your comfort.
Whether you intend to use it during water excursions or you find yourself dripping with sweat after a long fun-filled day out in the sun, the SPF protection is not compromised, thanks to the 80 minutes water resistance.
Cost and Value
At a negligible fraction of the price of its high-end competitors, your skin has honestly never looked better. This piece will not only save you money but also deliver the much-needed cover, making it worth every penny. Your whole family will thank you for it.

9

. Christina Moss Naturals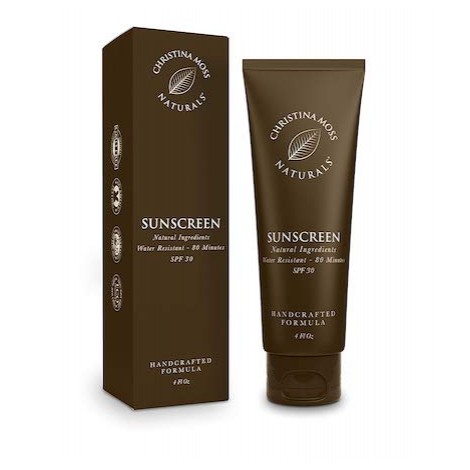 Do not keep quiet and suffer in silence when Christina Moss Naturals has the perfect solution for protecting your skin from fiery rays. The company brings you this natural formula sunscreen to ensure sensitive and baby skin remains soft and relaxed, even after staying in the sun all day long.
Dependable UV shield
The SPF 30, coupled with broad-spectrum protection, assures full protection from the glaring rays. Feel free to enjoy sweaty and water-based adventures in the sun with the 80 minutes of water resistance. The makers recommend applying a minimal amount to the skin.
Guaranteed Safety
How thoughtful of the company to restrict the ingredients to natural mineral-based ingredients and make the sunblock safe for sensitive skin and children. Most extracts used are plant-based like carrot, green tea, coconut oil, and aloe vera extracts. This leaves the skin looking toned, fresh and young.
The company was careful not to include any gluten, synthetic chemical fragrance, PABA, parabens, phthalates, and other harmful components. This makes it coral-safe, reef-safe, and ocean safe while also being cruelty-free.
Cost and Value
This product is one of the finest yet most inexpensive ways of protecting your skin from the scorching sun and keeping it hydrated, toned and more youthful. The premium packaging makes it a decent gift for the outdoor enthusiast in your life who has problems staying out in the hot sun.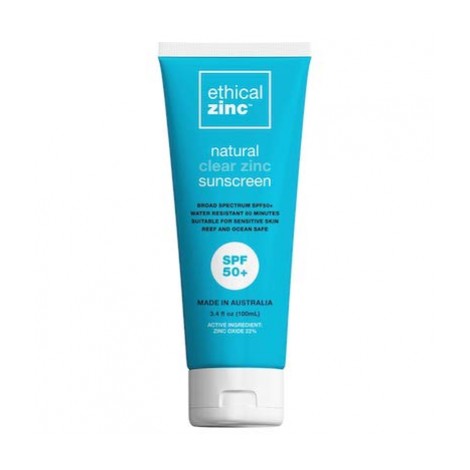 It would have been very unfair had we wound up this post without including this sunblock from Ethical Zinc. The Ethical Zinc Natural Clear Sunscreen is well worth a second look. It attains and surpasses all the necessary standards and regulations for safety and effectiveness, making it a practical choice if you have sensitive skin or you are shopping for your child.
Natural and Safe
The manufacturer included 22% natural pharmaceutical-grade zinc oxide, making it safe for all skin types, especially if you are unfortunate to have dry or sensitive skin. Other ingredients worth mentioning are white beeswax, coco-caprylate, castor oil, coconut oil, and triglycerides, among others. If you plan on exploring oceanic waters and would not wish to affect reef and marine life, look nowhere else since this product is reef and ocean safe.
This Ethical Zinc is also praised for improving the level of hydration and tone of your skin and making it more absorbent.
The Ultimate in UV Protection
Expect unprecedented levels of protection from harsh UVA and UVB rays with SPF 50+ and high broad-spectrum protection. You can purchase with more confidence since the FDA and Australian Therapeutic Goods Administration approve this product, and it complies with Australian standards.
To add on that, you and your loved ones are sure to enjoy full protection when venturing into the waters thanks to the 80-minute water resistance.
Cost and Value
We must acknowledge that this product is among the priciest of the lot. Even so, it still offers the best value for the money and delivers as promised without taking a toll on your precious skin.

Subscribe to our Newsletter