Mountain Hardwear Chockstone Alpine Trekking Pants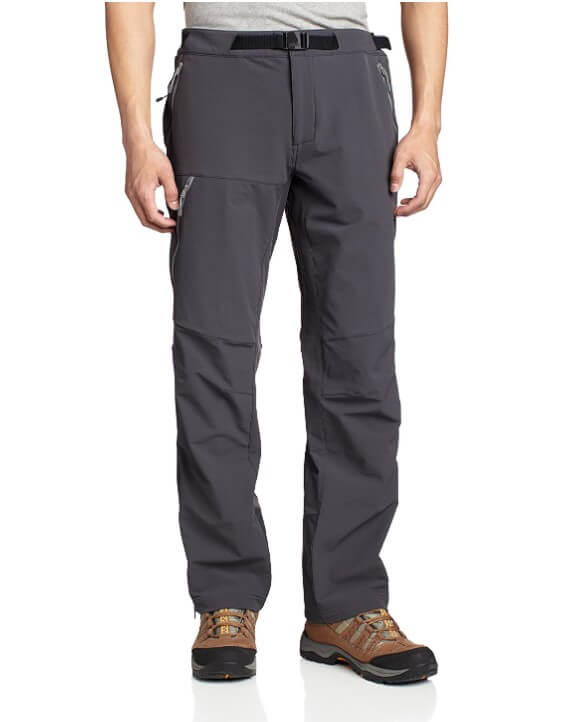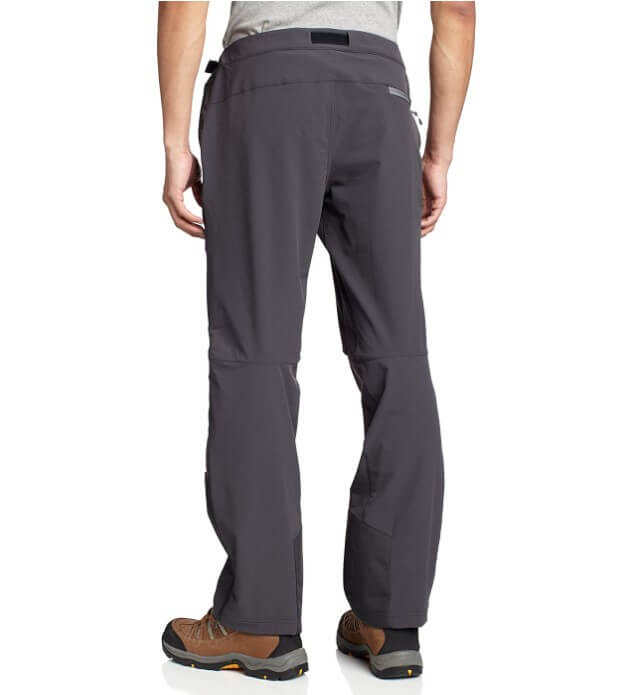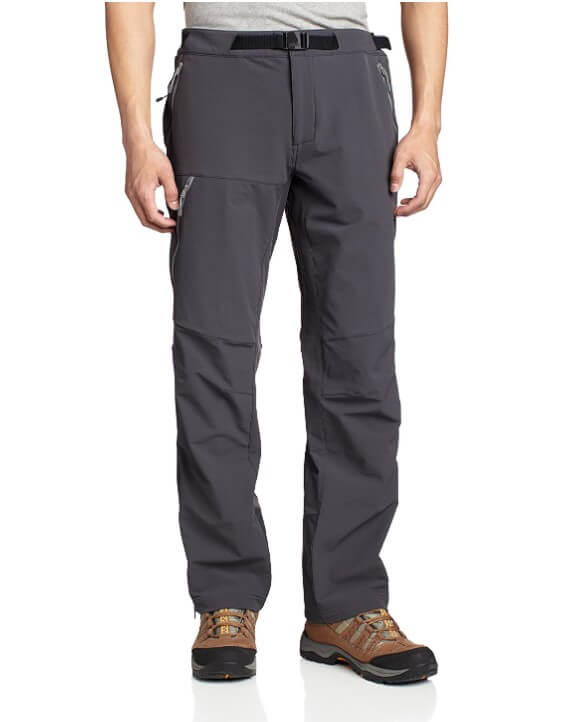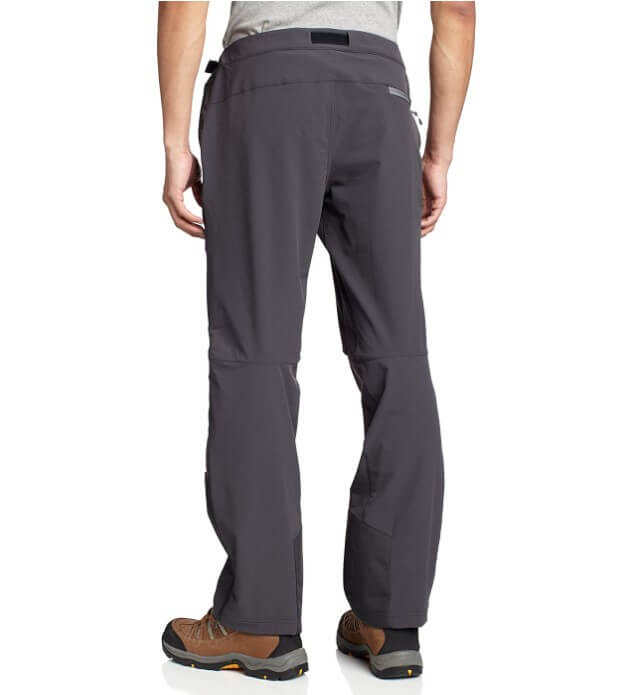 Our Conclusion
The Mountain Hardwear Chockstone Alpine Pants have been designed for comfort and extra stretch. These pants have a high amount of woven in elastic fabric, which allows for very active stretching in activities like climbing or
technical hiking
trips.
These versatile pants can be used for a long list of active outdoor activities in all types of weather and terrains. They are protective, warm, and comfortable. They are made with nylon and elastane, a durable combination for years of use.
Pros & Cons
High price tag (for quality)
Some users suggest larger pockets
Key Features
Key Features
Snap Shot Features
88% Nylon

12% Elastane

Drawstring closure

Protection UPF 50n

4 way-stretch fabric

Weight 14.11 Ounces


Good For:


Hiking

Climbing

canoeing

fishing


Features

The designed-in features are practicable and useful.

You get four pockets;
Two side pockets for hand warming with zip system
A zip pocket on the right leg (thigh area) with a zip system
One rear pocket on the right side has a snap closure; some users say this system takes practice for use.

Though there are four pockets, user feedback suggests that the pockets could be more oversized with more depth for carrying power.

The ankle-cuffs are designed to work with an elasticated cord to secure the cuffs at the top of boots to keep debris and water.

The belt is removable, and some users point out that the belt and buckle tend to twist. This may well be because more focus needs to be given to the overall fit. A removable belt does give you the option of buying a better belt to add and use.

Another great product we reviewed is the Mountain Hardwear Mens StretchDown Hooded Jacket, so make sure to check it out as well.

WaterProofing

These pants have a UPF 50 rating which means they give protection from UV rays. The fabric is heavy-duty nylon weaved with Elastane, and this combination allows the fabric to stretch.

Heavy-duty nylon fabric gives decent water protection for hikers who are not overstretching the material. For other outdoor activities involving stretching, such as climbing, waterproofing drops a little. This is because when the fabric is stretched, it can allow moisture to seep through.

To counterbalance this, the inner fabric is lined with a moisture absorbing material to soak up any water moisture which might seep through when the fabric is stretched. Waterproofing is excellent; it would need some serious prolonged exposure to heavy duty wet weather to start breaching the outer fabric. The amount of water that might get through is just damp moisture; generally, you stay dry and warm.


Versatile

The Chockstone pants certainly qualify for versatile use.

Suitable for hiking in all types of terrains in harsh conditions and bad weather. Also ideal for canoeing, climbing, snow-related sports, fishing, and other outdoor activities. These are stylishly designed and great for utility wear while also practicable and comfortable for casual use.

Breathability and Venting

The rear and front pockets are mesh-lined, which means if you feel heat build-up, you can undo the zippers and release heat and get air ventilation. You can also pull the ankle cuffs up above the knees and secure them with an elasticated cord. This, in effect, turns these pants into a pair of shorts during warm weather.

The options for staying cool are functional and work.

Comfort

The weaving of Elastane and nylon has been done with technical skills. The inner side of the fabric has a weave that feels comfortable and soft. The outer weave is weaved more densely and gives good protection.

The stretch capability of the fabric is a feature much appreciated by users; you can hike, scramble up slopes and even climb. The fabric stretches with your movement, and no sense of uncomfortable restriction by the pants.

Value

The price tag is not low or medium; this purchase represents a pair of well-designed outdoor pants for all terrains and weathers. Designed with long-term use over the years in mind, the performance and versatility reflect an excellent outdoor gear investment.
Verdict
The Mountain Hardwear Chockstone is designed for comfort, protection and versatile use and scores well.

Resistance to wet weather and good breathability make these a comfortable option. The material is exceptionally stretchy which means that versatility of use is broad. good for hiking but also fine for most outdoor activities.

So if you are looking for a good investment, with lots of durability and quality these pants are a good purchase for long term use. The price tag is higher than many other options and reflects the quality, versatile use and durability.
Comparison to Previous Models
There are ultra ligh-weight outdoor wet weather pants and they do come at a much lower price tag. The more you pay, the higher the quality, features, and durability.
Comparatively, if you are fine with how much you spend because you view this as a long term useful investment. The Arcteryx Gamma ar pants are great for use in all environments and wet cold weather.
Comparative Snap Shot Features
GORE TEX - Waterproofing,
Windproof fabric with breathability
Articulated knees for ease of movement
Gusseted crotch for comfort and stretch
WaterTight external zippers keep out the rain
Open-Close Side zippers for ventilation air flow
Ankle Cuffs adjusted via drawcord to secure over boots
Web Belt is adjustable for comfortable FIT
PowderCuff with hooks for connecting pants and boots.
Fabric Arc'teryx Nu waterproofing
1 Large Hip Pocket + zipper
Weight 1.01 Pounds
Good For Use
Snow boarding or Skiing
Mountain weather terrains
Hiking including technical trails
Outside activities involving wet weather
Subscribe to our Newsletter