Kelty Grand Mesa 4
Editor's Conclusion
Choosing the right tent can be a tricky business and the 'make or break' of your camping experience. There are a ton of tents out there that will tick many of your boxes. The right tent for your trip will be dependent on a few factors; The length of time you will be there for, the time of year you are going and the purpose of your trip, and these are only the first few that pop into my mind.
If your trip is going to consist of spending more time out of your tent than in it, the Kelty Grand Mesa 4 might just be the tent for you. This lightweight, simple set up, sleek tent is the perfect easy sleeper for adventure campers looking for somewhere they can get their heads down after a
mountain trek
or waterside activities. The fact that it weighs less than many newborn babies is a real thumbs up if you're wanting to pack light, with 2 aluminum press fit, folding poles there's no-nonsense when assembling or packing away.
Kelty Grand Mesa 4 Review Facts
Editor's Pros & Cons
Lightweight
Compact
Superbly fast to set up
Shark Mouth carry bag for easy pack-up
Mesh tent top doesn't keep heat in
Price is not as appealing as other competitors
Vestibule blocks entrance to tent rather than acting as an actual passage
THE RUNDOWN
Weight
So, this is the main feature that sells this tent to me, its weight. As I mentioned earlier, it weighs the same as a newborn baby, which when you've got all your other
camping accessories
, is a godsend. I would most definitely advise anyone thinking of going camping to look at the weight of the tent they are purchasing, after all, YOU are carrying it.
This is the difference between you being able to go further or not. This tent, I would say, is for those free-roaming campers who want to spend their days
backpacking
rather than stuck in one specific place. Possible roaming in the day then settling at night to snooze after a few beers around the campfire, sound like your thing, mine too, so it's one of its most endearing features.
Throwing this lightweight tent on your back when you set off isn't going to be a burden, you can travel light and still enjoy being able to set up wherever you wish, especially if you are into your wild camping.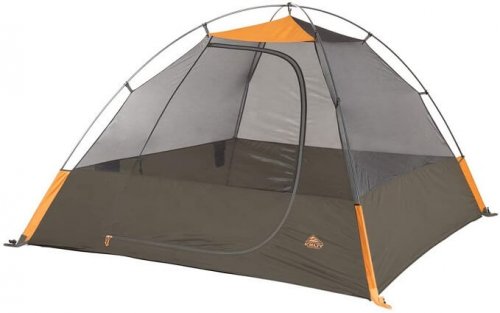 Performance
I'm sure by now you will be aware from the above that this tent is a 3-season tent, but I would personally say to stick to summer/spring in this tent. Whether you are going off-trail and wanting to wild camp or you are going to a designated campsite, this tent does offer an easy carry and a fast set up, so performance-wise this will suit you down to the ground if you're not looking to spend a huge amount of time in it.
The lightweight design also makes it an ideal tent to pack up and take to your next destination with no hassle.
Design
Probably the best feature of this tent is the design, it boasts a Shark Mouth carry bag which means an easy pack-up, lightweight aluminum poles for quick erection and Kelty Quick-Corner Technology makes this tent a real winner on the design front. It's a no-timewaster which is ideal for anyone who wants to get the tent up and get going. The dome shape also adds to the sleek design, it's compact and it's easy on the eye.
Price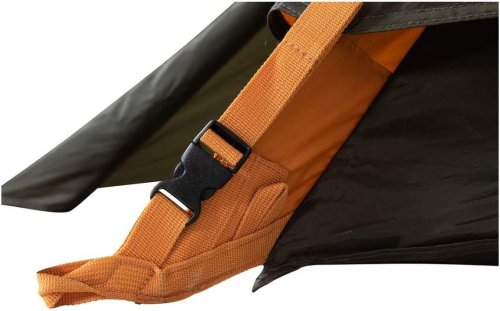 Tents can be pricey, depending on what you're looking for and brand, if you're looking for a cheap tent then this isn't the one for you. The Grand Mesa is slightly higher than some of the other tents that fall into the same category, however, it is from a reputable brand and most definitely fit for purpose. As a backpacker's main accessory you could be paying a lot more, so although not the cheapest, the
Kelty Brand
does have a great reputation for durability and their tents lasting.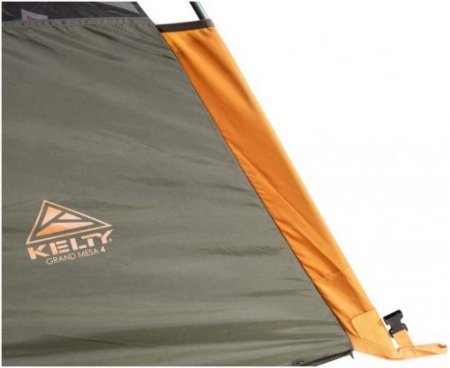 Comparisons to previous versions
The Kelty Brand has a variety of different tents to suit all needs, the
Wireless 4
by Kelty is a similar tent that is slightly cheaper but weighs a lot more and has an extra pole. Likewise to the Grand Mesa, the Late Start 4 is another option that might take your fancy but it boasts a higher price due to the larger space.
THE VERDICT
Would I buy the Kelty Grand Mesa 4? Honestly, yes, I would, purely for a spontaneous adventure that was off-trail or wild camping. One of the biggest nightmares anyone going camping faces is setting up the tent, I don't want to spend hours erecting my tent, I want it up, quick and easy, so I can enjoy all mother nature has to offer and that is why this tent appeals to me.

If camping is all about tent life and spending time around the campsite then this particular tent isn't for you. Look towards something that is bigger and has more room.

The design is great and offers a great place to lay your head after a day of wandering on different terrain, but I do think there are many great tents on the market so do your research. This tent is available online at major retailers, so you shouldn't have a problem picking it up.
Subscribe to our Newsletter