KEEN Venture Mid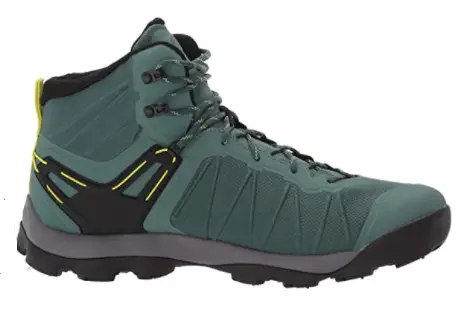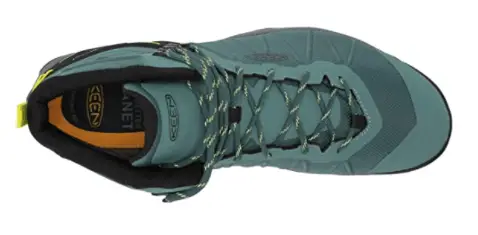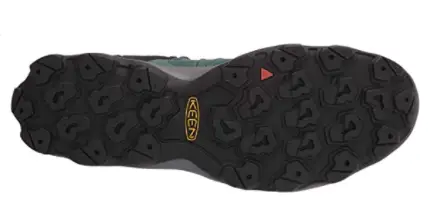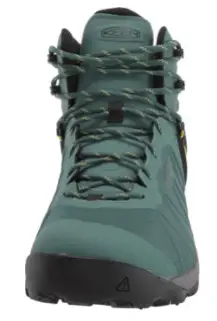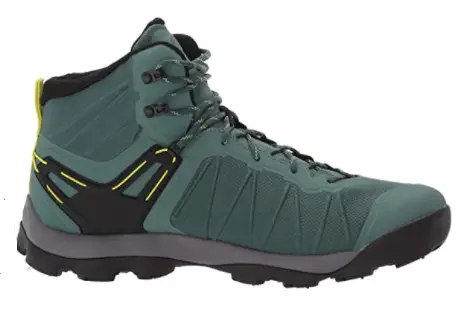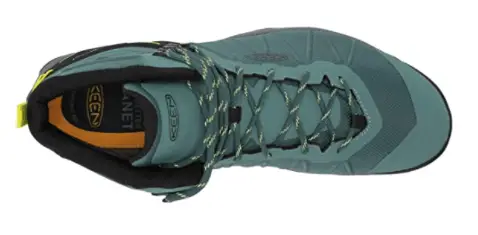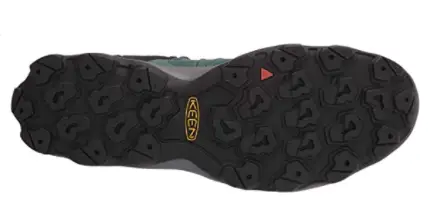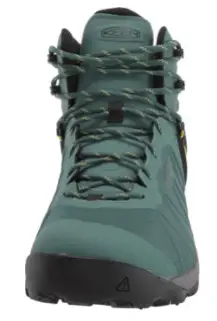 Our Conclusion
The KEEN Men's Venture Mid Height Waterproof Hiking Boot has been around long enough to be regarded as tried and tested by a significant number of users.

Light on the feet, enabling a quick pace with protection and stability and fine for different types of trail challenges. These will provide the wanted performance for day hiking, but you won't be limited; you can go on long-distance tracks that roll over into overnight stays. With enough stability to haul a moderate weight back-pack.

More robust in terms of support, stability, protection, and overall performance when compared to most standard hiking shoes. Without the weight and heavier profile of a full-blown high-cut hiking boot.
Pros & Cons
FIT - Width for some users
Key Features
Key Features
Snap shot features

Rubber sole
KEEN ALL-TERRAIN for Traction
External Support Shank
EVA foot-bed
4mm multi-directional lugs
Leather uppers treated, PFC-free water repellant
KEEN DRY waterproofing membrane with breathability
Weight 15.87 ounces / 500 grams (one shoe)

Good for use

Various trail types
Off trail
Moderate technical challenges
Carrying a back-pack
Day hiking
Two days hiking with overnight camping

Not good for

Challenging technical environments in severe winter conditions

Comfort

For some, usable from day one for hiking and for some users a brief break in period.

Feed back notes that for some users the material around the toe area needs breaking in to soften up for a comfortable hike. The EVA midsole eliminates any clunky potential, has nice flex and bends appropriately when needed.

FIT can be customized. The mesh uppers are pliable and soft while working in conjunction with the lace-up system to give a supportive FIT. If you have medium sized feet, adjust and cinch the lace system to enable a good FIT for your feet. Cinching will work together with the KonnectFit heel for adjustment to help you customize FIT. User feed back from some users does point out that width is at a generous amount.

Traction

The rubber compound blending for the Keen All Terrain gives a grippy sticky feel on dry surfaces, particularly good on rocks and other hard or firm surfaces.

On surfaces with clingy mud or those sticky patches of snow which are the bane of hikers, the lug patterning will be challenged. You may well find yourself stopping sometimes to clean out the lugs. Given that most of your time out on the trails will not be in overly muddy or snowy conditions, the lugs at 4mm are ample.

Stability

Despite a comfortable shoe like feel but with the needed support, stability is good.

Stability is good enough to include carrying a light to mid weight pack. The ankle support is good but multiple user feed back does question being over ambitious and carrying very heavily loaded back-packs. The combined designed features do give effective stability so long as the shoe is used for the design intentions.

Water Protection

You get double features for water proofing. The Keen water proof membrane is a good layer of protection and a degree of breathability.

The synthetic uppers are also treated with a water proofing agent as the first barrier against water.

Water proofing for all footwear has it's limitations, the wading depth for this shoe is 4.5 inches. If you wade deeper you will get wet feet. How long the water proofing lasts in constant heavy rain seems to be unknown, multiple user feed back has ignored this. This may well be because heavy prolonged rain is not a water proofing issue.

Durability

Overall durability is good, lots of customer satisfaction. The potential weakness may well be that the synthetic uppers. they could succumb to eventual durability issues if the shoe is used long term in very abrasive terrains in which the uppers take a regular hit.

Weight

At 2.4 pounds a pair for a size 11, the weight is light when factoring in comfort, versatility, protection and performance.

Value

The price tag is not enough to put off users when you factor in this shoes performance.

Comparison
Keen is a long player in the hiking footwear market and offer a good range of comparative options.
Here we take a comparative look at the features for the
KEEN Pyrenees
Trekking Boot because it steps further and is good for long distance multi day hiking. This is the model you should consider if you are planning to hike in tough challenging terrains or check out
KEEN Revel IV
.
Available options for both ladies and men, this is a boot for use in cold winter weather conditions.
Another great product we reviewed is the
KEEN Durand II Hiking Boots
, so make sure to check it out as well.
Snap shot features
100% leather
KEEN DRY Waterproof with breathability membrane
TRACTION is 4mm multi-directional lugs
External stability shank
Cushioned collar
Mesh lining
Metatdual Density EVA Foot-bed
Arch support
Rubber sole
Weight 20.2 ounces for each boot
Good for use
Difficult tough terrains/environments
Cold weather
Mountains
Trails
Off trail
Not good for
Hot weather hiking
The comparative difference is that this boot will take you comfortably and protected into more challenging environments in colder weather.
Verdict
The KEEN Mens Venture Mid Height Waterproof Hiking Boot gives a higher level of comfort and performance than many similar models.

If you are looking for a versatile shoe which outperforms many other options. This is worth taking a closer look and trying it out in real time. This review took a close look and the pro's are favorable. The only notable draw-back was that width can be problematic for those with narrow feet. The solution for this should be to cinch the lace-system and customize FIT.

A good addition to your hiking gear.

Subscribe to our Newsletter