KEEN Durand II Hiking Boots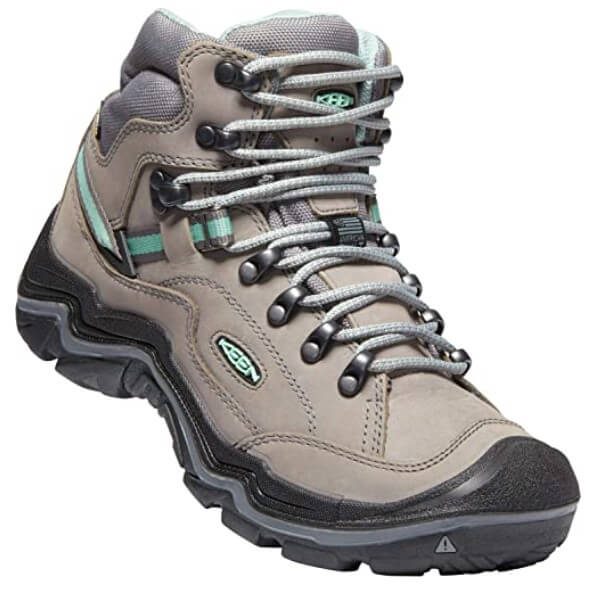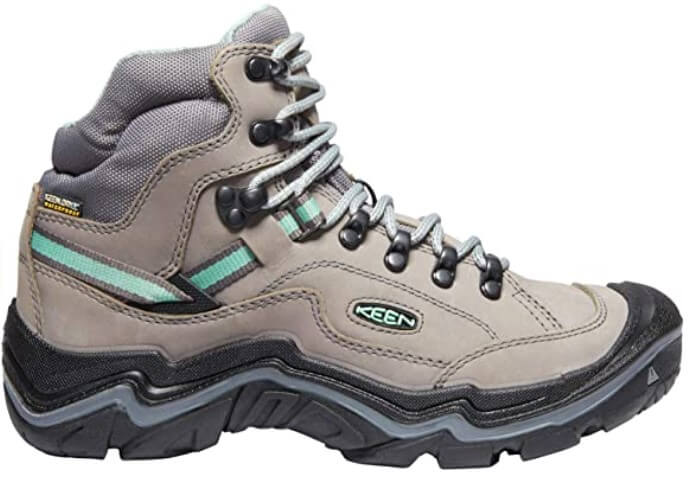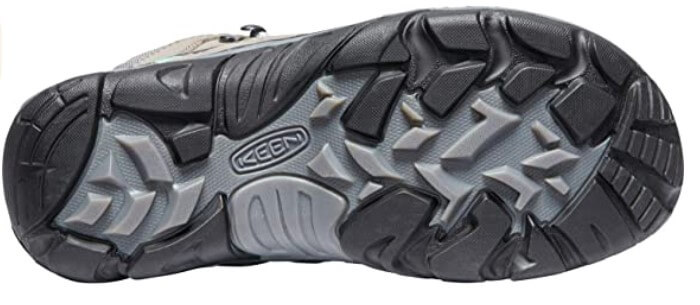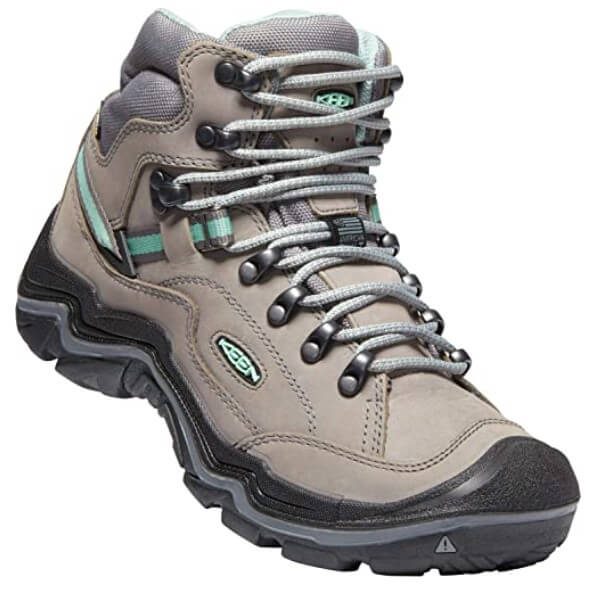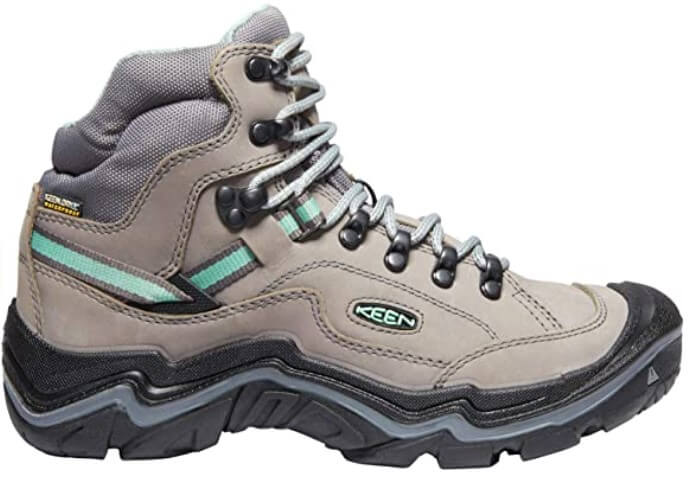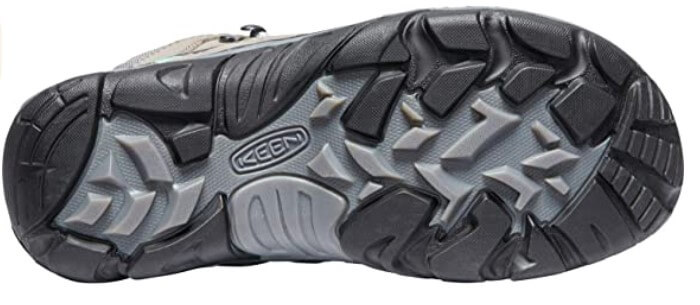 Our Conclusion
This is the updated KEEN Durand II Hiking boot and now has improved materials and an updated style. Good for day hiking and
backpacking
and gives a good level of waterproofing in wet weather terrains.
Good for trails with wet grass and mud along with regular rain showers. For powering forward you get support and cushioning from the EVA footbed. For protection against water, this mid-height cut boot has a Keen Dry Membrane. To ensure traction the 4mm lugs bite deep and give stability on muddy surfaces.
Pros & Cons
Some users would like to see better durability for the toe box, not a big issue but should be noted
Key Features
Key Features
Snap Shot Feature and Specs
Rubber outsole with 4mm lugs

Uppers are waterproof nubuck

Mesh lining

Foot-bed Eva dual Density

KEEN Dry Waterproofing

Weight (Ladies): 16.7oz

Weight (Mens):22.1oz

Good For:

Day hiking
Wet grassy trails
Muddy trails
Wet showery weather

Not Good For

Hot weather hiking

Updates

The previous lace-up system featured six eyelet pairs with hooks and webbing. The updated lace system allows users to customize the fit a little bit. Eight sets of metal loops and speed hooks secured by round laces. This boot features a rubber sole with dual compounds to ensure an excellent sticky grip.

The PU midsole and shank have not changed. These features for boosting support for the foot arches and giving a stable ride have proven to be popular among users.

The Upper is still made of leather and a KEEN Dry Membrane.

Upper

The uppers are Nubuck leather; this type of leather is used regularly on modern hiking boots due to a claim for having good durability and waterproofing. Also as part of the upper, we see the KEEN Dry tech which is designed to give waterproofing while allowing some breathability. Breathable mesh is included in the upper to provide extra comfort.

The speed hook lace system allows you to customize the fit, adjusting the lacing system works together for customizing heel fit and support. The lower section of the uppers is all about protection with lots of reinforcement around the shoe and toe cap.

Midsole

The midsole has direct-attach polyurethane, which is designed to withstand constant compression. This results in longer-lasting durable cushioning. The designed-in shank is fine for stability, and the EVA footbed features give good support for the foot arches.

Outsole

Grip does perform well due to 4mm lugs which are well-spaced to prevent picking up clinging mud.

KEEN protect gives protection via the toe-cap area against rocks on trail surfaces. The rubber Out-Sole is made with various compounds that provide an excellent sticky grip on trick surfaces.

Fit and Sizing

The design is mid-cut, and for those with different foot sizes, these are available in D - standard and 2E. Boot choices are on the market for both ladies and men. the overall fit is close enough but if you have wider than usual feet, choose one of the alternative sizing options.

Value for money

This hiking boot is a good option for those looking for a day hiker that gives protection and good traction on trails in seasonally wet weather. For some who might question the price tag, the more we pay, the better the performance, materials and durability.
Verdict
The KEEN Durand II Hiking Boot has been updated in response to user feedback. The boot was popular, tried, and tested, and users wanted to see some update improvements.

Now, the option to try out this popular hiking boot is available to purchase at a slightly above medium price tag.

This review concludes this boot is certainly worth adding to your hiking gear so that you can try it out on the trails while day hiking.
Comparison to Previous Models
The Durand II is a good option for those aiming to go hiking in wet and/or muddy environments. This boot gives heavy-duty protection and performance.
Comparatively, you might be thinking about finding a lightweight hiking shoe that enables you to move very quickly.
The Salewa Speed hiking shoe is an excellent comparative option for those looking for a quick hiking shoe. They are built to be light and supportive and allow a user to go for speed in Alpine environments.
Snap Shot Features
Stretch gaiter for adjusting and keeping out dirt
3F System
Exa Shell: Stretchable Air Mesh for flexibility and support
Ortholite Foot-Bed for comfort
Anti-rock heel cup for stability
Rubber toe cup for protection
Pomoca outsole for good traction
Lining: Breathability mesh lining to keep feet dry and cool
Snap Shot Specs
Flat Shoelace for secure lace-up
Standard FIT for sizing accuracy
6 mm drop
Speed hiking in Alpine terrains
Weight: 340 grams

Good For:

Alpine trails/environments in moderate seasonal weather

Not Good for

Very wet or snowy winter conditions

The Durand 11 and the Salewa shoe are at opposite ends of the design spectrum for hiking footwear. Heavy-duty performance in harsh weather conditions compared to a shoe which gives super lightness and speed capability in moderate seasonal conditions.
Subscribe to our Newsletter