Evoc Hip Pack Pro 3L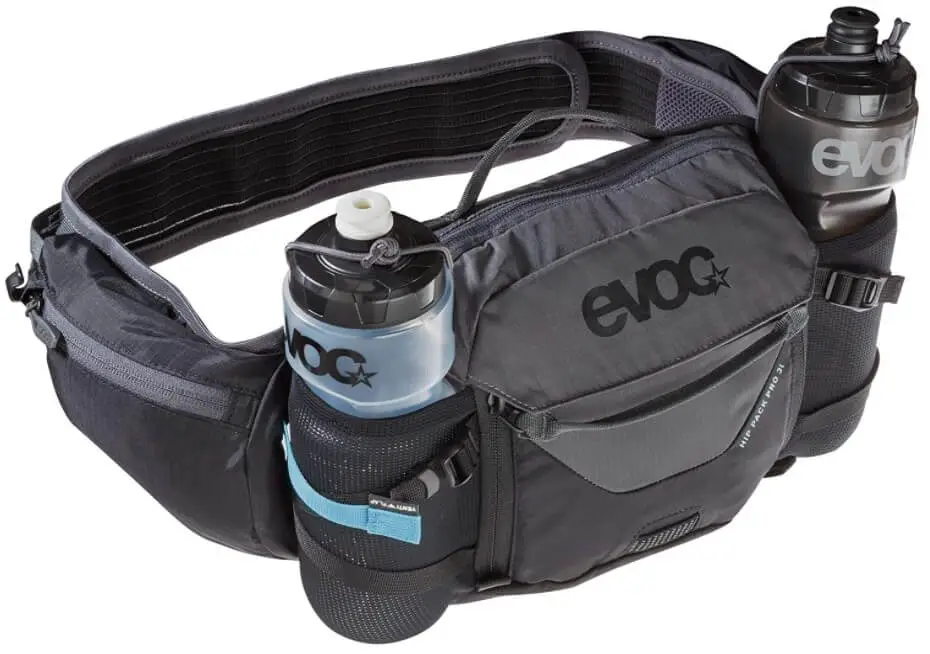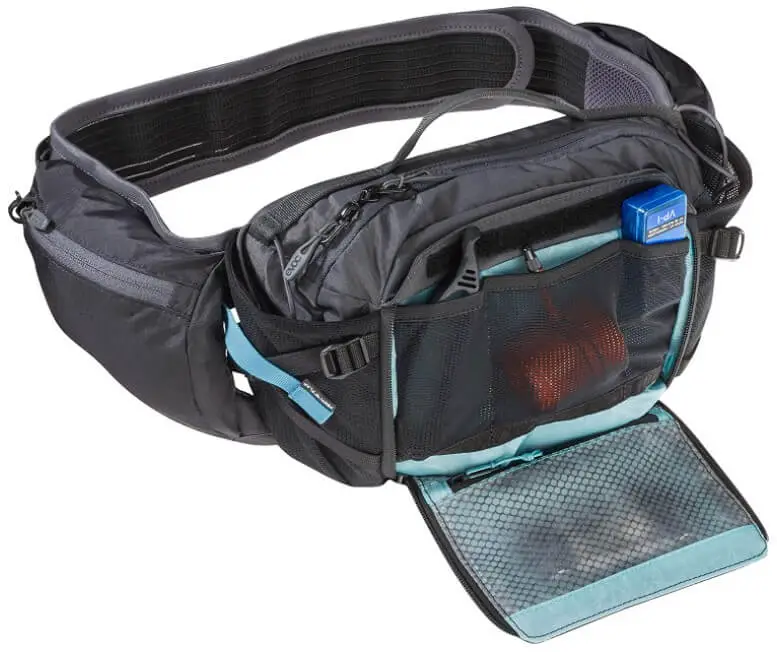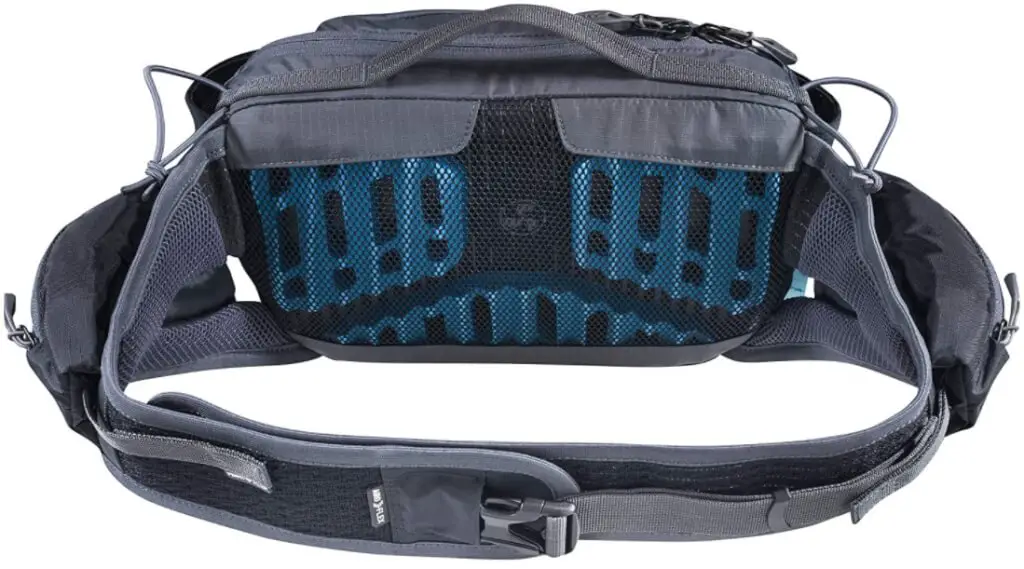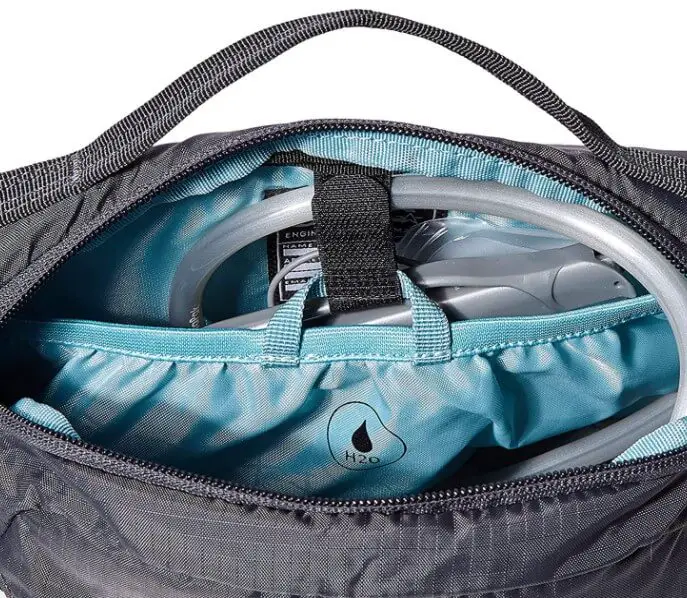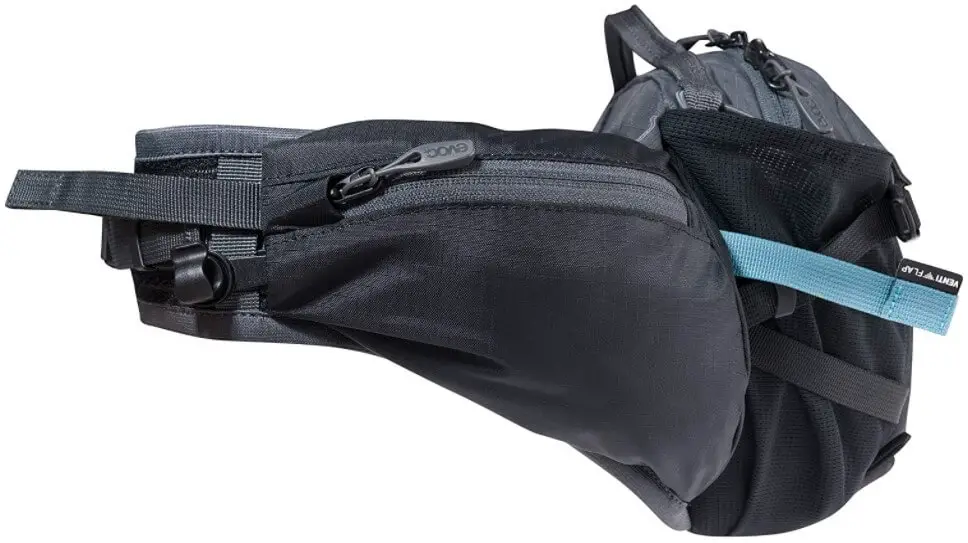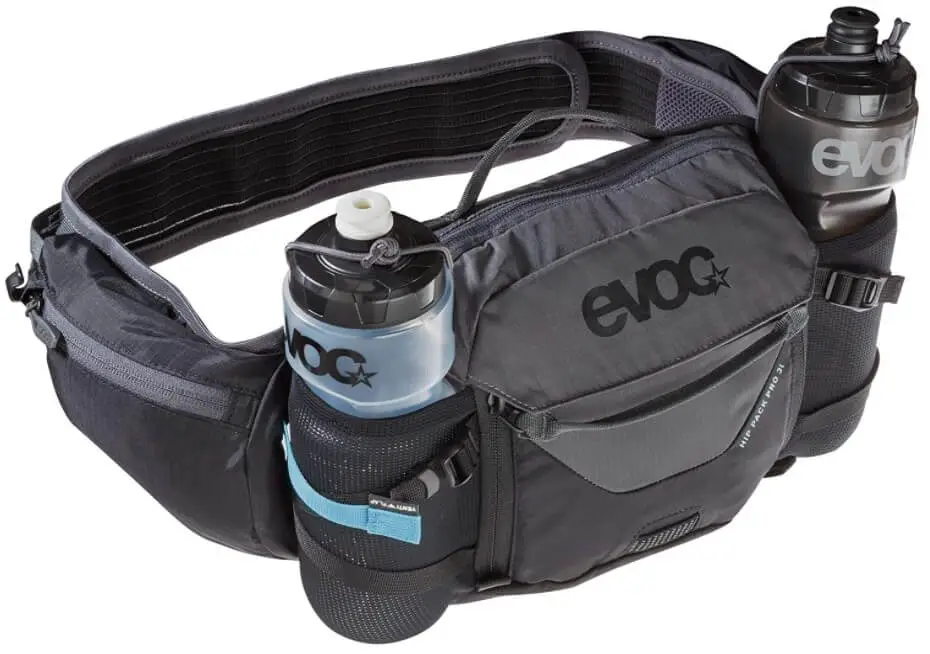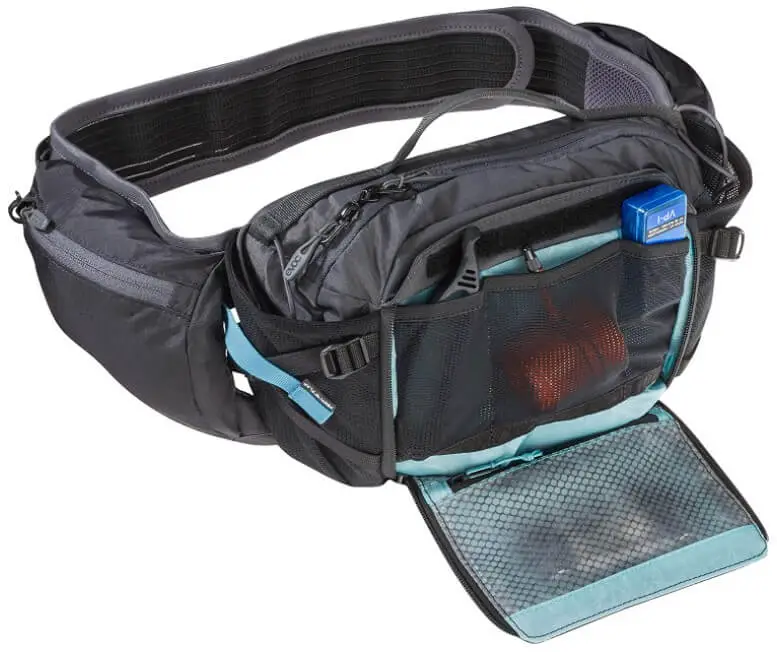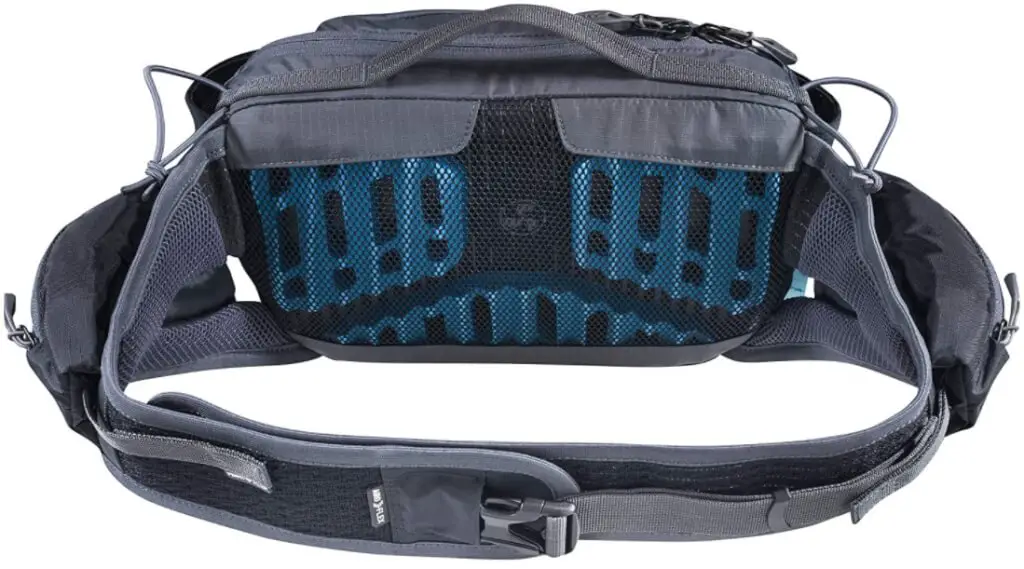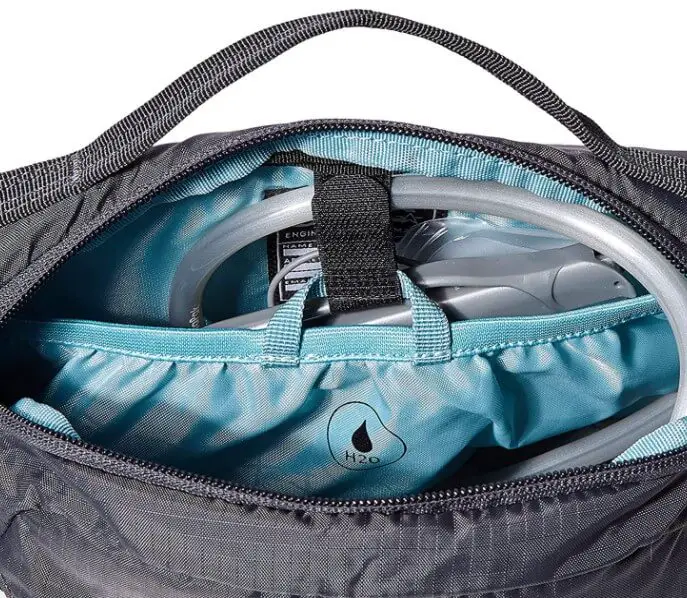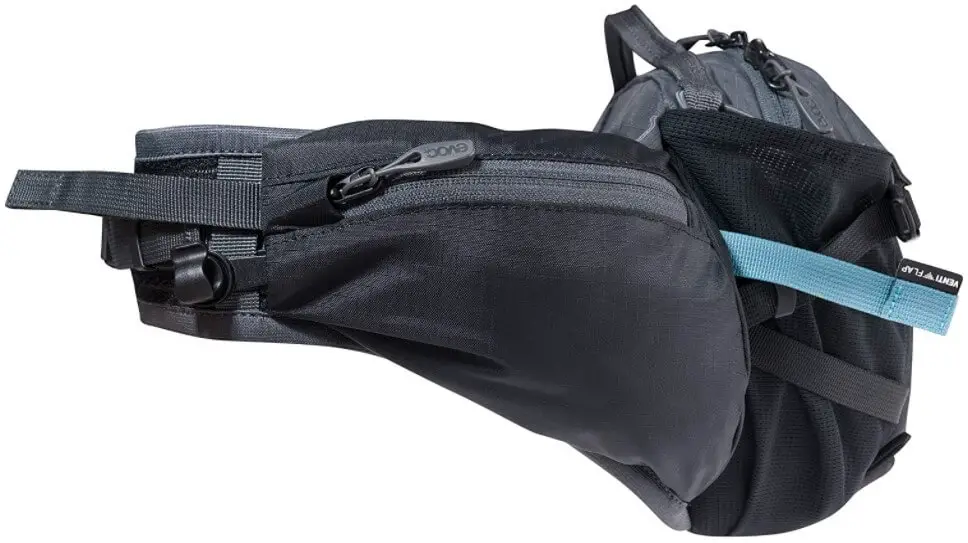 Our Conclusion
The EVOC Hip Pack Pro 3L is aimed at mountain bikers, but the user base is broader. For any outdoor activity where the need to carry weight at the hips is useful. If used for trekking/hiking, it is suitable for daily use to carry only the real essentials for a day trip. This means standard trails and not overly technical trekkers, backwoods running, and
cross country skiers
.
Any day outdoors where you want to carry some gear and water will work with this
waist pack
. The key to effectiveness, comfort, and performance is that the activity involves being upright and wanting easy access to water or gear.
Pros & Cons
Water: bladder or bottles
Some users would like to see more storage space
Price for some (Quality costs)
Key Features
Key Features
Snap Shot Features

1.5L bladder (separate purchase)
Materials: 210D nylon ripstop, Airo Flex and 3D air mesh
Ventilation: Airflow Contact system
Ventiflap Technology
Holds 2 water bottles
Padded Waist strap
Main compartment (zipper)
2 Hip pockets (zipper)
Front pocket (zipper)
2 mesh bottle pouches
Weight 15.17 Ounces

Good For Use

Mountain biking
Other outdoor activities

Carrying Capacity

Carrying capacity is standard and allow you to bring just the basic items you would want on a mountain bike ride or walking a trail. For bikers, there is a front pocket which can be used for carrying tools.

Access to the main compartment is user friendly and works via zippers and Velcro closure systems. Internally the pack has three elasticated pockets which can be put to use for securing small items. The main compartment holds the water reservoir in a sleeve made from nylon. The reminder of the compartment can be used for stowing essential gear.

You get two waist pockets with zip fasteners, these are large enough for a phone, energy bars or other similar sized gear. The two mesh pockets for water bottles are durable and carry bottles while giving you ease of access to water. If you use the reservoir option these two mesh pockets are good for stowing extra gear.

Comfort

The inner of the belt is padded and has designed in features to ensure ventilation. Users feed-back that the strap system /design enables the pack to sit securely to the waist without discomfort. Velcro has been designed in to help set up a good FIT and this makes adjustment very easy and accurate. When you have set the FIT for you, simply secure the buckle and you're ready to go.

The waist band has ample width and sits comfortable with your hips. The rear of the pack has three pads with a screen cover. The pads give support in combination with a ventilation air-flow.

The Bladder

The bladder is easy to fill, disconnect the main hose and directly fill the bladder. You can carry 1.5 liters, which is enough for a days biking or other outdoor activity. The hose nozzle is fitted with a shut-off valve tp prevent spilling water.

If you prefer bottles, these can be carried in two side mesh pouches and are very easy to access, even while on the go.

Value

The price tag is higher than a good number of comparative options. To make the purchase worthwhile we can factor in that this pack is well designed, has nice features, quality materials and gives a good performance.
Verdict
The EVOC Hip Pack Pro 3L certainly hits the bullseye as a great waist pack for mountain bikers and other outdoor activities.

This day-use pack is light and designed to carry just the essentials you need for a day trip. The water capacity is good, and you can use a reservoir or bottles. The Hydration system is nicely functional.

User feedback is joined in, pointing out that this is a very comfortable waist pack. For some, the price tag sits somewhat above an average price. The quality, style, comfort, and performance make this a good investment.
Comparison to Previous Models
Staying with hip-packs, you can look at other comparative options in performance, comfort, and cost.
A popular option is the Osprey Talon 6 lumbar hiking pack.
Very light and suitable for day hikes, biking, and other outdoor activities. It has a good amount of storage space and is designed for comfort. A very user-friendly design with a buyer-friendly price tag.
Comparative Snap Shot
Dual-zippered pocket (with access for the main compartment)
Front zippered compartment
The hip belt is adjustable
Two average-size hip belt pockets
The breathable padding is foam
Two bottle sleeves are padded
Two 20 ounce water bottles
Capacity: 6 liters
Weight: 14.7 ounces

Good For Use

Day hiking trips
Mountain bikers
Cross-Country or Slalom Ski
Trail running
Subscribe to our Newsletter