Best Winter Running Gear Reviewed & Rated for Quality
In a Hurry? Editors choice: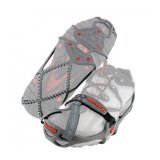 Test Winner: Yaktrax Run Traction Cleats

While the faint of heart may choose to let the chilly winter months interrupt their running routines, those with real fortitude (and those who rely on running for their sanity) know that all you really need is a good arsenal of
cold weather running gear
so that you can keep on running in winter too.
We've made this Ten Best List just for you. We've selected a variety of different winter running gear so that you can purchase entire cold-weather outfits from this list or simply select the items that you are missing most.
We feature cold-weather gear ranging from jackets to
balaclavas
and everything in between, and you'll love the price point of these items--especially considering what game changer they can be for your winter running routine.
So say yes to chilly mornings and gear up for this upcoming winter.
Standout Picks
Criteria Used for Evaluation
Insulation
When selecting the products for this Ten Best List, we wanted to ensure that our featured items provide the kind of insulation and wind protection that you need to combat the chilly winter elements.
While some of these products may need to be layered for optimal warming effects, this will vary based on the severity of the temperatures you're running at.
Materials
As for materials, we wanted to bring you products that can stand up to frigid temperatures. While some cheaper materials may break down and lose their integrity when exposed to extreme temps, the products on our list are tested to perform well in the cold.
Comfort
We like products that are as comfortable as they are tough. That's why we value options that have layers with different linings to give your comfort against the skin and strength against the elements.
Features
We love added features that make your life easier. Some of the features we value most on this list are bonus pockets, snug and anti-slip fits, and tons of breathability to ensure that sweat and vapor can escape so that you stay dry during your runs.
Value
We are always scouting for the best value. We score products more highly in this category when they can stand alone and when they are versatile between seasons.
10 Best Winter Running Gear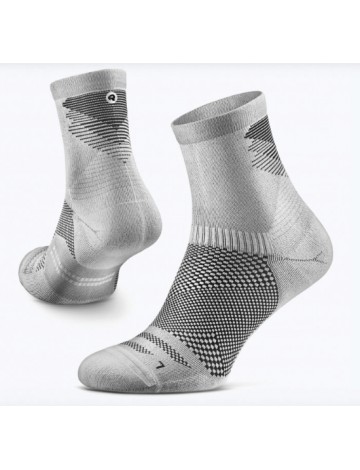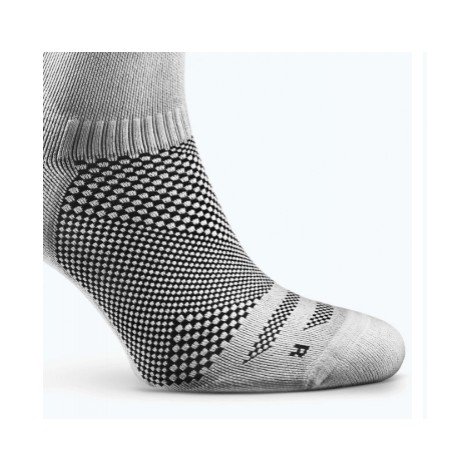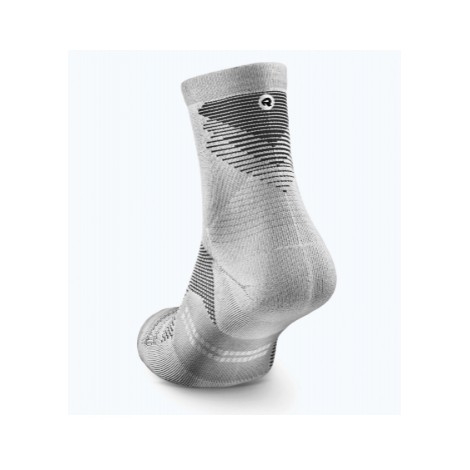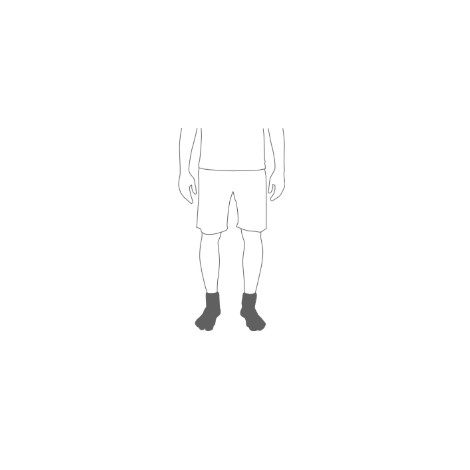 The first winter-ready product to make our list is the Rockay Razer Trail. These quarter-length socks offer necessary coverage over your ankles and are long enough to meet your running pants or leggings without adding a lot of extra bulk. Plus, you'll get the added cushioning you need to protect your chilly feet from painful impacts while running in the cold.
Higher Profile for Warmth
As we mentioned in the intro to this product, the higher profile on these will provide just the right amount of warmth that you need so that you won't have any bare skin exposed and also so that you won't add unwanted extra bulk.
It's important to cover all areas of your skin in extremely cold temperatures as this will safeguard against freeze and wind burns.
But it's also important to note that once you start hitting your stride and working up a sweat, you're feet and legs are going to do the same. With a slightly amped up profile, you won't become uncomfortable once you warm up, and you'll be nice and comfortable until you do.
Plus, covering your ankles is a must in chilly weather because every scrape and contact hurts that much more when you're body is cold. Protecting the ankles from direct impact is another great feature of these.
It's the best of both worlds, and for this, we award major points in the Insulation and Comfort categories.
Impact Protection
As we stated above, impacts tend to hurt more when you are freezing cold (or when it's freezing cold outside). That's why we love the extra padding in the heel and in the toe box as this helps to disperse some of the impact from running which can end up being really forgiving to your feet during these winter months.
Plus, you'll get a nice compression around your arches for additional support and you can rest assured that these recycled fibers will cling to your tootsies, keeping them nice and warm.
We award tons of points for Materials and Features here.
Cost and Value
You may be a little hesitant to pull the trigger on a single pair of socks that costs roughly the same as a pack of 4 budget pairs. But you will more than get your money's worth out of this purchase.
These socks are truly and insanely durable. And even if you do happen to experience any wear and tear on them, you can contact Rockay for a replacement pair for life which is a serious Value that we can really get behind.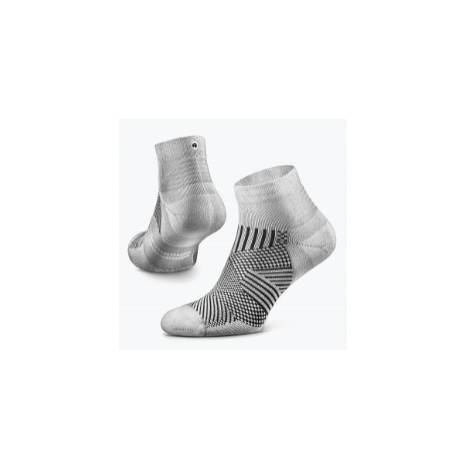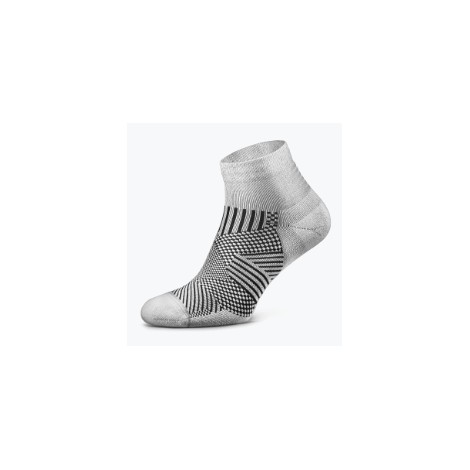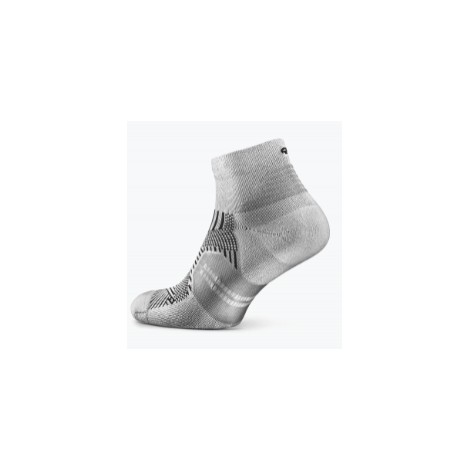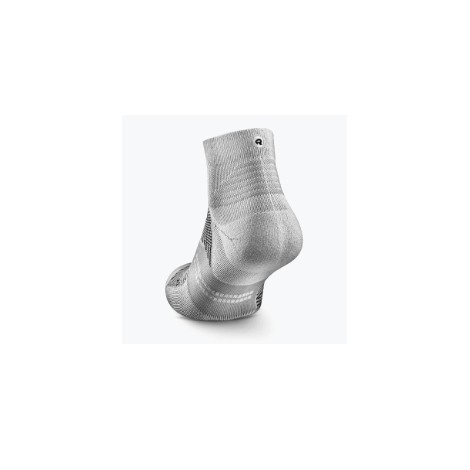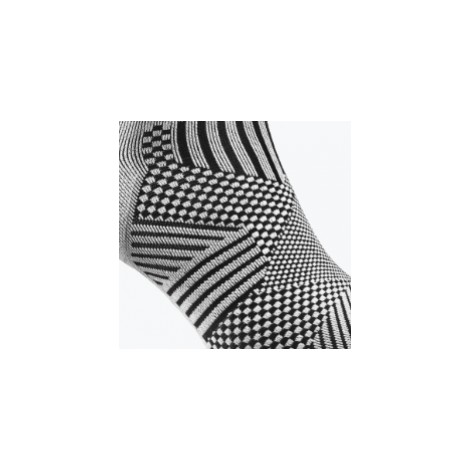 Next up are the Rockay Flare Quarters. While these have a little lower profile than the Rockay Razer Trails above, they still offer up enough protection over the ankles to keep your entire foot warm and in comfort during chilly weather runs. Plus, you'll get the same cushiony support and compression to ensure that your feet keep firing on all cylinders, even in the cold.
Perfect Balance
the Rockay Flare Quarter is a super well-balanced product that makes it not only ideal for running in general, but for running in the cold as well.
While many winter socks on the market may actually work to overheat your feet, the Rockay Flare Quarter manages to keep them warm without making them sweaty.
With a profile that stops right over the ankle (and high enough to meet your leggings) and tons of breathable mesh zones clearly pictures in the black crossings, your fee will remain insulated while being able to breathe.
This means that they'll stay dryer for longer, encouraging sweat to evaporate which means you won't have cold, wet feet during your run. We award points for Insulation and Comfort here.
Hello, Stability
We all know that it can be hard to get our bodies ready for chilly workouts--especially those early morning runs. And it's super important that we take steps to protect our body when we aren't moving as naturally as we normally would.
The Rockay Flare Quarter offers up great stability and compression to make you and your muscles feel supported. This will help with your alignment and in keeping you safe as you take your body through your warmup, and eventually, your run.
Thanks to the special blend of fibers including 100% recycled nylon, econyl, polyamide, and elastane, your socks will keep you upright, secure, and ready for the next mile. We award points for Features and Materials here.
Cost and Value
While the Rockay Flare Quarters are another of the premium sock options on our list, they are definitely worth their weight. Not only are they super durable to begin with and loaded with extra cool technology to put them a cut above the rest (Polygiene anti-smell tech, for one), but they are guaranteed for life as well.
Just as with all Rockay products, if yours start to show any signs of wear and tear that are out of the ordinary, Rockay will send you a replacement pair for your whole life. No one else offers up that kind of value.

3

. Rockay Blaze Calf Compression Sleeve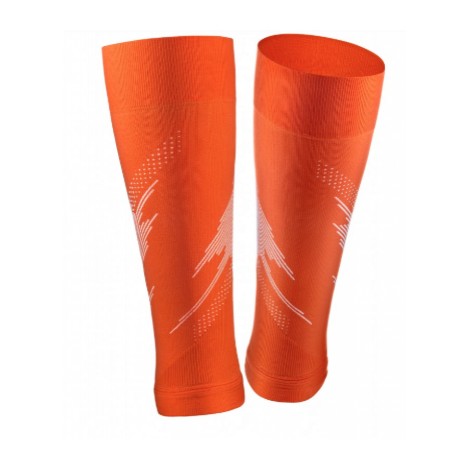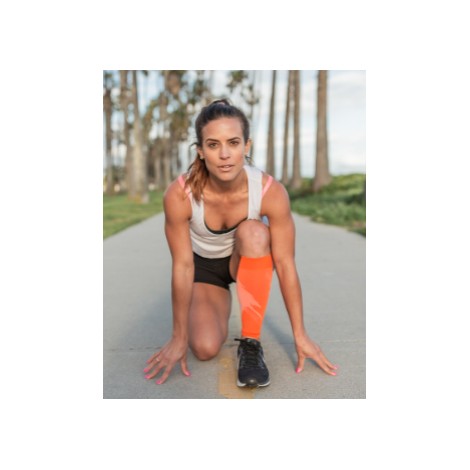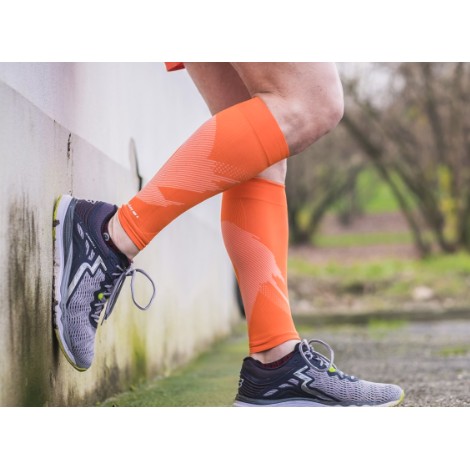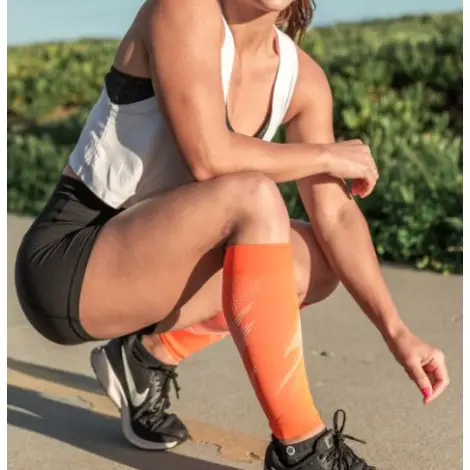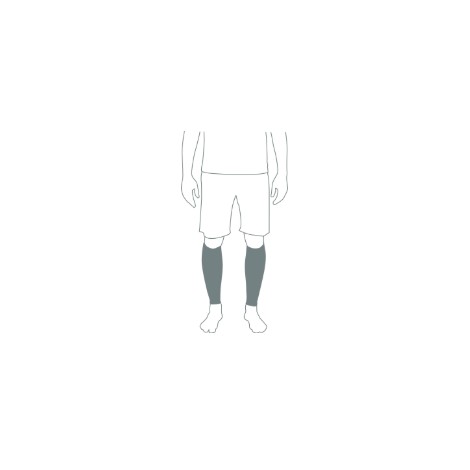 Winter running is not only hard on the mind ("But it's so cold out there!"). It takes a toll on the body too. Impacts can seem more jarring and the body can take longer to recover as a result. That's why we love these Blaze Compression Sleeves. They help you to extend those workouts and encourage a healthy recovery process so you don't have to skip a run.
Insulation and Breathability
When you're gearing up for a winter run, you want to make sure you're warm enough so that you can keep your body temperature up before you get going. The only problem with many products on the market is that they offer too little breathability so they trap all of the heat your body produces which ultimately results in trapping in sweat.
While it may seem counterintuitive to feature a breathable product for winter wear, it is essential to its function. The Blaze Compression Sleeves are designed with breathable mesh portions to ensure that vapor can escape so that you can stay dry. After all, the only thing worse than being cold is being wet and cold.
Compression sleeves work to increase the amount of blood flow to your legs by constricting blood vessels. This helps to keep your muscles warm during chilly runs and will also encourage more natural movement (fighting off stiff joints due to the cold).
On top of this, you'll find the Blazes to be among the most comfortable on the market. They will not slip and slide and they are seamless which makes a big difference, especially after prolonged runs.
So for all of these reasons, we award hefty points in the Insulation and Comfort categories here.
Increased Blood Flow
As we mentioned above, these sleeves work to increase the flow of blood in your legs which keeps you warm and allows you to extend your runs for even longer.
This feature also helps to ensure that your recovery times are shorter. Because impacts can be especially jarring when your body is cold, the compression in these sleeves helps to minimize those impacts and keep your muscles in place.
Put together, you've got a product that works for you to keep you going and to get you going again faster. We award major points for Features here.
Cost and Value
The Blaze Compression Sleeves are competitively priced and are worth every single penny you pay for them. Not only will they outlast most of the competition, but they are guaranteed for life. That means if you sense that your sleeves are beginning to lose their compression skills, you can write off to Rockay for a replacement pair and one will be delivered to you with no questions asked.
It is a true testament to the quality of the materials (many of which are recycled) and the quality of the service you get from Rockay. So we give tons of Materials and Value points here.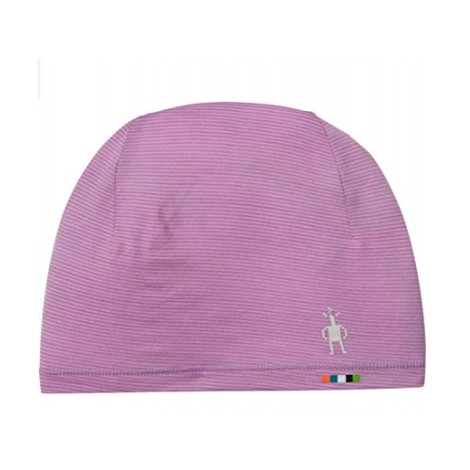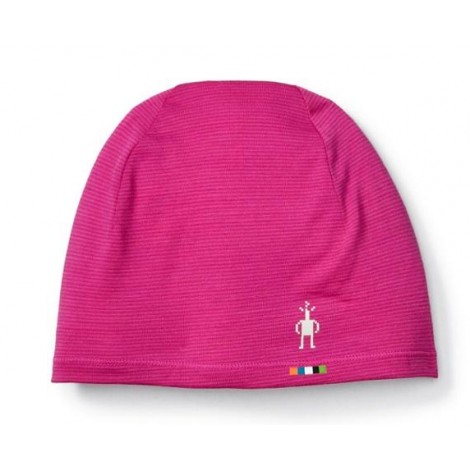 If it's a winter running hat that you're after, then look no further. The Smartwool 150 Beanie is lightweight and warm which makes it an ideal companion for all seasons--especially the wintery ones. Whether you're using this as a base layer under a larger cap, or you want something super streamlined, this little baby is just the one for you.
Perfectly Blended
The Smartwool 150 Beanie is comprised of the perfect blend of Merino wool and nylon. The blend allows the cap to stretch to fit your head without hugging it too firmly and cutting off circulation.
Plus, you'll get the super-soft feel of Merino wool against your skin in Smartwool's specially designed jersey knit that couldn't be any cozier. We award points for Comfort here.
And because this blend is so durable, you can feel free to wash it, making care a breeze as well. Simply throw in the washing machine on cold and put through a gentle cycle to wash away all those sweaty mornings logging long miles. You can even tumble dry on low. We love this convenience and award points for Materials and Features here.
Warm Yet Light
The Smartwool 150 Beanie is ideal for most seasons because it has mastered the art of lightweight insulation. With a super warm lining that works to trap body heat in (and prevent it from escaping from your head) as well as parsed down seams for a more streamlined look and fit, you will enjoy the warmth without the bulk.
That means you can easily layer this product or wear it on its own, depending just how low those temperatures dip. We award points for Insulation here.
Cost and Value
Smartwool once again shows us that quality doesn't have to cost an arm and a leg--just a sheep some wool. As with all Smartwool products, you can be sure that you're making a purchase that can hold up to the test of time.
We love the durability of this product and its functionality in multiple seasons, so we hand out a lot of points for Value here.

5

. Icebreaker Quantum Gloves
If you've been on the prowl for the perfect pair of running gloves, then look no further. The Icebreaker Quantum Gloves are another one of our proudly featured Merino wool products that wisely is able to keep your temperature regulated no matter what kind of physical activity you tackle in these.
Non-Restrictive Fit
For many of us, it can be hard to decide whether to go with a glove or a mitten during chilly months. While mittens are statistically warmer, you lose a lot of your freedom of motion and a lot of control as well. Thus, gloves can often seem the better option.
That's why we love the Icebreaker Quantum Gloves so much. With their special blend of Merino wool and LYCRA, you will be able to enjoy a flexible fit that doesn't restrict your range of motion and that allows you to move freely, all while staying warm.
And because they are comprised mostly of Merino wool, they breathe naturally and work to regulate your temperature as you wear them, allowing vapor to flow out and evaporate which helps to keep you warm and dry.
For these reasons, we award points for Materials, Insulation, and Comfort here.
Smart Feature
The Icebreaker Quantum Gloves are also finished with some smart features that make them a smart choice for your winter running lineup. With specialized fibers that work with smartphones and other smart devices, you won't have to remove your gloves in order to use your phone.
This is a super clutch feature when running--especially if you need to switch the music or turn on your flashlight. For this, we award major points in the Features category.
Cost and Value
The Icebreaker Quantum Gloves do ring up on the higher end of our price range, but we love their value because they work to keep you comfortable above all else. That means you'll stay warm and dry, even during your longest runs, and that you won't have to wrestle them off every time you want to use your smart device.
6

. Yaktrax Run Traction Cleats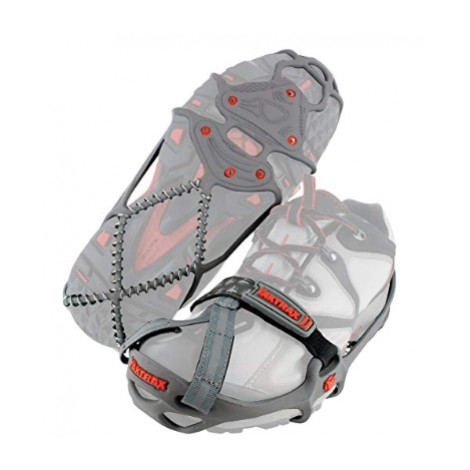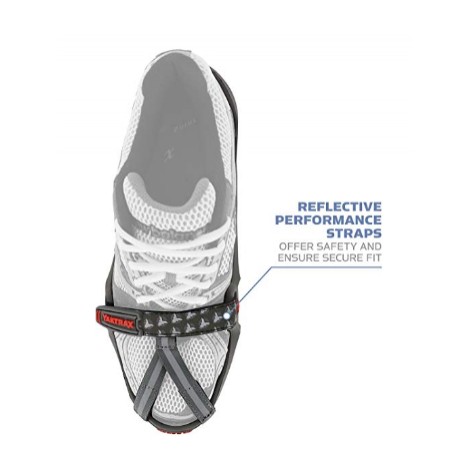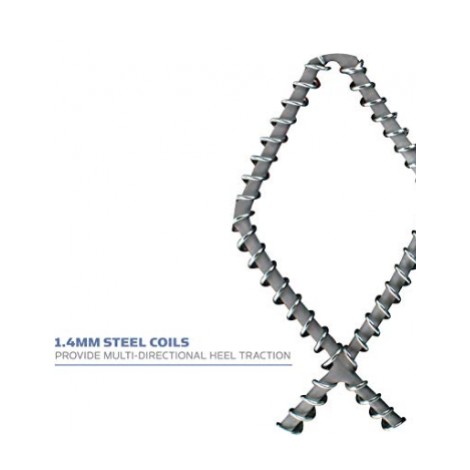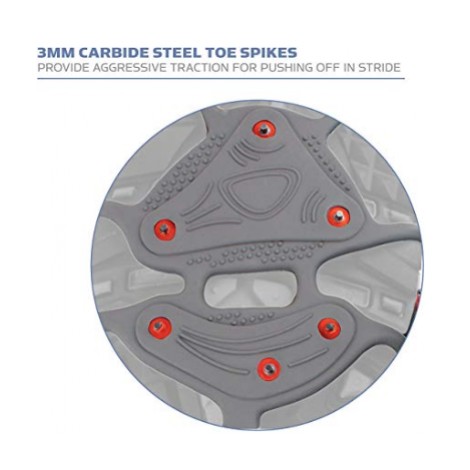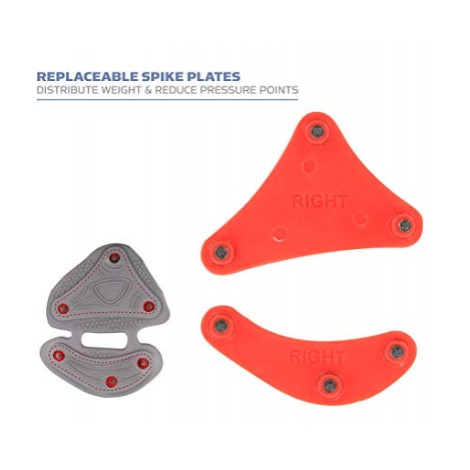 The Yaktrax Run Traction Cleats are literally here to the winter rescue. These insanely inexpensive running cleat jackets slip right on over your regular pair of running shoes to allow you to keep running even over ice and snow. With super-premium materials and the comfort of your own shoes, this product is hard to beat.
Slip Right On
The Yaktrax Run Traction Cleats allow you to run in the snow and on the ice from the comfort of your own shoes. While many other cleats on the market require getting used to a whole new feel of a whole new shoe, you'll be able to stay in your tried and true pair and enjoy the stabilizing and traction benefits of cleats at the same time.
These cleats slip right on over your regular pair of shoes with a high-strength foot frame that is made from rubber. This allows for a super snug fit that literally won't budge. With a strap over the toe, over the middle of the foot, and around the heel, these bad boys will stay in place no matter what terrain you throw at them.
We award major points for Comfort and Features here.
Premium Materials
We also love the premium material lineup present in the Yaktrax Run Traction Cleats.
With spikes that are 3mm carbide-steel (and replaceable!), you will feel confident in the power and security of each one of your steps.
Plus, you'll get the crazy benefit of 1.4mm coils made of stainless steel that are shaped with different angles and rust-resistant to ensure that you can get traction and pivot on even the slipperiest of ices.
And to top it off, you'll enjoy the reflective logos on the side and backs of the cleats to ensure that other people on the road can see where you are, even in low light conditions.
So we give out nice points for Materials and Features here.
Cost and Value
The Yaktrax Run Traction Cleats are loaded with value because they are made from premium materials that are easy to sub out and replace should they ever be damaged. Plus, you don't have to trade in your favorite pair of running shoes as you'll find these compatible with most shoes on the market.
So we award handsome points for value here, especially because they are so inexpensive.

7

. Under Armour Cold Gear Pants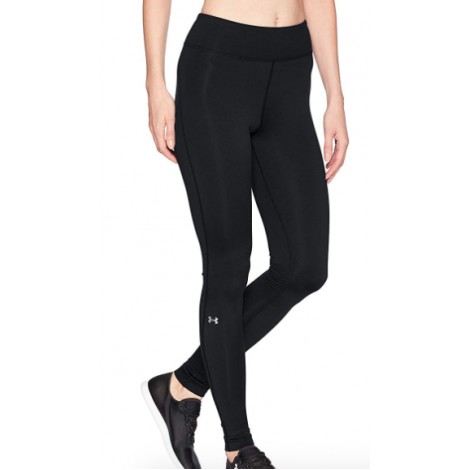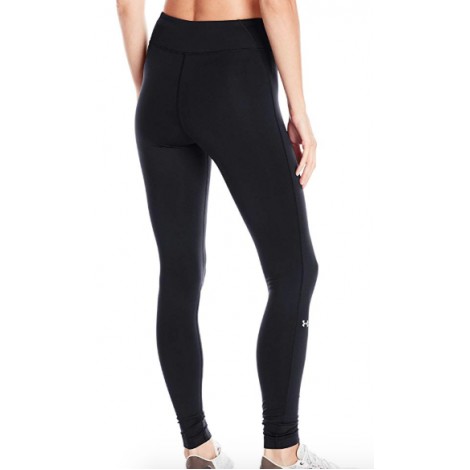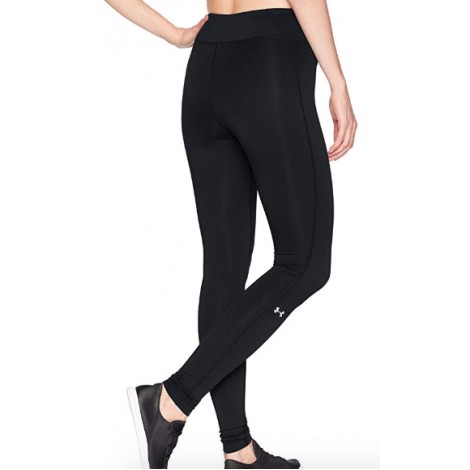 The Under Armour Cold Gear Pants bring a streamlined comfort and warmth that we didn't think was possible with winter running pants. These work to ramp up the warmth and comfort while stripping away the bulk and ensuring that your legs stay nice and dry, thanks to breathable technology incorporated throughout.
Specialized Layers
The Under Armour Cold Gear Pants feature specialized layers that work to bring down the bulk of the pant while keeping them warm and dry.
The inside layer is made of a super soft brushed material that is incredibly warm and insulation, while also featuring an exterior that works to allow vapor to escape which encourages faster evaporation. This feature keeps your legs and pants dryer for longer so that you're not running around cold and damp.
We award points in the Comfort, Materials, and Insulation categories for this dual layering.
Minimized Chafing
We also love how a streamlined focus has been brought to this product. The elastic waistband is minimal and non-bulky and will deliver a more compact profile. The seams are welded as well which means that they won't cause unwanted chafing or dig into your legs as they offer up light compression.
We award points for Features here.
Cost and Value
The Under Armour Cold Gear Pants are a competitively priced running pant that works to keep you cozy and comfortable during long mile runs. While this is a super comfortable option that will stay in place and keep you dry, they do not offer a lot of protection against the wind, so you will have to layer them.
We take some points away for Value here.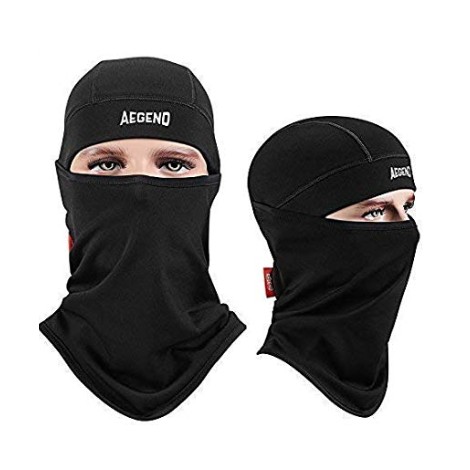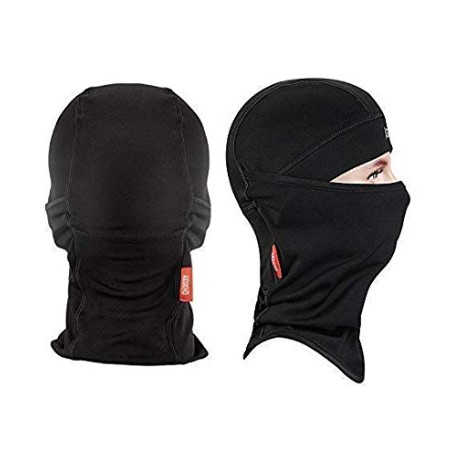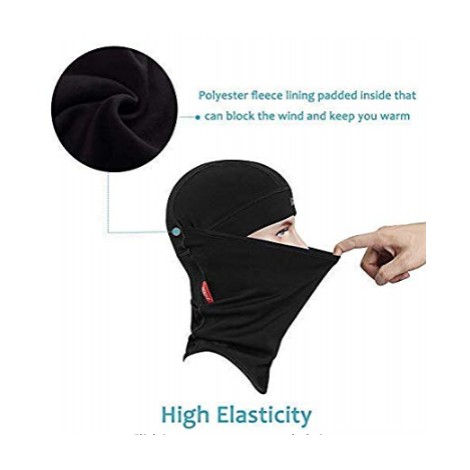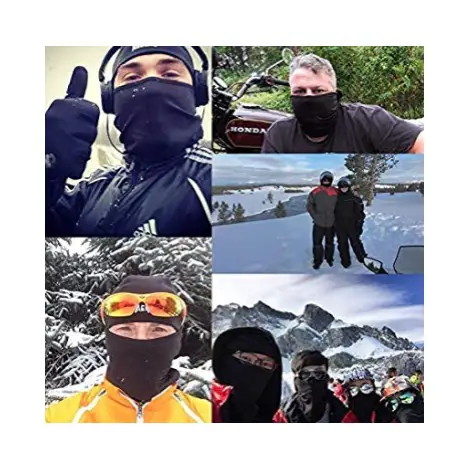 No winter running list would be complete without the Aegend Balaclava. This super affordable option will keep you nice and warm as it offers up a facemask, beanie cap, and scarf all in one. Made from fleece and with tons of elasticity, you'll get the warmth and comfort that you're looking for out of this bad boy.
3-in-1 Protection
The Aegend Balaclava offers up tons of protection against an array of elements. While this baby will keep you nice and warm during the winter months, it also serves to protect you from windburn and from UV sunburn, as well as from bug bites and the like.
Because this fleece fabric works to keep out the cold, we award points for insulation here.
Super Soft and Stretchy
We also like that the Aegend Balaclava is nice and comfortable. While other balaclavas can be a bit suffocating and constricting, this one has a nice loose fit that still manages to lock out the cold. This looseness helps to prevent moisture from developing from the heat of your breath.
It is also super stretchy which allows for adjustments and flexibility so that you can get a comfortable fit that moves with you. We award points for Comfort, Materials, and Features here.
Cost and Value
The Aegend Balaclava rings up at the very bottom of our price range and we like its value because it offers up the protection and warmth of three different winter clothing items (hat, scarf, and facemask) all in one convenient little package. And at this price point, that value is impossible to beat.

9

. The North Face Winter Warm Tights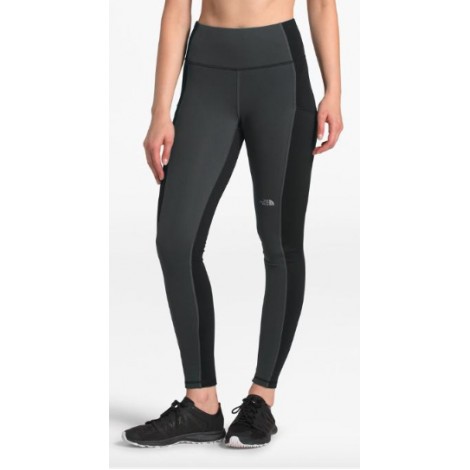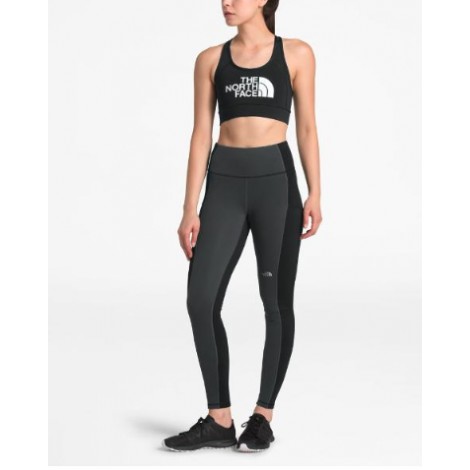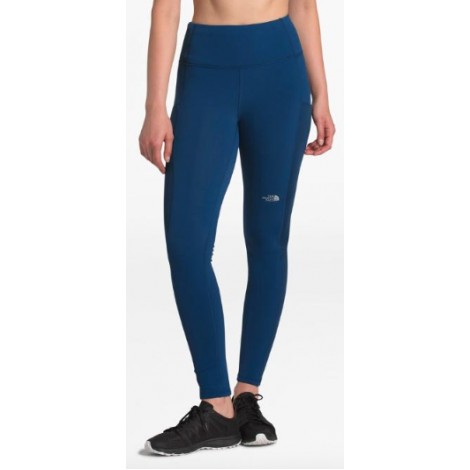 The North Face Winter Warm Tights certainly work to keep you warm in the wintertime. We love the design of these tights as they come up high and stay put with an inside drawstring, and we also like that The North Face has done away with bulky seams that can dig into your legs during long runs.
Brushed-Back Fabric
The North Face Winter Warm Tights are comprised of a brushed-back fabric that is super soft and fleece-like to the touch and that serves to keep you cozy and warm during your long winter hauls.
This fabric also functions to wick away moisture and to encourage rapid evaporation of sweat so that you don't end up damp during your runs. We award points for Comfort, Insulation, and Materials here.
Added Features
We like the added features present in The North Face Winter Warm Tights and award points for Features here.
We like the high waistband that serves to keep the pants in place no matter how many miles you pound out. We also like the seaming which is flat-locked to minimize chafing and to cut down on the overall profile of the tight.
And finally, and as always, pockets! Pockets are a game-changer for any article of clothing and these running tights are no different.
Cost and Value
The North Face Winter Warm Tights ring up on the higher end of our price range and we like their value because they offer full coverage that won't slip and slide during your run which provides consistent comfort and protection.
However, these are likely going to need to be layered during especially cold months so we dock points for value here.

The Arc'teryx Argus is the perfect way to round out our list. This is the most premium item, so you might say that we've saved the best for last. If you are in the market for a serious winter running jacket that is truly going to keep your warm, then your search ends here.
Protection from the Elements
We love the Arc'teryx Argus because it protects from all of the winter elements at one time. Fighting against snow, rain, and wind, you can be sure that you won't be cutting your run short on account of the weather. We award major points for Insulation and Materials here.
And we love that you don't have to sacrifice freedom of movement with all of the features to boot.
Tons of Breathability
And just because it keeps out the elements doesn't mean it locks in your sweat. It fact, this is one of the most high-tech and breathable products on the market.
With breathable mesh in the back and moisture-wicking fibers throughout, you will enjoy the warmth while vapor escapes keeping you nice and dry during your run.
And we also like the added features of pockets on the back and on the inside so that you can easily stash items, as well as a drawstring at the bottom for a secure fit to lock out the wind and cold.
So we award points for Features and Comfort here.
Cost and Value
The Arc'teryx Argus rings up at the top of our price range but we love its value because it really is one of the best jackets on the market. It will stand up to the elements while keeping you warm and dry and that's pretty much all you can ask for and expect out of a jacket of this caliber.
Subscribe to our Newsletter